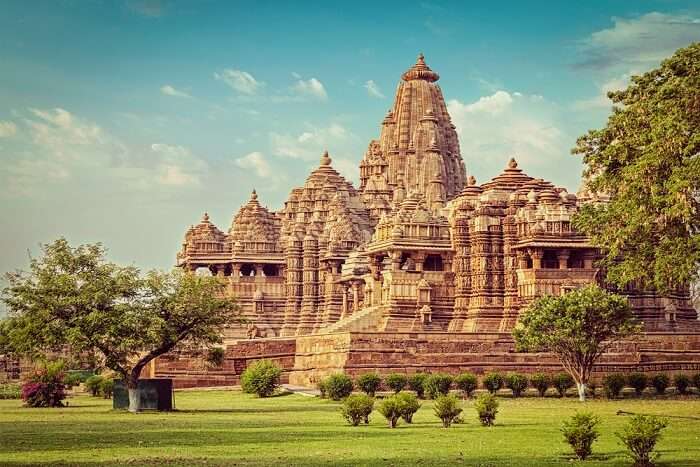 From the northern valleys of Kashmir to the southern coasts of Tamil Nadu, India is one place where you'll find several temples throughout the towns, and cities so much so that there's one temple at every turn you take. Having said that travelers from all across the globe come to visit the various ashrams and Shiva temples in India just to experience spirituality at its best and why shouldn't they, the blessed country is known for it for a reason.
So, explore the many places abode and don't miss out on the calm that these temples are known to bring to your everyday routines.
Top 25 Shiva Temples In India In 2022
While you wait to plan an all-inclusive spiritual holiday, take a look at this list of famous Shiva temples in India to add more peace in your vacation!
Lingaraj Temple
Daksheswara Mahadev Temple
Annamalaiyar Temple
Vadakkunnathan Temple
Bhavnath Mahadev Temple
Kandariya Mahadeva Temple
Tungnath Temple
Bhojpur Shiva Temple
Amarnath Temple
Kailashnath Temple
Kedarnath
Somnath
Mallikarjuna Swamy
Omkareshwar
Trimbakeshwar
Mahakaleshwar Temple
Bhimashankar Temple
Kashi Vishwanath
Vaidyanath Temple
Nageshwar Temple
Ramanathaswamy Temple
Grishneshwar Temple
Brihadeeswarar Temple
Shore Temple
Kotilingeshwara Temple
1. Lingaraj Temple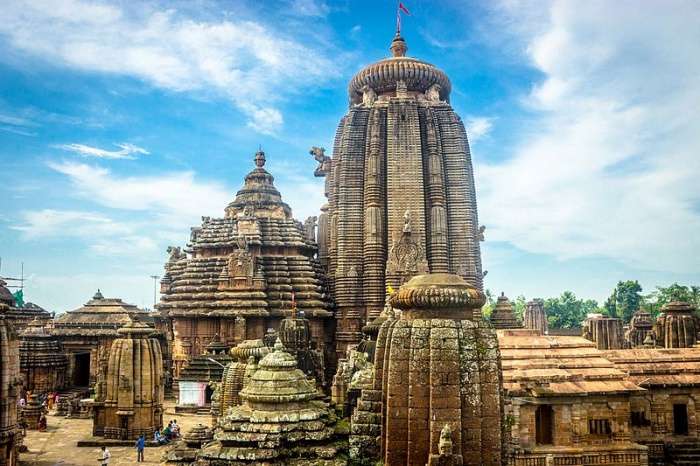 An absolute marvel of Kalinga style of architecture, the glorious temple of Lingaraj is said to have been built in dedication of Lord Harihara, who is known to be an incarnation of Lord Shiva. Even though this temple was initially established by the rulers of Somavamsi dynasty, it was later renovated and slightly modified by the Ganga dynasty rulers. Crowned as one of the oldest temples in Bhubaneswar in Odisha, this temple holds great importance to the locals as well as tourists from all over the country.
Location: Lingaraj Nagar, Old Town, Bhubaneswar, Odisha 751002
Must Read: 39 Best Places To Visit In October In India In 2022
2. Daksheswara Mahadev Temple
Established by the Queen of Dankaur in the year 1810, Daksheswara Mahadev Temple is situated at a distance of about 4 Kms from Hairdwar. This temple is known to have been named after the father of Devi Sati an incarnation of Goddess Durga and has also been renovated in the year 1962. The occasion of Mahashivratri observes a great celebration at this charming temple.
Location: Daksheshwar Mahadev Temple, Kankhal, Haridwar, Uttarakhand 249407
Suggested Read: 29 Best Adventure Destinations In India You Must Set Sail For In 2022
3. Annamalaiyar Temple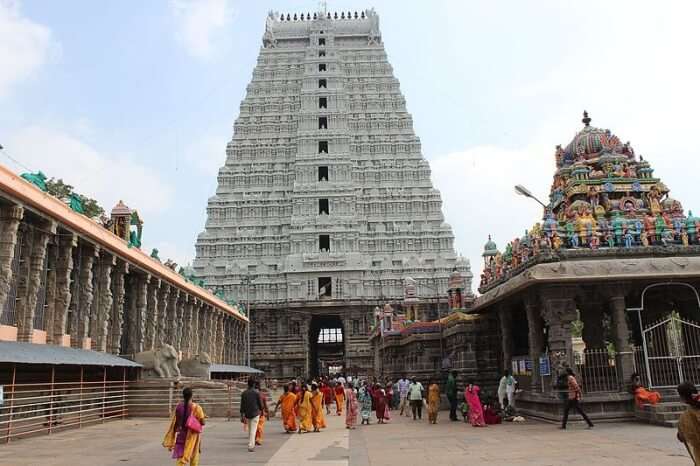 One of the giant temple structures known for its grand size is Annamalaiyar Temple in Thiruvannamalai and comes right on top of the list of famous shiva temples in Tamil Nadu. The fine work of architecture cannot go unnoticed with the four main doors to the temple called as Gopurams. It is also an inspiration for multiple scriptures of Tamil region and more importantly observes five rituals in a single day. The best time to visit this temple is during the time of Karthigai Deepam festival.
Location: Pavazhakundur, Tiruvannamalai, Tamil Nadu 606601
Suggested Read: Top 10 Indian Restaurants In Bhutan You Need To Visit In 2022!
4. Vadakkunnathan Temple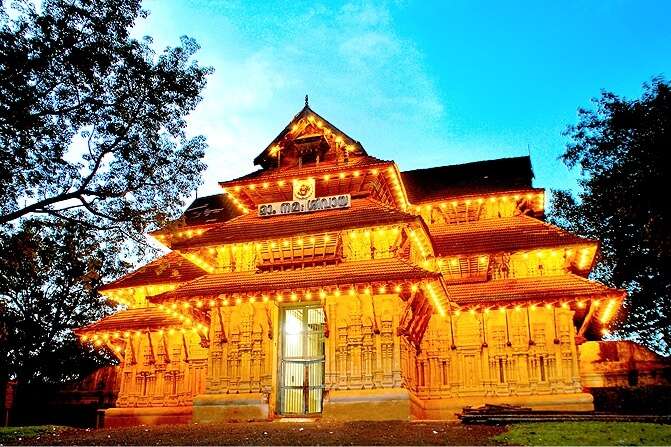 Amongst the most popular temples of South India, Vadakkunnathan temple is said to be the first temple to be built by Parshurama. As a sign of offering, large amounts of Ghee is brought by the devotees visiting the temple. Due to this, today instead of the Lingam, people can see a large mound of Ghee in the temple. This ghee is then also given back to the devotees as Prashadam to carry back home for consumption.
Location: Swaraj Round N, Kuruppam, Thekkinkadu Maidan, Thrissur, Kerala 680001
Suggested Read: 20 Best Restaurants In Nashik To Relish The True Flavors Of India In 2022
---
Planning your holiday but confused about where to go? These travel stories help you find your best trip ever!
---
5. Bhavnath Mahadev Temple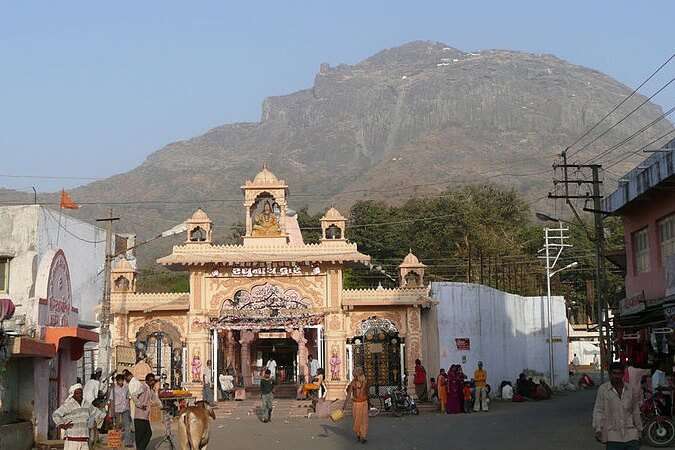 Located in Junagadh district of Gujarat, near the base of Girnar hills, this temple is one of the main spots for people belonging to Hinduism as well as Jainism. One of the main attractions of this temple is the Bhavnath Fair, which you ought to visit during the months of January and February. To get the best of blessed vibes at this place, stay at the festival and soak in more bliss amid the presence of the famous Naga Sadhus.
Location: Bhavnath, Gujarat 362004
Suggested Read: 15 Honeymoon Places In India In August 2022 For Monsoon Romance
6. Kandariya Mahadeva Temple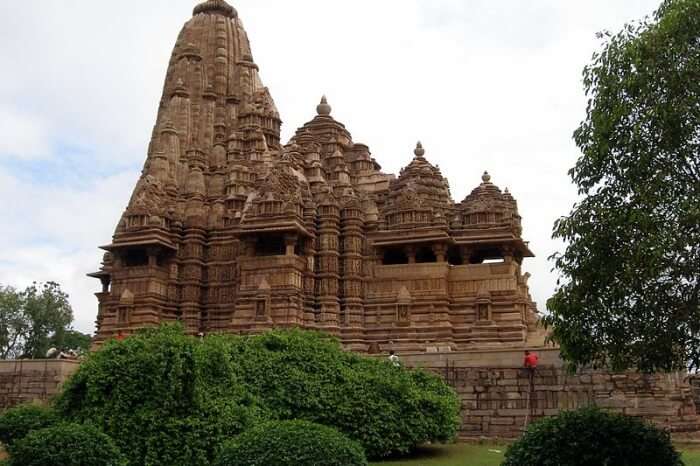 Exquisite detailing in the walls is one of the factors that makes the Kandariya Mahadeva Temple unique as compared to the other Shiva temples in India. Besides the fact that there are 900 carved sculptures outside and inside of the temple, these include depictions of a dancing Chamunda which makes it more popular. For experiencing divinity or simply witnessing the remarkable work of architecture, this place is perfect!
Location: Sevagram, Khajuraho, Madhya Pradesh 471606
Suggested Read: 5 Toy Trains In India: A Timeless Delight For Kids & Adults Alike In 2022!
7. Tungnath Temple
If you haven't been to the highest known Shiva temple in the world, we say this is the time to visit Tungnath Temple in Uttarakhand. The famous Chandrashila trek that offers mesmerizing views of the snow-capped peaks in the surroundings also has a delight in the end. That's right! This temple is right at the point when this trek finishes and it surely comes with a few too many cold breezes splashing in your face along with the breathtaking view to treat your wanderlust.
Location: Rudraprayag, Uttarakhand 246419
Suggested Read: Paragliding In India: 30 Gorgeous Places For Some Exhilarating Flying Experiences In 2022
8. Bhojpur Shiva Temple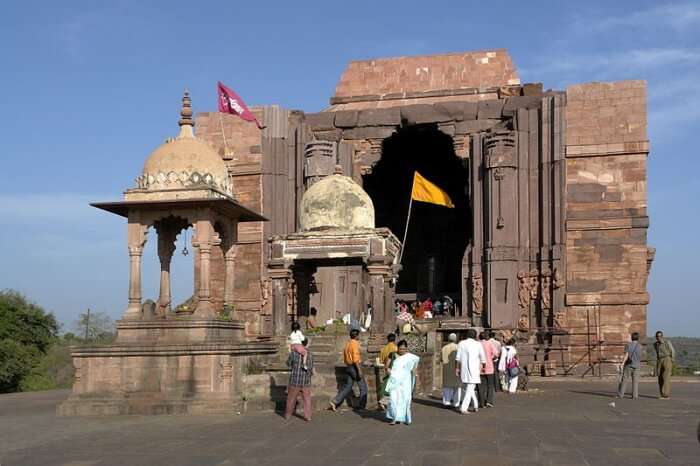 Amongst the list of ancient temples of Lord Shiva in India, comes the name of Bhojpur Shiva temple, which is located in Madhya Pradesh. The stunning work of architecture is very much evident in the Shiva Lingam that is instilled in the temple and is made out of a single carved rock. Even though the construction of this holy structure hasn't been completed, but that doesn't stop it from being crowned as the tallest Shiva lingas in the country.
Location: Bhojpur, Madhya Pradesh 464551
Suggested Read: 13 Treehouses In South India That'll Bond You With Nature's Mystique
9. Amarnath Temple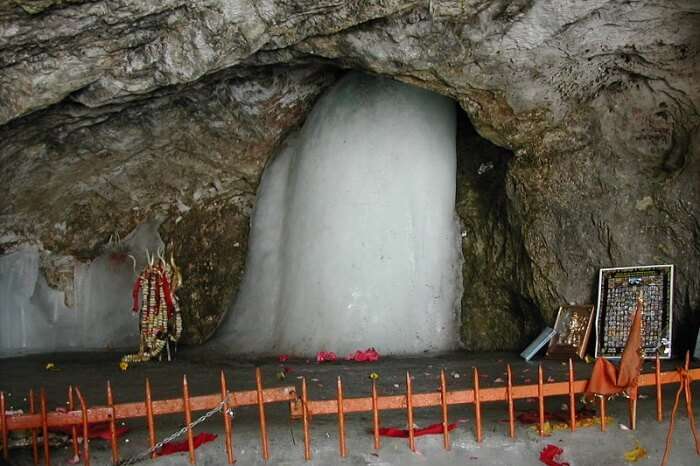 Taking the level of pilgrimage tours in India to a whole new level is the blessed temple of Amarnath in Kashmir. Located at a height of 3888m in a giant cave, tourists from all over the country and even beyond, visit this temple to witness the wonderful creation of Shiva Lingam that forms only once in a year. One surely needs a lot of strength to walk all the way to the temple and cross the uneven terrain of Kashmir.
Location: Jammu and Kashmir, Annantnag District
Suggested Read: 16 Most Beautiful Villages In India That You Must Visit In 2022
10. Kailashnath Temple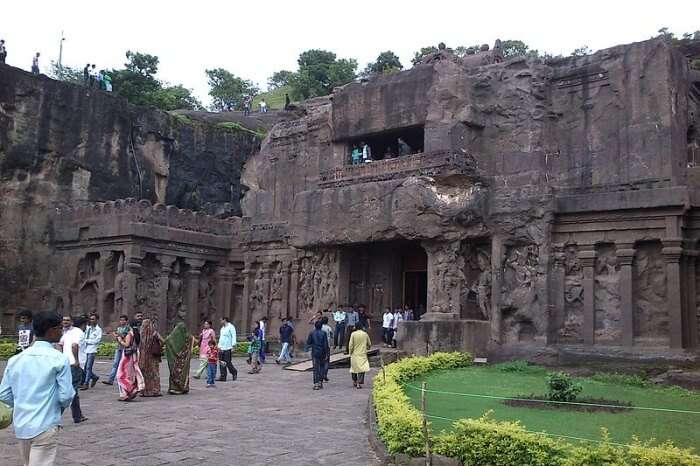 A beautiful combination of 34 temples forming together the famous Kailashnath temple in Aurangabad, Maharashtra is nothing less than a sight to behold and for this reason, attracts several tourists every year. One of the major Lord Shiva temples in India, this temple was built back in the time of Rashtrakutas during the 8th century and has also said to have set major benchmarks and inspirations for the temples constructed later in the same century.
Location: Ellora, Maharashtra 431102
Suggested Read: 60 Best Family Holiday Destinations In India To Have A Gala Time In 2022!
11. Kedarnath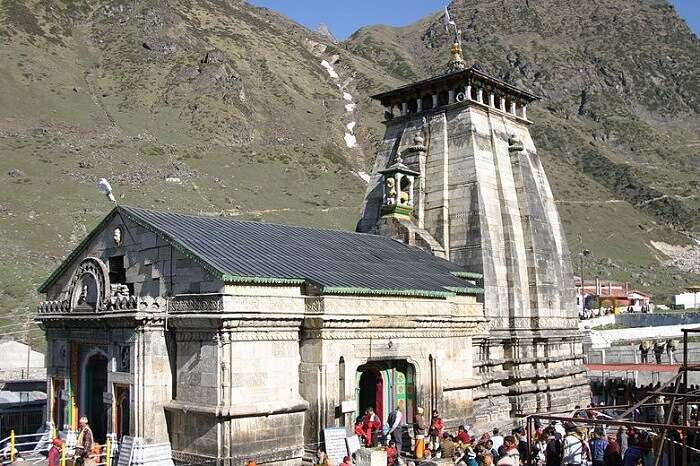 Perched on the Garhwal Himalayan Range at a height of 3583 m, Kedarnath Temple is one of the most popular Shiva temples in India. It is situated near the Mandakini River and is counted among the four destinations of char dham yatra of Uttarakhand. It is difficult to climb to this place as it is located at a high elevation point. Moreover, the path towards this temple remains closed in winters and is open from April to November only.
Location: Uttarakhand, District, Rudraprayag
Suggested Read: 14 Best Waterfalls In Uttarakhand To Witness Nature's Spectacular Creations In 2022!
12. Somnath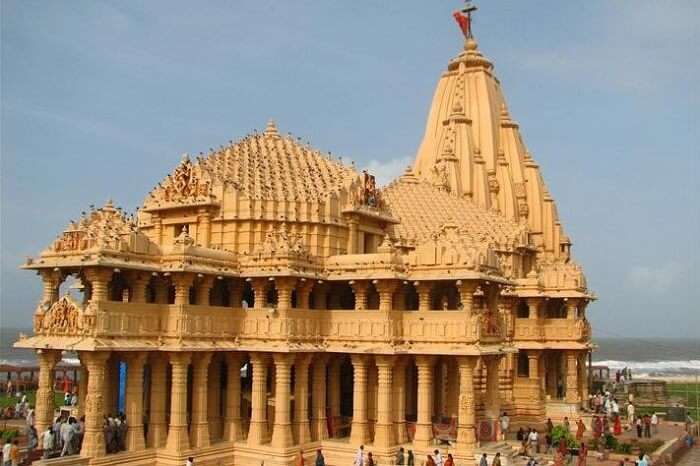 Somnath Temple is situated in Prabhas Patan on the western coast of Gujarat. It is believed that this temple is first among the 12 Jyotirlings temples that are dedicated to Lord Shiva and thus it one of the ancient Shiva temples in India. The architecture of this temple is built in Chalukya style and the mesmerizing part of this temple is the Arrow Pillar, also known as Baan Stambh.
Location: Gujarat, India
Suggested Read: 30 Unexplored Places In India That Will Totally Stump You In 2022!
13. Mallikarjuna Swamy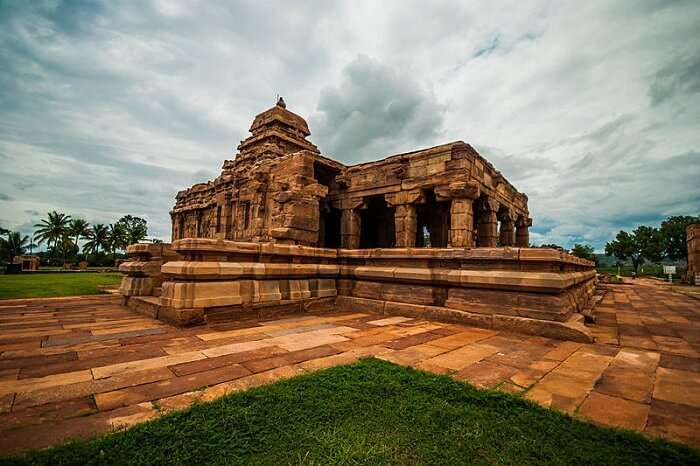 If you are looking for most-visited Shiva temples of India, then Mallikarjuna Swamy Temple is yet another Jyotirlinga which is located in Andhra Pradesh. It is believed that this temple was built 6 centuries back by King Harihara Raya of Bijayanagara. It has gained a prestigious position among Hindus since then. Lord Shiva is praised in the form of Mallikarjun and Goddess Parvati as Bhadrakali.
Location: Srisailam, Andhra Pradesh 528101
Suggested Read: 12 Jyotirlingas In India To Visit In 2022: See The Spiritual Side Of The Country
14. Omkareshwar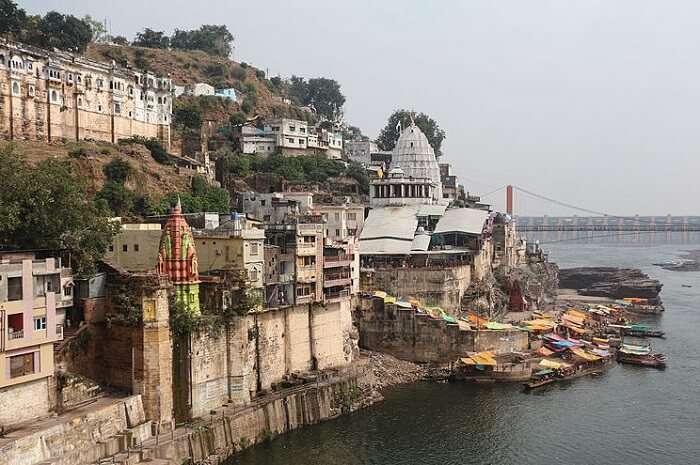 Located in the Narmada River, Omkareshwar Temple is one of the most famous Shiva temples in India. It is spread on the Mandhata Island that is shaped in the symbol of Om. The idol worshipped here is three-headed and is praised thrice a day. If you want to witness the true beauty of this place, then the best time to visit is on Monday.
Location: Madhya Pradesh, District-Khandwa
Suggested Read: 24 Cheapest Places In India Even A Broke Student Can Visit In 2022
15. Trimbakeshwar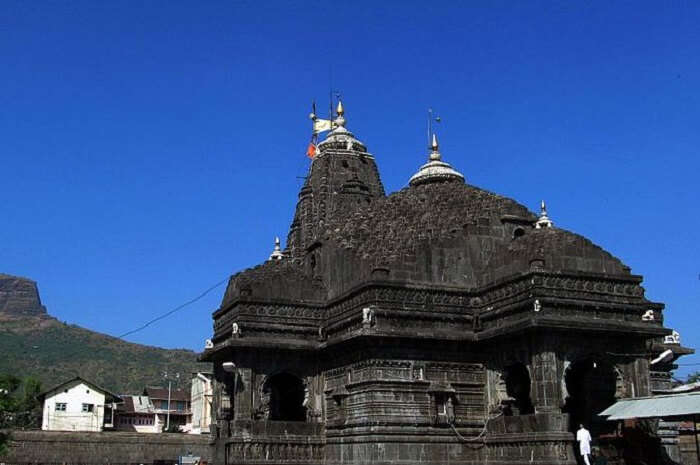 Another Jyotirlinga, Trimbakeshwar, can be found just 28 km away from Nashik at the source of Godavari River. It is believed that this temple was constructed by the revered Peshwa Balaji Baji Rao. This temple is styled in Hemadpanthi with black stones and is considered one of the famous shiva temples in India. The idol here also has three-faced depicting Lord Vishnu, Lord Brahma, and Lord Rudra that are adorned with three crowns.
Location: Shrimant Peshwe Path, Trimbak, Maharashtra 422212
Suggested Read: 29 Monsoon Destinations In India That Will Make You Dance In The Rain In 2022!
16. Mahakaleshwar Temple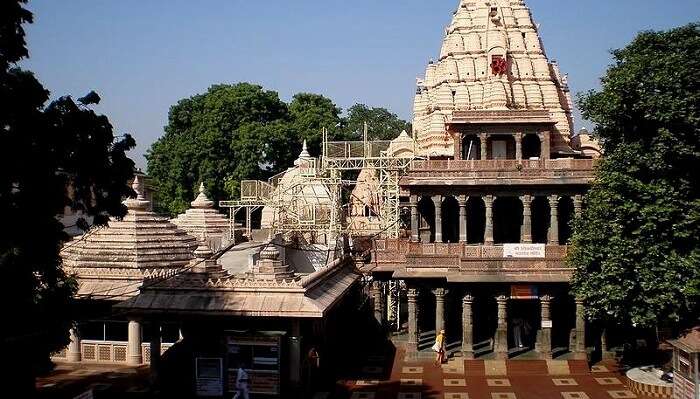 Image Credits: Gyanendra_Singh for Wikimedia Commons
Ujjain is a city of temples that is visited by hundreds and thousands of pilgrims all year long. One such temple that adds to the essence of spirituality in this city is Mahakaleshwar. One can observe the deity of Mahakal sitting in this temple. The presiding deity of this temple is actually of Swayambhu Lingam named Dakshinamurti. One of the Jyotirlinga Temple, this is home to Bhasma Aarti which acts as a magnet for several devotees all year long!
Location: Ujjain, Madhya Pradesh
Suggested Read: 16 Temples In Vrindavan: To Closely Observed The Culture Of This Holy City In 2022!
17. Bhimashankar Temple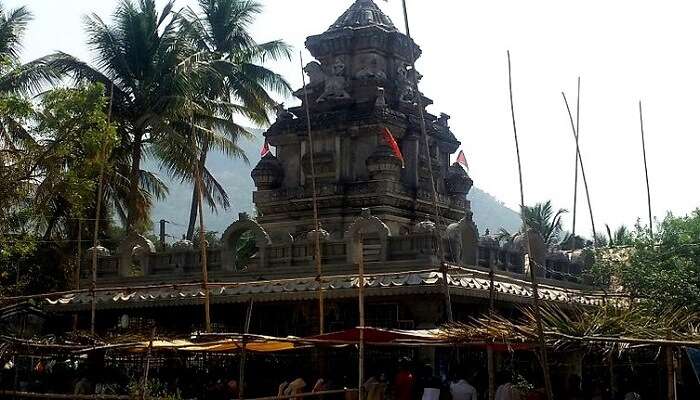 Image Credits: Hpsatapathy for Wikimedia Commons
Bhimashankar temple is located in Pune and next to the origin of River Bhima. Apart from the religious significance, this temple is also famous for the Nagara architectural style that can be easily witnessed from the structure of this temple. It is believed that a demon named Tripurasur did penance and pleased Lord Shiva who gifted him the prize of immortality. The catch was that he was asked to use his power for the betterment of humans or he would lose his life. Over a period of time, Tripurasur forgot the condition and started to disobey the Gods. It was then that Lord Shiva and Goddess Parvati took the form of Ardhanarishwara and killed the demon at this spot.
Location: A/p,bhimashankar, Maharashtra 410509
Suggested Read: 9 Holy Temples In Ernakulam You Can Visit For A Spiritual Detox!
18. Kashi Vishwanath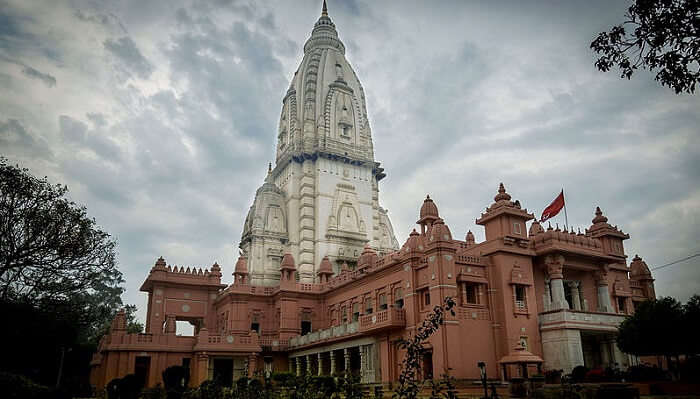 Image Credits: Kuber Patel, Rosehub for Wikimedia Commons
One of the famous shiva temples in India, Kashi Vishwanath, has utmost religious significance latched to itself and is also counted as one of the twelve Jyotirlingas spread all across the country. It is believed that whoever takes their last breath in Kashi Vishwanath Temple of Varanasi is liberated from the rebirth cycle and his soul is sheltered under Vishwanath, the lord of the world. For those who wish to witness the best of this temple should definitely plan a visit during the Shivaratri Festival, when the temple is decorated to the brim.
Location: Veer Savarkar Block, Block D, Laxmi Nagar, Delhi, 110092
Suggested Read: 30 Temples In South India 2022: The Perfect Amalgamation Of Art And Divinity
19. Vaidyanath Temple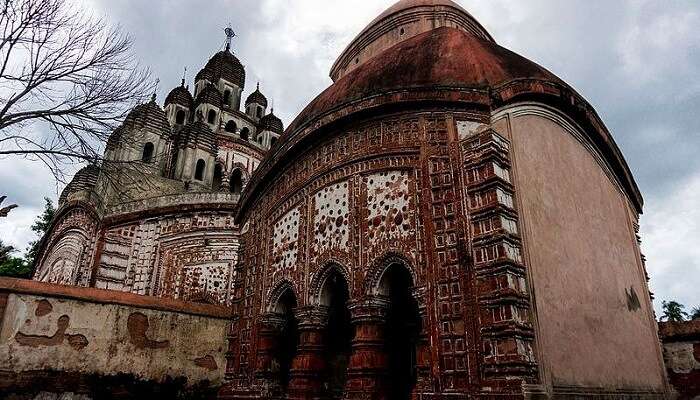 Image Credits: Sumit Surai for Wikimedia Commons
This Shiva temple in India is dedicated to the Lords who acted as doctors, hence the name. The 'Vaidya' in the name translates to doctor and the 'nath' translates to Lord. The tale behind this temple is of the demon Ravana who sacrificed his ten extra faces in order to please Lord Shiva. It is believed that Lord Shiva was impressed with Ravana and hence, treated the head of Ravana at this very spot. It is one of the Jyotirlinga temples and the complex is home to another twenty-something temple, each with some antique elements on its own.
Location: Shivganga Muhalla, Dardmara, Jharkhand 814112
Suggested Read: 19 Sun-kissed Spots For Family Beach Vacations In India In 2022
20. Nageshwar Temple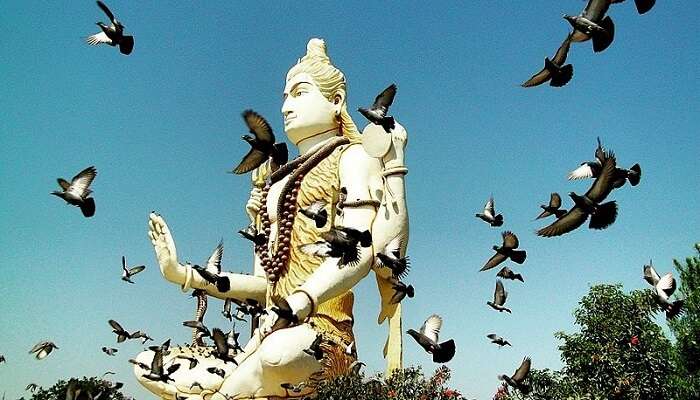 Image Credits: Bhabesh08 for Wikimedia Commons
Nageshwar temple is perhaps the pride of Gujarat. Sitting on the coast of Saurashtra, this temple is usually worshipped enroute to Dwarka city. Lord Shiva is worshipped as a Jyotirlinga in this temple and hence is one of the popular Shiva temples in India. The 25m tall statue of the Lord, the massive garden, and a serene pond combine to offer the experience and attractions in this temple. The mythological significance and the stunning ancient scriptures add to the already amazing experience in this temple!
Location: Gujarat, District-Devbhumi Dwarika
Suggested Read: 29 Places To Visit Near Bhopal In 2022 For Exploring Much Of Central India
21. Ramanathaswamy Temple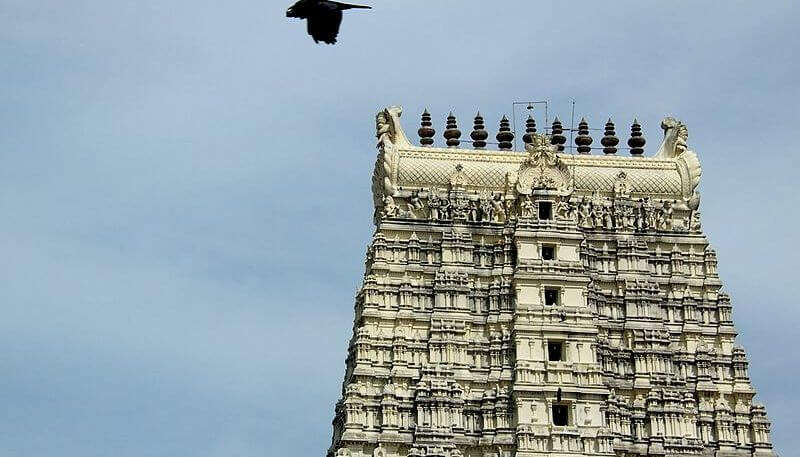 Image Credits: Mathanagopal for Wikimedia Commons
Sitting in Tamil Nadu is one of the famous shiva temples in India named Ramanathaswamy. This temple is often an integral part of the Temple Tour in the southern parts of the country and for all the right reasons. Visited mostly by those who believe in Shaivite and Vaishnavite, this temple has an interesting history attached to itself. The temple is believed to be standing on the same spot where Lord Rama worshipped Lord Shiva to get rid of the sin of killing Ravana who was a Brahmin. The lovers of art also visit the temple as it has the longest temple corridor in the world.
Location: Rameswaram, Tamil Nadu 623526
Suggested Read: 33 Regal Forts In India That Are Popular Tourist Attractions Today In 2022
22. Grishneshwar Temple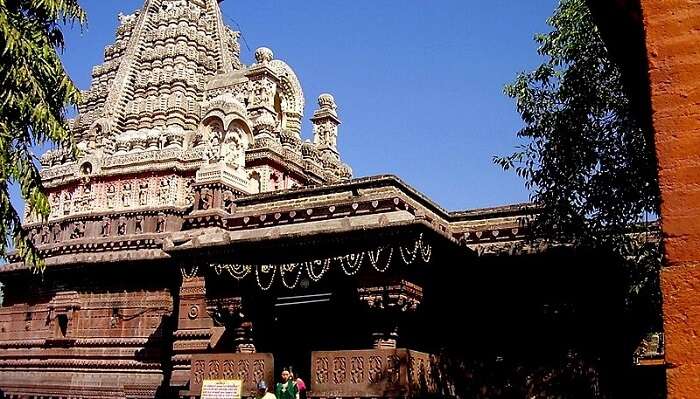 Image Credits: Rashmi.parab for Wikimedia Commons
Considered as the last ever Jyotirlinga temple in the entire world, Grishneshwar is a temple sitting in the proximity of Daularabad. Constructed using a bunch of red rocks, this temple adorns a pre-historic style of architecture and is as marvelous as it can get. Attracting pilgrims and architecture buffs alike, this temple is certainly among the top Shiva temples in India. The tale of Shiva Purana talks about the devotion of Grishma as well as the story of rebirth of her son who was killed by her jealous sister is another reason for the temple to gain its fame. This incident is probably the reason behind the name!
Location: NH 211, Verul, Maharashtra 431102
Suggested Read: 25 Road Trips In India For Couples That Will Reshape Their Future Together In 2022!
23. Brihadeeswarar Temple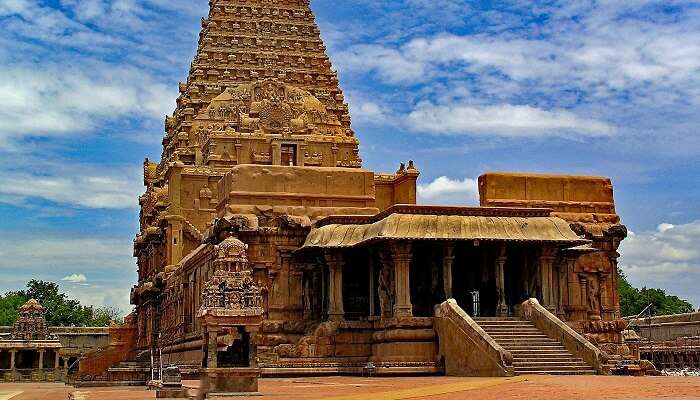 Image Credits: lapping for Pixabay
Apart from attracting Hindu pilgrims from all over the country, this temple also bagged a rank in the list of UNESCO World Heritage Sites back in the day. Constructed under the command of Raja Raj Chola, this temple is sitting in Thanjavur and is perhaps one of the finest examples of the Dravidian architectural style. The temple is home to Vimanam, the highest temple tower not only in the country, but in the world. Dedicated to Lord Mahadev, this temple has its exteriors adorned with the deities of Dakshinamurthy, Chandra, and Surya. One can also observe the statues of Ashta Dikapalas here!
Location: Membalam Rd, Balaganapathy Nagar, Thanjavur, Tamil Nadu 613007
Suggested Read: 20 Perfect Reasons To Visit India: We Bet You Can't Resist Packing Your Bags In 2022!
24. Shore Temple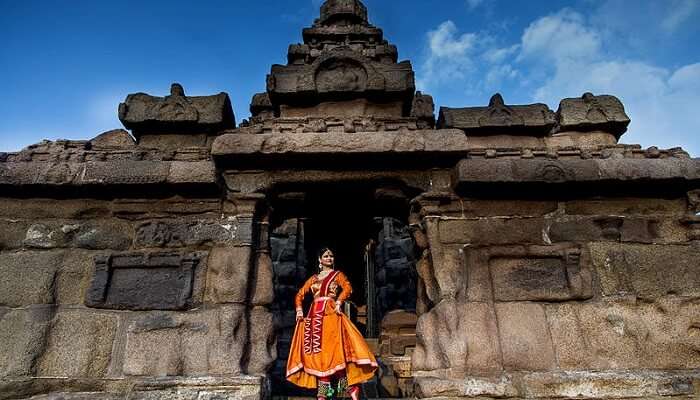 Image Credits: Namrta Rai for Wikimedia Commons
Located in Mahabalipuram, this temple can be seen sitting on the shores of Bay of Bengal, hence the name. Shore Temple is the finest example of temple architecture from the 8th century. Finding itself in the list of UNESCO World Heritage Sites, this temple is one of the oldest ones covering the floors of this country in the southern region. The stone temple is home to Lord Shiva but is also home to the idol of Lord Vishnu, who can be seen reclining. This is idyllic for those who wish to get a taste of the South Indian temple architecture.
Location: No 65, tkm road, Mahabalipuram, Tamil Nadu 603104
Suggested Read: 13 Amazing Tree Houses In India: A Treat For Your Younger Self In 2022!
25. Kotilingeshwara Temple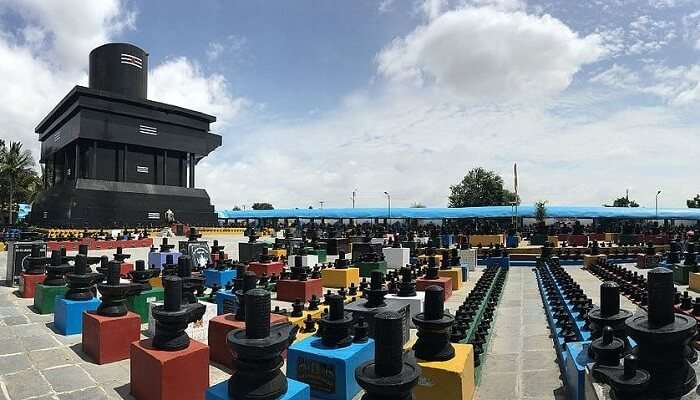 Image Credits: Visurao4all for Wikimedia Commons
Sitting in the southern part of the country, Kotilingeshwara Temple is one of the most peaceful Shiva temples in India. The temple is home to around one crore Shiva Lingas and that is exactly what makes it famous among the devotees and pilgrims of various parts of the country. The tallest Shiva Linga in this temple stands at around 33m in height with Nandi of about 11m tall in height. This Shiva Linga is not only the tallest one in this country but the entire world! You don't want to miss out on witnessing this marvel!
Location: Koti linga Temple, Road, Ghattiragadahalli, Karnataka 563121
Further Read: 26 Places To Visit Near Salem For That Perfect Vacation To South India In 2022!
If this list of Shiva temples in India has got you all set for the next soothing trip to one of these destinations in the charming country, we say it's time! Plan a trip to India for that much-awaited spiritual encounter that you need. Don't forget to tag your loved ones along as this is surely going to be a unique experience like never before!
Disclaimer: TravelTriangle claims no credit for images featured on our blog site unless otherwise noted. All visual content is copyrighted to its respectful owners. We try to link back to original sources whenever possible. If you own rights to any of the images and do not wish them to appear on TravelTriangle, please contact us and they will be promptly removed. We believe in providing proper attribution to the original author, artist or photographer.
Please Note: Any information published by TravelTriangle in any form of content is not intended to be a substitute for any kind of medical advice, and one must not take any action before consulting a professional medical expert of their own choice.
Frequently Asked Questions About Shiva Temples In India
How many Shiva temples are there in India?

When thinking of some of the most famous Shiva temples in India, there are 12 of them. These temples are considered to be the Jyotirlingas of Shiva - Somnath Jyotirlinga, Mallikarjuna Jyotirlinga, Mahakaleshwar Jyotirlinga, Omkareshwar Jyotirlinga, Kedarnath Jyotirlinga, Bhimashankar Jyotirlinga, Vishwanath Jyotirlinga, Trimbakeshwar Jyotirlinga, Baidyanath Jyotirlinga, Nageshwar Jyotirlinga, Rameshwaram Jyotirlinga, and Grishneshwar Jyotirlinga.

How many temples are there in India?

There are various Hindu temples in the country of India, over 2 million in number. This number is still growing.

Which is the No.1 temple in India?

Sri Ranganatha Swamy Temple in Tiruchirappalli, Tamil Nadu is ranked first in India and stands at second position in the world.

Which city is famous for temple?

There are many temples in India that are well known, located in different cities of the country. However, Varanasi is considered to be the most famous city when it comes to temples.

Which city is called cultural city of India?

Kolkata is known to be the cultural city of India. The city is enriched with vibrant culture, historicity, literary factors, and artistic aspects.

Which is the largest Hindu temple in the world?

The largest Hindu temple functioning in the world is Srirangam temple located in the Indian state of Tamil Nadu.

How old are Indian temples?

Indian history is quite old. Needless to say, the history of Hinduism too is really vast. Building of temples is believed to have started around 2000 years back.

Where is the Meenakshi temple in India?

Meenakshi Amman Temple is one of the most prominent Hindu temple in India, which is located in Madurai, a city in the Indian state of Tamil Nadu. Apart from its religious significance, the temple is known for its historicity as well.
---
People Also Read:
Comments
comments