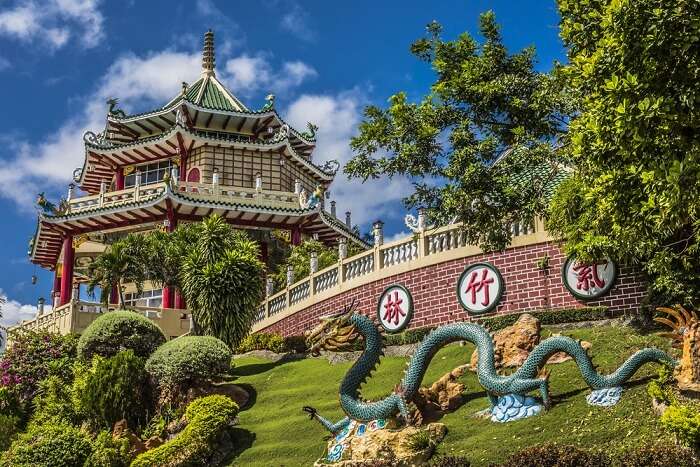 Philippines is, by and large, a secular region. It is home a large population of Roman Catholics, followed by Islam and other minorities. There are an outstanding number of temples in Philippines to cater to the ethnically diverse populace, including Hindu temples, Buddhist temples, Mormon temples, Sikh temples, and Chinese temples in Philippines. To truly immerse yourself in the rich cultural diversity of this nation, you must visit these temples. Here is a list of temples in Philippenes that you must not miss out.
Hindu Temples In Philippines
Although Hinduism grew to prominence only a few years ago, locals have taken to the religion pronto, with a sizable amount of converts. Hindu based practices such as yoga and meditation are popular in Philippines. Some of the ancient temples in Philippines are listed below:
1. Sri Sri Radha Madhava Mandir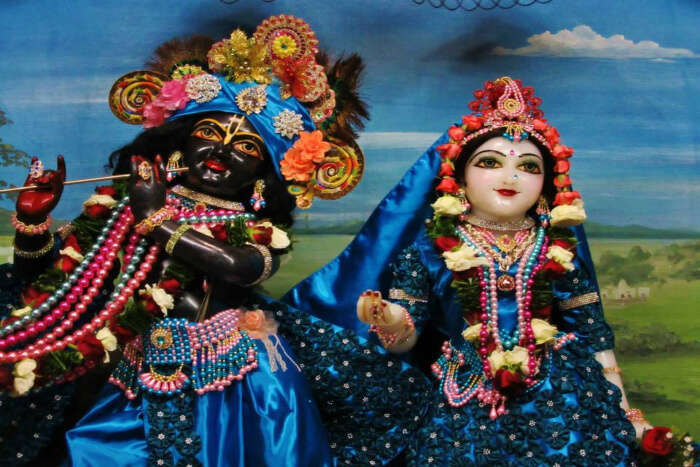 Image Source
Sri Sri Radha Madhava Mandir is part of the ISKCON group and the presiding deities of the temples are Sri Sri Radha-Madhava Sri Sri Pancha-tattva and Srila Prabhupada. It is a residential two-story religious house constructed in Filipino style. It runs a Food for Life program. With 11 residents currently and visitors ranging from 70-80 people during a normal week, the ISKCON temple is popular amongst travelers.
Location: 9105 Banuyo Street, San Antonio Village, Makati City, Metro Manila, Philippines
Must Read: Christmas In Philippines: A Guide To All The Merry Filipinos Traditions
2. International Sri Krishna Mandir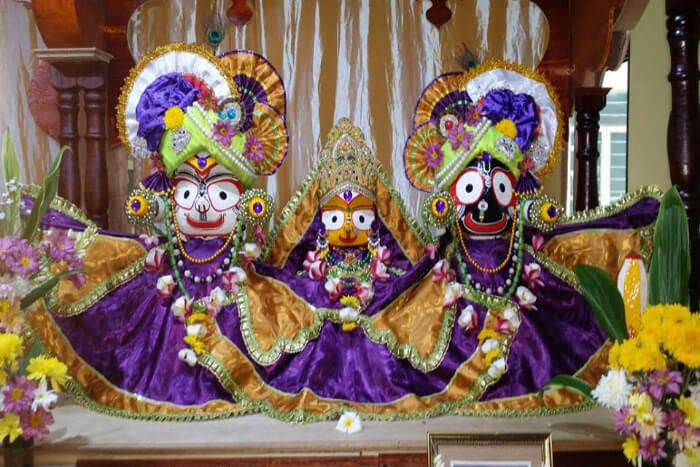 Image Source
The vision of International Sri Krishna Mandir was providing an alternative to ISKCON. It is visited by deities of Sri Krishna daily. In addition to the temple, the temple has recently embarked on a service of prasadam (sweet) distribution to the public on a daily basis. They also provide a spiritual retreat in the form of a 130-acre farm known as Vaikuntha Eco Farm.
Location: 23 Scout Castor St, Diliman, Quezon City, 1103 Metro Manila, Philippines
Suggested Read: 10 Fancy Restaurants In Manila That Put The Best Filipino Food On The Table
Buddhist Temples In Philippines
Buddhism in Philippines grew under the care of Chinese-Filipinos whose ancestors did not convert to Christianity and maintained their Buddhist roots. Travelers interested in Buddhist temples in Philippines will find a lot to explore here:
3. Manila Kadampa Buddhist Centre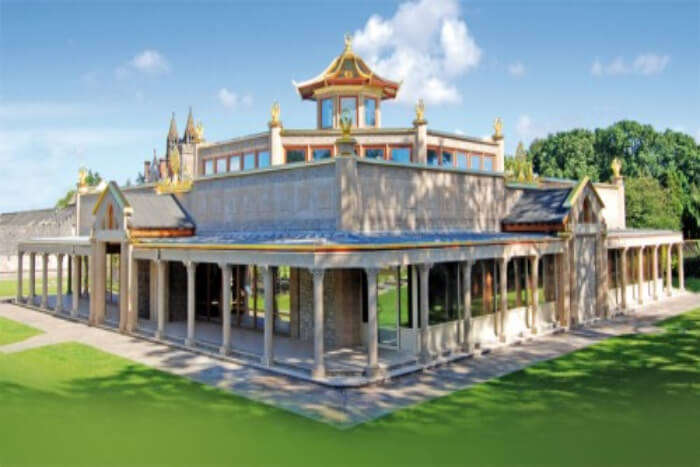 Image Source
This centre for modern Buddhism in Manila is one of the most famous temples in Philippines. It is a part of the International Kadampa Buddhist Union. Its objective is to promote Buddhist faith and spread the importance of cultivating human values. This temple also conducts classes, teaching and meditation sessions at the training center in Manila. They also celebrate a bevy of festivals all year round.
Location: 2247 Chino Roces Avenue, Makati City, Metro Manila, Philippines
Suggested Read: Labassin Waterfall Restaurant In Philippines Is The Next Hot Place To Try Filipino Cuisine
4. Philippine Palyul Buddhist Temple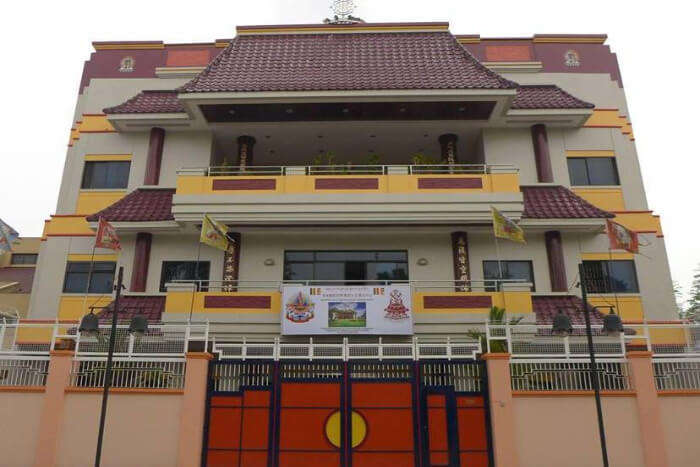 Image Source
Philippine Palyul Buddhist Temple is also called the PPCCDDC or Philippine Palyul ChangChub Dargye Dharma Center. Located in Manila, Philippines, it is a Tibetan Buddhist Temple that organizes prayers, classes, retreats, meditation courses, and other Buddhist activities in order to provide Buddhist teachings to the Philippinean population. In addition to this, they also do charity work for disaster relief and support in times of calamities.
Location: 700 Pina Avenue, Santa Mesa, Manila, Philippines
Suggested Read: 6 Places To Visit In Asia In November: An Escape From The Snow Into The Tropics
Mormon Temples In Philippines
Christianity has a remarkable prevalence in Philippines, with temples of Latter-Day Saints spread all over the nation. We have compiled a list of Mormon temples in Philippines that are growing in popularity among both locals and travelers:
5. Manila Philippines Temple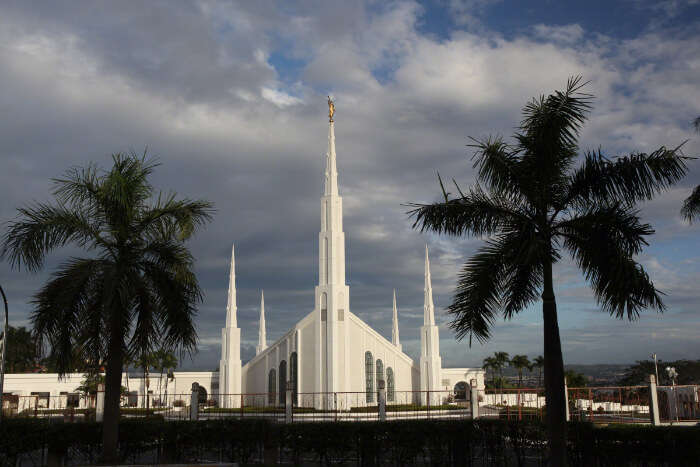 Image Source
Manila Philippines Temple was constructed in 1984 and was the first church constructed by The Church of Jesus Christ, a community of the Latter-day Saints. It is one of the most well-known Mormon temples in Philippines. It is a must-visit destination for tourists seeking to learn about the Mornon culture or introduce it to their kids.
Location: 13 Temple Drive, Green meadows Subdivision, 1110 Quezon City, Metro Manila, Philippines
Suggested Read: 20 Best Places To Visit In Asia In October That Are Perfect For The Wanderlusting Souls!
6. Cebu City Philippines Temple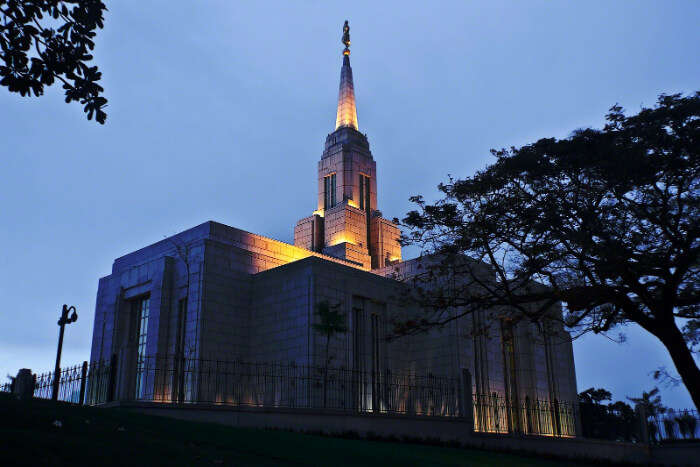 Image Source
Cebu City Philippines Temple was the second temple that was constructed in Philippines after the Manila Philippines Temple. The temple boasts of a gold-leafed statue of the angel Moroni. It is located on top of the structure. Records also claim that during an earthquake that shook the temple some years back, the statue that faces the East direction changed its positions to face the South direction. It was repositioned in 2014.
Location: Gorordo Avenue, Barangay Lahug, 6000 Cebu City, Cebu, Philippines
Sikh Temples In Philippines
While Sikhism as a religion is not very prevalent in Philippines, there are 17 gurdwaras in Philippines. The gurdwaras, or the Sikh temples in Philippines, must not be ignored on your trip to the country:
7. Khalsa Diwan Sikh Temple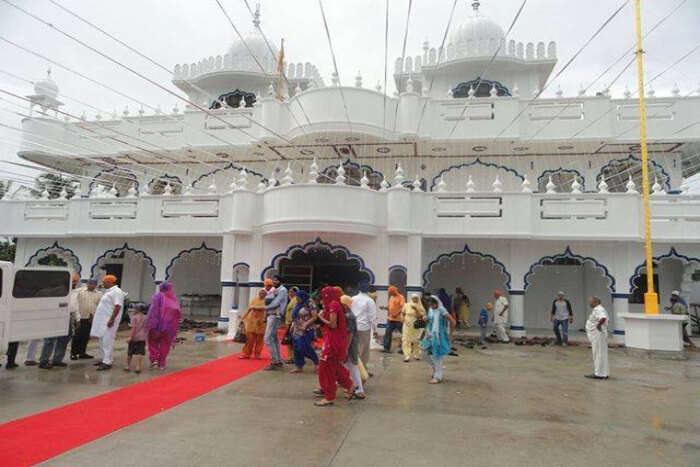 Image Source
Khalsa Diwan Sikh Temple is one of the most famous gurudwaras in Philippines. It is located in the extremely crowded city of Manila. With many tourists and locals visiting the temple each day, the gurdwara is worth a visit. You can visit them in the early afternoon to have a delicious langar lunch inside the premises. The vegetarian meal is supposedly amazing.
Location: 1350 United International Avenue, Manila
8. Sri Guru Nanak Dev Ji Indian Sikh Temple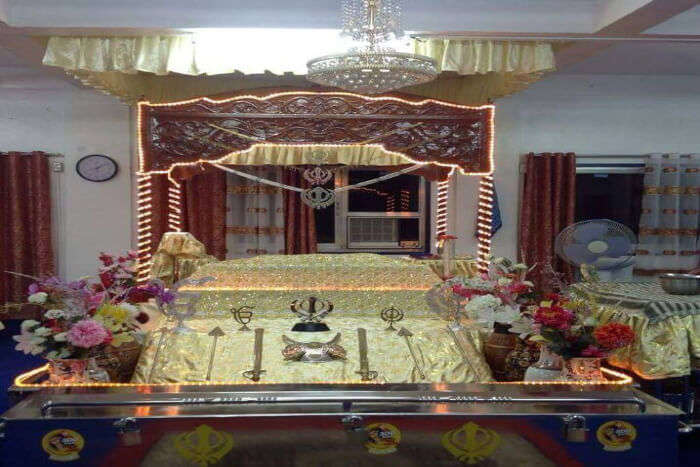 Image Source
Sri Guru Nanak Dev Ji Indian Sikh Temple is a very famous gurdwara located at Binan in Philippines. Plenty of visitors flock to the temple to pray and to gain some perspective on life and the general state of being. Sri Guru Nanak Dev Ji Sikh Temple is one of the best Sikh temples in Philippines. We strongly recommend you to have their langar lunch, freshly prepared by the volunteers.
Location: Narra St, Biñan, 4024 Laguna, Philippines
Chinese Temples In Philippines
The Chinese civilization brought the culture and religion of Buddhism into Philippines and established various Chinese temples in Philippines. Although the population of Buddhists in Philippines is lesser than that of the Mormons, there are a plethora of temples to see and places to worship:
9. Philippine Chinese Spiritual Temple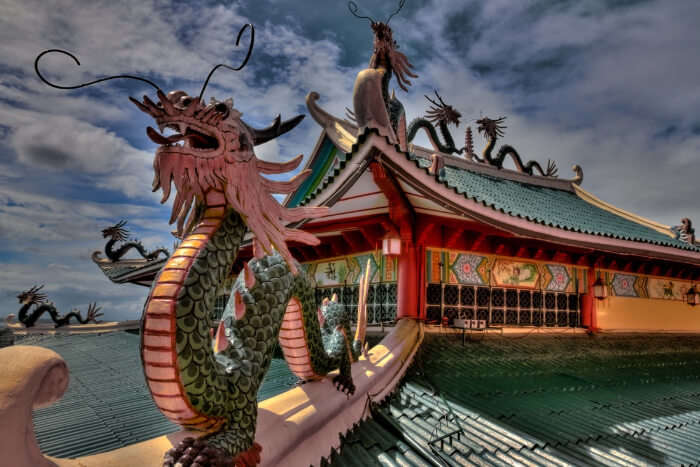 Image Source
A trip to Philippine Chinese Spiritual Temple is worth it. It is a Taoist temple located in Cebu city. Built in the traditional Chinese monastery style, this temple has stayed true to its Chinese roots in design, architecture, and the practice of religion. It also houses a Koi pond where one can watch the Koi fish. Make sure to visit this temple with your family to gain inner peace and wisdom.
Location: Don Pedro Rodriguez, Cebu City, 6000 Cebu, Philippines
10. Seng Guan Temple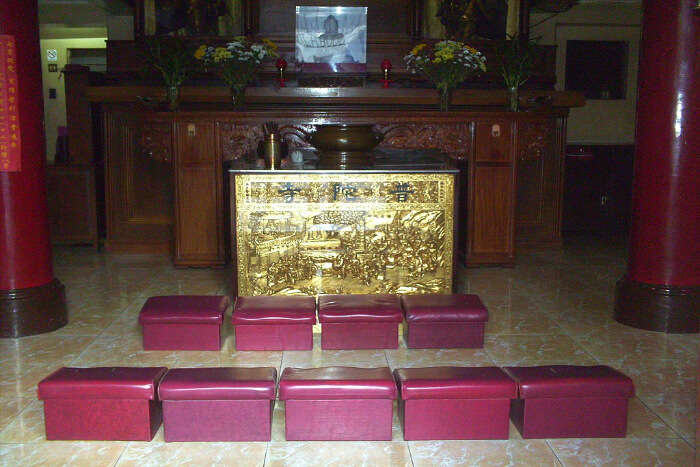 Image Source
The Seng Guan Temple is a Chinese temple in Philippines. It is located in Manila. Surrounded by a market with fresh vegetables, fruits, and herbal stores, it is a great place to visit on a day with pleasant weather. There are some great restaurants in the vicinity that serve dishes such as maki and lumpia. It is a definite go-to location while you're traveling in Philippines.
Location: Narra St, Tondo, Manila, Metro Manila, Philippines.
Further Read: Asia's Largest Tulip Show Goes Live In Kashmir & It's The Best Thing You'd See This Spring
With this list at hand, it is implied that any traveler can experience a great, enriching, and spiritual adventure while in Philippines. Despite your religious inclinations, all the temples in Philippines are worth a visit as they are a testament to the secularist faith of the people. With breathtaking architecture, helpful programs, and places to find serenity, one must visit these temples on their trip to Philippines to completely embrace the country.
People Also Read
Temples In Vietnam Hindu Temples In Malaysia Yogyakarta Temples