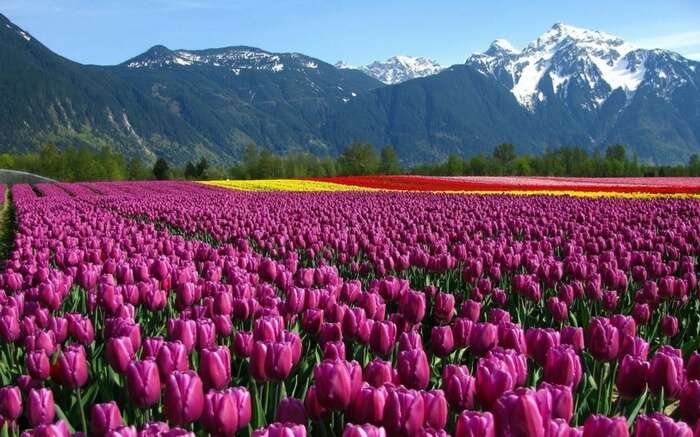 Heaven on earth just got more mystical and it's high time that you must consider a trip to the Himalayan land! March-April is the time when Asia's Largest Tulip Show Goes Live in Kashmir's Tulip Garden. The exotic flowers, in their full bloom, exude unparalleled charm and you have to see this, for you wouldn't have experienced anything like this ever before. The pristine view of Tulip Garden spread over 30 hectares, looks like a sea of colors aligned in a seamlessly flowing stream.
On 25 March 2018 (Sunday), the Indira Gandhi Memorial Tulip Garden in Srinagar was declared open for public viewing and given the popularity of the garden, it's going to remain jam-packed for the remaining of the days. If there's anything more that could make the prospect of visiting the Tulip Garden more fascinating, it's the picture-postcard location of the garden. The garden lies on the banks of the Dal Lake and the lower slopes of the Zabarwan Hills make a breathtaking backdrop, which looks just perfect for the photography session.
Tulip Garden Kashmir map
Suggested Read: Here's What Makes Kashmir A True Heaven On Earth
Here are a few important things about the Tulip Garden in Kashmir that you must know before making up your mind for a trip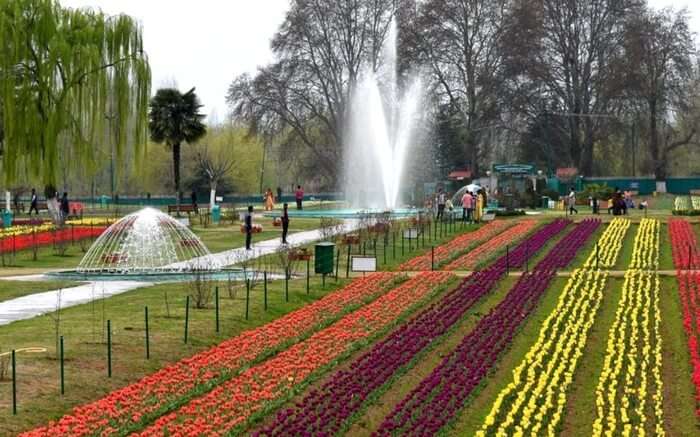 Over 1.2 million tulips of 60 varieties spread over 200 kanals are on display in the garden
Tulip Garden remains open for 20 days from the day it was opened
Standard Tulips, Double Bloom, Parrot Tulips, Fringed Tulips, Bi-Color Standard Tulips, Rembrandt, Fosteriana Tulips, Lily-Flowering Tulips, Single Late Tulips, and Triumph are some of the tulip species found in the garden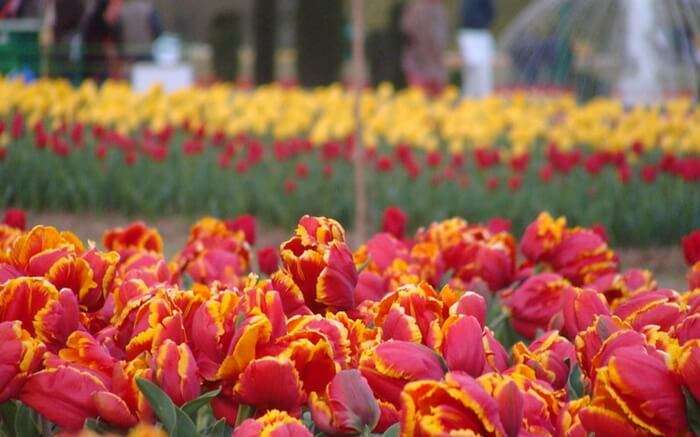 The Tulip Festival lasts almost 30 days. This year it will last until 25 April
The garden is a 15-min drive from the city center. It easily reachable as you take the Boulevard Road that runs along the banks of the Dal
Chashme Shahi and Pari Mahal gardens are 10 minutes far from the garden
Early morning and late afternoon is the best time to visit the garden
Must Read: Winter In Kashmir In 2022: 8 Things To Do On Your Vacation!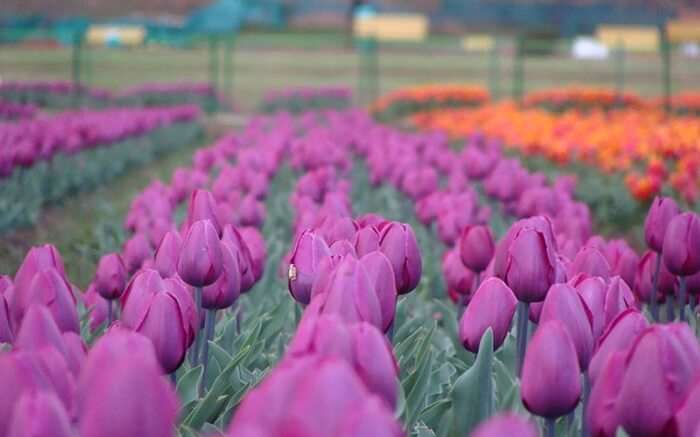 Timings: 7 am – 7:30 pm, all days
Don't miss this wonderful tulip bloom! Right now it's the most prominent reason to plan a trip to Kashmir.
Further Read: 15 Things To Do In Srinagar In 2022 That Will Make You Fall In Love With The Kashmiri Charm!