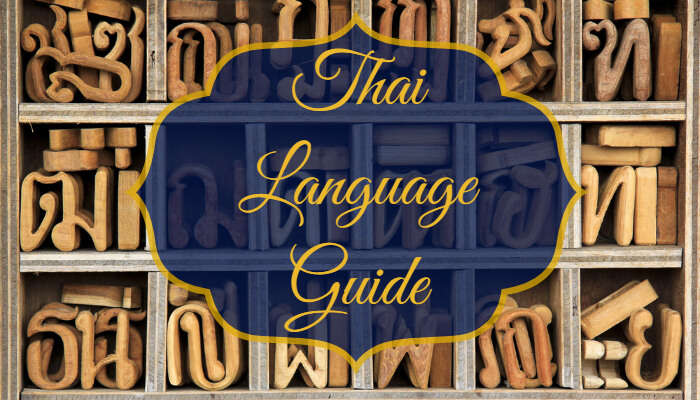 Thailand is a destination that tops the travel-bucket list of almost every traveler. It offers a plethora of mind-blowing experiences, from breathtaking scenic views, adventure sports, lit nightlife, gastronomic food scenes relaxing therapies and more. Excited too much about an upcoming Thai vacation, we prepare ourselves to make it perfect. We often seek knowledge about its Visa processes, currency, weather, places to visit, things to do, and where to stay. But there is one important element that we miss out – the language. Knowing the basic Thai language words and phrases of the destination we are planning to visit is highly empowering. It enables us to explore a place better and gain the best travel-experiences. This Thai language guide will help you in the same.
About Thai Language
Thai is the national language and the only official language of the Southeast Asian country, Thailand. It is also the first language of the Central Thai people and Thai Chinese. Thai belongs to the Tai group of language, from the Kra-Dai language family. Sanskrit, Pali, Old Khmer, and Mon are some of the languages from which a major part of Thai vocabulary is derived. Just like Chinese and Vietnamese, Thai is also a tonal and analytic language. This language is written in Thai script, from left to right.
Common Thai Words And Phrases
Knowing about the common phrases is your first step towards learning any language. Even if you do not indulge in long conversations with the locals there, may require these words to express your immediate feelings like gratitude and sorry. These words and phrases will also help you in getting help regarding your basic needs like water and washroom.
Must Read: 22 Exciting Things To Do In Bangkok – Thailand On A Holiday In 2022
What To Speak Where
Every language has got some power-words that can help you survive a few days in the country. They help you to nearly "manage" conveying some basic messages and thoughts, without having to compromise on crucial things you need. Here are some important words and phrases in Thai that you would require on different occasions during your Thailand holiday.
While Traveling
There are times when, while traveling within an unfamiliar place, your phone doesn't catch signals to help you navigate your way through. Also, the printed maps may seem too complicated to be understood and therefore, you may need to ask for directions from the locals. In such situations, knowing some basic phrases about directions make your travel easy. If you are moving around in Thailand, here are some of the phrases you must know:
Suggested Read: Thailand In September: A Pocket Guide For An Amusing Vacation In 2022!
At A Hotel
Finding comfortable accommodation is an important aspect of a holiday. Though most of the popular tourist destinations have hotels with multiple-language speaking staff, you can't always rely on this assumption. It is better to know some accommodation-related terms and phrases to help you find your best room:
Suggested Read: Is Thailand In October Really A Good Time For A Vacation? Here's Your Answer
At A Restaurant
Exploring the traditional cuisine of a place is one of the best experiences of travel. You would be eating at several restaurants, cafes and food stalls during your holiday. Knowing some of the basic questions and phrases will help you get the food of your choice. Here are a few Thai phrases that you can use at a restaurant or any food place:
Suggested Read: New Year Party In Thailand (2022): 17 Top Venues & Events
Food Terms
Being a vegetarian can be tough while traveling to places that are popular for sea-food and non-vegetarian food in general, especially when you do not know that language. Here are some of the terms used for common food categories and main ingredients:
Suggested Read: 13 Best Places For Shopping In Phuket That Prove Thailand Is The Ultimate Paradise!
While Shopping
Shopping is an inseparable aspect of travel, even if you only buy souvenirs. You must know how to carry out a basic conversation with the seller about the product/services and its prices:
During An Emergency
Safety of the traveler is crucial to all, including the traveler, the hosting destination and the travel agent (if any). A situation of unexpected emergency may require your presence of mind and awareness. Here are some Thai words that will come to your rescue during such instances:
Suggested Read: 14 Thailand Airports For Easy-Breezy Commute To The Tropical Paradise In 2022
Thai Numerals
A language guide is incomplete without numbers. During travel, we may need to use numbers to communicate various quantitative elements like the number of people, the quantity of food, total time-taken, price of something, the distance of a place and so on. Though Arabic numerals can also be used, Thai has its own numerals. These numerals are believed to have been adopted from the Khmer script. Here are the Thai numbers that will make such conversations easy and clear.
Suggested Read: Top 15 Restaurants In Thailand For Indians Who Don't Want To Rely Solely On Thai Cuisine
Interesting Facts About The Thai Language

Here are some of the amazing facts about the Thai language that will give you a deeper understanding of it:
Thai belongs to the Zhuang-Tai language family
Written form of Thai language was developed in the 13th century
First ever evidence of written Thai language is assumed to be a 1292 AD stone inscription in Sukhothai
King Ramkhamhaeng has written about his kingdom's organizations on this stone inscription
This language is spoken by 40 million people around the world (including 20 million native speakers)
Thai is a tonal language with 5 kinds of tones
The language uses 32 vowels and 44 consonants
Thai language shares strong similarities with Laotian
Further Read: 10 Places To Visit In Thailand In August 2022 To Escape The Thai Monsoon
Now that you have an idea of some Thai language words and phrases, you must be all the more excited to make use of it. What are you waiting for? Plan a trip to Thailand right away and keep a tab on this pocket-friendly Thia language guide for quick reference.
People Also Read:
Italian Language Guide German Language Guide Spanish Language Guide