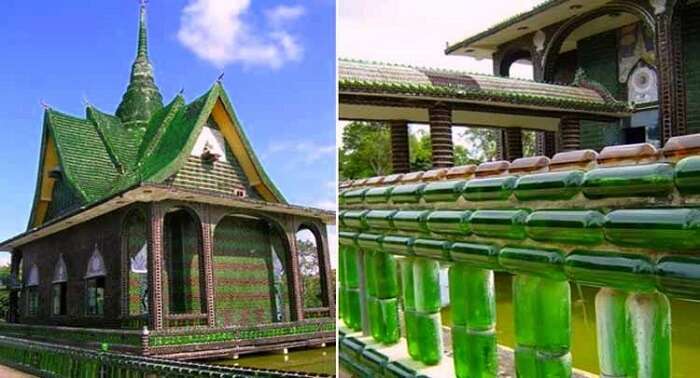 In a society where it is believed that the temple premises and alcohol don't go hand in hand, this Buddhist temple in Thailand has banished all these norms by building a temple using recycled beer bottles. Just 500 km away from Bangkok, lies this remarkable Buddhist temple named Wat Pa Maha Chedi Kaew or 'the temple of a million bottles'.
How did this idea emerge?

Suggested Read: 42 Best Places To Visit In Bangkok In 2022 That Will Change Your Opinion About The City
Situated at the Khun Han district of Sisaket province, this unique idea of constructing a temple with beer bottles came in the mind of the monks in 1984. Finally, after getting tired of the mounting waste littered in the area, the old monks of the temple encouraged the locals to deposit beer bottles for recycling.
Over the years, the temple authorities managed to collect a sufficient amount of bottles to use them for the construction of the temple premises which consists of 20 buildings. Everything from the prayer halls, tourist bathrooms, crematorium, to even the mosaics of Buddha are made of this recycled waste.
And, do they have a preferred choice of bottles?

Suggested Read: Mumbai To Bangkok On A Cruise: 16 Days, 5 Countries & An Incredible Experience
Yes! The green bottles of Heineken and brown bottles of the local Thai Beer have been used for the construction.
In fact, this creative and eco-friendly initiative started by these old Buddhist monks has left everyone speechless!
Isn't this cool? This Buddhist temple can now be an add-on to your Thailand Vacation. Take a look at our best Thailand packages and make your vacation a fascinating experience!