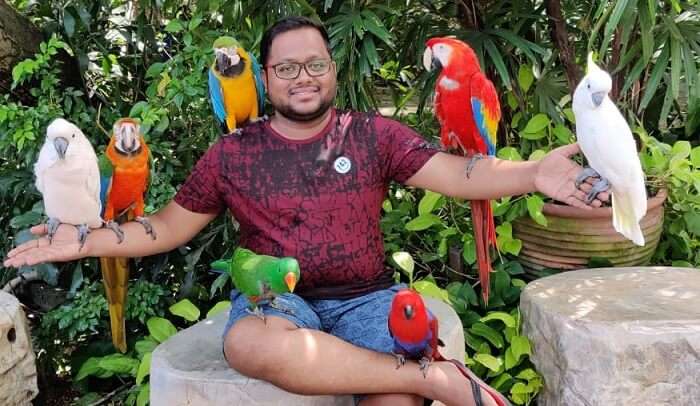 Shubham's Thailand trip for 7 days was no short of fun, leisure, and adventure. He planned to go on a solo trip to enjoy the feel of traveling solo. Check out how he made most of his vacation while taking the help of TravelTriangle.
I had always wanted to visit Thailand because of its salubrious weather and variety of experiences this place had to offer. Moreover, this place intrigued me with its cozy vibe, food, rich culture and numerous attractions. Beaches have always attracted me. The azure water and golden sands made me want to spend the whole day amidst this picturesqueness. Apart from the beautiful beaches, I was always a street food lover and will be more than elated to find it while I am traveling. This is why Thailand was the perfect destination for my first international trip, as it had the best of both! More than that, I was mesmerised by the people's conduct who made us feel at home and through them I got a better idea of the Thai culture. Relishing the beauty of beaches under the bright sun is something I would remember for a lifetime!
Details Of My Thailand Trip From Mumbai
Trip Type: Solo
Cost: Approximately INR 15000
Duration: 7 Days
No. Of People: 1
Inclusions: English Speaking Driver, Taxes, Airport Transfer, Lunch, Sightseeing
Exclusions: Breakfast, Airfare, Dinner, Visa, Personal Expenses
My Itinerary For Thailand Trip
Day 1: Arrival in Bangkok & transfer to Pattaya, leisure
Day 2: Sightseeing in Pattaya
Day 3: Visit to Coral Island and adventure
Day 4: Visit Underwater World Pattaya
Day 5: Leisure day
Day 6: Exciting day at Safari World
Day 7: Departure
Must Read: 7 Things To Do On A Budget Trip To Thailand For An Exciting Vacation!
Thailand Weather In October
I visited Thailand in the month of October when the temperature was relatively cool compared to the other months. It's a season when Thailand receives rainfall but thankfully, that didn't put any hindrance to my trip. It just rained only when I visited coral Island. It was not expected actually, but nevertheless I was still enjoying it.
Some Highlights Of My Thailand Trip For 7 Days
I was lucky enough to see and explore some of the most amazing places in Thailand. Each place had a surprise factor and had amazing things in store for me. My Mumbai to Thailand trip was all about fun & entertainment and here I am jotting down all the best places I visited and experiences I enjoyed:
1. Coral Island: Embracing The Scenic Beauty




Going for a coral reef island tour in Pattaya was something I considered quite pivotal during my vacay. During the tour I came across a lot of people, both tourists as well as locals. The island is beautified with exotic golden beaches that added immense harm to my trip. For some time I just relaxed by the beach and for some time I played with the lovely sea waves. All in all it was a wonderful day and I could make the most of your vacation.
Suggested Read: 13 Best Places To Go Shopping In Bangkok To Splurge On Your Thailand Vacay In 2022!
2. Underwater World: Witnessing The Vibrant Marine Life


Next, I visited Safari World and Marine Park where I witnessed the awe-inspiring marine life. It was like I was walking under the sea. This was, hands down, one of the best experiences that I had. I witnessed dolphins, seals, orangutans, and a huge number of other water animals on my visit. It was one of the experiences that I cherish the most after coming back from the Thailand trip.
3. Bangkok: Enjoying A Pub Crawl






Now was the time to indulge in what I was waiting for so long-Pub Crawl. There is a famous pub crawl in Khao San Road that offers travelers all the entertainment they are looking for. There was a charity show going on which cost just 900 Baht. It was such a lovely show to be a part of. Moreover, the audiences were also given Tees & shorts as souvenirs.
Suggested Read: 8 Top Places To Visit Near Bangkok During Your Trip To Thailand!
4. Safari World: Peeping Into The World Of Animals






Getting to know about Wildlife and animals is one of my passions and therefore I opted for a day tour to Safari world to have a closer look into the quirky lives animals. After a toothsome Indian breakfast at the hotel, I was picked up on time by the Coach and was taken straight to the Venue. A cordial & hospitable Thai guide escorted us to the place while conveying to us the necessary instructions. It was a thrilling experience to watch plenty of wild animals in open enclosures. The Orang Utan Show, The Dolphin Show, The Cowboy Show, The Elephant show were simply mind-blowing. This actually added great charm to my Thailand trip for 7 days. Moreover, I believe that this is one of the best places to visit in Thailand.
Suggested Read: 53 Tourist Places In Thailand In 2022 That You May Have Ignored Before
My Personal Expenses In Thailand
Mine was a budget trip that included accommodation, sightseeing and 2 meals. Rest, I had to bear on my own. Nevertheless, If you are traveling solo, then INR 30,000 would be enough for your personal expenses.
Shopping In Thailand
I did most of my shopping in Phuket. Clothes are very cheap and high on quality. Anything and everything on the streets is priced high. So, everything needs to be bargained. While on Phuket city tour, I did visit a state-sponsored store where prices were very reasonable. There are various places for shopping in Phuket where you can find some really cheap items. Also, if you are looking for the best places for shopping in Thailand, then Pattaya would be your first visit.
Hotels In Thailand
For both the destinations, I had booked several accommodations. In Pattaya, I chose to stay in Sawasdee Sea Hotel View & Quinglian Youth hostel. Both the accommodation were great and offered all the basic amenities that one would need. Apart from this, Mad Monkey Hostel and Slumber Party Hostel were my accommodations in Bangkok. Both these places were perfect for a solo traveler like me. All in all, I had a great time staying at all these accommodations. Moreover, I found Sawasdee Sea Hotel View to be one of the best hotels in Thailand.
Suggested Read: 5 Best Nude Beaches In Thailand That One Cannot Afford To Miss In 2022
What To Pack
Less and light clothing
Rain jackets are a must if traveling in the rainy season
Waterproof Slip ons/ flip flops
Cap, Sunscreen and sunglasses are a must
Important Traveling Tips For A Trip To Thailand
Do not shop at one single place. There is always a place where you will get similar goods at a higher discount.
Bangla Street in Phuket is very crowded. People are often drunk. So take care of your belongings while visiting that at night.
Even any performer approaches you for a photograph, politely refuse as they would demand money for the photograph.
Most important is thorough research of the area is a must.
There are multiple information booths available everywhere. The inquiry is free of cost
And you can find a lot more information that is not available on the net.
Make sure to visit all the main attractions in Thailand to make the most of your vacation.
My Experience With TravelTriangle
I would say Travel Triangle and its agent really made my trip awesome. I initially had some apprehension that what if I do not get any support once I take the package But it was a really very good experience dealing with TravelTriangle agents.
Further Read: Thailand In March: All About Thrills, Fun And Amazing Memories
I really enjoyed my Thailand trip for 7 days and can't thank the TravelTriangle team enough for it. They really took care of the entire planning and made an itinerary for me that I wanted. It was right under my budget and covered all that I had been wanting to see or do. If you too want a similar experience then plan your trip to Thailand with TravelTriangle and get ready for one helluva journey.
Common Queries You May Have
How far is Pattaya from Bangkok?
Bangkok is about 147 km away from Pattaya. To reach there, you can hire a taxi that will take about two hours.
How many days are okay for a Thailand trip?
Around a week is a good time to spend in Thailand and to see all that it has to offer.
What is the cheapest month to fly to Thailand?
You should consider the off-season in order to book the flight to Thailand at the cheapest rates. Therefore, planning your Thailand trip for the month of September would be the best.
How much is a meal in Phuket Thailand?
The price of a meal depends on the type of restaurants you wish to go to. The average cost for a basic Thai meal in a restaurant is between INR 210 to INR 350. If you go for seafood, it of course costs more. There are also amazing Indian restaurants in Phuket offering affordable meals.
What is the best currency to take to Thailand?
For Indians planning to visit Thailand, the best idea for you is to convert INR to USD here in India.