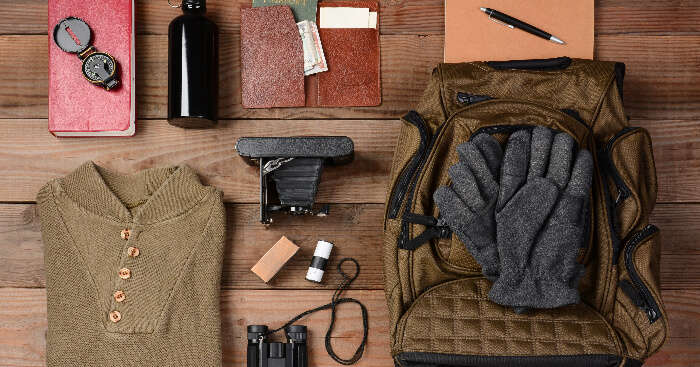 Whenever we plan a vacation, the first two places that hit our minds first are hills or beaches. And when we zero on a hill station, the next big task is packing for the trip. We make lists of things to carry while travelling to hill station. And this is when "just in case" haunts our mind. It's important to realise that even after packing every single thing that crosses our mind, there are things that we miss out.
15 Things To Carry While Travelling To Hill Station
The key is to pack smart! Think before you pack and you will agree that the below-given travel packing tips are the only things to carry while travelling to hill station.
1. Woolens – You knew It, Didn't You?

Woolens top our checklist every time we pack for a hill but we often end-up packing too much. Staying warm is the aim but comfort cannot be overlooked. Make sure you pick just enough woolen dresses for hill station if you don't want to die of cold or carrying too much weight. On a trip lasting for a week or less, two good quality jackets or coats in basic shades are hill station dress code. You can go fancy with your sweaters and pullovers. Invest in good body-warmers as they can work wonders even in the most extreme seasons. Be generous in carrying socks but two pairs of gloves, two caps and a muffler should be enough. While a down jacket and a fleece are enough clothes to wear in hill station during summer.
2. Good Shoes – Too Much Walking Is Involved

No matter how much you stuff yourself with woolens, wrong shoes will beat the purpose. Carry a good pair of shoes or boots as these are perfect for hill climbing and snow walking. Leave your heels and loafers home. Just carry an extra pair of indoor-outdoor slip-proof slippers that you can wear inside or outside the premises of your hotel.
27 Hill Stations Near Dehradun For Your Wanderlust
3. Napkins – For That Running Nose

Napkins or tissues can be life-savers on any trip but for a hill station you can't skip them at all. You won't always be lucky to have a place around where you can wash your hands. Cold weather conditions make you prone to infections. You would need them to blow that running nose too. Make sure you do not litter the hills with used tissues.
4. Medicines – To Fight Cold

We all love snow and rain but our immune system is constantly at war in such weather conditions. Keeping basic medicines handy is a smart move. These should be the only "just in case" product in your bag. People who have motion sickness can a carry a medicine to counter vomiting sensation while going up – down the hill on a vehicle. It is one of the most essential things to carry while travelling to anywhere in the world. If you're someone who easily falls sick and is searching for what to carry while travelling to hill station, some cold and altitude sickness medications are essential things to carry for hill station.
12 Things You Don't Need On Your European Packing List
5. Chocolates – For Instant Warm-Up

Chocolates are not just to settle your sugar – cravings. They are also the best source of instant warm up and energy. Mountain climbing is an exhausting task and you may need to charge up. Also, cold can be restrictive at times. By eating chocolate you will feel much energized and warm. Chocolate are yummy and easy to carry and consume.
6. Skincare – Say No To Dry Skin

On the higher altitudes the weather is usually cold and dry or cold and too moist. These areas also receive direct sun rays. Our skin goes through a test in such weathers therefore it's best to prepare your skin. A good winter cream and a sunscreen should be it, so that you don't stress your skin while you are on your vacation.
30 Cool Travel Accessories For A Smart Traveler
7. Thermal Water Bottle – Hydration Is A Must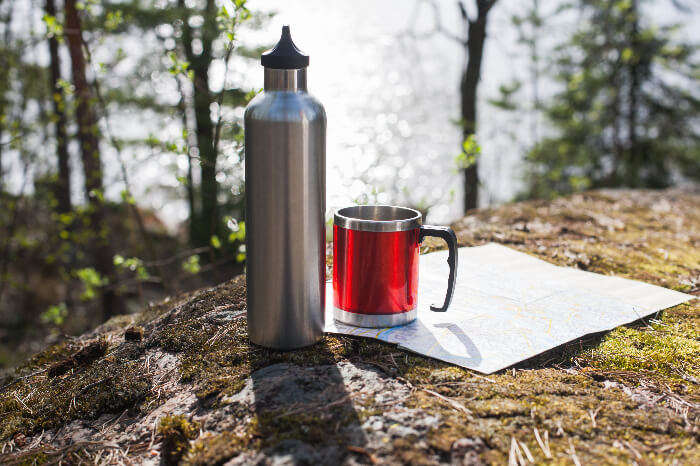 Though there are small taverns and food stalls on the way and uphill, it's better to carry your own sipper. It's important to keep yourself hydrated throughout the journey especially while you are on a hike or a trail. Fill your bottle with water or any hot beverage of your choice and keep sipping on the go. A thermal water bottle that can keep your drinks hot for a long time is the best option. Go for a leak-proof light-weight bottle.
8. Umbrella – Shelter From Rain And Snowfall

The uninvited guests, snowfall and rain can knock your door anytime. You should be ready with an umbrella. These weather surprises look "romantic" only in movies, but in real life they can be a complete spoiler to your perfect picture of holidays. If you are not willing to carry a huge umbrella, go for a lightweight multi-fold one.
15 Top Hill Stations In Karnataka To Rejuvenate Yourself
9. Cash – ATMs Are Not Always Available

Prominent hill stations are crowded during seasons. And we are sure that you would not want to waste your precious holiday time standing in ATM queues. It's better to carry enough cash and not rely on cards completely. Though you can make payments through your cash cards too, small shops and vendors may not always have this facility. Street shopping is easier with cash. It is one of the most important travel tips for exploring the hill station.
10. Power Bank – Your Phone Will Be Doing Too Much

This is usually on your list but if at all you were planning not to carry a power-bank in your sling bad, reading this will help. On hill vacations, you are walking the maximum time which strikes out any chances of charging your phone on regular intervals. Also, the phone networks are low uphill which causes the battery to discharge fast. Plus your phones are always on action, from clicking picture to playing songs, from showing you the way with it's torch light to navigating your way with the google map. With a power charger, you can freely use phone without having to worry about its battery.
60 Best Hill Stations In India That You Must Explore At Least Once In Your Life!
11. Deodorant & Dry Shampoo – Hate To Take A Bath

Lets face it! We all want to stay away from water in the cold season. We hate to take a bath. Though it's better to washout the germs completely but we can resort to a shortcut for a day at least. Carrying a dry shampoo will enable you to instantly wash out grease from your hair. Deodorants are also another way for making you feel and smell fresh instantly, in case you have skipped shower.
12. Baby Or Kids Essentials – The Li'l Ones Need More Care

If you are travelling with toddlers, make sure you do not leave out the musts for them too. Clothes and shoes are fine, but carrying some extra baby diapers and wipes are really important. These things are available almost everywhere now but the prices can be a bit higher. Also, you may not get that perfect pick for you kid as the brands may vary. Weather conditions are slightly unpredictable on hills. In case of a sudden snowfall or rain you may not be able to leave your hotel rooms. Having enough diapers and baby wipes is important as sometimes even hotels may not have them. It's not easy to travel with kids as they usually have a fixed diet or can get fussy about food. So, carry sufficient amount of baby food or snacks so that you can feed your li'l ones on time.
Things You Ought To Know Before Traveling #PackingHacksIncluded
13. Winter Boots – To Keep Your Feet Warm

Walking, trekking and hiking are experienced better with a firm pair of furry boots on your feet. Whether it's a long journey ahead or a short one, winter boots come in very handy for they have a firm grip over both soft as well as hard snow. Renting from local vendors on the hill stations is also an option in case you don't have one pair or you want to avoid carrying them altogether!
14. Leather Jackets – Wind Shields

Not only does a good jacket like the leather one looks sleek and stylish for those perfect selfies with snowy backdrops, they also protect you from the cold. Adding a fashion statement to your almost-perfect holiday is never a bad idea. Besides, who knows when the jacket comes handy while trekking and hiking! This is surely one of the top things to carry while going to hill station!
15. Lip Balm – Prevent Chapped Lips

Lip balms are one of the very essential things to carry while going to a hill station. Chapped lips are a common problem during winters and in cold places. Lips become dry and crack, which may cause bleeding and irritation. It is a good idea to keep a lip balm handy. They don't just moisturize your skin but also nourish them for such extreme climatic conditions.
55 Hill Stations Near Delhi One Must Visit For A Peaceful Getaway!
Adhere to this list of things to carry while travelling to hill station and you will be fine. The impulse to travel is one of the hopeful symptoms of life. So act on that impulse! Never get so busy making arrangements for your trip that you miss out the actual fun side of it. Remember, less is more and enough is most!
For our editorial codes of conduct and copyright disclaimer, please click here.
Frequently Asked Questions About Things To Carry While Travelling To Hill Station
What should I put in my carry on?
Your carry on should have essential medicines, water bottle, tissues, any valuable items, card and cash, important documents and IDs, and your phone charger.
What should I pack for a 3-day trip to the beach?
For a 3-day trip to the beach, you should have two bathing suits, a towel, sunscreen, a pair of flip-flops, a beach hat, and your favorite pair of sunglasses.