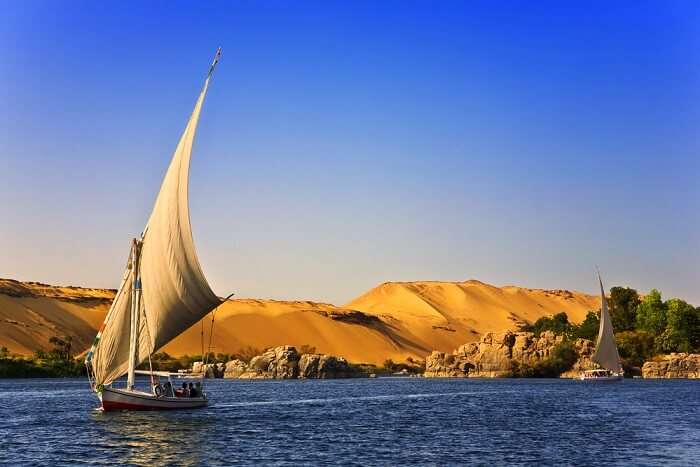 Perched on the banks of the shimmering Nile, Aswan has long stayed hidden from the greedy eyes of the world. But now that it has started rising from the shadows, we might as well enlighten you with some of the best things to do in Aswan that will make you fall in love with this Egyptian beauty. But why should one pick Aswan over major cities like Cairo and Luxor? The answer will have you packing your bags in no time!
Other than a truck-load of attractions, this city offers every bit of those unique Egyptian experiences that brought you to this country, but with less than half the tourist traffic than its big cities, and half the price! So, the next time you're in Egypt, make sure you ditch the noisy urban hubs to rather explore Aswan with its historical treasures, chilled-out vibes, thrilling Nile cruises, sunset panoramas, and delicious kebabs.
Top 15 Things To Do In Aswan, Egypt
It's always hard to pick favorites, and more so in Aswan where everything is lovable! But we've still managed to convey what to do in Aswan as briefly as possible to only bring you the best experiences here.
1. Island Tours – See These Gems Studden In The Nile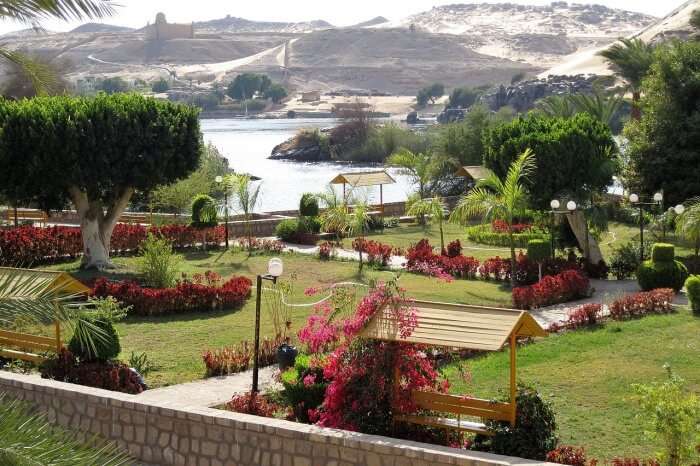 Lush islands and islets dot the Nile River of Aswan, simply waiting to be explored. Just minutes away from the mainland, these islands offer unique experiences to travelers. You can easily get to these islands via a felucca (traditional sailboat) or local ferries.
Elephantine Island – There's more to this island than swaying palm trees, sandy streets, and colorful mud-brick houses. Home to Aswan's famous attractions like Aswan Museum, Old Kingdom Temple of Khnum, and Temple of Satet, this is a prominent part of any Aswan tour in Egypt. It also has the famous Nilometer used by ancient Egyptians to measure the Nile's rise and fall and predict floods.
Kitchener Island – Hitch a cheap boat ride to Kitchener Island where you can visit the famous Temple of the Nobles and the Aswan Botanical Gardens. Thanks to the original owner of the island, Lord Kitchener, the island has turned it into a verdant spectacle of exotic plants from Asia and Africa. Strolling in these vast gardens are amongst the most unmissable things to do in Aswan, especially for couples and nature lovers.
Round trip ferry ride to Elephantine: INR 9/- (2 LE)
Must Read: A 4000 Year Old Tomb In Egypt Has Just Been Opened For Public & It'll Leave Your Mind-Boggled!
2. Museums – Explore Aswan's History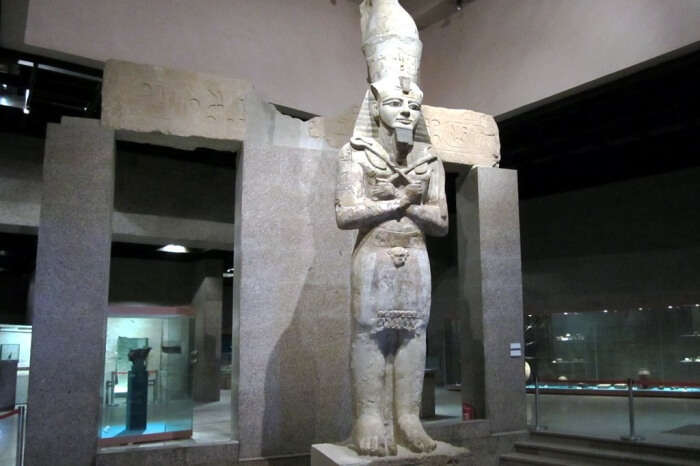 If you're just as fascinated by Egypt's history as is half of the world, you better come down to these intriguing museums displaying a network of historical artifacts and documents.
Nubian Museum – It's amongst Egypt's best and has documents demonstrating the plight of people relocated to build the Aswan Dam and Lake Nasser. It even has pictures of ancient monuments lost under the waters of this lake owing to the construction of this dam. It houses artifacts of the Kush Kingdom as well as old statues of Ramses II, Amenras, the head of the Shpatka, and the black granite head of Tahraqa.
Aga Khan Mausoleum – Siting high over the Nile's bank, this museum is dedicated to Sir Sultan Muhammad Shah (1877-1957), the leader of the Shi'a Islam Nizari Ismaili sect who played an influential role in the partition of India. The mausoleum has his tomb and tells about his contributions and the extensive charity he did in Asia and Africa.
Animalia – A delight for kids, this small museum is dedicated to showcasing the traditions, flora, fauna, and history of Nubia. It's collection of stuffed animals endemic to Nubia, iconic photographs of the pre-flooded Lake Nasser, as well as samples of sedimentary rocks are sure to enthrall you! You can also buy Nubian crafts here.
3. Abu Simbel – Take A Fun Day Trip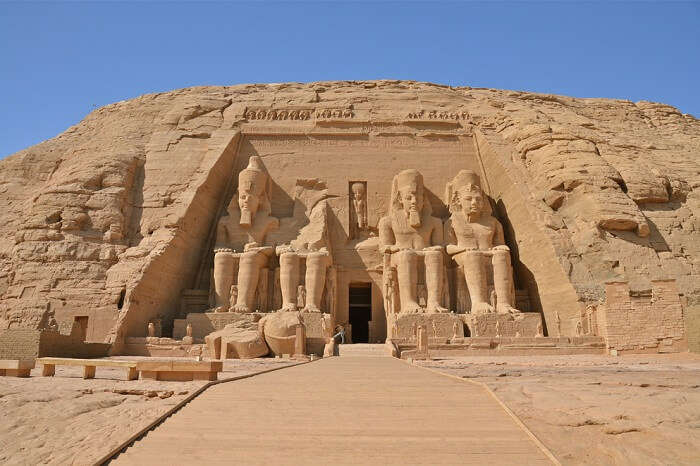 If you are left wondering what to do in Aswan on a free day that you have, head to Abu Simbel and it'll definitely be worth you while. Built by Ramses II, Abu Simbel is probably the only triumphant and elaborate blend of ancient architecture and modern engineering that will take your breath away! You can avail a private Abu Simbel minibus tour to the enormous Great Temple of Ramses II and the Temple of Hathor perched on Lake Nasser banks. Your private tour will ideally include transport to and fro as well as entry inside the said temples, all along with an Egyptologist guide.
Private tour average cost: INR 8,000/- per person
Suggested Read: Recently Opened Egyptian Long Distance Hiking Trail Will Give You Hiking Goals
4. Temples – Marvel At The Architecture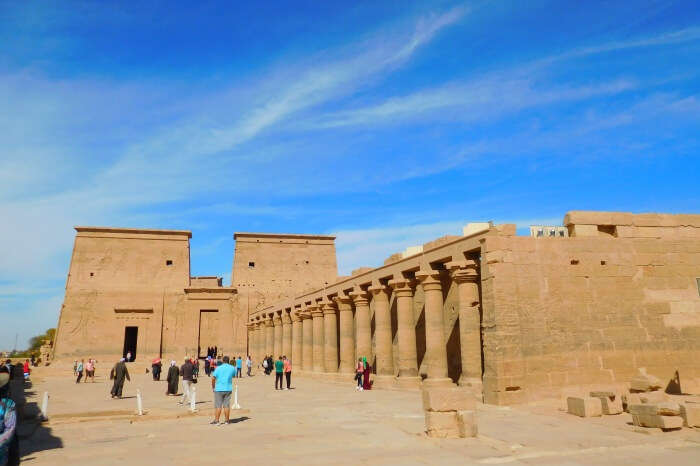 Oozing Egyptian architecture and mysticism in abundance, the temples of Aswan are a treat for the eyes and soul! The ones you shouldn't miss have been listed here:
Philae Temple – Sitting on top of an island in the Nile, this peaceful sanctum is adorned with colourful inscriptions, stone windows and beautifully lit hieroglyphics. You'll be mesmerised by the perfect symmetry of Temple of Isis as it reflects beautifully in the river while you sail towards it. Attending the Light and Sound Show here is among the best things to do in Aswan at night.
Monastery of St. Simeon – This photogenic sanctum sits amidst picture-perfect sand dunes on the west bank of the Nile. It is as old as the 7th century and is the best preserved monasteries in Egypt. Don't miss the bizarre aisled Basilica as well as the fresco with Christ enthroned between angels.
Kalabsha Temple – The youngest of the temples in Aswan, Kalabsha belongs to the time of Roman Emperor Augustus. UNESCO had successfully saved it from being demolished during the dam's construction, and it now serves as the most imposing monument in Nubia. The lively historical reliefs depicting scenes of battles from Ramses II's time often put travelers in a trance!
Philae Temple boating price: INR 500/- (120 LE) round trip
Philae Temple Entry fee: INR 400/- (100 LE)
How to reach Monastery of St. Simeon: A felucca will get you to the monastery's boat landing site. Then either hike or take a camel ride for the remaining 30-minute distance.
How to reach Kalabsha Temple: One can easily take a taxi to get here.
5. Unfinished Obelisk – Visit Aswan's Most Bizarre Attraction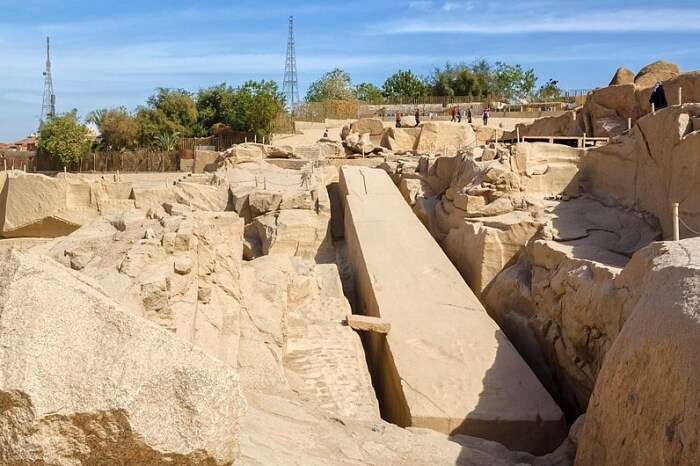 Located in Aswan's Northern Quarry just a few minutes walk from Aswan's downtown area and the Nubian Museum, the Unfinished Obelisk is a rather bizarre part of Aswan's heritage. It would have been the largest single standing stone in Egypt weighing a whopping 1,168 tons had it not cracked in the middle during its construction! Visiting it is amongst the most interesting things to do in Aswan as it tells you how much time and effort went into the stonemasonry of the greatest ancient structures in Egypt, and how skilled were those masons who made all these before the invention of modern tools! You can see these very skills and efforts reflected in the rock faces surrounding the Obelisk here.
Suggested Read: 9 Most Magnificent Egyptian Monuments That Will Put You In A Trance
---
Planning your holiday but confused about where to go? These travel stories help you find your best trip ever!
Real travel stories. Real stays. Handy tips to help you make the right choice.
---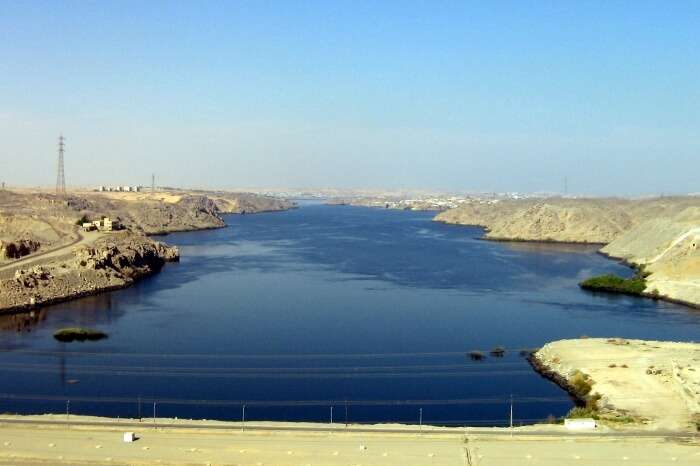 Though highly beneficial, Aswan's High Dam is also modern Egypt's most controversial building project considering all that had to be destroyed to construct it. Built with the help of the Soviet Union, President Nasser's pet project was made out of 42.7 billion cubic meters of stone and is a staggering 3.6 kilometers long. Among the many benefits it brought, the major ones were sustainable electricity and a steady increase in arable land in Egypt. There were also many hard-hitting disadvantages though. It ended the annual Nile flood which used to fertilize the fields, created Nasser Lake that wiped away many monuments and heritage sites of Upper Egypt, and destroyed many Nubian villages.
How to reach Aswan Dam: You can easily hire a taxi to get here.
Entry fee: INR 123/- (30 LE)
7. Tombs Of The Nobles – Wander!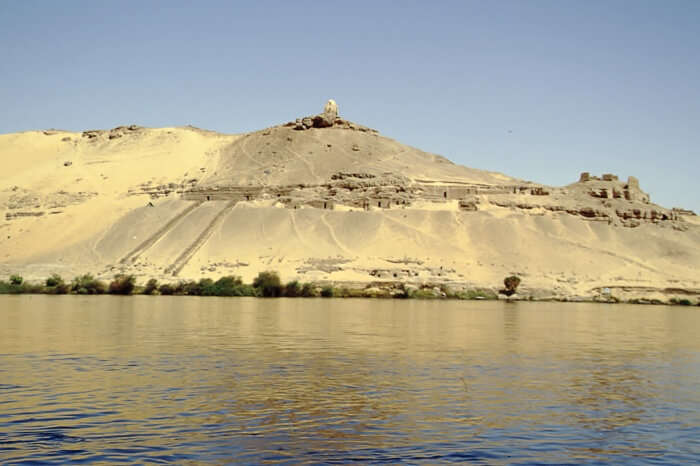 The governors, priests, and other renowned people of the Old and Middle Kingdoms were buried in a series of rock tombs or catacombs chiseled out of the West Bank's cliffs. And the best part – you can visit them all! With mystical interiors, marvellous paintings depicting scenes of everyday life, and major works of some of these people, these tombs are far from ordinary! Some of the best ones you must visit include:
Tombs 25 & 26 of 6th-dynasty governors Mekhu and Sabni – simple yet intriguing artistry
Tomb 31 of Prince Sarenput II – the largest and best preserved tombs
The colourful figure of a dead man and his son excellently preserved in the first niche beyond Tomb Chamber
Tomb 34 of Harhuf – inscriptions of his successful trading expeditions in Nubia
Tomb of Setka – damaged but bright colourful wall paintings that are a few surviving examples of ancient Egyptian art
Qubbet el-Hawa – 'the wind dome' that gives excellent views of the entire Nile valley, Aswan, and nearby villages
How to reach Tombs of the Nobles: Take a felucca to Gharb Aswan's boat landing. Then climb the series of steep staircases to its left.
Best time to visit: Sunrise or sunset
Suggested Read: 20 Unique Things To Do In Egypt That No Travel Guide Will Ever Tell You About
8. Markets – Shop Till You Drop!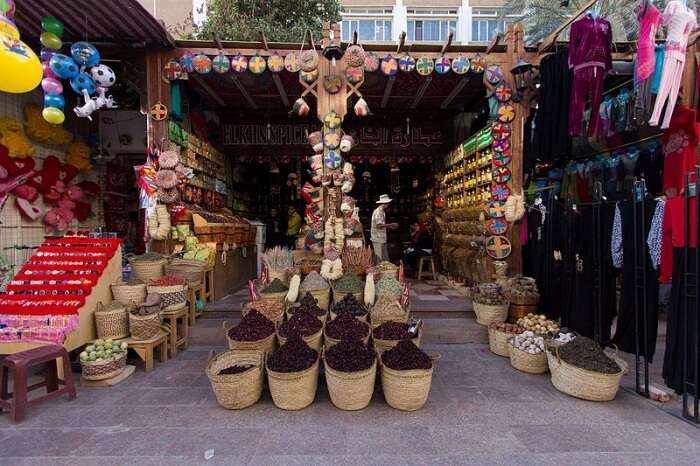 No trip to Aswan is ever complete without buying its unique and exotic goods, and it makes up for the top things to do in Aswan.
Sharia El-Souk – Located in the middle of Aswan's downtown district, Sharia el-Souk is a every souvenir hunter's go-to place in Aswan and you'll be blown over by the variety on offer. From scented perfumes customised to your style and locked in pretty bottles, to dark-red dried karkadai (hibiscus) petals that you can buy by weight to recreate the delish karkadai drink back home, there's nothing you can't buy here!
What to buy at Sharia El-Souq: Spices, sandalwood, high-quality henna powder, perfumes, traditional galebeyas (long robes), rainbow-coloured scarves, basketry, silverware, Nubian jewelry, needlework, roughly carved copies of Pharaonic statues, Nubian talismans for good luck, colourful Nubian baskets and skullcaps, Sudanese swords, dried hibiscus flowers, African masks, huge stuffed crocodiles and other desert creatures, and the famous fuul sudani (peanuts)
Hanafi Bazaar – Among the best things you can buy in this old and dusty bazaar include 18-carat gold owing to the purity and quantity you'll get here. Sold at rock bottom rates as compared to the West, gold jewelry here can be personalised as gold cartouches with your name added in hieroglyphics. Just make sure it's weighed before you, the prices are correct in your currency, and you're buying from a government approved retailer. The per gram 18 carat gold price is usually around 550 EGP/INR 2,250.
What to buy at Hanafi Bazaar: 18-carat gold, Nubian swords, baskets, amulets, silk kaftans, African beads
Suggested Read: 10 Best Honeymoon Places In Egypt For A Romantic Stint By The Pyramids
9. Cruises – Sail Up The Nile!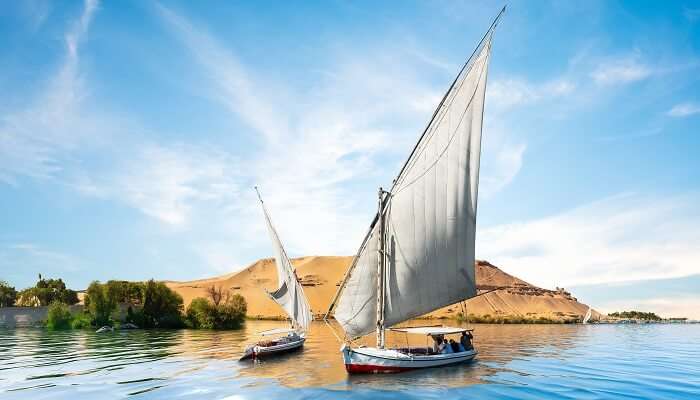 The Nile is the pride of Egypt, and a boat or felucca ride up this beauty is an indispensable part of any Aswan tour. You can take either of these two modes to sail over the Nile:
Felucca boats – Colourful and charming, feluccas are traditional boats in Aswan that are used to commute to and fro the many islands and the mainland. So, just hop onto a felucca and sail away to charming islands, ancient temples, and mud-brick Nubian villages. Witness some of the best sunsets in this photogenic town where hundreds of colorful feluccas take to the water, causing ripples in the river that shimmer under the setting sun.
Nile cruise – For longer tours like a day trip to Abu Simbel or to other cities of Egypt, a cruise is the best option. A four-day tour over these five-star cruise ships usually include entrance tickets and guided tours of Philae Temple, Edfu's Temple of Horus, Kom Ombo Temple, Karnak Temple, as well as Luxor Temple, along with accommodation and meals.
10. Camel Rides – Tour The Desert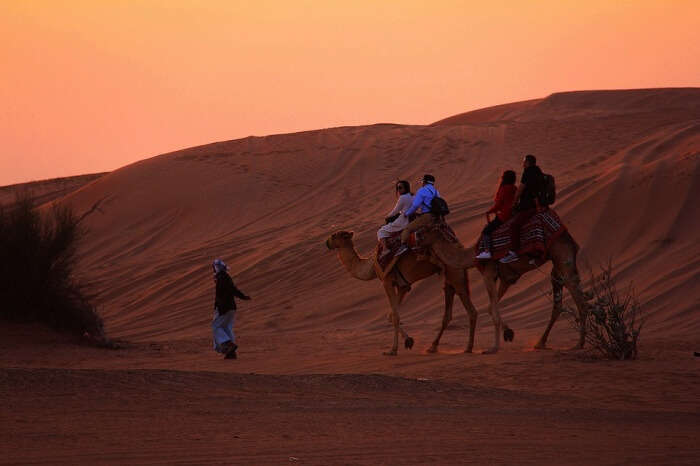 Image Credit: sharonang for Pixaby
Needless to say, camel riding is amongst the best things to do in Aswan, especially for couples and families with kids. If you're tired from visiting all the historical attractions and heritage sites in Aswan, then a camel ride should be next on your list for that refreshing break you now need. Try indulging in this at the end of the day during sunset, when the worst of the heat is gone and you can get mesmerising views of the colourful sky beyond the sand dunes while you ride. You can take a camel ride from Nile's west bank (near the Tombs of the Nobles) all the way to the Monastery of Saint Simeon (or vice versa).
Camel ride average cost: INR 20/- (5 LE)
Suggested Read: Know All About The One & Only Waterfall In Egypt Of The Magical Wadi El Rayan!
11. Old Cataract Hotel – Sip On Some High-Tea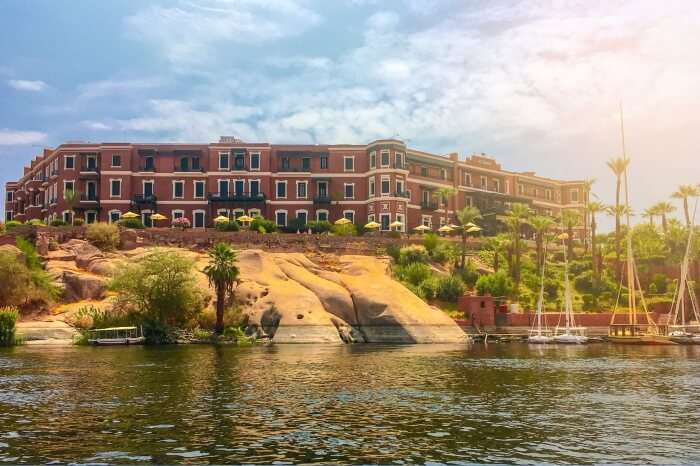 If you love historic hotels and wish to live in one where great personalities like Lady Diana, Winston Churchill and Agatha Christie had once stayed, you should definitely get to the opulent Sofitel Legend Old Cataract Aswan. This five-star delight is Egypt's most famous hotel infused with an old-world charm, crimson chandeliers, Moorish domes, Persian carpets, manicured gardens, an enormous pool, and stunning Nile views. The hotel was featured in the movie version of Agatha Christie's novel Death on the Nile which she wrote within these very walls.
If not stay here, you can simply sit at the panoramic terrace cafe and entertain yourself with a fine English selection of scones, sandwiches, and high-tea, along with gorgeous views of the Nile and Elephantine Island right in front of you!
Starting price of Nile-facing rooms: INR 20,000/- (€250)
12. Restaurants – Gorge On Koftas And Kebabs!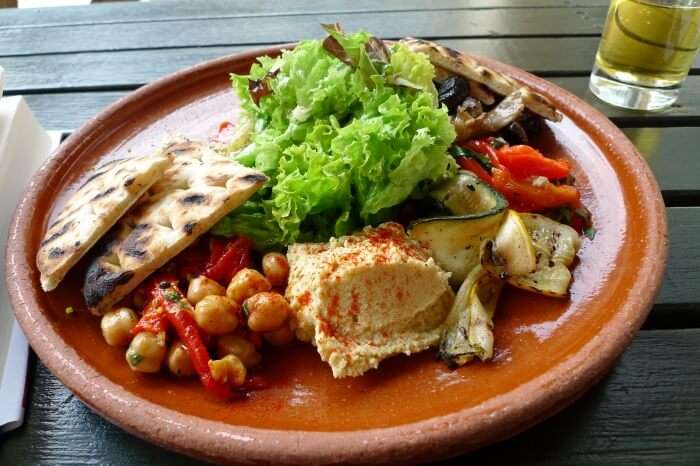 Egypt's sophisticated food and exotic flavours tend to take travelers on a roller-coaster ride that they never forget! But you need to dine at the right places to experience that for yourself.
Panorama Restaurant & Bar – Among the best restaurants in Aswan, this place serves finger-licking Egyptian cuisine in an elegant space. Some of the best things served here include the mezze, tagines, kebabs, Red Sea fish, cocktails, and wine. Though the food is awesome, the major draw here is the 360-degree view of the city, a sight to behold especially at sunset. If you're wondering what to do in Aswan at night, try grabbing a meal or two here along with glittering views of Aswan, the Nile, and the desert beyond.
Kebabgy – If your tummy demands some succulent kebabs, koftas, and mezze on a rooftop setting overlooking the Nile, it's probably asking you to head over to Kebabgy. The excellent rustic yet modern Egyptian interiors will blow your mind, as will the food!
Al Makka – Though the stuffed duck served here makes it highly popular with meat-eaters, little do people know that Al Makka also serves a range of delectable vegetarian menu. You can savour items ranging from bread, salad, tahini, rice, and vegetable stew while you're here. It's a great place for people with a big appetite, both veg and non-veg.
Suggested Read: 10 Best Haunted Places In Egypt That Will Scare You From Head To Toe!
13. Beaches – Dive Into The Nile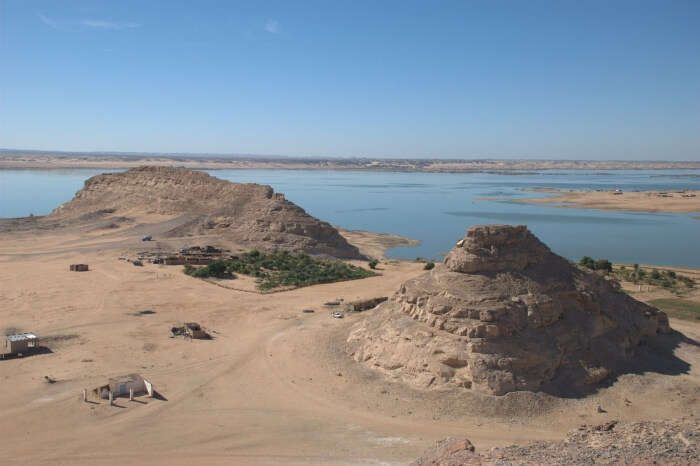 Though not many, the beaches located on the banks of the Nile provide some great spots for basking under the sun and watching the Nubian way of life pass you by.
Swimming Beach – This is a lovely beached located on the banks of the Nile. Considered safe for swimming, it's relatively unknown, making it an offbeat addition to your list. You can easily get to this place via a motor boat ride on the Nile. You can even walk down to its or take a camel ride from Gharb Seheyl.
Nubian Beach – Owned by the Nubian Beach Hotel, this beach is set inside the quiet garden cafe on the Nile's west bank. Nubain Beach is a popular location for taking a dip in the river. You can take a refreshing swim in these waters early in the morning or right before sunset, and enjoy some food and cocktails at the Nubian cafe-restaurant in the time between it. The cafe also serves beer sometimes. Other activities to try nearby include sand boarding.
14. Villages – Get A Taste Of The Nubian Way Of Life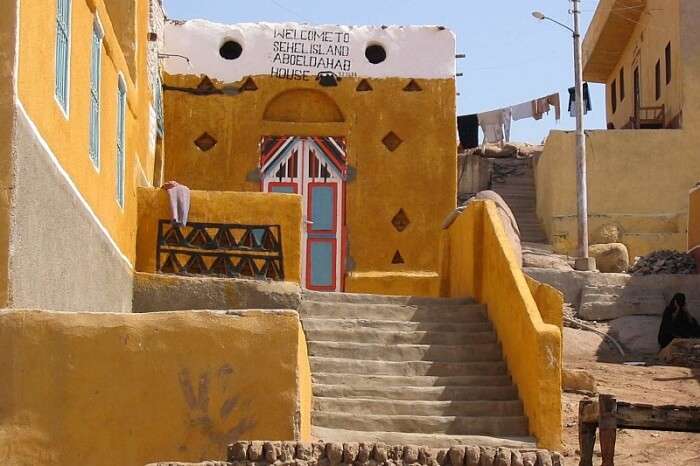 There are various villages near Aswan and on the islands perched on the Nile that travelers can explore to become familiar with the rich rural life here.
Elephantine Village – The village life in Elephantine Island will bring you face-to-face with some of the friendliest people on the planet. Living a simple, fulfilling life, these people are known for their down-to-earth attitude and hospitality. It would be rude to refuse a cuppa tea in the shelter of their mud-houses, just so you know!
Gharb Seheyl –Excursions to this village opposite the Seheyl island have become a popular tourist activity of late. When here, travelers can also go swimming in the nearby beach, take camel safaris, shop at the small Nubian crafts souq, and stay at the laid-back guesthouses to get a slice of the quieter Nubian life. Just make sure you respect their rules, dress conservatively, and tip if demanded.
Suggested Read: 12 Hostels In Egypt For An Incredible Yet Inexpensive Stay In The Royal African Paradise
15. Corniche – Stroll Under The Setting Sun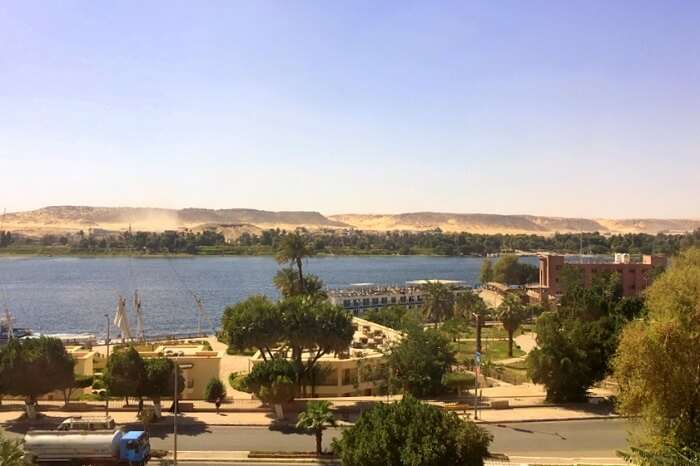 Exhausted from your sightseeing tour across the city? Ditch the feluccas and the camels and just head down to the Corniche for a peaceful walk by yourself or with your loved ones. It's amidst the most refreshing things you can do during sunrise or sunset to get spectacular views of the Nile and the sky overhead. Walking along the Corniche for some awesome sunset views over the islands and the desert is amongst the favourite pastimes in Aswan as long as the boats are not blocking your view.
Best Time To Visit Aswan In Egypt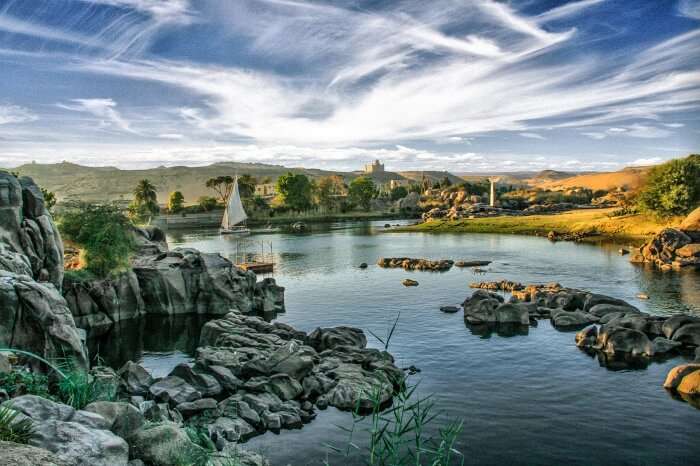 The weather is the most pleasant and comfortable between the months of October and April in Aswan. The city boils the rest of the year. The peak tourist season is in December and January. Iconic sights like the Abu Simbel gets crowded during this time, so plan accordingly.
Suggested Read: Top 8 Rejuvenating Theme Parks In Egypt For A Fun Holiday With Your Family
How To Reach Aswan In Egypt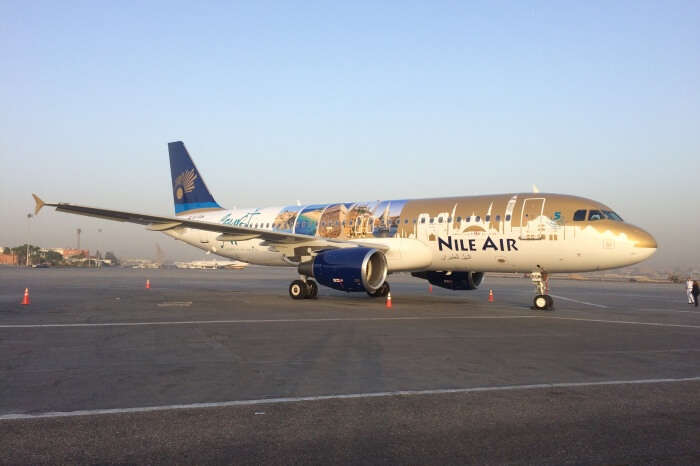 Image Credit: Dahab777 for wikipedia
You can take a flight to the major cities in Egypt like Cairo and Luxor, and from there you'll find plenty of daily flights to the Aswan Daraw Airport at economical rates. You can also take a cruise ride to Aswan from Cairo or Luxor, which will get you there in around 4 days and will include meals and accommodation on deck.
How To Get Around In Aswan

How to get around this city solely depends on which place you're heading to. While some places are pretty far, the others are located within a walking distance from each other. If you need to visit the Aswan Dam 20 kilometers from the main city, you will need to hire a private car. For Abu Simbel, one can take the ferry, but group tour buses usually turn out to be more convenient and cheaper. The felucca boats, ferries, and motor boats are obviously a great way to get across the city and to the many islands on the Nile. Most of the hotels located on the river banks have their own docks, so it will be easy for you to hail a ride to any of the attractions you wish to see.
Further Read: 12 Best Things To Do During Summer In Egypt And Capture The Scenic Views
Pretty excited to check out all these things to do in Aswan, aren't you? Well, wait no further and plan a trip to Egypt with the help of TravelTriangle's experienced agents at once. Explore all that this offbeat city has to offer and let us know about your fabulous holiday experience once you're back. Happy Tripping!
Disclaimer: TravelTriangle claims no credit for images featured on our blog site unless otherwise noted. All visual content is copyrighted to its respectful owners. We try to link back to original sources whenever possible. If you own rights to any of the images, and do not wish them to appear on TravelTriangle, please contact us and they will be promptly removed. We believe in providing proper attribution to the original author, artist or photographer.
Frequently Asked Questions about Things to Do in Aswan
What are the best attractions in Aswan?
Some of the best attractions that you must explore in Aswan include Elephantine Island, Abu Simbel, Philae Temple, Unfinished Obelisk, St.Simeon's Monastery, West Bank, Tomb of the Nobles, Nubian Museum, and Lake Nasser Temples.
What is there to do outdoors in Aswan?
The best things that one must not miss in Aswan include exploring various remains of the Roman Empire, going for a camel ride at the Westbank, exploring Elephantine Island, and trying out various appetizing Egyptian cuisines.
Is it safe to visit Aswan during covid times?
The Egyptian Government has opened its borders for international travelers and issued some mandatory guidelines such as individuals with complete vaccinations are not required to produce a negative RT PCR test during departure, unvaccinated individuals are required to produce a negative RT PCR test done 72 hours prior to departure. Children below the age of 12 years of age are exempted from producing covid tests. Important protocols such as wearing face masks, using hand sanitisers, and social distancing should be followed in a public place.
What is Aswan famous for?
Aswan is known for its rich culture and ancient history during the reign of the Roman Empire. Cairo is renowned for the popular architectural marvels such as Abu Simbel, several historical churches, and St.Simeon's Monastery.
What is there to do in Aswan at night?
Aswan is a popular destination in Egypt and includes a vibrant nightlife that one must not miss. Some of the best things to do are attending some of the popular dramas at theaters, dining at various popular restaurants, and strolling around the elegant streets of Aswan.
Is English widely spoken in Egypt?
Yes, you'll find that English is widely spoken in all the modern and commercialized cities and towns of Egypt like Cairo, Luxor, and Aswan. In few regions of the country, European languages are also used because of Egypt's popularity in tourism in recent years.
What are the best months to visit Aswan?
The best time to visit Aswan is between October and April because the weather in Egypt is quite pleasant during this period and exploring the famous tourist attractions becomes much more enjoyable.
How many days are required to explore Aswan?
For a short vacation, at least 1-2 days are required to explore the major tourist attractions in Aswan such as various historical sites. For an extended relaxing vacation, 3-4 days are sufficient to explore Aswan.
---
Looking To Book A Holiday Package?
Book memorable holidays on TravelTriangle with 650+ verified travel agents for 65+ domestic and international destinations.
---
People Also Read
Things To Do In Cairo Things To Do In Luxor Things To Do In Egypt In March