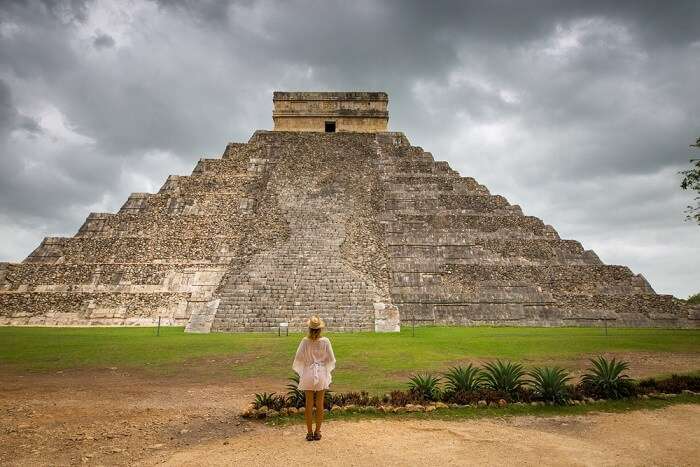 The Mexican city of Cancun is a city full of beaches, luxurious resorts and is known for having a crazy nightlife scene. There's so much more to the city than meets the eye, Cancun is a Mexican delight served to you on a scenic platter full of underground rivers, archaeological sites and much more! We've got you a list of the best things to do in Cancun, whether you're traveling with your beloved or your little bundles of joy there's something for everyone in Cancun, read on to find out.
11 Best Things To Do In Cancun
For planning in advance to visit this Mexican city the following highlights will surely help you. Read on to know what awaits you in this scenic land.
1. Xcaret Park – Check Out

If you're a water baby, there's no place better than Xcaret's underground rivers to get the experience of swimming underground. Located on the Yucatán Peninsula, Xcaret has one of the longest networks of caves and underground rivers in the entire world.
Highlights:
There are three different underground rivers that you can choose to swim in, the Mayan River, the Blue River and the third one is the Manatee River to explore the mysterious coral formations, fossils, and tunnels at Xcaret.
We suggest going in for the Blue River only if you and your travel mates are good swimmers, the Manatee River is also not recommended for people who don't know swimming however, the Mayan River is good for those traveling with children or senior citizens and is suitable for people who don't know how to swim as there are no counter currents.
Choose the Paradise River for a comfortable raft ride that takes you through the canals, caves, and jungles while you spot blue crabs, peccaries, iguanas and are greeted with other wild surprises on the way.
You will also see blush pink flAMingos lurking around the mangroves, where the three rivers come together to jump into the sea.
Ticket Price: The ticket price at Xcaret for entry and food is INR 8302 (per adult) and INR 4149 (per child). You can also rent out snorkeling gear to explore the underwater world in more depth at INR 789.
Timings: 7 AM to 12 AM (Monday-Friday) and 7 AM to 10 PM on weekends
Location: Carretera Chetúmal-Puerto Juárez Kilómetro 282, Solidaridad, 77710 Playa del Carmen, Q.R., Mexico.
Must Read: 10 Hand Picked Affordable Homestays In Mexico You Should Stay At
2. Xel-Ha Park – Explore

Xel-Ha Park is home to the largest and most fascinating natural aquarium in the entire world. Xel-Ha has been the model for sustainable tourism and sustainable development ever since 1995. Visiting the Xel-Ha Park is also one of the fun things to do in Cancun when it rains as the harsh afternoon sun rays are pulled down by the cool breeze that the rain brings with it.
Highlights:
You can go snorkeling in Xel-Ha and explore the marine life underwater or just laze around with your partner at the Xel-Ha Cave.
Feeling a little adventurous? Go to the Cliff of Courage which offers a cliff climbing experience to visitors as they scrape through cracks, rocks, and ropes to reach the top of the cliff. Once you reach the top, all you've got to do is hold hands and jump into the rejuvenating blue waters of the river from a height of 5 meters.
The Xel-Ha park also has jungle trails where you can walk through the jungle, admiring the beauty of nature and wildlife.
Ticket Prices: INR 5383 per person. Check with local tour companies that have deals and packages which are inclusive of transport as well as the Xel-Ha Park entry fees.
Timings: 8:30 AM to 6 PM
Location: Carretera Chetumal Puerto Juárez Km 240, locales 1 & 2, módulo B, 77780 Q.R., Mexico.
Suggested Read: Top 10 National Parks In Mexico That Offer The Most Incredible Wildlife Experience
3. Scuba Diving

The MUSA museum is an underwater museum built within the water bodies that surround Cancun, Punta Nizuc and Isla Mujeres.
Highlights:
This underwater museum has about five hundred installations consisting of large monumental sculptures that were primarily fixed to the seabed in an effort to restore the reef structure and to create a grand scale habitat for marine creatures.
The Underwater Museum of Art can be best explored by scuba diving as the sculptures are installed at a depth of 8 meters. You can take a few courses and certifications from the MUSA teAM itself if you want to enjoy a full-fledged scuba experience or you can simply play around in the shallow blue waters.
Ticket Prices: Diving starts at INR 7106 per person for certified divers.
Timings: 9 AM to 5 PM.
Location: Cerrada Las Golondrinas 24, Alfredo Bonfil, 77560 Cancún, Q.R., Mexico.
Suggested Read: Celebrate New Year In Mexico For A Totally Worthwhile And Delightful Experience
4. Chichén Itzá – Visit

Chichén Itzá is made of complex historical structures and is located on the Yucatán Peninsula. The architecture at Chichén Itzá is a mix of the Puuc, Mayan and Toltec styles of construction. Visiting the Heritage site of Chichén Itzá is one of the most fun things to do in Cancun, especially if you are somebody who loves historical monuments or are traveling with kids. So, plan your next Mexico trip to this place for exploring one of the best things to do in Cancun with kids!
Highlights:
The Toltecs constructed the El Castillo (The Castle), also known as the PyrAMid of Kukulcan, it is one of the Seven Wonders of the World and stands 79 feet tall, above the Main Plaza.
You will also find the MesoAmerican ball court. A very distinct part about the court is that you can hear a hushed whisper even if it's from 150 feet away when you stand on the platform of the Temple of Jaguars.
Ticket Prices: INR 856 per person.
Timings: 9 AM to 5 PM for visitors.
Location: Yucatán, Mexico.
Suggested Read: 10 Hostels In Mexico For A Cosy, Comfortable, And Economical Stay
5. Xoximilco – Know Traditional Mexican Culture

Located just five minutes away from the Cancun International Airport, this place is situated on the Cancun-Chetumal highway. If you are looking for an enjoyable time in Mexico and also want to learn about traditional Mexican culture, visiting Xoximilco is the best thing to do in Cancun at night especially when you have less time on your hands.
Highlights:
Once you reach Xoximilco, you will be pulled into a traditional Mexican Carnival with dart-throwing gAMes, foosball, marble gAMes AMong a lot of other fun gAMes.
As the day comes to a close, jump into a vibrantly decorated Mexican Gondola where you can spend a night full of celebration full of Mexican music, dance, Mexican food, and fun. While you are on the boat, they also take you through the Park's canals, you will see superb architectural structures that sit in the midst of exquisite scenes of nature.
Xixomilco also hosts the '90s themed parties on Tuesdays and Friday. Try to plan your visit accordingly if you love everything '90s.
Ticket Prices: The ticket prices cost around INR 5728 and an added INR 1274 for transportation. Children under the age of 5 years are not allowed to enter the park.
Timings: From September to March, they stay open from 7:15 PM to 12 AM; from April to August they stay open from 7:45 PM to 12 AM.
Location: Carretera Federal 307 Cancun-Puerto Morelos, Mza. 01 Lote 1-02, 77580 Puerto Morelos, Benito Juárez, Q.R., Mexico.
Suggested Read: 5 Amazing Airports In Mexico For A Comfortable Journey To The Beautiful Country!
6. Jolly Roger Pirate Show

Fancy pirate films? The Jolly Roger ship is definitely one that is right out of a Pirate film. With skilfully designed interiors and authentic looking installations in the entire ship, you will feel like you have entered the film sets of the 'Pirates of the Caribbean' movie.
Highlights:
The Jolly Roger Pirate Show is a tour that goes on for three and a half hours on a pirate ship which is fitted with some of the best quality lightings, sounding and customized special effects that make sure you and your family get the best and most authentic pirate show experience.
You will see their Jolly Roger crew dressed in high-end pirate costumes, speaking in typical pirate language while they give you a glimpse of the Pirate life in a show which is 100 minutes long.
While you are enjoying your ride and the Pirate show, you can also eat some yummy food that's cooked in Jolly Roger's in-house kitchen by a pirate chef and his team of sub-pirates! They have also got two bars, so pick up some drinks and peanuts to exclaim "Savvy!", just the way Jack Sparrow does!
Ticket Prices: You can book the show online for INR 6461 per adult and for INR 3230 per child.
Timings: 7AM to 11PM.
Location: Km 4.5, Blvd. Kukulcan, Zona Hotelera, 77500 Cancún, Q.R., Mexico.
7. Catamaran Cruise

If you wish to participate in activities in Cancun that allow you to relax and get gorgeous views of the city, then you must take a catamaran cruise which is one of the best things to do in Cancun for couples. You can choose to go on a one day cruise that will allow you to enjoy the sights, try open sea snorkeling, as well as bask in the sun with a cold beverage in hand. It's the best way to destress!
Starting price: INR 5,000/-
8. Zip Lining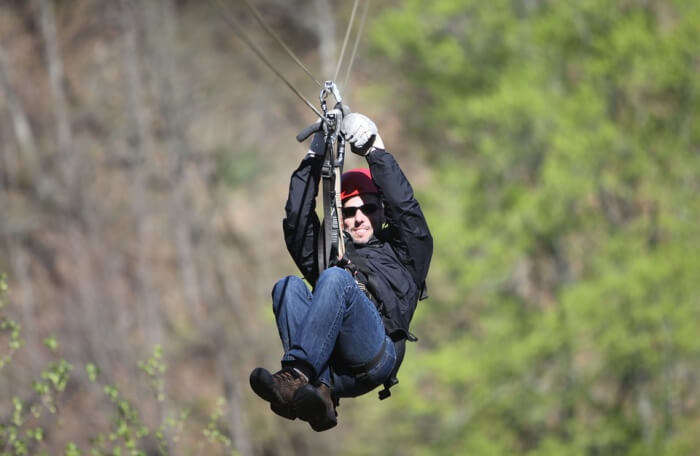 Looking for something adventurous and kid-friendly at the same time? You must try zip lining at the Selvatica adventure theme park which offers visitors up to 4 different zip lines in one package at a relatively affordable rate. You can take their Extreme Canopy tour where you'll get to soar above the jungle like Superman, or you can choose to experience the Tarzania Zipline which is the mother of all zip lines! The place has a total of 10 different zip line circuits, which makes this activity one of the most awesome things to do in Cancun area for sure!
Starting price: INR 6,000/-
9. Tulum – Take A Tour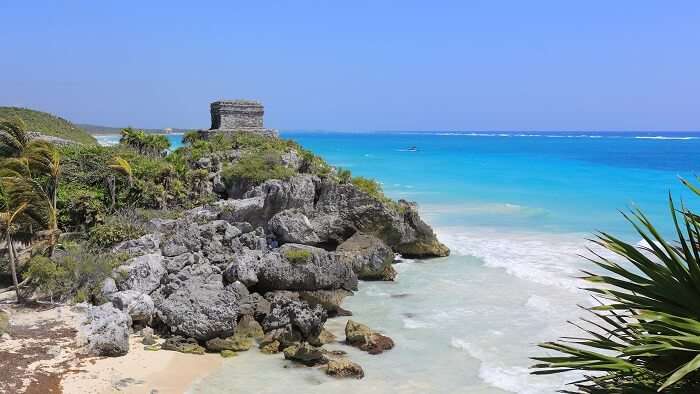 Image Source
If you are looking for some ancient things to do in Cancun city, you might as well visit Tulum, an ancient walled port city sitting snugly on a cliff-side overlooking marvelous beaches and crystal clear blue water. It's among the largest cities built by the Mayans, which is why a visit to this fascinating place will tell you a lot about the Mayan culture, heritage, and history. And when you're here, don't forget to take a dip in the gorgeous ocean.
Location: Cancun Q.R., Mexico
10. Downtown Cancun – Shop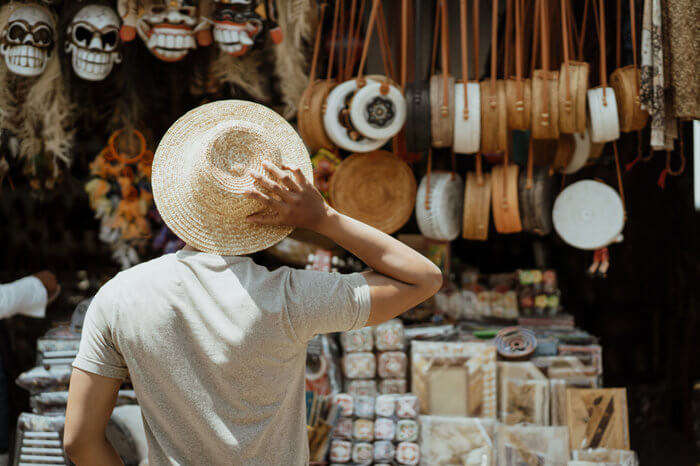 Satiate your thirst for retail therapy by visiting Downtown Cancun. It'll give you a more authentic feel of this city and let you explore Cancun like a local. The place has various restaurants and shopping arcades to treat shopaholics for a lifetime! In fact, little do people know that shopping is among the best things to do in Cancun, Mexico. You can go to Mercado 28 to grab souvenirs, handmade items, pottery, t-shirts, and more. You can bargain here to get the best price, but not too much since it's their livelihood!
11. Explore The Nightlife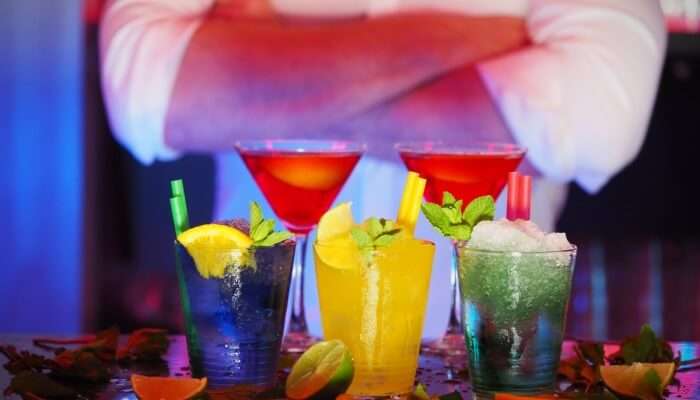 Places like Forum By The Sea, Hard Rock Cafe, and Coco Bongo come alive at night to tell people how awesome the nightlife of Cancun is! While people are mostly lost on the beaches, the nightlife of this city also offers various fun experiences that visitors must not miss out on. There are various famous nightclubs, bars, lounges, and live music venues in Cancun that tourists can check out, and it's among the best things to do in Cancun at night without a doubt!
Average cost: INR 1,800/-
Further Read: Christmas In Mexico 2022: 9 Traditions That Reflect The True Beauty & Joy Of The Festival
Cancun is one of the best places to relax amidst nature while you also get to experience the rich Mexican culture. It is the best place to go to whether you're traveling with family, friends or are on a solo trip. So, plan your trip to USA with TravelTriangle and experience the best of this Mexican city with your loved ones!
Frequently Asked Questions About Things To Do In Cancun
Q. What can you do for free in Cancun?
A. You can visit the Museo Maya de Cancun, walk down the hotel strip, and go snorkeling in Cancun with your own gear if you wish to indulge in free or cheap things here.
Q. Does it rain a lot in Cancun?
A. Cancun only receives about moderate to low rainfall that does not hinder with tourist activities like sightseeing.
Q. How expensive is Cancun?
A. Cancun is moderately expensive. There are various free and cheap experiences in Cancun that tourists can try. The food is also relatively cheap in Cancun.
People Also Read:
Things To Do In Tel Aviv Things To Do In Korea Things To Do In Haifa
---
Looking To Book A Holiday Package?
Book memorable holidays on TravelTriangle with 650+ verified travel agents for 65+ domestic and international destinations.
---