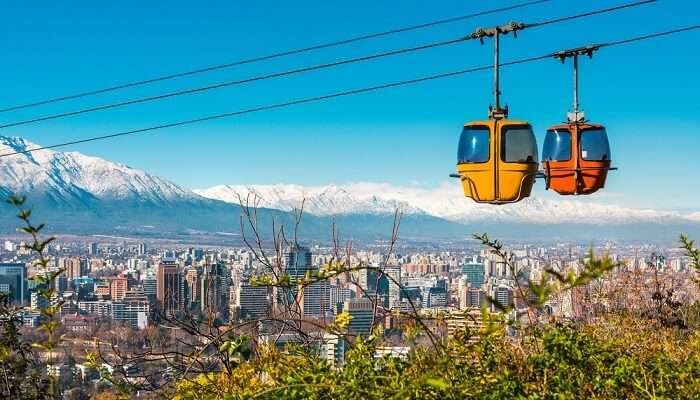 Chile has one of the most beautiful landscapes in SouthAmerica; it's a combination of deserts, glaciers, mountains and volcanoes that makes it adventurous in the world. Moreover, it gets awarded for "Best Adventure Travel Destination" in the world travel award during years 2015 & 2016. If you really love adventure trips, you should definitely choose Chile as a tour destination. There is no dearth of things to do in Chile, especially for thrill seekers out there. Here is a list of all the experiences that you can be a part of when in Chile!
Top 19 Things To Do In Chile
Chile is a destination that has something to offer for everyone, especially the adventure enthusiasts. Take a look at this list of all the things to do in Chile that you should definitely try on your escapade!
1. Mountaineering

It is one of the most demanding adventure activities. Moreover, you could fill with joy by reaching on top of the mountain. Furthermore, it could be lucrative for both beginners to sharpen their skills as well as experienced mountaineers.
FOR EXPERTS: Due to weather, technical difficulty and remoteness Mount San Valentin is a challenging expedition at 4,085 meters. This expedition lasts up to three weeks.
FOR BEGINNERS: It is perfect for experienced mountaineers. Volcan Lanin, at 3,776 meters is a demanding mountain.
BEST TIME: for mountaineering best time is January to April and October to December for Mount San Valentin, and December to April for Volcan Lanin.
Price: £1500 per person
Suggested Read: This Island In South America Is The World's Most Dangerous Place
2. Trekking And Hiking

Chile is one of the best places for trekking and hiking. The best of Chile is From Patagonia region and its glaciers the Atacama Desert to the lakes in the Lake District. You should have to wear trekking boots during trekking in Chile. Moreover, there are many trials to follow during hiking and trekking.
FOR EXPERTS: There is a 6 to 10 days trek covering 110km of Torres Del Paine O Trek in Torres del Paine National park.
FOR BEGINNERS: the more incredible view of the city is offered by the big hill located in the middle of Santiago that is Cerro San Cristobal.
BEST TIME: for trekking and hiking best time is November to early March for Torres Del Paine O Trek and after rainfall for Cerro San Cristobal.
Price: from US$ 3695
Suggested Read: 10 Brazilian Desserts To Satiate Your Taste Buds In This South American Wonderland
3. Rafting And Kayaking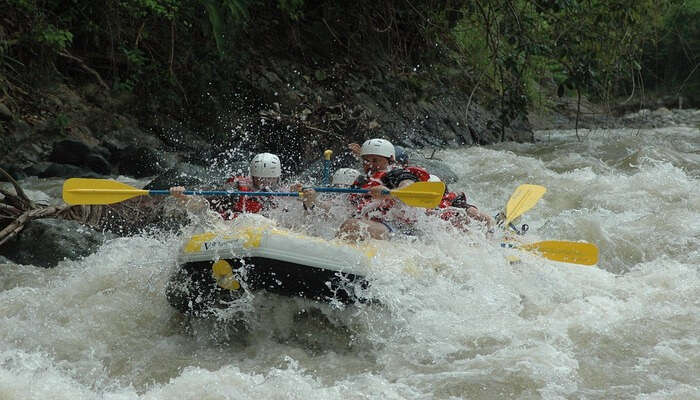 For rafting and kayaking in Chile, glacial lakes & pristine rivers offer several wonderful white water opportunities. Moreover, Chile will never disappoint you whether you are a beginner or experienced in boating.
FOR EXPERTS: the seven Teacups National Park is one of the most popular destinations for expert kayakers.
FOR BEGINNERS: It is more ideal for well experienced and physically fit kayakers. One day kayaking trip begins from grey lake, covering Grey River & Serrano River.
Price : $400 per person
Suggested Read: 10 Best Things To Do In Brazil For A Wild & Unforgettable South American Sojourn
4. Kitesurfing

It is a combination of surfing and parasailing. Chile is the best place for experiencing kite surfing as there is a lot of wind that is ideal for this sport. You should take up this adventurous sport with 8meter or 12 meter kite to feel that rush.
FOR EXPERTS: Matanzas beach is ideal for experienced Kite-surfers as wind intensities can vary rapidly.
FOR BEGINNERS: one hour session at Pupuya beach is more suitable that is just at a distance of 2.5 hours from Santiago.
BEST TIME: for kitesurfing best time is October and November.
Price: $80 per hour
Suggested Read: Top 15 Places To Visit In Ecuador For A Megadiverse Tour In South America
5. Mountain Biking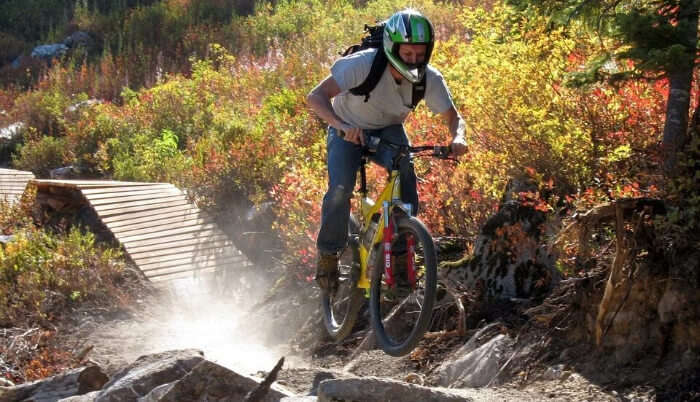 Chile is one of the best destinations for cycling and mountain biking with its mesmerising landscapes and various treks. It is a fabulous way to view nature. You could enjoy the thrill of high speed in gorgeous Valley.
FOR EXPERTS: It offers very hard trails at 13 km which are technically difficult.
FOR BEGINNERS: It offers very hard trails at 2 km which are technically difficult
BEST TIME: for mountain biking best time is starting from the month of November till the month of February.
Price: between CH$10,000 and CH$16,000 per day
Suggested Read: 12 Places To Visit In California: A Short Trip To Experience Miniature America
6. Skiing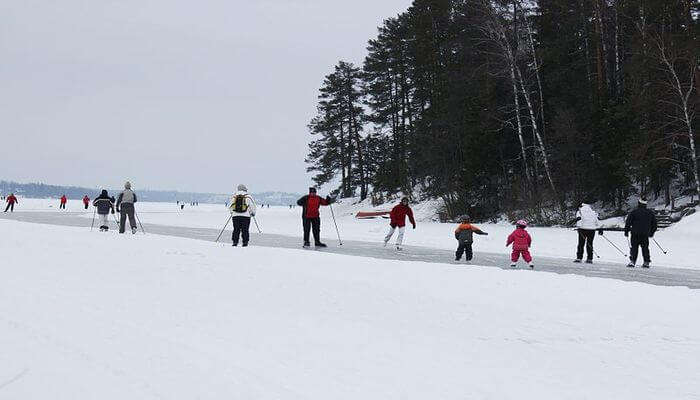 Chile is considered as the most popular ski destination throughout the world with Andes Mountains running through its land. You will really enjoy this spot during your trip to Chile especially in winters even if you are a beginner.
FOR EXPERTS: Portillo in the Valparaiso region is known for difficult gradients at 20 km slopes. These slopes are suitable only for experienced skiers.
FOR BEGINNERS: Valle Nevado slopes near Santiago are ideal for skiers who want to do practice on snowboards and skis.
BEST TIME: for skiing best time is winter season — mid-June through mid-September.
TIMING: Tuesday to Thursday , 9am-2 pm and 3pm – 6pm
Price: $81 per day
Suggested Read: 10 Best American Road Trips For An Unforgettable Journey In The Land Of Enchanting Sceneries!
---
Planning your holiday but confused about where to go? These travel stories help you find your best trip ever!
---
7. Sand Boarding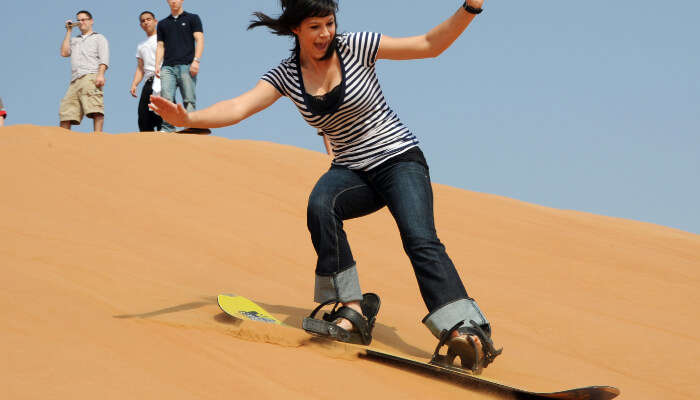 Sand boarding is a great combination of sun, sand, and adrenaline. Since Chile is considered as the driest deserts, it gives you a few amazing sand-boarding opportunities.
FOR EXPERTS: Cerro Dragon, Iquique, south of Santiago is suitable for experts. With high dunes as 500 meters, as a sand boarding expert you will love to board down at 30mph speed.
FOR BEGINNERS: This session lasts only about 3.5 hours because of the desert heat. Moreover, beginners could board down 120 meter dunes in Death Valley in Atacama Desert.
BEST TIME: for sandboarding best time is December and January.
Price: US$ 25 – US$ 30 with instructors
Suggested Read: 14 Awesome New Year Parties In USA That You Must Be A Part Of
8. Horse Riding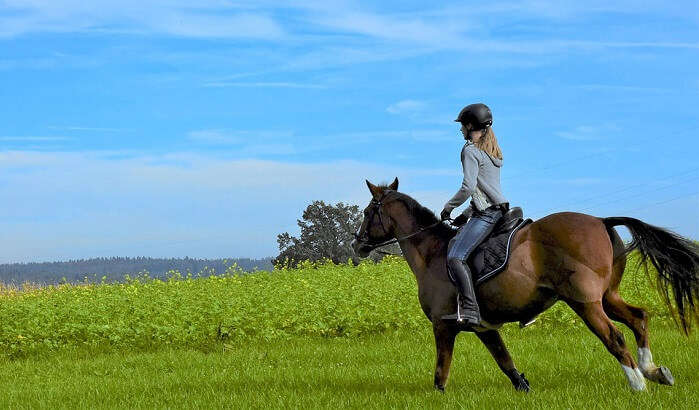 Chilean Patagonia goes into hibernation in the month of April. But Patagonia is very cold especially in winter and some areas are inaccessible, keep in mind that Patagonia completely is over 1,043,076 square kilometres so there's large scope for changes in the weather conditions. As many mountains are out of bounds, its iconic plains are often friendlier in winter than summer months. Hence, horse riding in Patagonia in winter, leaves you free to enjoy the beautiful winter scenery. Charges for horse riding are from 45,000 CLP per person.
Suggested Read: 8 Best Places to Visit in Winter in USA
9. Exploring The Atacama Desert

If you are not thinking of rain and snow then obviously, the desert is a choice. Moreover, many people prefer to plan a trip to Atacama located in Chile during winter when the sun is not strong. Whereas this Desert is not hot desert at any time of the year, as there is a lack of shade and shelter.Hence, a visit to this desert during winter you would definitely avoid the "Bolivian Winter" phenomenon that happens during summer that consists of storm clouds. During winter season birds migrate from southerly areas through the Atacama Desert, makes this a good time to enjoy the natural fauna & flora of Chile's highlands. All-inclusive three- nights with rates from $1980 per person.
Address: Punta Arenas, Magallanes y la Antártica Chilena Region
Suggested Read: 10 Top-Rated Casinos In USA To Try Your Luck And Roll The Dice!
9. Visit Chilean Lake District

During winter many people skip Chilean Lake District in southern Chile by thinking it as a summer spot. However, if you want to feel cozy in a warm blanket near the crackling wood fire you should visit to Chilean Lake District during winters.You would see astonishing sights like heavy clouds, beautiful villages and ancient forest. Hence, it would become a great winter vacation for you.
Suggested Read: Have you Taken These 12 Best Fall Foliage Train Rides In The United States Yet?
10. See The Sights

Sometimes, low temperatures or bad weather hindered the sightseeing in winters but there is one benefit that there will be fewer crowds' at most popular tourist sites. You could stroll through trendy neighbourhoods like Bellavista and felt like a local rather than being a tourist crowd.Moreover, you can see the whimsical house of Chile's famous poet, Pablo Neruda, and many fine museums of Santiago such as the Fine Arts Museum, the National Museum, the Museum of Memory and Human Rights, the Natural History museum, and many more, you can peruse the exhibits and could grab knowledge during your vacations.
Suggested Read: 10 Places To Visit In Houston For An Impeccable States Vacay
11. Visit One Of The Great Restaurant Of Santiago

If you are eager to eat some authentic dishes of chile or enjoy something during sightseeing, you would find empanada and sopaipilla food carts on many corners of the streets providing yummy street food, such as sopaipillas, cheese, ground beef empanadas. Moreover, you can enjoy seasonal dishes like pantrucas. You can also visit one of the famous restaurants of chile, Borago.
Suggested Read: 10 Interesting Places To Visit In Tampa For An Amazing Vacay In The States
12. Japanese Garden

It was designed by architect Tadashi Asahi in 1978 located in Providencia, Región Metropolitana, Chile. It has a pond having watermill, a wooden pergola and a wall made of bamboo. It had cherry trees, bamboos, Japanese maple, and lotus flowers. Moreover, it has a beautiful viewpoint whose background highlights the Gran Torre Costanera Center, Santiago. Furthermore it's cozy, small and quiet and Suitable for couples as it is so romantic. The entry fee is 1.5 dollars.
Suggested Read: Shopping In New York: Shop Till You Drop At The Most Popular City Of The States!
13. Visit To Metropolitan Cathedral

It is situated in the northwest corner of the Plaza de Armas, Región Metropolitana, Chile, Santiago. Moreover, it is free to enter and provides a nice little escape from the lively street performers, musicians and artists. It is a lovely place for sitting, to meditate or quiet walk. Furthermore, it is the main house of worship for the Catholic Church of Chile, as it is dedicated for assumption of Mary into Heaven Timing to visit is 9am-7pm and entry fee from £71.
Suggested Read: 10 Places To Visit In United Kingdom That'll Make Your Trip More Classic That You Had Imagined
14. Visit To Mercado Central Market

This market was opened in 1872 located in Región Metropolitana, Chile . It was replaced by a plaza which was destroyed in 1864 due to fire accident. The building of the market has a cast iron roof as its main feature. It is a few minutes away from the railway station. Moreover, you could walk around stalls having different stuff. There is a fish market also where you can enjoy delicious and mouthwatering cuisines.
Suggested Read: Gates Of The Arctic National Park: Explore The Northernmost Park In The States!
15. Visit To Mirador Interactive Museum

If you are having kids during your trip to Chile, you should visit this museum. It's an ideal destination for your family located in La Granja, Región Metropolitana, Chile. Moreover, there are many fun activities which kids can enjoy like keyboard jumping. Furthermore, such activities are not only entertaining but educational also. When the weather is clear, it also offers several outdoor activities and sports. You could also enjoy snacks as there is a shop inside it. There is a cafeteria on the exterior area where you could buy sandwiches, hot dogs and cold drinks. There is a facility of wheelchairs for handicapped. It opens on Tuesday to Sunday. The timing to enter is from 9:30 a.m. to 6:30 p.m., Tuesday to Sunday and entry fee is USD 4.5.
Suggested Read: Festivals In Washington DC: Be A Part Of The Celebrations In The States!
16. Climb Santa Lucia Hill

If you are planning for climbing, Santa Lucia Hill is one of the best options for climbing in Chile. This park is located in Santiago Metropolitan Region, Chile away from the Plaza de Armas in the centre of the city, good for spending the afternoon. When you enter into the park, you will be pleased by the beautiful Neptune Fountain, from where you can follow the system of stone staircases and trails up to the top of the hill. Next to it you would pass by the Castillo Hidalgo, built in 1816 to protect the city. Continue moving than you will reach the stunning viewpoint from the top of the hill. Moreover, if you visit on a clear day, you can get fabulous views of the city & surrounding mountains. Visitors can go daily from 9 a.m. to 7 p.m.
Suggested Read: Washington DC Travel Guide: Know Everything About How To Spend A Vacation In The States!
17. Drink Pisco

Pisco is a high-proof and most popular brandy in Chile that is made from fermented grape juice. Moreover, this awesome Santiago bar-restaurant is one of the coolest concepts and named as Chipe Libre – Républica Independiente Del Pisco. You should definitely go and book a flight to visit both Peruvian and Chilean pisco. It's a fantastic place to visit in chile. Price is CLP12,001-16,000 and timing is from Monday to Saturday 12:30pm to 12:30am.
Suggested Read: 10 Best Boston Travel Tips Which Every Traveler Must Remember Before Visiting The States!
18. Eat Ice Cream At Emporio La Rosa

If you are a huge fan of sweets, so you should visit a place near Heladería Emporio La Rosa – José Victorino Lastarria 71, Santiago, Chile to eat ice cream as one of the best things to do in Chile. As they have a stock of different ice cream flavours as well as cakes and various sweets. You could also try their empanadas as they are fantastic. Moreover, they have an outdoor seating area and wandering musicians. Hence, it's a fascinating place to visit for couples also to spend some quality time together. 5 pm is start time and price range is ₹ 214 – ₹ 1,068.
Suggested Read: 15 Florida Beaches: Visit For Unlimited Fun And Entertainment
19. Attend A Cooking Class

If you want to learn how to cook delicious food along with eating in Chile, then there are a number of cooking classes available in Chile. One of the best choices for cooking class is uncorked located at Av. Condell 893, Providencia, Región Metropolitana, Chile . It begins with buying ingredients from markets to kitchen for cooking. These classes cost $95 per person. Another option is that you will cook dishes such as pastel de choclo, empanadas, while enjoying a Pisco Sour and Chilean wines also. There charges a low comparatively. Timing is from 9:0 AM to 2:30 PM approximately.
Further Read: 11 Halloween Parties In USA You Should Attend To Shake Things Up
Chile is one of the best destinations in South America to visit with a large number of activities to do. This city sounds so incredible. You could several things like mountaineering, climbing, and horse riding. Moreover, there are many places to visit not only for adults but also for kids. You could also experience local festival; enjoy street food along with watching viewpoints. Moreover it's a safe place to visit as crimes are relatively rare in Chile. Furthermore, security environment is very safe in Chile. Hence, you should initiate planning a tour to Chile during winter vacations.
For our editorial codes of conduct and copyright disclaimer, please click here.
Frequently Asked Questions About Things To Do In Chile
How long does it take to reach chile from Uk?

It will take 14 hours and 40 minutes to reach Chile from UK. One can easily cover the distance by using the airways. Airplanes are the best and the most feasible form of transport.

What are the most important places to visit in Chile?

Chilean lake district, Torres del paine national park, Santiago, Easter Island are a few of the most famous and significant places to visit in Chile.

Which is the best time or season to visit Chile?

Winter is the best season to visit to Chile. It gives travelers a chance to witness the best of Chile in the ever so pleasant weather.

Is it safe to visit Chile?

Yes , it's a safe place as there is a low crime rate. This makes solo travelers to stroll around easily and comfortably.

Where does tourists stay in chile?

Some best areas are Centro, Las Condes, Lastarria, Recoleta and Bellavista to stay in chile. These hotels offer the best of comfort and convenience to the travelers.

What does chile best known for?

It is known for succulent red wine, and devilish pisco, chilean salad . Also for nobel prize winner poet, Pablo Neruda.

Is chile an expensive trip?

Yes it's more expensive country but cheaper than Argentina.
---
People Also Read:
Things To Do In London Things To Do In Stockholm Things To Do In Patong