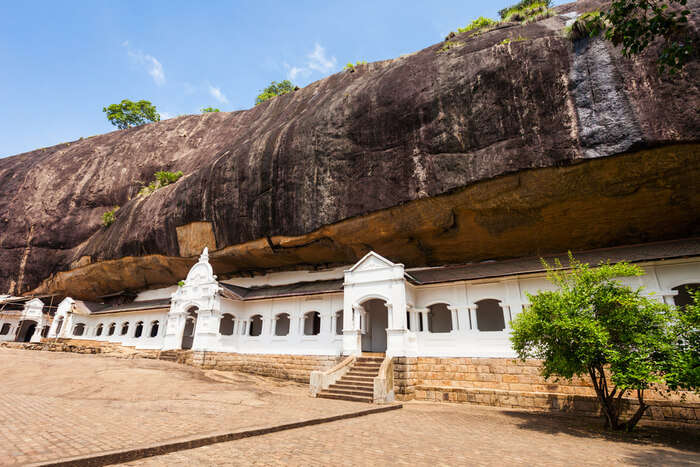 For those who love art and architecture, Dambulla in Sri Lanka, is the place to explore. There are very many things to do in Dambulla, except for staying there. You might want to make it a day trip to this historical paradise, from Kandy, which is about 70 km from there. The place is worth a visit though, just for the stunning sculptures and paintings that you will see in this little town.
9 Things To Do In Dambulla
From exploring caves to getting a 'taste' of the local culture and heritage, there are a lot of things that you can do once you are in Dambulla. So, let's get started on the virtual tour of what this place seeped in history is all about.
Dambulla Cave Temple
Sigiriya Rock
Minneriya National Park
Buddhist Museum
Pidurangala Rock
Popham's Arboretum
Traditional Foods Sales Centre
Dambulla Dedicated Economic Centre
Kalu Diya Pokuna
1. Dambulla Cave Temple : Explore The Caves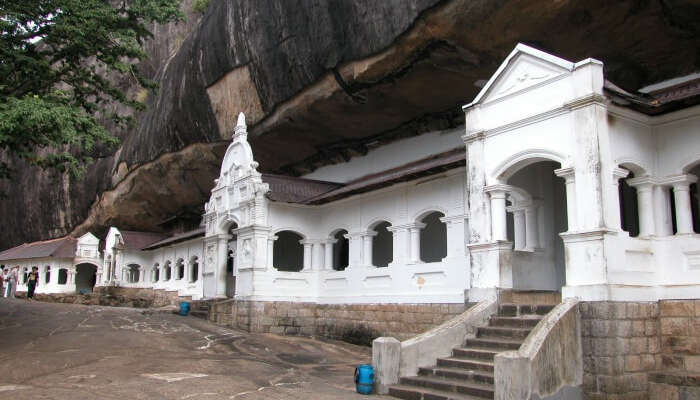 You would have seen thousands of pictures of Buddha in a cave; we can assure you that most of those pictures have made their way from this iconic cave temple. It is an entire complex of caves and will at least take you a couple of hours to explore it in ease. You definitely would not want to miss this one. The caves are brimming with Buddha statues, more than 150 of them, as well as those of kings and gods. The caves are also lined with colourful paintings and murals, which makes exploring these caves even more fun and interesting!
Timings: 7AM-7PM (ticket counter closes at 5PM)
Entry fee: LKR 1500/adult
Must Read: 10 Best Places To Visit In Dambulla In 2019 That Showcase Its Spiritual & Natural Charm
---
Sri Lanka Holiday Packages On TravelTriangle
Book your Sri Lanka trip from TravelTriangle: Inclusive of Hotels, Sightseeing, Transfers, & Meals. Best Prices Guaranteed. Get Customizable Package & Free Guidance From Destination Experts. Book Now!
---
2. Sigiriya Rock: Soak In The magnificence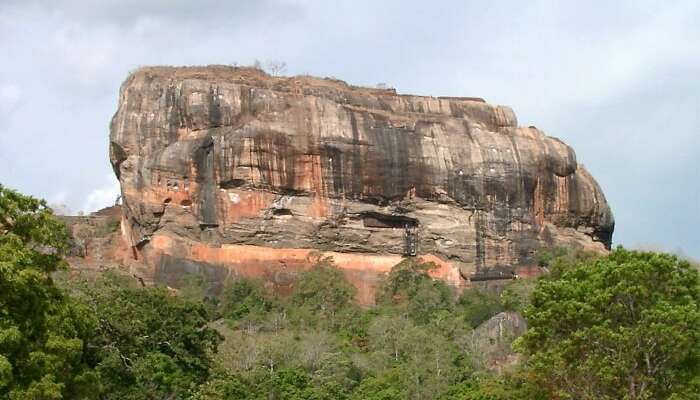 Image Source
Dambulla and Sigiriya go hand in hand, metaphorically. This is yet another UNESCO World Heritage site and provides the tourist in you with a lot of photo ops. The place, just 17 km from Dambulla, is one of the valuable historical sites of Sri Lanka. The magnificent rock fortress is located right on top of a volcanic plateau. Many locals also call it the eighth wonder of the world and it fully justifies that. The main entrance is in the shape of huge lion feet. The beauty, which is the rock, is a sight to behold and to enhance the beauty even more, the gigantic structure is surrounded by green landscaped gardens, water bodies and ruins of the fortress. The cave itself houses a mirror wall and also frescoes from the ancient era. The views from the top are quite breath-taking as well.
Timings: 7AM-7PM
Entry fee: LKR 5000/adult
3. Minneriya National Park: Spot Elephant Herds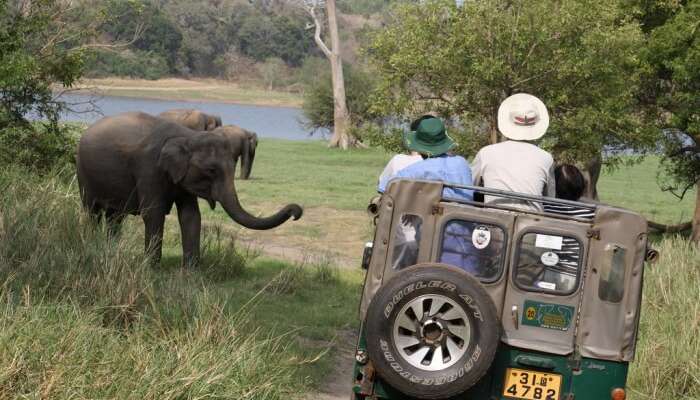 Image Source
One of the things to do near Dambulla is to visit one of the countrys best-kept secret the Minneriya National Park. It is just 50 minutes drive from Dambulla and the visit is worth it. Go on one of the thrilling jeep safaris that this eco park has to offer. You might get lucky enough to find the biggest herd of Asian elephants. One of the main points in this park is the Minneriya Tank, which was built way back in the 3rd century AD by King Mahasena. Usually, during the dry season, which is from June to September, this tank becomes the main attraction as herds of elephants come to bathe and graze. It is quite a spectacle. How spectacular you might ask- Well, lets just say that it is considered to be the largest known meeting place of Asian Elephants in the world, and you could see up to even 300 elephants around the time. This place is an animal lovers delight and will truly be a wild experience.
Timings: 6:30AM-6:30PM
Jeep Safari Cost: LKR 4000/jeep
Park Entry fee: LKR 3600/adult; LKR 1800 for children between 5-12 yrs
Suggested Read: 10 Top Villas In Dambulla To Have An Enthralling Sri Lankan Holiday With Absolute Comfort!
4. Buddhist Museum: Attain Peace At The Museum of Wall Paintings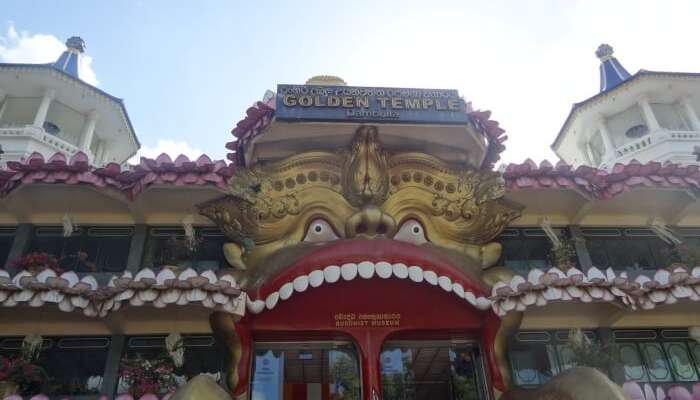 Image Source
Just before the famous Dambulla caves can catch your eye, there is a huge golden statue of Buddha, which welcomes you to this wonder. In fact, this statue is considered to be Asias largest Buddha statue in Dhyan Chakra pose. This is the entrance to the Dambulla Museum. The small wall art museum within that, is something you have to see, to know the rich culture of the country. This also houses a terrace, from where the view is great and is absolutely peaceful.
5. Pidurangala Rock: Hike Up For A Breathtaking Sunrise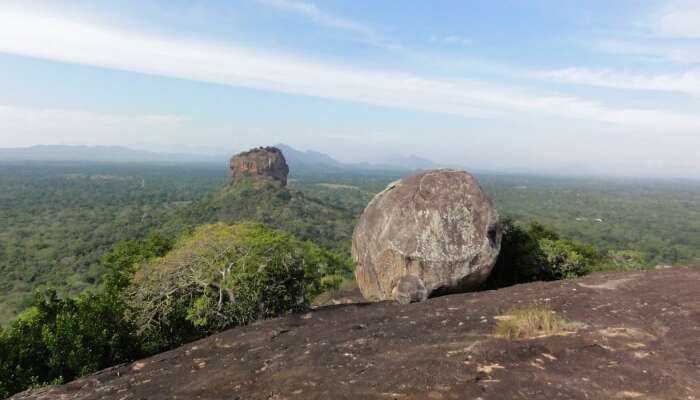 Image Source
Tourist, from all over the world, visit Sigiriya Rock for its uniqueness and the historical factor. Pidurangala Rock is right adjacent to the Sigiriya and is worth the climb. It is slightly lower than Sigiriya and so you get a breathtaking view of Sigiriya from Pidurangala and it is also a famous spot to view the sunrise from.
Entry fee: LKR 500/adult
Suggested Read: 6 Best Restaurants In Dambulla Where You Must Dine On Your Next Sri Lankan Trip!
6. Pophams Arboretum: Discover The Rawness Of Nature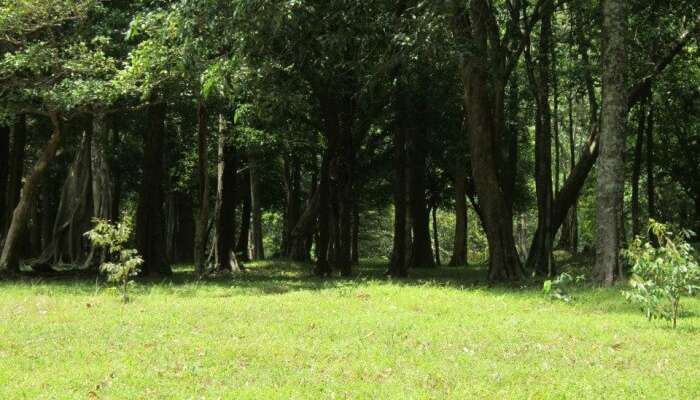 Image Source
One of the sure things to do in Dambulla, Sri Lanka is to visit the Arboretum. This fascinating place is Sri Lankas only dry zone arboretum. Walk through the Arboretum and admire the various species of Trees, Birds, Butterflies, Dragonflies and Mammals can be found in abundance. This place is a wonderland, what with its wooden bridges, small streams and the greenery. You can hear the sounds of the birds while walking through this magical land. Jungle Magpie Robins, and the Crimson backed Woodpeckers are just some of the birds that you might sight here. The highlight, though, is the Night Walk that they have, where they take you on the trail of the rare slender Loris. Do not definitely give this place a miss.
Entry fee: LKR 1500/adult
7. Traditional Foods Sales Centre: Explore Culinary Flavours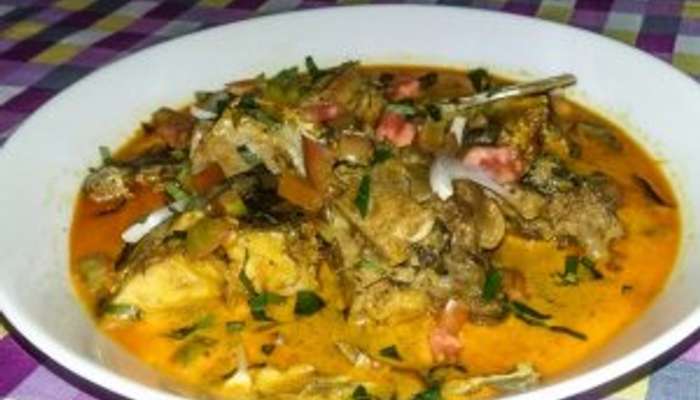 Image Source
You can literally taste the local culture in this place, run by the government. It is an amazing opportunity for the traveller in you to explore the local traditional food that this historic town has to offer. They serve delicacies that you might not find anywhere else like the pittu (steamed rice flower patty with savoury sauce), narang kewum (fried coconut and honey ball), and belimal flower tea. It is a win-win situation, where you get to taste the culinary excellence of this beautiful town and the ladies who run the stall, earn some bucks, which keeps their homes running.
Suggested Read: The Ultimate Guide To Sri Lanka's Dambulla Cave Temple
8. Dambulla Dedicated Economic Centre: Interact With Farmers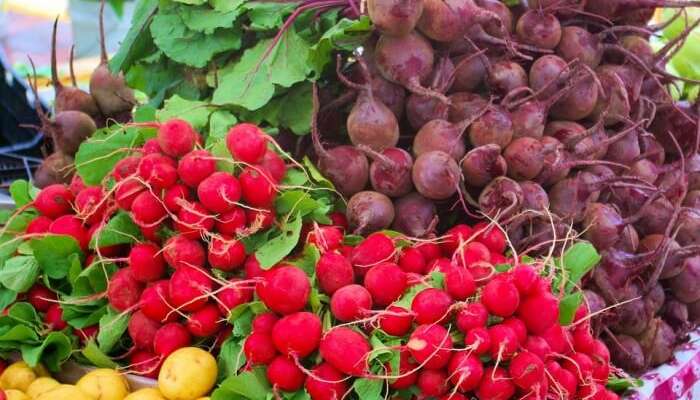 Image Source
One of the top things to do in Dambulla, Sri Lanka is to pay a visit to this place. Fresh vegetables and fruits which are making its way to the capital, can be seen and the colourful ambience around this place is just electrifying. The farmers market gives you a sneak peek in to the culinary prowess of this country as it is all the local produce which is on display here. It is right in the middle of the town and is considered to be the largest wholesale fruits and vegetable market in the whole of Sri Lanka. Make sure you also grab some of the local produce, itll be worth it!
Suggested Read: Sri Lanka In February: A Detailed Guide For Witnessing The Country Spreading Its Charm
9. Kalu Diya Pokuna: Soak In Nature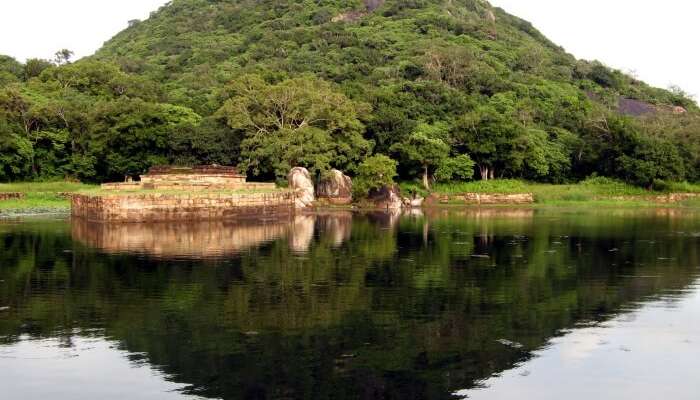 Image Source
This is one of best things to do around Dambulla, Sri Lanka and definitely worth it. When translated, it literally means pond with black water, and this is a natural black water pool. This involves hiking as well, but the sight you will be welcomed to, at the other end, makes the hike even more exciting. One of Sri Lankas other best kept secrets, the tranquillity and peace that you will find in this place cannot be expressed, but only felt. Once there, you will also be witness to the magical mother nature, with birds and butterflies for company.
Further Read: 6 Hostels In Dambulla That'll Offer You Homelike Comfort On Your Next Backpacking Trip
Dambulla is house to many architectural delights and also takes you through a cultural trip of this beautiful ancient town. With so many things to do in Dambulla, the history nerd in you must be excited and curious to explore this part of the world. So go ahead and plan a trip to Sri Lanka
soon!
---
Looking To Book An International Holiday?
Book memorable holidays on TravelTriangle with 650+ verified travel agents for 65+ domestic and international destinations.
---
Comments
comments