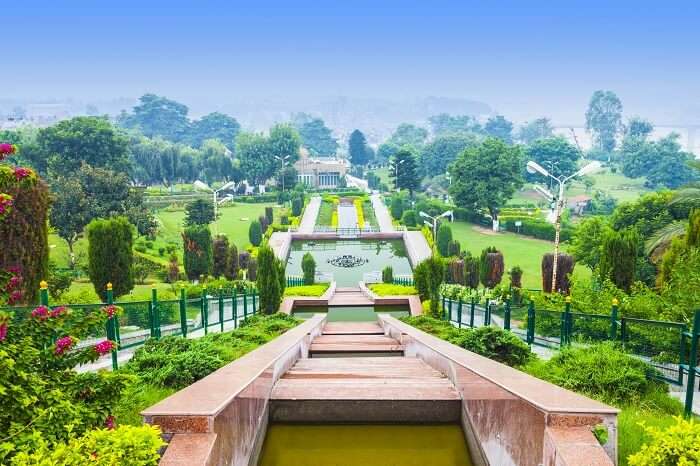 A testimony to its rich history and culture, the city of Jammu holds many glorious tales within its forts, palaces, and temples. Jammu is located on the banks of the river Tawi and is surrounded by magnificent mountains and lush green forests, the likes of which can't be found anywhere else on the planet! The list of best things to do in Jammu is quite extensive and we've listed few of them right here.
15 Best Things To Do In Jammu
Wondering the what to include on your list of top 10 things to do in Jammu and Kashmir? We have got you covered. Here is a list of 15 best things to do in Jammu:
1. Trek To Vaishno Devi Temple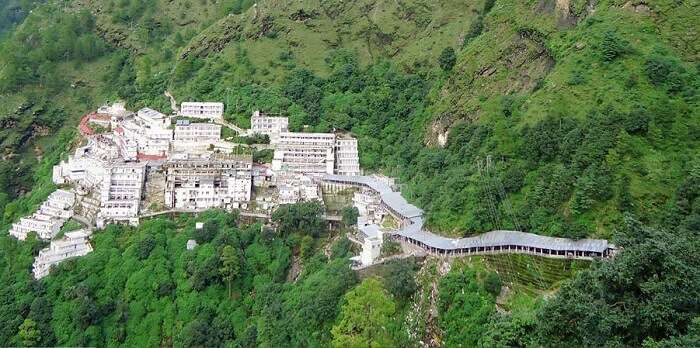 Vaishno Devi is one of the most sacred Pilgrim spots in India and a trek to reach the holy shrine is among the best things to do in Katra Jammu. Every year hundreds and thousands of devotees embark on an enthralling journey to pay respects and receive blessings at this sacred temple. For those who are unable to climb the steep slopes can either make the journey on horseback or book a helicopter ride from Jammu.
Location of Vaishno Devi Temple: Katra-Reasi Rd, Bhavan, Katra, Jammu
Timings of Vaishno Devi Temple: 5 AM – 9 PM
Must Read: 10 Delightful Places To Visit In Kashmir In June For An Out Of The World Experience
2. Visit Mubarak Mandi Palace

Image Source
The Dogra art museum is situated inside the Mubarak Mandi Palace, an important city landmark. The gallery was inaugurated by Dr. Rajendra Prasad in 1954. The gallery has an impressive collection of manuscripts, artifacts, royal embellishments and other historically significant items.
Location of Mubarak Mandi Palace: Jammu
Timings: 10:30 AM – 4:30 PM (Winters) | 8 AM – 1:30 PM (Summer)
Entry fee: INR 10/- per adult | INR 5/- per child/student | INR 50/- for foreigners
3. Ski In Patnitop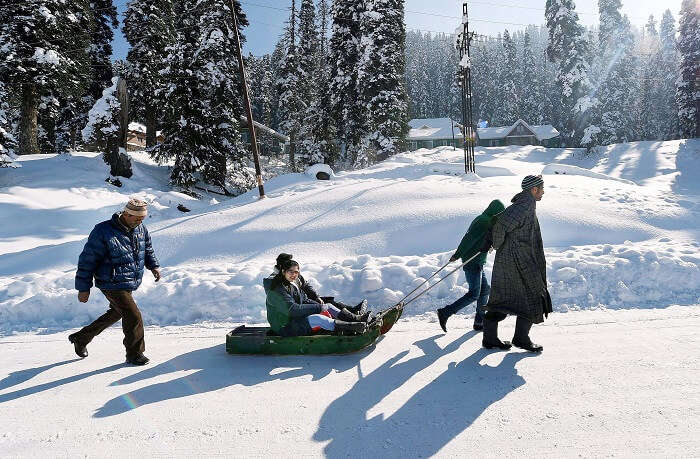 Skiing in Patnitop is without a doubt one of the best to do activities in Jammu. Patnitop is a quintessential Indian hill station. It is frequented by hundred and thousand of skiers all year round. The hill station offers its visitors stunning view of the panoramic landscape, beautiful trekking paths and gorgeous skiing locations.
Location of Patnitop: Udhampur District, Jammu and Kashmir
Distance of Patnitop from Jammu: 110 KM
How to reach Patnitop: Bus or private cabs
Suggested Read: Incredible Lakes In Kashmir That Can Enchant Any Traveler
4. Savor Jammu Cuisine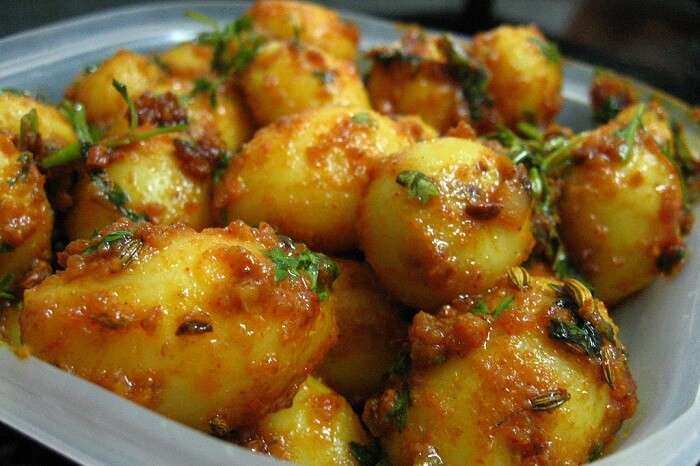 Image Source
Apart from being a sight to behold, Jammu is also a paradise for sheer foodies. One of the most interesting things to do in Jammu and Kashmir is enjoying the toothsome flavors of North India. a heaven for gourmets, Jammu is known all across the nation for Rajma Chawal, Aloo Dum, Patisa, Dogra Dishes (Ambal, Khatta Meat, Kulthi Ki Dal, Maa Da Madra, Phirni) and other traditional dishes like Morel, Palov, Madra, Oria, Maani, Khameera, and Sasha. Jammu offers a wide variety of Pahari delicacies which reflect upon the uniqueness of the culture in North India.
Best places to eat in Jammu: Falak Revolving Restaurant, Hotel Taj Restaurant, Pavilion, Bansi Ki Hatti, The Imperial Grill Restaurant and Bar
5. Stroll In Bagh-e-Bahu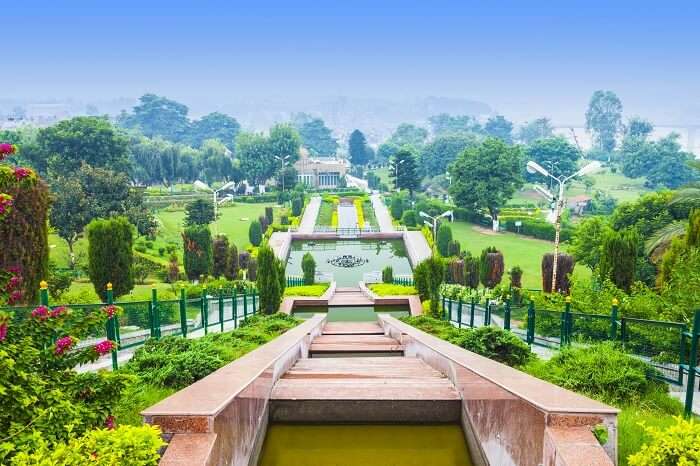 Among the many things to do in Jammu, the lush green and majestic Bagh-e-Bahu Garden is perhaps the most beautiful and exciting hotspot. Located on the bank of the river Tawi, this enchanting garden boasts of a lush green topography, beautiful fountains, colourful flowers and ponds. The garden also has a large artificial lake, gorgeous flower beds and walkways for easy access. If you happen to be in Jammu, make sure you visit this garden.
Timings of Bagh-e-Bahu Garden: 8 AM – 10 PM
Entry fee: INR 5/- Per Person
Suggested Read: Here's What Makes Kashmir A True Heaven On Earth
6. Enjoy A Helicopter Ride To Poonch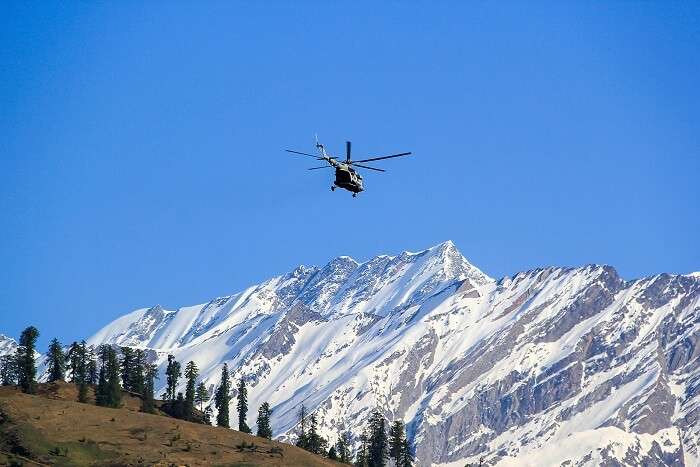 Make sure you include a visit to the picturesque town of Poonch in your list of things to do in Jammu. This quintessential Indian country town is a sight for sore eye and is located at a comfortable driving distance from Jammu. What's even better is that you can book a thrilling helicopter ride from Jammu to Poonch. At the helm of its beauty is the magnificent Pir Panjal Mountain range. And the town holds within itself a rich and extensive cultural history just waiting to be unraveled.
Location of Poonch: Poonch District, Jammu and Kashmir
Distance of Poonch from Jammu: 233 KM
How to reach Poonch: Bus or private cabs
Attractions in Poonch: Pir Panjal mountain range
7. Explore Bhimgarh Fort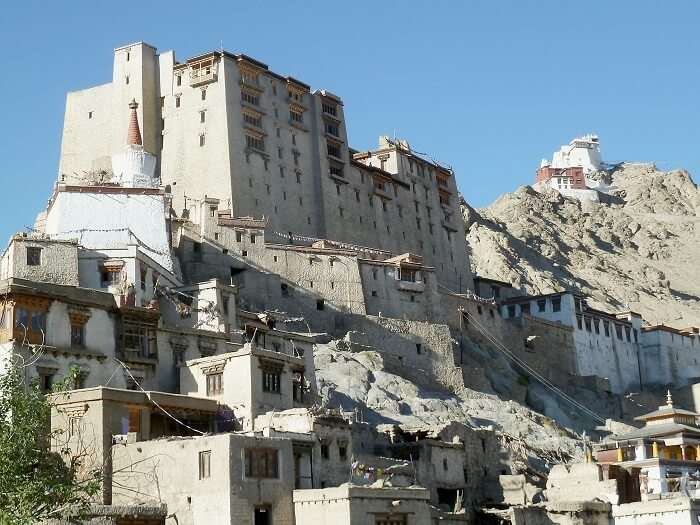 Located in the town of Reasi, the Bhimgarh fort aka the Reasi fort is a charming historical monument. The gates of this stunning fortress are adorned with folk painting from Rajasthan. And even though the fort has endured many earthquakes, restoration efforts of the year have preserved its essence. The fort is surrounded by dense forests, beautiful mountains and offer 360-degree views of the valley and surrounding landscapes.
Location of Bhimgarh Fort: Reasi Town, Udhampur 182311, India
Timings of Bhimgarh Fort: 10 AM – 5 PM
Entry fee: INR 10 /- Per Adult and INR 5 /- Per Child
Suggested Read: 15 Best Houseboats In Kashmir: A Treat For Nature Buffs
8. Go Boating In Mansar Lake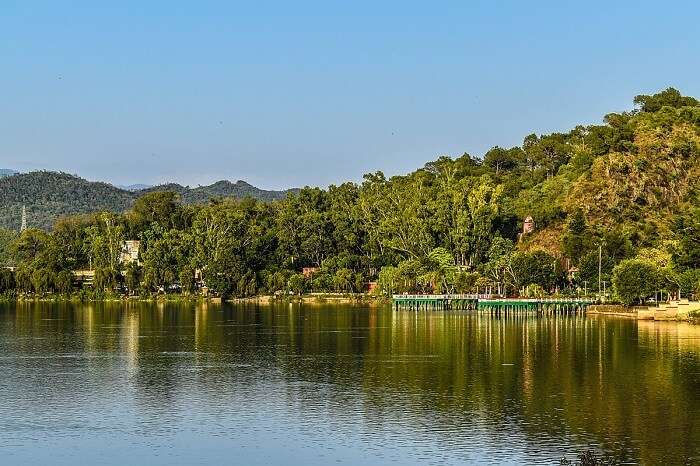 Image Source
Mansar Lake is located in one of the most picturesque locations in Jammu and is surrounded by lush green forests and hilltops. Mansar Lake should be in the top of your list of things to do in Jammu in one day. A visit to the lake is an entire day undertaking. The drive from Jammu to Mansar is about 2 hours, and it will take you 2-3 hours to explore the area. واين رونى Make sure you enjoy a scenic boat ride at the lake. Also, fishing in the lake is undoubtedly among the best things to do in Jammu.
Location of Mansar Lake: Buttal, Jammu, Jammu and Kashmir 182127, India
Timings of Mansar Lake: 7 AM – 5 PM
Entry fee: Free
9. Pray At Bahu Fort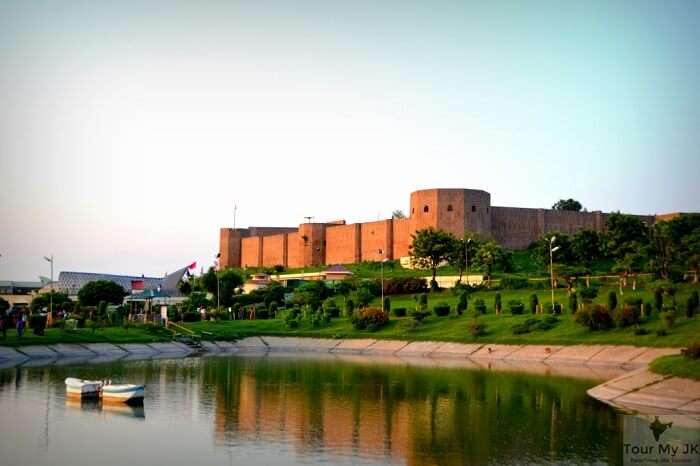 Image Source
Make sure you include the visit to the historic Bahu Fort on your list of things to do in Jammu city. Built by Raja Bahu Lochan, the fort is located on the banks of the stunning Tawi River. It has a temple dedicated to goddess Kali and many beautiful terrace gardens. During the weekend, the place is filled with devotees, and the palace is a a favourite Jammu sightseeing hotspot.
Location of Kali Temple: Bahu Fort, Jammu
Timings of Kali Temple: 5 AM – 10 PM
Entry fee: INR 10/- per person
Suggested Read: 23 Things To Do In Kashmir To See The Best Of This Heaven On Earth
10. Ride A Jeep Or A Camel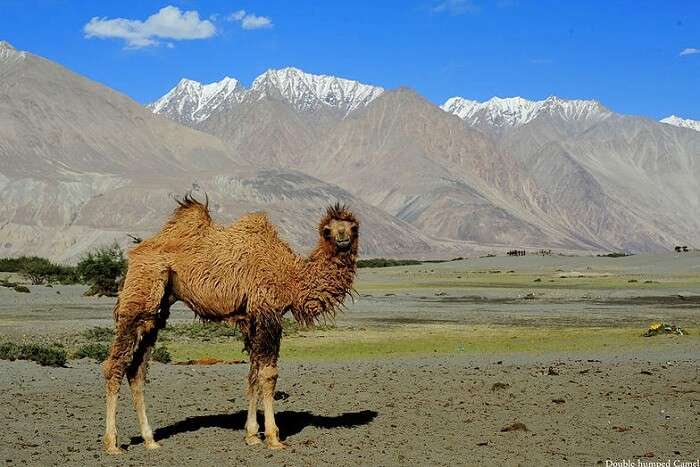 Jammu and Kashmir are best seen when you are in a jeep or on a camel. Jeep safaris will make it comfortable for you to ride on rocky terrains and camel safaris will help you enjoy the gorgeous landscapes and let you learn more about the culture and traditions here. Embark upon a camel safari to soak in the colours of Jammu and Kashmir. Choosing camel safaris and jeep safaris to savor the commanding views of enthralling valleys and local villages is one of the best things to do in Jammu and Kashmir.
Best time for camel safari in Jammu: July to September
11. Seek Blessings At Raghunath Temple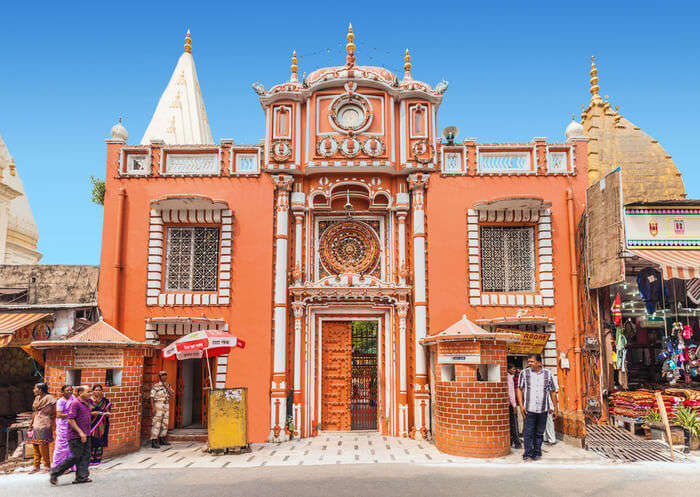 Raghunath Temple, is one of the most beautiful Hindu shrines. It dates back to the nineteenth century. It was built by Maharaja Ranjit Singh. Each of the temples in the region have a spire similar to that of Raghunath Temple. It was built by Maharaja Ranjit Singh. The paintings inside them catch the attention as they depict chapters of Mahabharat, Bhagavad Geeta, and Ramayana.
Timing: 6 AM – 8 PM
12. Explore Peer Kho Cave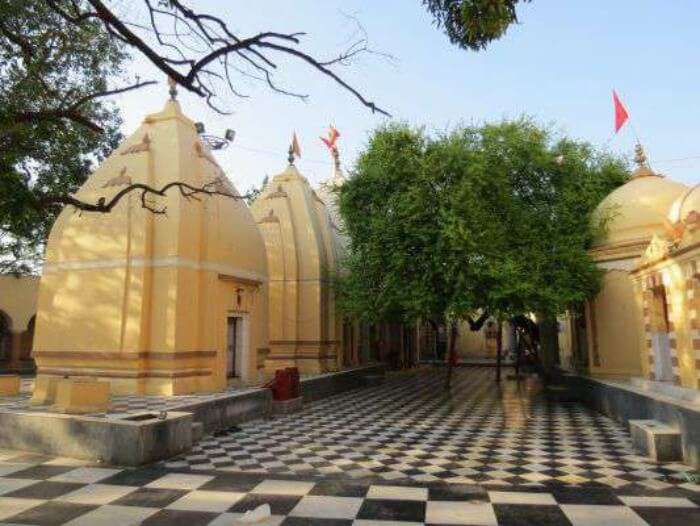 Visiting Peer Kho Cave is one of the best things to do in the region of Jammu. You will have the time of your life here and will not be disappointed by the bevy of activities you can do here. The temple is one of the oldest in the city. As per archaeological records, it was built in the fifteenth century when Raja Ajaib Dev was in the reign. The massive courtyard of the temple is what grabs the attention, especially when it it lit during Diwali.
Timing: 5 AM – 7 PM
13. Drop By Manda Zoo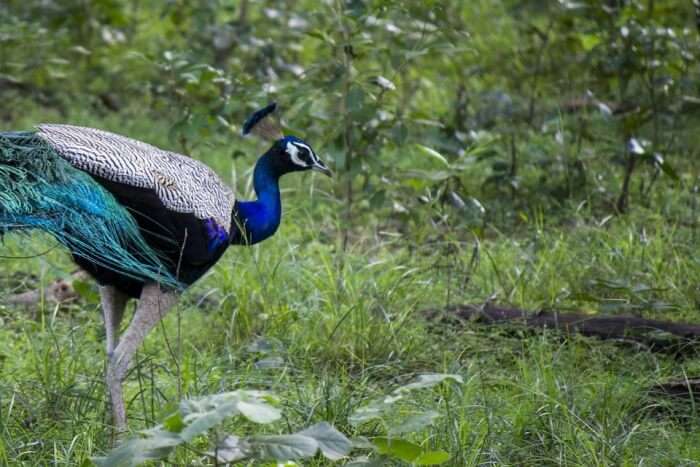 Manda Zoo is a perfect escape especially if you are traveling with children. iT is situated a stone's throw away from Amar Singh Palace and Museum and Hari Niwas Palace at Palace Road, Janipur, Jammu. Though this is spread over a rather small area, there are a plethora of exhibits here. Hog deer, porcupine, leopard, barn owl, sambhar, python and black partridge are among the creatures you can expect to spot here in this zoo.
Entry fee: INR 20 per person
Timing: 9 AM – 6 PM
14. Marvel At Amar Mahal Palace

Amar Mahal is situated on the right bank of the Tawi River, on a bend of the river, in Jammu. Jammu, once a princely city, is also famous for forts, palaces and temples. The Sivalik Hills or ranges to the north of the Mahal, on the left bank of the river, provide a grand view, with the Tawi River flowing in between, draining the valley.
Entry fee: INR 10 per person
Timing: 10 AM – 7 PM
15. Celebrate Spituk Gustor Zanskar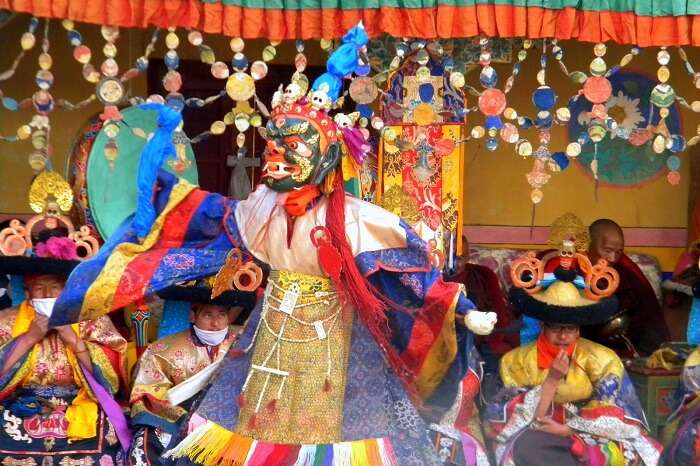 Image Source
Make sure to celebrate Spituk Gustor Zanskar while you're there. It is famous Tibetan festival widely celebrated in Ladakhi monasteries of Thiksey, Spituk, and Karsha Nanzkar. The word 'Gustor' stands for sacrifices made on a specific day of the month. The festival is celebrated on the 30th and 31st October of every year. It is marked by special early morning prayers.
Further Read: 15 Things To Do In Srinagar That Will Make You Fall In Love With The Kashmiri Charm!
We hope we've solved your dilemma of what to do in Jammu with this list of the best things to do in Jammu. Now all you have to do is book your trip to Jammu and Kashmir with TravelTriangle for an exotic and memorable experience!
Disclaimer: TravelTriangle claims no credit for images featured on our blog site unless otherwise noted. All visual content is copyrighted to its respectful owners. We try to link back to original sources whenever possible. If you own the rights to any of the images, and do not wish them to appear on TravelTriangle, please contact us and they will be promptly removed. We believe in providing proper attribution to the original author, artist or photographer.
Please Note: Any information published by TravelTriangle in any form of content is not intended to be a substitute for any kind of medical advice, and one must not take any action before consulting a professional medical expert of their own choice.
Frequently Asked Questions About Things To Do In Jammu
Which is the most famous place in Jammu?
Vaishno Devi Temple is one of the most popular places in Jammu.
Is Jammu Safe?
Yes, Jammu is safe as compared to Srinagar. There is hardly any communal tension reported which can lead to violence.
Is it safe now to plan a trip to Jammu during this Covid situation?
Travel like any other activities that involves close contact with other people is not totally risk-free even after you are fully vaccinated. Therefore, it is advisable to avoid any planning for vacation during this Covid situation.
What is the famous dish in Jammu?
Rajma, Kashmiri Pulao, Aloo Dum are some of the popular dishes in Jammu. The mouth watering taste of these dishes will amaze you while you will be on your food tour in Jammu.
How far is Ladakh from Jammu?
How long does it take to walk up to Vaishno Devi?
It takes 6-7 hours to walk up to Vaishno Devi.
How many stairs are there in Vaishno Devi?
You have to climb 740 steps in Vaishno Devi.
What Jammu is famous for?
Jammu is famous for its temples. The Vaishno Devi shrine located on the beautiful Trikuta hills is the centre of attraction.
{
"@context": "https://schema.org",
"@type": "FAQPage",
"mainEntity": [
{
"@type": "Question",
"name": "Which is the most famous place in Jammu?",
"acceptedAnswer": {
"@type": "Answer",
"text": "Vaishno Devi Temple is one of the most popular places in Jammu. "
}
}
, {
"@type": "Question",
"name": "Is Jammu Safe?",
"acceptedAnswer": {
"@type": "Answer",
"text": "Yes, Jammu is safe as compared to Srinagar. There is hardly any communal tension reported which can lead to violence."
}
}
, {
"@type": "Question",
"name": "Is it safe now to plan a trip to Jammu during this Covid situation?",
"acceptedAnswer": {
"@type": "Answer",
"text": "Travel like any other activities that involves close contact with other people is not totally risk-free even after you are fully vaccinated. Therefore, it is advisable to avoid any planning for vacation during this Covid situation. "
}
}
, {
"@type": "Question",
"name": "What is the famous dish in Jammu?",
"acceptedAnswer": {
"@type": "Answer",
"text": "Rajma, Kashmiri Pulao, Aloo Dum are some of the popular dishes in Jammu. The mouth watering taste of these dishes will amaze you while you will be on your food tour in Jammu. "
}
}
, {
"@type": "Question",
"name": "How far is Ladakh from Jammu?",
"acceptedAnswer": {
"@type": "Answer",
"text": "Ladakh is 681 km away from Jammu."
}
}
, {
"@type": "Question",
"name": "How long does it take to walk up to Vaishno Devi?",
"acceptedAnswer": {
"@type": "Answer",
"text": "It takes 6-7 hours to walk up to Vaishno Devi."
}
}
, {
"@type": "Question",
"name": "How many stairs are there in Vaishno Devi?",
"acceptedAnswer": {
"@type": "Answer",
"text": "You have to climb 740 steps in Vaishno Devi."
}
}
, {
"@type": "Question",
"name": "What Jammu is famous for?",
"acceptedAnswer": {
"@type": "Answer",
"text": "Jammu is famous for its temples. The Vaishno Devi shrine located on the beautiful Trikuta hills is the centre of attraction."
}
}
]
}
---



Enchanting Uttarakhand Tour 4D/3N Package @ Rs 7,199

Explore best destinations with our experts.

Book Now
var metaslider_57782 = function($) {
$('#metaslider_57782′).flexslider({
slideshowSpeed:3000,
animation:'slide',
controlNav:false,
directionNav:true,
pauseOnHover:false,
direction:'horizontal',
reverse:false,
animationSpeed:600,
prevText:"<",
nextText:">",
easing:"linear",
slideshow:false,
init: function(slider) {
$('#metaslider_57782 .msHtmlOverlay').each(function() {
$(this).css('display', 'block');
});
},
before: function(slider) {
$('li:not(".flex-active-slide") .animated', slider).not('.disabled').each(function(index) {
var el = $(this);
var cloned = el.clone();
el.before(cloned);
$(this).remove();
});
},
itemWidth:300,
minItems:1,
itemMargin:0
}); $(window).resize(function(){
$('#metaslider_57782').metaslider_scale_layers({
downscale_only: false,
orig_width: 300
});
});
$('#metaslider_57782').metaslider_scale_layers({
downscale_only: false,
orig_width: 300
});
$('#metaslider_57782 .msHtmlOverlay .layer[data-link], #metaslider_57782 .msHtmlOverlay[data-link]').each(function() {
var layer = $(this);
layer.css('cursor', 'pointer').on('click', function(e) {
if( ! $(e.target).closest('a').length) {
window.open(layer.attr('data-link'), layer.attr('data-target'));
}
});
});
$('#metaslider_57782 .msHtmlOverlay').each(function() {
$(this).css('display', 'block');
});
};
var timer_metaslider_57782 = function() {
var slider = !window.jQuery ? window.setTimeout(timer_metaslider_57782, 100) : !jQuery.isReady ? window.setTimeout(timer_metaslider_57782, 1) : metaslider_57782(window.jQuery);
};
timer_metaslider_57782();
---
People Also Read
Things To Do In Kashmir Things To Do In Punjab Things To Do In Ladakh