The south coast of Goa is surrounded by a beautiful landscape of coconut plantations and rolling green hills and is home to some of the most picturesque beaches in the region. A great starting point for those who want a chain of things to do in South Goa must note that the shores of North Goa are often considered the perfect destination for a beach holiday, but the beaches of South Goa are renowned for their natural beauty. Whether it be the picturesque Palolem beach or the serene Patnem, you can indeed have a truly memorable vacation. Goa also offers a wide variety of water sports, with Baga and Calangute being two top destinations for such activities.
6 Most Popular Things To Do In South Goa
If you are planning to visit the state of Goa and looking for things to do in South Goa specifically, read on to learn more about the best and most popular activities.
1. Take a road trip from River Sal to Agonda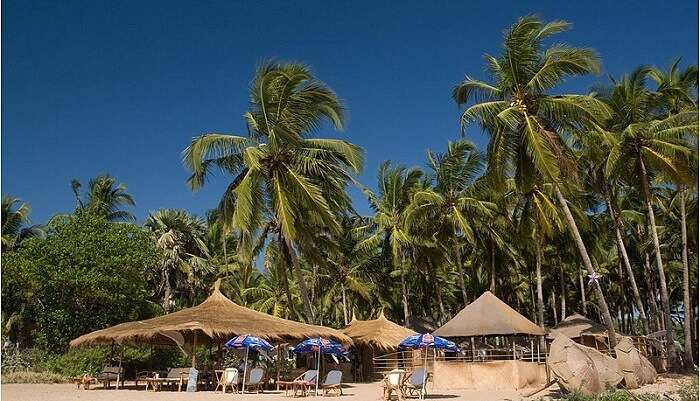 Image Credit: Tuderna for Wikimedia Commons
Agonda, a secluded and picturesque beach located in Goa, has recently seen the emergence of luxury resorts and beach huts along its shoreline, yet despite this development, the beach remains relatively uncrowded even during peak tourist season, providing an ideal destination for those seeking a peaceful and tranquil getaway. Surrounded by towering mountains on either side, it is widely considered by many to be the most stunning beach in all of Goa, and if you are searching for a beachfront property with uninterrupted views of the ocean and a minimal number of visitors, a trip to an Agonda is highly recommended and one of the more offbeat things to do in South Goa.
20 Best Beaches In South Goa For A Happening Holiday In 2023!
2. Hike up to watch the Dudhsagar falls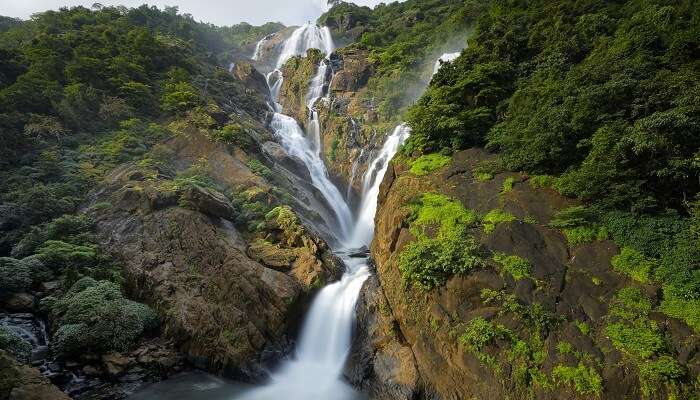 Nestled deep within the lush wilderness of the Bhagwan Mahavir Wildlife Sanctuary, the Dudhsagar Waterfall is a spectacular natural wonder that cascades down from the Western Ghats in South Goa. With a height of approximately 310 meters and a width of 30 meters, this four-tiered waterfall is among the tallest in India and is a truly breathtaking sight to behold. The name "Dudhsagar" translates to "Sea of Milk" and the waterfall truly upholds its name, especially during the peak monsoon months when the water is at its most abundant and the waterfall appears to be a sea of churning white milk.
3. Visit the Bhagwan Mahavir Wildlife Sanctuary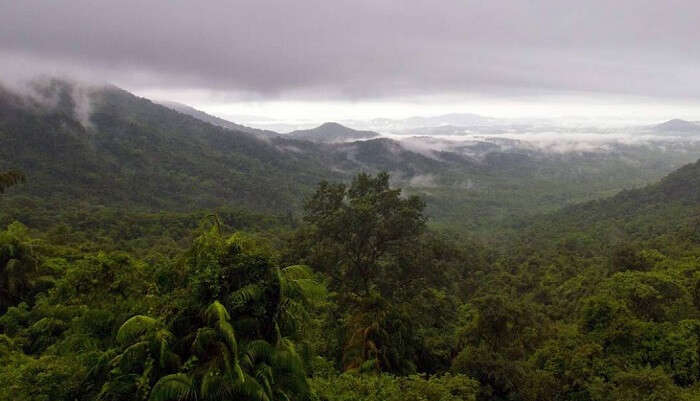 Image Courtesy: Government of Goa
The Bhagwan Mahavir Wildlife Sanctuary is located in the small town of Mollem in Goa, nestled amidst the picturesque Western Ghats. This famous sanctuary is enveloped by thick, lush forests that provide the perfect setting for a variety of wildlife to thrive. It holds a prominent place among the wildlife sanctuaries in India due to both its historical and geographical significance. It is one of the best things to do in South Goa with family.
Address: 87MQ+H89, Goa 403410
Hours: 9 am–5:30 pm
50 Amazing Places To Visit In South Goa In 2023 For A Fun-Filled Beach Vacation
4. Attend a party on Colva Beach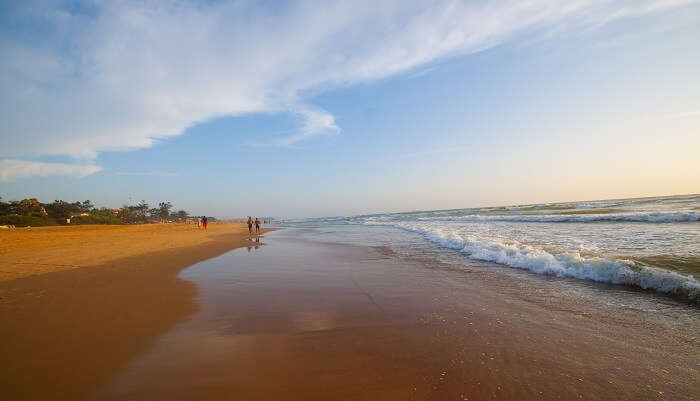 What was once a small, sleepy fishing village and a popular hangout spot for hippies in the 1960s, Colva has now transformed into a bustling resort town. Known for its crowded beaches filled with day-trippers and package tourists, Colva Beach in Goa is a popular destination for those looking to enjoy water sports and soak up some fresh sea air.
5. Try scuba diving near Grande Island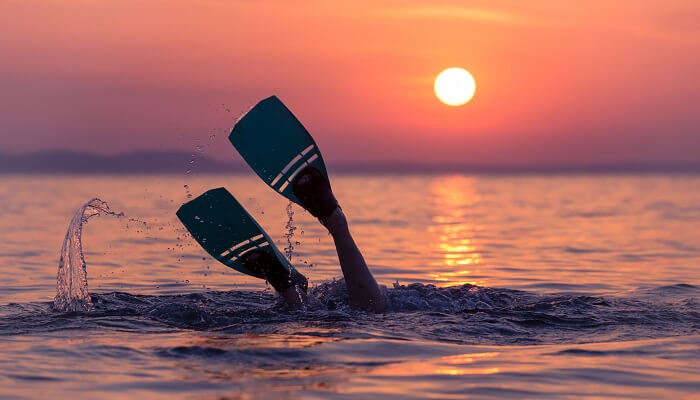 Grande Island located in South Goa is a highly sought-after destination for those seeking the thrill of underwater scuba adventures. People from all over the world come to this exotic island to witness the stunning marine life, vibrant coral reefs, and diverse underwater ecosystem. Divers, accompanied by their instructors, typically reach Grande Island via boat or yacht from the nearest beach, Bogmalo Beach. The visibility for diving in Grande Island is considered to be among the best in all of Goa, making it a prime spot for observing the underwater world, making this activity one of the best things to do in South Goa.
Ditch The Wild Goan Vacation For These Harmonious Alluring Villas In South Goa
6. Take a trip to the Big Foot Museum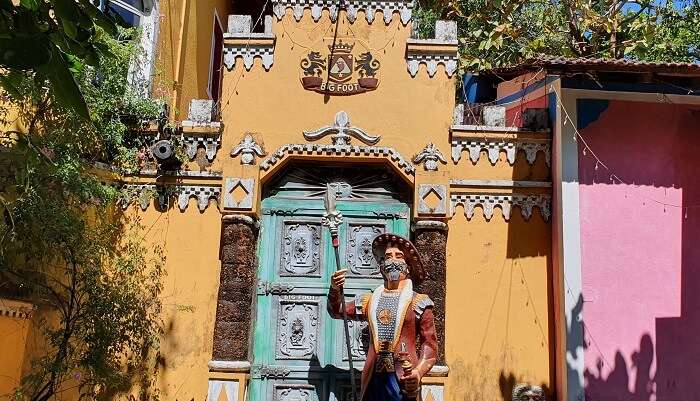 Image Credit: JosephAssisFernandes for Wikimedia Commons
The open-air museum located in Loutolim is a unique attraction that aims to recreate Goan's rural life as it existed 100 years ago. Visitors can take a step back in time and explore a recreated village that offers a glimpse into the traditional occupations, social classes, and way of life of the people who lived in Goa in the past. The museum features miniature houses that showcase different aspects of Goan life such as fishermen, artisans, music schools, farmers, liquor shops, the village market, and even a feni distillery.
Location: Cross Museum, Main Road, Salcete District, Loutolim, Goa 403718
Hours: 9 am–6 pm
The quieter, secluded beaches and luxurious resorts of South Goa are what makes it famous. In contrast to the bustling and more crowded North Goa, South Goa is known for providing a tranquil and relaxing environment, making it a popular choice among travellers seeking a more relaxed, less developed vacation spot. Explore our Goa tour packages to learn more.
For our editorial codes of conduct and copyright disclaimer, please click here.
Frequently Asked Questions About Things to Do in South Goa
Is South Goa worth visiting?
South Goa offers visitors the opportunity to experience unspoiled beaches, picturesque churches and temples, and natural reserves home to diverse wildlife. Adventure seekers can enjoy a range of exhilarating water sports such as jet skiing or parasailing, or simply relax on the secluded beaches and soak up the sun.
Are 3 days enough in South Goa?
Absolutely, during a three-day trip to Goa, one can indulge in the white sands of Anjuna beach, experience scuba diving and snorkelling at Baga beach, and explore the numerous casinos. And perhaps one of the most memorable experiences you will have is to test your luck at the casinos and try your hand at the various games.
What is the best time to visit South Goa?
Goa is best enjoyed during the cooler months, typically from November to February, when the weather is perfect for exploring the sights and lounging on the beautiful beaches.
People Also Read:
Things To Do In Odisha Things To Do In Jim Corbett Things To Do In Siliguri