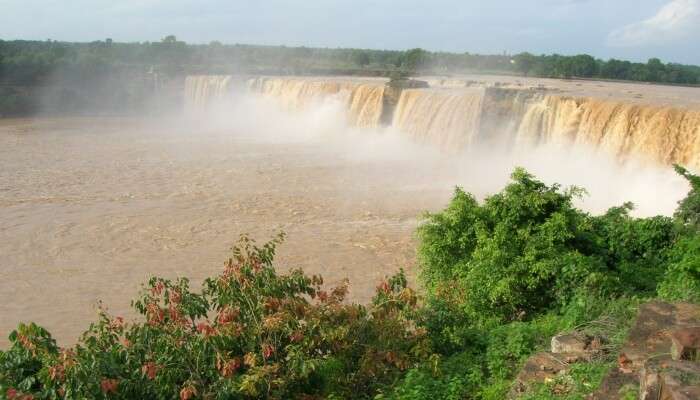 Chitrakoot Falls, popularly known as the Niagra falls of India is truly a spectacle to behold. One of the largest and most powerful waterfalls in the country, the Chitrakoot Waterfall is one of the most noteworthy attractions in the city of Jagdalpur. There are however, a number of other interesting things to do in the city that will leave you just as mesmerised as the Chitrakoot Falls. There are a number of tourist places near Chitrakoot Falls that are worth exploring owing to their picturesqueness and cultural significance.
7 Tourist Places Near Chitrakoot Falls
If you're visiting (or in) Chitrakoot, have already paid a visit to the falls, here are a few other tourist places near Chitrakoot Falls:
1. Kanger Valley National Park

Established in 1982, the young national park of Kanger Valley is an absolute delight for the nature lovers. The national park is less than a couple hour long drive from the falls and make for a perfect day-long getaway for those that have the luxury of time.
Since the national park isn't exactly a mainstream destination, it does not attract a lot of crowds. The quiet atmosphere of the park also makes it one of the best tourist places near Chitrakoot Falls for couples. This means, amidst the middle of lush green forest, the drowning sound of chirping birds, and the presence of only a limited number of people, you can spend the day truly getting in touch with your wild side.
Additional Info: There are a number of places worth visiting within the biodiversity reserve. However, all these places are reachable only after a short jungle hike of a few kilometers. These include, Kotamsar (5 kilometers), Kanger Dhara (7 kilometers), Kailash Zheel or Lake (1.5 kilometers). This variety makes the Kanger Valley National Park, one of the most versatile tourist places around Chitrakoot Falls.
Must Read: 6 Exotic Hill Stations In Madhya Pradesh Which Will Definitely Make You Escape The Gloomy Weekend In 2022!
2. Kailash And Kutumsar Caves

Two of the places we left out from the list of destinations within the Kanger Valley National Park are the Kailash and Kutumsar Caves. The caves are easily accessible by a very pleasant walk through the dense forest of Kanger Valley National Park and are among the best tourist places near Chitrakoot Falls.
First, let's talk about the recently discovered (1993) Kailash Caves. The cave system is a small one, only 250 meters in length but nonetheless, offers some spectacular views of stalactite and stalagmite formations. The reason behind naming the caves Kailash Caves is that at the end of the cave, the stalagmite formations resemble a Shivling. Another interesting thing about the Kailash caves is the acoustic properties of its walls that emit sound when struck by hands.
Kutumsar Caves are the mysterious counterpart of Kailash Caves. Ironically, the cave is also India's most biologically explored cave. At 1370 meters in length, the caves lie 35 meters below the ground level. As a result of this, there are a number of areas within the cave that have never had access to any sunlight. There are also dark pools and cold corners, and even a few areas where there is a lack of oxygen. The cave system has five separate chambers that feature some excellent, naturally occuring, acoustics.
Additional Info: The caves are closed to the public between June 15th and October 31st, due to the monsoon rains. Thanks to the rain, a lot of debris get collected within the caves, which needs removal before they can be opened for tourists again.
Suggested Read: 10 Khajuraho Hotels That Are Considered To Be Ideal Staying Options In Madhya Pradesh
3. Tirathgarh Waterfalls

At a distance of about 35 kilometers from the city center of Jagdalpur, this waterfall is considerably close to Kutumsar Cave. The waterfall features a single drop of a staggering 91 meters (299 feet) and is truly a spectacle for nature lovers. The waterfall area is surrounded by lush green forest and is a favorite picnic spot among the locals and thus, is one of the famous tourist places near Chitrakoot Falls.
For those looking for a bit of extra adventure, there is an option of going to the bottom of the gorge formed by the waterfall. The bottom can be reached by climbing down a flight of 210 stairs. This staircase is well maintained and is very easy to navigate for people of all age groups and fitness levels.
Additional Info: The restaurants and shops near the Tirathgarh Waterfall area have a very bad rep of serving bad, if not stale food and expired products. To save yourself from an experience that can potentially ruin your whole trip, we recommend carrying your own food and water when you visit Tirathgarh Waterfalls.
Suggested Read: Tikamgarh, Madhya Pradesh Is A Hidden Gem That You Must Dig Up
4. Zonal Anthropological Museum

Like most other museums, the Zonal Anthropological Museum lets visitors take a sneak peak into a different era. However, unlike most museums, this one focuses on the past of the homogenous Bastar Tribe.
Established in 1972, the museum features an impressive collection of artifacts, art, weapons, utensils, ornaments, clothes collected from the tribe during the 70s and 80s. The museum has efficiently places these artifacts in a manner that describes a narrative of the "adivasi" lives of the Bastar Tribe, before the onslaught of infrastructure revolution in the area. History buff or not, a peek into the lives of a tribe much different than what any city-dweller has imagined, from a time when most visitors were not even born, is sure to pique anyones' interest.
Additional Info: The museum lies within the premises of office of Anthropological Survey Of India and is a mere 4 kilometer drive from the city center. The museum is open for visitors from 10: AM to 5:30 PM. During this time, the museum is closed for half an hour between 1:30 PM and 2:00 PM. There is no entry fee for visitors.
Suggested Read: 5 Places To Visit In Tikamgarh For An Enlightening Trip To Madhya Pradesh
---
Planning your holiday but confused about where to go? These travel stories help you find your best trip ever!
---
5. Gupt Godavari

Gupt Godavari is a pair of caves that have a rich mythological story attached to them. According to Hindu Mythology, the caves were used by Lord Rama and his brother Lord Lakshman to hold secret meetings.
With grandness comparable to famous Indian caves such as the Elephanta Caves, the Gupt Godavari caves are relatively unexplored by tourists.
While one of the caves have a very small entrance, through which visitors can barely pass, the other one has a stream of water flowing that can turn out to be knee-deep at certain points.
Additional Info: The story about Lord Rama and Lord Lakshman holding secret meetings and court within the caves originated because one of the caves houses a throne-like structure that is believed to have been used by Lord rama as his throne during court sessions.
Suggested Read: Chanderi In Madhya Pradesh: A Detailed Guide To This Unique Town
6. Bharat Milap Temple

Those familiar with the Epic Ramcharitmanas written by Sage Valmiki know about an even called Bharat Milap. For those that are not familiar with the event, it took place after the death of King Dashratha, father of Lord Rama. The then ruling king, King Bharata, brother of Lord Rama, came down to Kamadgiri Mountain to persuade his elder brother to return to their homeland in Ayodhya and reclaim the throne.
Legend says that this event was so emotional that it melted the rocks in the area, as a result of which, the footsteps of Lord Ram and King Bharata were imprinted in the rocks.
Those who find this story highly unlikely must definitely visit the Bharat Milap Temple to witness the footsteps etched in the rocks to this day.
Additional Info: For pilgrims, another activity of interest near the Bharat MIlap temple is the parikrama (circumambulation) of Kamadgiri hill.
Suggested Read: Monsoon In Madhya Pradesh: 5 Best Places To Visit In The 'Heart Of India' In 2022
7. Kalinjar Fort

Located at a distance of about 88 kilometers from Chitrakoot, the Kalinjar Fort is an ancient archeological marvel that offers spectacular views of the plains around it. Rising a little over 1200 feet from the ground, the Kalinjar fort was built by the Chandela Kings in the 9th century. Historically, the fort was viewed as a symbol of great power among local Indian kings, and thus, attracted a lot of conflict over the control of the area.
The fort also houses a number of temples within its premises, including a shrine will wall inscriptions depicting Lord Shiva, Ganesha, Hanuman and Kala Bhairon and thus, has emerged as an important pilgrimage destination for Hindus all over the country.
Additional Info: The Kalinjar Fort is one of India's oldest surviving architectural marvels and houses a rich and interesting history that starts in the 9th century. Interestingly, there were conflicts happening for the control of the fort as late as 1569 when the Mughal King Akbar took control of the fort and later gifted it to his famous companion, Birbal.
Further Read: 10 Best Places To Visit In Madhya Pradesh In Summer For A Soothing Trip
If you are looking for a quick getaway that features adventure, history, and spiritualism in equal quantities, Jagdalpur should be high on your priority list. The above-listed tourist places near Chitrakoot falls will give you a glimpse into the cultural and traditional significance. Keep the list handy when planning your Chhattisgarh vacation.
Disclaimer: TravelTriangle claims no credit for images featured on our blog site unless otherwise noted. All visual content is copyrighted to its respectful owners. We try to link back to original sources whenever possible. If you own the rights to any of the images, and do not wish them to appear on TravelTriangle, please contact us and they will be promptly removed. We believe in providing proper attribution to the original author, artist or photographer.
Please Note: Any information published by TravelTriangle in any form of content is not intended to be a substitute for any kind of medical advice, and one must not take any action before consulting a professional medical expert of their own choice.
Frequently Asked Questions About Tourist Places Near Chitrakoot Falls
What Is Jagdalpur famous for?
From lush green cover of forest to the presence of mystic caves, Jagdalpur is surprisingly filled to the brim with places that are of interest for travelers. The best part is, the destination is relatively unexplored right now, and offers travelers a very unique chance of exploring an offbeat destination. Some of the most noteworthy destinations in and around Jagdalpur are Chitrakoot Waterfalls, Bahart Milap Temple, and Kutumsar Cave. However, the list is not limited to these places.
How do I reach Chitrakoot Falls?
Jagdalpur has a railway station which is about 40 kilometers from the Chitrakoot waterfalls. From the railway station, there are local buses that will take you to Chitrakoot waterfalls but there are only 3-4 buses departing to the falls from the railway station. The last bus from Chitrakoot waterfall to Jagdalpur leaves at 5:30 PM in the evening. The nearest airport to Jagdalpur is Vishakapatnam, which is well connected to Jagdalpur by road public transport.
What is the best time to visit Chitrakoot Falls?
The later months of monsoon (September and October) are best suited for exploring Jagdalpur. At this time, the weather is pleasant and thanks to the recently passed monsoon showers, the waterfalls in the area are flowing in all their glory. Keep in mind that this is the peak season of visiting the area and thanks to the combination of high tourist footfall and underdeveloped tourism infrastructure, finding a decent accommodation may turn out to be a challenge.
Is swimming in Chitrakoot Waterfall safe?
While it may look tempting, swimming at Chitrakoot waterfalls is extremely dangerous and thus, prohibited.
What must I keep in mind while visiting Chitrakoot Waterfalls?
Since tourism is a freshly growing industry, Chitrakoot is currently facing a scarcity of restaurants that serve decent food. There have also been reports of shops near the falls selling expired goods such as biscuits and wafers. For this reason, it is strongly recommended to carry your own food and water when you visit Chitrakoot Falls.
Is Jagdalpur safe for women?
While Chhattisgarh may have a bad rep when it comes to safety (for women and generally) while travelling, Jagdalpur is a serene and peaceful town that is perfectly safe for visitors, including women.
---