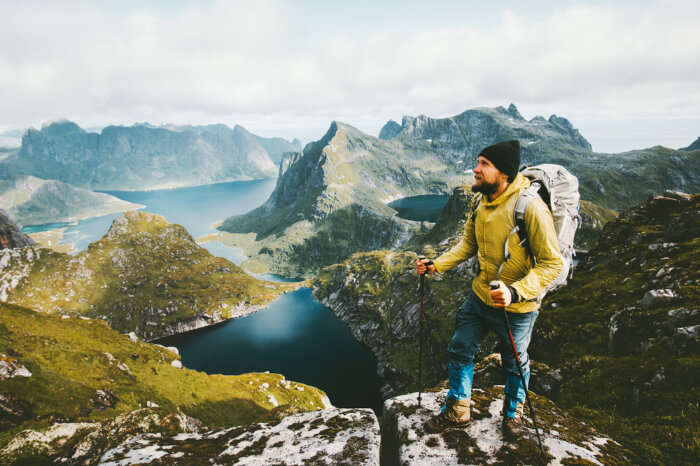 Witness an unforgettable trekking experience in the landscapes of Norway offering you varied mesmerising views of untamed nature. The hilly and rocky terrain of Norway makes it one of the best places for Trekking. The more you get engrossed into the natural beauty of Norway, the more does your soul set free. On this note, we bring to you a list of beautifully carved must visit spots for trekking in Norway.
10 Best Spots For Trekking in Norway
Trekking and hiking through through rugged paths laid across the mountains and valleys of a place lets you know it more closely. You discover new and unique things and views when you explore a destination on foot. And the feeling of accomplishment you get at the end of your trek is amazing. So here are 10 of the best spots to start a trek in Norway.
1.Preikestolen / The Pulpit Rock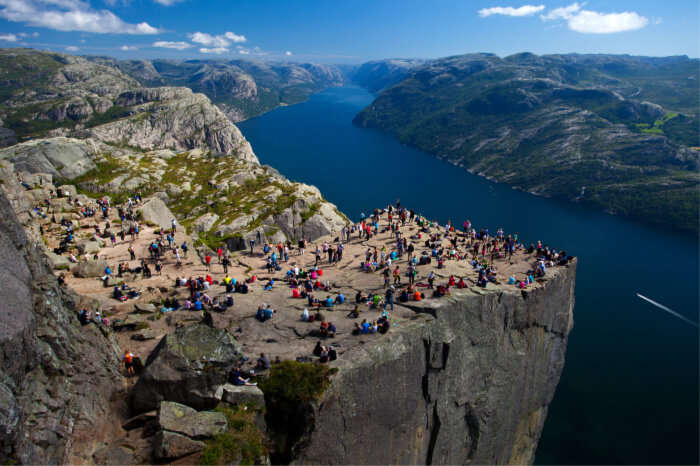 Preikestolen cliff, formed around 10000 years ago is now serving as a major tourist attraction in the county of Rogaland, Norway. It is a steep cliff with an elevation of around 604 m (1982 ft) often witnessing leaps by the base jumpers from the cliff. Due to it being highly preferred and admired by the hikers, a construction project has been initiated with a view to improve the way to the site.
Location: Rogaland, Norway
Time taken: 4-5 hours
Main hiking season: April – October
Must Read: 10 Best Norway Restaurants To Try All Delicacies On Your Next European Vacation!
2. Trolltunga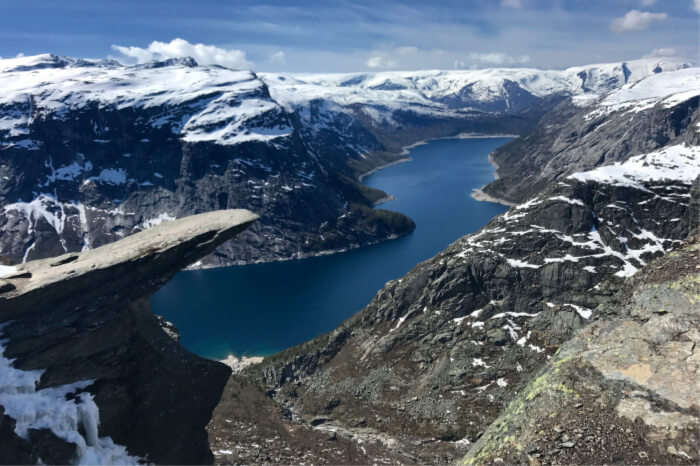 With an elevation of 1100 meters above the sea level and liberated in the air about 700 meters above Ringedalsvatnet lake, Trolltunga mountain tends to attract a considerable number of hikers every year. With streams, rocks, wetlands and mountain terrain en-route the hiking pathway, Trolltunga hike serves as an attraction for tourists around the world.
Location: Odda, Hordaland, Norway
Time taken: 10-12 hours
Main hiking season: Mid-September
3. Aurlandsdalen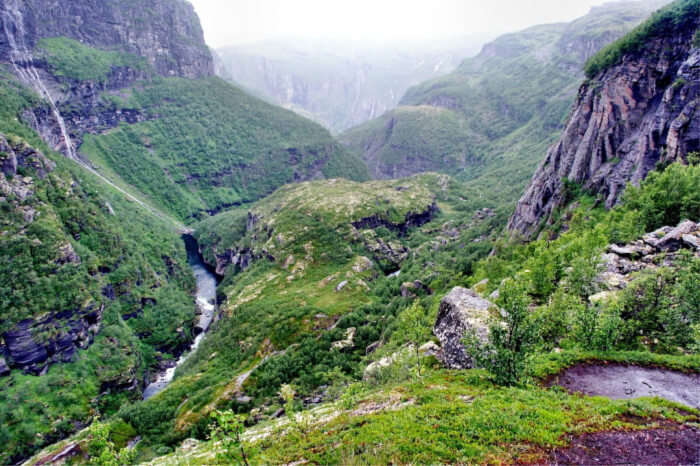 A classic hiking area accompanied with varied outdoor adventures being offered at The Aurlandsdalen Valley attracts adventurous crowd from across the world especially in the period of June to September. Along with it, the valley also offers a National Park and a walk to breathtaking glaciers just a few hours away accessible to both adults and children taking into consideration a few safety measures.
Location: Aurland municipality, Sogn Og Fjordane, Norway
Time taken: 6 hours
Main hiking season: June – September
Suggested Read: Castles In Norway: 8 Places To Give WIngs To Your Fairytale Fantasy
4. Skala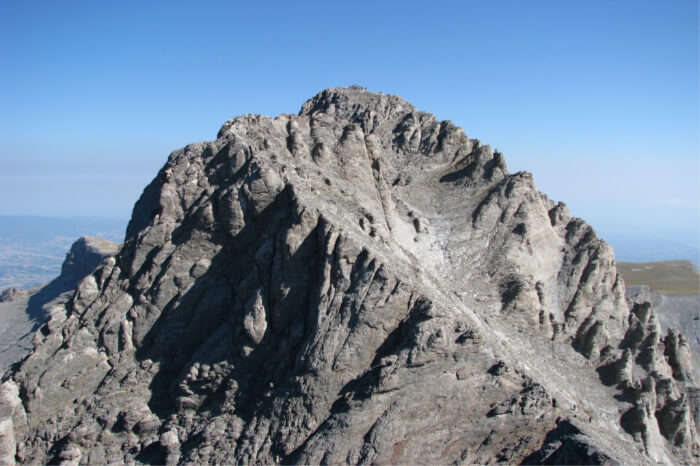 Image Source
With enormous mountains and resplendent view of glaciers around, apparently, the most wonderfully intimate hiking experience is what hiking to Mount Skala offers. Taking from 6-8 hours and a well maintained healthy body and fitness, its hiking definitely sends chills down the body of hikers. The magnificent mount Skala standing high in northern Norway attracts hundreds of hikers annually.
Location: Stryn, Sogn Og Fjordane, Norway
Time taken: 5 hours
Main hiking season: June – September
5. Romsdalseggen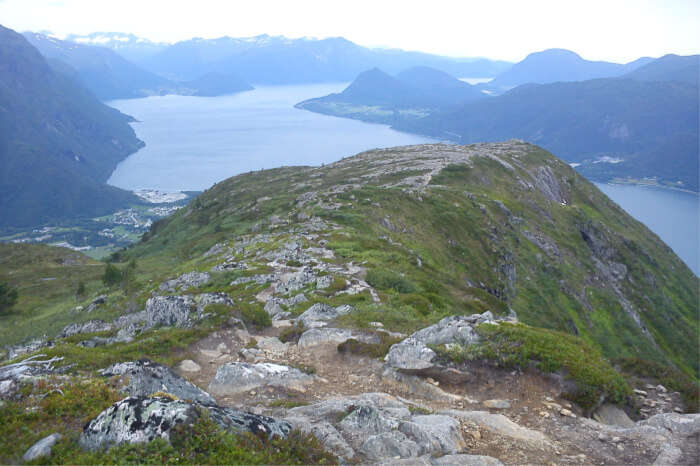 Image Source
Offering some of the jaw-dropping views and being listed in the most reliable list of Norwegian Trekking Association as one of the most admired mountain hikes in Norway, Romsdalseggen ridge stands high in Andalsnes, Norway. The most peculiar thing about the hike being its capacity to offer laudable and praiseworthy views throughout leaving you with splendid experience and exemplary memories.
Location: Vengedalen, Andalsnes, Norway
Time taken: 8 hours
Main hiking season: Autumn
Suggested Read: Grab This Chance To Tail The Aurora Northern Lights All Day In Norway
6. Lysefjord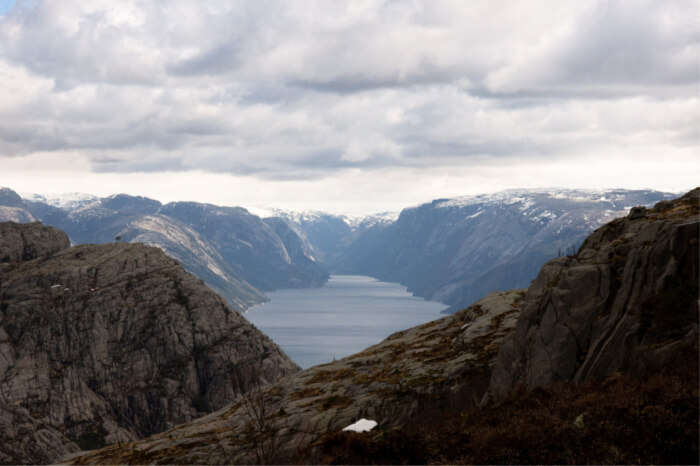 With the major attraction being Preikestolen cliff, Lysefjord located in the Rogaland county, Norway with a length of 42 kilometers offers you with its scenic beauty and spectacular views to behold. Lying at 1100 meters above the sea level, Kjerag mountain situated at the end of fjord too attracts the tourists with its picturesque and eye catching beauty. Also practically being an inhospitable area thereby holding lighter population, the fjord provides you to be in peace with nature.
Location: Ryfylke, southwestern Norway
7. Horseid and Bunes Beach

Image Source
Situated in the western part of Lofoten Islands, Horseid and Bunes Beach serve as a perfect place for overnight camping after more than 2 hours of hiking. Though being a best suited destination, it receives fewer tourists as compared to its sibling beaches as a result of its location which tends to be way too far than others.
Location: Lofoten Islands, Moskenesoya
Time taken: 2-3 hours
Suggested Read: Want To Visit Norway In Winter? This Guide Will Help You Plan Your Trip Well
8. Keipen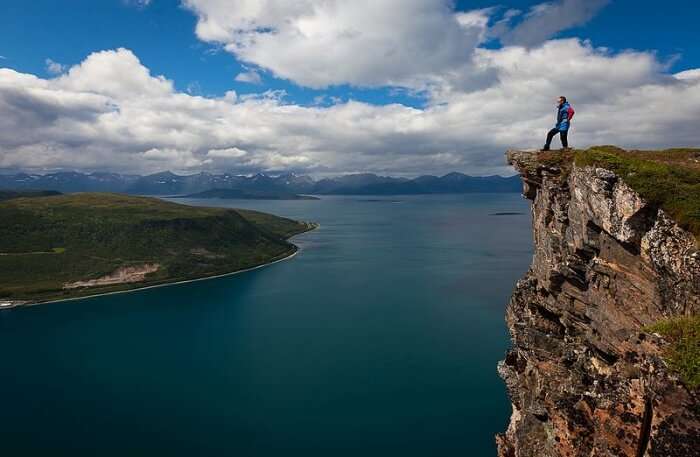 Offering one of the most magnificent views of Harstad, hiking to Keipen is an easy yet enriching experience for it provides you with all the splendid views from breathtaking west side to the glorious midnight sun. With just 4 kilometers of return trip, an approximate time to reach the peak is around 30 minutes and these efforts are going to pay you back with stunning mountains and surrounding fjords.
Location: Geirangerfjord
Time taken: 1 hour
Main hiking season: January – December
9. Besseggen Ridge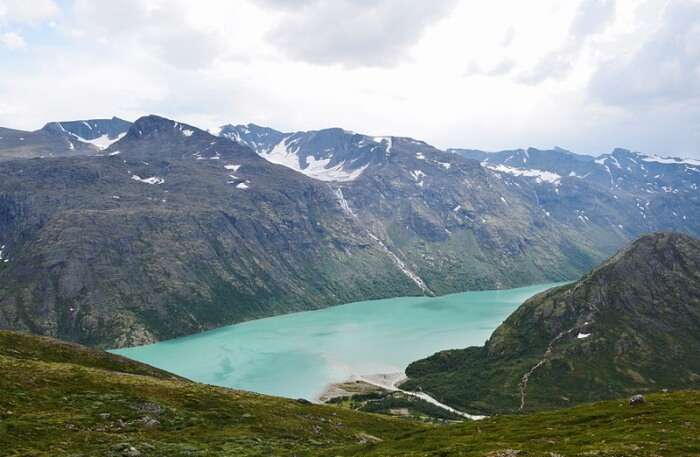 Besseggen, an exemplary mountain ridge located in Oppland country, Norway is visited and tracked by around 30,000 people on an annual basis. Providing you with a beautiful view of Gjende and Bessvatnet, Besseggi indeed is one of the most favoured mountain hikes. With the route starting from Gjendesheim and ending at Memurubu, the hike approximately takes you 5-7 hours of continuous walk.
Location: Jotunheimen National Park
Time taken: 5-7 hours
Main hiking season: Summer – Fall
Suggested Read: The All You Can Fly Pass In Norway Is Giving You Unlimited Flying For Two Weeks
10. Reinebringen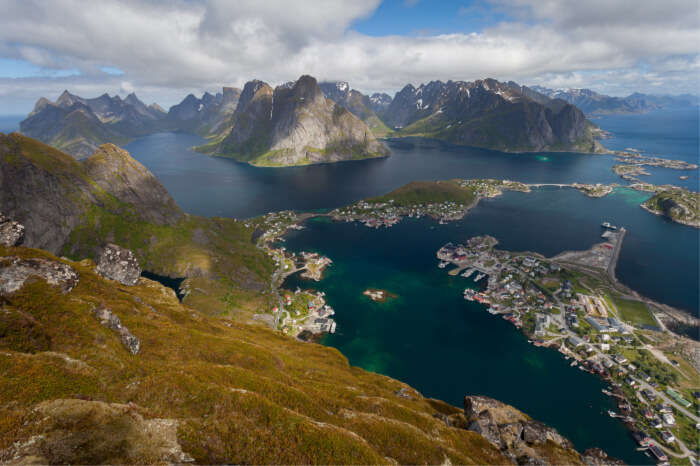 One of the most elevated peaks on Lofoten Islands, standing high at around 448 meters above the sea level, Reinebringen provides you with the most iconic views of all time. The view, along with hard, steep and slippery hike makes it one of the most sought-after hiking spots in Norway attracting hundreds of people everyday. Having said that, Reinebringen has been suffering and experiencing a hell lot of erosion and rock fall in past years as a result of increasing crowds hence making it a little dangerous until a new trail is built up.
Location: Lofoten Islands, Norway
Time taken: 1.5- hours
Further Read: Top 10 Places To Visit In Norway For The Love Of History, Nature, And Architecture
With this we come to an end of the list, though the beauty that Norway offers goes beyond our capacity to express. With winters being round the corner, let's welcome the season with open arms and plan a trip to Norway now to take the pleasure of what this beautiful country beholds by trekking down its valleys and mountains.
Frequently Asked Questions About Trekking In Norway
What are the well-known trekking trails in Norway that are popular among tourists?
Several trekking trails in Norway are widely popular among tourists. They are crowded several times of the year including Preikestolen Cliff, Trolltunga, Aurlandsdalen, Skala, Romsdalseggen, Lysefjord, Horseid and Bunes beach, Keipen, Besseggen Ridge, Reinebringen and many more.
Why is Preikestolen or the Pulpit Rock famous?
Preikestolen or commonly known as the Pulpit Rock was formed 10000 years ago and it is the hottest hiking and trekking destination in Norway among tourists. The cliff is majorly adorned by adrenaline-junkies who jump off the cliff into the water. It is about 600 meters high and is located in the Rogaland region of Norway.
How long does it take to reach the top of the Trolltunga trekking trail in Norway?
The Trolltunga trail is 1100 meters high, and it takes about 10 to 12 hours to reach to the top if you are a fit trekker or hiker. You will find streams, rocks and other obstacles along the path to the destination.
Can a beginner trek to Mount Skala?
For a beginner hiking to the top of Mount Skala will not be a good idea since the entire road is filled with obstacles and it takes around eight hours for an avid trekker to reach to the top. Hence, a newcomer will face problem scaling the mountain.
Can a beginner trek along the shores of Horseid and Bunes beach?
Yes, anyone with a fit body can hike the entirety of the Horseid and Bunes beach within two to three hours.
What clothes should you wear while hiking in Norway?
You should pack lightweight clothing like t-shirts, pullovers, hoodies, jeans, hiking pants and other items. Moreover, you should always pack lightweight trekking boots, hats, sunglasses along with other things.
When is the apt time to go hiking in Norway?
You would be able to go trekking in Norway efficiently from May to September. The weather will be beautiful, and you will not have to face rain during these months.
---
Looking To Book An International Holiday?
Book memorable holidays on TravelTriangle with 650+ verified travel agents for 65+ domestic and international destinations.
---
People Also Read:
Trekking In Germany Trekking In Spain Trekking In Czech Republic