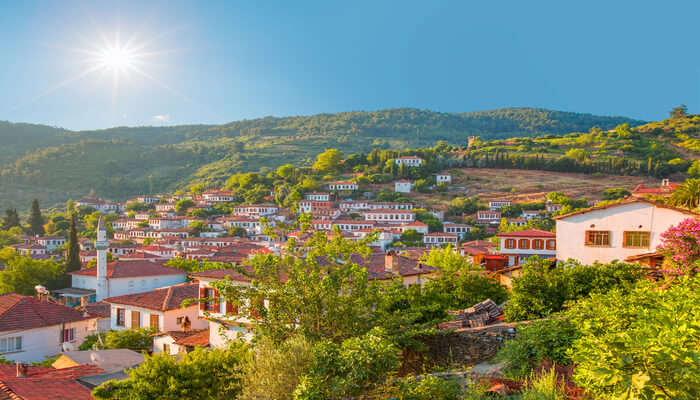 Turkey is one of the most charming destinations in the world. Home to world-famous attractions like Blue Mosque and Hagia Sophia museum, the country offers a treat to the eyes, a beautiful sight to behold and unique experiences to grab. While the Turkish towns like Istanbul and Antalya are the epitome of beauty and serenity, the Turkish villages are your go-to places in times of crisis in life. Narrow streets leading to ancient homes surrounded by lush greenery are enough to leave you mesmerized and intrigued at the same time. Not only will they rejuvenate your soul but also give you a thrilling experience. So, whenever you visit Turkey in your life, do try to visit the villages in Turkey!
6 Best Turkish Villages
Here is a list of the best villages in Turkey for escaping the noise and embracing the calm. Take a look at them and add them to your itinerary for a heartwarming experience.
1. Yaniklar
This village is located near Fethiye which is one of the best places in Turkey for a summer retreat. The village is known for its peaceful and serene surroundings. It is one of the top Turkish villages where you will find the nature at its best. You will find sweetgum trees, gardens of citrus, various species of birds and beautiful streams of rivers.
Location: 48300 Fethiye/Muğla, Turkey
Must Read: Turkey Visa For Indians 2021: How To Apply, Requirements And Tips

2. Kayakoy
Turkey is no less when it comes to stories of abandoned villages that speak of its past. Kayakoy is one of the abandoned villages in Turkey. It is believed that the foundations of this village were led in the 18th century. The village looks like a museum, the only difference is that this one is an open air museum. You must definitely visit this village for a unique experience.
Location: Muğla Province, Turkey
Suggested Read: 8 Monuments In Turkey That Are A Reminiscence Of The Turkish War Of Independence!

3. Yoruk
If you want an escape from the hustle and bustle of the city life and want some solace in the lap of nature, the Yoruk is the place to be. The village is adorned by lush greenery and peaceful ambience. The village is still untouched and undiscovered. This is one of the best old turkish villages that you must add in your list.
Location: 78602 Yörük/Safranbolu/Karabük, Turkey
Suggested Read: Top 5 Mesmerizing Temples In Turkey Which Are Absolutely Worth Visiting On Your Next Trip!
4. Kuyucak
Wondering where does all the purple hue come from? Well, it is this village which is the hub of trees producing lavender flowers. So, just imagine how beautiful the village would look! You will find purple bushes which will fascinate you to the core. The best time to visit the village is July when the flowers are blooming.
Location: Kuyucak, D-650 Karayoluna 11 km, Suleyman Demirel Havalimani'na 20 km, Isparta 32700, Turkey
Suggested Read: 7 Lakes In Turkey: Meander Through The Astounding Banks Of These Natural Wonders
5. Faralya
Adorned with a sea that showcases different tones of the color blue which gives it a charming effect, this is one of the most beautiful villages in Turkey. In order to reach the village, one has to come via the Dead Sea and the Valley of Butterflies. The village offers picturesque views that you must have so make sure you visit this village.
Location: Turkey
Suggested Read: This Year, Celebrate Christmas In Turkey – 'Land of the Crescent Moon'!
6. Sirince
A cute little village, Sirince is peacefully nestled on the hillside in Selcuk County of Izmir. The village is dotted with chalk white houses that give it a beautiful look which will leave you mesmerized like never before! The houses are surrounded by lush greenery and thus it is a must-visit spot.
Location: Turkey
Further Read: 7 Turkey Waterfalls That Are Counted Among the World's Most Stunning Waterfalls
These Turkish villages are the best places if you want to skip the hustle and bustle of the city and escape the boring day-to-day routine. They are the perfect destinations for a summer retreat as well as winter recoil. So, if you want to have a unique experience, then you must visit these villages in Turkey. Plan a Turkish holiday now and treat yourself with the beauty of these villages.
Frequently Asked Questions About Turkish Villages
How many provinces are there in Turkey?
According to the recently conducted census, Turkey is systematically divided into 81 provinces. Each of the 81 provinces is further divided into several different districts.
What is Turkey famous for?
Turkey is filled with historical places and monuments. Besides, there are innumerous things which make Turkey famous. They are: 1. Turkish Cuisines 2. Boutique Hotels 3. History 4. Bazaars 5. Hamams 6. Beaches 7. Ruins 8. Landscape 9. Architecture 10. Mosques
How many villages are there in Turkey?
There are more than 30000 villages in Turkey that are spread across several provinces. In Turkey, villages are commonly known as "köy".
Which is the best month to visit Turkey?
Summers are hot and winters are cold in Turkey. Turkey can be visited throughout the year, although people generally see it as a summer destination. However, April, May, September, and October are considered the best months to visit Turkey.
Which are the most beautiful villages in Turkey?
Turkey is an appealing country which houses some of the astonishing villages. Here are the most beautiful villages in Turkey that are worth visiting. 1. Yaniklar 2. Kayaköy 3. Yoruk 4. Kuyucak 5. Faralya 6. Alaçatı 7. Sirince
Is Turkey expensive to visit?
Not at all. Comparing to other European countries, Turkey is far less expensive.
What you should not do in Turkey?
There are few things a tourist should not do when in Turkey. 1. Don't see No to Tea 2. Never ignore Ramadan customs 3. Avoid riding a taxi without a logo 4. Don't eat in front of any religious place 5. Avoid going in front of a praying person 6. Don't underestimate the heritage sites of Turkey 7. Do not misuse the Turkish language 8. Never leave your meal without finishing it
Is it safe to travel to Turkey in 2022?
Cautiously, Yes. As per the latest report by the Foreign and Commonwealth Office (FCO) tourists are advised not to travel near the Turkey-Syria border.
---
Looking To Book An International Holiday?
Book memorable holidays on TravelTriangle with 650+ verified travel agents for 65+ domestic and international destinations.
---
People Also Read:
Santa Claus Village In Rovaniemi Famous Villages In Bali European Villages