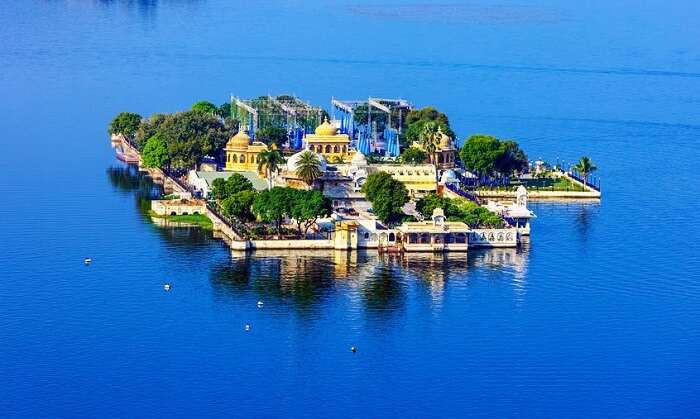 Studded with palaces, full of life, and blooming with love, Udaipur is one city which one can't just see but feel too. With so much love in the air always and in all ways, the romantic charm of this city offers a special experience to the love birds on a Udaipur honeymoon. So if you're getting married anytime sooner, or are already planning for a romantic escape with your better half, then a honeymoon in Udaipur is exactly what you need.
And for those who'd like to make their Udaipur honeymoon trip even more special, browse through the romantic, and tailor-made Rajasthan honeymoon packages which can be further customized with all that you'd love to share, experience, and cherish with your loved one.
Quick Links To Explore Udaipur The Romantic Way
About Udaipur Honeymoon: A Royal Affair!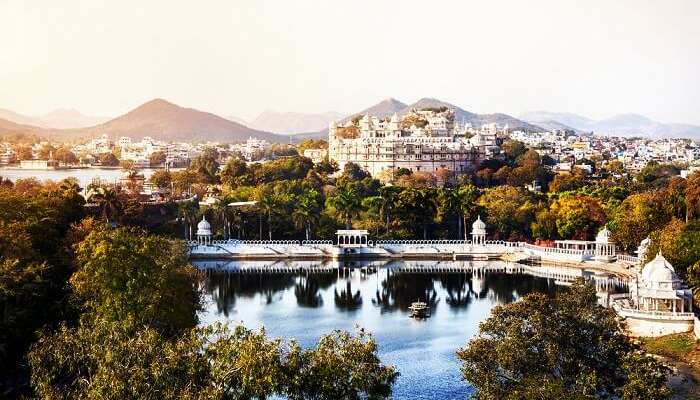 The peace and quiet of lakes, the pebbled streets, grand palaces, majestic forts, well-manicured gardens, startling architecture, the luxurious resorts, and finest of honeymoon hotels in Udaipur, leave no stone unturned in charming the honeymooners. With a starlit sky, romantic ambience, royal accommodation options, personalized services, and world-class hospitality, the irresistible Udaipur honeymoon places will never fail to cast their magical spell on you!
Must Read: 20 Best Palaces In Rajasthan That Tell Stories Of Past Glory
Best Time To Visit Udaipur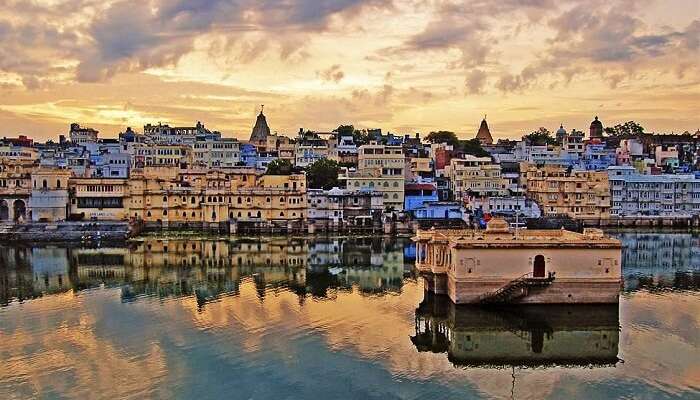 Image Source
Udaipur enjoys three prime seasons of summer, monsoon, and winters. The summer days are too hot and humid which makes it very difficult to explore the famous places to visit in Udaipur. On the other hand, though monsoon is not that a favorable season for a romantic escapade, winters serve as the most suitable season to enjoy a Udaipur honeymoon to the fullest.
Summers: From late March till June
Monsoons: From July till September
Winters: From October till mid-March
Talking about the best time to visit Udaipur, specifically for a honeymoon, the period from September to March is the most suitable duration to plan a perfect escape. It is not only the best time to visit Udaipur for a honeymoon, but also the best time to hold a destination wedding in Udaipur while embracing the winter chill in the lake city.
Suggested Read: 6 Romantic Places In Udaipur That Will Help You Win Your Lady's Heart!
Ideal Duration
Considering the fact that Udaipur forms a critical part of the Rajasthan tourism, it offers many romantic experiences which cannot be explored to the fullest if the couple doesn't spend enough time in the city. Keeping the leisure days, romantic attractions, special activities, and must experiences in mind, an ideal duration of 4 days would suffice to get the best out of a Udaipur honeymoon.
Average Budget Per Couple Per Day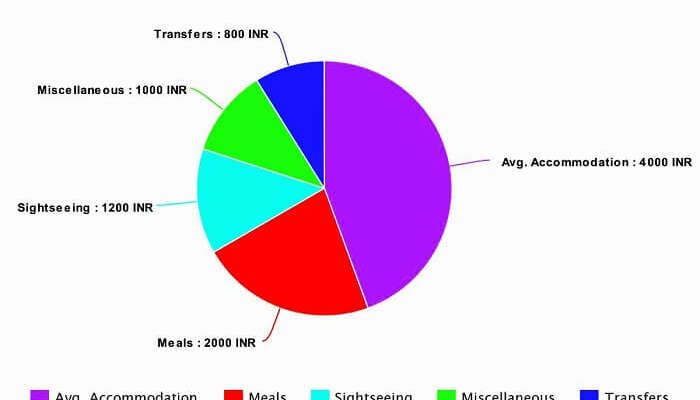 All the crucial factors such as average accommodation, meals, local transfers, sightseeing, and miscellaneous expenses have been taken into account for planning an estimated average budget for Udaipur honeymoon.
While it is just an estimate, a breakup of the budget per couple per day has been listed below:
Flights Average Price: INR 20,000 (round trip per couple from major cities like New Delhi, Chennai, Mumbai, Bengaluru, and Kolkata)
Average Accommodation: INR 4,000 to INR 8,000 (Standard room on double-sharing basis at a 3-star or a 4-star hotel)
Meals For Two: INR 2,000 (Lunch & Dinner – excluding taxes)
Sightseeing: INR 1200
Transfers: INR 800
Miscellaneous: INR 1000
Average Budget Per Couple Per Day: INR 9,000
Please Note:
Flight rates have been excluded as the amount varies from traveler to traveler, and the origin of their destination.
An average accommodation rate has been included on the basis of best hotels in Udaipur for honeymoon in the average budget per day per couple to arrive at an estimated budget.
Also, the lower limit has been considered to calculate the average budget per person per day.
Suggested Read: 12 Best Hotels In Udaipur: Cozy Stays For Every Budget
7 Romantic Places To Visit In Udaipur
Here is the list of the most romantic places that you can visit on your honeymoon in Udaipur. Keep scrolling down and read along!
1. City Palace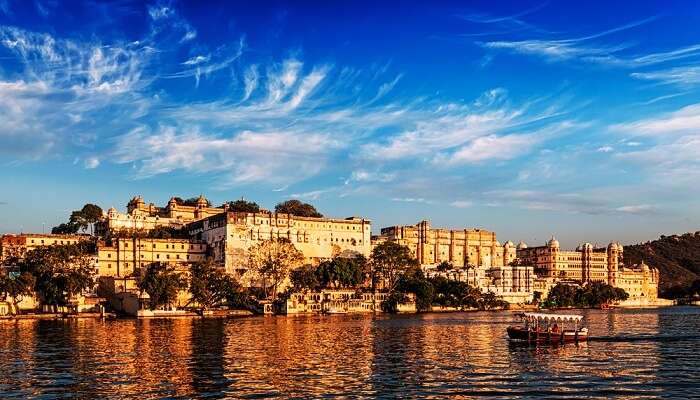 Being built, extended, and renovated, generation after generation have been renewing this majestic palace for the past four centuries ever since Rana Udai Singh II laid its foundation. Offering breathtaking views of Lake Pichola, parts of this castle not only offer extraordinary accommodation, but gives enough space to the couple to discover their moments of love and relish the taste of Mewar Kingdom. Intricately designed with granite and marble, make your Udaipur honeymoon more special than it could ever become with a visit to this royal palace.
Location: City Palace Complex, Udaipur
Timings: Monday to Sunday – 9.30 am to 5.30 pm
Entry Fee: INR 50 per adult, and INR 30 per child
Still/Video Camera Charges: INR 200 per camera
Suggested Read: Embrace The Winter Chill At These 15 Best Places To Visit In Rajasthan In November!
2. Lake Palace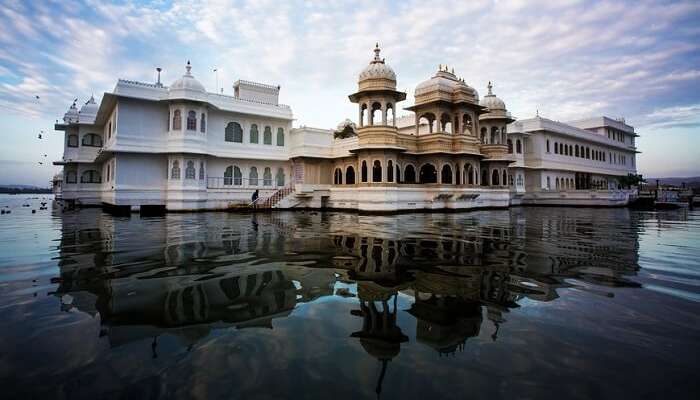 Located amidst the tranquil Lake Pichola, the royal Lake Palace is a jewel of Taj group of hotels. Forming the core of Udaipur tourism, Lake Palace offers exquisite accommodation options, breathtaking views of the famous Jag Mandir, Aravalli Hills, and the City Palace, and a glimpse of the royal Rajasthani culture. Showcasing the grand architecture inspired from the bygone British era, it is a must for the couples to indulge in the rejuvenation spa therapies at the famous Jiva Spa. With all other modern amenities, Lake Palace completes a couple's Udaipur honeymoon experience with its inhouse restaurants of Bhairo (rooftop), Jharokha (multi-cuisine), Neel Kamal (dinner-only), and Amrit Sagar bar for fine wine lovers.
Location: Amidst Lake Pichola, On Jag Niwas Island, Udaipur
Price Per Night: Starts from INR 28,000 (double-sharing basis & excluding taxes)
3. Monsoon Palace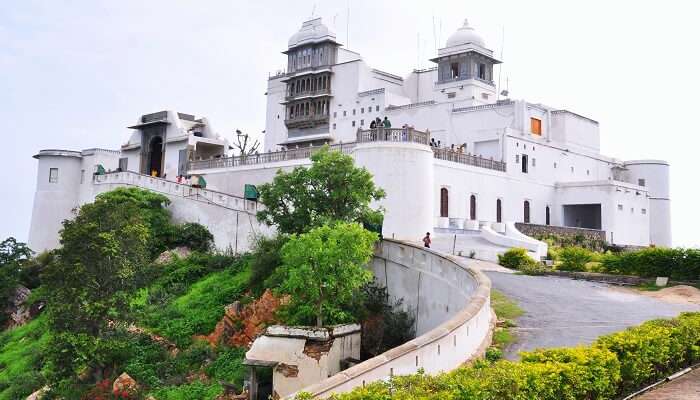 Named after the famous King of Mewar Dynasty – Maharana Sajjan Singh, the incredibly gorgeous Monsoon Palace, also known as the Sajjan Garh Palace enjoys a serene location on a hilltop. Surrounded by lakes on all sides and offering panoramic views of the palaces, Monsoon Palace is a must visit for the couples who love to cherish the charm of countryside environs. Painting the wall with magical hues of gold, witnessing a sunset from the Monsoon Palace is a must for every couple on a Udaipur honeymoon.
Location: Kodiyat, Udaipur
Timings: Monday to Sunday – 10 am to 6.30 pm
Entry Fee: INR 10 for Indians, and INR 80 for Foreigners
4. Doodh Talai Musical Garden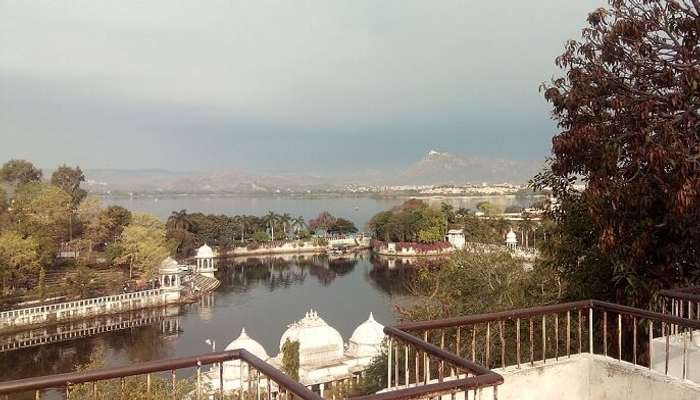 Image Credit: Vishal0soni for Wikimedia Commons
Situated near the Doodh Talai Lake, Doodh Talai Musical Garden offers a bewitching view of Lake Pichola. This impressive garden has a musical fountain where you can take your beloved to spend a romantic evening. Walk hand in hand and cherish the picturesque view and musical garden in the Doodh Talai Musical Garden. All honeymooners can straight away head to this park in the evening and enjoy the musical fountain show.
Location: Udaipur, Rajasthan
Timings: 8 am to 10 pm 
Show Timings: 6 pm to 8 pm
Entry Fee: RS. 10 per person
Suggested Read: 17 Best Restaurants In Udaipur For An Appetizing Experience In 2021!
5. Saheliyon Ki Bari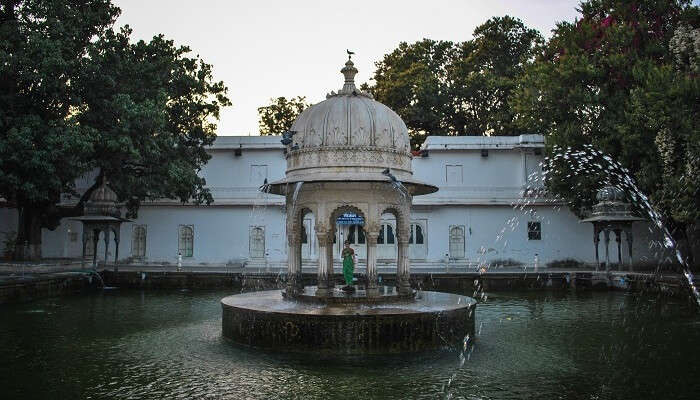 Image Credit: Spattadar for Wikimedia Commons
Famed as the Garden of Maidens, Saheliyon ki Bari was built by Maharana Sangram Singh for his beloved queen. The king built this garden for the Queen and her 48 maidens. As you will enter this marvelous garden, you will see a stunning fountain surrounded by lush greens all around. This garden is one of the most romantic places to visit on your Udaipur honeymoon. Relax near the fountain and marvel at one of the prettiest creations by a man for his wife.
Location: Saheli Marg, New Fatehpura, Panchwati, Udaipur, Rajasthan 313001
Timings: 9:00 am to 5:00 pm.
Suggested Read: 7 Churches In Udaipur That Will Leave You Awestruck With Their Beauty
6. Vintage Car Museum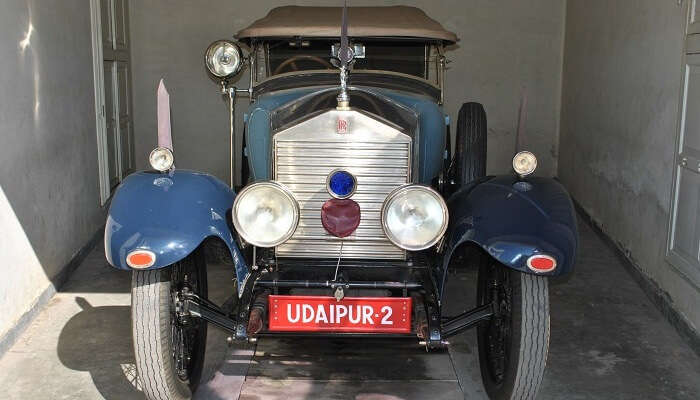 Image Credit: Schwiki for Wikimedia Commons
If you and your partner fancy luxury and vintage cars, then the Vintage Car Museum should be on your best tourist attractions in Udaipur list! This museum has the most impressive royal antique cars and you can know all the details about them at this museum. You can spot around 20 vintage cars like classic Rolls-Royce, 1939 Cadillacs, and Ford-A Convertible. This museum is perfect for a photoshoot with your favorite vintage cars while posing with your beloved.
Location: Udaipur, Rajasthan
Timings: 9 am – 9 pm
Entry Fee: INR 250 per person
Suggested Read: 15 Best Street Food In Udaipur 2021: The Delicious Side Of The City Of Lakes
7. Under The Sun Aquarium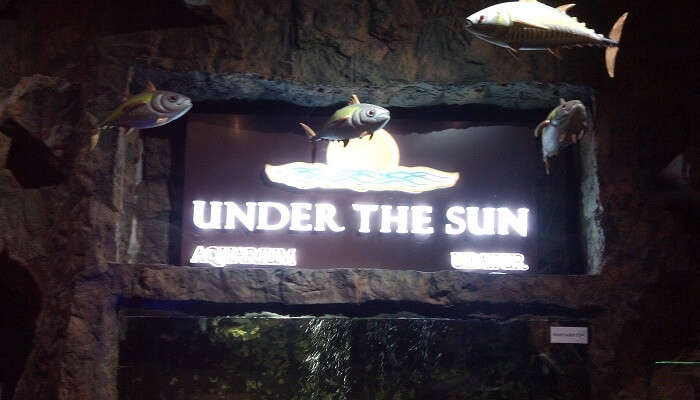 Image Credit: Wikimedia Commons
Witness the magical underwater world on your Udaipur Honeymoon by visiting the Under The Sun Aquarium. If you are fascinated by marine creatures, then you must visit this spectacular aquarium. This museum is the biggest Public Aquarium Gallery in India. Under The Sun Aquarium is home to a 125-meter long aquarium where you can spot 150 species of fishes. While roaming around this huge aquarium, you both can spot other sea creatures like Albino Frogs and Fresh Water Scampi.
Location: Udaipur, Rajasthan
Timings: 8 am to 11 pm
Suggested Read: 6 Hotels Near Udaipur That'll Ensure A Wonderful Stay In Rajasthan
9 Romantic Things To Do In Udaipur
Check out the perfect list of things that you ought to on your vacation in Udaipur with your beloved. Take a look!
1. Fateh Sagar Lake: Boating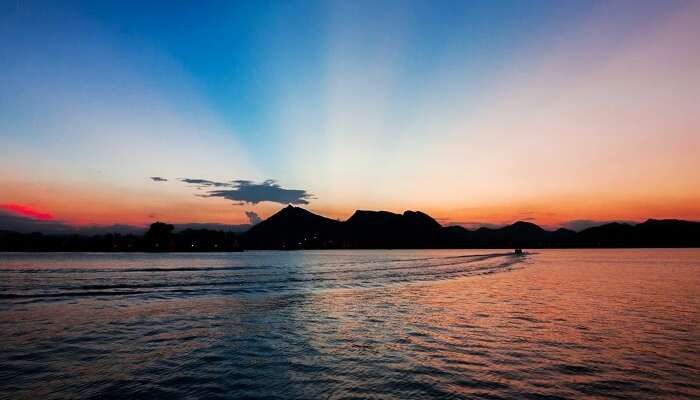 There might be infinite activities in the city but nothing surpasses the fun of boating with your loved one which is considered to be one of the most romantic things to do in Udaipur. Adding the much-needed charm to the Udaipur Honeymoon, boating at the Fateh Sagar Lake is indeed a romantic and the most loved activity of couples when in Udaipur.
Location: Fateh Sagar Lake, Udaipur
Timings: Monday to Sunday – 10 am to 5 pm
Speedboat Charges: INR 200 per person
Duration: 30 minutes
Suggested Read: 15 Spectacular Resorts Near Udaipur
2. The Gulab Bagh: Stroll Around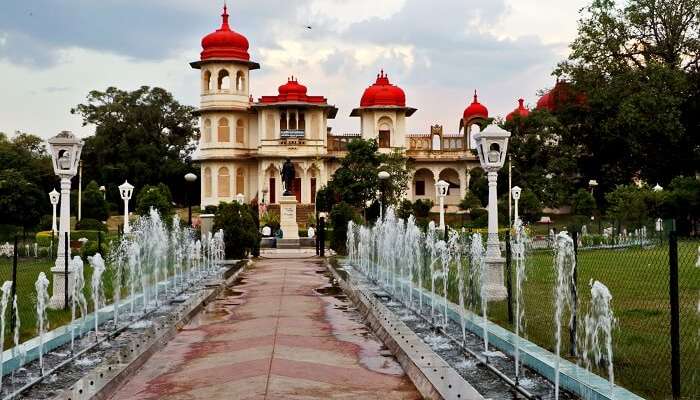 Spread across the refreshing greens of about 100 acres, the Gulab Bagh serves as a relaxing experience to the couples on their Udaipur Honeymoon. Dotted with trees like that of mulberry, mango, boar, guava, lemon, bananas, and pomegranate, the garden also accommodates the famous Lotus Pond, and a zoo that houses a variety of fauna like that of rhinos, zebras, black leopards, ostriches, and hoolock gibbons.
Location: Bapu Bazar Road, In Sajjan Niwas Bagh, Gulab Bagh, Khanjipeer, Udaipur
Timings: Monday to Sunday – 9 am to 4 pm
Entry Fee: INR 30 per person (including garden entry & zoo entry)
Camera Charges: INR 15 per camera
Suggested Read: Udaipur In Monsoon 2021: A Handy Guide To Plan A Romantic Escape!
3. Jaisamand Lake: Admire The Flora & Fauna Around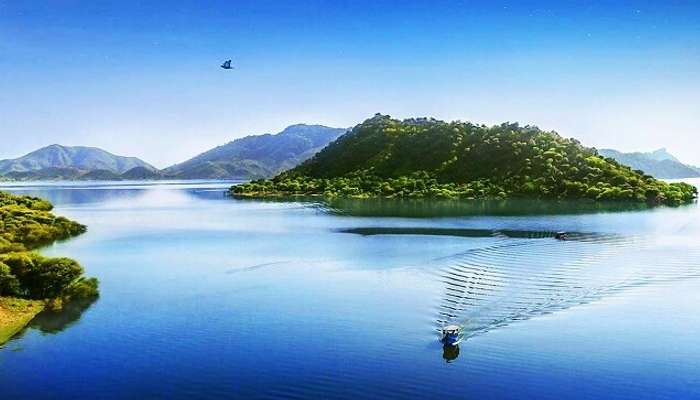 Image Source
Located in the heart of Rajasthan, the Jaisamand Lake is also known as Dhebar Lake and is one of the best places to visit near Udaipur. Located at a distance of about 45 kilometers from the city center, it happens to be the second-largest artificial lakes in India. An epic part of the Heritage Monuments in India, the lake encompasses of three stunning islands, and the presence of exotic wildlife animals surround the lake at Jaisamand Wildlife Sanctuary. Overall, it is an offbeat experience for the couples to enjoy on their Udaipur Honeymoon.
Location: South of Udaipur district, Udaipur
Timings: Monday to Sunday – 10 am to 5 pm
Entry Fee: INR 10 for Indians, and INR 80 for Foreigners
Boating Charges: INR 30 to INR 80 (on the basis of the boat, and the duration)
Camera Charges: INR 200 per camera
Suggested Read: 9 Best Weekend Getaways From Udaipur Which Will Give A Tour Of Royal In 2021!
4. Manek Chowk – Marvel At The Light & Sound Show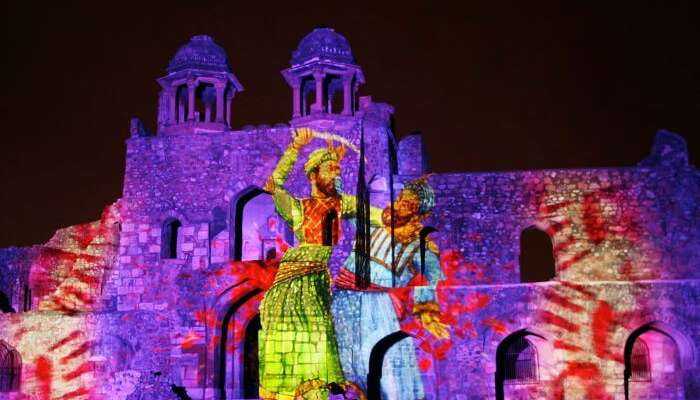 City Palace in itself is a majestic architecture that attracts millions of tourists every year but there is a cherry on the cake that you might not be aware of. City Palace lits up with colorful lights during the Mewar Light and Sound Show. If you are planning a honeymoon retreat to Udaipur then make sure that you witness this show as you cannot afford to miss this.
Location: City Palace Building Shopping Yard, Manak Chowk, Rajasthan 313001
Timings:
Show in Hindi – 8 pm – 9 pm (May-Aug)
Show in English – 7:30 pm 8:30 (April), 7 pm – 8 pm (Sept-March)
Duration: 60 minutes
Prices: Ranges from INR 150 to INR 550
5. Ambrai Ghat – For A Romantic Date Night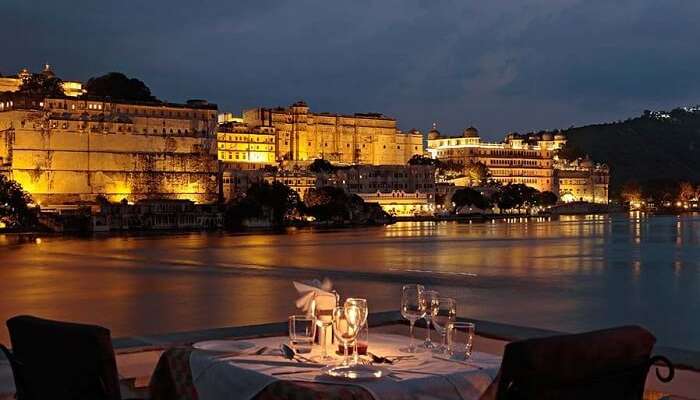 One of the most romantic things to do in Udaipur is to have a date night at Ambrai Ghat with your spouse. The restaurant has allured thousands of couples who loved their experience at Ambrai Ghat. The best part about dining here is that you also get some amazing views that you might not be able to see from any other place. So, get ready to witness the tranquil nature here while savoring some of the best dishes offered here.
Location: Candpole Maji Ka Mandir, Ambamata, Udaipur, Rajasthan 313001
Timings: 8 am – 12 pm
Suggested Read: Hotel Bhairavgarh Palace Udaipur: Enjoy A Stay Amidst The Luxury And Royalty!
6. Shikara Ride – An Exotic Lunch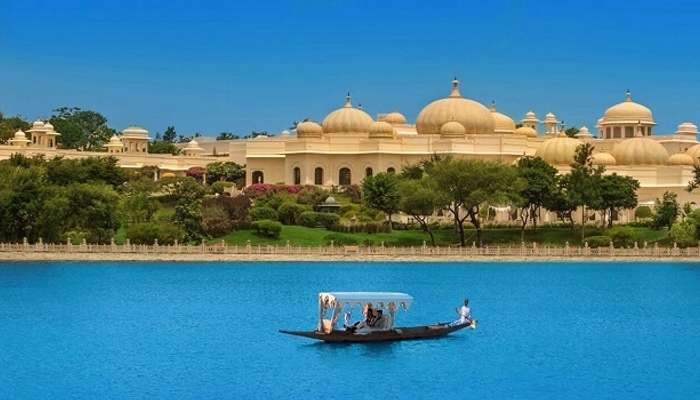 Filling the air with love and romance, it is a must for every couple to treat their taste buds to the delicious Indian delicacies on a Shikara ride, and treat their eyes to the mesmerizing views of the evening sun. Being romantic in nature, this lunching experience gives ample time and space for the couples to spend some quality time with each other while soaking in the goodness of the natural surrounding.
Location: Lake Pichola
Note: It is usually arranged by the Oberoi Udaivilas for couples staying at the hotel
Suggested Read: Mewargarh Udaipur: A Guide To Have The Most Royal Staycation Ever In 2021!
7. Shopping – Splurge A Little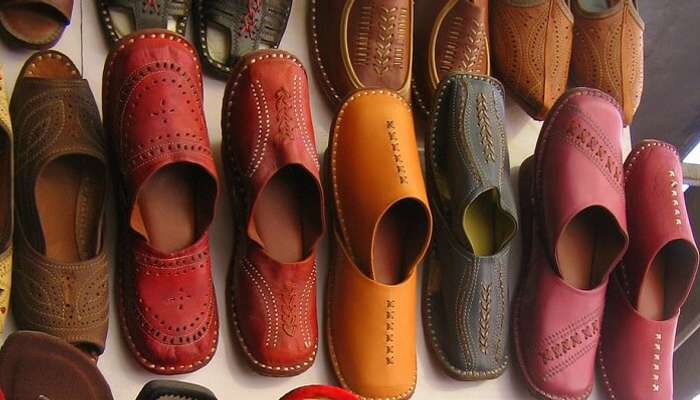 Image Credit: Ninad Chaudhari for Wikimedia Commons
Take your beloved on an enticing shopping spree in Udaipur and buy all kinds of traditional items. From traditional Rajasthan jewelry to the dress, you can gift everything and enhance your Udaipur honeymoon experience. Head to Hathi Pol Bazaar and you can buy stuff like souvenirs to carry back home, artisanal products, and amazing paintings. Other things that you can shop for are the traditional dupatta and colorful Mojris.
Location: G N P * LACE (Girdhar Das Nathu Lal Parikh) 179, Bada Bazar, Udaipur, Rajasthan
Timings: 10 Am – 8 Pm
8. Ropeway – An Enthralling Ride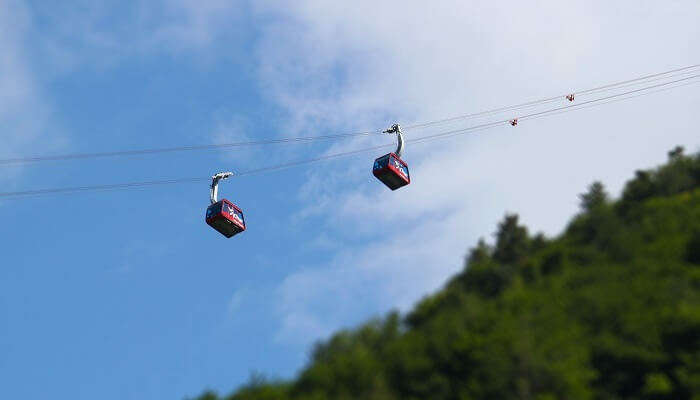 Image Credit: Marc Wieland for Wikimedia Commons
Disclaimer: The image is for representation purposes only.
One of the best things to do on your honeymoon is to experience the ropeway ride. Get all cozy with your partner and witness the charm of the City of Lakes from high above. If you both like indulging in adventurous activities, then the ropeway ride is an excellent choice for you. The ride will take you around the city and you can relish the bird's-eye view of the famous Lake Pichola and other forts.
9. Jagdish Temple – Seek Blessings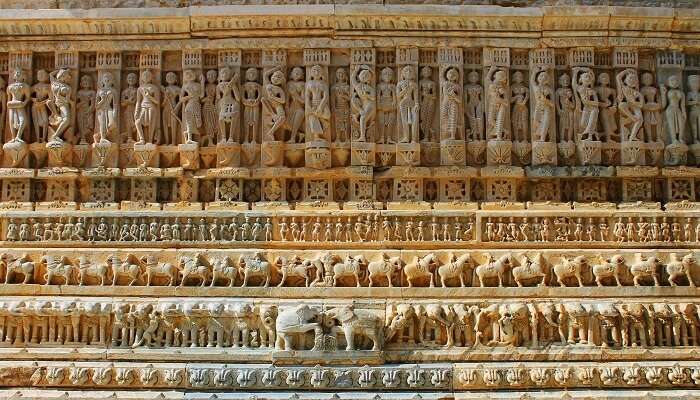 Image Credit: Vivek B Govindaraju for Wikimedia Commons
Start your married life by seeking blessings at the ancient temple in Udaipur. Jagdish Temple is dedicated to Lord Vishnu. The structure of the Jagdish Temple is an epitome of architectural magnificence. Nestled in the heart of the city was built-in 1651 and since then it is one of the prime religious sites in Udaipur. Attend the morning or evening prayer to witness the grand Aarti at this temple that will calm your senses and mind.
Location: 1 Jagdish temple, Rajasthan
Timings: 5 am to 10 pm
Romantic Hotels In Udaipur
Wondering where to stay on your honeymoon? Take a look at this checklist of the best hotels in Udaiour. Keep scrolling down and read along to know more!
1. The Oberoi Udaivilas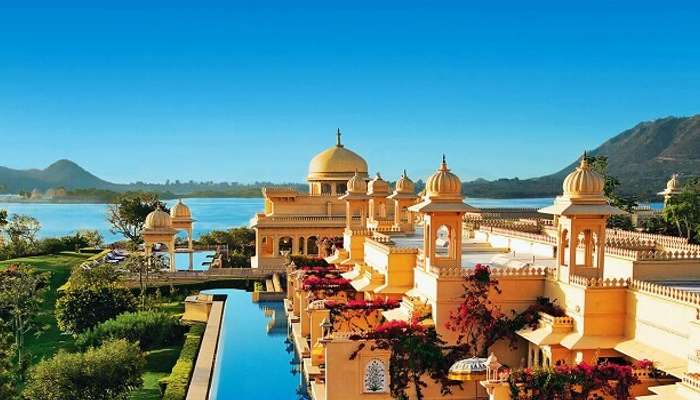 Image Source
Oozing elegance and romance from every brick and corner, the world-famous Oberoi Udaivilas is indeed one of the best hotels in Udaipur for honeymoon. From being a royal wedding destination to the hyped shooting spot for many Bollywood movies, this hotel never fails to impress the couples with its charm.
Address: Haridasji Ki Magri, Mulla Talai, Udaipur
Price/Night: Starts from INR 30,500 (double-sharing basis & excluding taxes)
TripAdvisor Ratings: 5/5
Website | Reviews
2. Leela Palace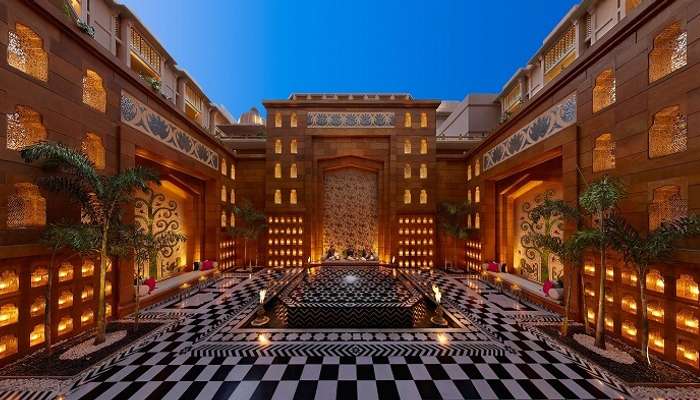 Image Source
An epitome of not only romance, but of love, life, elegance, sophistication, and world-class luxury, staying at the Leela Palace is one of the most fascinating hotels in Udaipur for couples. With stunning views of Lake Pichola, and City Palace, Leela Palace wraps one in luxury like none other. Featuring exclusive spa therapies, elegant decor with detailed designs, inhouse fine dining restaurants and bar, and a peaceful environment, Leela Palace is the perfect place to stay on your Udaipur Honeymoon.
Location: Lake Pichola, Udaipur
Avg. Price/Night: Starts from INR 25,000 (double-sharing basis & excluding taxes)
Website | Reviews
3. Fateh Prakash Palace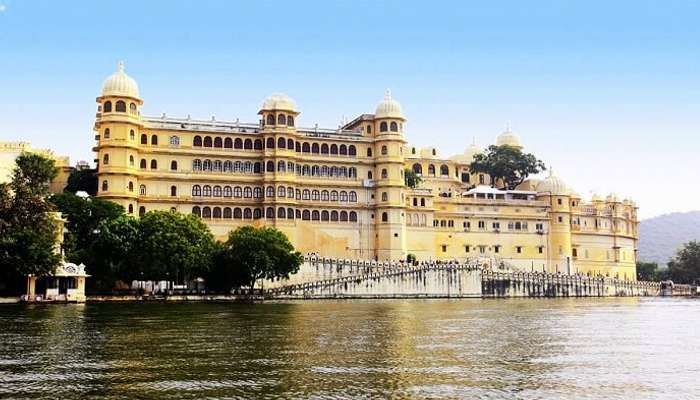 Image Source
A 19th century palace-turned-hotel, Fateh Prakash Palace is one of the renowned heritage palaces in Udaipur. Offering regal ambience, and top-class services, a stay at this magnificent palace hotel will treat you with the best of Lake Pichola, Jagdish Temple, and Aravali Hills.
Address: The City Palace Complex, Udaipur
Price/Night: Starts from INR 7,000 (double-sharing basis & excluding taxes)
TripAdvisor Ratings: 4/5
Website | Reviews
Other Mid-Range Hotels: Shiv Niwas Palace, Ramada Udaipur Resort and Spa, Hotel Fateh Garh Udaipur, Radisson Blu Udaipur Palace Resort & Spa, and more.
Suggested Read: 5 Serene Places To Visit Near Udaipur For A Day Trip
4. The Lalit Laxmi Vilas Palace Udaipur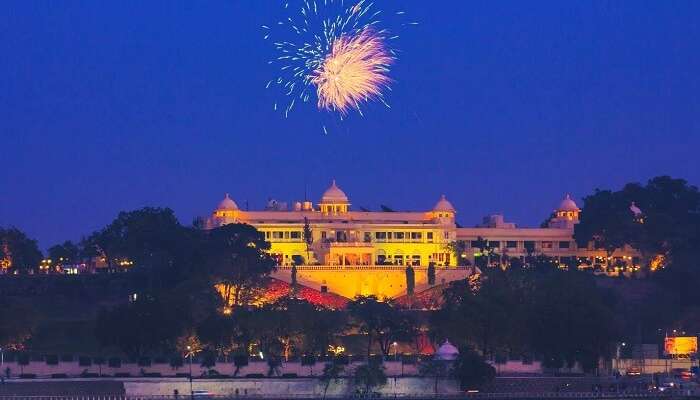 Perched high on a hilltop by the lake, the Lalit Laxmi Vilas Palace is synonymous with elegance, and sheer bliss. Its exquisite decor, and stylish interiors, add to the architectural charm that assures a memorable stay at this palace hotel.
Address: Opposite Fateh Sagar Lake, Udaipur
Price/Night: Starts from INR 6,000 per night (double-sharing & exclusive of taxes)
TripAdvisor Ratings:
Website | Reviews
Other Best Hotels: Fateh Niwas, Trident, Chunda Palace, The Royal Retreat Resort & Spa, Bujera Fort, and more.
Suggested Read: 5 Honeymoon Places In Rajasthan That'll Sweep You Off Your Feet
Where To Eat In Udaipur
Here is a list of places where you can head for a romantic dinner on your honeymoon in Udaipur. Keep scrolling down and read along to know more!
1. Surya Mahal And Chandni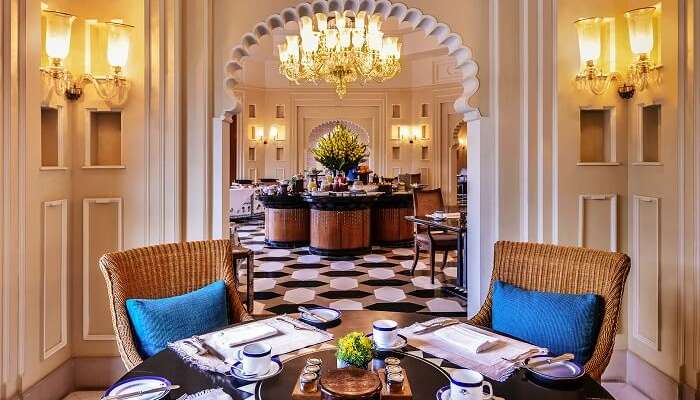 Image Source
Step into the royal haven of Surya Mahal and Chandni which is the gateway to a food paradise. Promising an experience like none other, treat your taste buds, be mesmerized by the interiors, and enjoy a romantic fine dining experience at this famous restaurant in Udaipur.
Address: Oberoi Udaivilas, Chandpole, Udaipur
Timings: 6.30 pm to 10.30 pm
Zomato Ratings: 3.8/5
Cuisine: Western, and North Indian
Meal For Two (With Alcohol): Starts from INR 5,000 (exclusive of taxes)
Website | Reviews
Suggested Read: 20 Stunningly Colorful Festivals Of Rajasthan
2. Sheesh Mahal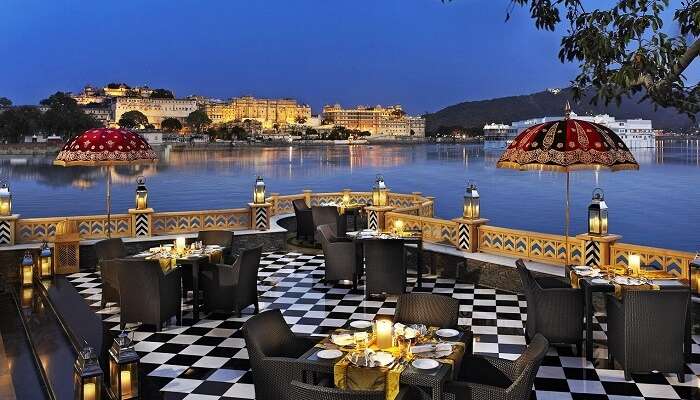 Image Source
Expect nothing less than extraordinary from the fine dining property of the Leela Kempinski group of hotels. From its black and white tiled marble floor to the personalized dining experience, and from the views of Lake Pichola to the authentic Rajasthani cuisine, Sheesh Mahal redefines one's Udaipur Honeymoon experience like none other.
Address: The Leela Palace, Lake Pichola, Udaipur
Timings: Monday to Sunday – 7.30 pm to 11 pm
TripAdvisor Ratings: 4.5/5
Cuisine: Indian
Meal For Two (With Alcohol): Starts from INR 4,000 (exclusive of taxes)
Website | Reviews
3. Raas Leela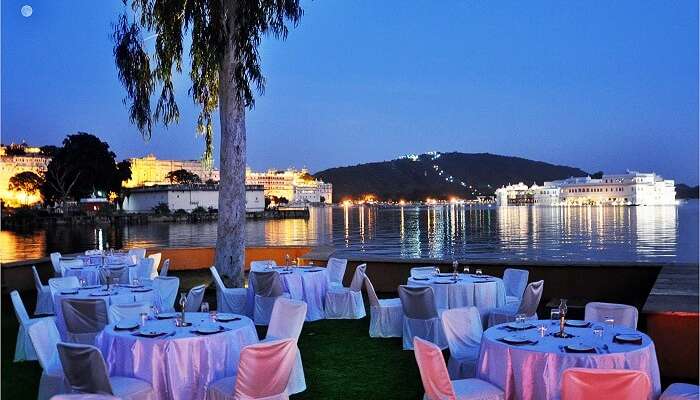 Image Source
Considered to be one of the best spot for a candlelit dinner, this open air restaurant enjoys its close proximity to Lake Pichola, and Leela Palace to bits and pieces. Treating the guests to amazing views and delicious cuisines, dining at Raas Leela is indeed a romantic experience to be enjoyed on a Udaipur Honeymoon.
Address: Soni Ji Ki Bari, Adjoining The Leela Kempinski, Pichola, Udaipur
Timings: Monday to Sunday – 7 am to 11 pm
Zomato Ratings: 4/5
Cuisine: Rajasthani, Chinese, North Indian, and Continental
Meal For Two (Without Alcohol): Starts from INR 1000 (exclusive of taxes)
Website | Reviews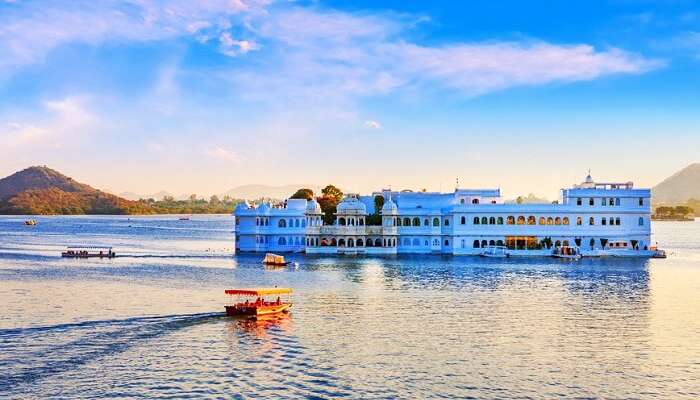 The ever-charming city of Udaipur is well connected to major cities like Delhi, Mumbai, Chennai, Bangalore, and Kolkata. Famous for being one of the most romantic cities in Rajasthan, it offers easy access to travelers across the world via air, railways, and by road.
By Air: Located at the distance of just 22 kilometers, Maharana Pratap Airport near Dabok is the nearest airport to the city of Udaipur. One can take any of the domestic flights that function from the major cities till Udaipur and reach in a matter of just 2 to 3 hours.
By Train: Considered to be the most economical mode of transportation, couples willing to travel via railways, can deboard at the Udaipur railway station which is located near the city centre.
By Road: Private and state-run buses and AC Volvos are available for those couples who are located in the neighboring cities of Udaipur.
Getting Around The City
Though public transportation is available, the best way to get around the city on a Udaipur Honeymoon would be of taxis, and private cabs. Considered to be a bit costly than others means, taxis happen to be the most convenient modes of transportation in Udaipur.
Packing List For Udaipur Honeymoon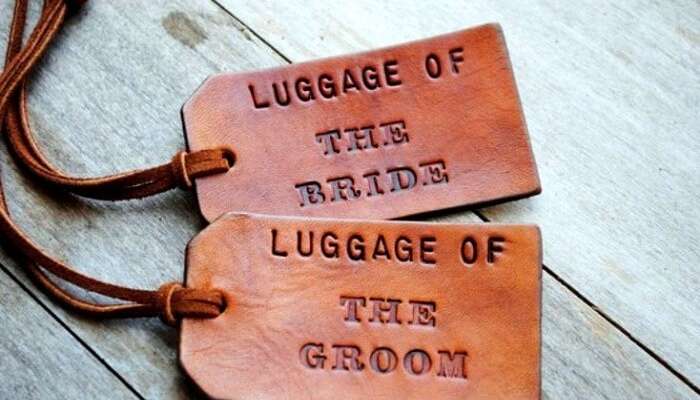 Image Source
Packing for Udaipur Honeymoon can empty the energy in couples, and for those couples who feel the same, this tailor-made list come as a great relief. All you have to do is take a pen, keep ticking off the items, and you're done and dusted with packing. (Let there be some room for the new things that you'll buy while shopping in Udaipur)
For Foreign Travelers: Keep the flight tickets, passport, and visa information safe, and in place.
Make sure you carry your international licenses, identity proofs, travel insurance, and other documents.
Keep a scanned copy or two of the important documents.
Check on those necessary vaccinations, prescriptions, and medicines that you may need.
Pack light. Carry cotton in summers, and enough woollens in the winter season. This will help in avoiding baggage problems at the airport.
Carry sunscreen, shades, an insect repellent, and an umbrella for surprise showers.
Tech-check: Power bank, mobile charger, USB cable, power converters, memory sticks, camera, DSLR, selfie sticks, and portable speakers.
Nonetheless, do not forget to carry a diary, to pen down thoughts that cannot be compromised upon!
Further Read: Stay At These Heritage Hotels In Rajasthan & Bask In The Royal Magnificence
Udaipur on your mind? Explore the City of Lakes at its best and plan your own romantic getaway to Rajasthan with TravelTriangle. Also, don't forget to share your Udaipur Honeymoon experience with us at travelogues@traveltriangle.com.
Disclaimer: TravelTriangle claims no credit for images featured on our blog site unless otherwise noted. All visual content is copyrighted to its respectful owners. We try to link back to original sources whenever possible. If you own rights to any of the images and do not wish them to appear on TravelTriangle, please contact us and they will be promptly removed. We believe in providing proper attribution to the original author, artist or photographer.
Please Note: Any information published by TravelTriangle in any form of content is not intended to be a substitute for any kind of medical advice, and one must not take any action before consulting a professional medical expert of their own choice.
Frequently Asked Questions About Udaipur Honeymoon
How many days should I spend in Udaipur?
Where should I stay in Udaipur?
Some of the best places to stay in Udaipur on a honeymoon are Vijay Villa Resort, Taj Lake Palace, and Ramada Udaipur Resort & Spa.
What is famous in Udaipur for shopping?
There are a lot of markets where one can go shopping in Udaipur. Some items to buy here are handwork sarees, leather cover diaries, and turbans and more.
What can you do in Udaipur?
Some romantic things to do in Udaipur on a honeymoon are to enjoy a boat ride and sunset views on Lake Pichola, visit the classic havelis, and more.
Is Udaipur good for honeymoon?
Famously known as the 'City of Lakes', Udaipur is a city of royal palaces and serene lakes. It is one of the best cities in Rajasthan to go for a honeymoon. The heritage hotels, the romantic boat rides, and the colorful city, all makes for a great honeymoon experience.
What is the best time to visit Udaipur?
The best time to visit Udaipur is during the winter season. The temperature is pleasant during this time, and one can easily explore the palaces and forts. Late september till February is a good time to head to Udaipur.
Is Udaipur worth visiting?
Udaipur is a beautiful city and one of the most visited cities in India. It is definitely one's time and one should visit it for sure.
Is Jaipur better or Udaipur?
Both Jaipur and Udaipur are amazing cities of Rajasthan and instead of choosing, one should plan a trip to both these royal cities of India.
---
People Also Read:
Gangtok Honeymoon Honeymoon In Nainital Honeymoon In Jaisalmer