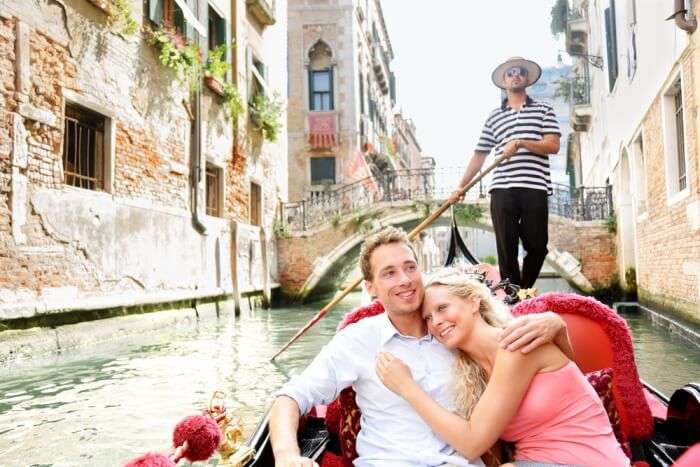 Joseph Brodsky was right when he said "Venice is eternity itself".
Of love and romance, of music and dance, and of views worth a glance, the dreamy aura of this paradise makes it a perfect choice for a Venice honeymoon. Be it kissing under one of the many bridges, or eating the famous gelato together, every experience will surround the couples with nothing but love and sheer bliss on an extravagant honeymoon in Venice.
With such a fancy paradise waiting to be explored and with your world by your side, escape to this fantasy land with your amour on an utterly quixotic Venice honeymoon!
Best Time To Visit Venice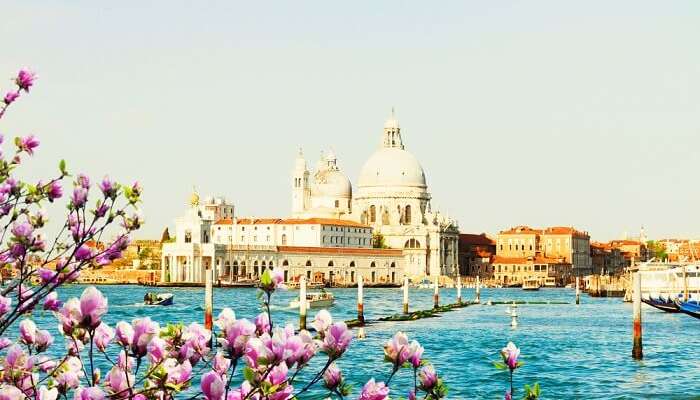 While winters can be harsh and peak season can be suffocating, spring and early summers would be the best time to explore Venice at its best. The best time to go on a Venice honeymoon trip from India is from the months of September to November which is considered to be an off-season time. The city is at peace with minimal crowd which offers perfect environs for the couples to spend quality time with each other on a Venice honeymoon.
Ideal Duration For Venice Honeymoon
To explore the city of Canals at ease and at your own convenience, an ideal duration of 4 days and 3 nights should be more than enough for the couples. With planned trips to Venice and customized Italy honeymoon packages, one can surely relish the real taste
Visit These Romantic Places During Your Honeymoon In Venice
Oozing love from every nook and corner of the city, this classic city is filled with famous and romantic places to visit in Venice.. And on your special Venice honeymoon, make sure you do not miss out on these romantic tourist attractions in Venice.
1. Rialto Bridge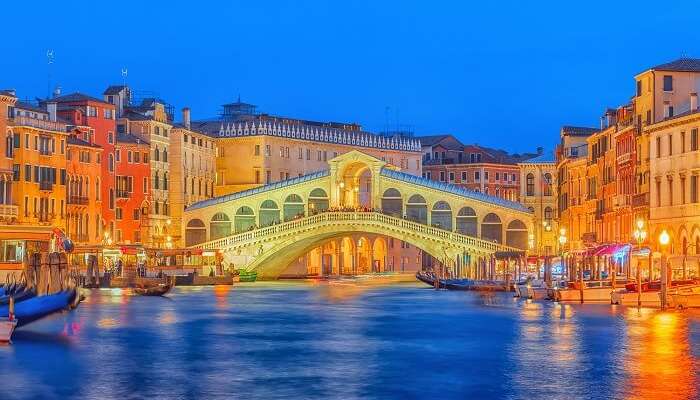 Built in the late 16th century, Rialto Bridge is one of the oldest bridge in Venice which served as the divider between San Polo and San Marco. Striking an exquisite old-world charm that impresses every traveler in no time, Ponte di Rialto forms the heart of Venice indeed.
Must Read: 10 Unique Italy Honeymoon Ideas That Take You To The Most Romantic Spots For Couples
2. Grand Canal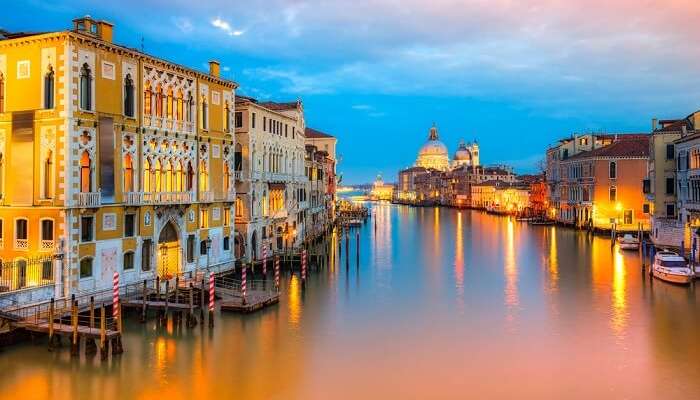 Being a natural channel, and the main waterway of the city, Grand Canal is the prime corridor of Venice which can be best explored via a vaporetti, a motoscafi, or the normal water taxis. Also known as the Canalazzo or Canal Grande by the local Venetians, this canal's course is in the form of a reversed-S that divides the city into two from Santa Chiara Church to San Marco Basilica. This is one of the best places for honeymoon in Venice!
---
Europe Honeymoon Packages On TravelTriangle
Explore the most romantic places to visit in Europe, from Paris to the Venice canals, and from the Greek islands to the Swiss alps. Book customized packages Inclusive of airport transfers, cab, resort, sightseeing, and meals offered by expert agents on TravelTriangle. Book Now!
---
3. Lido di Venezia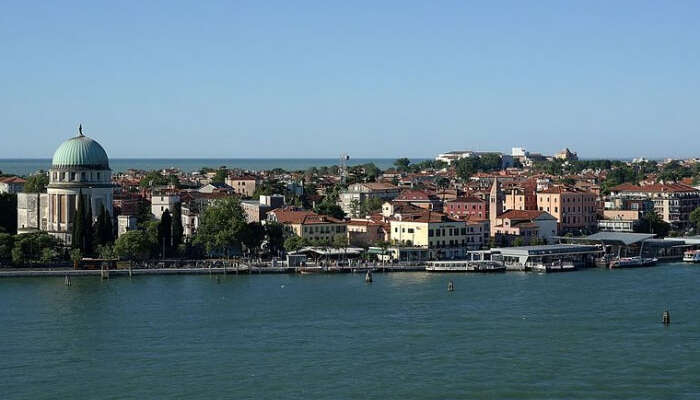 Stretching for about 11 kilometers in the northern region of Venice, Lido di Venezia is a beautiful stretch of sandbar which also serves as a home to more than twenty thousand locals. Famous for being the perfect host to the Venice Film Festival, Lido is a must-visit island in Venice for honeymoon.
Suggested Read: 15 Most Romantic Things To Do In Venice For Young Couples: A Drop-down Of Everything Magical!
4. Venetian Lagoon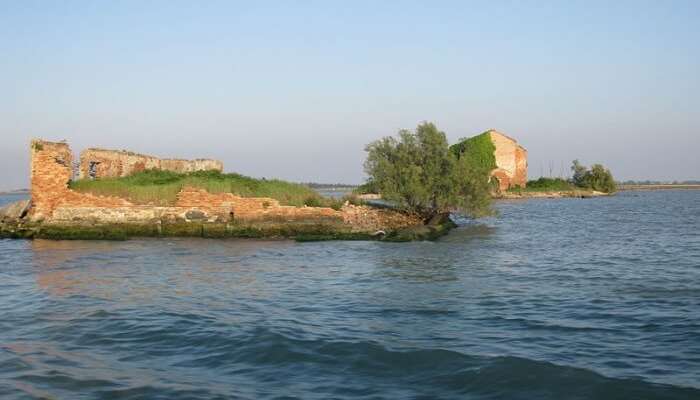 Rich in its culture, customs, and colors, Venice is one of the most beautiful city set in the heart of the Venetian Lagoon. A hidden gem of the Adriatic Sea, the Venetian Lagoon or the Laguna Veneta as per the locals, is one of the rich water bodies present in the Mediterranean today. For your honeymoon in Venice, visit this place and have an experience for life!
Suggested Read: Venice Carnival 2019: An Ultimate Guide For Witnessing The Lavish Extravaganza
5. Gallerie dell'Accademia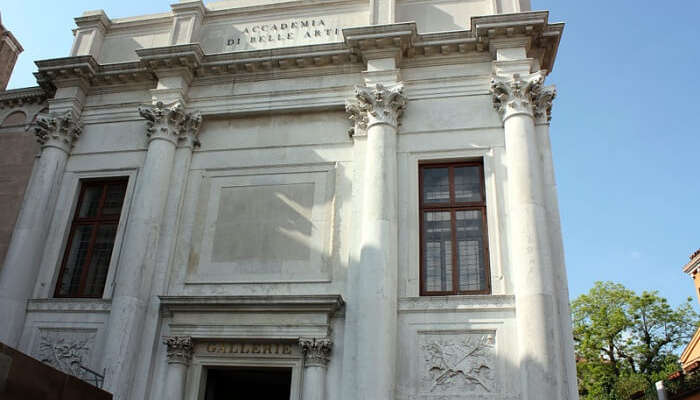 Dedicated to the beautification of fine arts in the city of Venice, the museum of Gallerie dell'Accademia is the soulful part of the famous institution Scuola Grande of Santa Maria della Carità. Featuring the works that were created prior to 19th century, it is one of the most romantic attractions of Venice one can never miss on their Venice honeymoon with the best of Italy honeymoon packages.
Suggested Read: Honeymoon In Italy: Full-Fledged Guide To Plan Your Romantic Voyage
Romantic Things To Do On Your Venice Honeymoon
From the most cliched experiences to the surreal moments, a Venice honeymoon will give every chance to get romantic in everything you do. Be it kissing on a gondola ride or witnessing a romantic sunset, Venice has the capability of turning every ordinary moment into an extraordinary memory.
1. Go On A Gondola Ride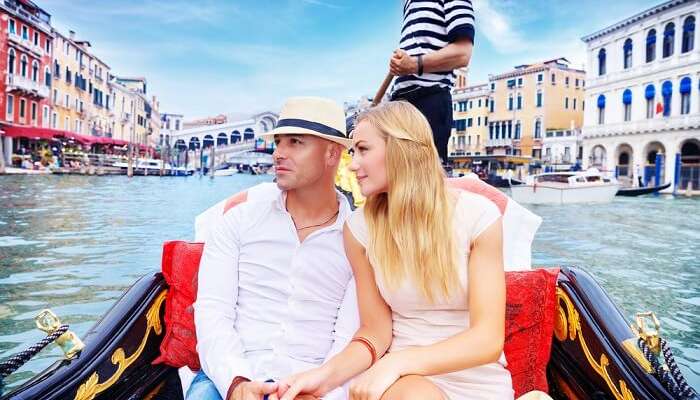 Your Venice honeymoon is totally incomplete without experiencing a ride on the famous gondolas. Cruise through the canals, enjoying the colorful building blocks, and kissing under the bridges are few best things to do in Venice that a couple should not miss at all. Though up to six people are allowed to share a gondola, it is preferred you take a separate one for more privacy.
Cost Per Gondola Ride: €80 for 40 minutes
Cost For Extra 20 Minutes: €40
Cost After 7 pm: Base – €100; Additional – €50
2. Witness Soul-stirring Sunset On St. Mark's Square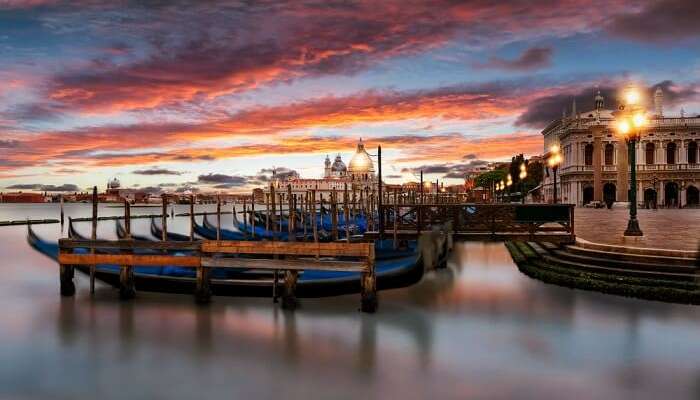 Much famed as the Piazza San Marco amidst the locals, witnessing a sunrise or sunset on the St. Mark's Square of Venice is going to be a sight to behold forever for the couples on their Venice honeymoon. A famous and a prime public square of Venice, there is not a single person who wouldn't fall in love with the romantic hues of the sky as the sun goes down.
Suggested Read: 12 Romantic Things To Do In Rome With Your Amore6 Venice Restaurants For Finger Lickin' Good Food In The City
3. Enjoy Romantic Dining By The Canal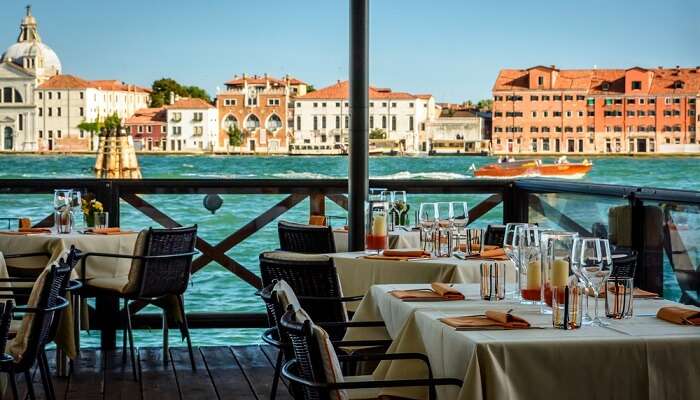 Be it the quixotic waters of the canal, the mesmerizing backdrop of Venice's historical monuments, a romantic dining experience by the canal always makes for a pleasant evening. Many restaurants like La Palanca, Ristorante da Alvise, and Lineadombra leave no stone unturned in making one's dining experience into the most romantic moment that the couples can cherish on their Venice honeymoon.
Suggested Read: 15 Best Places To Visit In Venice – The Most Beautiful Canal City Of The World!
4. Share Some Gelato Love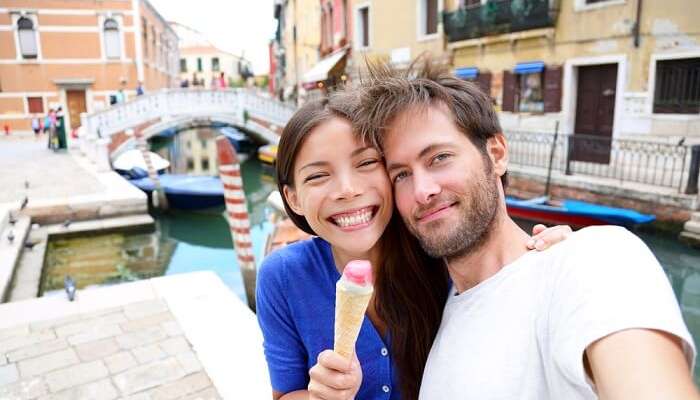 People of Venice don't just love eating the gelatos but are crazy behind gelatos. With a capability of turning any moment into a fun one, sharing a gelato has to be on every couple's list on their Venice honeymoon. All you have to do is just ask for your favorite flavor!
5. Watch Romantic Ballet Performance At Teatro La Fenice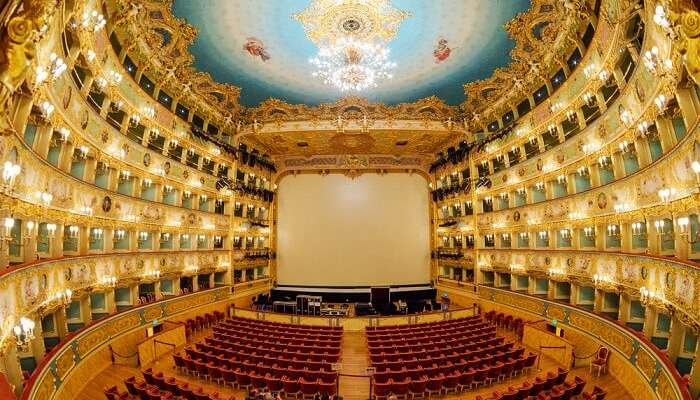 For those who plan on watching a romantic ballet show or a live opera performance in Venice, make sure you book yourself one of those special seats in the golden balconies. Putting up world-class performances, Teatro La Fenice features some of the best talents in the world.
Suggested Read: These Best Things To Do In Italy That Are Truly Exclusive
Average Budget Per Couple Per Day In Venice
All the main factors like accommodation, local transfers, meals, sightseeing, shopping, and other expenses have been considered for arriving at an estimated budget for an exquisite Venice honeymoon.
While it is just an estimate, a breakup of the budget per couple per day has been listed below: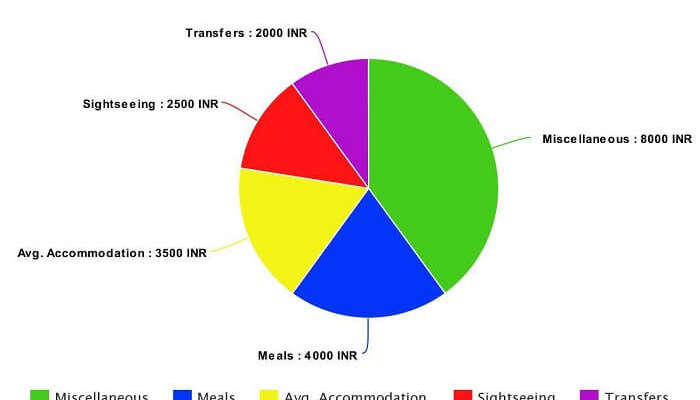 Flights: INR 1,00,000 approx. (round trip per couple)
Avg. Accommodation: INR 3,500 to INR 8,000 (Standard room on double-sharing basis at a 3-star or a 4-star hotel)
Meals For Two: INR 4,000 to INR 5,000 (Lunch & Dinner – excluding taxes)
Sightseeing: INR 2,500
Transfers: INR 2,000
Miscellaneous: INR 8,000
Average Budget Per Couple Per Day: INR 20,000
Please Note:
Flight rates have been excluded as the amount differs for every traveler and their destination's origin.
An average accommodation price has been included on the basis of best honeymoon hotels in Venice in the average budget to arrive at an estimate.
Also, the lower limit has been included to calculate the average budget.
We hope that if you've dreamt of your honeymoon in Venice, cost is not a big concern for you.
Venice Honeymoon Hotels
From luxury to budgeted yet lavish hotels, suit yourself by picking from the most romantic hotels of all times in Venice on your honeymoon trip.
1. The Westin Europa & Regina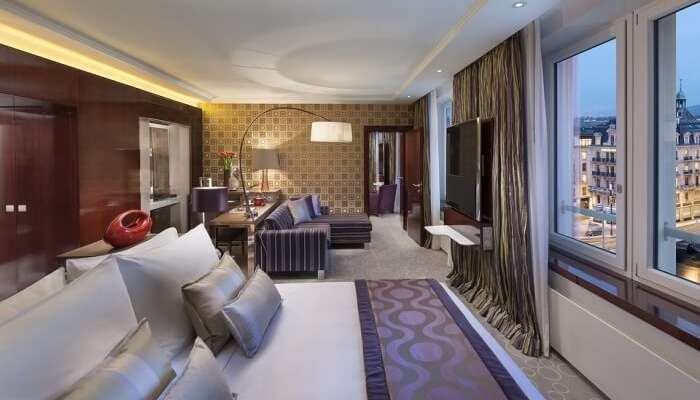 An epitome of the real Venetian architecture, and Hotel Westin Europa & Regina offers panoramic views of the Grand Canal like no other hotel. Treating the couples to a lavish stay, the hotel combines one's experience with luxurious spa sessions and ultimate fine dining nights.
Address: S. Marco, 2159, 30124 Venezia, Venice
Price/Night: Starts from INR 22,300 (double-sharing basis & tax excluded)
TripAdvisor Ratings: 4/5
Website | Reviews
Other Luxury Hotels: Belmond Hotel Cipriani, Hotel Danieli Venice, Bauer Palazzo, Sina Centurion Palace, and more.
2. Viktoria Palace Hotel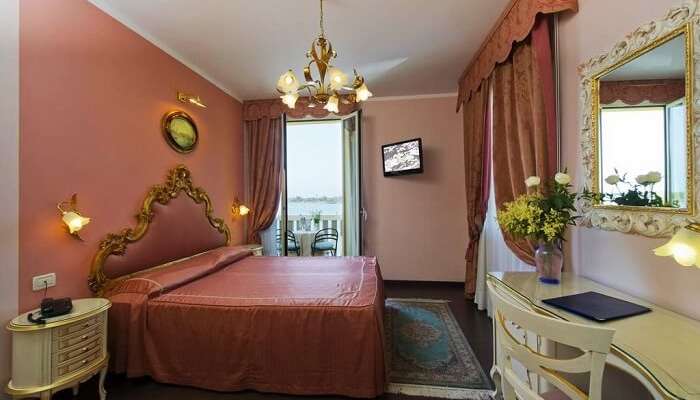 Set close to the Veneto Wine region, the specialty of Viktoria Palace Hotel is that of its local vineyards. Enjoying its serene location along with cozy rooms and multilingual staff services, it is the most economical luxury hotel in Venice.
Address: Riviera S. Nicolò, 50, 30126 Venezia, Venice
Price/Night: Starts from INR 4,900 (double-sharing basis & tax excluded)
TripAdvisor Ratings: 3.5/5
Website | Reviews
Other Mid-Range Hotels: Quality Hotel Delfino Venezia Mestre, Hotel Palazzo Paruta, Hotel Royal San Marco Venice, and more.
3. Hotel Rialto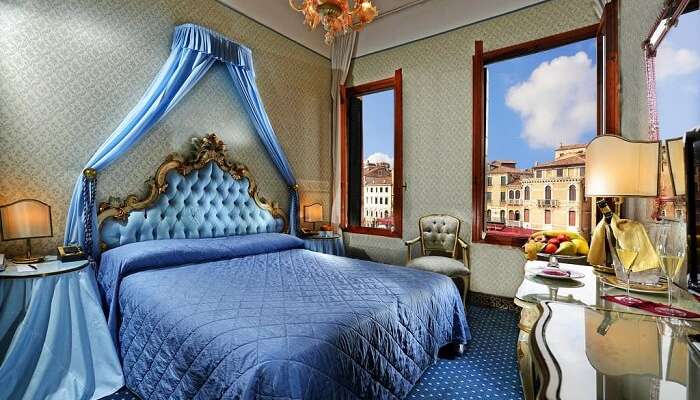 Considered to be an ideal accommodation, Hotel Rialto offers luxury at pocket-friendly prices. With elegantly furnished rooms, the hotel overlooks the Rialto Bridge that offers panoramic views of the city.
Address: Riva Ferro, 5149, 30124 Venezia, Venice
Price/Night: Starts from INR 7,300 (double-sharing basis & tax excluded)
TripAdvisor Ratings: 4/5
Website | Reviews
Other Best Hotels: Hotel Giorgione, Hilton Molino Stucky Venice, Albergo San Marco, B4 Bellini Venezia, and more.
Suggested Read: 15 Most Romantic Things To Do In Venice For Young Couples: A Drop-down Of Everything Magical!
Romantic Restaurants In Venice
1. Restaurant Terrazza Danieli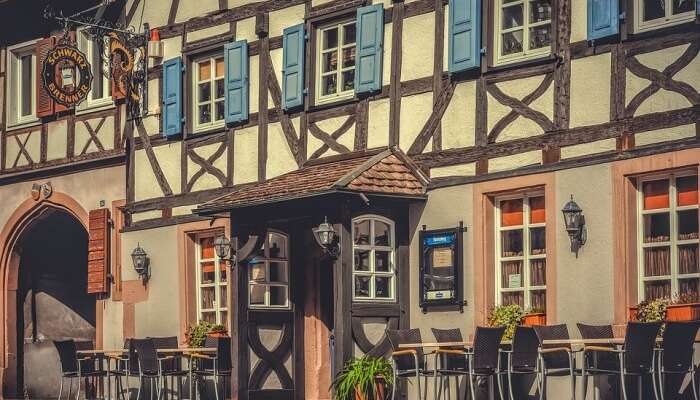 For a perfect date night on your Venice honeymoon, your choice can never go wrong with Restaurant Terrazza Danieli. Offering stunning views of the city's skyline, relish the authentic Venetian cuisine at this rooftop dining restaurant.
Location: Riva degli Schiavoni, 4196, Venezia
Timings: Monday to Sunday: 12 noon to 3 pm; 7 pm to 10:30 pm
Cuisine: Italian, Mediterranean, and European
Average Meal For Two (With Wine): Starts from INR ₹ 11,000 (tax excluded)
TripAdvisor Ratings: 4/5 | Reviews | Website
2. Oro Restaurant, Venice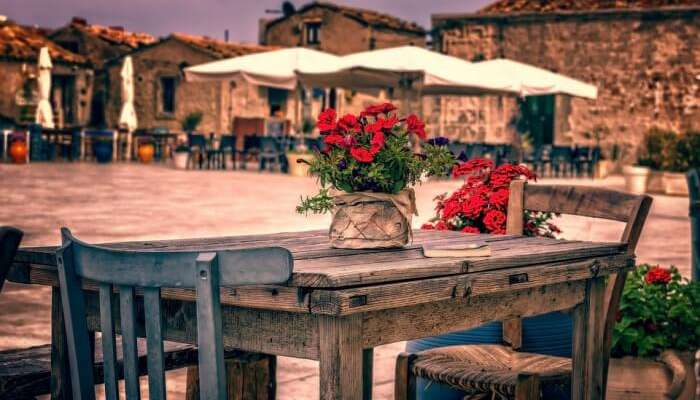 Looking forward to dine by the canal with the most romantic views of the city? Look no further than the popular Oro Restaurant, located within the premises of Belmond Hotel Cipriani. With such an ecstatic and elegant restaurant on the waterside terrace, your Venice honeymoon is sure to be an unforgettable one.
Location: Belmond Hotel Cipriani, Giudecca, 10, 30100 Sestiere Castello, Venice
Timings: Monday to Sunday – 12:30 noon to 2:30 pm; 7:30 pm to 10 pm
Cuisine: Italian, Mediterranean, and European
Average Meal For Two (With Wine): Starts from INR 10,000 (tax excluded)
TripAdvisor Ratings: 4/5 | Reviews | Website
3. Ristorante Algiubagio Venezia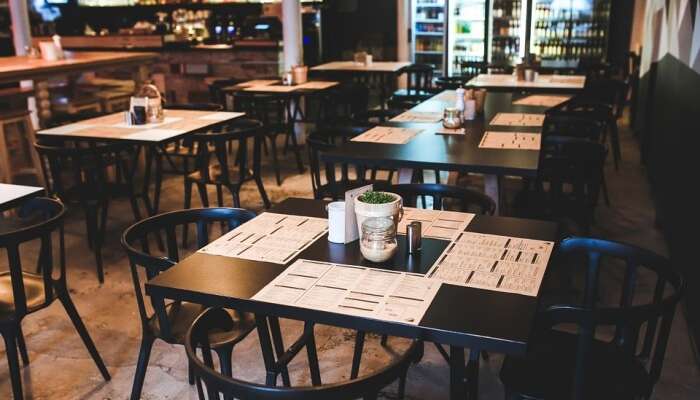 Offering scintillating vistas of the lagoon, Ristorante Algiubagio Venezia is an upbeat restaurant with rustic environs that adds an old-world charm to the restaurant's aura. Perfect for a romantic date night on your Venice honeymoon, choose to dine at Ristorante Algiubagio Venezia for luxury dining by the lagoon.
Location: Fondamenta Nuove, Cannaregio, 5039, 30125, Venice
Timings: Monday to Sunday – 7 am to 11:55 pm
Cuisine: Italian, Mediterranean, European, and Seafood
Average Meal For Two (With Wine): Starts from INR 4,500 (tax excluded)
Google Ratings: 4.5/5 | Reviews | Website
Getting Around Venice
Going by the city's name, Venice is much famed as the Canal City which makes water transport one of the famous modes for getting around the city.
Water Taxis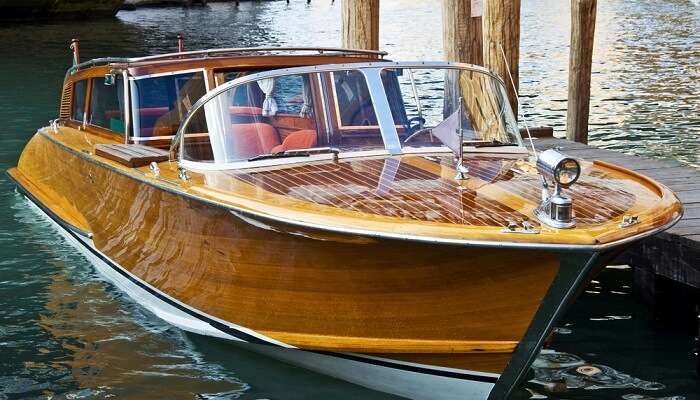 The normal speed boats function from one corner to the other corner of the city and are the prime mode of getting around Venice.
Suggested Read: Here's How To Spend A Weekend In Most Beautiful European Cities
Vaporetto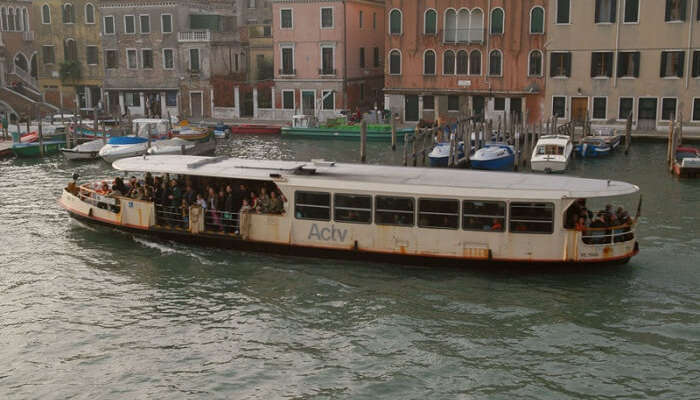 These are basically water buses and the tickets are valid for about 75 minutes from the time of boarding. It costs about INR 600 per person.
Motoscafi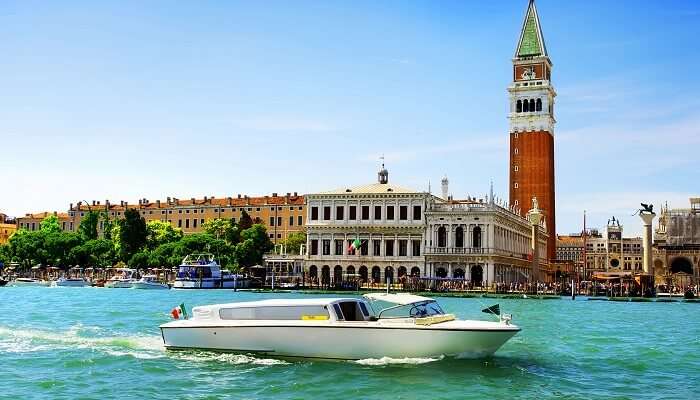 A faster version of Vaporetto, Motoscafi are also one of the best ways to get around Venice which cost slightly higher than Vaporettos.
Things To Buy In Venice
Apart from offering beautiful attractions, Venice is home to genuine souvenirs that you can take back home and add to your memories. From glass works to wooden sculptures, it offers a variety of things to buy. Make sure that you take your partner for shopping or surprise them back home with a gift from Venice!
Further Read: 6 Venice Restaurants Where You Can Have Finger Lickin' Good Food In 2019
Enticing enough? Explore the 'City of Canals' with your amour while you live your dream on an ecstatic Venice honeymoon. Customize a delightful Venice honeymoon package with TravelTriangle , and embark on an soul-stirring journey to the city of love and romance.>
People Also Read
Germany Honeymoon Prague Honeymoon Ireland Honeymoon
---
Looking To Book An International Honeymoon?
Book memorable honeymoon on TravelTriangle with 650+ verified travel agents for 65+ domestic and international destinations.
---
Comments
comments