Greek art of ancient times holds a rich historical significance and includes the full panoply of sculptures, paintings, pottery, statues, coin design, and gem engraving. One such archaeological statue that has captivated the attention of millions of people from across the globe is the Venus de Milo, a lustrous, graceful, white, female statue placed in the Louvre Museum. Depicting the mythological Greek goddess Aphrodite, this semi-nude effigy is a masterpiece of paramount proportions. This enduring statue standing tall at 6 feet 8 inches is also believed to be the depiction of Venus, the Greek goddess of love and beauty.
Historic Significance Of Venus de Milo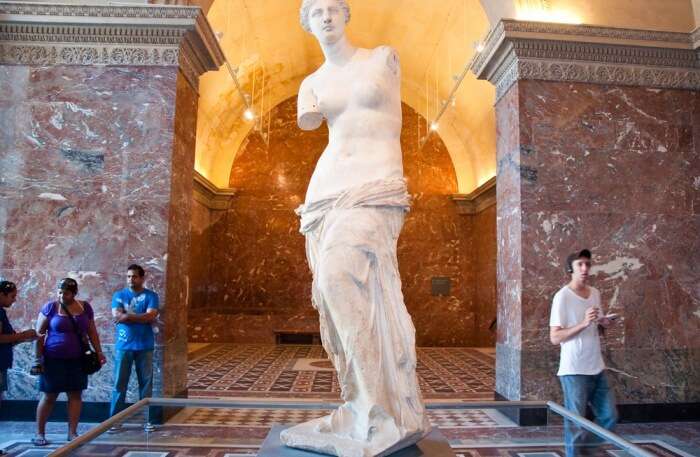 A young farmer named Yorgos Kentrotas discovered this statue on the Greek island of Melos (Milos) on 8 April 1820. The effigy was unearthed into two pieces while various other ruins of the statue were found nearby which were later reassembled. The first piece discovered was the upper torso with a classical S-curve while the second piece found was her legs and hips wrapped in draped clothing.
This larger than life dreamlike masterpiece is said to be created by Alexandros of Antioch, a legendary Greek sculptor of the Hellenistic age also known for crafting several other ancient sculptures including the statue of Alexander the Great. The lustrous female statue of Venus de Milo was gifted by Marquis de Riviere to Louis XVIII who then later handover it to Louvre Museum in 1821 for public display. The sculpture today is regarded as Louvre's timeless masterpiece and will continue to captivate millions of people for centuries to come.
Few Interesting Facts About Venus de Milo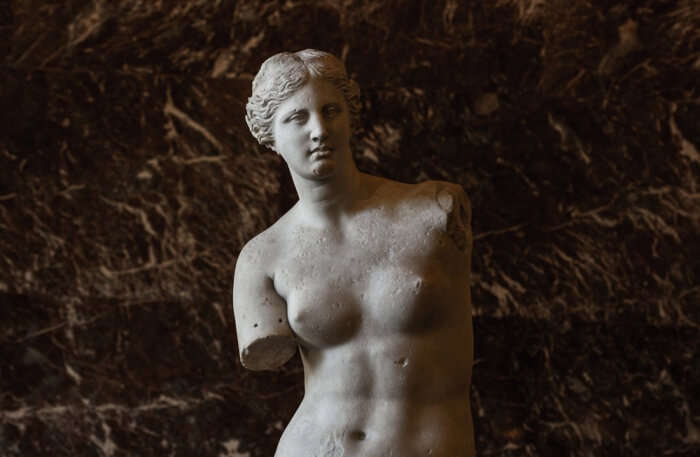 Here are a few interesting facts about the famous sculpture we bet you did not know and are worth adding to your knowledge bank.
Must Read: 10 Paris Markets That'll Satisfy The Shopaholic In You
Venus de Milo With Drawers
In 1936, a Spanish surrealist named Salvador Dali portrayed a half-size plaster replica of the famous Venus de Milo by incorporating drawers in the statue's left knee, abdomen, stomach, breasts, and forehead. This transformation of the effigy into a piece of living furniture by Dali was inspired by the works of Sigmund Freud.
The Ambiguous Title
This ancient half-naked Grecian statue is believed to depict Aphrodite, the Greek Goddess of love and beauty. However, some of the sculptors and scholars argue that this marble statue by Alexandros of Antioch represents Amphitrite, the Sea Goddess.
The Mysterious Missing Arm
Some modern art historians believe that the missing arms of Venus de Milo must have been broken off in 1820 during an outbreak on the shore of Melos by the French and Turkish sailors. While some critics still argue the missing arms of the statue was never discovered, others claim that a left arm holding an apple was also found along the other fragments of the statue in 1820.
The Imperfect Statue Was Robbed
Historians claim that the presence of holes around her wrist, ears, and head signifies that the goddess was once adorned with jewelry. But, when the statue was unearthed by Yorgos Kentrotas on the Greek island of Melos he did not find any jewelry giving rise to speculation that all the jewelry was robbed or are still undiscovered.
Other Famous Things To See At Louvre Museum
Here are some of the other fascinating pieces of artwork that you should not miss out on your day trip to the famous Louvre Museum:
1. Mona Lisa Painting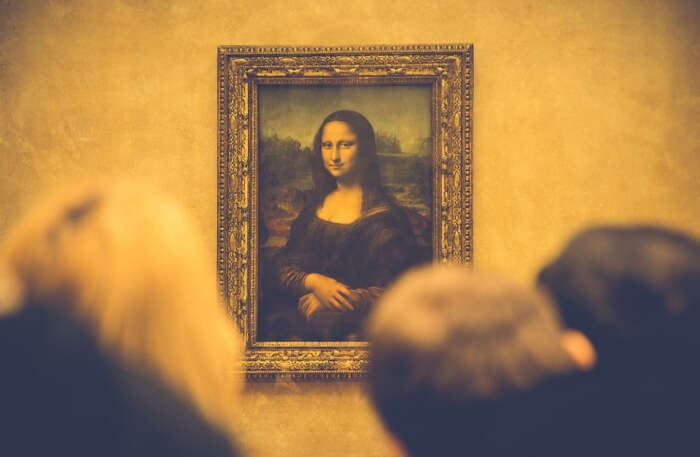 One of Louvre's most visited and admired painting, Mona Lisa is the most valuable and iconic paintings of the world. Mona Lisa by the famous Italian artist Leonardo da Vinci will leave you mesmerized with its artistic charm and mysterious appearance. Set against an imaginary background, the lady in the painting sits with her arms folded and gazes every viewer with an enigmatic smile.
Suggested Read: Day Trips From Paris: Head Out To These 8 Places In 2022 For Invigorating Excursions
2. The Winged Victory of Samothrace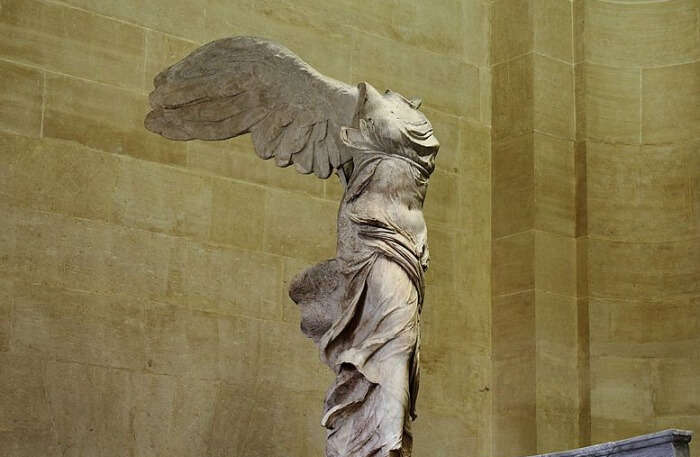 This stunning 18-foot marble statue is a representation of the Greek Goddess of victory called Nike. It was discovered in the year of 1863 by French archaeologist Charles Champoiseau. This masterpiece of Hellenistic art with missing arms and head is one of Louvre's top attractions.
3. The Coronation of Napoleon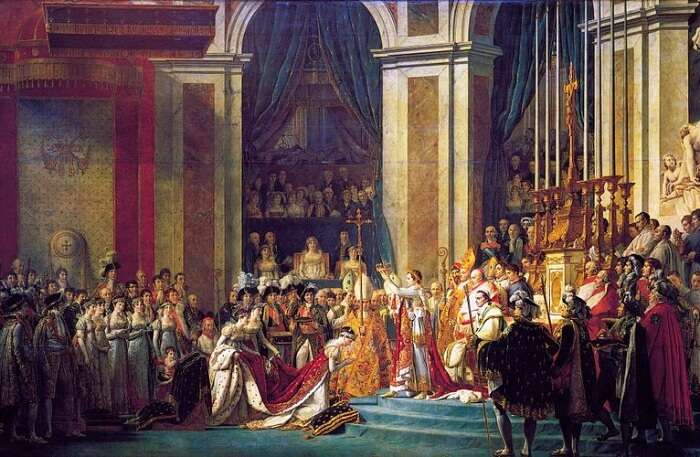 Yet another priceless masterpiece of Louvre Museum, The Coronation of Napoleon is huge canvas with an imposing dimension of 33 feet wide and 20 feet tall. This monumental oil painting was one of the finest work of Jacques-Louis David who took nearly 3 years to complete this masterpiece (from 1804 to 1807). The painting depicts the coronation of Napoleon I that took place in Notre-Dame de Paris.
Suggested Read: 10 Churches in Paris to Make You Go 'Wow'
4. The Great Sphinx of Tanis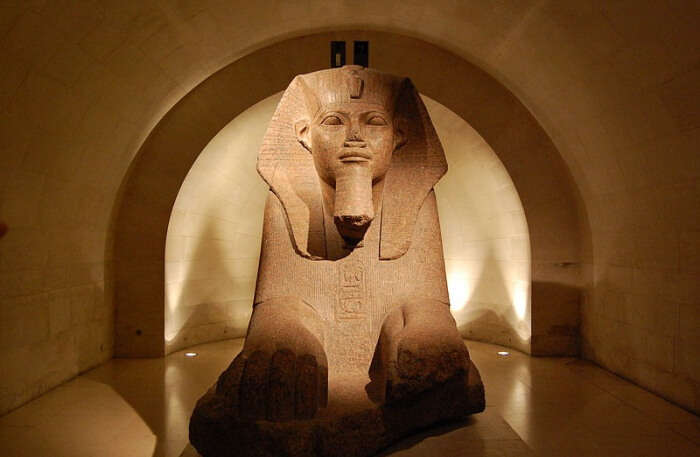 If you are a great admirer of Egyptian antiquities, then do pay a visit to The Great Sphinx of Tanis found in Room 338, Crypt of the Sphinx. One of Louvre's top attractions, this sphinx with the head of a king and the body of the lion is one of the largest sphinx artifacts found outside of Egypt. Found in 1825 among the ruins of the Temple of Amun at Tanis, this giant statue weighs around whooping 26 ton.
Venus de Milo Restaurants
Louvre Museum houses around 15 swanky restaurants and cafes to satiate your hunger pangs after a tiring session of exploring this magnanimous world-famous museum. Some of the best restaurants to relax and relish some snacks are listed below:
1. The Bistrot Benoit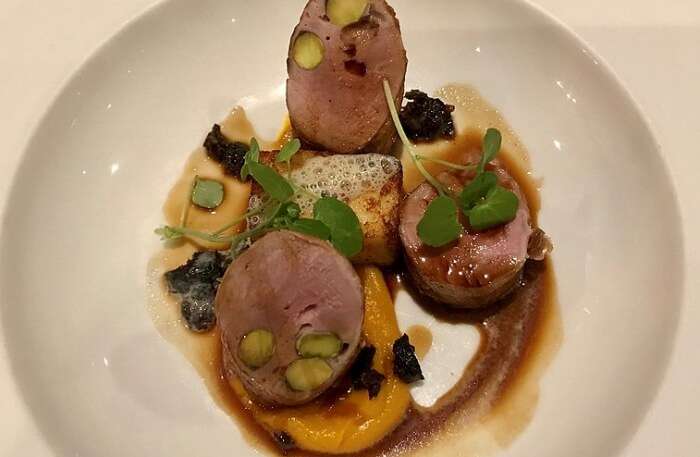 At Bistrot Benoit, you can savour mouth-watering French dishes including the delicious nail cassolette, frog quenelles, veal blanquette, rum baba and the authentic pâté en croûte seasoned with thyme.
Location: Under the Pyramid, Hall Napoléon
Timings: Open daily (except Tuesday) and serving breakfast between 9am to 11:30am while the lunch timings are from 11:30am to 5pm. On Wednesdays and Fridays, the restaurant remains open till 9:45 pm
Suggested Read: Enjoy The Best Of Nature At These 10 Best Parks In Paris
2. The Café Marly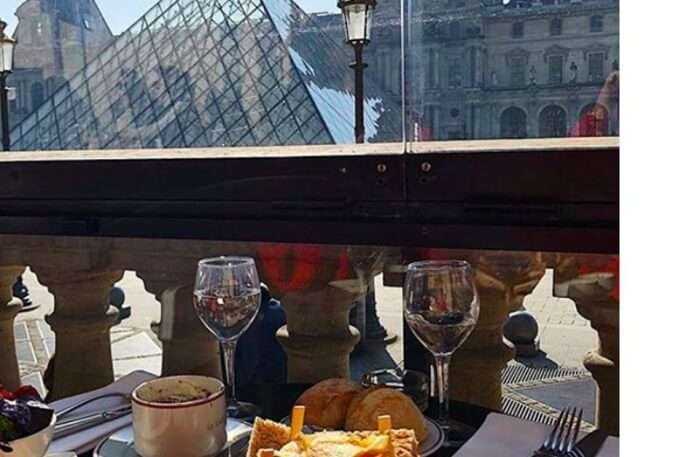 This authentic cafeteria in the heart of the museum is perfect to relax and enjoy the views of the pyramid. Besides, serving exquisitely flavoured dishes, the café also lets you enjoy some refreshing cocktails.
Location: Cour Napoléon
Timings: Open daily (except Tuesday) from 8am to 2am
3. The Café Richelieu-Angelina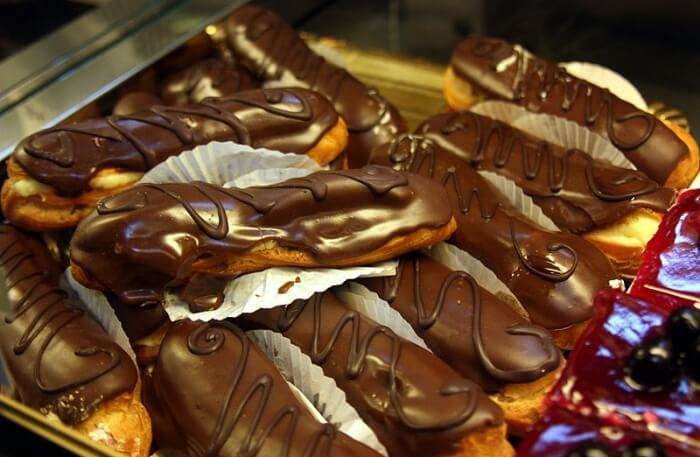 A ravishing restaurant serving sandwiches and salads in addition to a range of Angelina's yummy pastries like Mont-Blanc, crisp vanilla éclairs, macaroons and much more. At this restaurant, get an opportunity to discover gourmet menus and excellent settings where the terrace overlooks Cour Napoleon and the Pyramid.
Location: Richelieu Wing, 1st floor, between the Napoleon III apartments and decorative arts galleries
Timings: Open daily (except Tuesday) from 10am to 4:45pm and until 6:30pm on Wednesdays and Fridays. In July and August, the cafe is open until 8:30pm.
Suggested Read: 6 Lakes In Paris You Should Definitely Go For A Picnic Under The Sun
Best Time To Visit Venus de Milo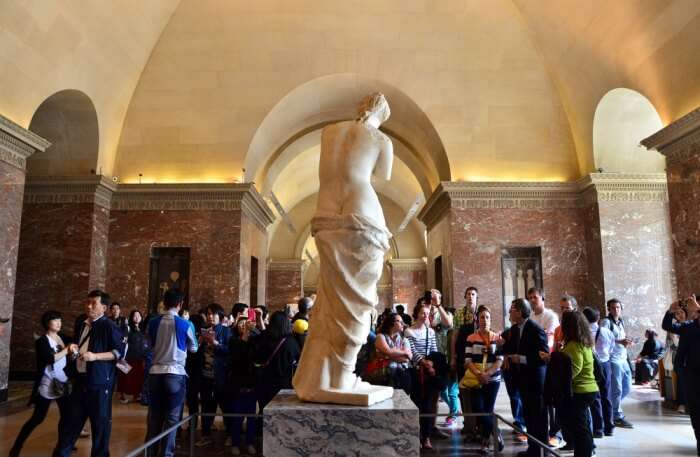 If you wish you explore the museum peacefully, then considering visiting it after 3pm when it is less crowded. The museum remains closed on Tuesday while all other days it is open from 9am to 6pm, except for Wednesdays & Fridays, the museum remains open till 9:45 pm for passionate art lovers to explore more. Do buy yourself an admission ticket costing 15 Euros per person.
Note – The best season to visit the Louvre Museum (and Paris) is the spring starting from February, March and April.
How To Reach Venus de Milo (Louvre Museum)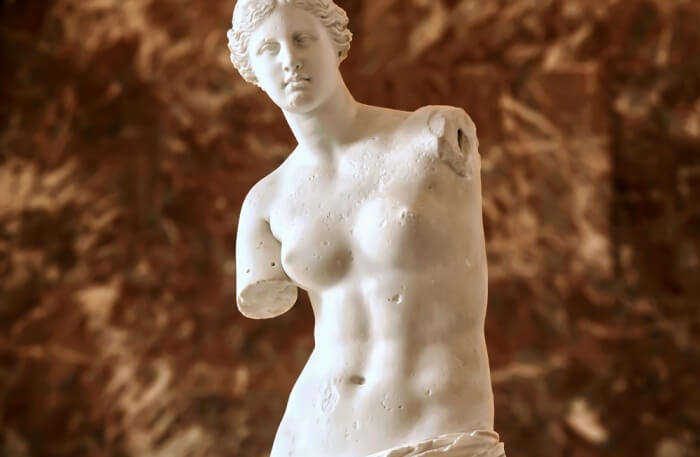 By bus
If you prefer traveling by bus, then note down these bus numbers 95, 21, 27, 69, 72, and 76. Buses in the city are easily available for commutation in any part of the city.
By car
You can also reach the museum by car via Avenue du Général Lemonnier. You can park your car (chargeable) in the underground parking lot of Carrousel du Louvre. There are car rentals available in Paris if you wish to roam around the beautiful city on your own. However, it can be a little expensive. You can also hire a vespa or bike if you are a couple or a solo traveler.
By metro
The closest metro stations to the museum are Palais Royal – Musée du Louvre (lines 1 and 7), Louvre- Rivoli (line 1), Tuileries (line 1), and Pont-Neuf (line 7). It is one of the best and affordable ways to reach the museum.
Further Read: 10 Holiday Homes In Paris That Are Perfect For Your French Sojourn
If you are planning a trip to Paris, then do visit to the historic museum of Louvre for a spellbound experience. The stunning Venus de Milo will surely leave you mesmerized with her magnificent S-curve and lustrous beauty.
---
Looking To Book An International Holiday?
Book memorable holidays on TravelTriangle with 650+ verified travel agents for 65+ domestic and international destinations.
---