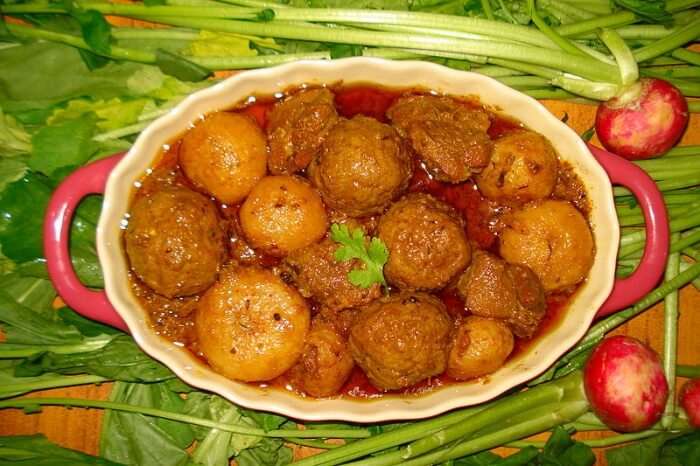 Kashmir is heaven, not only in terms of landscapes but for foodies too. Everyone should not only visit Kashmir but also try Kashmir Food once in their lifetime. Kashmir cuisine is varied and flavorsome. Not only will you find the influence of Mughals and Arabs in the dishes but many of the dishes have a signature of Kashmiri pundits on them. If you are a meat lover, you have more advantage than vegetarians because Kashmiris know 30 different ways to make mutton. Though this does not mean Kashmir food has nothing to offer to vegetarians. When you go through the list, you will find yourself drooling over your screen.
20 Kashmir Food Dishes To Try
Kashmir food is varied and vibrant. Here are the names of Kashmiri food dishes that will introduce you to Zaika-e-Kasmir. Do try the popular food of Kashmir on your vacation to make the most out of it and to satiate the foodie in you!
1. Rogan Josh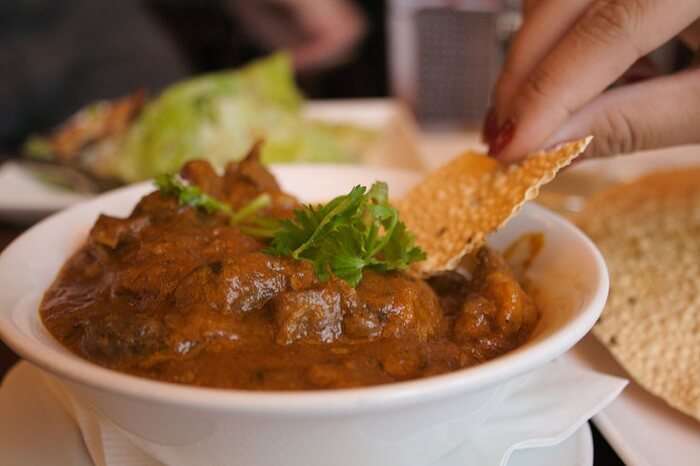 Rogan Josh has to be the first mention in Kashmir food. The delicious signature dish has put Kashmir on the food map. Rogan Josh is an aromatic lamb curry made with the fusion of various spices, yogurt, and browned onions. A healthy low-fat dish, it is best savored with rice or naan bread. If you are non-vegetarian, you won't be able to stop yourself at one serving of one of the best Kashmiri dishes.
Where To Try: Lhasa Garden Restaurant, Sunset Boulevard
Must Read: 10 Best Hotels In Kashmir For Both Luxury And Budget Vacationers
2. Modur Pulao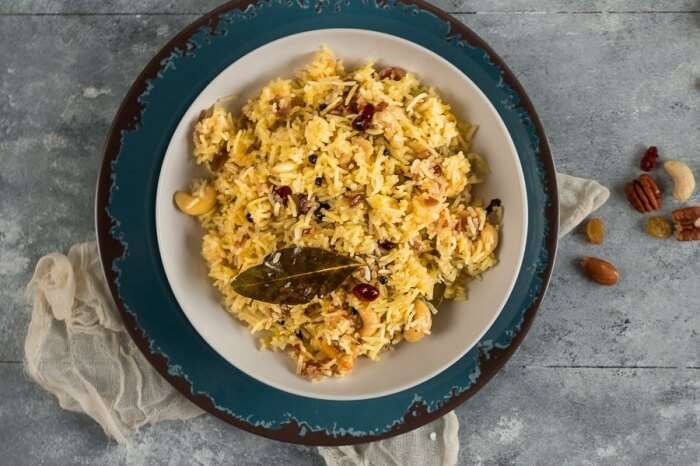 Modur Pulao is not the regular Pulao dish that your mother gives you in the tiffin. It is prepared in the goodness of milk, saffron, ghee, and cinnamon. That's not it! The rice is then garnished with a whole lot of dry fruits like almonds, cashews, and raisins. You will even taste a hint of sweetness because of sugar that goes into it. The saffron is the prime ingredient as it is grown in Kashmir itself. The bright golden imparted by saffron to rice is so visually tempting. For the rice lovers this Kashmiri food is one of the must-try Kashmiri dishes. Hands down, this dish is also the most popular traditional food of Jammu and Kashmir.
Where To Try: Ahdoos, Pahalgham Hotel
Suggested Read: Top 6 Delhi To Kashmir Trains Offering The Most Comfortable Journey
3. Dum Olav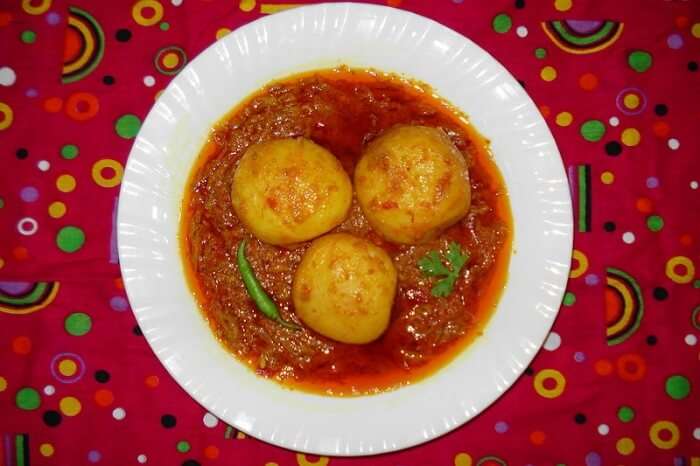 No, that thing you ordered in the restaurant last time was not Dum Aloo. If you want to savor the real authentic Kashmiri cuisine, you should take a trip and have Dum Aloo Kashmir food style. The baby potatoes are cooked in yogurt, ginger paste, fennel, and hot spices. Just the aroma of this simple dish is appetizing. Have it with roti or naan bread.
Where To Try: Shamyana Restaurant, Krishna Vaishno Dhaba
Suggested Read: Dwelling In God's Abode: Our Romantic Trip To Kashmir
4. Yakhni Lamb Curry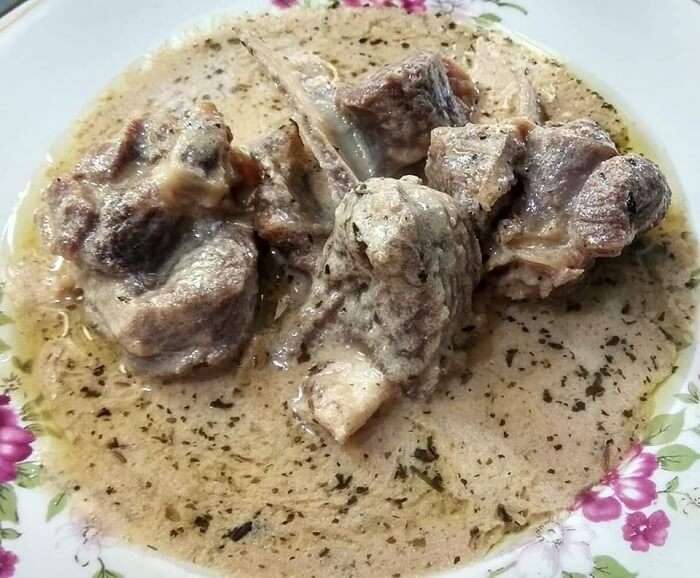 A lot of Kashmir food is yogurt based, and Yakhni Lamb Curry is no exception. It is a popular name in Kashmir food and culture. The lamb is cooked in a special gravy constituting yogurt, mawal flowers, onion paste, and dry mint leaves. The aroma of black and green cardamoms along with fennel will make you hungry in an instant. Have this authentic Kashmir delicacy with rice.
Where To Try: Shamyana Restaurant, Lhasa Restaurant
Suggested Read: Trekking Routes in Jammu and Kashmir: Embark on 7 New Epic Trails in Major Wildlife Regions
5. Goshtaba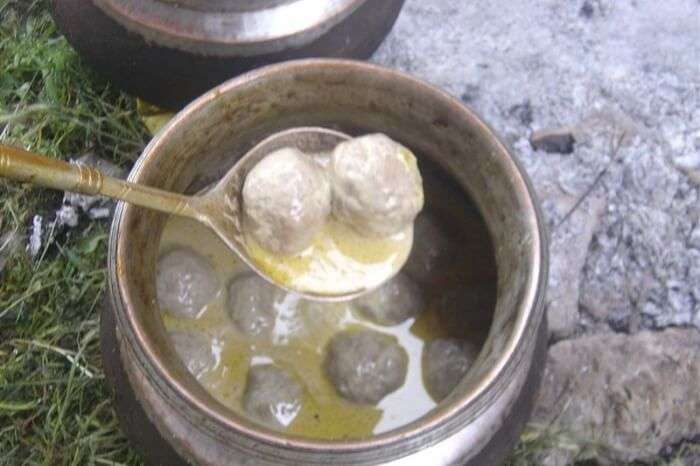 Kashmiris, even Kashmiri pundits, love meat. So, you will find a lot of nonvegetarian dishes in Kashmir food culture. Goshtaba is a traditional delicacy originated as the dish for kings and has a royal taste. Therefore, it is made on royal occasions in the Kashmir household. It is basically minced mutton balls cooked prepared in a yogurt gravy and goodness of various spices. Its tantalizing flavors will definitely make you crave more than one serving.
Where To Try: Kashmiri Kitchen, Matamaal
Suggested Read: 10 Magnificent Lakes In Kashmir That You Must Check Out In 2022
6. Kahva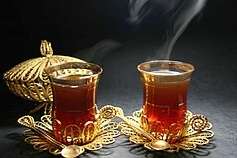 When is Kashmir, it is customary to have Kahva tea. It is a popular thing in Jammu Kashmir culture food. Kahva is a herbal green tea brewed with saffron spices, almonds, and walnut. Whenever there is a feast or festival, Kahva is served. You will find 20 different variations of Kahvah since it is made in every household. Some people also prefer to put milk in it. In some villages and areas, it is also called Maugal Chai. It is the traditional food of Jammu and Kashmir.
Where To Try: Chaai Jaai, Stream Restaurant
Suggested Read: 5 Picturesque Waterfalls In Kashmir That Will Compel You To Visit
7. Shab Deg

Shab Deg is a forgotten Kashmiri delicacy that triggers nostalgia with the mention of its name alone. Any Kashmiris reading this will understand. Shab Deg is a meat delicacy cooked overnight with patience and richness of ingredients. Shab means night and Deg is a large cooking vessel. A rooster is cooked with turnips and spices overnight to bring out the right flavors in the dish and the vessel is sealed with dough. It is a special dish made for large families or when you are having people over.
Where To Try: Kashmiri Kitchen, Lhasa Restaurant
Suggested Read: Is Kashmir Safe To Travel? See This Man's Wonderful Family Trip And Judge For Yourself
8. Aab Gosh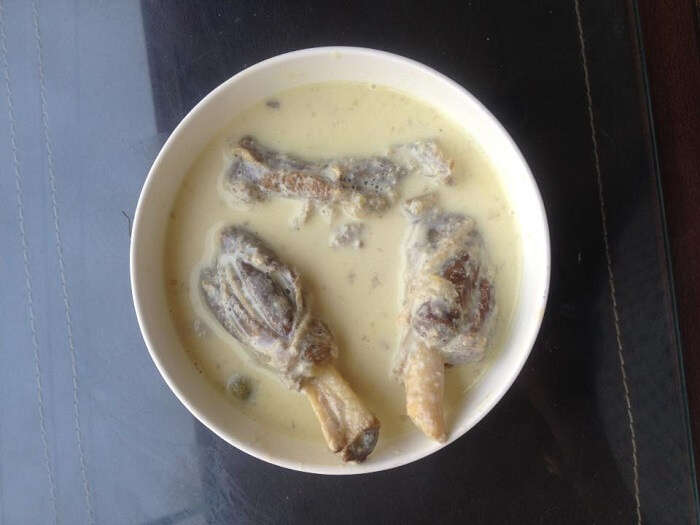 Another savory treat for mutton lovers, Aab Gosh is one of the most popular dishes in Kashmir food and culture. The mutton is cooked in milk and spices and the resultant is flavorful, succulent meat that tears right from the bone. Once you have tasted this, you will forget all other mutton dishes. It is relished with well-cooked saffron rice. This dish is made during special occasions like festivals and get-togethers.
Where To Try: Mughal Darbar, Shamyana Restaurant
Suggested Read: 5 Great National Parks In Kashmir To Witness Nature's Best Creations!
9. Lyader Tschaman

If you think Kashmir food culture does not have enough vegetarian dishes, then you are wrong. Lyader Tschaman is a Kashmiri cottage cheese cooked in rich creamy gravy. The cottage cheese in Kashmir is yellow in color and so is the gravy. You will find this dish in almost every household. A traditional delicacy even non-vegetarians won't be able to stop themselves from relishing. Undoubtedly, it is the most sought-after vegetarian Kashmiri food.
Where To Try: Kooks Restaurant, Lhasa Restaurant
Suggested Read: Stay At These 8 Cottages In Kashmir In 2022 That Are Just As Heavenly As This Destination
10. Kashmiri Muji Gaad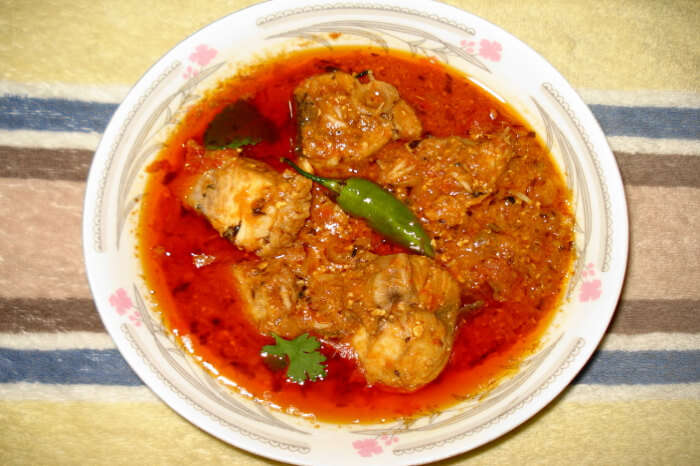 Kashmiri Gaad Recipe is served on special occasions and festivals in the month of December in Kashmir. The dish is made up of fish prepared generally with radish or nadur. It is a mixture of vegetarian and non-vegetarian items that gives it a unique taste while hot spices and herbs add to the flavour. Serve the dish after one hour of its preparation so that it settles well. Enjoy the Muji Gaad Fish Radish Recipe with rice and Haakh.
Where To Try: Bon Appetit, Shamyana Restaurant
Suggested Read: 6 Awesome Places For Shopping In Pahalgam On Your Kashmir Escapade In 2022
11. Kashmiri Baingan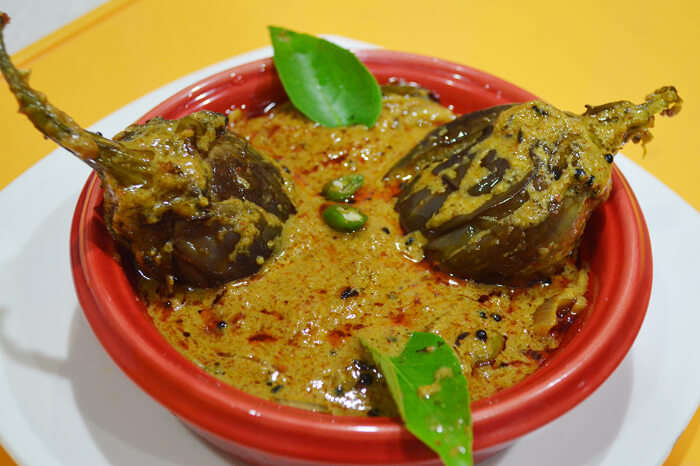 Kashmiri dahi baingan is one of the tasty and unique lip smacking dish made in spices which you simply can't resist. The eggplant is diced and cooked in a yoghurt gravy which make you want more of the dish. It is a perfect Kashmir food fusion served as a side dish. This vegetarian dish which can be cooked in several ways is equally loved by the people of Kashmir.
Where To Try: Zamindara Dhaba, Mughal Darbar
Suggested Read: Winter In Kashmir In 2022: 8 Things To Do On Your Vacation
12. Kashmiri Rajma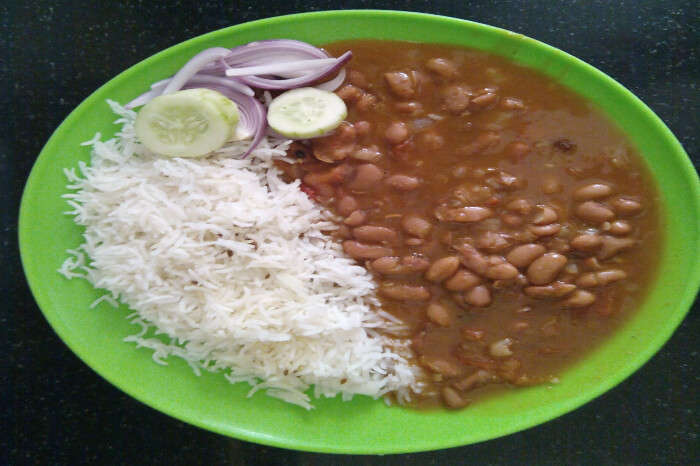 You can enjoy Kashmiri Rajma with Tawa Paratha, Whole Wheat Lachha Paratha or steamed rice which is a perfect fit for lunch or dinner meal. It is a very popular dish in North India, full of flavour and chillies. You can even have it as a healthy breakfast by preparing a red kidney bean salad. Don't miss out the authentic taste of this dish as it is one of the most popular Kashmiri veg dishes.
Where To Try: Khaana Khazana, Zamindara Dhaba
Suggested Read: A Guide To Pahalgam In Winter: What To Expect From A Wintry Trip To Kashmir
13. Matschgand

If you are planning a trip to Kashmir, don't forget to try Matschgand, a popular Kashmiri cuisine which will make your tastebud happy. It is a dish for the meat eaters which is cooked in spicy red gravy. Very often, nuts and dry fruits are mixed with the dish, to add more flavour to the already lip-smacking dish. One can easily try this dish at the various restaurants in Kashmir.
Where To Try: Wazwan, Mughal Darbar
Suggested Read: 8 Things To Do In Gulmarg For An Unforgettable Kashmir Holiday In 2022
14. Momos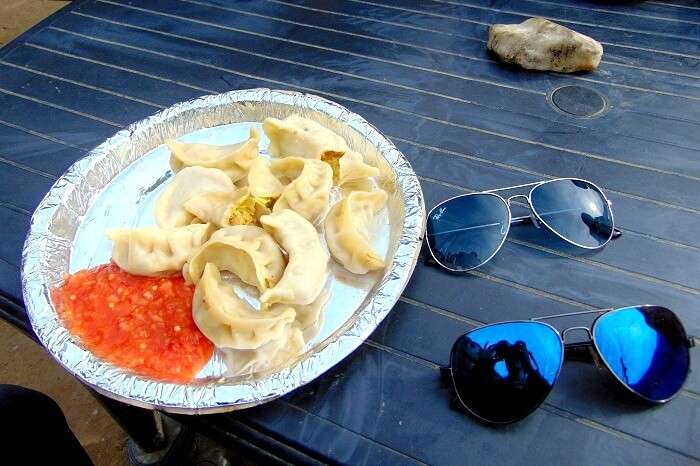 There is no denying the fact the love for momos of people across North India. Not a Kashmir originated dish, but definitely one of the best things to eat in Kashmir. This dish is served in Kashmir as a combination of the original and local influences. The spicy momos are dumplings stuffed with either meat or vegetables. You can pick any type according to your choice and enjoy the mouth-watering dumplings with spicy red sauce.
Where To Try: Alchi Kitchen, Kashmiri Kitchen
Suggested Read: Here's What Makes Kashmir A True Heaven On Earth
15. Thukpa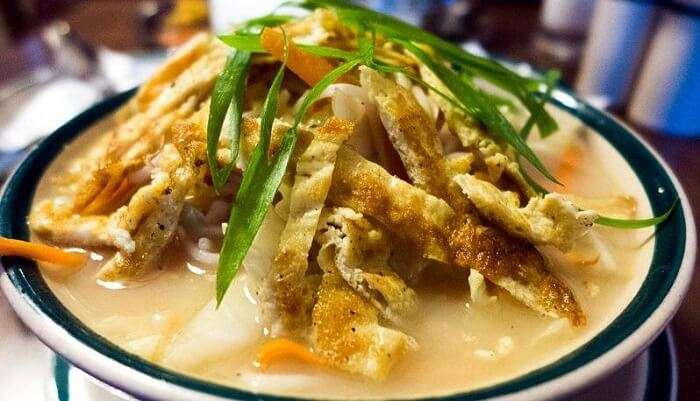 One of the dishes that has gained popularity all across India, Thukpa is an extremely scrumptious dish that originated from the Eastern part of Tibet. Made with thick noodles submerged in a delectable vegetable soup, Thukpa is every local's favorite in Kashmir. Offering a great amalgamation of noodles and soup, this dish can either be served vegetarian or non-vegetarian and appeals to every foodie's soul out there.
Where To Try: Lhasa Restaurant, Srinagar
Suggested Read: Here's Why Kashmir Is Called Heaven On Earth
16. Butter Tea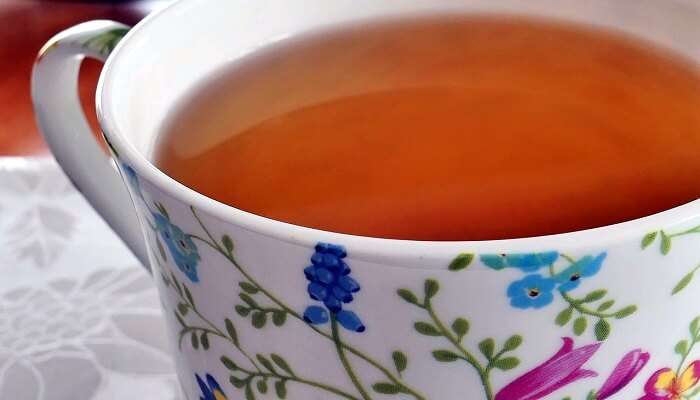 Originated from Tibet, Butter tea is one of the famous and staple dishes of Kashmir. Butter and salt are added to the tea in order to prepare this delicious delicacy. In order to add more flavor and taste, some locals might add yak meat to it as well and is one of the special Kashmir wazwan dishes.
Where To Try: Stream Restaurant, Srinagar
Suggested Read: 6 Haunted Places In Kashmir That You Should Not Visit Even In The Daylight

17. Khambir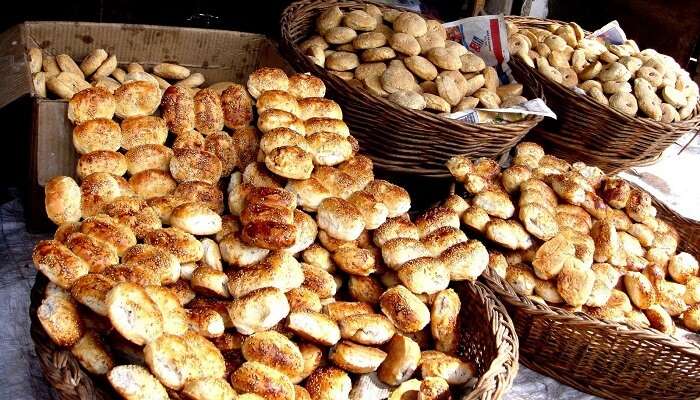 A pan-shaped local bread served mainly with butter tea, Khambir is a must-try dish for those travelers who are seeking to try something unique. Eaten during breakfast, Khambir is a bread that is brown in color and has a thick crust. It is made from local whole wheat and makes the diners crave for more and more.
Where To Try: Stream Restaurant, Srinagar
Suggested Read: Churches In Kashmir: 9 Places To Feel The Much Needed Peace You Deserve
18. Thenthuk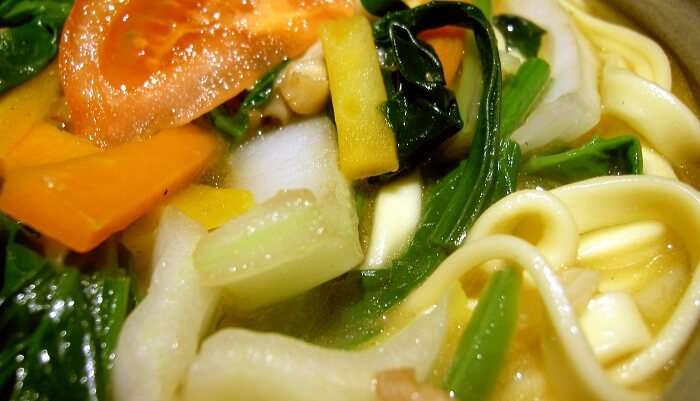 Another one of the noodle-soup dishes of Leh, Thenthuk is prepared by mixing uneven pieces of noodles with the local wheat flour dough. Chunks of mutton or yak meat are added to Thenthuk to enhance the flavor and taste of the dish. Since Thenthuk is an extremely filling dish, it is best to have lunch or dinner.
Where To Try: Wazwan Restaurant JKTDC, Srinagar
Suggested Read: Explore These 10 Best Places To Visit In Gulmarg In May 2022 On Kashmir Trip
19. Sheermal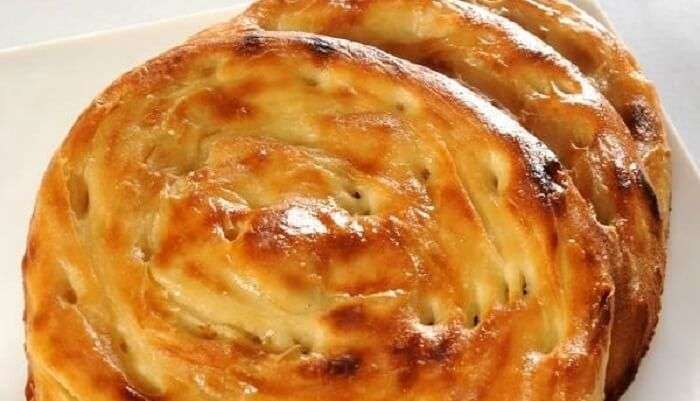 Image Credit: Mkavani75 for Wikimedia Commons
Sheermal a scrumptious delicacy that you must try on your food spree in Kashmir. Flavored with saffron, this flatbread will melt in your mouth and will leave you amazed by its taste. Crispy and sweet, Sheermal is a Kashmiri food that can be easily prepared at home. The best way to learn the recipe and to relish the original taste of it is by visiting Kashmir and making this dish with the locals. Are you up for a cooking class?
Suggested Read: Witness 9 Most Breathtakingly Beautiful Valleys In Kashmir On Your Naturescape In 2022!
20. Nadir Monji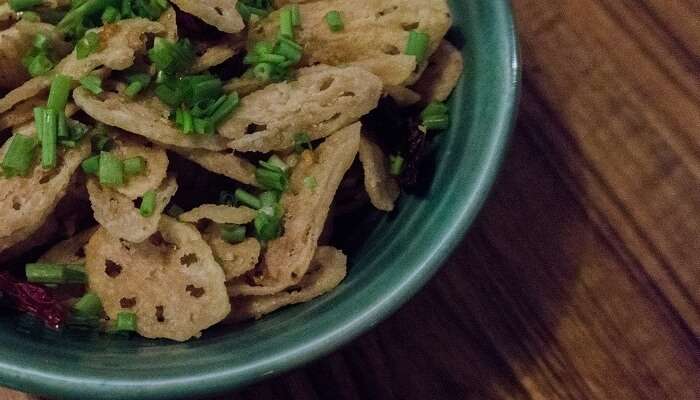 Image Credit: Sumit Surai for Wikimedia Commons
Disclaimer: The image is for representation purposes only.
Nadir Monji is a flavorsome Kashmir Food that is perfect for all those who love fried and spicy dishes. Made from Lotus stem, Nadir Monji is one of the favorite snacks of all the locals in Kashmir. To prepare this dish, Lotus stem is covered with a paste of gram flour and spices and then deep-fried. Served with mint dip, Nadir Monji will surely kill your hunger pangs while you are exploring the Dal Lake. This dish can be easily available at Dal Lake.
Further Read: Restaurants In Kashmir: 13 Places That Are Foodie's Paradise In Heaven On Earth
Kashmir food is as pleasing as the astounding beauty of the valley. If the heavenly views excite you to take a trip to Kashmir , trying out the royal cuisine should be one to make you stay here for as long as possible. Get yourself invited to a Kashmiri household if you want to have an authentic gourmet experience. You can even attend the Kashmiri food festival to try these scrumptious dishes.
Disclaimer: TravelTriangle claims no credit for images featured on our blog site unless otherwise noted. All visual content is copyrighted to its respectful owners. We try to link back to original sources whenever possible. If you own rights to any of the images and do not wish them to appear on TravelTriangle, please contact us and they will be promptly removed. We believe in providing proper attribution to the original author, artist or photographer.
Frequently Asked Questions About Kashmir Food
How many dishes are there in Kashmiri wazwan?
Kashmiri Wazwan is the major attraction of Kashmiri cuisine. There are 10 dishes that come in the Wazan. Some of them are Rista curry, Lahabi Kebab, Doudha Ras, Safed Kokur, and Muji Chetin.
What is the famous food of Jammu?
The famous food of Jammu includes Kashmiri Pulao, Rajma, and Aloo Dum. All these prominent dishes have a unique taste. Names of some of the traditional food of Jammu are Maani, Katha meat, and Mitha Bhaat.
Which are the most famous dishes of Kashmir?
Some of the most famous Kashmiri dishes are:
1. Rogan Josh
2. Dum Olav
3. Shab Deg
4. Goshtaba
5. Modur Pulao
What is special about Kahva tea?
Also known as Maugal Chai, Kahva tea is a prominent beverage in Kashmir. It comprises walnut, saffron spices, and almonds. It is a herbal tea and has 20 different variations to it.
Which are some popular vegetarian Kashmiri dishes?
Some of the most popular vegetarian dishes in Kashmir include:
1. Kashmiri Baingan
2. Khambir
3. Kashmiri Rajma
4. Modur Pulao