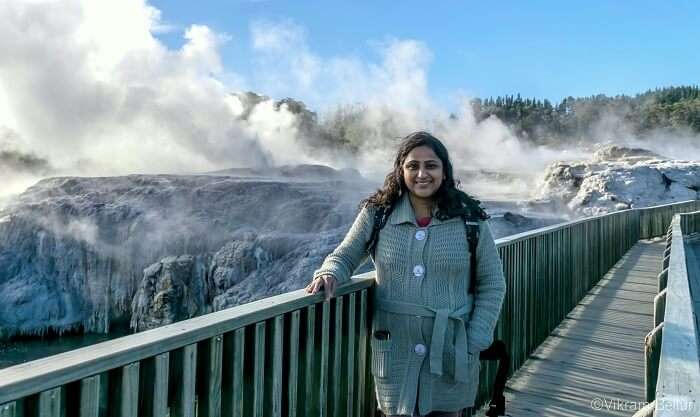 New Zealand is one of the most beautiful holiday destinations in the world. Known for its breathtaking sceneries, marvelous nature, adventure, and a modern holiday experience – this is a perfect place for a "friends & family" trip, and we were going for it!
But to plan a perfect trip, we needed a perfect New Zealand tour package and this is where TravelTriangle came in. Found on the internet, we liked the fact that they offered customizable tour packages, something which we needed since we wanted to travel our own way.
So after giving in our requirements, we got multiple custom made itineraries and quotes from various travel agents on board TravelTriangle and we soon finalized one from "Travel Troops Global Pvt Ltd". We were now sorted when it came to our holiday plans and were looking forward to a fantastic vacation.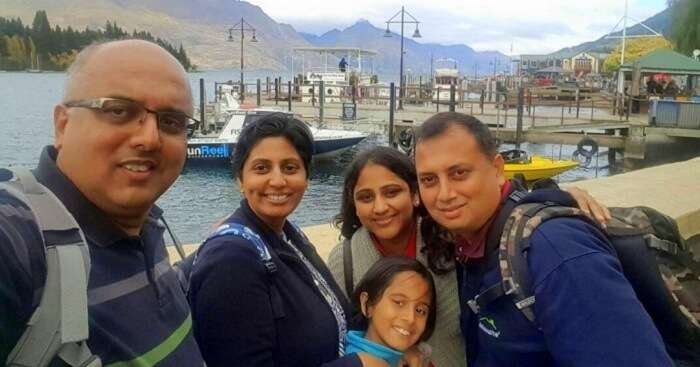 Places To Visit On A 10 Day Honeymoon Trip To New Zealand
Our Friends & Family New Zealand Package Details
Cost: INR 476187 (2 people)
Duration: 12 Days
Inclusions: Flights, Hotels, Meals, Cruise, & Transfers
Exclusions: Not all meals, other paid activities that are not part of the package, and personal expenses.
So, now that you know what all was included in our trip, it is time you see the real deal. Here's a glimpse of what we experienced in New Zealand via our mesmerizing clicks! Enjoy.
Day 1: Auckland – The modern holiday experience!
After a hectic 20 odd hour journey from Bangalore to Auckland, we ventured out in the evening to go to the top of Skytower. The 360-degree view of Auckland from here in the night was breathtaking. This particular road, painted in purple, caught everyone's attention and is supposedly dedicated to cyclists.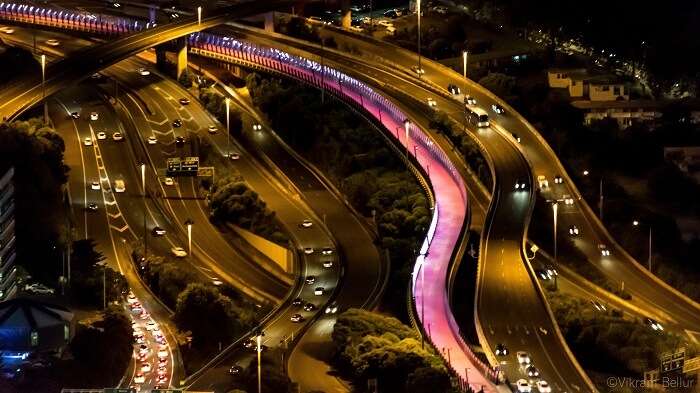 Another view of Auckland in the night, as seen from Sky Tower. One of the busiest cities in Newzealand, Auckland is home to more than 1.2 million people.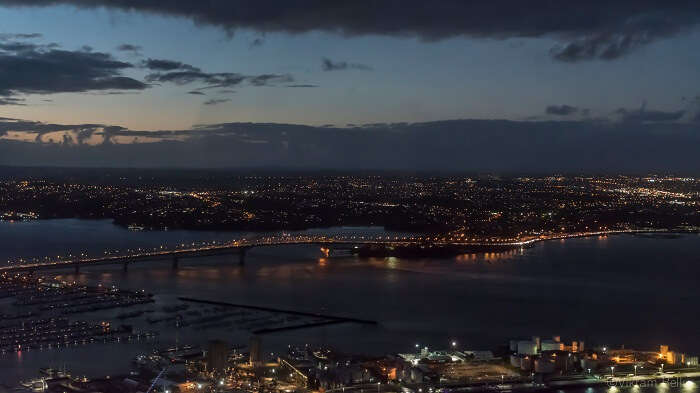 15 Fun Things To Do In New Zealand
Day 2: Waiheke Island – Greener than you can imagine
A bright day to explore and have fun on a day trip to Waiheke Island, which is home to many vineyards. As we took the ferry from Pier-4 in Auckland, we saw this lovely view of Auckland Sky tower from the deck and I couldn't help capturing the modern marvels that so majestically stood in front of us.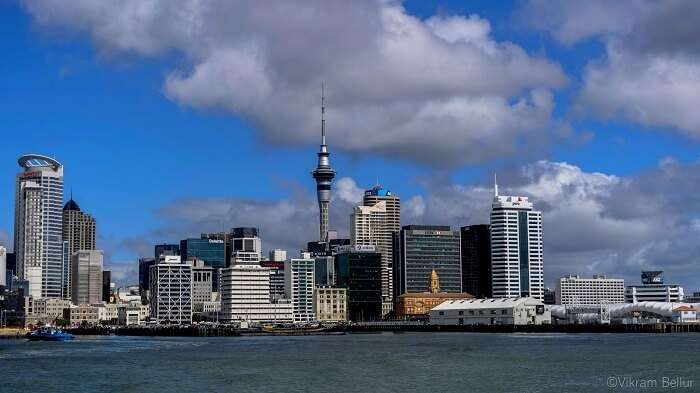 Waiheke Island tour – As we climbed up a small hill in a Vineyard, we saw this magnificent helicopter perched proudly in a background of stunning greenery!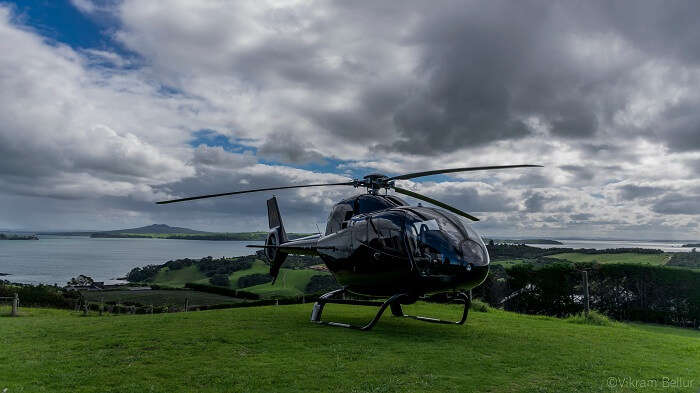 A view from one of the Vineyards of Waiheke Island.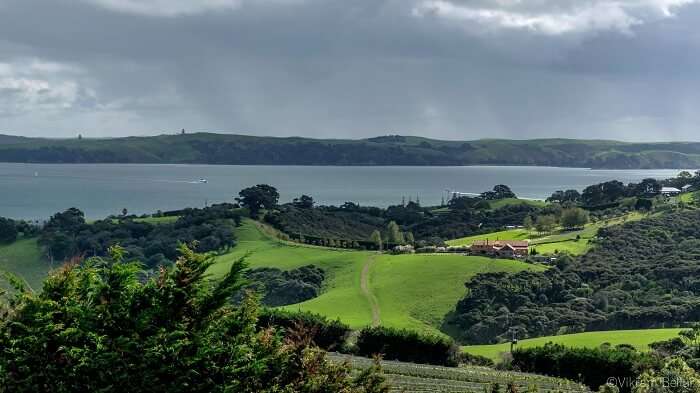 Day 3: Rotorua – The pretty little village of Hobbiton! (LOTR, anyone?)
After breakfast, we started our journey towards Rotorua – a small town which is known for its natural hot geyser spring. En route, we visited the sets of the blockbuster movie, "Lord Of The Rings".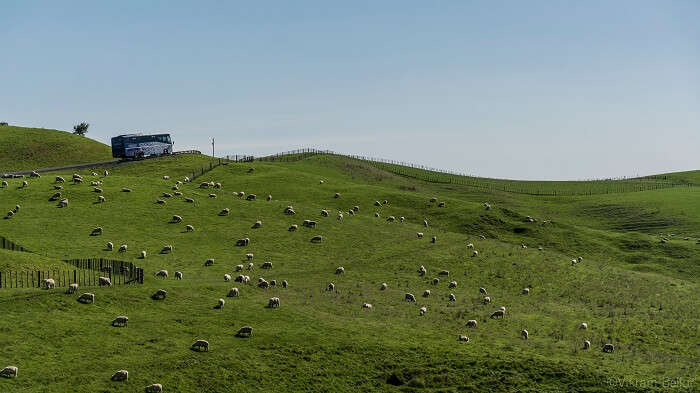 A house of Hobbit – from the sets of "Lord Of The Rings".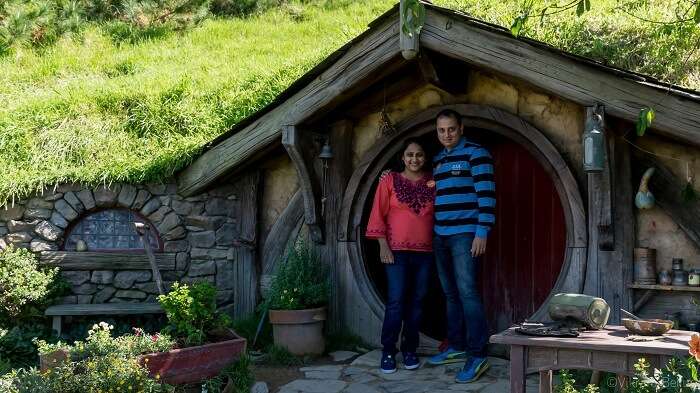 Emerging out of Hobbit's home in the sets of "Lord Of The Rings".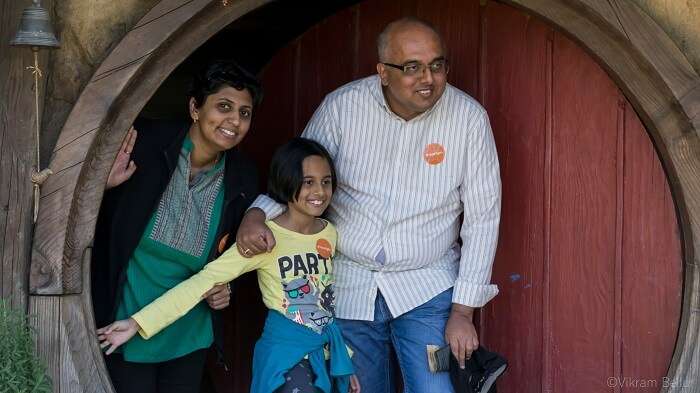 A beautiful view of Hobbiton Village.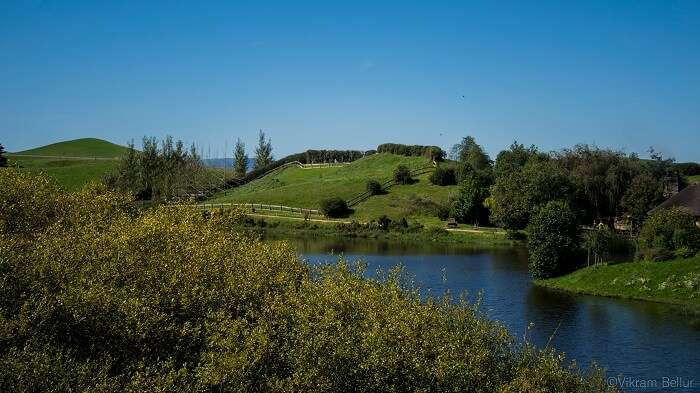 Yet another mesmerizing view of the Hobbiton Village set.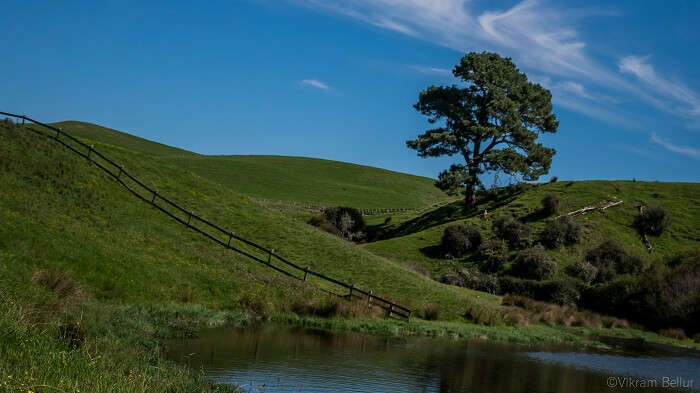 Day 4: Rotorua
A morning in Rotorua – few of the starlings decided to take a morning walk. Frankly, we were not even complaining!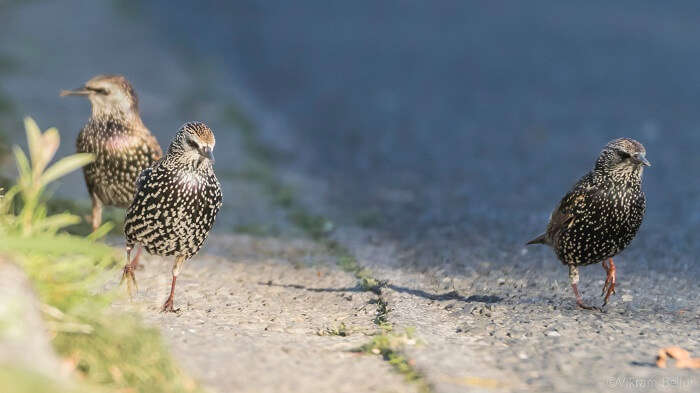 Treats like these we witnessed almost everywhere.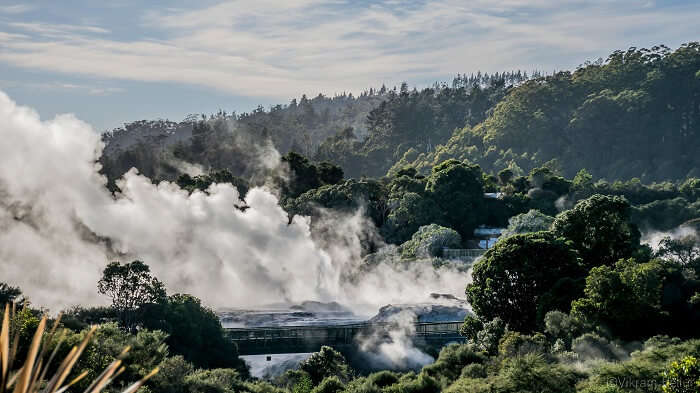 Found only in New Zealand, the bird, Tui, was making a loud sound, probably trying to defend its territory.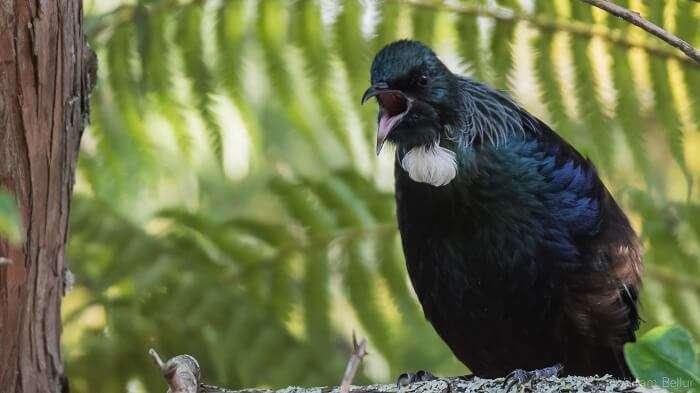 Few visitors having a closer look at the natural geyser.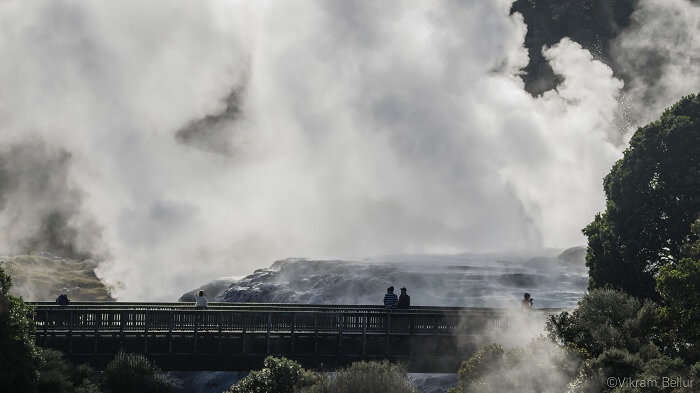 Enjoying the view of the geothermal action in Rotorua.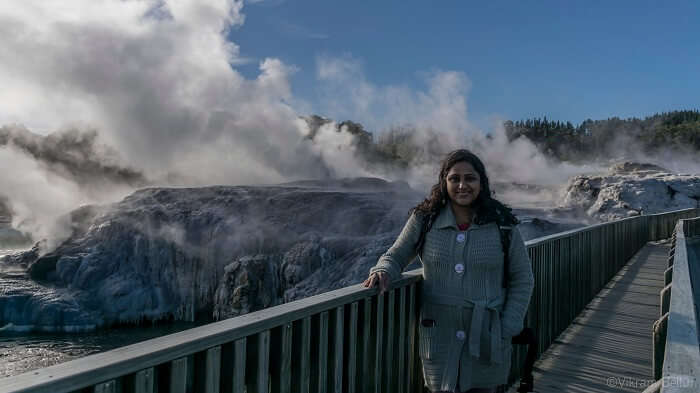 A small pond formed by the water jet ejecting out of a geothermal action in Rotorua.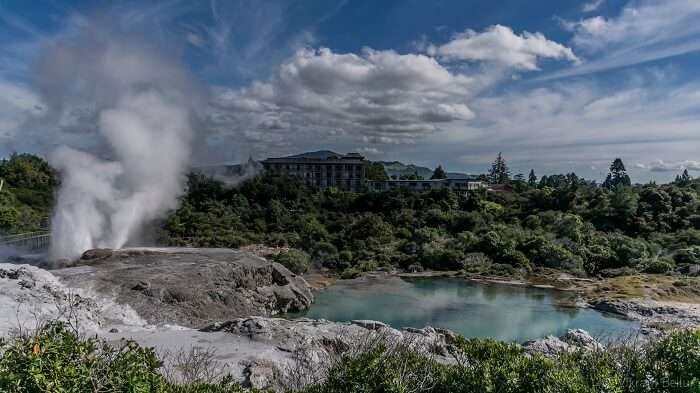 24 Famous New Zealand Tourist Attractions That One Should Visit In 2022
We went to a place called Tamaki Maori village near Rotorua in the evening for a cultural show and dinner. It was a very entertaining evening where we got an insight on the Maori way of living.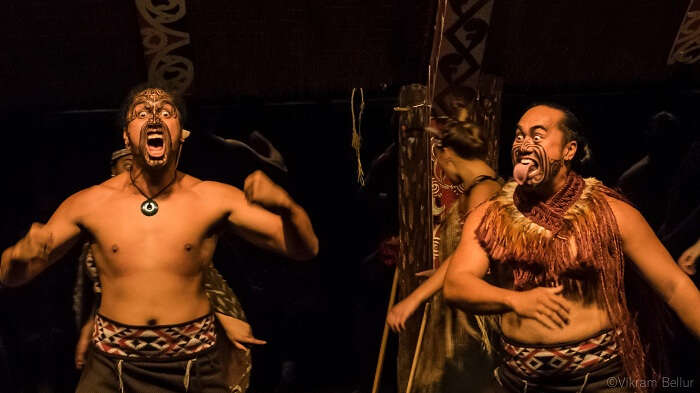 A typical Maori way of welcoming the guests – nose to nose, eye to eye with an exchange of silver fern leaves as a gesture of peace.Truly fascinating!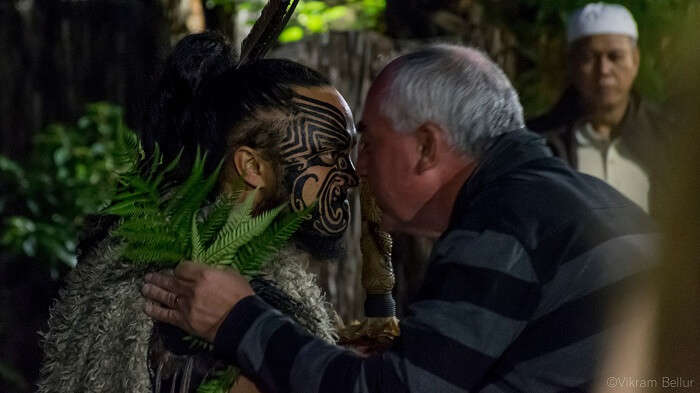 Day 5: Christchurch
A beautiful botanical garden in Christchurch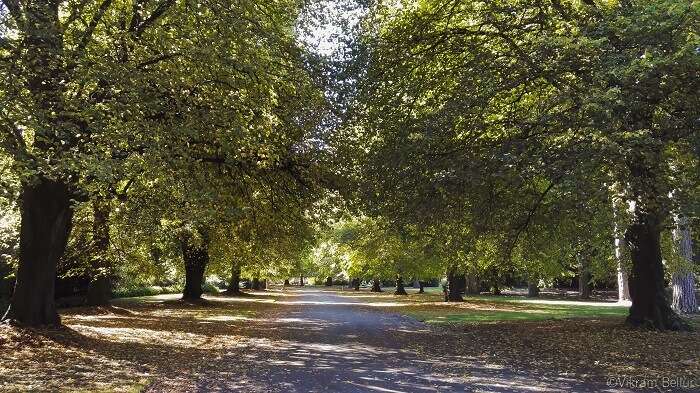 The city was full of graffiti. Priya posing in front of one of those graffiti walls.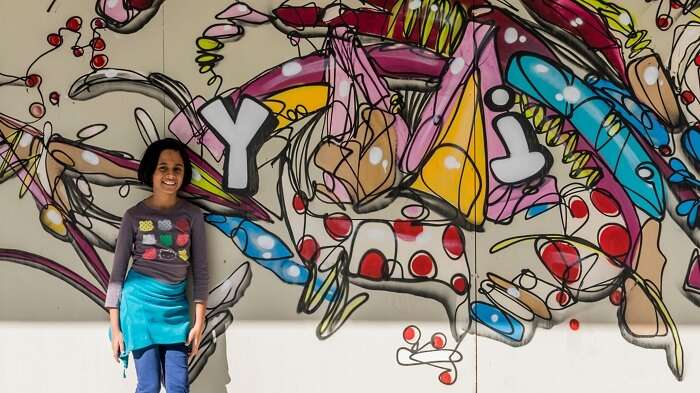 Playing hide and seek with the sun at the Botanical garden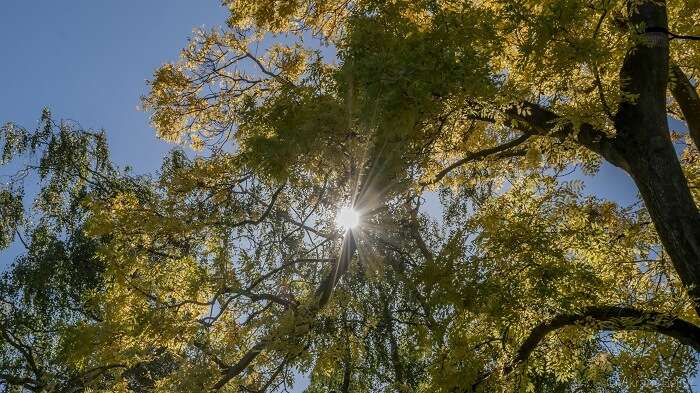 One of the best places to relax, we lay down on the grass and spent hours chilling together.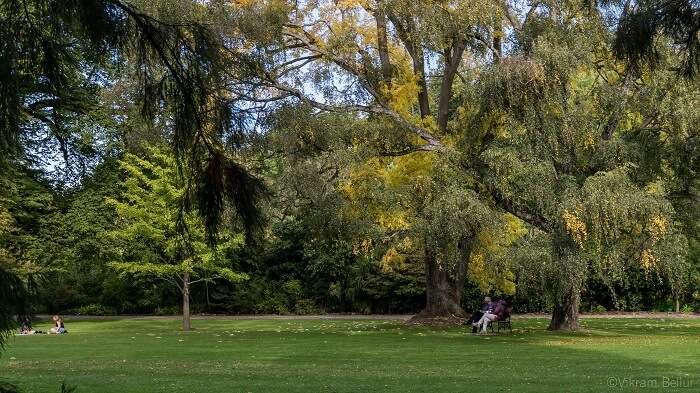 Day 6: Christchurch to Greymouth to Frank Josef
Tranz-Alpine train journey from Christchurch to Greymouth was one of the most scenic experiences ever! We went through the mountains, valleys, along with the streams, and various passes.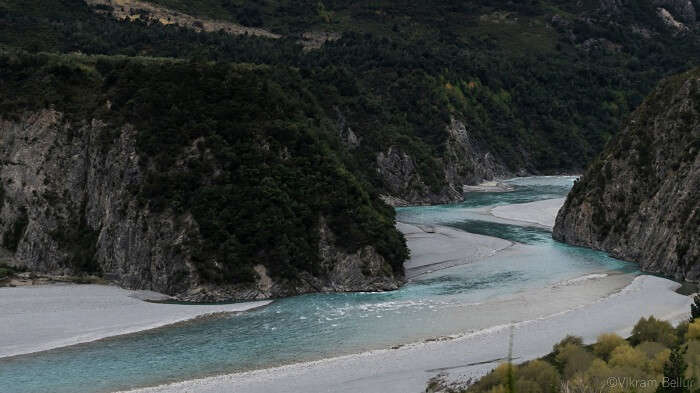 The route on the way was too scenic to be true!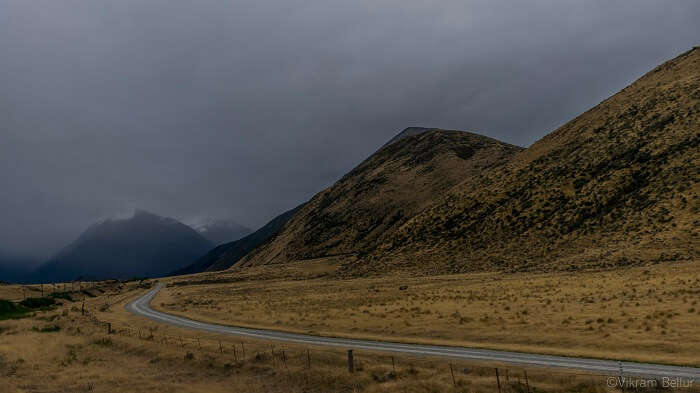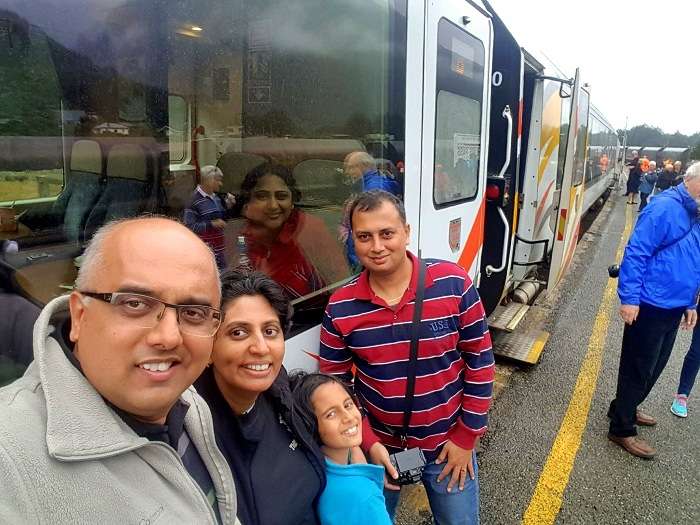 The bus journey from Greymouth to Franz Josef was as breathtaking as Tranz-Alpine train journey.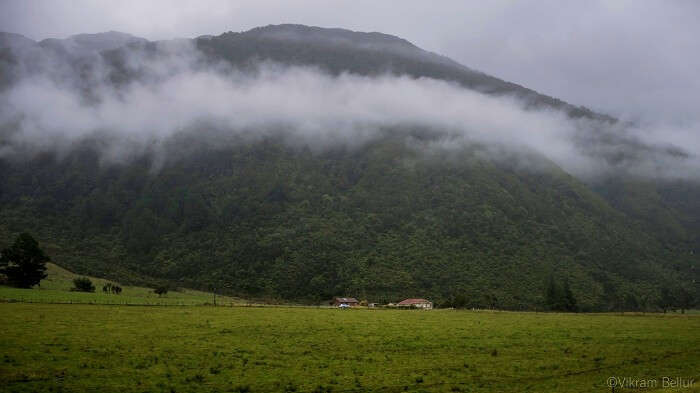 Day 7: Frank Josef Valley Walk
We went on the Franz Josef Valley Valley walk. The trek wasn't as stressful as we were expecting and after going through a forest, crossing a small hill, and a waterfall, we reached the glacier.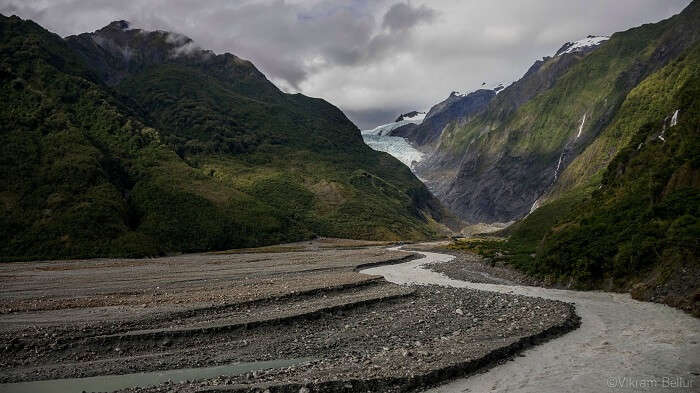 A beautiful waterfall on the way to the Franz Josef glacier.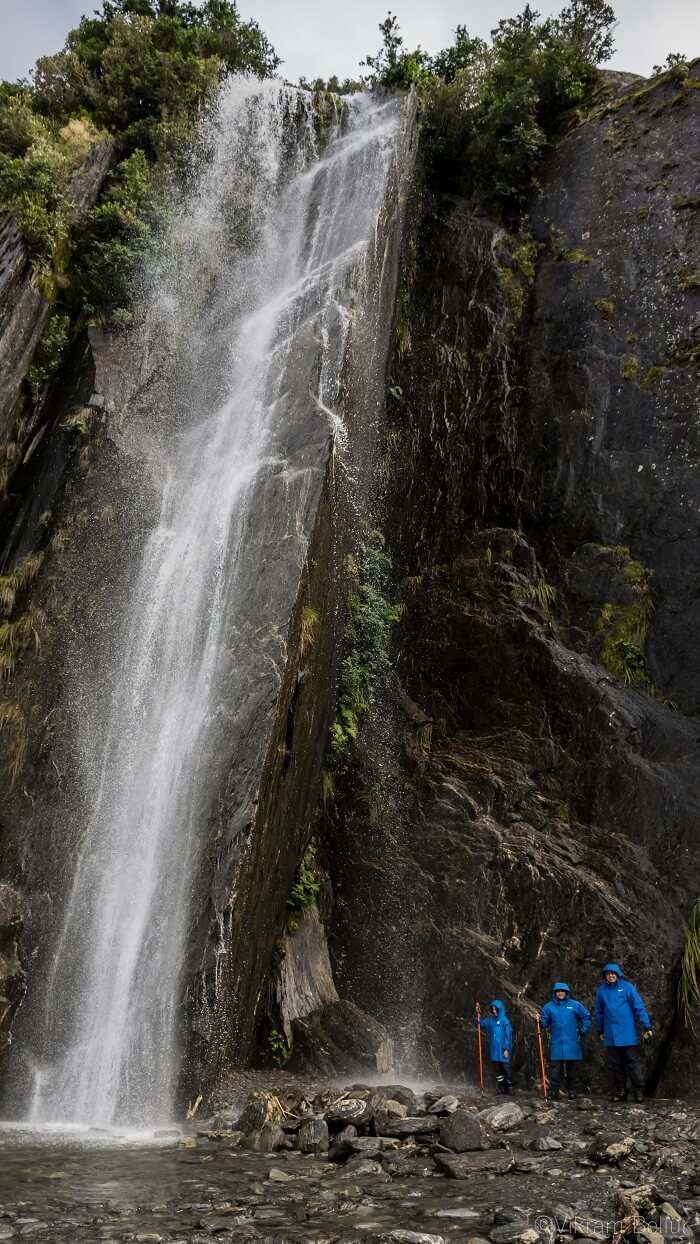 The happiness of seeing the glacier captured perfectly through the camera lens.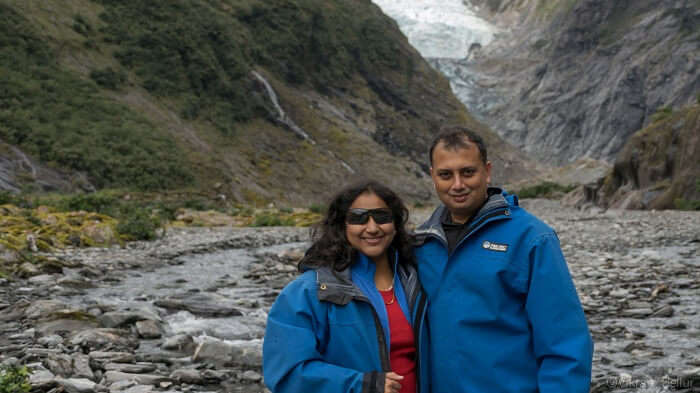 Honeymoon In New Zealand: 12 Exotic Destinations For A Fairy-Tale Honeymoon In 2021
Day 8: Queenstown
On the way to Queenstown by bus – stopped at numerous places to get glimpses of waterfalls and other scenic spots.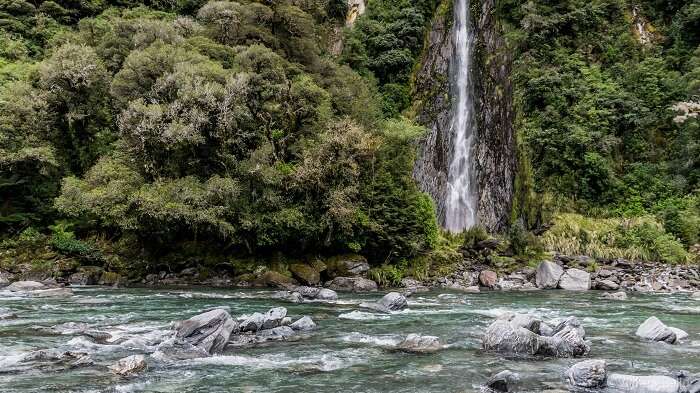 On the way to Queenstown, we had stopped by a restaurant for snacks. Found these two Silver Eye birds feasting on apple in a garden nearby. Surely, an apple a day keeps the doctor away.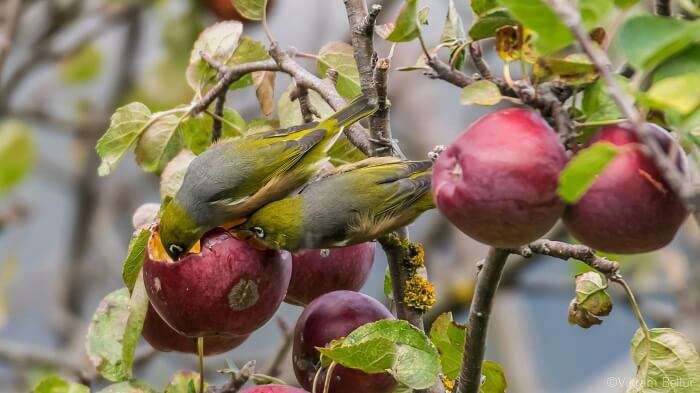 Wakatipu, a beautiful lake surrounded by hills!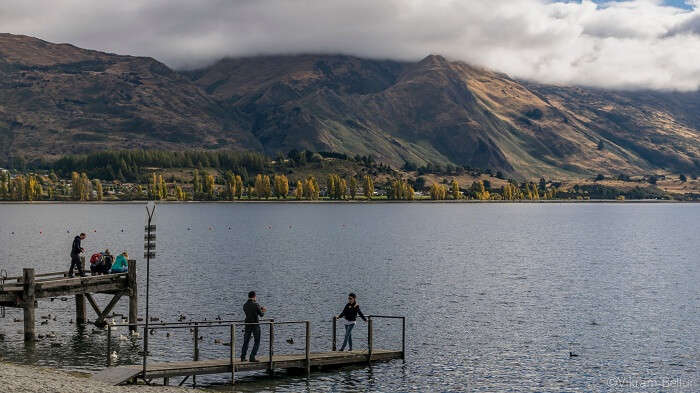 We arrived in Queenstown after having traveled more than 9 hours. But once we saw the hill engulfed by clouds, there were absolutely no complaints!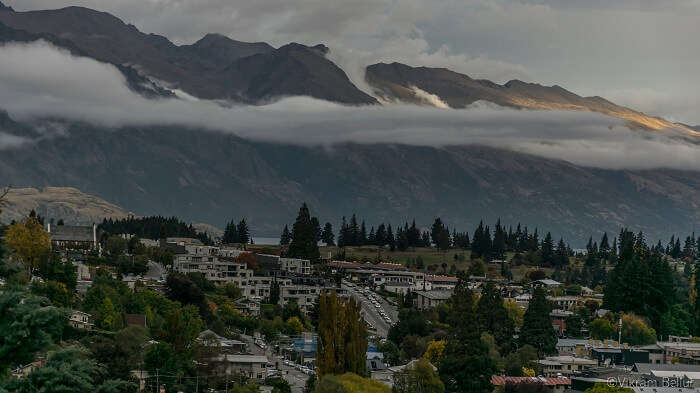 The clock tower of Queensland in the night.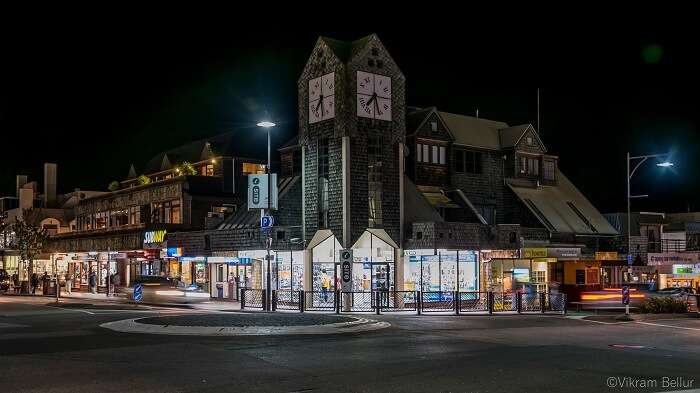 Day 9: Queenstown, Milford Sound Cruise
On the way to Milford sound cruise from Queenstown, we stopped by a lot of scenic spots. This was one of them – Mirror Lake.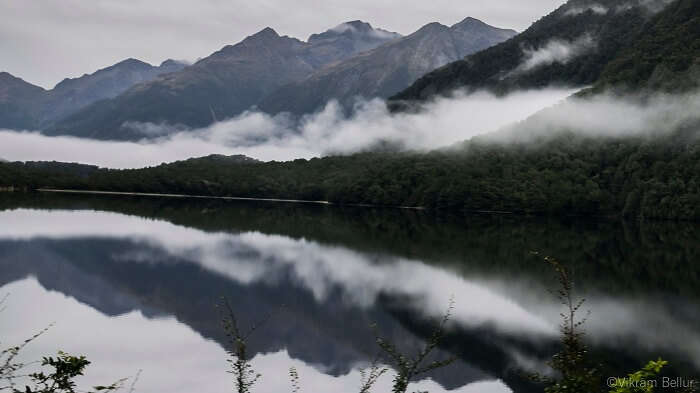 The magical clouds were on full display with a part of them touching the ground.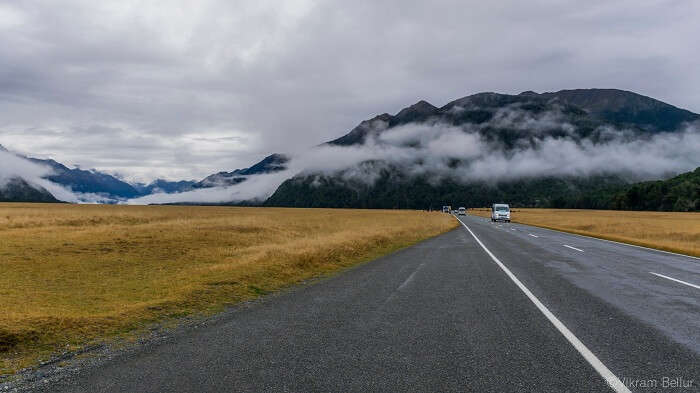 Yet another place we stopped by on the way to Milford Sound Cruise. A beautiful stream passing through the forest.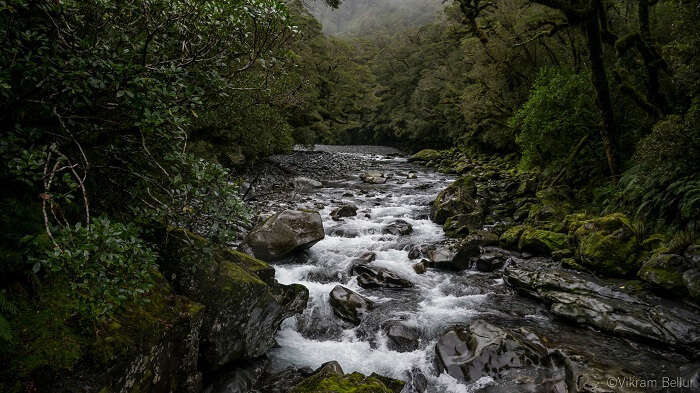 The renowned Milford Sound Cruise. Rated as one of the most preferred tourist destination, this tour took us through Tasmania sea, taking us through the waterfalls on the way.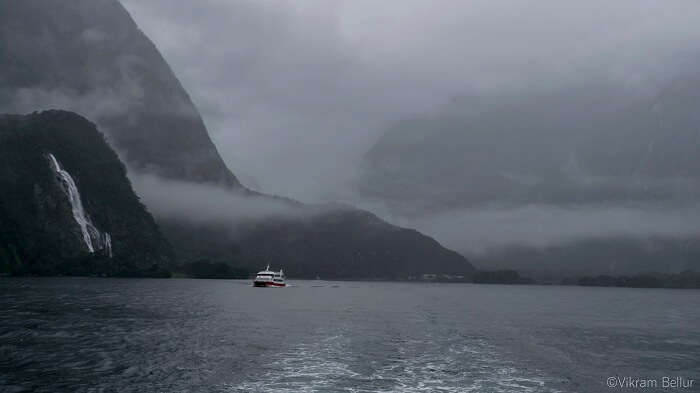 A ship approaching the waterfall in Milford Sound Cruise.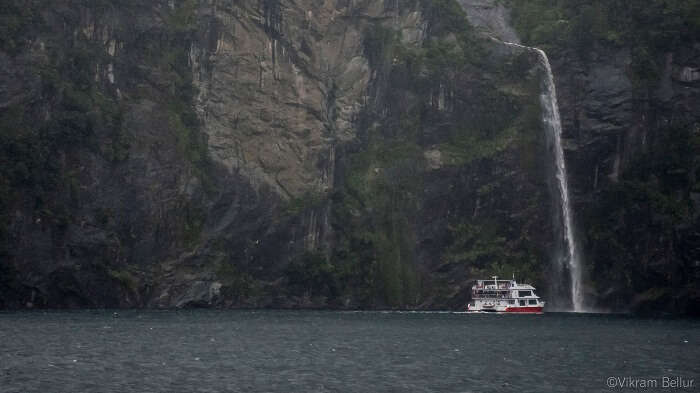 Innumerable waterfalls appeared as it rained consistently. Can you spot a ship taking shower in this photo?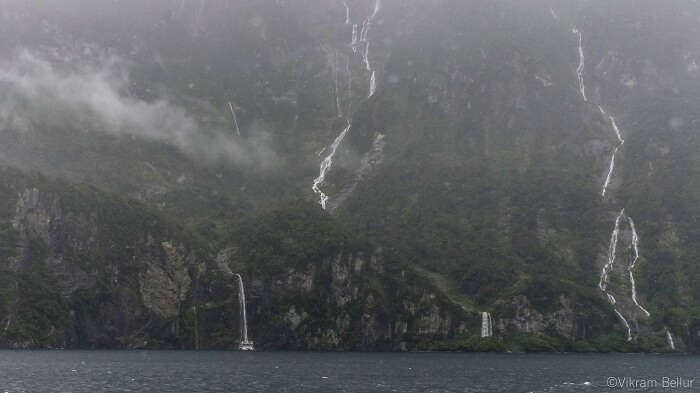 Going past yet another waterfall.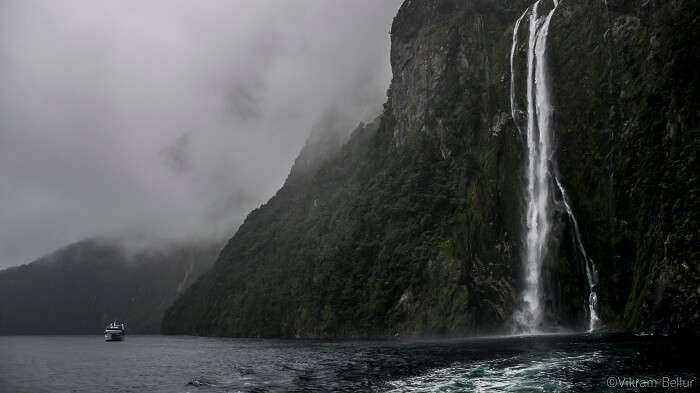 Day 10: Queenstown
A day outing in Queenstown – the adventure capital of the world. You can indulge in bungee jumping or skydiving depending on your adrenaline rush.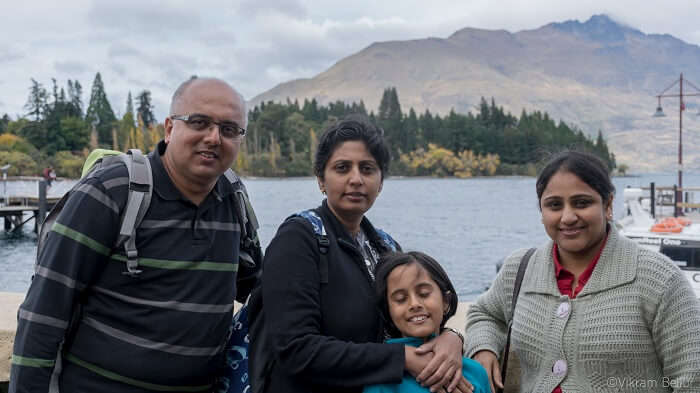 View of Queenstown, as seen from Skyline Gondola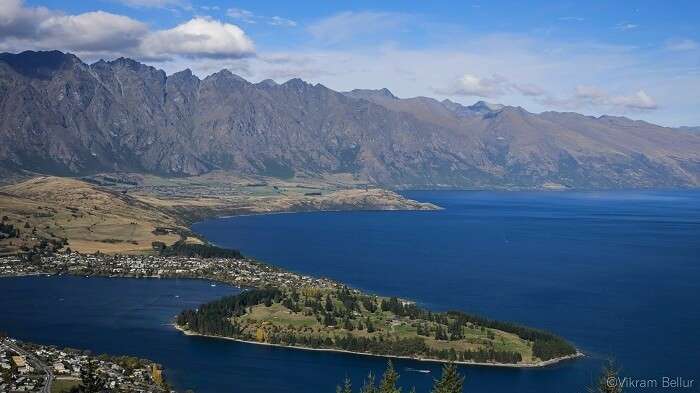 The hills, the clouds, the row houses and a landing airplane – Queenstown is more than just an adventure land for sure.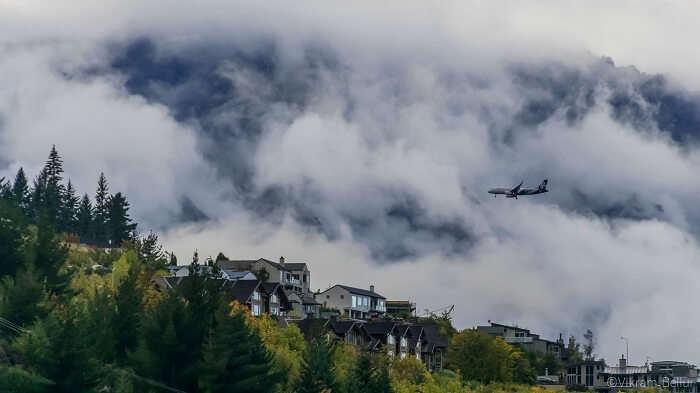 From Budget To Luxury, A Look At 25 Best Hotels In Queenstown New Zealand!
We absolutely loved our New Zealand vacation. Refreshing, rejuvenating, and extremely calming to the senses, there wasn't a single dull moment in our trip. And from the fantastic pictures that we clicked, I am sure you must have got an idea. So, are you tempted to witness New Zealand now?
Note: 2 days out of our 12 day package went in traveling since the flights were long and there were stopovers.
High Points:
The natural geyser in Rotorua
Tranz-Alpine Train Ride
Franz Josef glacier
Low Points:
Tips for travelers:
Plan your trip as per your own preference for New Zealand has something for everyone. I recommend TravelTriangle for this.
Vikram, his family, and their friends, had an amazing time exploring New Zealand. Theirs was a hassle free experience and you too can get the same on your holiday. Simply choose a New Zealand Tour Package and let us do the planning for you.
---
Looking To Book An International Honeymoon?
Book memorable honeymoon on TravelTriangle with 650+ verified travel agents for 65+ domestic and international destinations.
---