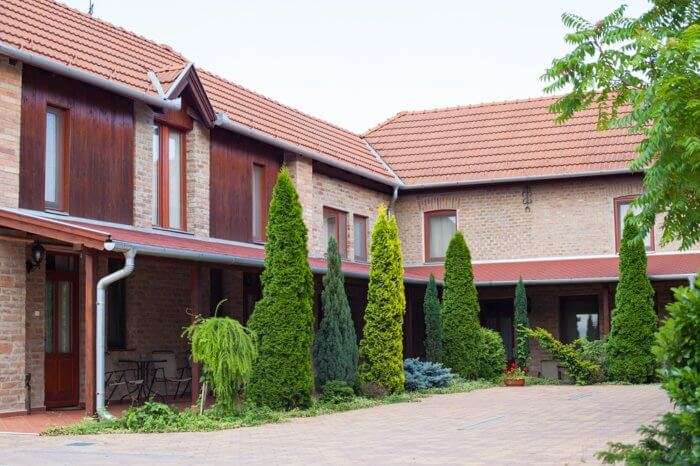 Hungary situated between Romania, Austria and Slovakia has a lot to offer and it attracts a lot of tourists from around the globe every year. A holiday in Hungary is perfect for all kinds of travellers and tourists. You can enjoy a lot of activities and dine on some delicious food and stay in the best Hungary villas.
There is a wide range of holiday villas in Hungary available for the tourists. The country capital, Budapest is the most visited part of the region and the holiday homes in this region are thriving with luxurious accommodations.
Top 10 Villas In Hungary
You can explore a lot in Hungary, while staying in the most comfortable accommodation facilities. Take a look at our list of the holiday villas, to know more about the best villas in Hungary.
1. Villa Aquila

Located in the heart of Nagkaisang, Villa Anguilla is a luxury holiday home in Hungary. This villa is a perfect retreat for those who want to enjoy a relaxing time. Villa Anguilla started in 2016 and offers a calm and tranquil atmosphere, away from the noise of the city. The villa has spacious rooms and living spaces as well as a terrace for the visitors. This villa also organizes many special events. It has a tastefully decorated event room, where you can hold events. The beautifully landscaped gardens and dining halls are a perfect location for birthdays, banquets and christening ceremonies etc. the villa is set in a natural surrounding offering bird watching opportunities as well.
Location: Nagkaisang, Hungary
Price / night: 9000 HUF
Website
Suggested Read: Hungary In Winter 2022: Come To Enjoy The Scenic Views Of Snowcapped Landscapes

2. Luxury Villas, Sopron

This luxury villa in Hungary, is a guesthouse complex dedicated to offer the best of services to the visitors. This accommodation facility was developed with the view to offer a holiday retreat of exclusively high standards. The villa is located in a setting where you will find an abundance of nature with fishing opportunities and hiking and cycling paths. There are four separate villa buildings that offers extravagant luxury facility to enhance the comfort of the guest. They also offer spa facilities, playground for kids and an indoor swimming pool.
Location: Sopron, Hungary
Price / night: 15000 HUF
Website
3. Luxury Central Flat

This is a modern condo type villa. This is definitely one of the best villas in Budapest, Hungary. This modern villa is the perfect mix of style and elegance in one place. The rooms are very spacious with both air conditioned units and heated floors, there's a terrace and fully equipped kitchen. Moreover there is a 24 hour concierge available at the place. Located in the heart of Budapest, the neighborhood is filled with cafes, restaurants and pubs. This villa is perfect for a short and midterm stay.
Location: Budapest, Hungary
Price / night: 25,497 HUF
Tripadvisor rating: 5 / 5
Suggested Read: 8 Restaurants In Hungary That Can Match Any European City For Culinary Travel

4. Grand Nador

The Grand Nador is one of the best luxury holiday villas in Hungary. The villa is tastefully furnished and the housing accommodation is situated on the 3rd floor of a beautiful historical building. The spacious living quarters is equipped with all sorts of modern amenities and the villa location is close to many major tourist attractions in the city. There many restaurant, cafes and supermarkets nearby, making it a perfect location for your stay in Hungary.
Location: Budapest, Hungary
Price / night: 71,074 HUF
Tripadvisor rating: 5 / 5
5. New Angel's Garden

This is one of the most luxurious villas in Hungary. The villa is situated in a property of 1000 square meters and boasts of a beautiful swimming pool, a beautifully landscaped garden with meadows. The property is set in a location, which offers complete privacy. There is also a private sunbathing area inside the villas premises and the rooms are all well-furnished and equipped with necessary amenities. Outdoor pool, hammocks and a table tennis court and on demand garden cinemas adds to the luxury of the place.
Location: Balaton, Hungary
Price / night: 164,139 HUF
Tripadvisor rating: 5 /5
Suggested Read: 10 Exhilarating Festivals In Hungary That'll Make Your Holiday Experience Unforgettable!

6. Together Balaton Villas

Together Balaton villas started their business in 2016. It is a family owned business and they mainly offer holiday accommodation facilities. The reeds located adjacent to the villa property, makes it a perfect location to enjoy some peaceful time. The villas consists of three separate apartment houses, which are very close to the water. The well maintained beach facing gardens, gives the guests the perfect spot to relax and chill.
Location: Jokai Mor, Hungary
Price / Night: 44550 HUF
Website
Suggested Read: 8 Souvenirs That Make Shopping In Hungary An Experience Worth The Time, Money, And Efforts

7. Dream Homes Private Villa

Dream home private villa is alone of the best Budapest, Hungary villa with pool. All the rooms in villa are air conditioned and there is a beautiful landscaped garden inside the property. The most interesting feature of the villa is definitely the heated in-house swimming pool, which overlooks the garden. There is also a 6 people hot tub and sauna in the villa, making your stay in the villa a very relaxing one. There is also a kitchen and a bar in the ground floor with a lounge space. The terrace BBQ is another great service offered by the villa. Barbeque, breakfast, dinners, spa facilities and wine and champagne tasting opportunities make this villa a perfect holiday retreat.
Location: Budapest, Hungary
Price / Night: 54580 HUF
Website
8. Hip Homes Hungary

This luxury holiday home in Hungary, offers a great holiday experience. The villa is situated in the countryside offering you complete privacy and tranquility. The villa is very spacious and lots of amenities. All the rooms in the villa are exquisitely furnished, making for a cozy stay. Keeping in mind the necessities of traveller's as well as business persons, this villa is perfect for short term stays.
Location: Budapest, Hungary
Website
Suggested Read: Buda Castle: Rejuvenate Your Senses With Charming Views Of The Hungary Beauty

9. Bella Villa, Siofok

This villa in Siofok is one of the more reasonable priced villa in Hungary. The rooms are all very tastefully furnished and the owner is very friendly as well. The also offer bike rentals services to the visitors of the villas. The beautiful location of Tihany is quite close to the place and you can go visit the place riding a bike. For a comfortable stay at a reasonable price you should definitely visit Bella Villa.
Location: Siofok, Hungary
Price / Night: 8,377 HUFF
Tripadvisor rating: 4.5 / 5
Website
10. The Writer's Villa

The Writer's villa is nestled in the beautiful Buda hills in Budapest, Hungary. This famous European villa is a beautiful restored 19th century building and you will see many historical details inside the villa building. The villa can accommodate up to 14 people and is family friendly. The stained glasses with the beautiful winter garden, sun terrace, pool and outdoor garden makes the villa a beautiful location to stay in. All the living spaces, the bedrooms and the reading room are very tastefully decorated that exudes a very lavish and cozy vibe. Writer's villa is the perfect retreat away from the hustle of the city and the best among various villas In Hungary.
Location: Budapest, Hungary
Price / night: 18000 HUF
Website
Further Read: 13 Indian Restaurants In Hungary You Must Visit When Craving Something Spicy

Here, you have it, a list of 10 beautiful villas in Hungary. These are some of the best villas in Hungary that you can stay in while travelling to this lovely country. So, what are you waiting for? Get packed and book your trip to Hungary with TravelTriangle right away!
---
Looking To Book An International Holiday?
Book memorable holidays on TravelTriangle with 650+ verified travel agents for 65+ domestic and international destinations.
---