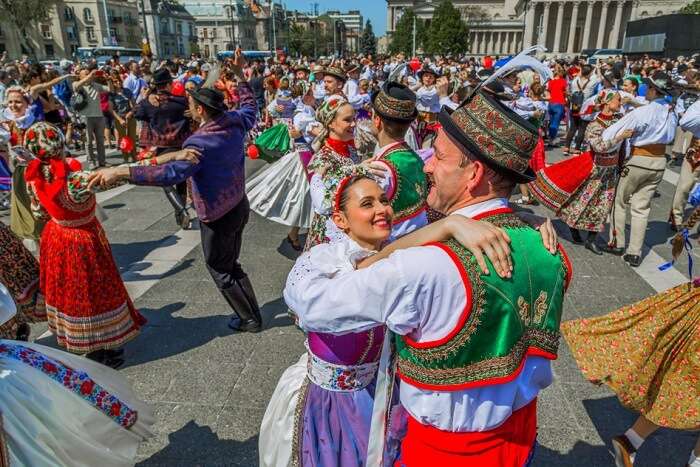 Hungary is truly the land of cultural experiences. The people of Hungary have a lot of great traditions and they love to celebrate their festivals in a grand way, and every month has some great festivals celebrated in the country, so there's not really any wrong time to visit Hungary. From folk festivals, religious festivals and even cultural festival, you can experience it all on your visit to this wonderful country. If you are planning a holiday and want to explore the real culture of Hungary, we have prepared a list of the ten most popular festivals in Hungary from all categories that you definitely don't want to miss out on during your vacation!
10 Most Popular Hungarian Festivals
Make sure you plan your trip around these amazing festivals that define the vibrant culture and history of Hungary. Which one would you like to witness first?
Balaton Festival
Hollókő Easter Festival
Busójárás
Ozora Festival
Summerfest International Folklore Festival
Sziget Festival
Budapest Festival Of Folk Arts
Romantic Reform Era
Paprika Festival
Badacsony Wine Weeks
Tihany Lavender Festival
1. Balaton Festival
Europe is known for hosting some of the top music festivals in the world, and these festivals see thousands of visitors from all over the world every year. One of the biggest festivals, the Balaton festival, is hosted right in Hungary, and it happens every year during the months of June or July. The festival has performances from some of the top music artists and DJs in the world, from genres such as EDM, electronic music, pop, rock, hip-hop and more, and in recent years, artists like Alesso, Axwell, The Chainsmokers and more have performed their music at the stages of this festival.
Additional info: Book your tickets in advance. The tickets can be purchased online.
Location: Zamárdi, Hungary
Balaton Festival Dates: 29 June – 2 July 2022
10 Best Hotels In Budapest For A Delightful Hungarian Holiday
2. Hollókő Easter Festival
If you have the luck of visiting Hungary during Easter season, in the month of April, make sure you witness the celebrations of the Easter Festival in Hollókő. It is one of the oldest traditional fold festivals celebrated in the country, and the people of the village gather together and celebrate the festival with a number of folk art performances, such as folk singing, dancing, as well as some showcases of the festive arts and crafts made by the local people. You will really get to witness the Hungarian heritage at this festival as people dress up in traditional clothes and play some traditional games while enjoying good food.
Additional info: The festival is child-friendly.
Location: Hollókő, Hungary
Hollókő Festival Dates: Easter Weekend 2022
Budapest Nightlife: A Handy Guide To Find The Best Ruin Clubs And Bars In 2022!
3. Busójárás
Perhaps one of the most traditional Hungarian festivals, the festival of Busójárás takes place in February every year and the celebration is in honor of welcoming the carnival season, and also to send off the winter and welcome the spring season in Hungary, As per tradition, the Hungarian men wear scary-looking masks and go all around the town, as they sip on Palinka, the local favorite beverage. What was once a festival celebrated solely by the people of Šokci, has gained immense popularity over the years and now almost every part of Hungary takes part in the celebrations.
Additional info: Palinka is an alcoholic fruit beverage.
Location: Mohács, Baranya county, Hungary
Busójárás Festival Dates: 24th Feb 2022 – 1st March 2022
3. Ozora Festival
An annual festival held in an estate in the town of Ozora, this is one of the top psychedelic trance arts and music festivals in Hungary that attracts a lot of tourists every year, because of how one-of-a-kind it is. Being one of the largest psychedelic trance festivals in the world, it has an annual turnout of over 60,000 people, and if often compared to Tomorrowland, a leading music festival that is held in Europe every year. Artists like Ace Ventura, Earthlings, Braincell, Tristan and other leading trance artists. If you enjoy the genre and find yourself in Hungary during the months of July and August, do not miss out on this once in a lifetime experience.
Additional info: Tickets can be purchased online in advance.
Location: Ozora, Hungary
Ozora Festival Dates: 1 Aug, 2022 – 7 Aug, 2022
Hungary Nightlife: 10 Places Where You Can Twist & Twirl All Night Long
4. Summerfest International Folklore Festival
This is a festival that was established in the year 1987 and is a small festival conducted to celebrate the different forms of talent from across the world, and participants from various countries come to this festival to show off their talents and crafts. The festival is held during the second half of the year and goes on simultaneously in different parts of the country at the same time. At the end of the festivals, the closing ceremony involves a boat parade along with singing and dancing participants to celebrate the end of another successful festival. Some of the forms of art performances include dancing, singing, theatre arts, as well as other forms of arts and crafts.
Location: Ráckeve, Tököl and Százhalombatta in Hungary.
Summerfest International Folklore Festival Dates: 12th Aug – 22nd Aug 2022
5. Sziget Festival
Translating in English to "Island Festival", the Sziget festival in Hungary is another one of the top music festivals in the country and has some of the most popular artists from across different genres setting the stage on fire for a week-long festival of fun and madness! Budapest sees some of the highest numbers of tourists during this period, as fans of the artists travel from every part of the globe to catch their favorite artists live. If you find yourself in Hungary at the time, do make sure you attend this festival, and even if you don't love music, the energy is contagious and you'll definitely find yourself enjoying this festival!
Additional info: Book your tickets in advance. The tickets can be purchased online.
Location: Budapest, Hungary
Sziget Festival Dates: 10th Aug – 15th August 2022
10 Day Trips From Budapest That'll Add A Hint Of Adventure To Your Trip
6. Budapest Festival Of Folk Arts
This festival, which is held annually in the month of August, is conducted to celebrate the local folk talent of the Hungarian people and has participants from across the country, along with a few international guest appearances, showcasing their crafts. Apart from these performances, there are also numerous workshops for arts and crafts conducted at the festival and a number of food stalls selling tasty snacks, and the local favorite palinka to drink. This is a great opportunity to learn about the folk arts of native Hungarians and definitely an event that's not to be missed!
Location: Budapest, Hungary
Budapest Festival of Folk Arts Dates: 18 August 2022 – 21 August 2022
7. Romantic Reform Era
Ever wanted to travel back in time and see how the lives of the Europeans in the 19th century were like? The 19th century is when Hungary, as a country, really found its identity, and the festivals rejoice and celebrate the various aspects of traditional Hungarian culture such as clothes, food, music, and art. Dine and drink like the royalty of the 19th century at the Romantic Reform Era, one of the most unique holidays and festivals in Hungary.
Location: Balatonfüred, Vesprém county, Hungary
Romantic Reform Era Festival Dates: Dates to be announced. Usually takes place in the month of September.
Top 10 Hotels In Hungary To Suit Every Mood & Persona
8. Paprika Festival
Hungarians sure do love their Paprika. In fact, they love it so much that they have dedicated an entire festival to it! The love for Paprika, combined with the love for traditional folk art and the aim to preserve it, the festival honors the traditional forms of art and celebrates the spice using fun events like cooking competitions, paprika, and wine tastings, and much more. This is a really fun festival with lots of exciting events and good food, and if you are in the area, do try to attend the crazy celebrations.
Location: Kalocsa, Bács-Kiskun county, Hungary
Paprika Festival Dates: (Dates yet to be announced) May 2022
Budapest Festivals: 8 Events Which Are Celebrated With Great Zeal And Cannot Be Missed!
9. Badacsony Wine Weeks
Lake Balaton is famous for its wine and every year, a festival spread across a period of two weeks is conducted to celebrate the different flavors of the wine and also to celebrate the local talent. The celebrations include multiple wine tastings, educational tours of how the vineyards work, cultural song and dance performances, and other exciting activities.
Location: Badacsony, Lake Balaton, Hungary
Badacsony Wine Weeks Festival Dates: Dates to be announced. Usually takes place in the month of July.
17 Best Places To Visit In Hungary In 2022, The Crown Jewel Of Europe!
10. Tihany Lavender Festival
Ending the list on a sweet note, with the Lavender festival in Hungary, which situated across a beautiful landscape of lavender fields, is celebrated in honor of the bloom of the beautiful flower. It is a magical time when the scent of the flower fills the air and the green fields are suddenly filled with a beautiful shade of purple all around. A part of the celebrations includes a flower show and a fold art event celebration as well.
Location: Tihany, Lake Balaton, Hungary
Badacsony Wine Weeks Festival Dates: June. Dates to be announced.
10 Best Lakes In Hungary That You Can Visit For A Refreshing Day Out!
With so many wonderful festivals in Hungary to celebrate, there's no reason not to take a trip to Hungary. Immersing in these joyous celebrations will give you an up close and personal experience of the vivid culture of this beautiful country. Find out the best available travel tours and packages available, and get started on your amazing vacation!
Comments
comments