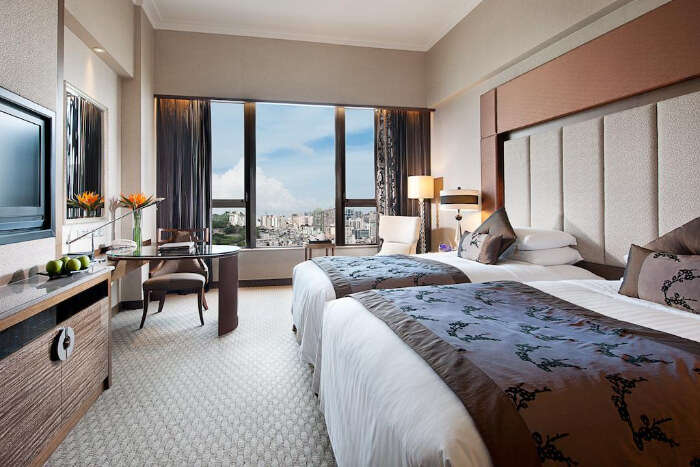 The land of the 'Jade Dragon', Macau sees thousands of tourists flock in every year to fuel their traveling spirit, and Macau has loads to offer to them. This city is always high in spirits and energy, and visitors have to keep the pace up with all the things to do here. The showbiz is real, as Macau boasts itself off as a world-class gaming destination, additionally featuring tonnes of shows, entertainment, and a wild nightlife. And with so much to look forward to, the accommodation is sorted too because of the affluent villas in Macau.
Best Macau Villas
Keeping everything in mind, it can quickly become confusing for a tourist to choose the best place of accommodation. So, here's a comprehensive list of 10 high end villas to reside at during your happening trip to Macau.
1. Mandarin Oriental
The brand Mandarin speaks for itself. Stocked to the brim with everything high-end, the Mandarin has elegance, superlative service, cosy rooms, and state of the art facilities. On the other hand, it is also a welcome contrast to the glittering casino hotels. Located on the Peninsula itself, it is a mere 5-minute drive from A-Ma Temple and Senado Square. Oh, did we mention, The Mandarin has free parking for all!
Location: Av. Dr. Sun Yat-Sen, Macau, China
Starting price: Rs. 12500
Highlights: Great Location | Free Parking | World-Class Amenities
Google reviews: 4.7/5 | TripAdvisor reviews: 4.5/5
Website
Must Read: World's Longest Sea Bridge Connecting Hong Kong & Macau With China Is Now Open
2. Garden Villa, Wynn Palace
Consider this one for its superior resort accommodation above all else, all over the world. These splendid, generously sized villas are available in dual or triple bedroom configurations to suit the guests needs. Thoughtful inclusions are the amenities designed to cater to everyones finest tastes, highlighted in plush, and extravagant design. Welcoming you is the sumptuously allocated living room where grandeur meets sophistication through its grand piano and wet bar, which is perfect for occasions such as a private gathering.
Location: Macau Av. da Nave Desportiva, MO Avenida Da Nave Desportiva Cotai
Starting price: Rs. 17700
Highlights: 24 hour butler service | Grand Piano | Limo Service | Pool Table
Google reviews: 4.5/5 | TripAdvisor reviews: 4.5/5
Website
3. Villas, MGM Macau
The cr-me de la cr-me of luxury residence in the heart of Macau, the MGM is at the top of the chain. These are exceptional in the way that truly baffles guests. Styled with the most discerning guests in mind, they can meet all of your needs, whatever they may be. MGM Villas are more than just gorgeous rooms with ocean views. They are abodes of the absolute state of the art facilities too. With all the space you desire, you have the choice of setting up base within a one-bedroom or two-bedroom villa.
Location: Av. Dr. Sun Yat-Sen, Macau
Starting price: Rs. 14000
Highlights: Luxurious rain showers | Kitchenette | Non-smoking villa available on demand | Entertainment Room with Karaoke
Google reviews: 4.4/5 | TripAdvisor reviews: 4.5/5
Suggested Read: New Year In Hong Kong: 6 Exciting Ways To Ring In 2022
4. Villa Ka Meng
Primarily located close to all the popular sights of Macau, the main square and the ruins of St. Paul are just 15 minutes away from Villa Ka Meng. Featuring a relatively conservative approach to accommodation, travelers expecting a traditional backpackers night over will be surprised to find a really comfortable place.
Location: Rua Madeira, Edf, Kam Hou, No 7, 2 E 3 Andar, Macau
Starting price: Rs. 3000
Highlights: No-smoking rule | Free-WiFi | Climate Control | Inexpensive
Google reviews: 4.0/5 | TripAdvisor reviews: 4.0/5
5. Banyan Tree
Its tagline does the best job of describing the experience here which is a retreat out of the ordinary. Experience high rise living with classy and modern pool villas offering breathtaking views of the Macau skyline here. The front runner to representing the city known as Asias premier entertainment destination, Banyan Tree, a high rise resort, is located within the Galaxy Macau.
Location: Banyan Tree Macau, Avenida Marginal Flor de Lotus Cotai, Macau China
Starting price: Rs. 27000
Highlights: Crystal jetpool | Complimentary daily non-alcoholic mini bar | Private swimming pool | Steam & Sauna room
Google reviews: 4.6/5 | TripAdvisor reviews: 4.5/5
Website
Suggested Read: 10 Fascinating Things To Do In Tung Chung: Hong Kong's Hidden Gem
6. Altura Villas
These 4 exclusive villas are famed to be the pinnacle of style and sophistication. Located within the resort and casino Altura, guests will enjoy 24-hour butler service, exclusion from other guests at will, and a fully equipped kitchenette and lounge, all amidst 5-star luxur. Other amenities include a steam room and a state of the art sound system. Featuring a subtle ambiance for the guests to relish in, this villa will bring about an instant change in the mood of any resident within.
Location: Av. de Kwong Tung, Macau
Starting price: Rs. 10500
Highlights: 24-hour butler service | Plasma screen with cable TV | Mini bar | 100% cotton bathrobes | Personal Room Safe
Google reviews: 4.4/5 | TripAdvisor reviews: 4.5/5
7. Sofitel Macau at Ponte 16
This French extravaganza lies close to historic sites like the A Ma Temple and ruins of St. Paul, as well as the ferry and the international airport. Spend your leisure time by trying your luck at spinning the roulette wheel, indulging in a detoxifying spa treatment, dining at the poolside restaurant, or partying the night away with drinks at the chic lobby lounge. Their superior and luxury rooms boast LOccitane products while Club Floor and Mansion units are fully accessorized with Herm-s supplements.
Location: Rua do Visconde Pa-o de Arcos, Macau
Starting price: Rs. 9000
Highlights: Airport Transfer | Concierge Services | Babysitting | Spa | Swimming Pool | Fully Equipped Bar
Google reviews: 4.2/5 | TripAdvisor reviews: 4.5/5
Website
Suggested Read: Victoria Peak In Hong Kong: A Guide To The Epitome Of The Country's Beauty!
8. Okura Macau Villas
Close to the Museum of Taipa and Coloane History, the Flower City Garden, and Hac Sa Beach is the Hotel Okura Macau. To get things started, Okura Macau offers a caf- and a grocery in addition to its 2 flagship restaurants. Guests can enjoy a wide selection of hot and cold buffet breakfast, indoor pool, health club facilities, sauna, and a steam room. The services catering to the ladies are also plenty, including complete beauty services and a hair salon.
Location: Avenida Marginal Flor de Lotus, Cotai, Macau
Starting price: Rs. 11500
Highlights: Airport Transfer | Concierge Services | Swimming Pool | Air Conditioning
Google reviews: 4.4/5 | TripAdvisor reviews: 4.5/5
9. The Venetian Macao Resort
Hailed as one of Asias most premier entertainment destinations, the Venetian Macau Resort and Hotels have a gallery of unmatched facilities, amenities and services. Lavish Italian marble is fitted in bathrooms in all suites, redefining luxury for all who come to seek accommodation. Surrounded by international shops, entertained by street performers, and with attractions such as the authentic Venetian gondola nearby, guests wouldnt want to leave the premises. Needless to say, an outdoor pool graces the outskirts of the resort, while inclusion of mini golf courses, V Gym, and the Malo Spa takes recreation to new levels of craziness.
Location: Estrada da Baia de Nossa Senhora da Esperan-a, Macau
Starting price: Rs. 12000
Highlights: Conference Facility | Malo Spa | Baby Sitting | Concierge Services | Mini Golf | Childrens Club | Swimming Pool | Airport Transfer
Google reviews: 4.5/5 | TripAdvisor reviews: 4.5/5
Website
Suggested Read: 10 Rooftop Bars In Hong Kong That Everyone Must Visit For An Ultimate High!
10. Four Seasons Hotel, Macau
What other way than to end this comprehensive list than with the Four Seasons itself- Close to Cotai Arena, Macau Tower Convention and Entertainment Center, and Macau University of Science and Technology, is this gem of a business friendly casino hotel featuring exotic villas. Guests can choose to dine in at any of the 3 restaurants available at the Four Seasons, while 24 hour room service can cater to the ones just not feeling like stepping out of the luxurious and self-sustaining rooms. Detoxify with a full body treatment or massage at the treatment rooms, and treat the ladies with the facials and beauty services while youre at it.
Location: Estrada da baia de n. senhora da esperanca, s/n, Taipa, Macau
Starting price: Rs. 17500
Highlights: Full Body Treatment & Spa | Baby Sitting | Tennis Courts | Bar | Swimming Pool | 24×7 Room Service
Website
Further Read: Mai Po Nature Reserve: A Guide That Lets You Go On A Perfect Date With Nature In Hong Kong!
The next time you book your trip and pack your bags to head to this Chinese metro city, be sure to have this list with you as you indulge in the lap of luxurious residency, on your stay at these villas in Macau!
---