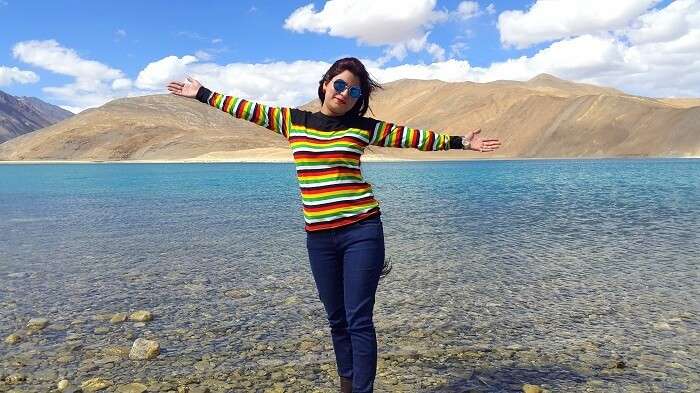 Vishal Sharma talks about his trip to Ladakh that he took with his wife. Citing it as his childhood dream, he elaborates on his experience in Ladakh and tells us why it the BEST trip he ever had. He took his package to Ladakh from TravelTriangle and it included their hotels, transport, and sightseeing – all for a cost of INR 45,000. Let us hear his exciting tale of adventure!
I count my life not by the number of days lived but by the number of places visited. So when my wife and I decided to finally fulfill my childhood dream of visiting Ladakh, we were more than excited for our adventure in the north.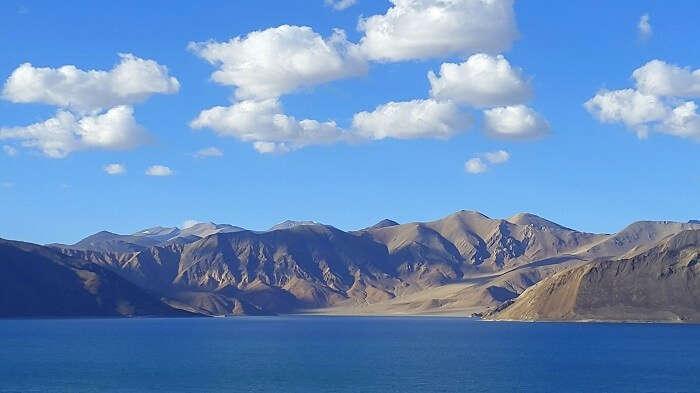 However to fulfill this exciting dream of mine, my wife and I needed a suitable package for Ladakh that would take care of all our travel arrangements. Fortunately, a friend of mine told me about TravelTriangle.com and I soon filled in my details.
True to their service, I was contacted by their travel representatives who after taking in my requirments connected me to relevant local agents of the place for best packages, customization, and quotes.
Thus, having chosen the best holiday package to Ladakh, we were now all set for our adventure!
Day 1: Experiencing the grandeur of Leh – Ladakh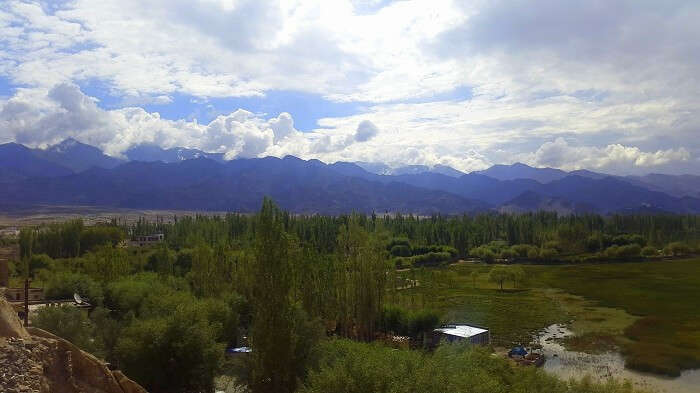 We boarded our flight to Leh from Delhi at 6:50 AM in the morning and reached around 8:30 AM. Upon landing, we were taken aback by the huge mountains and magnificent sceneries that surrounded the airport. I immediately knew this was going to be a special experience and the chilly breeze that sent us shivering down our spines just confirmed it.
Awestruck by the amazing beauty all around, we soon found our driver and boarded our cab to the hotel. Our hotel in Leh was really nice and after check in, we explored the grand property for a while.
Since this was our first day in Leh, we were asked to acclimatize so as to prevent any mountain sickness. Hence we did not go anywhere special but explored the local market and stayed in our rooms for the rest of the time.
Also, during entire stay, we found the people of Ladakh to be really helpful, courteous and happy. This was a surprise for us considering how difficult it is to live in such tough conditions.
"The happy people represented the spirit of Ladakh!"
Day 2: Sightseeing in Ladakh – Visiting Army Museum, Magnetic Hills, Gurudwara, & Alchi Monastery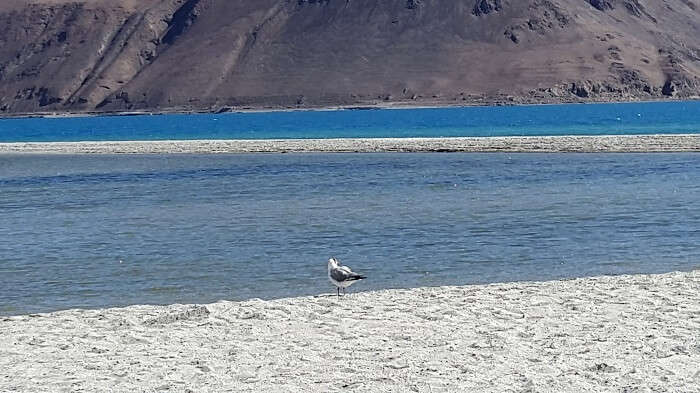 50 Places To Visit In Leh Ladakh For A Spell Binding Vacation In The Year 2022
This was a day planned for sightseeing in Leh / Ladakh and I was really excited. We left early morning after breakfast and our first stop was the 'Hall of Fame', an army museum with guns and images of the martyrs. This was a profound experience for us since we realized the gravity of danger when it comes to border security.
Talking about gravity, our next stop was a place that appeared to defy it – the 'Magnetic Hill'. This hill was an interesting experience for us since it created an illusion of going uphill when we were actually going down.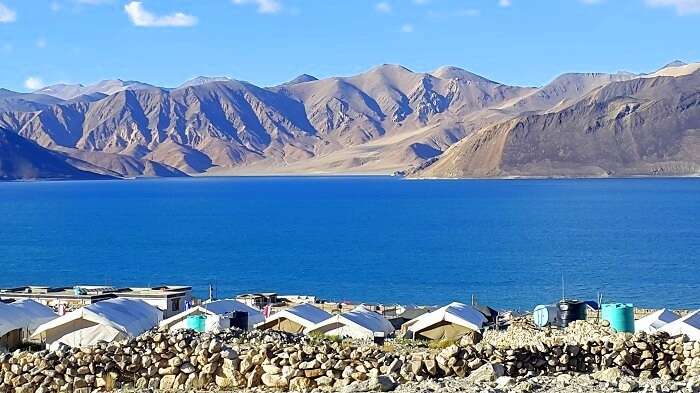 Next stop was 'Gurudwara Pathar Sahib' and this was followed by the famous 'Alchi Monastery' which was quite an old one. We saw an apple tree there and it was laden with fruits. Seeing something like this grow in such climate truly left a sense of wonder in us.
Later on our way back to the hotel, we stopped by a Sangam (place where two rivers meet) and spent some time there. This was a peaceful experience for us and the two rivers that met each other were Zanskar and Indus.
Ladakh was truly magical and we were so far living each moment with it!
Day 3: Traveling the highest motorable road in the world & Quadbiking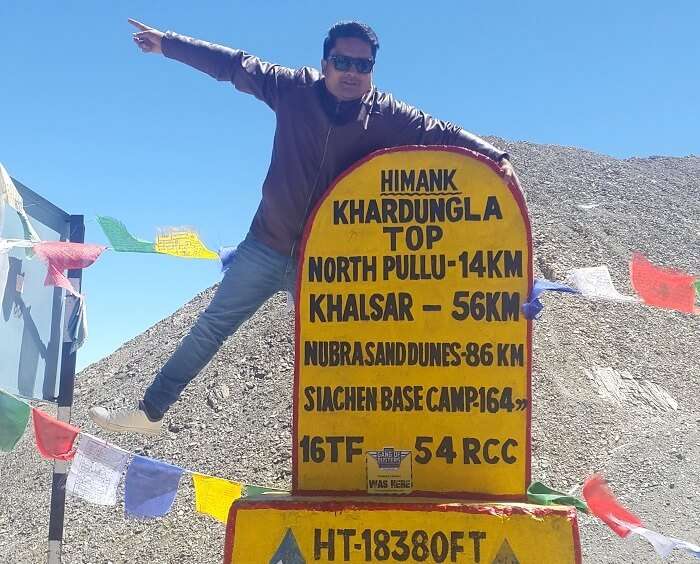 40 Best Things To Do In Ladakh That You Can't Afford To Miss In 2022!
I got up all buzzing with excitement this morning for my wife and I were to visit the highest motorable road in the world today. Post breakfast, our cab driver came to pick us up and we set off for the tour.
Going on the highest motorable road in the world was an adventurous experience for us since it got us breathless and excited at the same time. This was the point where we realized how difficult it was and felt the treacherous vibe of the mountains.
However we soon adjusted to the 'even higher' altitude and the rest of the experience went fine.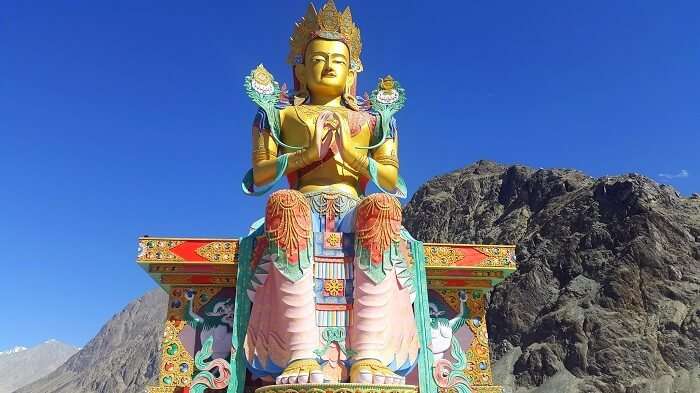 Later on we stopped by to have some tea in the area and then proceeded for a sandbike ride in Diskit. The quad bike ride was really enjoyable post which, we went for a visit to the famous monastery there.
Our next stop was Hunder where we did an enjoyable camel ride in its sand dunes.
Also worth mentioning is the amazing lunch that we had in Hunder which consisted of cheese Maggie and delicious Thukpa.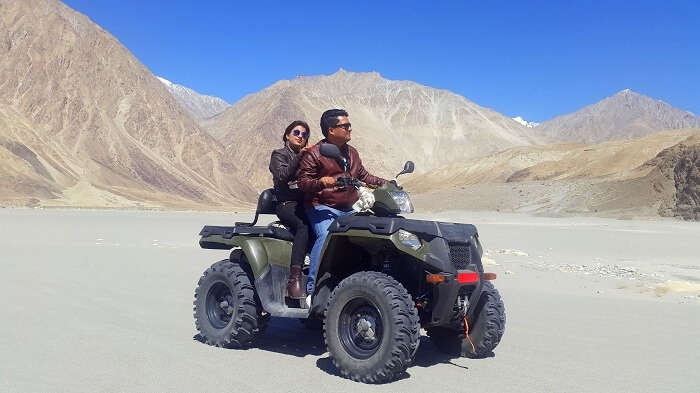 Finally, we reached the beautiful Nubra Valley and checked into the amazing Swiss Camps that were to be our home for the night. Staying at these camps surrounded by nature was a beautiful experience!
Day 4: Relaxing in Leh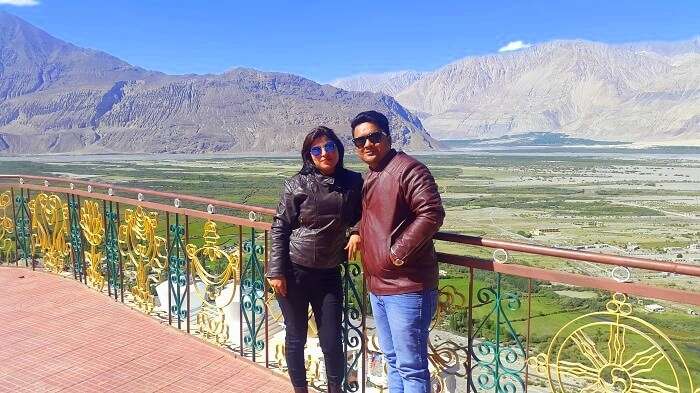 7 Secrets Of Ladakh That Only The Hills Whisper
This day we were supposed to go back to Leh and on our way, we again passed by the Khardung la, one of the highest motorable roads in the world and as God would have it – it started to snow.
Ecstatic at witnessing snow first hand, we soaked in the bliss of nature and loved watching everything go white.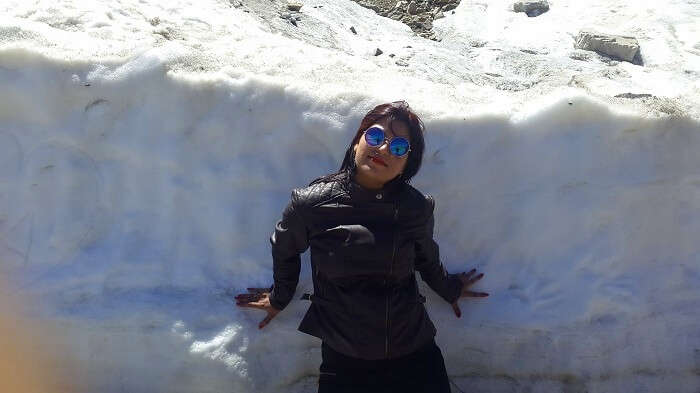 We finally reached Leh and were happy to be back in the lovely smiling town that greeted everyone warmly.
Post our check in at the hotel, we again went out to explore the market and this time did some shopping and treated ourselves to delicacies of a German Bakery.
Day 5: The amazing Pangong Valley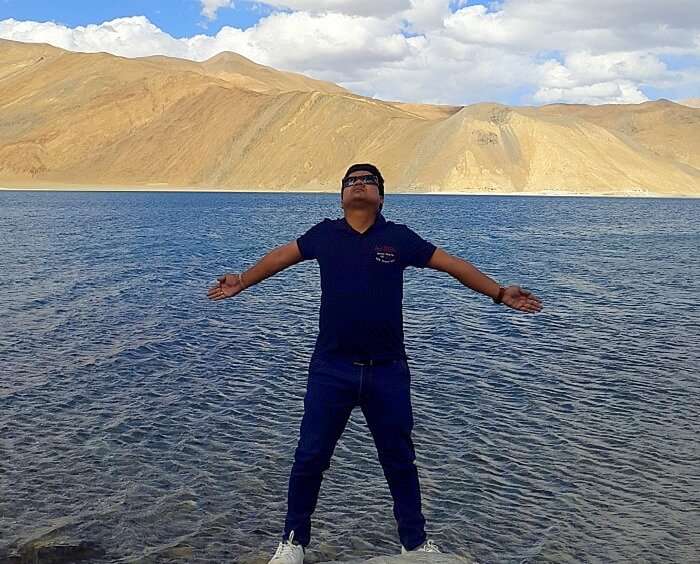 Post our breakfast this morning, we left for the famous Pangong Valley. On our way, we passed by Chang la and it was covered in snow. At about 40 km from Pangong, the snow began to melt and the beautiful valleys started turning green ad blue.
Pangong was the most beautiful place that I had ever seen and everything here looked fresh and vibrant. We were surrounded by clear waters and greenery all around and it was simply amazing to be in the lap of nature!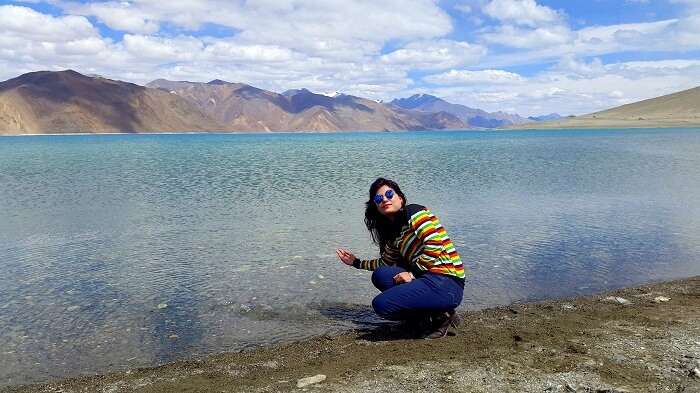 We stayed at a cottage in Pangong and had the best time there. In the evening, I sat in the balcony of my cottage, sipped on some tea, read a book, and saw the most mesmerizing sunset EVER!
It was a bliss!
Next morning, I woke up early at 5:15 AM and even saw the magnificent sunrise.
Day 6: Shey Palace and Leh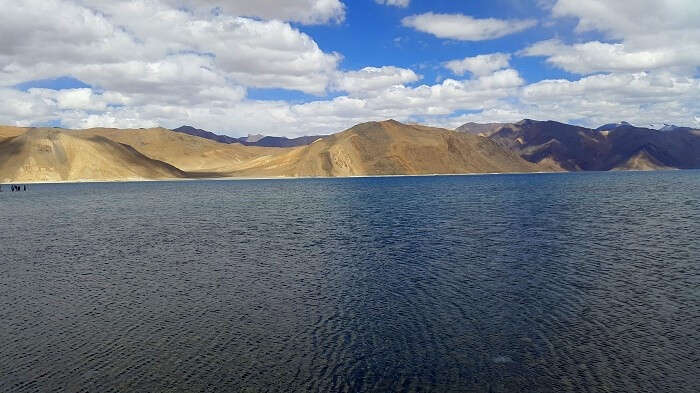 12 Astounding Spots For Trekking In Ladakh That Need To Be On Every Hiker's Bucket List In 2022
Post sunrise, we had an early breakfast and then left for Leh. On our way, some 15 km from our destination, we visited the Shey Palace. It was a beautiful experience and was followed by a visit to the Shey Monastery and the school we saw in the '3 Idiots Movie'.
Post this, we continued our journey and saw a lot of bikers and cyclists on the way. It was a beautiful and unique experience to see everyone enjoying the natural ambience of the mountains and we felt really happy seeing everyone having fun.
Upon our arrival in Leh, we again did some shopping and snacking post which we went back to our hotel and called it a night.
Day 7: Bidding farewell to the mountains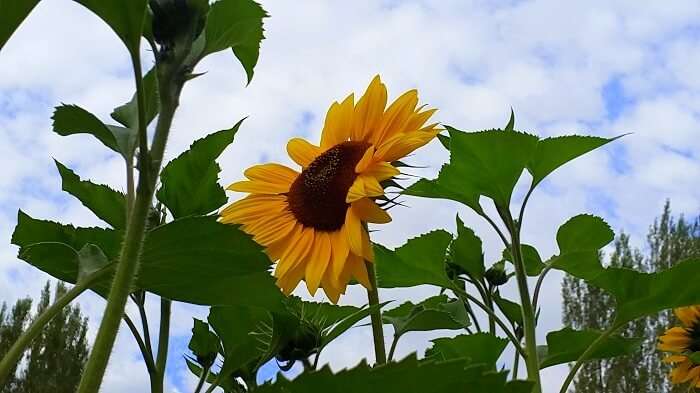 This was our last day and after having breakfast, we checked out from the hotel and proceeded for the airport, soaking in the goodness of Leh, one last time.
Ladakh turned out to be an out of the world experience for us. And although, I have been to many countries, nothing can be compared to the beauty we witnessed in Ladakh.
High Points:
When I was on top of the Khardungla top and Pangong Lake
The trip was value for money
Low Point: The driver and cab could have been better but no major complaints
Tip for future travelers: Everyone who wants to witness nature in its most pristine form should visit Ladakh
Feel the vibe of the mountains on an adventure in Ladakh Spend a vacation in the lap of nature and you will never wish to go back! Book your package to amazing Ladakh now!
Comments
comments