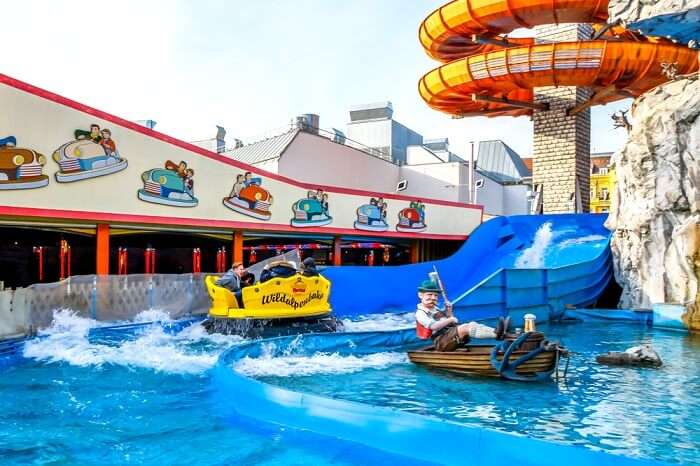 Austria is the second richest country in Europe in all aspects – financially, culturally, and tourism wise. The country is quite favourably located for tourists. It is surrounded by all major countries like Switzerland, Germany, Hungary, Italy, Slovenia, and the Czech Republic. It also happens to be the winter sports capital of Europe.
Austria is most visited during its summer months when the weather is suitable to walk around exploring the cities, historic monuments or hike up the Alps. One more thing that you must not miss when you're in Austria is the water parks. The water parks in Austria are one of the best in the entire world. If you don't like being out in the sun for too long, then you can visit one of the indoor water parks in Austria. One water park that you must not miss is the Area 47 water park in Tyrol, Austria.
10 Best Water Parks In Austria
Here is a list of all the best water parks in Austria that you must visit while you're holidaying there for an amazing experience!
1. Alpine Coaster
The reason why Alpine Coaster stands out is the mountain scenery in its backdrop. It has the longest roller coaster at 1,500 meters above the mean sea level. This rollercoaster then goes 2.2 miles down the mountainside. If you're feeling scared, here's the catch – you can control the speed of the roller coaster. You can apply brakes as and when you like to slow down and see the view around you.
Location: Austrian Alps
Timing: 8 am to 8 pm, open on all days
Must Read: Austrian Food: 20 Irresistible Dishes You'd Want To Relish
2. Area 47
Area 47 Austria water park ranks as the best water park in the entire country. The theme park offers activities on land, water and in the air. If you're looking for an active vacation in the country, then you must visit this place. The best rides and activities in the park are zip-lining, rafting, off-road motor cross, and canoeing. You can spend an entire weekend at the lodges in the park and binge at the restaurants.
Location: Tirol
Timing: 8 am to 10 pm, 8 am to 7 pm (Monday)
3. Prater
If you're looking for water parks in Vienna, Austria, then you must visit Prater. This is the oldest water park in Austria with its history dating back to the year 1162. The land was held by the Royal family and then converted into a theme park. You can visit the horse racing track, Ernst Happel Stadium and see the largest stadium of Austria. The park offers the classic rides like bumping cars, Ferris wheel, ghost trains and carousels.
Location: Vienna
Timing: 8 am to 8 pm, open on all days
Suggested Read: This New James Bond Museum Atop The Austrian Alps Has "A View To Kill"
4. Riesenrad
The park has the largest Ferris wheel in Austria, which is also a landmark in the Vienna skyline. The 65 meters tall Ferris wheel was built in 1987. However, it is best to opt for an entire tour while buying tickets. The tour takes you through Austria's rich heritage and history, bringing the old traditions back to life.
Location: Vienna
Timing: 9 am to 6 pm, open on all days
5. Family Park
This theme park is rather simple yet charming. The park is built on the rock formations and looks very scenic. You can spend your day at the park feeding the ducks, hiking on the walking trails or sitting by the lake. There are small food shacks which offer affordable snack items. It is a great place for people who don't want to go to crowded places.
Location: St. Margarethen
Timing: 9 am to 6 pm, open on all days
Suggested Read: Austria Nightlife: 8 Cities That Put On A Show For Party Animals
6. Therme Amade
Therme Amade is one of the best water parks in Austria. It has all the fast rides, big swings and a very cool wave pool. You can either jump in to have fun or relax in the pool by the bar. People often book the lodge here for the weekend. It is a great place for all age groups and interests. Whether you're looking for a thrill or a weekend getaway, it solves all purposes.
Location: Pongau
Timing: 9 am to 10 pm, open on all days
7. Freibad Loepoldskron
This park is the bigger and better package when it comes to theme parks. It features lawns, lakes and magnificent architecture. You can also enjoy the water slides or play games like Table Tennis or Golf. The direct view of the Salzburg Fortress and Lake adds a certain charm to the park. The park was also used as a set for the movie "The Sound of Music".
Location: Salzburg
Timing: 9 am to 7 pm, open on all days
Suggested Read: 34 Best Places To Visit In Austria That Are Straight Out Of A Picture Book
8. Aquapulco
Aquapulco is one of the best indoor water parks in Austria. It is a pirate themed water park which is a total hit among the kids. It has a pirate bay, 5 funny slides, adventure path, baller deck, 5D cinema, splash pool and more. However, one thing which pulls people the most is the animated pirate show. It is so good that it feels almost real!
Location: Bad Schallerbach
Timing: 9 am to 10 pm (weekdays), 9 am till midnight (weekends)
Entry Fee: € 27 (adults), € 22.50 (children)
9. Europa Park
Europa Park is a paradise for children with large sandboxes and swings. They also have life size board games like Chess, Ludo, Snakes and Ladders and more. There is also a skating park where one can show off their skills! It is the perfect place for picnics and family time. The simple setting will take you back in time.
Location: Klagenfurt
Timing: 8 am to 7 pm, open on all days
Suggested Read: The 10 Most Beautiful Lakes In Austria For An Exotic Europe Getaway
10. Austrian Valley
Green Lake in the Austrian Valley is the only underwater park in Austria and is a must visit for all! During the summer months, it becomes a hotspot for divers. The clear water allows people to watch and explore the marine life. The lake is surrounded by mountains and tall trees which make the place look very serene. You can also try your hand at scuba diving in the lake. The best time to visit is during the month of June.
Location: Tragoess village
Timing: 6 am till 7 pm, open on all days
Entry Fee: Free
Further Read: 7 Incredible Tourists Places For A Day-Long Trip In Austria
Now you know what you need to do on your next trip to Austria for the most exhilarating holiday ever, so don't think too much and book a holiday in Austria with TravelTriangle!
People Also Read:
Water Parks In Poland Water Parks In Naples Water Parks In Barcelona
---
Looking To Book An International Holiday?
Book memorable holidays on TravelTriangle with 650+ verified travel agents for 65+ domestic and international destinations.
---