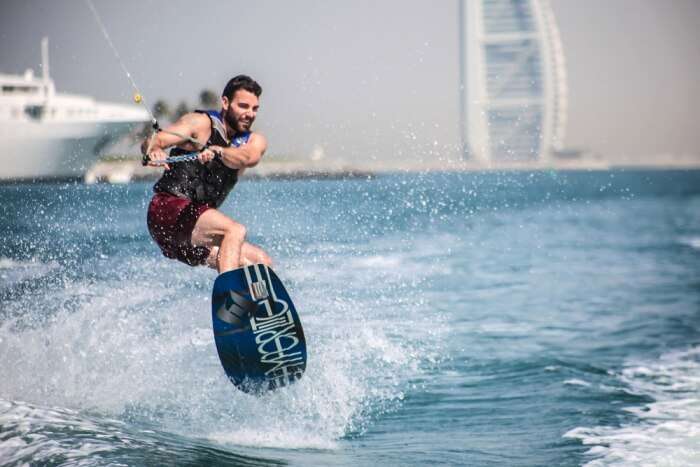 Dubai may be synonymous with the Arabian Desert but in recent times it has managed to become a favorite destination for water babies from all over the world! The city with its vast coastline, calm waters of the Arabian Sea, and excellent beach facilities are fast becoming a global water sports destination. One can find a wide variety of water sports in Dubai for adventurers of every stage, beginners and experts alike. Even the water sports prices are affordable and holidaymakers can indulge in them at least once on their Dubai trip.
12 Exciting Water Sports In Dubai
Here's a list of the best ones that will leave your mind blown!
Parasailing
Jet Skiing
Speed Boating
Fly Fishing
Flyboarding
Seabreacher
Kitesurfing
Diving
Water Skiing
Wakeboarding
Windsurfing
Swimming With Dolphins
1. Parasailing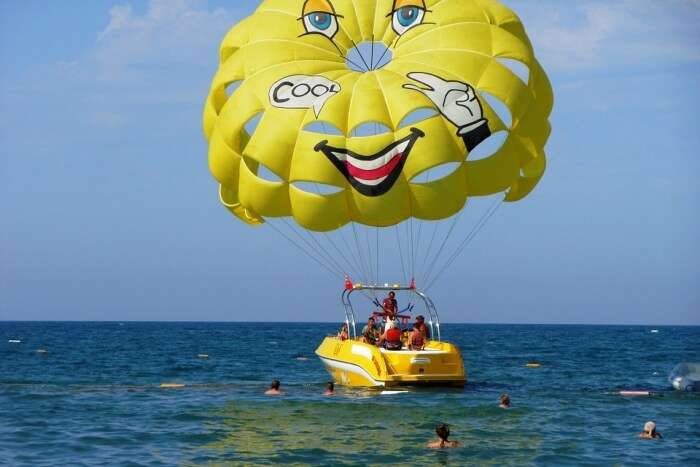 Image Source
Not too keen on rushing things? Then parasailing in Dubai might just be the perfect water sport for you. In fact, both parasailing and paragliding in Dubai are must-try experiences that you cannot leave without. A parasail is a special parachute that is guided by a boat, it rises with the speed of the boat and floats in the sky giving you panoramic views of the entire city of Dubai. You can experience an adrenaline rush as the parachute takes off the water surface but once settled in the air you will feel like an eagle soaring in the skies!
Where to do: Arabia Horizons
Average cost: AED 420
Tip: Check weather conditions before indulging in this.
Suggested Read: 37 Best Places To Visit In Dubai At Night For A Vacation In Starry Landscapes!
2. Jet Skiing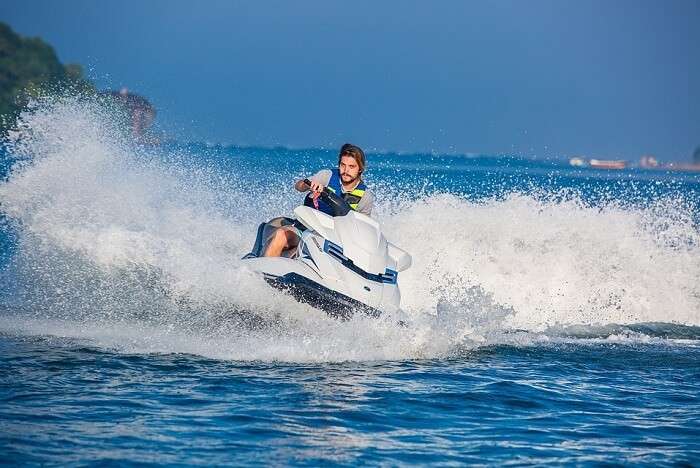 The combination of sheer mechanical power combined with the thrill of being in the wide open ocean is what you get on a Jet Ski! A ride on a jet ski in Dubai is one of the best water sports you can try out when in the city. The Nemo Watersports in Dubai is one of the best providers, and the jet ski tour they take is near the Burj Al Arab where you can get amazing photographs of your adventure story!
Where to do: Nemo Water Sports
Average cost: INR 7,000 – 30 mins, INR 14,000 – 60 mins, INR 20,000 – 2 hours
Tip: Make sure you're wearing proper safety gear.
3. Speed Boating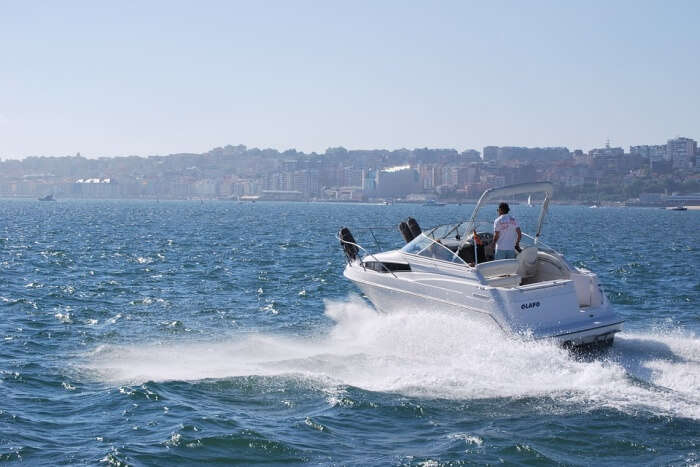 Image Source
A Speed boat is a fantastic way of involving the entire family in adventure water sports activities in Dubai. The speedboat takes you on a tour of the Dubai beachfront and is one of the most common water sports in Dubai Jumeirah Beach. The speedboat is a safe activity where up to 4 members of the family can take part together, offering a unique shared experience that you can cherish forever! The tour takes you through the top landmarks of the city and will get you some great photographs.
Where to do: JBR The Beach, run by Water Adventure Dubai
Average cost: INR 3,300 – 30 mins, INR 6,600 – 60 mins
Tip: Make sure you're wearing proper safety gear.
4. Fly Fishing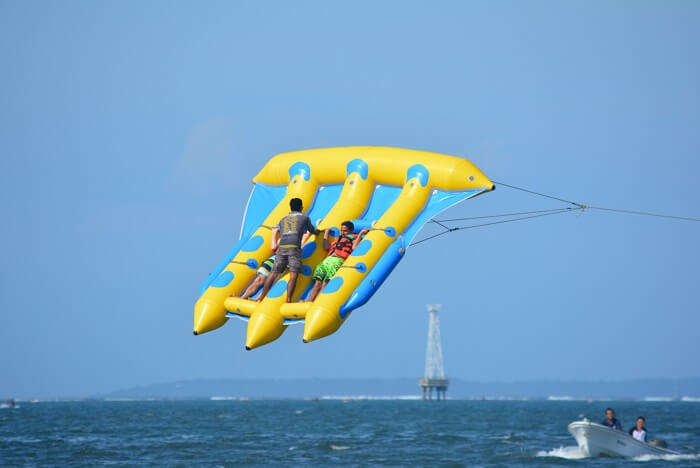 The Flyfish is one of the most highly demanded water activities in Dubai. Just off the beach of JBR, you can see speedboats guiding huge inflatables in the sky. This inflatable is E-shaped and up to two people can be strapped on to it safely. The thrill of feeling the wind on your face and seeing the Dubai skyline go past you while you're safe in the inflatable is out of this world! It's one of the most affordable water activities while not reducing the adventure factor.
Where to do: JBR Beach
Average cost: INR 3,800 – 15 mins
Tip: Check weather conditions beforehand.
Suggested Read: 9 Hostels In Dubai For Every Backpacker On A Budget
5. Flyboarding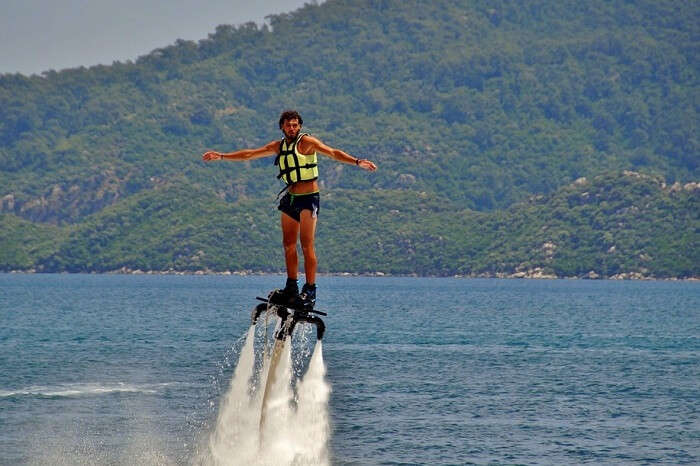 This water sport will make you feel like you have superpowers! Flyboard Dubai is an amazing water activity where you stand on a jetpack with a powerful motor that propels you high up in the sky. Don't worry you are guided by an instructor and you can figure out the mechanism in a few minutes. With the excellent views of Dubai in the background, you can imagine yourself being in a superhero movie and trying to save the world!
Where to do: Nemo Watersports
Average cost: INR 7,200 – 30 mins
Tip: Listen to all safety instructions carefully first and only do it under expert supervision.
Suggested Read: 10 Best Dubai Beach Resorts For The Perfect Beach Vacation In The Middle East
6. Seabreacher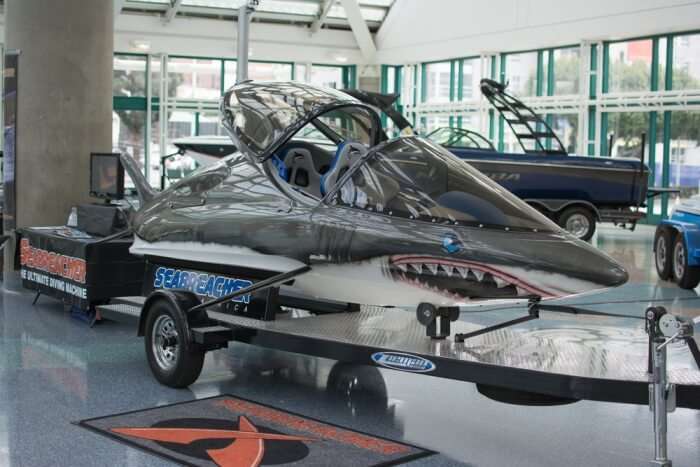 Is it a shark or is it an adventure machine? The Seabreacher with its unique body looks like a metallic shark and is best described as a two-seater aircraft-like machine. You can sit with an instructor in this adventure pod that will take you on a thrilling ride at a speed of 55 mph on the water surface, and then dive down to five feet in depth. But that's not all; it will instantly fly into the air up to 18 feet making it one of the most unique Dubai water sports. That's a water sport only for the strong-hearted!
Where to do: Rixos the Palm, run by Water Adventure Dubai
Average cost: INR 9,600 for 15 mins, INR 15,400 for 30 mins
Tip: Make sure you are strapped in well and there are no leakages in the vehicle.
Suggested Read: 10 Best Resorts In Dubai That Never Run Out Of Luxury
7. Kitesurfing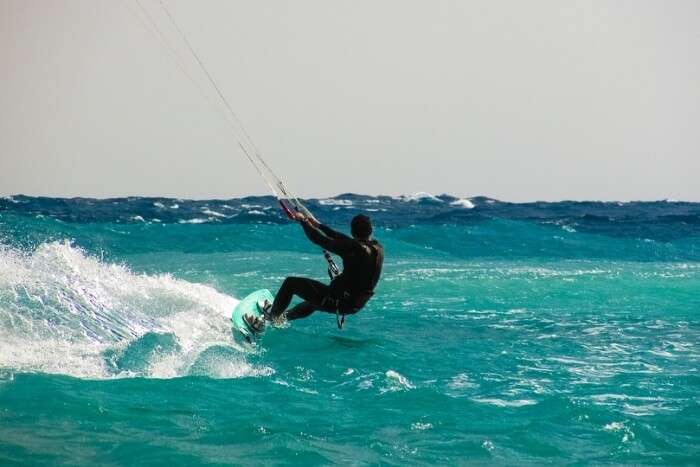 Image Source
Kite Surfing is among the favorite water sports in Dubai Marina, and you will often catch surfers on their waterboards tied to big parachutes that lead them over the waves. You will feel the sheer power of the wind and be able to harness it with the help of the waveboard. Kitesurfing is one of those activities that you can master in just a few lessons. Kite Zone has the only Tandem Kitesurfing that is ideal for kids.
Where to do: Kit Zone Dubai
Average cost: INR 4,800
Tip: Make sure you're wearing proper safety gear.
8. Diving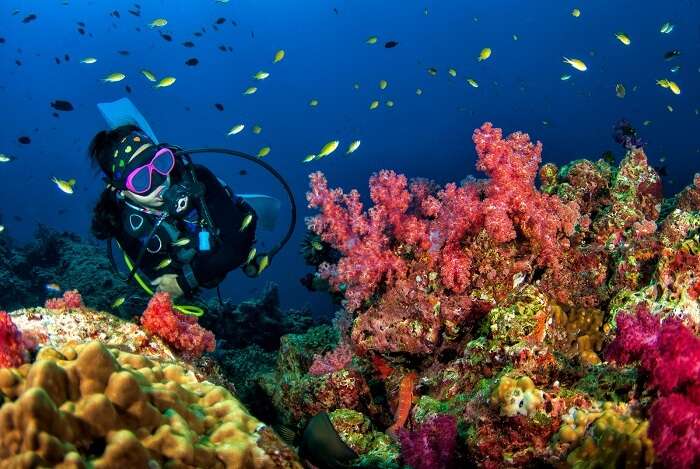 Atlantis The Palm is among the best hotels and attractions in Dubai and Aquarium Diving here is the ultimate water adventure in Dubai! The aquarium has over 65,000 marine animals including manta rays, sharks, and fish. It is one of the world's largest aquariums and is beautifully themed to give you a once in a lifetime experience. There are several diving packages for beginners to experts and even non-swimmers. Swimming alongside the elegant manta ray and standing in a whirlpool of colorful fish is something that can be experienced only here!
Where to do: Atlantis The Palm, Dubai
Average cost: INR 5,300
Tip: Only trust certified and experienced agencies for the same.
Suggested Read: Special Dubai Pass: Travelers Can Now Enjoy Cash-Free Access To Major Attractions & Tours!
9. Water Skiing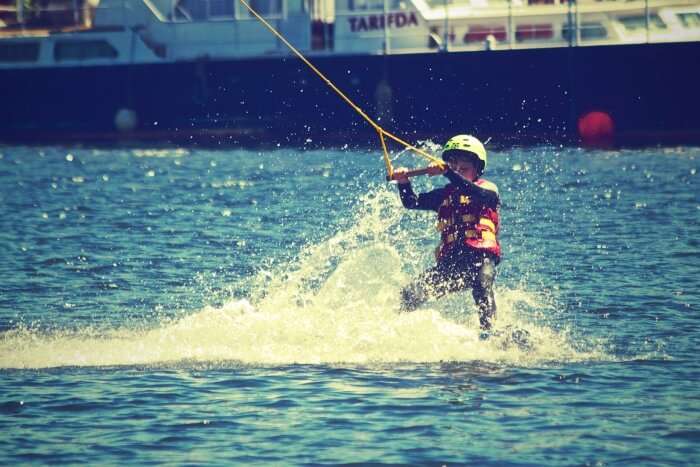 If you were to do just one water sports adventure, then go ahead and enjoy a ride on the water ski. A water ski ride is one of the best JBR water sports you can undertake. The water ski is a powerful machine and zips along the surface of the water, giving you a thrilling ride. Just like skiing on snow, water skiing is a sport of speed and that makes it one of the best Dubai water activities for speed lovers. Here, the speed is determined by the speedboat that tugs along the ski board.
Where to do: Sky and Sea Adventures Dubai
Average cost: INR 8,100
Tip: Make sure you're wearing proper safety gear.
Suggested Read: 12 Dubai Travel Tips To Help You Make The Most Of Your Perfect Holiday
10. Wakeboarding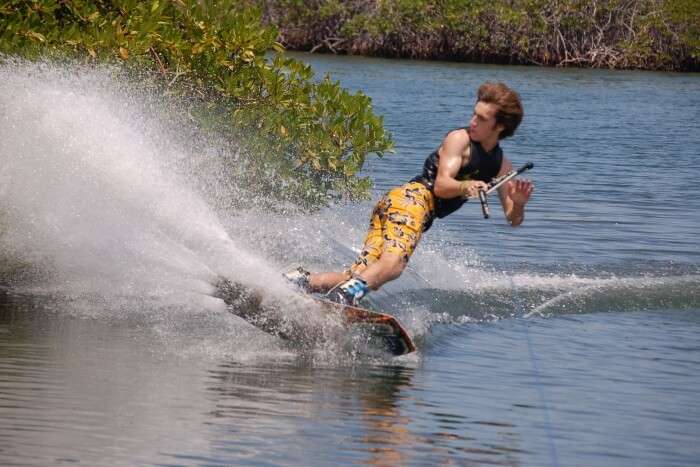 Image Source
If you are done with water skiing in Dubai and looking for a tougher challenge, then try out Wakeboarding. A wakeboard is similar to a skateboard on which the rider has both their legs strapped on to the board which is pulled along by a motorboat. Wakeboarding is more challenging than water skiing and maneuvering on the water gets all the more exciting! It's one of the best watersports in Dubai as you can indulge in stunts and other acrobatics on a wakeboard, unlike the waterski.
Where to do: Wake Evolution
Average cost: INR 5,800
Tip: Make sure the board is sturdy, durable, and not broken.
11. Windsurfing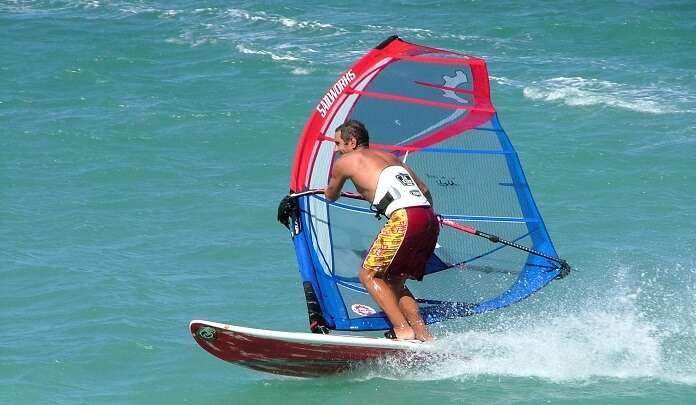 Wind Surfing is one of the famous watersports in Dubai. It is a thrilling recreational activity accessible at the Jumeirah Beach in Dubai. This exhilarating water activity is a blend of sailing and surfing which ultimately serves as an ideal sport for the locals and visitors of Dubai owing to the abundance of charted water resources here and top notch facilities to try such water activities in Dubai.
Where to do: Kit Zone Dubai
Average cost: INR 5,000
Tip: Make sure you're wearing proper safety gear.
12. Swimming With Dolphins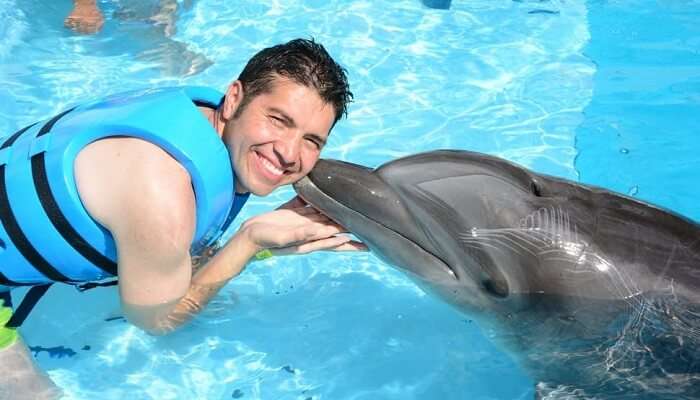 Dubai has a number of exciting entertainment spots, and the Dubai Dolphinarium is among them that allows you to see stunning performances by dolphins and seals. It is set in Creek Park of Dubai and is home to bottlenose dolphins, fur seals, and 20 exotic species of parrots. But what truly makes it unique is its opportunity to interact with dolphins through the Swimming with Dolphins programme. Though it's not one of the other adventurous Dubai water sports, it still accounts for an amazing experience for kids and adults alike.
Where to do: Dubai Dolphinarium
Average cost: INR 950
Tip: Also watch the Dolphin and Seal shows.
Further Read: 10 Best Indian Restaurants In Dubai For Desi Flavors
Surprised at the variety of water sports in Dubai? All excited to indulge in all these water activities? Don't wait anymore, get packed, pick your dates and make sure you include at least one of these water activities on your trip to Dubai. Do carry this guide with you on your vacay!
For our editorial codes of conduct and copyright disclaimer, please click here.
Frequently Asked Questions About Water Sports In Dubai
Why is Dubai famous?

Dubai, which is famous for its world's tallest building and the biggest manmade island has a lot to be proud of. From megastructures, luxurious lifestyle, to heavenly cuisines and extreme adventure sports, Dubai has everything you could look forward to for an adventurous and memorable vacation.

Which is the best time to visit Dubai for water sports?

The temperature during the months of March and April is perfect for outdoor and sports activities as well as a number of water activities.

Which are the most popular places to visit in Dubai?

A few of the popular tourist places in Dubai which you should definitely have on your itinerary are:
1. Ibn Battuta Mall
2. Global Village
3. Dubai Creek
4. Jumeirah Beach
5. Dubai Miracle Garden

Are there any water sports in Dubai for kids?

There are a number of theme parks and beaches where you can enjoy with your entire family. Some of these are:
1. Al Majaz Splash Park
2. Aquaplay
3. Fahrenheit Beach Sports
4. Splash Pad at The Beach, JBR
5. Wild Wadi Water Park

Which are the best beaches for water sports in Dubai?

A few of the popular beaches in Dubai where you can enjoy a wide variety of water sports are:
1. Sunset Beach
2. Kite Beach
3. Jumeirah Beach Residence
4. Palm Jumeirah Beach
5. La Mer

Are the water sports in Dubai safe?

Water sports in Dubai are thrilling and adventurous provided you follow proper guidelines for the sport and practice caution.
---
People Also Read:
Water Sports In Sharjah Water Sports In Abu Dhabi Water Sports In San Francisco