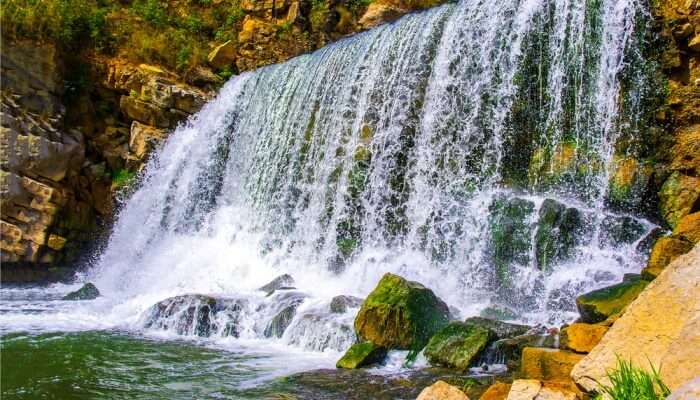 Also known as God's own country, Kerala is one of the most gorgeous places in South India. It is a very alluring state, which draws the attention of many tourists throughout the year. From the famous Kathakali dances to the warm stays in the houseboats of Kerala, you will get an experience like never before. One of the best places which you should not miss out on your trip is Thekkady. The stunning waterfalls and the lavish green atmosphere around, leaves everyone astonished. The waterfalls in Thekkady are especially very famous which is known to revive every soul. The best waterfalls in Thekkady are given below with the complete guide. Check them out and get ready to drool over the splashing water.
6 Marvelous Waterfalls In Thekkady
Visit these waterfalls in Thekkady to get the best experience of your trip to South India. These are the ideal places where you can rejuvenate your body and soul. Scroll down further to know about these exciting and peaceful spots.
1. Suruli Falls

If you visit South India and come back without going to this place, your trip would surely be incomplete. Suruli falls originate from Periyar Mountains and fall off in a warm pool. It is a perfect place where you can come and escape the scorching heat. To witness the most spectacular colors around here, you should come during the festival of summer. The celebration of this festival is performed near this place and is enjoyed by all.
Location: Near Cumbum, Suruli R.F
Best Time To Visit: Monsoon Season
Must Read: 10 Serene Resorts In Thekkady: Enjoy A Harmonious Stay
2. Suranganur Waterfalls

Suranganur Waterfalls will definitely be a treat to your eyes. They originate from Chellarkovil Mountain. This is a marvelous place where you can truly enjoy nature. The whole area around this waterfall is covered with lush greenery. The quiet and serene vibes of this place will not want you to go from here. Wherever you turn around in this captivating place, every sight will give you an eye-catching backdrop. Visit this place with a camera in your hand to capture every scene around.
Best Time To Visit: During the monsoon season
Suggested Read: 10 Best Hotels In Thekkady For Luxury & Mid-Budget Stays
3. Thommankuthu Waterfalls

Thommankuthu Waterfalls is one of the most beautiful waterfalls in Thekkady. This marvelous place will let you witness all the beautiful colors of nature. It has a unique seven-step brook, which allures many tourists to this spot. You can also indulge in some adventure in this place by trekking around. This will surely turn out to be a fun experience on your trip.
Nearest City: 25 Kms from Idukki and 48 Kms from Munnar.
Best Time To Visit: Monsoon and the post-monsoon season is usually preferred
How To Reach: The place is easily reachable by bus from Munnar and Thodupuzha.
Suggested Read: 8 Best Restaurants In Thekkady Where You Can Dine In On Your Trip
4. Marmala Waterfalls

Marmala Waterfalls is one of the best waterfalls near Thekkady. The beautiful sounds of water flowing are definitely very soothing to the soul. You will get a very calm and peaceful vibes in this place. It is a perfect place where you can escape for weekend getaways and chill with your loved ones. This 60 meters waterfall has an extraordinary trekking trail. You will have to trek through a rocky path to enjoy the panoramic view of this place.
Location: Marmala Road, Vellani, Erattupetta
Nearest City: Pala
Opening Hours: 6 am- 6 pm
Suggested Read: 20 Places To Visit In Thekkady For An Exuberant Getaway
5. Athirappilly Waterfalls

Athirappilly Waterfalls is one of the most loved waterfalls in Thekkady. This famous tourist place is one of the most preferred tourist sites in South India. You will witness a mind-blowing sight of Shoyolar hills from here which would be truly magical. This is the highest waterfall in India, where you must visit at least once. You will find people coming from Kochi, Coimbatore and Munnar coming here very often.
Nearest City: Thrissur(47kms) and Kochi (70 Kms)
Best Time To Visit: September to January
Suggested Read: 20 Exciting Things To Do In Thekkady: Walks, Tours, & Safaris
6. Palaruvi Waterfalls

Palaruvi Waterfalls is the 40th highest waterfall in India. In Malayalam, the word "palaruvi" means a stream of milk. You will get fun as well as a thrilling experience here. To reach this area, you need to cross a dense forest, which will promise you an exciting experience. This location is also an ideal place for swimming. The ladies and kids can enjoy and take bathe in different pools. This whole pleasant atmosphere allures everyone for a picnic in this area. While you are here, you can also visit other nearby places like Shenduruny Wildlife Sanctuary and Thenmala Dam.
Nearest City: 72 km from Kollam
Best Time To Visit: June to January
Further Read: 10 Offbeat Places Near Thekkady We Bet You've Never Heard Of
Aren't these the perfect places to go if you seek seclusion and serenity? These waterfalls in Thekkady will complete your trip with joy, charm and a lot of fun. Make sure you include all these places in your itinerary, which are far from all the chaos of city life. It promises a warm and hospitable time for every wanderlust. These are not just optimal places for people who seek a peaceful time but are ideal for adventure junkies too. So, create a memorable and glorifying trip to Kerala by adding these waterfalls in your list.
People Also Read
Waterfalls In Mangalore Waterfalls In Uttarakhand Nuwara Eliya Waterfalls