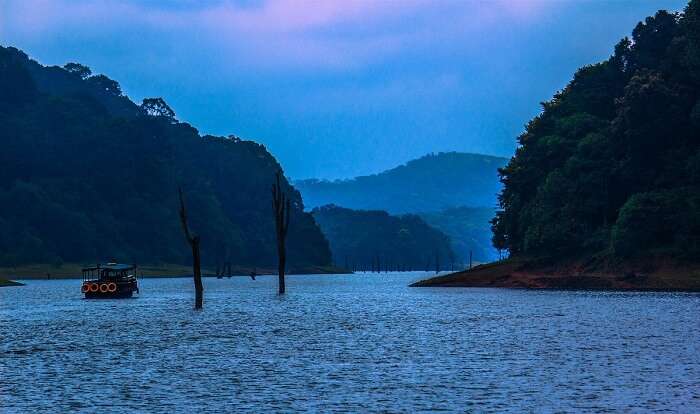 A haven for nature lovers and wildlife enthusiasts, Thekkady is usually a short stay for most tourists in Kerala. However, even during this short stay, you will be spoilt for choices. There is a wide range of activities and things to do in Thekkady that offer great fun for couples, families, and kids.
Besides trekking and mountain walks, a boat ride in the Periyar Lake and a safari in the Periyar Wildlife Sanctuary are popular activities. You can even catch the famous boat races, which are just as popular as the boat races of Alappuzha. Covering so many exciting activities may not possible if your travel agent gives you only a day at Thekkady. Based on your interest, you can set your priority of the best things to do in Thekkady.
20 Exciting Things To Do In Thekkady
Here are a few exciting things to do in Thekkady which will keep you engaged in the overall vividness of Thekkady while also getting some unique experiences from the activities mentioned below. They are a combination of adventure, sightseeing and exploring the overall beauty of the place. Need to know what all things are there to do in Thekkady? Scroll below:
1. Serene Boating Tours

Boating in the Periyar Lake is one of the top things to do in Thekkady. The lake, which lies at the heart of the Periyar Wildlife Sanctuary, is the place where animals of the sanctuary can be seen bathing, drinking, resting, or searching for food. The lucky ones may even spot elephants playing with their babies. The two-hour boat service is provided 5 times daily by KTDC and the forest department.
Time required: 2 hours
Timings: 7 am, 9:30 am, 11:30 am, 2:00 pm, and 4:00 pm
Also Read: 57 Best Places To Visit In Kerala For with Picture
2. Bamboo Rafting And Hiking

Akin to the boating tours, the bamboo rafting programme takes place in Periyar Wildlife Sanctuary. What makes it different is that it takes you through the richest forest tracts of the dense forest. The tour begins with a hike into the forest where one can spot several species of animals and birds. It is followed by three hours of ride on bamboo rafts. Among the major Thekkady adventure activities, the bamboo rafting tour caters to 10 tourists at a time. An armed guard and 4 guides accompany each group.
Time required: 2-3 hours
Timings: 8:00 am – 5:00 pm; daily
Suggested Read: Thailand Vs Kerala: Which One Entices You More For The Next Trip?
3. Tour The Hill Stations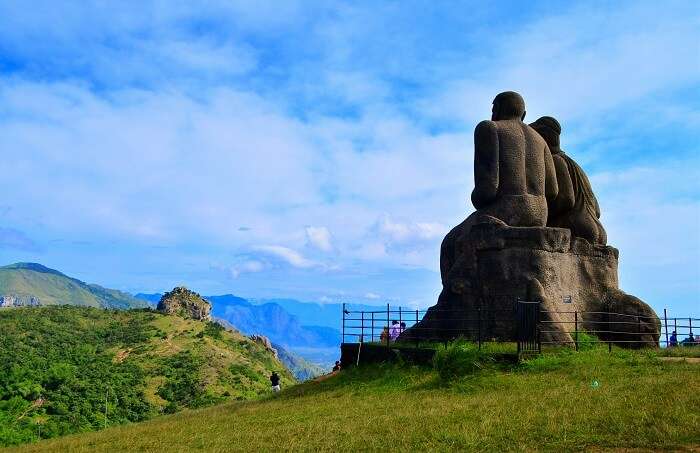 Being near the hills, Thekkady is severely close to beautiful and quaint valleys that have over the years grown as top offbeat places in Kerala. We are talking about the picturesque Ramakkalmedu and evergreen Panchalimedu hill stations. Roughly 40-50 km away, a 2 day-trip is definitely desired when you visit Thekkady. 
Time required: 2-3 hours
Timings: NA
Kerala In November: Places And Events Not To Be Missed Out!
4. Feel The Nature Around Mangaladevi Temple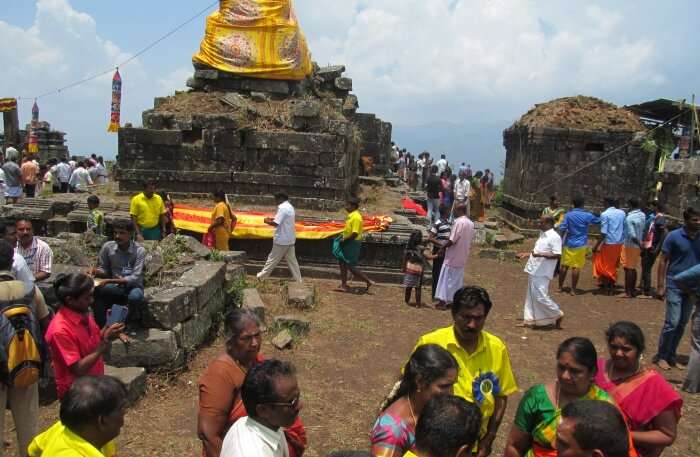 Between the jungles of Periyar, an ancient structure stands tall. The historic temple of Mangaladevi sits around 15 km from the main town of Thekkady. The temple is close to the Tamil Nadu border and well surrounded by lush greenery as you get a glimpse of the Eastern Ghats on the Tamil Nadu side. It is mostly a place to admire the natural beauty of Kerala rather than exploring the spiritual side. Perhaps, one of the top things to do in Thekkady is to explore this temple and the nature around.
Time required: 3 hours
Timings: 6:00 am – 6:00 pm
14 Heritage Places In Kerala To Make Your Trip Unforgettable
5. Explore The Surreal Chellarkovil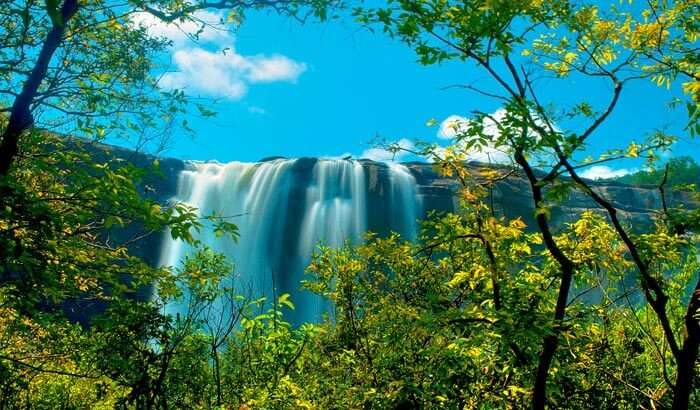 The sleepy town of Chellarkovil overlooks the green side of Thekkady with a breathtaking view of the plains and waterfalls. Considered as one of the best tourist attractions in Kerala, you will definitely feel nostalgic at Chellarkovil. A visit during the monsoons is definitely worth it to spectacle the misty town and cloud touching mountains. 
Time required: 3-4 hours
Timings: N.A
Thekkady Wildlife: Your Personal Guide To Spot The Glorious Fauna
6. Trek To Magical Land Of Gavi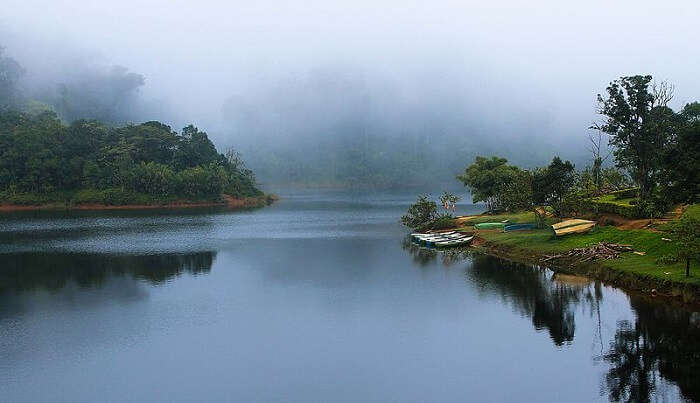 The supreme land of Gavi is an ecotourism hotspot, one whose mesmerizing beauty combined with its offbeat nature will make you feel special. Trekking within the tall hills standing in tandem would be a great way to explore the magnanimous tourism of Thekkady. Make sure you ride within the trails and discover the jungles of Thekkady in a different way. It's indeed one of the best Thekkady adventure activities that you can be a part of.
Time required: 2 days
Timings: NA
20 Tranquil Hill Stations In Kerala For A Rejuvenating Experience Summer
7. Bullock Cart Discoveries

Now here is something unique. Would you like to explore beyond the jungles of Periyar in a bullock cart? Here is your chance to visit the villages and discover Kerala's rural life in bullock carts that will take you to the farmlands. The activity involves a guide who will take a group in a cart and one where you can shoot some amazing pictures of the landscape.
Time required: 5 hours
Timings: 6:00 am – 2:30 pm
Onam Festival: An Absolute Guide To Celebrate The Harvesting Season In Kerala
8. Shop Spices Off The Streets 

Visiting Kerala and not buying spices from the spice capital is quite a miss. With plenty of spice plantations in the vicinity, you will find the largest collection of authentic spices gathered from the local plantations. Some of the spices on offer include green pepper, nutmeg, star anise, cloves, coriander and fenugreek. And yes, you will also find the tasty banana chips at the markets.
Time required: 2 hours
Timings: 8:00 am – 6:00 pm
13 Weekend Getaways From Kerala That Are Worth The Views And Your Time
9. Visit The Spring Valley Mountain

Image Credits: Shijan Kaakkara for Wikimedia
Despite being on several hiking expeditions, there is something different that Spring Valley Mountain, otherwise locally known as 'Kurisumala' offers. A great among the hiking community, you will find a church with a cross at the pinnacle of the mountain. That is when you reach the top while overlooking the dazzling Periyar Tiger Reserve. 
Time required: 4-5 hours
Timings: 4:00 am – 8:30 pm (church at the top); otherwise the peak is open always
Trekking In Kerala: A Short Guide For Beginners To Have An Ultimate Experience!
10. Admire The Pandikuzhi
 
Nature lovers will dance and sing when they visit the mysterious Pandikuzhi. A haven for nature enthusiasts and for those who want to go for activities in the lush valleys. The glorifying views, chilling streams, rich flora and fauna, deep valley, cascading waterfalls, serene lakes – are worthy of a picture-perfect memory. The landscape and atmosphere of Pandikuzhi will attract you so much that you would like to visit it again and again. 
Time required: 1 day
Timings: Open always
River Rafting In Kerala: 4 Enthralling Spots Where You Can Get High On Adrenaline
11. Border Hiking

Border hiking is another one among the best things to do in Thekkady. Daily two groups of 10 hikers each are taken through long wildlife conservation treks. Each group is accompanied by 2 guides and an armed forest guard. Trekking to altitudes of 900 m – 1300 m, the trekkers can glimpse the lofty slopes bordering the park and the vast plains. The hikers can spot several species of birds and animals during their trek.
Time required: 7-8 hours
Timings: 8:00 am – Late evenings; daily
8 Road Trips From Kerala For That Dreamy Sojourn
12. Jungle Night Patrol

Jungle Night Patrol is one of the popular activities in Thekkady that people opt for, provided they are aware of it. As a part of the patrol, you go for a late night walk inside the Periyar Tiger Reserve. Each night, a maximum of two teams of 5 – 8 patrollers are allowed. Each team is accompanied by 2 guides and an armed forest guard.
Time required: 3 hours
Timings: 10:00 pm – 4:00 am; daily
Monsoon In Kerala: Explore The Coastal Gem Like Never Before
13. Peaceful Nature Walks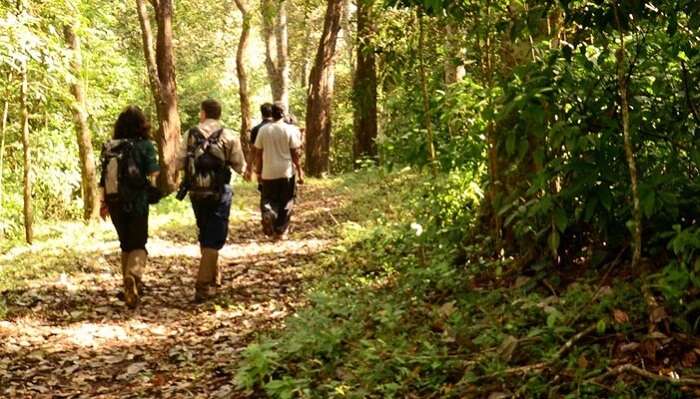 Nature Walking through the diverse habitats is next on our list of things to do in Thekkady.  The daily guided nature treks are 4 km – 5 km and offer excellent opportunities to explore the flora and fauna – birds, butterflies, animal species, and more. A maximum of 5 persons and an additional tribal guide can be a part of one group.
Time required: 3 hours
Timings: 7:00 am – 10:00 am, 2:00 pm – 5:00 pm; daily
Honeymoon In Thekkady: A Guide To Relish A Romantic Time With Your Better Half
---
Planning your holiday in Kerala but confused about what to do? These Kerala travel stories help you find your best trip ever!
---
14. Tribal Walks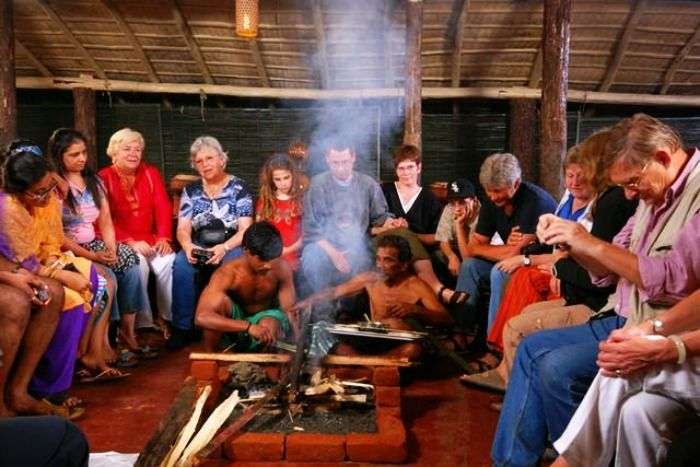 The Tribal Heritage Walk is another unique activity and obviously very few people want to try it. For most Indian tourists, it is least preferred among the gamut of things to do in Thekkady. The programme involves trekking through a tribal village in the vicinity of Periyar Tiger Park accompanied by a tribal guide. Though the key attraction is the tribal heritage museum that features artifacts related to ancient agricultural practices, marriage ceremonies, cultural events, rituals, and ceremonies. One will find on display fishing gear, hunting weaponry, bamboo furniture, indigenous medicines, and more.
Time required: 2 hours
Timings: 8:00 am – 10:00 am, 10:00 am – 12 noon, 2:00 pm – 4:00 pm; daily
Thekkady In December: Best Ways To Explore Its Impeccable Beauty
15. Enjoy Elephant Rides

One Hour with Elephant is a pilot programme offered by the Periyar Tiger Park and spice plantations in Thekkady. One of the most popular activities in Thekkady, the programme includes elephant rides, elephant bath, photo sessions, elephant shower, and elephant feeding. Basically, if you are a fan of elephants, you can live your dreams here. Nature is at its very best to let you explore the pristine lands of Kerala.
Time required: 30 minutes
Timings: 10:00 am – 5:00 pm
6 Stunning Waterfalls In Thekkady You Must Visit For A Fun & Frenzy Vacay
16. Exciting Jeep Safari

Image Source
A popular off-the-track activity in Thekkady, the Jeep Safari to Gavi covers the dense forests, waterfalls, spice plantations, and green vegetation. For those who do not wish to explore the beauty of the quaint lands, jeep safari is a perfect substitute to hiking tours. The roads are plain and the travel is refreshing enough to provide a soulful sojourn to your overall journey. 
Time required: 1 hour and 30 minutes
Timings: 6:00 am – 5:00 pm; daily
Homestays In Thekkady: Stay Like A Local At These Budget-Friendly Retreats!
17. Follow The Tigers

Image Source
The uniqueness of the 'Follow the Tiger' programme has made it one of the popular things to do in Thekkady. The ex-poachers of Periyar National Park share their experience and organize guided tours that involve following the trails of Nilgiri Langurs, elephants, and even tigers.
Time required: 3 hours
Timings: 9:00 am – 5:00 pm
10 Offbeat Places Near Thekkady We Bet You've Never Heard Of
18. Thekkady Sightseeing Tours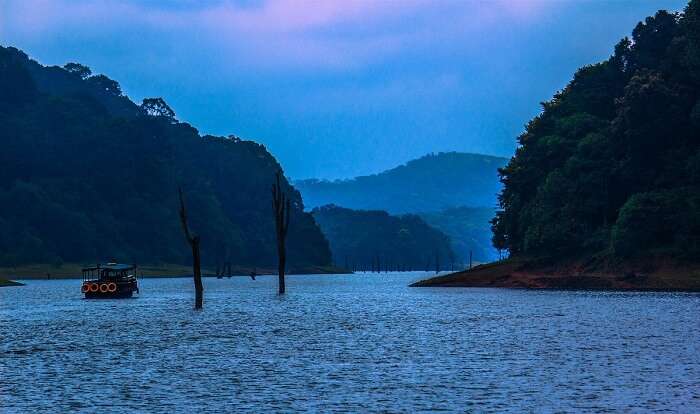 The sightseeing tours in Thekkady offer a chance to explore the quaint hill towns, hill slopes, spice and tea plantations, and wildlife sanctuaries. The Periyar Lake and Tiger Park, the temple of Mangla Devi, the waterfalls at Chellarkovil, and various spice plantations are some of the popular places to visit in Thekkady.
Time required: 2 hours
Timings: NA
19. Tour The Spice Plantations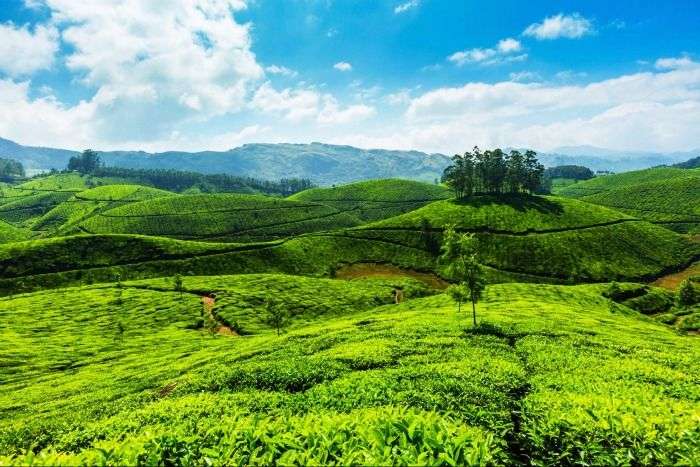 One of the best things to do in Thekkady is taking a tour of the spice plantations. There are acres of plantations spread across the entire town. It is from Thekkady that India gets a major part of their spices. Therefore, a visit to the plantations is a must to explore these aromatic plants in their natural form. 
Time required: 2-3 hours
Timings: N.A
20. Visit The Tea Factories 

When talking about plantations, the tea plantations also come into mind. But this time a visit to the plantation itself is not our agenda but it's making sure that you visit the tea factories that will showcase the tea making process first-hand. Indeed one of the most necessary things to do in Thekkady is visiting the tea factories for a unique experience.
Time required: 1-2 hours
Timings: N.A
The Ultimate Guide to Top Tourist Places in Kerala
So which of these things to do in Thekkady do you plan to do on your trip to the wildlife haven? Whatever it may be, we are sure that anything from planning a Thekkady trip to enjoying and eventually leaving the place is going to serve you long-term. The things that really excite a traveler and expectations of an amazing getaway get fulfilled on your trip. Once you enjoy and come back, don't forget to share those beautiful experiences with us!
For our editorial codes of conduct and copyright disclaimer, please click here.
Frequently Asked Questions About Things To Do In Thekkady
What is the best time to visit Thekkady?
The best time to visit Thekkady is from March to May when the weather is moderate and comfortable. October to February is also a good time to visit as the weather is great and you will be able to explore the destination comfortably.
Is Thekkady worth visiting?
Yes, Thekkady is definitely worth visiting. If you are a nature lover and someone who rejoice interacting with wildlife and boating then Thekkady is definitely worth a visit. Also, there are many interesting things to do in Thekkady that will catch your interest.
Is Thekkady a hill station?
Yes, Thekkady is a hill station in Kerala and a very popular one at that. It is one of the most popular holiday destinations in Kerala and is home to the Periyar National Park.
What is Thekkady known for?
Thekkady is known for being home to the Periyar National Park. Mosisst, evergreen deciduous forests and rich wildlife are the primary highlights of this national park. Thekkady is also known for Periyar or Thekkady lake which is right in the heart of the jungle.
Are Periyar and Thekkady the same?
Yes, Periyar and Thekkady are the same. Thekkady is sometimes referred to as Periyar and Kumily too.
Is Thekkady better than Alleppey?
Well, Thekkady and Alleppey are two very different destinations. Alleppey is known for its beautiful backwaters whereas Thekkady is a hill station and is famous for its wildlife sanctuary and Periyar lake.
How many days are enough for Thekkady?
Ideally you should spend three to four days in Thekkady as that kind of time is sufficient to explore the destination.
What is the famous food of Thekkady?
Idli, Dosa, Kappa and rice & curry is the famous food of Kerala.
---
Looking To Book A Holiday Package?
---
People Also Read:
Things To Do In Bekal Things To Do In Kochi Things To Do In Chail