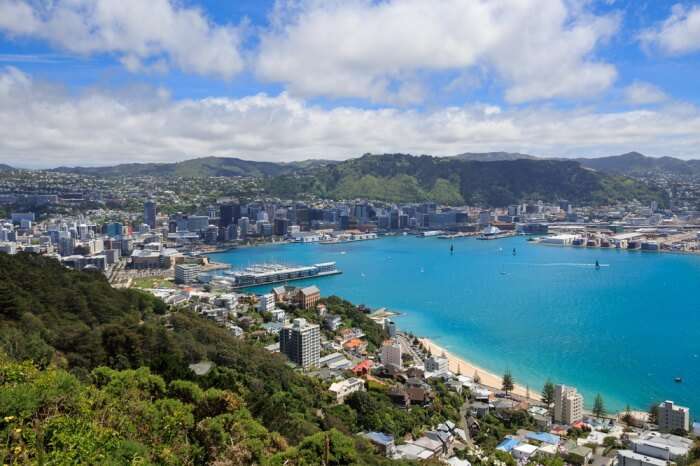 Thanks to the tilt of the Earth, if you're in any part of the world above the Equator, you have surely started planning for your winter holidays, but wait. If you are planning to go down South, it is not quite the same there. And if that fun fact got you are wondering if visiting Wellington in winter is a good idea? Well, it sure is! It is windy, and "Welly" chilled out! As the coolest little capital, the Wellington temperature in winter barely rise above 25° and the sweaty marine weather is compensated by the wind speed making it perfect for those for either hemisphere.
How Cold Is Wellington In Winter?
Wellington sees its winter in the months June to August, with cloudy skies and a necessary umbrella space in the backpack. While this might seem a little off, the Kiwis are known to do things with a twist! Speaking of the Northern Hemisphere winter, which translates to late spring or early summer, the sun is not too harsh and ideal for that natural tan, however, a good sunscreen is recommended!
10 Things To Do In Wellington During Winter
So, if you are planning to visit this amazing city during the winter months, here are ten exciting activities you cannot miss in Wellington in winter:
1. Lower Hutt : Be part of the Carnival of Lights

Often described by the locals as the Carnival of Lights, Highlight definitely brings Wellington to life. This four-night show over the weekend promises to take over your senses and keeps you wanting for more. With the perfect blend of sound and sight, if this is not the 'highlight' of your trip, we don't know what is. From interactive installations to live performances that are nothing short of wild, Highlight tops the list of things to do in Wellington in winter.
Location: Riddiford Gardens, Laings Road, Lower Hutt
Entry fee: Free
Must Read: 8 Best Restaurants In Wellington For Savouring The Best Dishes It Offers
2. TSB Arena : Celebrate Diwali with the desi householders

While Diwali in India might be on your bucket list, thanks to the population of Indians in Wellington, you can never really feel the void. Henna tattoos and little diyas begin to fill the streets around the desi households in Wellington and before you know it, the fireworks in the air and the Bollywood thumkas will turn the darkest night of the year into an unmatched memory. If you don't mind the spice, grab some yummy snacks and watch as Wellington picks it's favorite Mr and Miss Diwali.
Location: TSB Arena and Shed 6
Entry fee: Gold coin entry
Pro tip: Wear something traditional to avoid the outsider feels.
3. Odlins Plaza : Travel back in time at the Pasifika Festival

Every January, the people of Wellington take a day off their calendars to immerse themselves in the culture of the Pacific at the Pasifika festival. Move away history books and documentaries, the Pasifika festival will take you back to the native days of the city and drops the Wellington temperature in winter with nothing more than a beat. Home-made flavors made with native knowledge and vintage values, this festival is your window into the Pacific culture and cuisine.
Location: Odlins Plaza
Timings: 12 noon - 6 PM
Entry fee: Free
Suggested Read: 10 Hostels In Wellington For Staying In The City With Utmost Luxury
4. Mount Wellington : Visit Mission Estate wine, NZ's first winery

In 1838, when the French were heading to Mount Wellington in winter, they packed with their everyday goods their wine. Now it was not possible to go back and forth for wine and thus necessity brought to life the establishment of Mission Estate. With the age-old knowledge of winemaking and an apparent accent, a trip to the Mission Estate is sure to have you swirling, smelling, and sipping your wine just like the French like it. While wearing white is not recommended (wine stains, *rolling eyes*), Mission Estate is often the venue for weddings, and if you are lucky you might just end up at one.
Location: 198 Church Road, Napier, Hawke's Bay 4112
Timings: 9 AM - 5 PM (Monday to Saturday) | 10 AM - 4:30 PM (Sunday)
Suggested Read: Autumn In Wellington: Drop Everything For These 10 Experiences You Can Have In 2022
5. Seal Coast Safari : Watch adorable seals

If your mom has ever complained of you staying in bed spending the day away doing nothing, watching these little puppy-eyed sea creatures with whiskers lazing around the rocky beach is sure to make you nostalgic. Although procrastinating is not recommended, the Seal Coast is a 20 km drive from Wellington and every minute gets more picturesque than the last as its proximity to the rough tides of the sea increases. Get on the safari to sneak into a private farm and feed the goats, cows, and even ostriches there!
Location: Wellington i-SITE Visitor Centre, Corner Victoria & Wakefield Streets, Wellington
Entry fee: Adult - $125 | Child - $62.50
Website
Suggested Read: 10 Interesting Spots For Shopping In Wellington To Splurge Your Money At!
6. Wellington Writers Walk: Unblock!

This one is especially for the literary folks. Whether you are having a writer's block or just need some real-life inspiration for your fiction novel, this is the place to unwind, step back and well, pick up some colloquial slang. Fill your lungs with the air that these literary geniuses inhaled while they were in Wellington and walk down knowing what makes you unique is you. Hope that motivates you! Now, put your head down and start scribbling.
Location: Between the Dominion Post Ferry Wharf & Point Jerningham, Wellington
Entry fee: Free
Location: Between the Dominion Post Ferry Wharf & Point Jerningham, Wellington
Entry fee: Free
7. Makara Beach : Soak some sun

While your friends back in the Northern sphere shiver with hot chocolate snuggled in their blanket, wouldn't some Pina Colada and tan be great? Makara beach, on a sunny day, promises spectacular views of windmills, hillocks and the adorable seals of New Zealand. Being a rocky beach, the waves often have a mind of their own and can get pretty violent yet the salty taste on your lips and a walk barefoot along the shore as the sun sets is out of an Ed Sheeran music vid.
Location: Makara Rd, Wellington
Suggested Read: 14 Things To Do In Wellington For An Impeccable And Exciting Vacation
8. Egmont Street : Get Graffiti hunting

Adding to the cool quotient of the creative capital is the freedom it offers its local graffiti artists. Cuba Street has a bucket fountain which is infamous for its notorious water spilling if you step closer than you should. Egmont Street, in Central Wellington, is another boring-brought-to-life street with color splashes and vibrant palettes. For the heroes, there is a David Bowie portrait sketched somewhere too, care to find out and let us know?
Location: Egmont Street, Central Wellington
9. Opera House : Surprise yourself

Find yourself fancying a ballet performance or get swooned over by a magical musical circus, The Opera House is one of the oldest, most popular venues for everything and anything the city is hosting and so the things to do in Wellington in winter is incomplete without a visit to this iconic 100-year-old stage. While you are there, we recommend you let yourself go and accept what comes your way. They say, often the best things lie outside our comfort zone. Why not try it for real?
Location: 111 - 113 Manners Street, Te Aro, Wellington
Suggested Read: 8 Fascinating Places To Visit In Wellington That'll Help You Explore This Beautiful City!
10. Central Wellington : Flush the day's tiredness with some fresh brews

With the Daylight Savings Time on, evenings in Wellington happen sooner than you'd expect and if like to end things on a high note, head to the street between Leeds and Eva to find the hidden highway to your guilty pleasure. With dainty upcycled bars brewing craft beers to home-cooked Italian pizzas and a hole in the wall dessert place with 5 varieties of peanut butter, this street is for those looking for something crunchy, creamy, chocolaty, cheesy, and well, cheap.
Location: Central Wellington
Further Read: Day Trips From Wellington: 10 Stunning Places To Visit From The Windy City
Now, doesn't Wellington in winter seems like the perfect getaway? For personalized itineraries and more information, contact TravelTriangle's experts and set off on the most exciting and memorable vacation of your life. Don't forget to write to us about your fabulous holiday in New Zealand once you're back from it!
People Also Read:
Tel Aviv In Winter Winter in Sydney Auckland In Winter
---
Looking To Book An International Honeymoon?
Book memorable honeymoon on TravelTriangle with 650+ verified travel agents for 65+ domestic and international destinations.
---