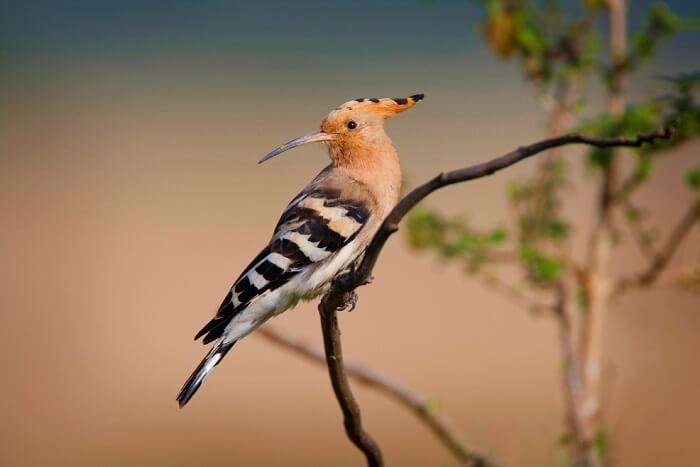 Israel is home to such diversity both in terms of its landscape as well as its people that the country is a bucket list item for many travelers. Home to cities like Jerusalem and Tel Aviv, Israel has modern cities, archaeological and historic sites as well as beautiful natural places to visit. From the mountains in the north to the desert in the south, there is so much to witness in terms of wildlife in Israel.
The government and people of Israel are also aware of its endless natural beauty and its significance. As of today, the country has over 400 natural reserves conserving its natural beauty, archaeological sites, and diverse wildlife. These reserves are home to over 2500 different kinds of plants and 500 different species of animals.
The Diverse Flora And Fauna Of Israel
Read on to know more about the places you can visit while exploring the wildlife in Israel in the various nature reserves, national parks, and wildlife sanctuaries spread across the country.
1. Yotvata Hai-Bar Nature Reserve
Located in Southern Israel, this nature reserve functions to nurture and protect the wildlife in Israel. Spread over 12 square km, the park is famous for its Arabian Oryx, which is one of the endangered species that have found shelter here. The park is a part of the Negev Desert ecology and is developed in three different sections. You can spot leopards, hyenas, sand cats, snakes, foxes, gazelle and even ostrich over here. One of three sections of the park is dedicated to nocturnal animals like bats and owls.
Must Read: Israel In January 2022: All You Need To Know Before You Plan A Holiday
2. Mount Carmel National Park
Over 1700 feet high, Mount Carmel is a coastal mountain, with Haifa located on its northern slopes. A UNESCO biosphere reserve, the area is made up of a typical Mediterranean ecosystem with trees like pines, cypress, etc. There are many different species of wild animals, especially mammals in Israel, a number of which can be found easily the area. Keep your eyes out for species like Palestine Mountain Gazelle, Persian Fallow Deer, Wild Goats and eagles.
3. Ramat Gan Safari Park
Developed as a zoo, this safari park is so huge that this collection of wildlife in Israel is considered the biggest in the whole of Middle East. Located outside Tel Aviv, the safari park is built to give a feel of an African safari. There are around sixteen hundred different types of species in here. There are a number of animals from Africa as well as Asia namely elephants, chimpanzees and hippos. You can also visit this park to spot lions in Israel.
Suggested Read: Top 8 Incredible Things To Do During Christmas In Israel
4. Ein Gedi National Park
Closer to the Dead Sea, this natural reserve attracts a number of hikers to visit the place. There are 9 different kinds of trails here and you can undertake them irrespective of your hiking capabilities. There is tropical as well as Mediterranean vegetation in the area and you can spot animals like rock hyrax and Nubian Ibex. The park is, in fact, an oasis, presenting a stark difference with its desert-like surroundings. There are four streams in the park, flowing throughout, providing drinking water to the Israel wildlife in the area.
5. Underwater Observatory Marine Park
Deep inside the Red Sea, this marine park is a big attraction for tourists and locals interested in the ecology of these waters. The park is situated near Eilat, the park provides an interesting insight into the marine world, spot everything from sharks, walruses, turtles to stingrays her. It also covers a big part of the coral reef that runs along the shore, which makes the views even more beautiful. There is a Rare Fish aquarium over here along with a transparent 15 meters long tunnel, which offers marvelous views into the marine world of the Red Sea.
Suggested Read: 10 National Parks In Israel That All Adventure Seekers Would Love For Sure!
---
Planning your holiday but confused about where to go? These travel stories help you find your best trip ever!
Real travel stories. Real stays. Handy tips to help you make the right choice.
---
6. Gamla Nature Reserve
The views from Gamla are stupendous, which is why you will find a mix of hikers, nature lovers and photographers here. Known for is vultures, Gamla has a dedicated vulture trail, which ends at a post on the cliff where you can spot the beauty of Israel wildlife. Spanning over ten feet, these huge vultures can easily be spotted in the sky. While soaring high, these birds look as deadly as they really are. There are not a lot of dangerous animals in Israel, but these vultures more than make up for it!
7. Eilat Botanical Garden
A must visit to explore and experience the plants in Israel, this botanic garden is located in the north of Eilat, the southern city of Israel. You will find species from every corner of the world, along with beautiful water streams and falls, and a huge collection of birds. Located in the desert, this botanical garden is like an oasis with a rainforest located inside. You will find over a thousand different types of plants, bushes, and trees in this place, making it a beautiful experience for those interested in horticulture.
Suggested Read: Shopping In Israel: Top 10 Places To Drop By For An Unbeatable Retail Experience
8. Hula Valley Nature Reserve
One of the most beautiful places in the whole of Israel, this beautiful valley is a part of the African Great Rift Valley, which is why the biodiversity here is abundant. Apart from the usual mammals in Israel, you will also find a large number of migratory birds in the area on their route to Europe or Africa. Pelicans, strokes, egrets and other birds attract hundreds of birdwatchers to the valley every year. The wetlands or swamps here act as a major stopover in the journey for these birds. Interestingly, the park was at first a huge swamp, but in the fifties, it was developed as a nature reserve.
9. Israel National Trail
Starting from north of Israel in Kibbutz Dan, this almost a thousand kilometers long trail ends in Eilat, making it one of the most prominent hiking routes in the country. Covering everything from the green hills to the empty and vast plains, dry, scorching desert and the beautiful sea, this trail offers a beautiful view of Israel wildlife, landscape as well as ways of life of the people here. You can cover the whole trail in one go or do it in stages.
Suggested Read: Snowfall In Israel: Best Things To Do To Make It A Fun Affair
10. Ashdod Sand Dune
These sand dunes are a remnant of a lost civilization, making a visit here a must for everyone interested in nature and natural history. Spread over most of the country at a time, today these coastal dunes have reduced due to the expansion of the cities. You can find short-beaked dolphins in Ashdod in the Mediterranean sea, which are one of the endangered species in Israel. The ecology here is quite unique, making it a place everyone should visit in the country.
Frequently Asked Questions About The Wildlife In Israel
Still doubtful? See these common questions that travelers ask:
What kinds of plants can be found in the country?
A. There are over 2000 different kinds of plants in Israel, with varying types and ecology. The country's biodiversity is humongous given its peculiar geographic location. You can find coastal and hilly trees (olives, pines, almonds, and coconuts) in northern parts due to the Mediterranean sea. While the southern part is a desert with cactus and other native plants.
Can I spot any predators in Israel?
A. While the Asiatic lions in Israel have gone extinct today, you can still spot cheetah and Arabian Leopards as the few dangerous animals in Israel.
What all animals can be found in the reserves across the country?
A. Apart from regular mammals like jungle cats, elephants, oryx, hippopotamus and others, you can also spot a large number of reptiles like Nile crocodile and Levant viper here. Due to its location, it becomes a major stopover for the migration phase of birds. Over 500 million birds are said to visit the country every season. Hoopoe and ostriches are two species you can look out for.
How does the marine life look in Israel?
A. The country has a thriving amphibian and marine life. Due to the presence of streams, swamps, and sea, Israel is home to different species of toads, salamander, frog and other such animals. There are also around 1700 different kinds of species of fish in the country. You can spot dolphins, sharks as well as different freshwater fish here. The only place in the whole world to be home to blue and Dead Sea killifish both is the saline wetland of Einot Tzukim in Israel.
Further Read: 10 Villas In Israel For Your Private And Luxurious Vacation With Family
The wildlife in Israel is diverse and vast. You can spot mountainous as well as coastal ecospheres in the same place, which is why the country attracts many nature lovers throughout the year. Its proximity to Africa gives it a different kind of wildlife than the other middle eastern countries. If you are interested in exploring the country, plan your trip today to explore the best value for money deals.
---
Looking To Book A Holiday Package?
Book memorable holidays on TravelTriangle with 650+ verified travel agents for 65+ domestic and international destinations.
---