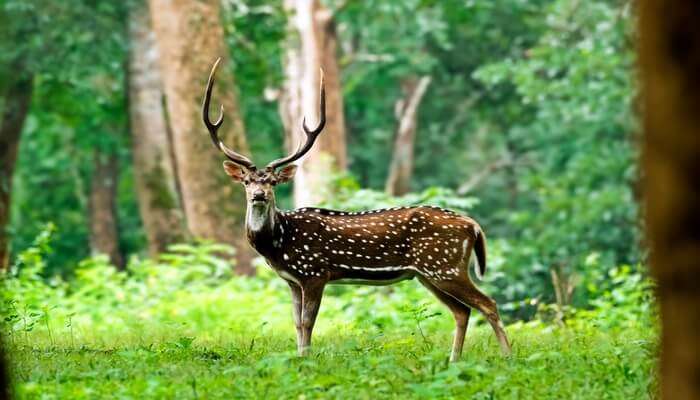 A lion on its turf or hundreds of elephants stroll past you with oblivion are overwhelming sights to gaze at. Such incredible experiences will leave you with goosebumps. A wildlife Safari is worth every penny invested. Extraordinary wildlife, an astonishing variety of birds and mammals and close encounters with buffaloes, leopards and gazelles are what we put in our list to experience a thrilling wildlife Safari in any place of the world. Wildlife sanctuaries are well-known destinations near Hyderabad.
Besides displaying a wide variety of flora and fauna, tourists can also enjoy nature in Hyderabad by going to treks or nature trails. Though almost all sanctuaries and wildlife parks are interesting, here is a list of the ones that stand apart. These wildlife sanctuaries near Hyderabad are a must-visit for anyone who's vacationing in the city and is looking forward to a thrilling wildlife safari there.
Top 7 Wildlife Sanctuaries Near Hyderabad
If strolling around the lush greens, witnessing the exotic wildlife, and admiring the wonders of nature is your idea of a vacation, then you are the right place. Here is a list of all the wildlife sanctuaries near Hyderabad that you should surely check out. Take a look!
1. Tadoba National Park

Located approximately 29 km from Chandrapur, the Tadoba-Andhari Tiger reserve is renowned as the largest and the oldest tiger reserve in Maharashtra. This is one among the top wildlife sanctuaries in the entire India and is a well-known tiger reserve in the Chandrapur district of the state of Maharashtra in India. The Tadoba Andhari national park falls under the 47 project Tiger reserves in India and is one of the best places to be experienced. The Tadoba-Andhari wildlife's sanctuary is the largest in the state of Maharashtra.
This national park has been divided into 3 separate ranges, namely the Kolsa south range, Tadoba north range, and the Moharli range. This national park has 88 tigers, about 58 in the forest land just outside the main area of the park. The park houses an array of wild animals like leopards, Bengal tiger, sloth bears, chital, nilgai, barking deer, spotted deer, jungle cats, sambar, dhole, Indian civet, striped hyena, and chausingha. Trees include teak, salai, bamboo, bija, arjun, haldu, jamun, tendu, ain, mahua, and others. Jungle safari in an open-top gypsy is the main attraction of the Tadoba Andhari park. The ideal time for visiting this park is between March and May.
Distance from Hyderabad: 412 km
Must Read: Nehru Zoological Park: A Guide To The Home Of Hyderabad's Rich Flora And Fauna
2. Nagarjuna Sagar Sanctuary

Located 60 km away from Nagarjuna Sagar, Nagarjuna Sagar-Srisailam sanctuary is the biggest tiger reserve in India, occupying an area of 3568 sq.km. It spreads between the Srisailam reservoir and Nagarjuna Sagar. Declared as a sanctuary in 1973, this sanctuary was included in the project tiger a decade later. Panthers, spotted deer, tigers, blackbuck, mouse deer, sambars, tree straw, chousingha nilgai, mugger crocodiles, wolves, wild dogs and sloth bears are some animals mostly found in Nagarjuna Sagar-Srisailam sanctuary. The sanctuary has various gateways- Kandla Kunta, Vatwarla Palle, and Mannanur. A Jeep safari is organised by the forest department around the forest from the entrance on Hyderabad to Srisailam highway.
Privately owned vehicles are not allowed inside the sanctuary. Inside this sanctuary are several tourist places like the Malleka Teertham falls, Uma Maheshwaram and Saleshwaram. These spots provide an opportunity for tourists to feel the ecology of the park. The primary forest biomes found in the reserve are tropical dry mixed deciduous forests, Deccan thorn scrub forests, Hardwickia forests, euphorbia scrub. Plant species found here include Tectona grandis (teak), Boswellia serrata (Indian frankincense or salai), Hardwickia binata (Anjan tree), Cleistanthus collinus (odcha), Terminalia spp, Mundulea sericea, and Albizia spp and Pterocarpus marsupium.
Distance from Hyderabad: 173 km
Suggested Read: 25 Amazing Wildlife Sanctuaries In India For Adventurous Safaris And Encounters With The Wild
3. Pocharam Dam And Wildlife Sanctuary

Located about 5 km away from the Pocharamvillage, the Pocharamdam wildlife sanctuary is situated in the Medak district of Telangana. Spreading across 130 sq km, this sanctuary is an ideal spot to be visited on your journey to Hyderabad. The place where this sanctuary stands now used to be the hunting ground for nizams once upon a time.
The Pocharam lake and the reservoir are amazing sights to behold with water flowing through the monsoon season. This is the ideal place to relax and soak in the sun during winters. Needless to say, this sanctuary too, houses a wide variety of birds and animals like sloth, cheetah, wild boars, panther, nilgai, chinkara, hyena, jackal, etc. The Manjira river is its source of water and renders life to the forest. Also found here are crocodiles, water turtles, marsh and Cobras.
In addition to the Manjira river, the flora of this sanctuary makes it even livelier with vegetation like hydrilla, pistia, babul Prosopis, Vallisneria, and Eichhornia. There are 9 little Islands in the center of the Pocharam Reservoir, which are the chief breeding grounds for crocodiles, birds, and turtles. Birds like white ibises, open billed storks, croots, teals, pochards, cormorants, herons, painted storks are found in abundance. Inside this sanctuary is an eco-tourism tower from where deer and antelopes can be spotted. Boating facilities are available in this sanctuary to explore the place.
Distance from Hyderabad: 109 km
Suggested Read: 14 Gorgeous Waterfalls Near Hyderabad That You Can Visit In 2022 For A Jaw-Dropping Experience
4. Rollapadu Wildlife Sanctuary

Located 40 km from Kurnool, the Rollapdau wildlife sanctuary is one of the most well-known sanctuaries in the state. Primarily famous as the habitat of the great Indian bastard, which is a rare species of bird, this sanctuary is home to a large number of migratory birds and hence it's often called Rollapadu bird sanctuary. This sanctuary is approximately 4.5 km away from the Rollapadu village.
The Rollapdau wildlife sanctuary was constructed in 1988 to shield the Great Indian bustard, spanning over an area of 6.14 sq.km. The great Indian bustard in recent years has become a critically endangered species and this sanctuary in Andhra Pradesh happens to be its only habitat. Since the Rollapdau wildlife sanctuary comprises of dry grassland areas, it is an ideal habitat of this bird.
The Alaganuru reservoir located 3 km away from the Rollapadu village and 7 km from the sanctuary is a must-visit the spot to enjoy the sight of migratory birds that are found there. This sanctuary is home to varied species of blackbucks and deer. Also one can find animals like jackals, foxes, jungle cats, bonnet macaques, sloth bears along with 132 species of migratory birds at the Alaganuru reservoir like mynas, Indian rollers, eagles, bareheaded geese, greater flamingos, demoiselle cranes, etc.
Distance from Hyderabad: 255 km
Suggested Read: 15 Mesmerizing Hill Stations Near Hyderabad Waiting To Be Explored In 2022
5. Eturnagaram Wildlife Sanctuary

One of the oldest sanctuaries in Southern India is the Eturnagaram wildlife sanctuary that was announced as a wildlife sanctuary in the year 1952 by Hyderabad Nizam government. The sanctuary is situated on the borders of Chattisgarh, Maharashtra, and Telangana. Inside the sanctuary is the famous Sammakka-Saralamma temple. Spreading across an area of 806 sq. Km, this wildlife sanctuary houses leopards, tigers, jackals, sloth bears, panthers, wolves, chousingha, wild dogs, blackbucks, spotted deer, four-horned antelopes, sambar, nilgai, chinkara, gaur and big squirrels.
The sanctuary is divided into two parts by the dayyam vagu, its primary source of water. Apart from varied fauna, it hosts a wide range of species of birds as well. The pleasant and wide and tranquil Godavari amidst dense forests is a delightful experience to watch in the monsoons. Organised tours are not available in the sanctuary. However, visitors can arrange and hire a jeep and discover the forest after taking permission from the Eturnagaram forest officer. Months between October and May are ideal for visiting this sanctuary.
Distance from Hyderabad: 253 km
Suggested Read: Mrugavani National Park: A 2022 Family Weekend Getaway Near Hyderabad!
6. Pakhal Lake Sanctuary

The Pakhal lake was constructed by Ganapati deva in 1213 AD, 50 km away from Warangal. It was constructed by harnessing a tributary of river Krishna. This lake spreads over an area of 30 sq.km. Tourists find this place to be an ideal weekend getaway near Hyderabad. Situated just beside the lake, is the Pakhal wildlife sanctuary that spans across 839 sq.km.
The sanctuary offers an eye-soothing landscape having a rich and dense store of flora and fauna. It is indeed a delightful experience for tourists to visualise so many animals and birds in that wonderful background sight. The sanctuary abounds in animals like bears, tigers, leopards, panthers, wolves, hyenas, wild dogs, sloth bears, jackals, nilgai, langoor, porcupine, reptiles like cobra, python, common krait, crocodiles and lizard.
Distance from Hyderabad: 130 km
Suggested Read: Bandhavgarh National Park: A Wildlife Retreat In The Lap Of Nature In 2022
7. Kinnerasani Wildlife Sanctuary

The Kinnerasani wildlife sanctuary is located on the right bank of river Godavari and is considered to be part of the Dandakaranya forest. The sanctuary is named after the River Kinnerasani. This river divides the sanctuary and meets the Godavari. It has been named after river Kinnerasani, that segregates the sanctuary and meet the Godavari.
Amidst the picturesque Kinnerasani lake and thickly forested island, the sanctuary spans across an area of 635.4 sq.km. It is home for animals kike sambar, wild boars, gaurs, hyena, chinkara, jackals, chousinghas, tigers and blackbucks. Birds found here generally include jungle fowl, partridges, teals, quails, doves, spoonbills, nuktas, peafowl, etc. The sanctuary comprises dry deciduous mixed forests with Bamboo, teak, amla, Maddi, yegissa, yepi, mango, and tendu. The sanctuary is well known for the deer park, reservoir, and Kinnerasani dam.
Distance from Hyderabad: 297 km
Further Read: 11 Things To Do In Shimoga That Will Make You Fall In Love With The City In 2022
Anytime you think of taking a break from the monotonous office life, take your kids and visit these wildlife sanctuaries near Hyderabad with them. For your kids, it will be some kind of a new, exciting experience. Simultaneously, you will also be able to relax from the hustling and bustling of city life. These wildlife sanctuaries in India have preserved and portray the rich biodiversity of entire India.. Visit the above-mentioned sanctuaries when planning a trip to Hyderabad and get an opportunity to watch nature more closely. The diverse topographic condition of our country is a major reason for the dense greenery and richness of its forests.
Disclaimer: TravelTriangle claims no credit for images featured on our blog site unless otherwise noted. All visual content is copyrighted to its respectful owners. We try to link back to original sources whenever possible. If you own the rights to any of the images, and do not wish them to appear on TravelTriangle, please contact us and they will be promptly removed. We believe in providing proper attribution to the original author, artist or photographer.
Please Note: Any information published by TravelTriangle in any form of content is not intended to be a substitute for any kind of medical advice, and one must not take any action before consulting a professional medical expert of their own choice.
Frequently Asked Questions About Wildlife Sanctuaries Near Hyderabad
Which is the nearest Wildlife Sanctuary near Hyderabad?
The Shamirpet Deer Park, 24 km from Hyderabad is the closest sanctuary.
How many wildlife Sanctuaries are there in Hyderabad?
Kasu Brahmananda Reddy National Park and Mahavir Harina Vanasthali are the two prominent sanctuaries located in Hyderabad.
Which is the largest wildlife sanctuary near Hyderabad?
The Nagarjuna Sagar sanctuary is the largest sanctuary near Hyderabad. It is the largest in India as well spanning across 3568 sq.km.
What species of animals can we spot in these sanctuaries?
The sanctuaries in and around Hyderabad are home to a large number of species of animals like sambar, gaurs, jackals, hyenas, panthers, bears, sloth bears, Tigers, cheetahs, chinkara, and blackbuck. Also, varieties of birds include partridges, teals, quails, jungle fowl, peafowl, spoonbills, doves and many more.
What is the best time to visit the wildlife sanctuary in general?
Generally, months between March and May are an ideal time for these sanctuaries to be visited.
Are there any additional adventure activities that are offered in these sanctuaries?
Some of the sanctuaries do offer scope for adventure activities around the sanctuaries. The details are to be inquired from their managing department.
Are there night safari services being offered in any of these sanctuaries?
Yes, there are night safari services offered in some of the sanctuaries located in and around Hyderabad.
Which wildlife sanctuary is ideal to visit with kids?
The Mahavir harina vanasthali wildlife park and the sanctuary is a great place for kids. It is located just 10 mins away from the core city of Hyderabad.
People Also Read:
National Parks In Maharashtra National Parks In Assam National Parks In Dehradun