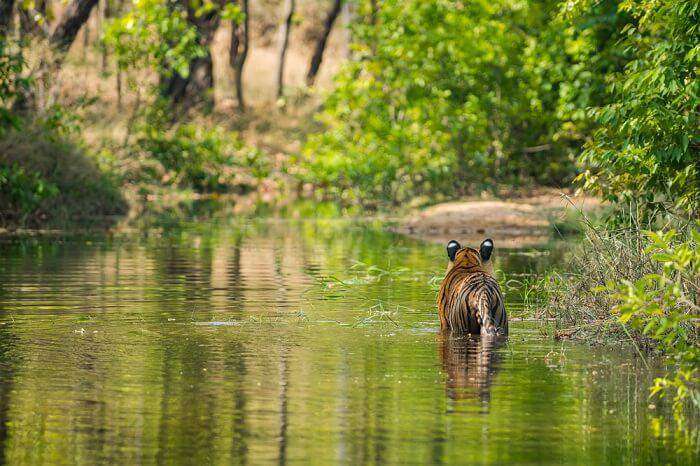 Bandhavgarh National Park India is a rejuvenating paradise for travelers who are looking for an escape into the wild. Its star attractions include the world famous Bengal tiger, white tiger, leopards, rare species of deer and a vast area that is not only greener than green but also varied in its topography. So if you're looking for a holiday at this amazing destination, we have you covered! From hotels to sightseeing to fun things to do, find out everything you need to know about this green paradise.
Bandhavgarh Tiger Reserve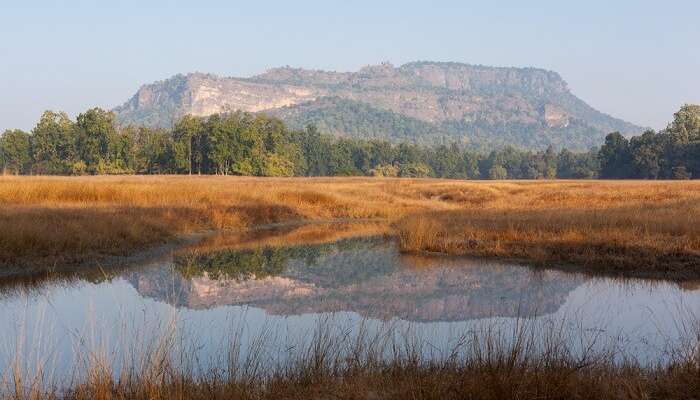 Suggested Read: 4 Best Tourist Circuits In Madhya Pradesh
Bandhavgarh National Park is one of the most exciting national parks in India. It is one green destination where you can not only spot the elusive tiger but also leopards, elephants, and white tigers. Located in Madhya Pradesh, it lies in the Vindhya Hills of the Umaria district. For travelers who are looking to rejuvenate themselves amidst nature and wildlife, this Indian national park is somewhat a perfect choice.
---
Looking To Book A Holiday Package?
Book memorable holidays on TravelTriangle with 650+ verified travel agents for 65+ domestic and international destinations.
---
Bandhavgarh National Park Essential Info
Bandhavgarh National Park (Distances from Major Cities)
Bandhavgarh National Park is well connected with all the major cities and stations in India
Jabalpur : 190 km/ 4 hrs
Satna: 120 km
Delhi: 978 km
Gwalior: 565 km
Umaria: 35 km/ 45 min
Khajuraho: 270 km/ 6 hrs
Katni: 102 km
How To Reach Bandhavgarh National Park
By Air: Take a flight from Delhi or Varanasi to Khajuraho and drive to Tala park entrance (8-hour drive) at the Bandhavgarh National Park.
By Rail: The nearest railway station to Bandhavgarh National Park is Umaria and from here it is about 40 minutes drive to Nature Heritage. Alternatively, one can also take an overnight train from Delhi to Umaria and then drive (30 minutes) to the park.
Note: Only jeeps are available for transfers.
Best time to visit Bandhavgarh National Park
The Bandhavgarh tiger reserve is open from October to June and one can visit it anytime during the day
The park is closed during the monsoon season in the months of July, August, and September
Bandhavgarh National Park Flora & Fauna
Flora in Bandhavgarh National Park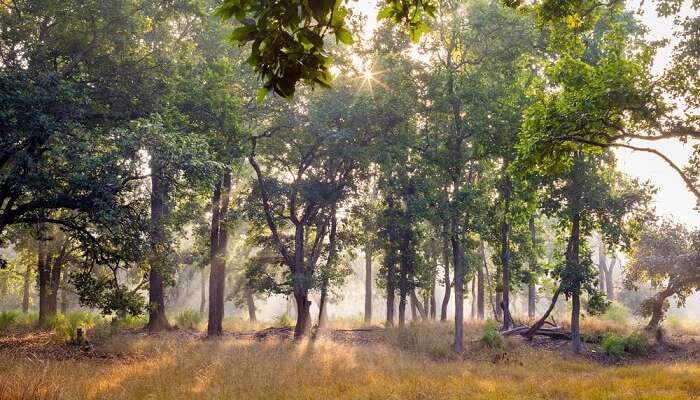 Suggested Read: Kudremukh National Park: A Guide For Enjoying An Ultimate Escape Into The Wild!
Bandhavgarh National Park is one of the richest places in India when it comes to flora. This national park, which is spread across an area of 446 sq km is one of the lushest parts of Umaria district and has a dry deciduous type of foliage. Moreover, the moderate climate of the park combined with lush topography also encourages varied and rich flora. In totality, there are 32 hills, plateaus, meadows, and cliffs – all of which come together for a splendid nature and wildlife experience like none other. The area is also known for its Sal forests in the valley region and the Bamboo stretches in the lower slopes apart from other vegetation species, trees, and huge grasslands.
Apart from this, there are rivers, perennial streams, and rivulets flowing across different zones giving it a scenic ambience and a natural importance.
Wildlife in Bandhavgarh National Park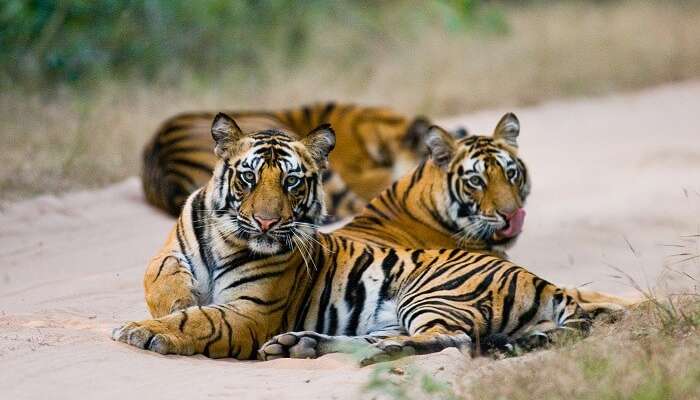 Suggested Read: Mrugavani National Park: A Family Weekend Getaway Near Hyderabad!
One of the most famous animals in Bandhavgarh National Park is the tiger and here travelers can witness its various varieties including the white tiger. Apart from this, there are in general more than 22 species of mammals and more than 250 species of birds. Visitors can enter the park either through a motor vehicle or on an elephant back in the company of a forest official. Bandhavgarh Safari is generally carried out early in the morning until 10 am and from 4 pm until dusk.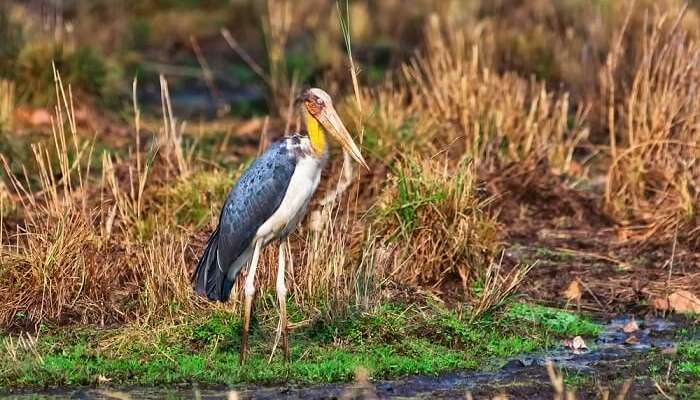 Some of the most famous animals in the Bandhavgarh National Park include carnivores like Asiatic Jackal, Bengal Fox, Sloth Bear, Ratel, Gray Mongoose, Striped Hyena, Jungle Cat, Leopard, and Tiger. The artiodactyls found here include wild pig, spotted deer, sambar, chausingha, nilgai and chinkara with mammals like dhole, the small Indian civet, palm squirrel and more.
Birds include crane, black kite, crested serpent eagle, black vulture, Egyptian vulture, common peafowl, red jungle fowl, dove, parakeet, Indian roller can also be found in abundance. There is a large variety of reptiles too and these are cobra, krait, viper, ratsnake, python, turtle and a number of lizard varieties, including Varanus.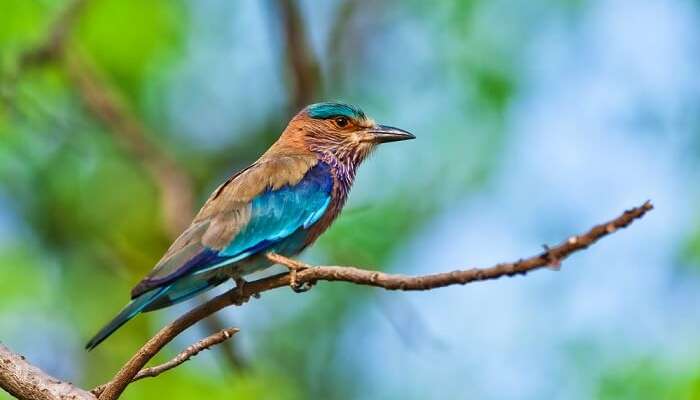 Suggested Read: 7 Mystical National Parks Of Madhya Pradesh
Apart from the above, the park also has special birds like Grey Hornbill, Common Teals, Red Jungle Fowl, and White-Breasted Kingfisher etc.
Bandhavgarh National Park Safari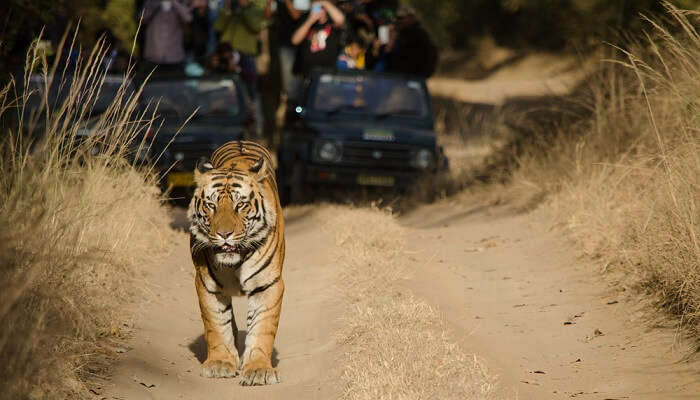 To take a wildlife safari in Bandhavgarh National Park is the topmost reasons why people visit this green heaven. Lush forests, grasslands, rivers, streams, wild species, birds, and a visit by the royal tigers – all add up to an incredible natural experience that can only be felt. The safaris are well organized, safe, and carried out with keeping the all the cautions in mind.
Jeep Safari in Bandhavgarh National Park
An equal delight for adventure, nature, and wildlife lovers, a jeep safari in Bandhavgarh National Park will not only rejuvenate your senses but will also show you the raw power of nature. Cruising inside a 4 wheel drive open jeep with a forest official and passing through thick Sal forests, grasslands, streams in the company of a variety of birds and animals is more than an enthralling experience.
Best time for jeep safari: October to May (dry season)
Number of passengers allowed in a jeep: 6 (accompanied by one naturalist and one driver)
Timings: 6 am – 10 am (morning) & 4 pm until dusk
Safari Zones
In total, there are 4 safari zones in Bandhavgarh National Park and out of these Tala and Magadhi have the highest concentration of animals.
Safari Zones & Safari Vehicles Allowed
Tala (Gate-1): 20 – 20
Magdhi (Gate-2): 20 – 20
Khitauli (Gate-3): 16 – 15
Bandhavgarh Fort: 5
Elephant Safari in Bandhavgarh
One of the best ways to witness glorious creatures of Bandhavgarh National Park especially the tigers is via the Elephant Safari. Witnessing majestic animals on the back of an elephant not only offers a person to do a tiger tour in an intimate manner but also enjoy a perfect elephant ride. This ride, however, can be attained only one the park management receives a written permission from the Field Director of Bandhavgarh.
Tips for Bandhavgarh National Park Safari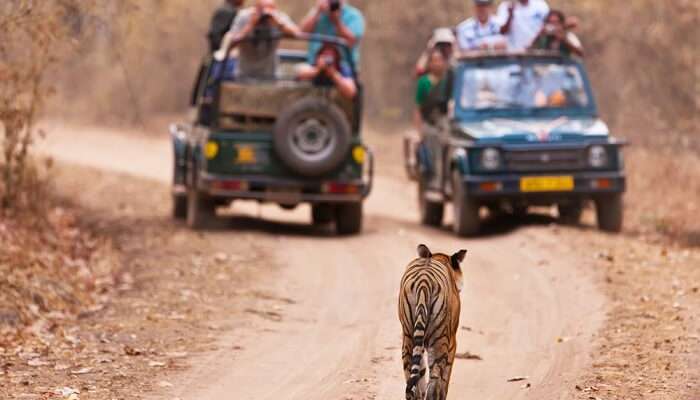 Suggested Read: Gorumara National Park: Explore The Luxuriant Wilderness At The Foothills Of The Himalayas
Drive slowly so as to observe the wildlife without disturbing it.
Keep to specific routes and trails and do not go off track since it may lead to danger and damage of flora and fauna
Maintain a safe distance from the animals and respect them since it is you who are in their home
At any point of danger or situation with a wild animal, keep seated in your car
Don't be disappointed if you don't see a tiger for the park has so many various other animals and birds to marvel. Remember, this is a national park, not a zoo
Don't litter the park and in general be very particular about throwing nonbiodegradable waste like plastic, glass bottle, metals, tin cans etc
Use the services of a nature guide for they will not only give you every detail about the nature in the park but would also make your safari experience extremely fulfilling
Don't smoke or light campfires in the forest for it could lead to an accidental forest fire and that could destroy the wonderful jungle in no time. In general, be very particular when it comes to fire in the forest
Best Places To Visit In Bandhavgarh National Park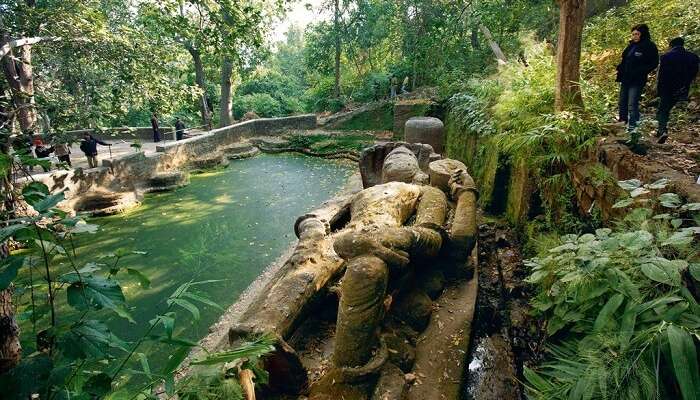 Suggested Read: 10 Honeymoon Places In Madhya Pradesh Every Couple Should Visit
1. Village Tala
Village Tala is one of the best places to visit in Bandhavgarh National Park since it offers an inside glimpse into the life and times of a typical village with all its ethnic charm. From the mud clustered houses to elders smoking hookahs on cots to the mesmerizing views surrounding the villages – this is a one of a kind experience that no traveler should ever miss.
2. Mahaman Pond
Located near the Bandhavgarh Fort, the Mahaman Pond is a beauty surrounded by bamboo clumps and herding wild creatures. Also known as the "Place of Quench the Thirst", it is one place in the park where a variety of herbivores and carnivores can be found.
3. Kethika
Also known as the Pendanus Point, it is famous for its aromatic plant called Kewra which can be found amidst the Jammu and Arjun trees here. This plant is one of the floral specialties of the Bandhavgarh National Park.
4. Climber's Point
This is one of the best places to see in Bandhavgarh National Park if you want to get an aerial view of the same. Filled with Sal and Bamboo trees, it is also home to some of the unique fauna species like Butea Superba and Bauhinia Wahlii. In other words, a perfect place for tourists who are looking for peace of mind amidst nature.
5. Bari Gufa
A man-made cave that is not only majestic in its architecture but also shows the impeccable architecture of the past. Dating back to the 10th century, it is believed Bari Gufa, meaning the "The Giant Cave" is the biggest man-made cave of the Bandhavgarh Tiger Reserve.
6. Three Cave Point
Another of the fascinating places in the park, the Three Cave Point is a beautiful location filled with carvings of the ancient times. One can easily see the beautiful blend of architectural techniques used in earlier times here along with many wild animals like leopards, tigers, and sloth bears who live here.
7. Rajbahera
This marshy meadow can be viewed from the Bandhaini Hollock and is the place from where the river Dammer originates. It is one of the best places to see storks, vultures, chital, sambar, and wild pigs in the wild.
8. The Shesh Shaya
This is an amazing 11-meter long statue of Lord Vishnu in the laying position with an umbrella of "Shesh Nag" along with the "Shivling" and a "Lord Brahma" statue. It is situated on the main footpath entrance of the Bandhavgarh Fort is believed to have been built in the 10th century.
9. Cheshpur Water Fall
An excellent place for tourists to enjoy a picnic, the Cheshpur Waterfall is located 50 km from Bandhavgarh and is one of the best family places around for travelers.
10. Jwalamukhi Temple
Situated on the bank of Charan Ganga, this temple dedicated to Goddess Jwalamukhi was built in 10th century and is a delightful cum peaceful experience for all.
11. Fossil National Park
An excellent pick for nature lovers and historians, the Fossil National Park in Bandhavgarh is around 110 km away and holds floras in the fossil form between 40 million to 150 million years old. The huge park is spread in an area that is more than 274100 square meters and the fossil plants are found in the buffer area of the national park consisting of thee villages.
Best Hotels & Resorts In Bandhavgarh National Park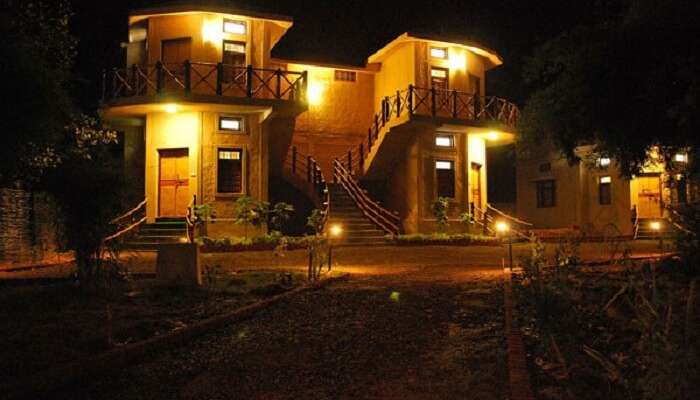 Suggested Read: 15 Tourist Places In Madhya Pradesh That You Should Be Visiting Right Now!
High-end Luxury Resorts
1. Mahua Haveli
Tariff: From INR 32545
2. Syna Tiger Resort
Tariff: From INR 25500
Luxury Resorts
1. Tree House Hideaway Resort
Tariff: From INR 16000
2. Kings Lodge
Tariff: From INR 14000
Deluxe Resorts
1. Nature Heritage Resort
Tariff: From INR 5500
2. Tiger Trails Resort
Tariff: From INR 5200
Standard Resorts
1. Mogli Jungle Resort
From INR 5365
2. Salvan Resort
Tariff: From INR 13500
All in all, Bandhavgarh National Park is a place with many delightful attractions. From an intimate tiger safari to exotic birds to 10th-century monuments and hundreds of million-year-old fossils – it has everything that you expect from a wildlife nature escapade! And yes, some amazing resorts too! So, don't wait, start planning now.
Frequently Asked Questions About
Bandhavgarh National Park
Q. What is Bandhavgarh national park best time to visit?
A. The best time to visit Bandhavgarh National Park is from October to June. The park is closed in the months of July, August, and September.
Q. What is the nearest airport to Bandhavgarh National Park?
A. Both the Khajuraho Airport and Jabalpur Airport are around 250 km from Bandhavgarh National Park and one can opt for either of them.
Q. How much Bandhavgarh national park distance is from Delhi?
A. The distance from Delhi to Bandhavgarh is around 978 km and we would recommend you to book a flight to its nearest airports.
Looking To Book An International Holiday?
Book memorable holidays on TravelTriangle with 650+ verified travel agents for 65+ domestic and international destinations.
---
Comments
comments