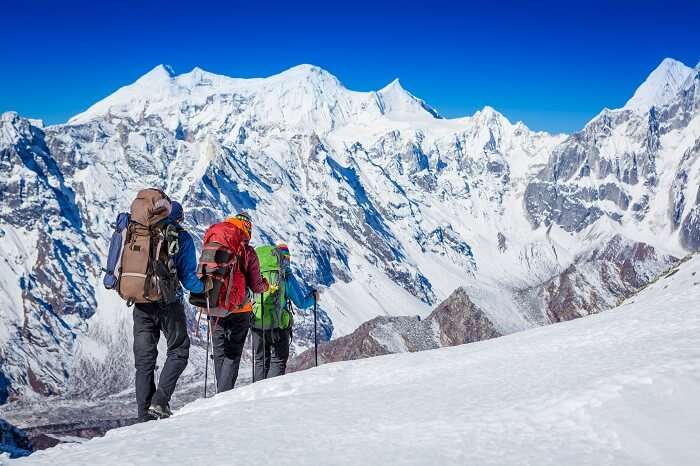 Hiking in the winter is totally different from hiking in the summer. Being prepared for your future hikes beforehand is very important and can come in handy anytime, anywhere. You can prepare yourself by learning a few winter hiking tips that you can use to stay safe and warm, whenever you plan on hiking.
Whether you're outdoors hiking in snow, or simply exploring nature, our winter hiking tips will definitely help you have an enjoyable hiking experience during winter. There are a lot of factors which help in making your hike a safe outdoor experience, all of which can be possible with the right winter hiking gear, winter hiking tips, clothing and attitude as well.
10 Essential Winter Hiking Tips
So don't worry, as with our winter hiking tips you will be a pro in no time. Read on to know some winter hiking tips you can use, while you're hiking in snow.
1. Always Check The Weather And Trail Conditions Beforehand
One of the essential winter hiking tips is to know about the weather conditions, because it changes abruptly during the winter season and can affect the hiking trail by covering it with fresh snow, which can be quite confusing when you are on a hike, all of which, helps us avoid hiking when there are strong winds, chances of heavy snowfall or low visibility. So, it is best to know the forecasted temperatures and wind pace beforehand. By doing so, you will always be safe while you're hiking in snow.
Must Read: 10 Lavish New York Resorts For Timeless Luxury & Indulgence In 2022
2. Stay Hydrated At All Times
Always make sure you carry an insulated bottle and a bottle sleeve, when you're hiking in winter. This will prevent the water from freezing when you are hiking in extremely cold conditions. If you don't have an insulated bottle, or if you forget to carry an insulated bottle for your hike, then you can also use a spare sock, or wrap the water bottle with a cloth to keep your water insulated and warm.
3. Pack The Right Winter Hiking Gear
Packing the right winter hiking gear is essential if your next trip is filled with hiking trails. Selecting the right shoes, bag, jacket and even wearing the right pants makes a huge difference when you are hiking. Keeping yourself insulated should be the number one priority while you are hiking in snow. You can start off by wearing a base layer at first, then a fleece jacket which acts as your middle layer and a jacket or down jacket which will help with the insulation and protect your body from the cold. Softshell pants are usually recommended while you are hiking in winter, as they are excellent at retaining body heat at all times and protect you from strong winds and snow. And, don't forget to keep an extra pair of woolen hats, gloves and warm socks in your bag just in case.
Suggested Read: 10 Best Things To Do In New York For First-time Visitors
4. Bring Extra Gear
Some other gear which you can also bring along with you during your hike are a firestarter, first aid kit, pocket knife, an emergency blanket, waterproof matches and a waterproof backpack. Packing extra gear on your hike always comes in handy and useful for surviving in extreme weather conditions. All of which will make a world of a difference when you are hiking in snow. They also provide you with protection and give you a better grip over snow, since hiking in snow can be slippery and sludgy when the snow is melting.
5. Pack Snacks For Your Winter Hike
Keeping yourself hydrated and energised is highly important at all times during your hikes. When you are hiking in the winter, your body tends to need twice the calorie count then it usually does normally to keep your body warm and toasty. So make sure you pack yourself some highly nutritious and protein packed meals to stay energised at all times. You can also carry these cold weather snacks such as: Organic pumpkin seeds, granola bars, protein bars, and even make your very own trail mix!
Suggested Read: Clubbing in Manhattan Or Bowling In Brooklyn: Enjoy The Exciting New York Nightlife
6. Be Well Informed Of Any Possible Hazards While Hiking
Being aware of all the hazards beforehand will always help you deal with any situation, which you might come across while you're hiking in snow. Some trails are known to be prone to be steep, have regular avalanches, unpredictable storms, all of which can interfere with the trail's path and terrain. It is best to avoid such complications by:
Check the weather, up until the moment you are walking out the door.
Ensure you are aware of the area or trail pass.
Learn how to properly use a map and compass before you go on your hike.
Also before heading out on your winter hike, make sure you inform a family member, friend or even the management at the hotel you are staying at where you are going, or which hiking trail you would be taking, so they can easily locate you.
---
Planning your holiday but confused about where to go? These travel stories help you find your best trip ever!
Real travel stories. Real stays. Handy tips to help you make the right choice.
---
7. Make Sure Your Feet Are Always Warm
Keeping your feet warm and while you're hiking in snow is very important. Make sure you pack a few pairs of good hiking socks made out of wool which keeps moisture away from the skin, when the skin is wet. It also helps insulate heat and dries quickly if it does get wet during your hike. Wearing above-the-ankle hiking boots, keeps the snow away from your feet at all times while you are hiking. You can also buy a pair of gaiters, which prevents your feet from sinking inside the snow. It is best to wear boots which are comfortable, as you would be spending a lot of time in them during your winter hikes.
Suggested Read: 10 Best Places To Visit in New York For A Fine Cultural Experience
8. Hike When The Sun Is Out
Normally in the summer we tend to avoid the sun while we our hiking on our trails. But, it is the total opposite when you are hiking in winter. We literally would do anything to feel the warmth of the sun during the cold weather. Try and time your hikes when the sun is out shining proudly in the sky, as this will help you keep warm and enjoy your hiking trail even more. It is also advised to plan your hikes in a way that you start in the morning and end it before the sun sets, due to the drop in temperature in the evening.
9. Make Sure You Carry Navigation Devices
Learning how to use navigation devices is very vital, when you are hiking outdoors. This helps you navigate yourself easily, without being troubled by any obstacles in your hiking path. You can also carry a handheld GPS device, a smartphone, a compass and even a map. All of these devices are very handy when you are hiking, and the plus point is that you can also prevent wasting time, or getting lost, while you are hiking. Navigational devices are used from experts to beginners and are considered to be one of the many winter hiking safety tips used globally.
Suggested Read: Belvedere Castle In New York Will Be Shut In 2018 & Here's Why You'll Need A Plan B!
10. Turn Around When You Need To
Your safety is more important than putting yourself at risk, rather than enjoying a once-in-a-lifetime experience outdoors. The weather can alternate quickly especially during the winter season, and if you stumble upon heavy snowfall, low visibility or strong winds then it is best to quickly turn around – specifically in case you didn't expect such situations. On snowy trails you also tend to get exhausted quicker (because of deep snow, slippery surface and so on.) and in some cases, it's smarter to turn around than putting yourself in danger.
Further Read: 20 New York Restaurants: The Culinary Capital Of The World (2022)
So if winter hiking is on your mind this snowfall, then don't wait and take a look at the customized international tour packages with TravelTriangle  and enjoy the adventurous thrill of this snow sport!
---
Looking To Book A Holiday Package?
Book memorable holidays on TravelTriangle with 650+ verified travel agents for 65+ domestic and international destinations.
---
Comments
comments