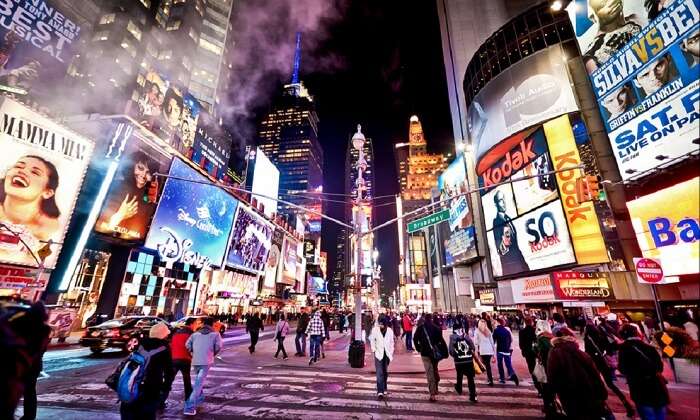 New York Nightlife is packed with hottest, jazziest, and glamorous after-dark action. It is one of the best places on earth to be truly alive when the sun goes down.
New York always remains energetic, even during the day. Yet a different form of vigor wave hits the city when the night dawns upon it. The nightclubs throng with the party animals, amazing cocktails line up the bar deck, and hands can be seen raised up in the air. Even the Statue of Liberty becomes 'lit' in the night (pun intended). But clubbing and partying are not the only things people enjoy New York nightlife. Here is what all you can do to blend in the nocturnal crowd.
10 Ways To Enjoy New York Nightlife
The city of New York is always bustling with events and activities. While Manhattan nightlife is fancy and cultured, Brooklyn is more laid back and chill. There are plenty of other options than clubbing too where you can experience the happening city of New York in a new shade.
1. NYC Speakeasy Walking Tour
The No-Alcohol Movement in the USA was a total failure but it gave birth to many clandestine bars and breweries which exist to date. Since the forbidden fruit tastes better, these speakeasies came up with interesting concoctions to enjoy alcohol in a new way. On this walking tour, enjoy the thrill of sneaking in these vintage bars from a hidden entrance and learn to make a cocktail or two. It is indeed a unique way to enjoy New York nightlife.
Price: INR 2,057 per adult
Review

Suggested Read: 20 New York Restaurants: The Culinary Capital Of The World
2. Brooklyn Bowl, Brooklyn
Suggested Read: Glamping In NYC Comes With Stunning Views Of Statue Of Liberty & The Manhattan Skyline

The trifecta of bowling, booze, and music go really well together, the proof of which you can see at Brooklyn Bowl. A must addition to the New York nightlife guide, this place provides you with altogether a new experience. The genre-defying bowling alley provides plenty of reason to New Yorkers Rock to enjoy the nightlife on weekends here. They even have dedicated DJ nights where they play the music of different moods. Rock and roll to good music and beer as you aim to knock down those pins. It is one of the unique ways to enjoy New York nightlife for tourists.
Location: 61 Wythe Ave, Brooklyn, NY 11249, USA
Price: INR 1,715 per lane per half an hour, INR 380 for shoe rental
3. Moxy Times Square
One of the best places to enjoy buzzing New York nightlife and the amazing vistas of the Manhattan skyline is Moxy Times Square. The rooftop bar and lounge at Moxy Square is known for its famous for its nightlife scene. The rotating carousel and topiary garden add style and charm to the whole place and plays on the idea of "urban amusement park" (you will have to visit the rooftop bar to make a sense of it). For those who like cocktails can select from their wide range of menu which not only features amazing concoctions but also have playful, quirky names like 'All Spice No Drama'.
Address: 485 7th Ave, New York, NY 10018, USA
Price: INR 12,000
4. New York City Nightclub Tour
Why dance and drink at one nightclub when you are in a lively city like New York? If club hopping is one of your favorite things, you should join this tour which will provide you with a 5-hour Nightclub experience in a VIP style. Arrive at the New York nightclubs in a Mercedes, cut through the waiting line like a VIP, have a table reserved for you in advance, and enjoy complimentary drinks at each of the nightclubs. Have a true celebrity experience in the most popular city in the world.
Price: INR 5,826 per adult
5. Le Bain
Situated on the 18th floor of New York City The Standard Hotel, Le Bain is one of the ostentatious clubs in NYC for party animals and those who like to get high on life. Its floor to ceiling windows and Astroturf-covered roof make it one of the swankiest rooftop nightclub in New York City. Reserve your thoughts when you see a hot-tub in the middle of a dance floor because it is a unique attraction of this place. While the darkly-lit indoor is more intense, the outdoor rooftop is for laying back and relaxing. It has both indoor and outdoor arrangements where you can party There is even a crepe station for the hungry clubbers.
Price: INR 5,000 approx.
Location: The Standard, High Line, 848 Washington St, New York, NY 10014, United States
Suggested Read: 10 Best Places To Visit in New York For A Fine Cultural Experience

6. Ghost Tours in NYC
Do you have a taste for all things spooky and paranormal? You must take the ghost tours in the New York City. The iconic Brooklyn Bridge hides various dark secrets and mysteries behind its colossal charm and physical beauty. A tour in the shady dark streets of New York will send chills down your spine. Who knows you might get an encounter with the ghosts of an infamous criminal, a small girl, or while meandering in the streets of NYC. It is one of the most thrilling ways to enjoy New York nightlife. Might give you goosebumps too, lol!
Price: INR 5,000 for 2-hour tour
7. New York Harbor Happy Hour Cruise
Partying and clubbing are not the only two things you can experience in New York. Witness New York City in a whole new light on the cruise along the New York Harbour from where you can enjoy the scintillating views of the Manhattan skyline. The cruise full of positive energy and peppiness floats by the Statue of Liberty, Empire State Building, and World Trade Center's Freedom Tower. It is an amazing way not only for sightseeing around the lively city but also be parts of its electric New York nightlife. Relax, drink, mingle and dance till the night is young on the cruise.
Timings: 6 PM to 8 PM
Price: INR 2,399 per adult
Review
Suggested Read: 10 Best Things To Do In New York For First-time Visitors

8. Watch a Broadway Show
New York is synonymous with theatre and Broadway. A huge number of tourists from all over the world flock over to one of the forty theatres near the Times Square to have their share of arts and theatre. There are a variety of Broadway shows, musicals, and theatricals to choose from many of which have even won a list of accolades. It is a great way to spend an evening in New York if you are not in a mood to get drunk and wasted.
Price: INR 7,000 onwards
9. Bossa Nova Civic Club
Suggested Read: 10 Lavish New York Resorts For Timeless Luxury & Indulgence
Put your dancing shoes on because this is one of the best clubs in New York to dance. The tropical fancy dance club in Bushwick is known for its impressive bar and interesting DJs resume. Many high profile DJs come here to perform and put up a great show with their house and techno music. You will get short of breath dancing to such great music but you still wouldn't want to stop.
Address: 1271 Myrtle Ave, Brooklyn, NY 11221, USA
Price: INR 3,000 approx. per person
10. Go, watch a game
Image Source
New York is a hub of major sports events and a home to the various sports teams. For the sports fanatic, there is not a better way to experience New York nightlife than watching a live game. And, you even have hell lot of sports options to choose from. Baseball, Basketball, American Football, and Tennis are few of the games you can enjoy watching on a weekend in New York. Make sure you are in the city during the season of your favorite game. If you have had enough of hopping New York bars and clubs, this sounds like an interesting alternative.
11. Cielo Nightclub
One of the popular nightclubs in Manhattan, Cielo is where the top DJs of NYC come to perform. The ambiance is a fusion of retro style with modernity and crystal clear sound system and hip-hop music will make you go crazy. Within a half of decade of its existence, it has won quite a few awards for best nightlife and deserves them all. Lose yourself to dance and enjoy the New York nightlife to the fullest in this one heck of a nightclub.
Address: 18 Little W 12th St, New York, NY 10014, USA
Further Read: Belvedere Castle In New York Will Be Shut & Here's Why You'll Need A Plan B!
New York nightlife is unmatched by other cities.  Get high on life on your trip to New York to have one of the amazing nights of your life. While it is highly likely you might be a little too drunk and may not remember the shenanigans you pulled, the memory will stay with you forever.