Glistening waters, picturesque cities, and historic monuments—sailing the Arabian Sea offers everything you could dream of and more. Owing to the yacht rental in Dubai, cruising around the majestic coastline is going to feel as though you've stepped into a grand adventure. One day, you're sailing by the colourful cities of the Dubai shore, the next immersing yourself in the local culture and sipping cocktails on the renowned Palm Jumeirah island, or exploring the rich history of Dubai Creek. Despite the crystal-clear waters and radiant sun tempting you to lounge on a luxury yacht in Dubai all day, there's simply too much to see and experience to stay in one place.
Best Destinations To Explore On A Yacht Rental In Dubai
Read on to learn more about the best activities to do on a yacht, renting from different operators and island hopping across the UAE.
1. Dubai Marina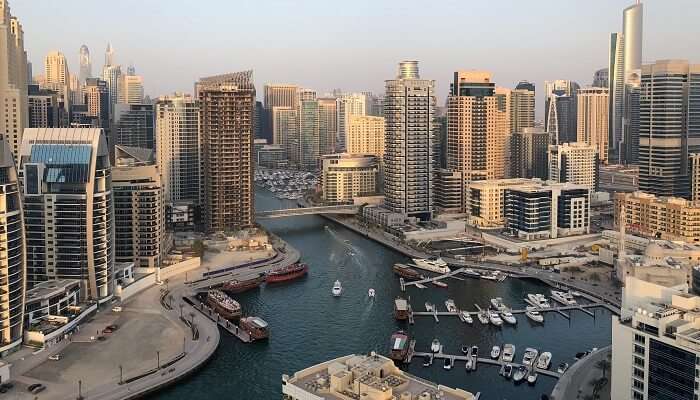 Image Credit: Waqas Sultan for Unsplash
Dubai Marina is a must-visit destination in Dubai, renowned as the city's most luxurious residential area. Here, you'll find an abundance of leisure developments that truly showcase the city's glamour and sophistication. For a truly awe-inspiring experience, we recommend visiting Dubai Marina at night when its glittering skyline, manmade islands, and opulent hotels are illuminated against the night sky. Yacht rental in Dubai Marina is one of the best things to do in the city.
A Post-Covid Travel Guide To Dubai: Know Latest Dubai Tourism Guidelines
2. Bluewaters Island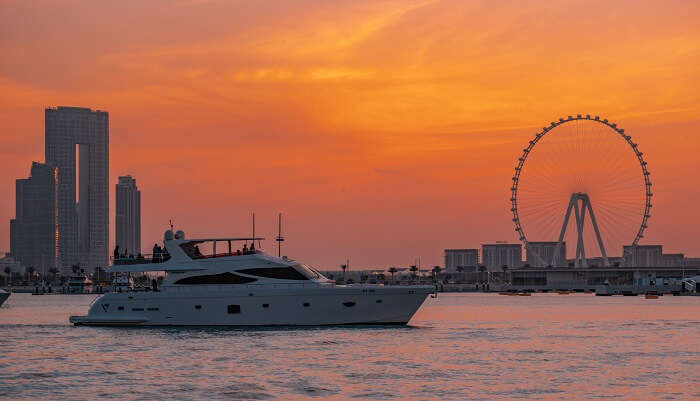 Image Credit: Tabreez for Unsplash
Bluewaters Island, also known as Blue Water Island Dubai, is an awe-inspiring man-made island situated just offshore from JBR in Dubai. This multi-billion project by Meraas boasts the world's largest observation wheel, Ain Dubai, and is poised to become a must-visit tourist destination in Dubai. With its luxurious resorts, beach activities, and a wealth of dining options, Bluewaters Island has everything you need for a memorable yacht experience. You will find many agents and tour operators to help you with a luxury yacht in Dubai for rent.
3. Burj Al Arab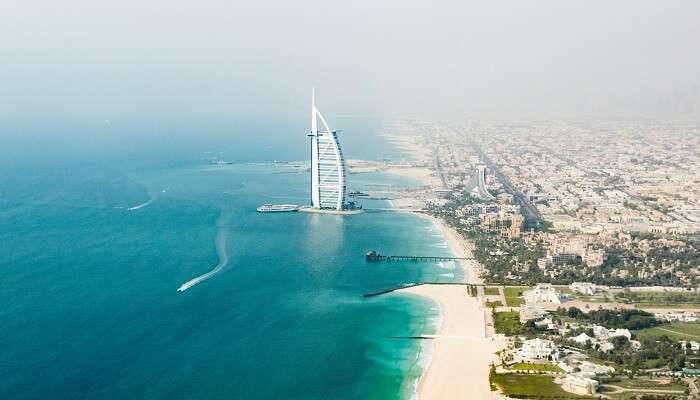 Image Credit: Cédric Dhaenens for Unsplash
Perched on an artificial island off Dubai's picturesque coastline, the Burj Al Arab is a one-of-a-kind, all-suite hotel with towering 28 double-storey buildings and 202 opulent duplexes. Ranging in size from 1,830 to 8,396 square feet, each suite is a luxurious retreat that boasts a unique collection of first-class amenities. With a dedicated butler on hand to guide you through the different options, this hotel is a perfect destination for a yacht vacation.
Dubai Miracle Garden: A Virtual Tour To World's Largest Flower Garden
Cost Of Private Yacht Rental In Dubai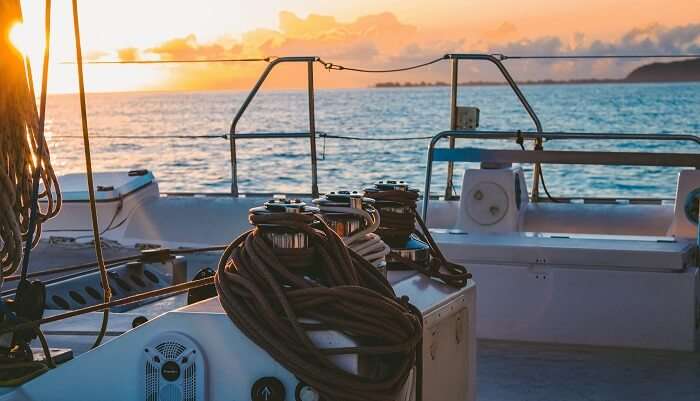 Image Credit: Vincent Gerbouin for Pexels
Sailing in Dubai can be an expensive venture, so proper planning is crucial. The costs involved include entry requirements, travel expenses, yacht rental fees, food, and lodging. After satisfying the requirements set by the Dubai immigration service, you can set sail on your adventure.
The cost of a yacht charter in Dubai ranges from AED 480 to AED 1,500 per hour for catamarans to upwards of AED 750 to AED 4,000 per hour for a luxurious motor yacht. There's a yacht option to fit every budget. The cost of food and accommodation is determined by several factors, including the length of your trip, your destination, and your personal preferences. For example: yacht rental in Dubai Creek will have different prices than neighbouring locations.
Basic Terms For Yacht Rental In Dubai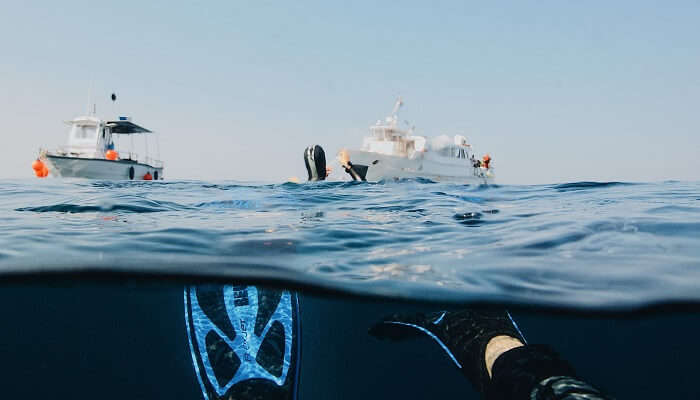 Image Credit: Maël BALLAND for Pexels
Here are some of the most common terms you will come across when you are renting a yacht in Dubai:
Hull: The hull constitutes the central structure of the yacht.
Keel: A keel is a long, thin structure located on the bottom of the hull. It ensures the stability of the yacht and helps to prevent tipping over.
Deck: The deck refers to the level surface on the top of the hull.
Cockpit: The cockpit serves as the command centre for the captain or pilot, where they control the steering of the yacht.
Bow: The bow marks the front section of the yacht.
Stern: The stern signifies the rear end of the yacht.
7 Best Things To Do In Dubai For Couples For A Memorable Trip
Types Of Yacht Rental In Dubai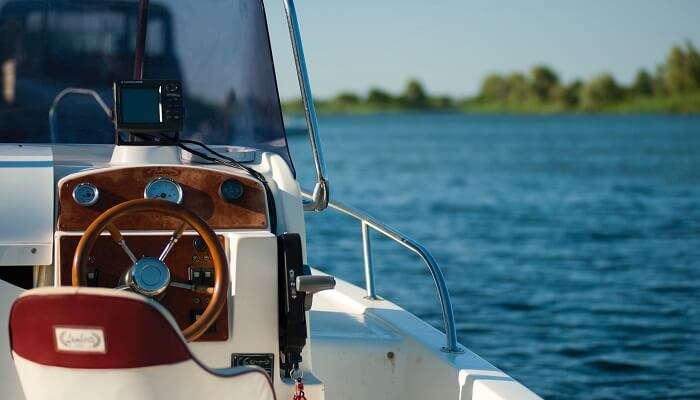 Image Credit: Oleksandr Pidvalnyi for Pexels
Sailing yachts are perfect for those who love the thrill of the wind in their sails. Glide across the waters of Dubai and take in the breathtaking views while indulging in recreation and sports.
Motor yachts are all about luxury and adventure on the water. With their stylish design and powerful engines, you can spend a relaxing day diving, fishing, or simply enjoying the sea air.
Sports yachts are designed for speed, space, and elegance. Ideal for fishing, cruising, and water sports, these yachts are the perfect blend of luxury and durability.
When it comes to yacht size, the sky's the limit. From superyachts that offer unmatched luxury, to megayachts that are the epitome of glamour and comfort, you can choose the perfect vessel for your needs. Whether you opt for a 78-foot superyacht or a 200-foot megayacht, you'll enjoy the ultimate sea-faring experience in Dubai.
The Best Time For Yatch Rental In Dubai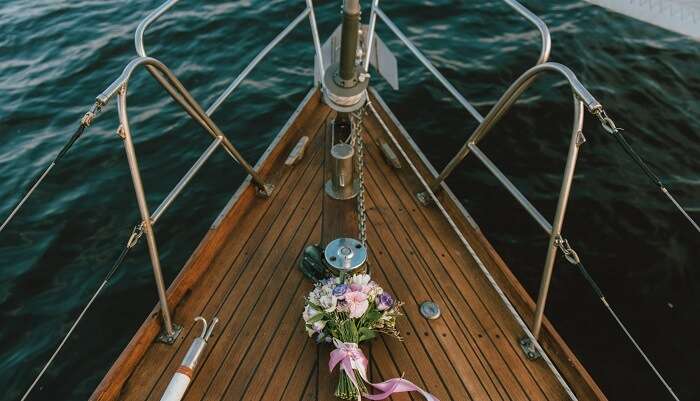 Image Credit: Dmitry Zvolskiy for Pexels
Famous for its vibrant atmosphere, Dubai's rental boat scene is the talk of the town. From October to March, when the sun shines brightly and the skies are clear, morning departures are the ideal time to make the most of your boating adventure. Take a dip in the inviting waters, try your hand at water sports, and create memories that will last a lifetime.
Dubai In December 2022: 3 Splendid Reasons For Taking A Trip To The UAE
From the glistening waters of the Persian Gulf to the impressive skyline, a yacht rental offers an unforgettable experience. With a variety of yacht types and sizes available, there's a yacht to fit every budget and preference. Explore our Dubai tour packages to learn more.
Cover Image Credit: Tabreez for Unsplash
For our editorial codes of conduct and copyright disclaimer, please click here.
Frequently Asked Questions About Yacht Rental in Dubai
What is the cost of yacht rental in Dubai?
The cost of yacht rental in Dubai can vary widely depending on the type and size of the yacht, the duration of the rental, and the season. On average, yacht rental prices in Dubai can range from $400 to $10,000 or more per day.
Do I need a license to rent a yacht in Dubai?
No, you do not need a license to rent a yacht in Dubai, but you must have a valid ID and be at least 21 years of age. Some yacht rental companies may require a security deposit or proof of insurance.
Can I bring my own food and drinks on the yacht?
Yes, you are usually allowed to bring your own food and drinks on the yacht, but it is best to check with the rental company beforehand to see if they have any restrictions or regulations. Some yacht rental companies may offer catering services or have a bar on board.
Is it safe to rent a yacht in Dubai?
Yes, it is generally safe to rent a yacht in Dubai. Most yacht rental companies have experienced crew and maintain their yachts to high safety standards. However, it is always important to check the safety features and equipment on the yacht before your rental and follow all safety guidelines and instructions from the crew.
What are the best places to explore by yacht in Dubai?
Dubai has many stunning locations that can be explored by yacht. Some of the top destinations include Palm Jumeirah, the Dubai Marina, the World Islands, and the Abu Dhabi coastline. You can also visit Dubai Creek and the Dubai Miracle Garden. It is recommended to check with your yacht rental company for recommendations on the best locations to visit.
People Also Read: