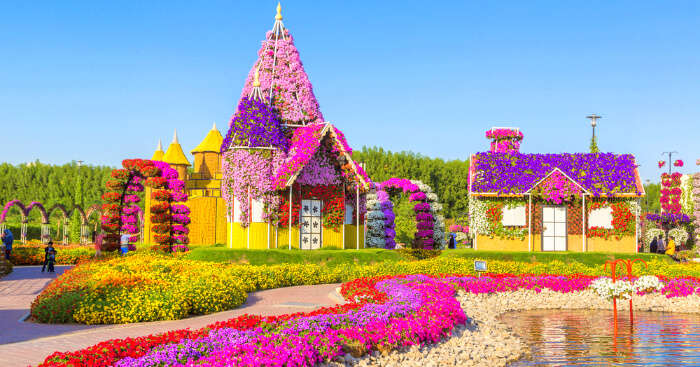 When you hear the word "garden", you're already thinking of the season of spring and a peaceful place painted with a thousand colors, cooing pigeons, butterflies merrily flapping their bright wings, daisies and daffodils peeping through green grass, and a wide blue sky above, magnifying the richness of colours. And you know what? I'm not making it all up, there's a garden like that! With over 45 million flowers on display, the Dubai Miracle Garden is one of a kind and the world's largest natural flower garden. Here's all you need to know about it.
Dubai Miracle Garden
"I hope people will understand that this country is not only for extremes in concrete and steel." Abdel Nasser Y. Rahhal, the man behind the attraction, told NBC News.
Opened on Valentine's Day in 2013, the Dubai Miracle Garden is the right name for this wonderful garden of flowers, built on desert. Billing itself as the world's largest flower garden, it is spread across 72,000 sq m with over 45 million flowers on display. The garden attracts about 1.5 million visitors every year.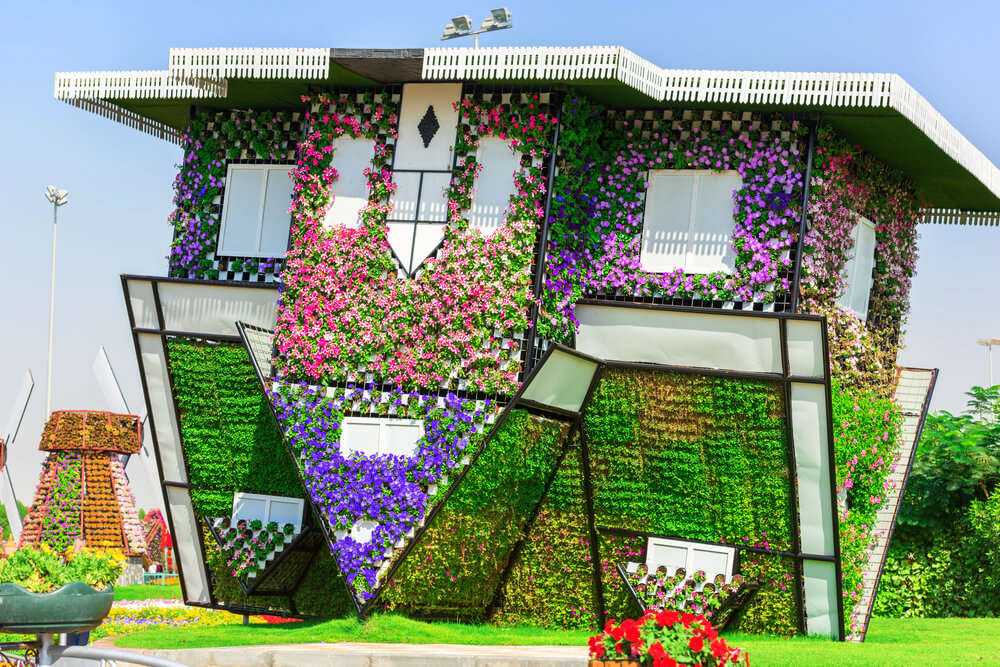 The most amazing thing about this garden is that its floral structures are changed each season to ensure visitors get a different experience each time they pay a visit. The biggest highlight of Dubai Miracle Garden is a life-size model of the Emirates Airbus A380. In 2016, the airplane received the "Guinness Book of World Records" for the "largest floral installation".
Dubai Miracle Garden timings: 9:00 am to 9:00 pm (Sunday to Thursday). 9:00 am to 11:00 pm (Friday and Saturday)
Entry fee: 45AED for adults and 35AED for childred below 12 yrs old. Entry free for kids below 2 yrs old.
10 Best Elements of Dubai Miracle Garden
If you want to know more about Dubai Miracle Garden, and its details, check out the below listings that will compel you to include the spot in your itinerary.
1. Emirates Airbus A380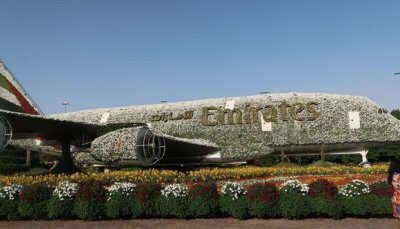 Image Credit: Tony Hisgett for Wikimedia Commons
The plants and flowers used for the plane were sustainability harvested and grown in more than 4 months at Dubai Miracle Garden nurseries. Some of the flowers that make it look incredible are: Petunia, Marigold, Viola, Geranium, Snapdragon etc. It took about 200 crew members and 180 days to build this wonder.
 Visit Dubai In April 2022 To Have A Vacation Full Of Amazing Marvels And Miracles
2. Burj Khalifa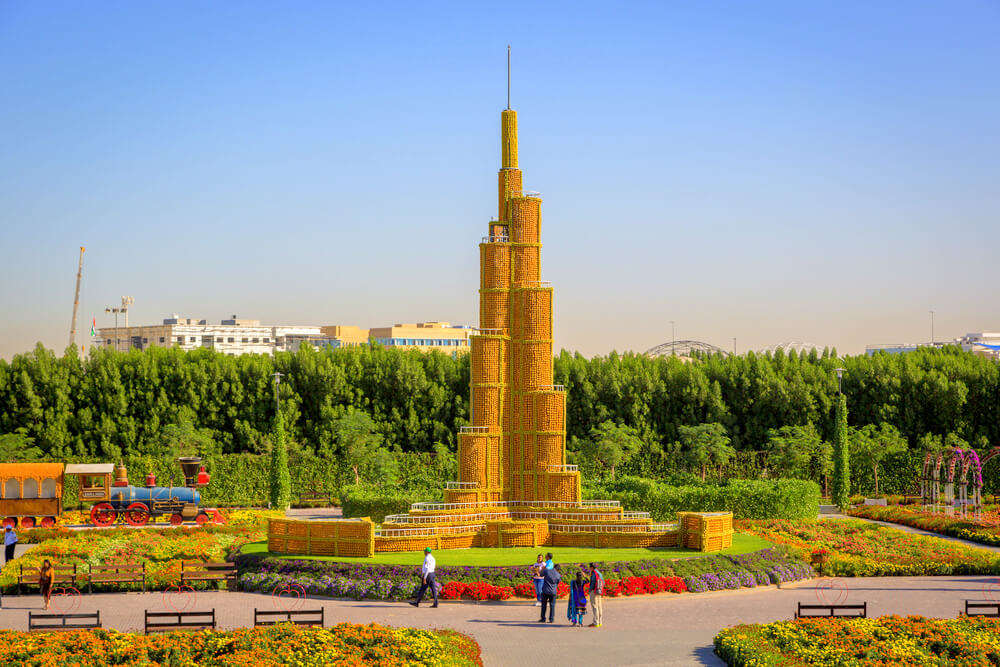 This gorgeous floral version of Burj Khalifa was built in 2014. There have been many small but noticeable modifications within this tower. The base of the tower is all Petunia and Marigold.
3. Umbrella Roof

A visual delight, this umbrella roof in Miracle Garden Dubai is a great addition. On hot and sunny days, this umbrella passage provides shade to the visitors. It was introduced on 14th February, 2013, and it continues to be a part of this garden.
 7 Best Things To Do In Dubai For Couples For A Memorable Trip
4. Heart-shaped Arch Passage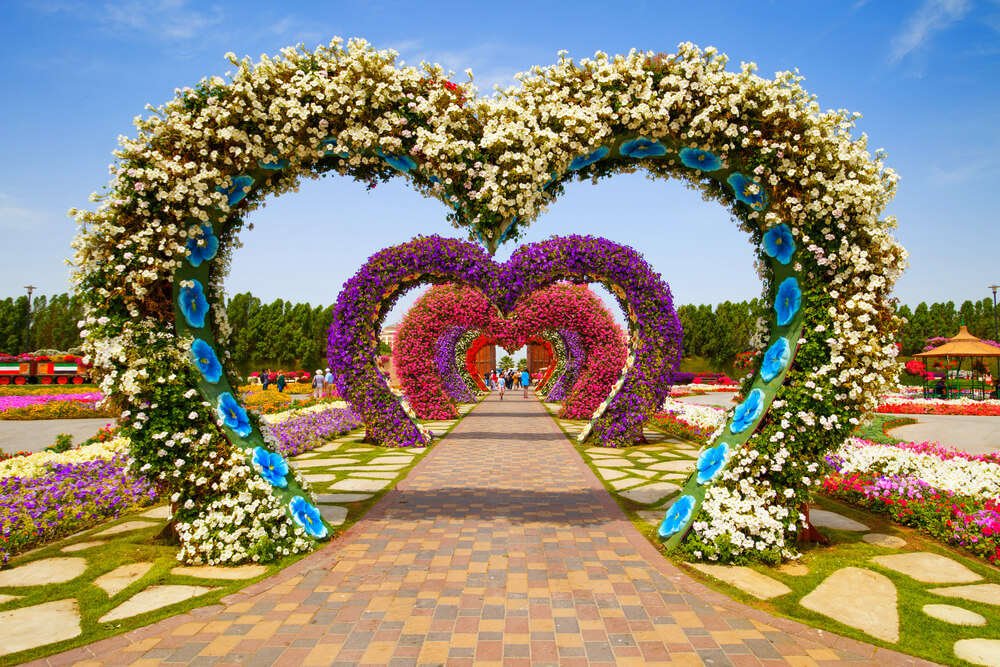 The most featured structure in the Dubai Miracle Garden, the heart-shaped arch passage is one of the main things that come to visitors' mind. You can smell the aroma of those thousands of flowers that make this passage as you walk though them. Besides, it makes a perfect background for all those romantic Valentine's Day photos.
5. Floral Houses and Bungalows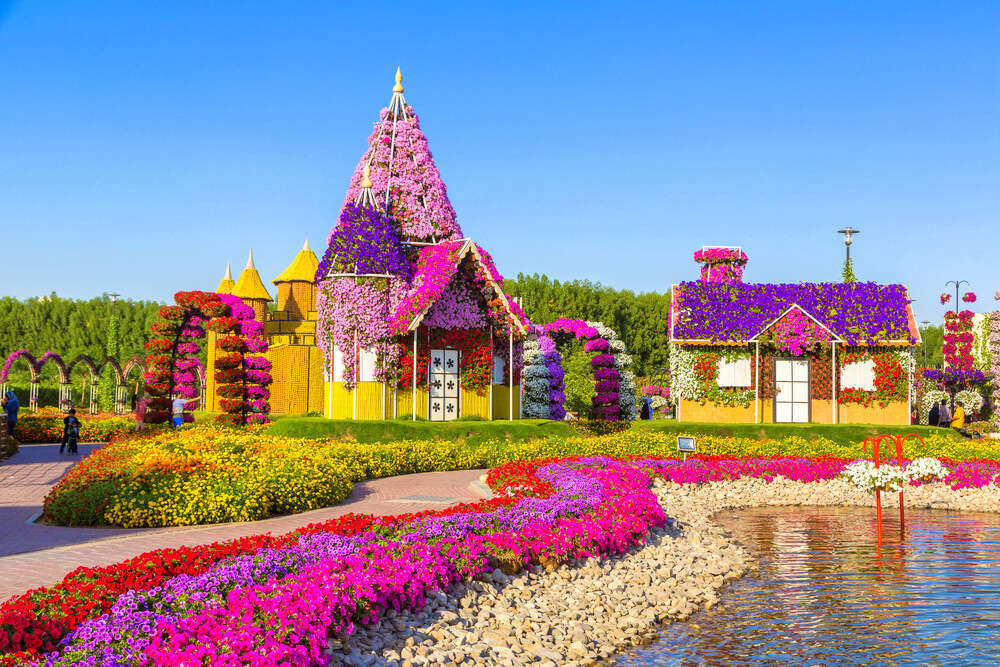 Dubai Miracle Garden has colorful bungalows and houses that make the entire ambiance incredibly beautiful. Made of millions of flowers, these structures are spread across the garden. At first, they actually give an impression of a fairyland. Each house and bungalow of the garden is unique.
 Looking For The Best Dubai Package For Shopping Festival 2022? We've Got You Covered
6. Floral Train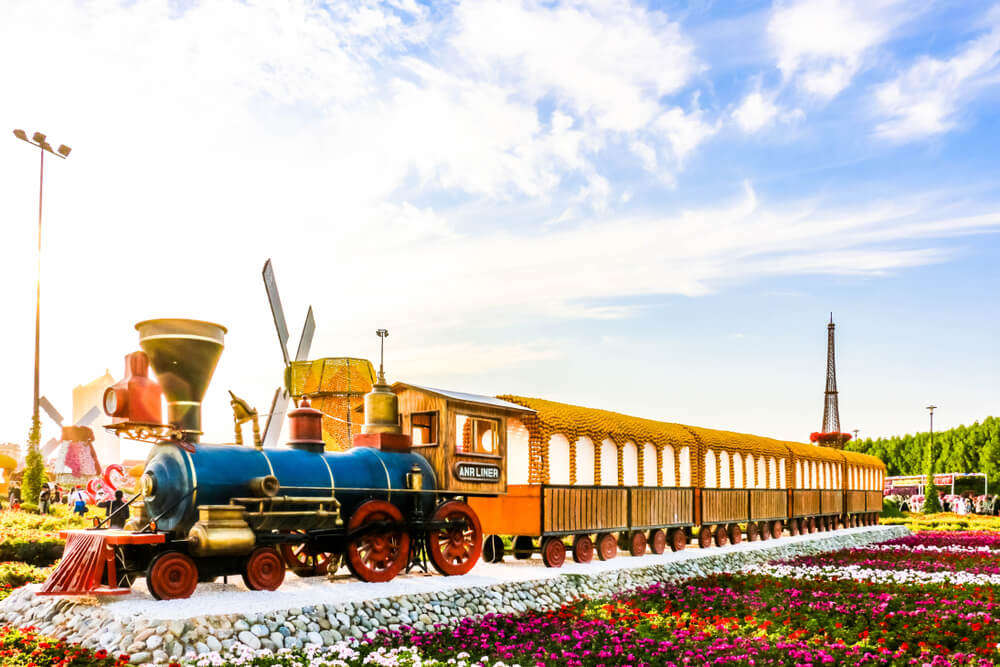 Carrying million of flowers in its bogies, this floral train is a wonderful addition to Dubai Miracle Garden. This train has an engine and bogies that make it look absolute real.
7. Floral Peacock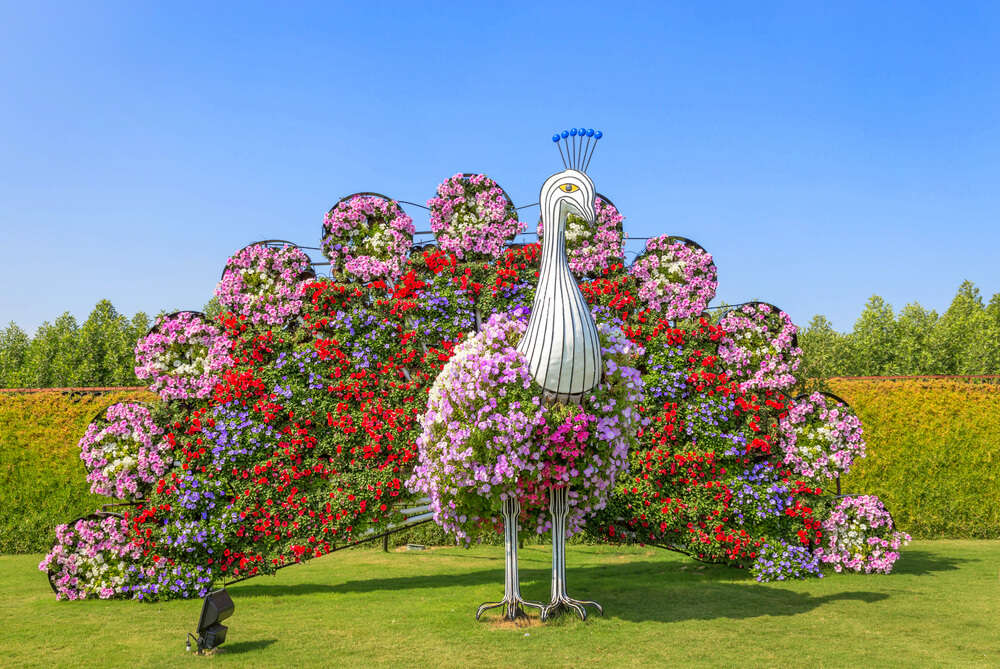 This floral peacock is laden with a great variety of flowers, making it look like a 3D painting. The peacock structure is a symbol of  royalty and pride.
 Dubai In December 2022: 3 Splendid Reasons For Taking A Trip To The UAE
8. Flower Lady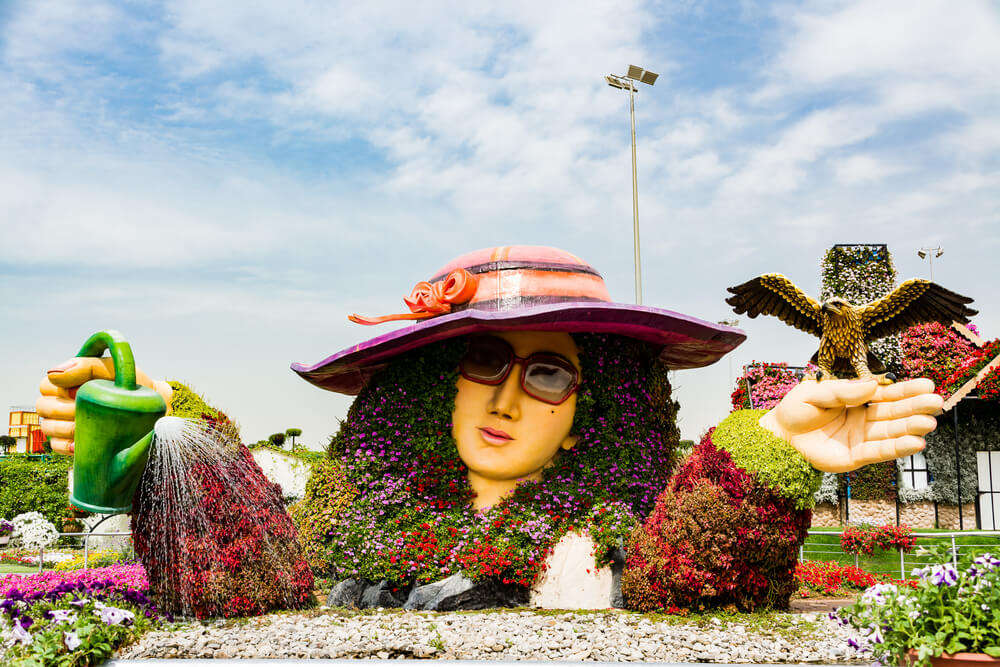 The flower lady is one of the most prominent structures of Dubai Miracle Garden. There are two flower ladies in the garden, one with hat and the other without it. These beautiful ladies are adorned with thousands of flowers.
9. Half Buried Cars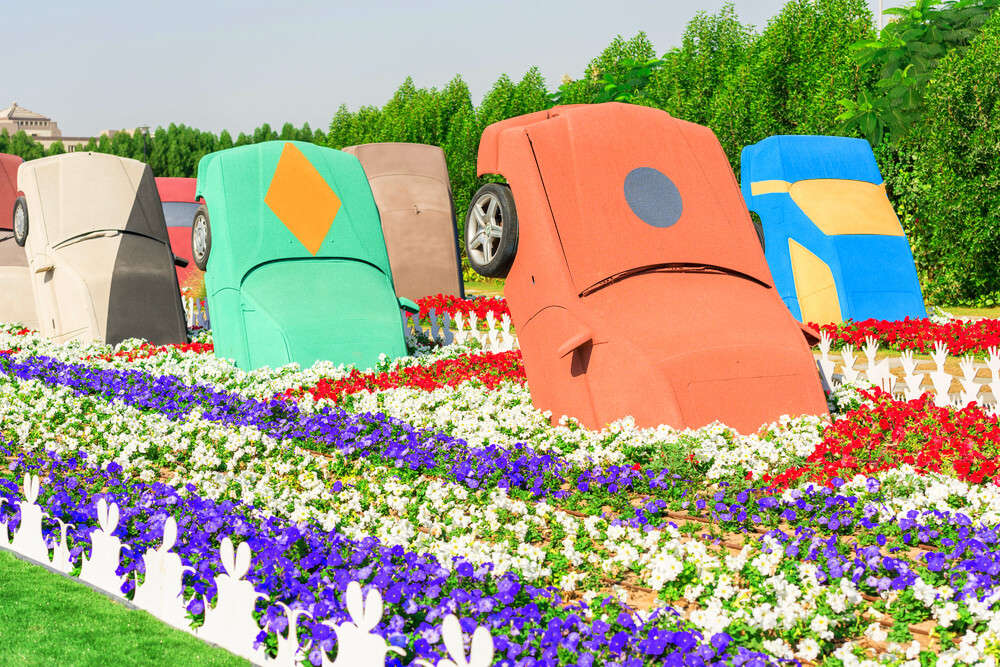 The half buried cars never fail to amaze the visitors. These cars are aligned in a straight line, so that the visitors can see them from all angles. All these half buried cars are inclined at 80 degrees giving an impression that they are taking a dip inside earth. The "buried car" concept is a brilliant example of how one can use scrap material in an impressive way.
 A Guide For Spending Winter In Dubai In 2021-22
10. A Long Shot of Dubai Miracle Garden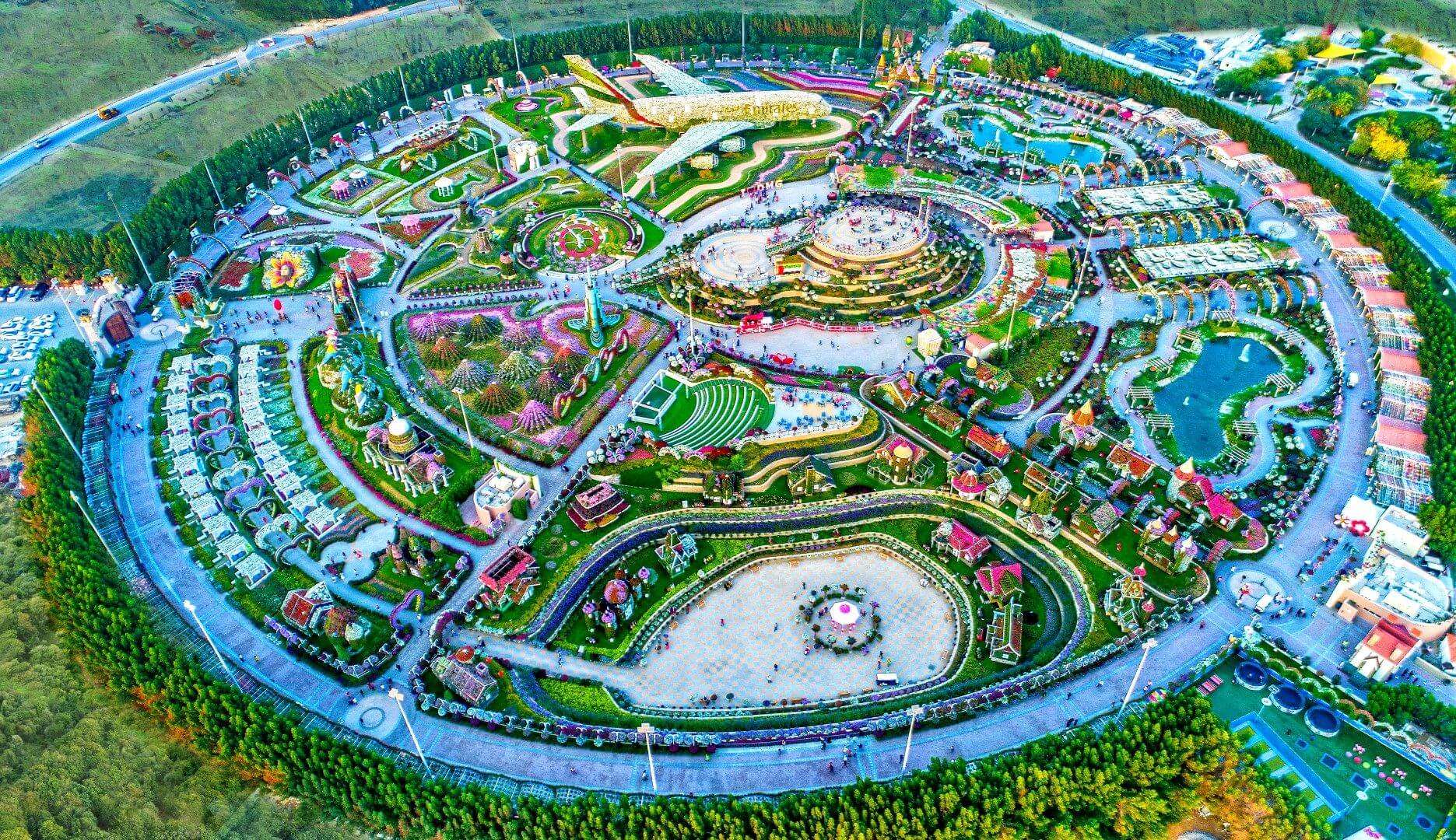 Here's an aerial view of the garden that occupies over 780,000 sq ft of area. Doesn't it seem breathtaking? Well, all the attractions in Dubai are just top-notch!
Some things are quite difficult to explain in words; they just have to be experienced, and Dubai Miracle Garden is one such thing. Check out this Dubai destination guide to know more about the country's tourist attractions, exciting things to do etc.
For our editorial codes of conduct and copyright disclaimer, please click here.
Frequently Asked Questions About Places To Visit In Dubai With Family
What is the ticket price of Dubai Miracle garden?
The entry ticket of Dubai Miracle garden AED 55 (INR 1112.94) for adults and AED 40 (INR 809.41) for children. Notably, entry of children under 3 years of age is free.
When should I visit Miracle Garden Dubai?
To witness the best of the garden, you must avoid the peak time and visit here around 9:00 a.m. that is the opening time.
What to remember while traveling during Covid-19?
Do keep in check the following things before planning a trip: Carry hand sanitizers, masks, tissues, and disinfectant wipes, book your trip well in advance, avoid contact with the surface, and maintain social distancing. Above all, get yourself vaccinated.
Which are the places to visit in Dubai?
Some of the places to visit in Dubai are Burj Khalifa, Palm Jumeirah, Burj Al Arab, Dubai Miracle Garden. The Lost Chambers Aquarium, Sahara Desert, Wild Wadi Water Park, and more.
How many days are sufficient for Dubai?
People can spend up to 3-5 days to explore the various attractions in Dubai along with enjoying a holiday like never before.