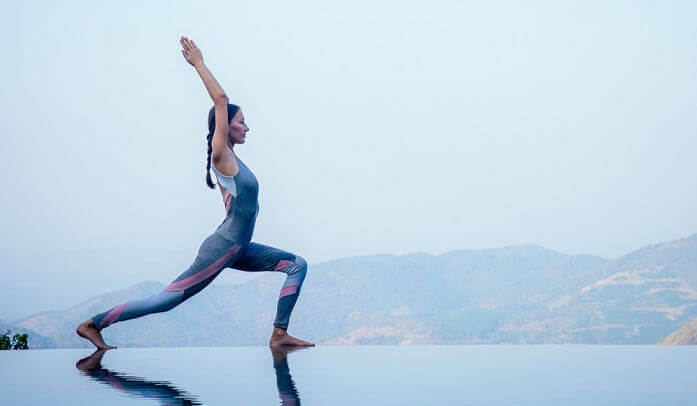 Yoga is a mental, spiritual, and physical discipline which was started in ancient India. Kerala is one of the states in India which offers world-class yoga sessions and ayurvedic treatment to people. The treatments and medication at these yoga retreats in Kerala is famous across the world. Many people from the country and foreigners also come to these centers. Enjoy the scenic nature and peaceful ambiance at the best yoga retreats in Kerala.
Top 8 Yoga Retreats In Kerala
Scroll down to have a look at the top yoga retreats in Kerala apart from enjoying the beautiful atmosphere of God's Own Country. Yoga or meditation is one of the best ways you can unwind when on a vacation, feel centred and feel one with the place. Read ahead to learn about some of the most popular yoga retreats in Kerala for a quick guide before you visit.
1. Kaivalyam Wellness Retreat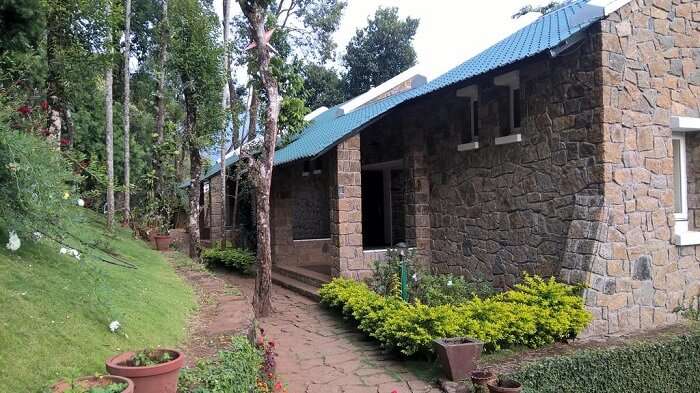 Situated in the midst of the spice plantation with a valley view in Munnar, Kaivalyam Wellness Retreat offers activities like yoga, meditation, bird watching, spice plantation hike, tea garden walk, cooking session, and nature-based wellness. Not only this, the beauty of the place and services rendered are the ones that satisfied customers. Rooms in the center are well maintained with bathroom attached rooms and a pleasant ambience.
Must Read: 10 Most Famous Islands In Kerala You Must Visit For An Extraordinary Experience
2. Agnihotra Yoga

A walkable distance from Varkala Beach with beautiful gardens in the surrounding, Agnihotra Retreat Centre is one of the famous yoga centers in Kerala which offers traditional as well as modern ways of yoga to its customers. The center offers two week-long yoga retreats with homa therapy, detoxification, and rejuvenation. The premises are highly energiZed with Vedic mantras and Agnihotra. It is also one of the most popular yoga retreats in Kerala and is surrounded by some of the most popular wildlife sanctuaries in Kerala.
Suggested Read: Kerala Sweets: Take A Sneak Peek Into An Extremely Sugarlicious Journey!
3. Mundax Yoga Meditation Centre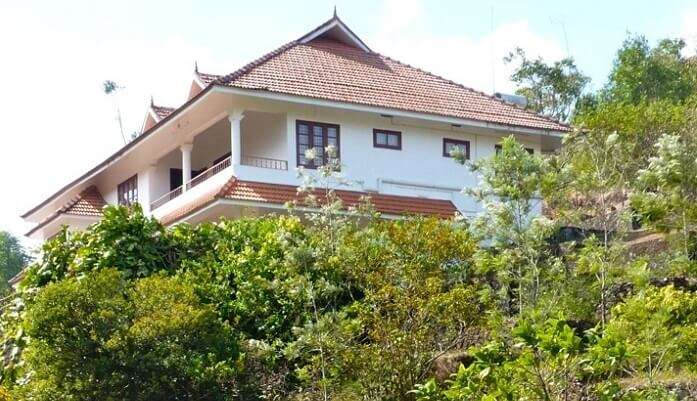 Mundax Yoga Meditation Centre is one of the best yoga centers of Kerala set in 4 acres of organic farm near Periyar Tiger Reserve. In order to give individual attention and proper guidelines to the participants, they take only 4 people in one class. There is no age limit to join these sessions and all are only focused on meditation and yoga.
Suggested Read: 18 Museums In Kerala To Explore The Art, History, & Culture Of South India
4. Reminiscence Health Retreat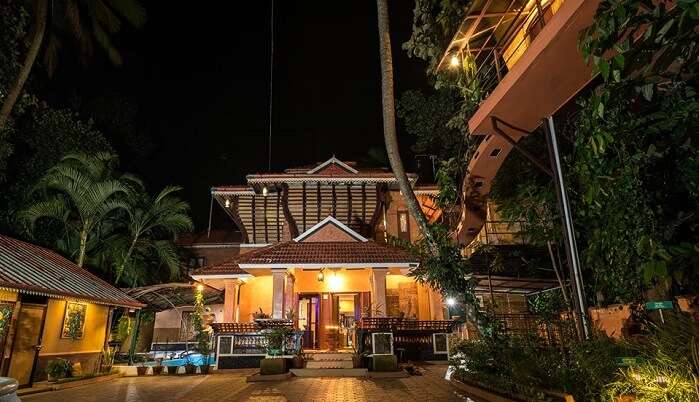 Reminiscence Health Retreat Centre focuses on leading people to a peaceful and spiritual state of life through yoga and meditation. Get away from all your worries and tension of life and start your journey in a calm and sacred atmosphere from the center. Relax at one of the top luxury yoga retreats in Kerala.
Suggested Read: Rivers In Kerala: A Pocket Guide To Add More Calming Vibes On Your Next Trip
5. Abhijna School Of Yoga And Meditation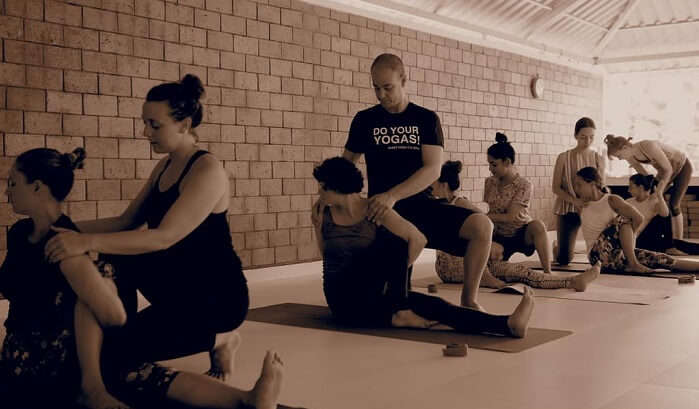 Situated near Varkala Beach, Abhijna School of Yoga and Meditation offers various yoga classes to its tourists according to their suitability. In order to give individual attention to each student, there take only 16 students in a class. The yoga school also offers classes for those who want to specialize in yoga. This school is one of the reputed training centers in Kerala. It is also one of the most popular yoga retreats in Kerala.
Suggested Read: Scuba Diving In Kerala: A Pocket Guide For A Fun Journey In God's Own Country
6. Yoga Vidya Teacher Training Retreat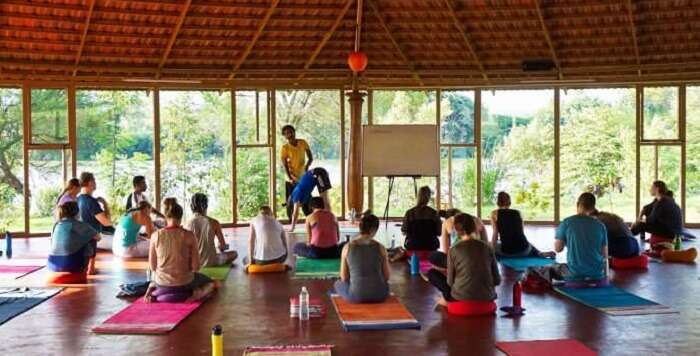 The center focuses on teaching yoga and meditation that can harmonize your life and can be of practical use in your daily life like diet, sleep, work attitude, etc. It offers a wide range of body-mind-spiritual training sessions, yoga, ayurveda, detoxification, meditation, sanskrit language and philosophy to live your life in a peaceful way. This place is also surrounded by some of the best guest houses in Kerala.
Suggested Read: 8 Best Kerala Honeymoon Places To Visit With Your Significant Other
7. Sivasoorya Divine School Of Yoga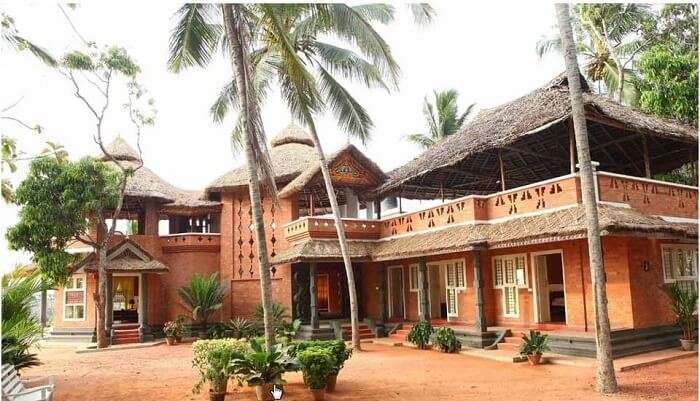 Situated 4 kms away from Kovalam Beach, this center offers proper yoga classes to its students. The place itself has a calm and silent atmosphere which makes the mind and soul of the person peaceful. The center also provides teaching courses to the people who want to know more about yoga.
Suggested Read: 8 Best Hill Resorts In Kerala For An Enthralling Escapade In This Heaven
8. Kashi Ayur-Yoga Ashram Varkala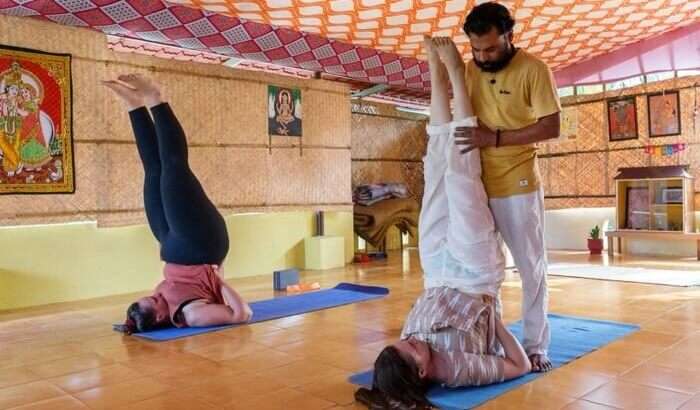 Experience the traditional and modern techniques of yoga at these Kerala retreats in yoga and Ayurveda at Kashi Ayur-Yoga Ashram. It is the first residential centre in Varkala to provide authentic yoga training to its students. The training is focused on the inner peace and happiness of a person.
Further Read: 10 Beaches In Kerala You Should Visit For A Romantic Vacation
Create wonderful moments in Kerala and explore the tradition and cultures of God's Own Country. So what are you waiting for? Get away from all hush-bush of life and spend some time in peace and silence. Plan your sojourn to Kerala with TravelTriangle to make wonderful moments. Ask for one of these Yoga Retreat centres on your next trip to Kerala with us.
For our editorial codes of conduct and copyright disclaimer, please click here. 
Frequently Asked Questions About Yoga Retreats In India
Is it safe to visit Kerala given the current situation of Covid-19?
As things are getting back on track and everyone around is getting used to the new-normal so yes you can visit Kerala during Covid-19. But make sure you follow the listed precautionary measures for Covid-19 and maintain social distancing. Having said that, your safety is always in your hands.
Why is Kerala famous?
Kerala has been named as one of the 10 paradises of the world by the National Geographic and is famous for its backwaters and unique culture.
When is the best time to visit Kerala?
The best time to visit Kerala is during the winter season between September and March because of the pleasant weather conditions.
Are yoga retreats expensive in Kerala?
If you are planning to stay in a yoga retreat on your trip to Kerala or just plan to attend a few sessions to learn about the art, the cost for the same is between INR 500 to INR 15,000 depending upon the number of sessions and amenities.
Is Kerala worth visiting?
Why yes, absolutely. There should not even be the slightest doubt about it. Where else will you find hills, beaches, and backwaters in one place if not God's own country? If you like lush green surroundings and beaches, then you are going to love Kerala. The food is delicious and the culture is fascinating.
People Also Read:
Yoga Retreats In Bangalore Yoga Retreats In India Yoga Retreats Near Delhi