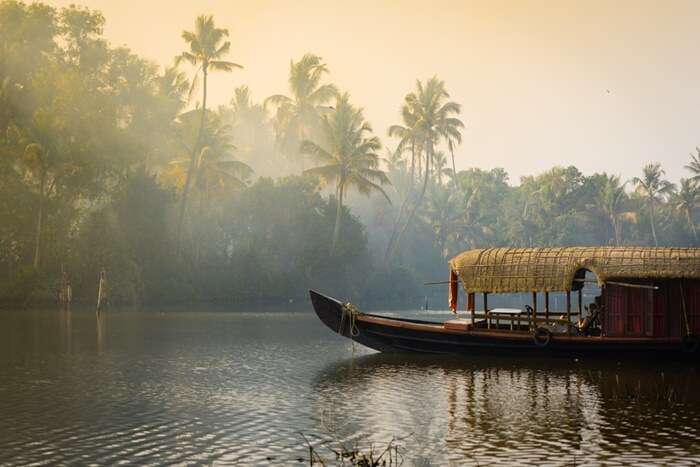 Honeymoon, an escape that takes you away from your regular life and gives time to cherish the newly unified relation. After the frenzied wedding preparation days, a honeymoon is the one expedition that every couple looks for. If you are planning to go for Kerala honeymoon then be prepared for a marvelous start to your married life amidst serene lush greenery and gentle flowing backwaters! Kerala, known as the 'God's own country' is a fabulous place for a romantic escapade. From strolling on beaches to taking houseboat cruises, your Kerala honeymoon will surely give copious episodes assuring the most memorable, luxuriating and picturesque vacation!
Why Go For Kerala Honeymoon?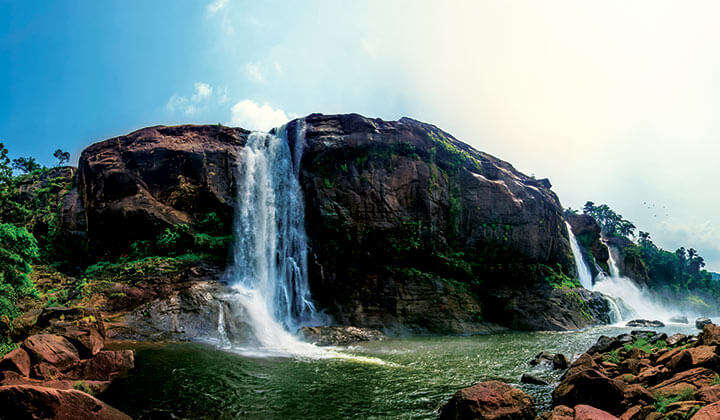 Kerala honeymoon is not restricted to long walks on the beach, candlelight dinners, luxurious accommodations, etc. Rather it offers you a plethora of encounters making your honeymoon a lifetime memory. The following are the reasons that make Kerala one of the best destinations for honeymoon in India:
Leisure
Kerala houses the majestic beauty of nature where one can have a perfect leisure time with their spouse. Beautiful places especially at Chembara Peak Wayand, Treehouse facing waterfalls in Athirappilly, and Tea gardens in Munnar gives you a peaceful ambiance to cherish the newly formed bond.
Relax
Kerala purveys an ancient tradition of Ayurveda practices, giving moments to relax and revive amidst the serene ambiance. One can visit the nearest Ayurveda center or can avail of this facility at their luxuriating stays of Kerala.
Gourmet
Have you heard that couples who eat together, stay together? Let your partner know about your taste buds by grabbing and sharing scrumptious delicacies and conversing while having a well-nourished meal of famous south Indian cuisine.
Glimpse of prosperous culture
Kerala exhibits a unique culture that has an amalgamation of Aryans and Dravidians. The exclusive art forms of this magnificent place are appreciated throughout the world for its distinctiveness and placements of aesthetics.
Luxurious stays
Despite being known for its serene surroundings, Kerala offers one of the best luxuriating resorts and hotels that are exemplary for a romantic holiday.
Best Time To Visit Kerala For Honeymoon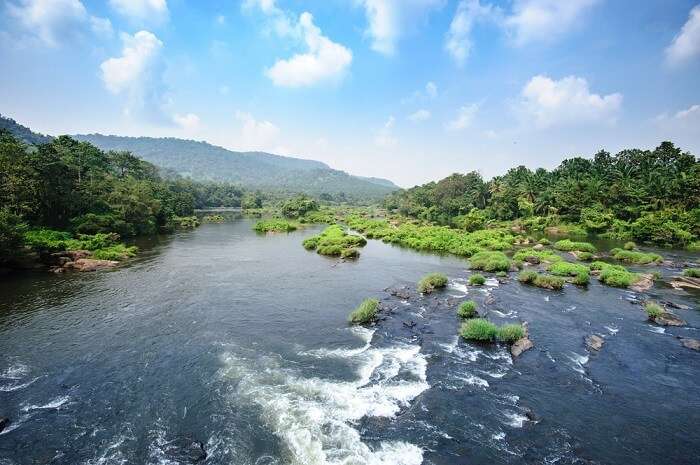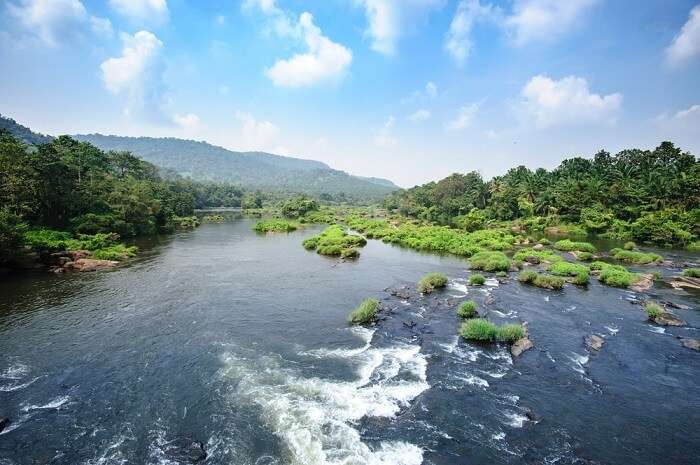 The best time to visit Kerala for honeymoon can be classified into three categories, that is, summer, monsoon and winter and the couple can select their preferred time depending on their interests and purpose for visit. Kerala experiences winter from October to February and this is the peak tourist season here. The climate is soothing and pleasant, giving a perfect chance to cherish the pristine cool mornings and comfortable nights. One might find the popular spots crowded along with a huge hike in the rates of hotels and local transport. However, if the budget is not a problem for you then you can surely visit plan a Kerala honeymoon in winter.
Kerala summers and monsoons are not the best seasons to explore the mystic beauty, however, you can have amazing leisure time. This is the time when you can get amazing hotel deals, assuring an extended vacation.
Suggested Read: 10 Romantic Beaches In Kerala You Must Visit For A Soulful Vacay!
Ideal Duration & Average Cost For Kerala Honeymoon
The ideal duration for a honeymoon in Kerala is 5 nights and 6 days, but the stay can be extended as this majestic place purveys numerous surprises that can be explored with your significant other!
Average trip cost: Starting INR 17,000
8 Best Honeymoon Places in Kerala (2022)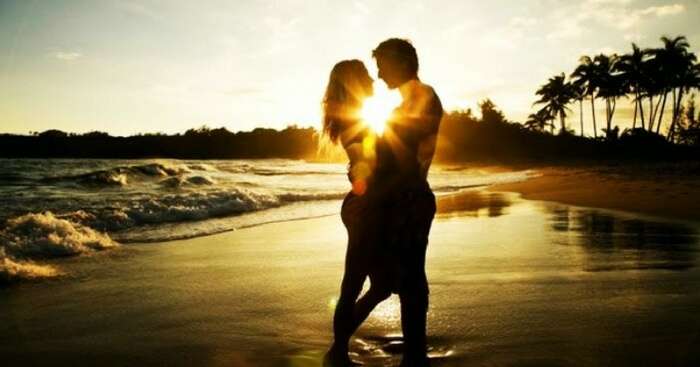 We have shortlisted the 8 best Kerala honeymoon destinations to help you spend less time searching the best ones. Kerala lures honeymooners from across Asia with its diverse specialties ranging from ancient healthcare to scenic hill stations and manifold wildlife. The following are the amazing romantic places in Kerala that will surely give a zealous start to your journey ahead!
1. Munnar: Kashmir Of South India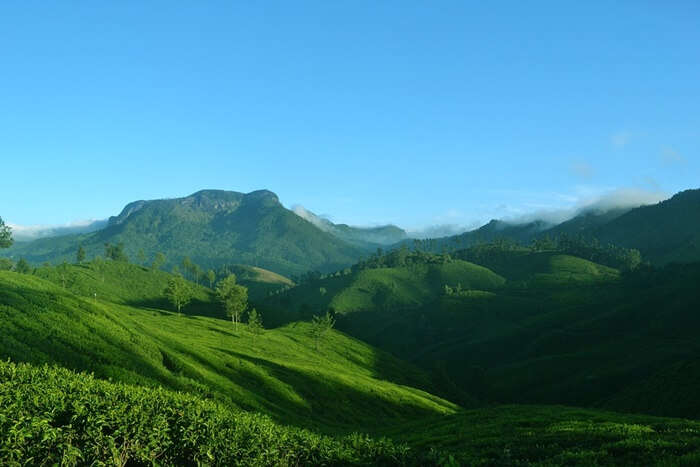 Munnar, the blissful tourist destination in God's own country is situated at an altitude of 6000 ft. in Idukki district. Munnar was the preferred summer resort during the British days in India. You can experience the unending swathe of tea plantations, immaculate valleys & mountains with colorful species of flora and fauna in its untamed sanctuaries.
You can visit Atukkad Waterfalls, the pristine falls assuring a romantic escapade amidst beautiful hills and lush jungles. Another romantic spot in Munnar is the Echo Point, a panoramic landscape situated at the confluence of three mountain streams. If you want to witness the spectacular wide views of tea, coffee, and cardamom plantations; Pothamedu View Point will be one best destination for you.
Other romantic spots in Munnar are Photo point, Tata Tea or KDHP Museum, Eravikulam National Park, Top station, Kundala Dam & Lake, Chinnar Wildlife Sanctuary, Elephant Arrival Spot, Chinnakanal Waterfalls, Lock Heart Gap and many other breathtaking and magnificent places.
Romantic restaurants in Munnar: Hill Spice Restaurant & Hornbill Restaurant
Best time to visit: September to March 
Romantic hotels: Eden Holiday, Grand Plaza Munnar
Things to do: Visit national park, nature walks, treks, etc.
Must Read: 10 Homely Villas In Thekkady Set Amidst True Nature's Bounty In Kerala
2. Wayanad: Nature's Abode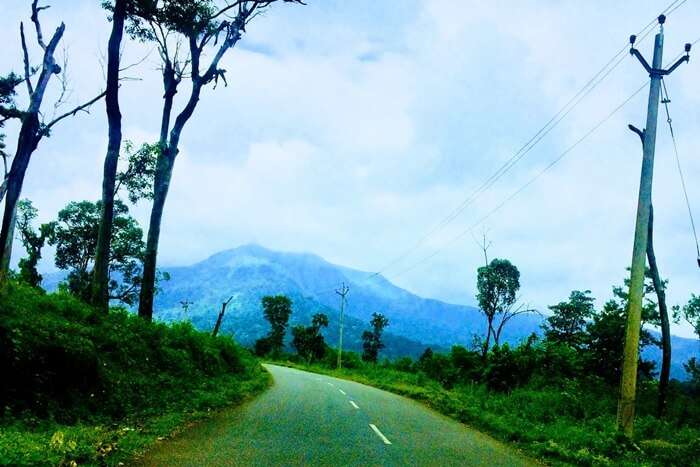 Wayanad, the place known for its spice plantation and wildlife; also attracts wanderers with its enchanting waterfalls, historical caves, comfortable resorts, and homestays. The lush landscapes of Wayanad are surrounded by Tholpetty in the North, Muthanga in the east, and Kalpetta in the South.
One can spend hours lying in the Banasura hills adjacent to the Banasura Sagar dam, the largest earthen dam in India. Chembra Peak of Mepaddy will offer you a majestic view of the entire Wayanad district along with areas of Kozhikode, Malappuram and Nilgiris districts. Staying in a Treehouse will surely be an exciting part of your stay in this mesmerizing place.
Romantic restaurants in Wayanad: Green Gates Hotel, Willow Cottage & Banasura Hill Resort
Best time to visit: October to May
Romantic hotels: Green Gates Hotel, Vistara Resorts
Things to do: Visitng caves, waterfalls, wildlife sanctuary, etc.
Suggested Read: 8 Best Hill Resorts In Kerala For An Enthralling Escapade In This Heaven
3. Kumarakom: Houseboat In Backwaters Of Allepey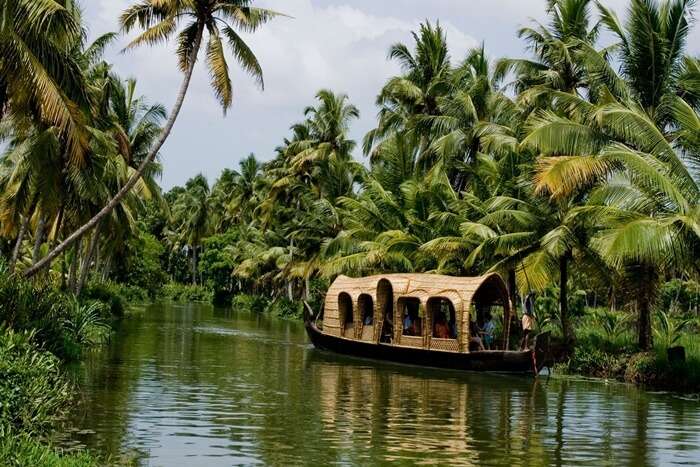 Kumarakom, the tourist village features lush flowery landscapes and a plethora of bird species. Glide along the lagoons, lakes, and rivers on a private houseboat and experience the beauty of the clear sky and clean blue water. Shiva temple at Ettuman also catches attraction with its wood carvings and peaceful ambiance. One can satisfy their taste buds with fresh and rich flavor local cuisine.
Romantic restaurants in Kumarakom: Vembanad Seafood Bar, the Zuri Kumarakom, & Sivaganga
Best time to visit: November to February
Romantic hotels: Taj Kumarakom Resort & Spa, Kumarakom Lake Resort
Things to do: Bird watching, museum hopping, nature walks
Suggested Read: 4 Days In Kerala: Best Places To Visit And Amazing Things To Do In 2022
4. Marari Beach: Coconut Palm Teas And Golden Sands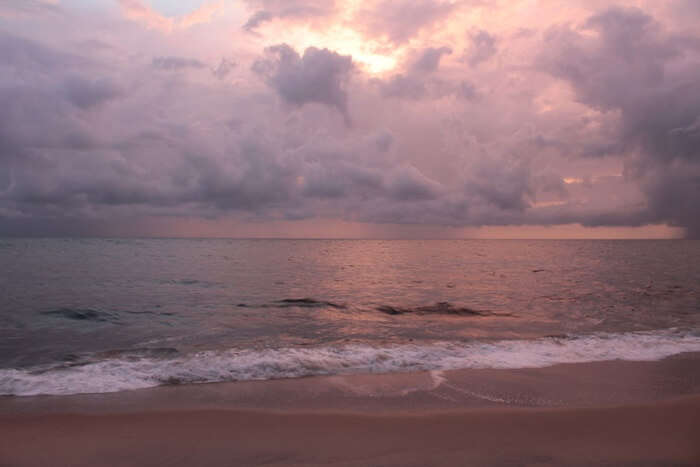 Marari, a local fishing village on the Arabian Sea coast offers a reviving experience in the tranquility and serenity of its beach, known as the Marari Beach. Its a perfect destination for a romantic holiday amidst the coconut palm trees and golden sand beach. One can experience the 'Beach Symphony' that includes four cottages, called the gemstone of Marari. Roaming around the beaches with your loved one or trying some adventurous activities such as sea surfing, parasailing, water skiing, deep sea fishing, etc., Marari Beach will surely electrify your romantic journey!
Romantic restaurants in Marari: Palm heaven & Carol Days Beach restaurant
Best time to visit: September to May
Romantic hotels: A Beach Symphony, Marari Beach Resort
Things to do: long beach walks, sightseeing, etc. 
Suggested Read: Top 10 Places To Visit In Kerala During Monsoon For A Mesmerising Trip In 2022
5. Athirappilly Falls: Niagra of India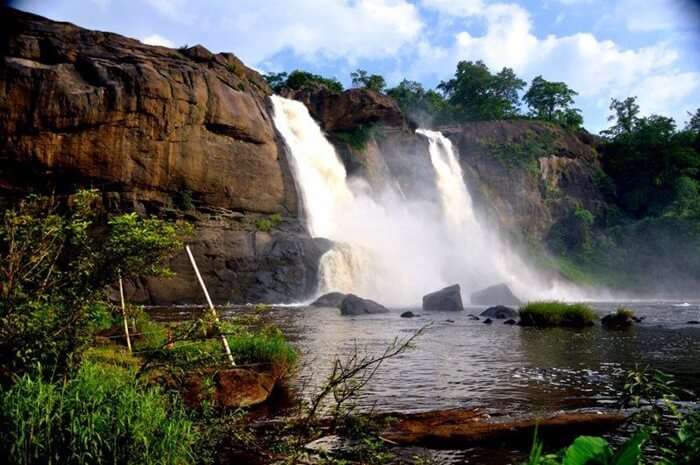 Athirapilly Falls is the largest waterfall in Kerala and is often called as the 'Niagra of India'. The magnanimous waterfalls will be an enthralling experience as one can witness many endangered and epidemic species of flora and fauna. The magnificent lush green forests covering the patches of the sizzling silver cascade, Sholayar; makes Athirappilly enticing during monsoons. The place also houses other beautiful attractions such as Swollen Chalakkudy River, Charpa falls, Vazhachal waterfalls, etc.
Romantic restaurants near Athirapilly Falls: Lilliput Multicuisine Restaurant, Chillout Cafe & Kochi Kitchen
Best time to visit: anytime during the year
Romantic hotels: Rainforest, Casa Rio Resort
Things to do: indulging in activities at waterfalls
Suggested Read: Kerala Vs Himachal For Honeymoon: Which Is The Ideal Retreat For Newlywed Couples? 
6. Kovalam: Beaches, Ayurveda And Shopping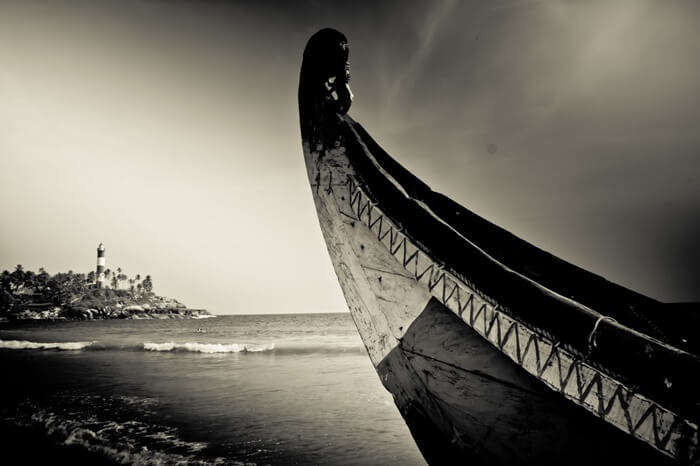 Backed by mounting promontory and covered with fertile coconut palms, Kovalam offers three-curve shaped beaches, isolated by stony outcroppings of the coastal resort. Its a beach town by the Arabian Sea in the metropolitan part of Kerala and offers abundant Ayurveda and shopping centers. Kovalam is a place of endless beauty comprising mesmerizing lakes and beaches along with comfortable stays and authentic cuisine. Trinket shops, Kashmiri traders, Tibetan products and a surplus of restaurants and hotels make this place a must-visit destination for honeymooners.
Romantic restaurants in Kovalam:  Jasmine Bay Restaurant, The Tides & A Beach cafe
Best time to visit: November to February
Romantic hotels: The Leela Ravviz Kovalam, Turtle on the Beach
Things to do: Palace honeymoon, beach walks, trek
Suggested Read: 15 Amazing Things To Do In Kerala [Infographic]
7. Poovar: Floating Cottages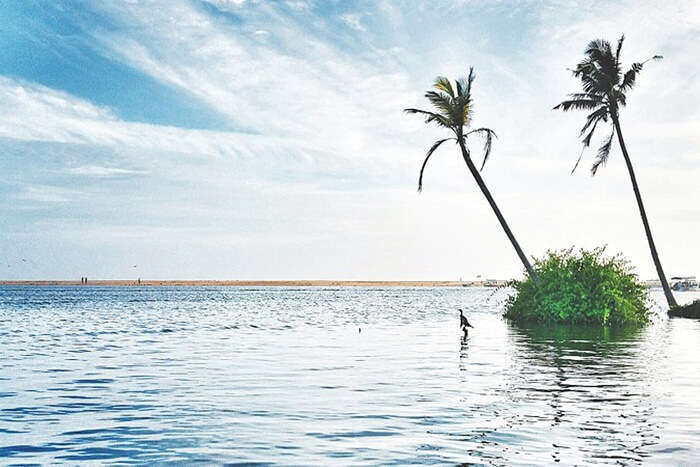 A honeymoon in Kerala will surely be incomplete without this romantic stay in the endless golden sands of Poovar beach. Floating cottages at Poovar will make you admire the ultramarine water at Arabian Seas. Swinging coconut palms and crimson sunsets on the beach offer a romantic ambiance around you. One can either relax by the serene beaches or indulge in some water sports activities here.
Romantic restaurants in Poovar: FIO Country Kitchen & Bar, Indian Accent & Bukhara Restaurant
Best time to visit: October, November, December, January and February
Romantic hotels: Estuary Sarovar Portico, Poovar Island Resort
Things to do:  Visiting beaches and sightseeing
Suggested Read: Here's Why Off Season In Kerala Is The Best Time To Travel, Explore, And Chill!
8. Vagamon: Serene And Green Meadows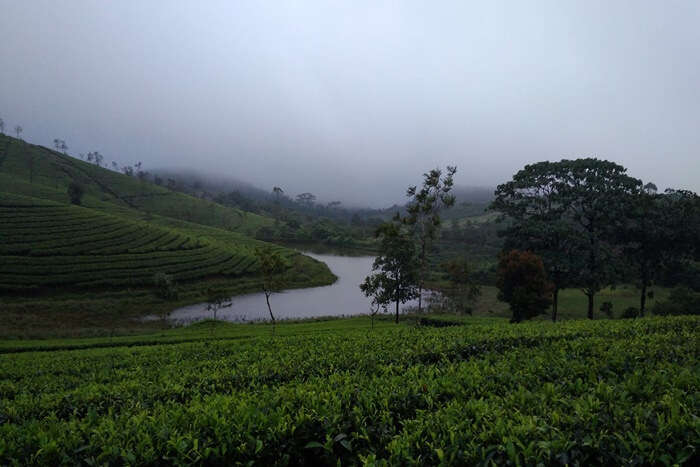 Far away from the deafening city life, this green and serene landscape must be visited with your significant half as one can walk down the mesmerizing Vagamon Pine Forest and breath in the fresh mountain air amidst a plentiful waterfall. One can also visit Thangalpara, a place of pilgrimage that offers a breathtaking view of the entire valley.
Romantic restaurants in Vagamon: Ebony's Cafe restaurant, Pallete Hill View & Chillax Vagamon
Best time to visit: June to September
Romantic hotels: Chillax Vagamon, Holiday Vagamon
Things to do:  Visiting monasteries, churches, and other popular places
Suggested Read: Trekking In Kerala 2022: A Short Guide For Beginners To Have An Ultimate Experience!
Best Resorts/Hotels For Kerala Honeymoon
From luxurious resorts to pocket-friendly stays, Kerala offers numerous properties that can be occupied according to the traveler's preference. As you are planning your Kerala honeymoon, the following are the best luxuriating resorts and hotels in Kerala that will surely assure the most comfortable and relaxing stay in this gorgeous place:
1. Marari Beach Resort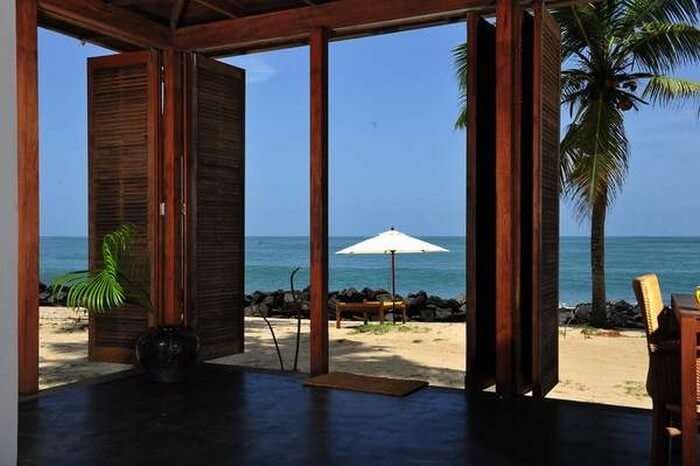 Away from the hustle of the city, Marari Beach Resort purveys the most comfortable stays along with amazing ambiance and heart-warming hospitality. It is an enormous resort comprising well-equipped villas with semi-outdoor bathrooms. One can also indulge in morning yoga and meditation sessions led by skilled personnel. You can even cook some local delicacies here with the courteous chefs. 
Location: Alleppey
Price range: INR 12,694-35,605
Amenties: Swimming pool, free parking and wifi, room service, spa, power backup, barbeque, etc. 
Suggested Read: Sahana's Kerala Trip In May Shows Why It's The Most Delightful Place For A Family Holiday
2. Club Mahindra Munnar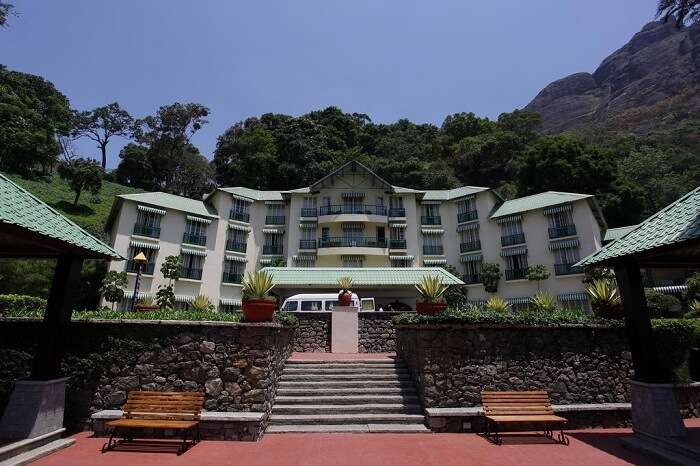 Club Mahindra offers a pleasant stay with the view of Lake Valley, amidst the tea garden. The resort is located nearly 20 kilometers from the city, making a perfect escapade for honeymooners. The morning is beautiful here with melodious sounds of 'Malabar whistling thrush' making your stay a completely unique experience. You can even pamper yourself by availing of the spa facilities here. 
Location: Munnar
Price range: INR 8,250-13,899
Amenties: Swimming pool, free parking, room service, spa, power backup, barbeque, etc. 
Suggested Read: Kerala In November 2022: Places And Events Not To Be Missed Out!
3. Vivanta by Taj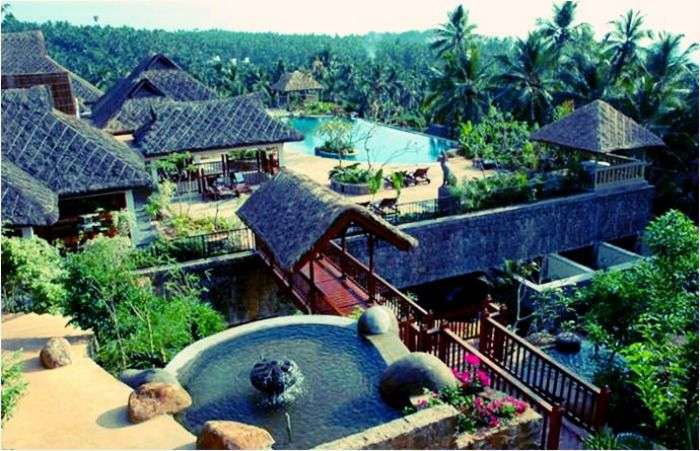 The astounding ambiance, fragranced lobbies, fabulous interiors, and gratifying hospitality is what Taj Vivanta offers you. This beautiful property is called the visitor's paradise that also features an infinity pool facing the sea. The tropical placement amidst the lush greenery makes it a perfect place for a honeymoon! 
Location: Kovalam
Price range: INR 15,804-29,766
Amenties: Swimming pool, massage, spa, power backup, barbeque, etc. 
Suggested Read: A Trip To Kerala In May With Family: Plan It The Way Aakanksha And Her Folks Did
4. Niraamaya Retreats Cardamom Club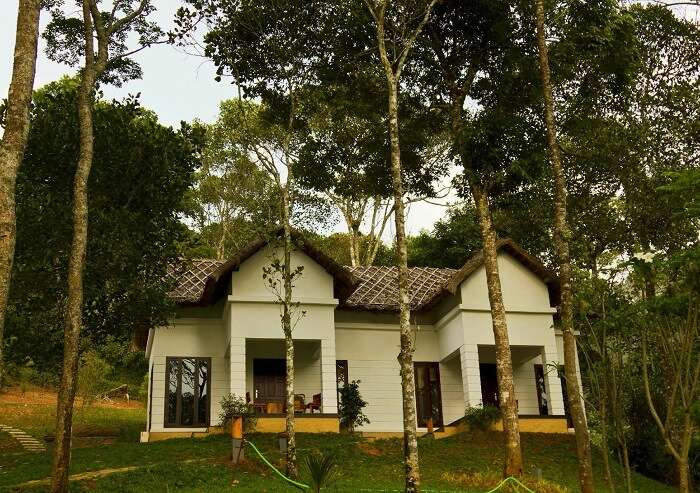 If you and your partner have a love for nature then don't miss out on staying in this mesmerizing resort. Located in a forest on the highway, Niraamaya cottages are truly a retreat for the visitors. One can indulge in the adventurous trekking trails with their companion, adding pleasant memories to the incredible Kerala honeymoon. 
Location: Thekkady
Price range: INR 7,870-24,689
Amenties: Swimming pool, free parking, room service, spa, power backup, barbeque, etc. 
Suggested Read: 10 Romantic Beaches In Kerala You Must Visit For A Soulful Vacay!
5. Elixir Hills Munnar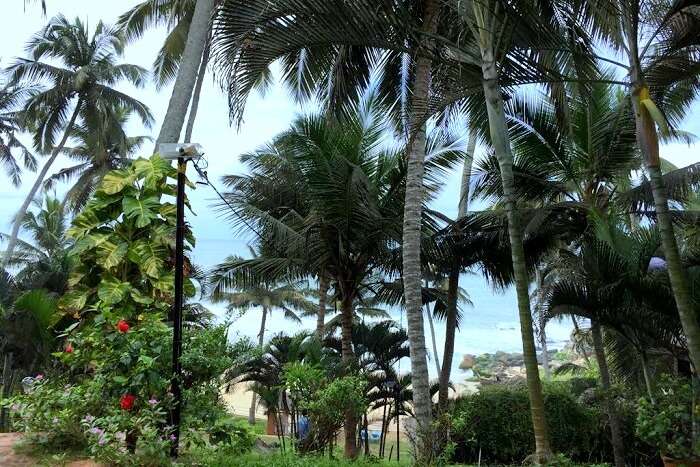 Elixir Hills is another stunning stay located in Munnar and is known for purveying the most amazing vacation time. If you are looking for a romantic accommodation offering gratifying facilities, then you must surely head to this place. Elixir Hills is also located in proximity to Kerala Farm, giving you chances of quick escapes to the romantic lands. 
Location: Munnar
Price range: INR 8899 onwards
Amenities: Non-smoking rooms, suites, housekeeping, desk, pool, etc. 
Suggested Read: 57 Best Places To Visit In Kerala For A Vacation To Remember In 2022!
6. Vythiri Village Resort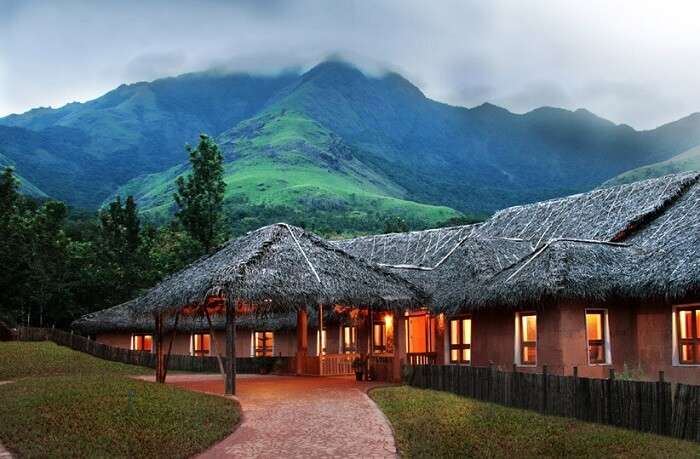 This 5-star luxuriating resort is located amidst the lush green ambiance of Wayanad and carries the aroma of the fresh coffee and tea plantations. You can capture the beauty of the enticing Chembra peak and Karanchi stream for this beautiful stay. Away from the hustles of city life, this stunning resort gives you a perfect ambiance for a new romantic start. 
Location: Wayanad
Price range: INR 6215 onwards
Amenities: Suites, family rooms, housekeeping, room service, private balcony, minibar, etc. 
Further Read: 10 Brilliant Mosques In Kerala Where You Must Go For A Spiritual Pilgrimage In 2022
Kerala is truly a unique experience luring tourists from India and abroad. Give a never-ending start to your married-life by booking your honeymoon trip to Kerala with TravelTriangle. Honeymoon is an experience that will shine for life long! Make your journey memorable by planning a Kerala Romantic tour customized according to your preferences at Traveltriangle.com.
Disclaimer: TravelTriangle claims no credit for images featured on our blog site unless otherwise noted. All visual content is copyrighted to its respectful owners. We try to link back to original sources whenever possible. If you own the rights to any of the images, and do not wish them to appear on TravelTriangle, please contact us and they will be promptly removed. We believe in providing proper attribution to the original author, artist or photographer.
Please Note: Any information published by TravelTriangle in any form of content is not intended to be a substitute for any kind of medical advice, and one must not take any action before consulting a professional medical expert of their own choice.
Frequently Asked Questions About kerala Honeymoon
Which is the most romantic place for honeymoon in India?
Kerala is one of the most romantic places to visit for a honeymoon in India.
Is Kerala good for a honeymoon in July?
Yes, Kerala is a good destination to visit if you are planning your honeymoon in the month of July. The average temperate remains 27 degrees Celsius during this time making it comfortable for sightseeing and other excursions.
What can I buy in Kerala?
You can buy aromatic oils, tea, saree, spices, etc. from Kerala.
Can I wear shorts in Kerala?
Yes, you can wear shorts in Kerala if you are visiting a beach or staying in a resort. However, if you are planning a visit to hermit or temple then you need to be particular about your dressing.
What is famous about Kerala?
Kerala is famous for its natural beauty and ayurvedic services.
Looking To Book A Holiday Package?
Book memorable holidays on TravelTriangle with 650+ verified travel agents for 65+ domestic and international destinations.
People Also Read
Honeymoon Places Near Pune Honeymoon Places In Karnataka Honeymoon Places In Ooty
Comments
comments