Ticking off one's bucket list destination build up over many years of anticipation can only go down as one of the most memorable trips ever, especially if it is with your bestie! That's how it turned out for me. Trumped even my high expectations. My friend and I undertook a magical 10-day trip to Norway and Iceland this year (16th – 26th September 2019), and boy what an experience!
Iceland for the longest time has been my dream destination and absolute No. 1 on the bucket list! In fact, a year back a few friends took a trip there and were raving about their experience since; that only firmed my urgency to tick Iceland off asap! Anticipating travel to that part of the world wasn't going to be particularly low budget and knowing another trip to the Scandinavian/ Nordic countries won't be very soon on the cards, hence we decided to club Norway into the package. As we started to plan the trip TravelTriangle helped us out with most amazing travel agents who made the most ideal itinerary of 10 days in Iceland and Norway for us.
A Look At Our Holiday Package
Cost: INR 223000
Duration: 10 Days and 9 Nights
No. Of People: 2 Adults
Inclusions: Breakfast, VISA assistance, Airfare, Government Taxes/VAT/Service Charges, Travel Insurance, Sightseeing, Day Tours
Exclusions: Lunch, Dinners, City Taxes on hotels, Entry Tickets, Personal Expense
Travel Agent from TravelTriangle: Infinity and Beyond Travels
Our 10 Days Itinerary
Day 1: Arrival and Check-in
Day 2: Flam Cruise
Day 3: Leisure day
Day 4: Transfer to Reykjavik, Check-in
Day 5: Golden Circle, Kerid Volcanic Crater, and Blue Lagoon
Day 6: Snaefellsnes Peninsula Classic Day Tour from Reykjavik
Day 7: Glacier Lagoon: Jökulsárlón from Reykjavik
Day 8: Leisure day
Day 9: Leisure day
Day 10: Departure
Abide By These 6 Major Iceland Travel Tips For A Comfortable And Trouble-free Trip
Weather
A bit of a dampener, especially in Iceland! Mid-End of September happens to be the wettest season in Iceland, hence it was only for a day and that too for a brief few hours we managed to see the sunlight cracking through the cloud cover. In fact, the weather in Iceland in September was so stubborn during our stay, it surprised even the local tour guides, as the claim goes that in a day one can experience all four seasons. However, we had to deal mostly with cloudy and rainy days!! Although, I must add that the weather did nothing to dampen our experience and I concur with all who claim Iceland is magical anytime you visit, even when the weather is not on your side. Autumn, in fact, is a great time to be in Iceland as the warm hues of color flood the landscape to make it a surreal visual treat. In fact, this is the time when the Northern Lights starts getting visible. However, my advice is either to go early September or push it to October to avoid concentration of rainy days hence cloud cover, which will inhibit viewing the Northern Lights. Norway In September was playing hide and seek, but hey we actually managed to experience four seasons in a day, so who is complaining!
Mid-end September is pretty chilly (with cold winds billowing both in Norway and Iceland), so carry adequate warm clothing and do layer to cater to both warmer and colder sprees in a day.
Best Experiences During Our 10 days In Iceland And Norway
1. Cruise To The Flam (Through The Sognefjord)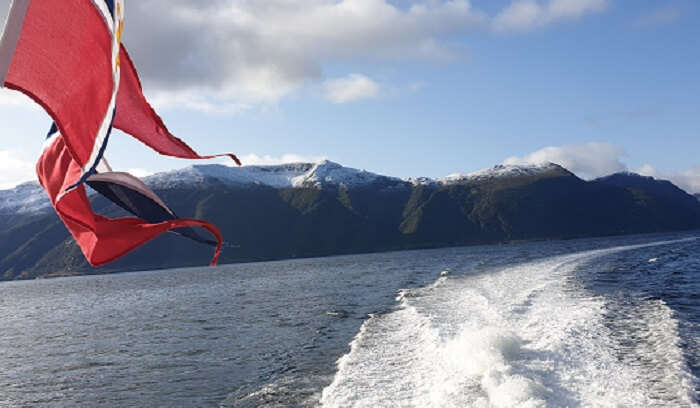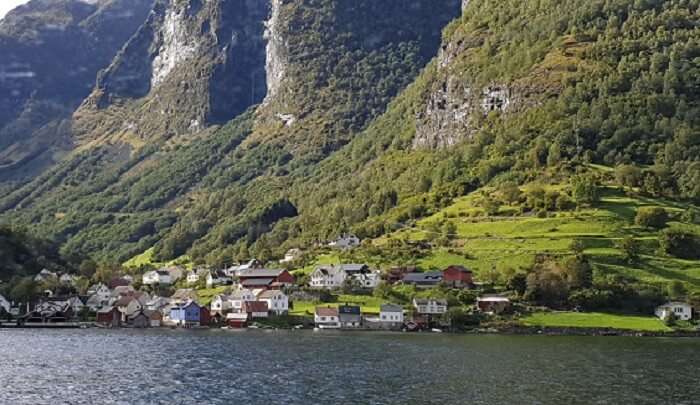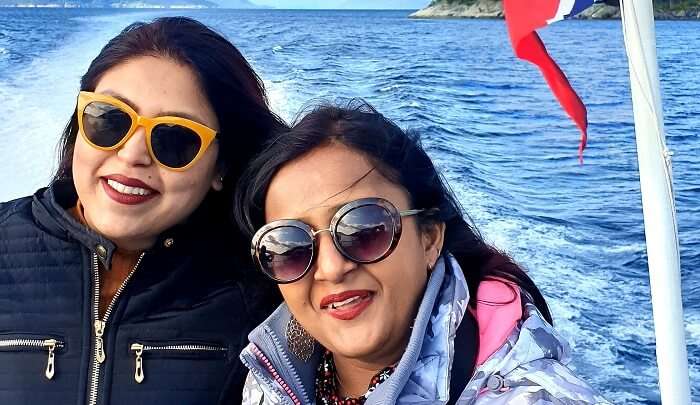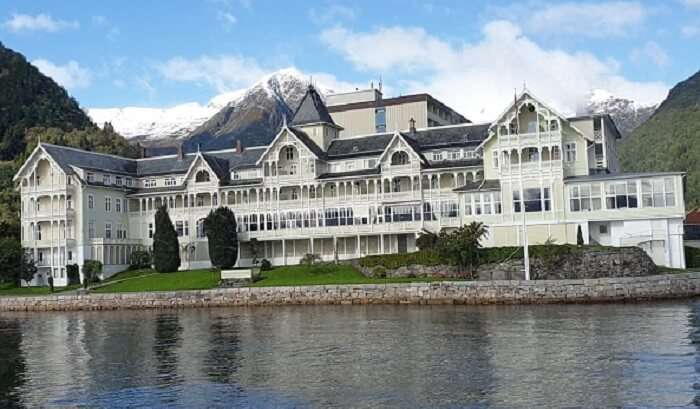 This was recommended by Infinity and Beyond Travels and indeed was a fabulous experience. Cruising through the cold arctic waters, with a stunning landscape as a treat, our trip to Norway could not have begun on a better note. With 11 pit-stops one way (at the quaintest villages nestled in the fjords), the 10-hour long cruise gave us an exceptional experience of the world-famous fjords in a nutshell. Totally recommended!
Iceland Airwaves: The Most Electrifying Celebration Of Music In 2022
2. Exploring Bergen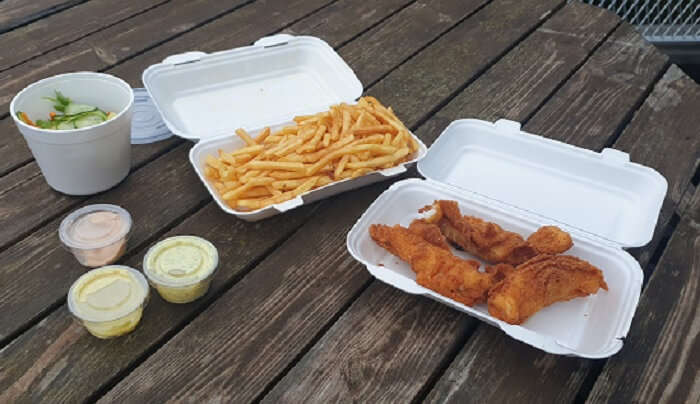 We walked and explored every nook and cranny of the idyllic town. Definitely visit the fish market and dive into the freshest fish platters; Bryggen (old wharf of Bergen) with characteristic wooden houses dotted with boutique restaurants and souvenir shops; take the funicular railway to the top of Mt Floyen and immerse in the breathtaking view of Bergen town – an absolute must; do take a bite of the famous reindeer hotdog at 3-Kroneren (close to Mc Donald's) – you won't regret it.
3. Bergen To Reykjavik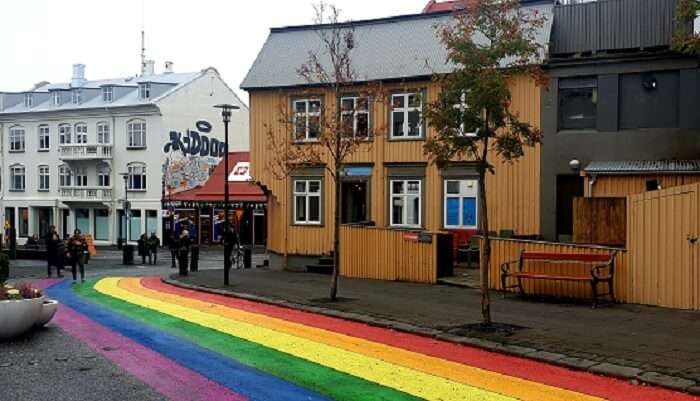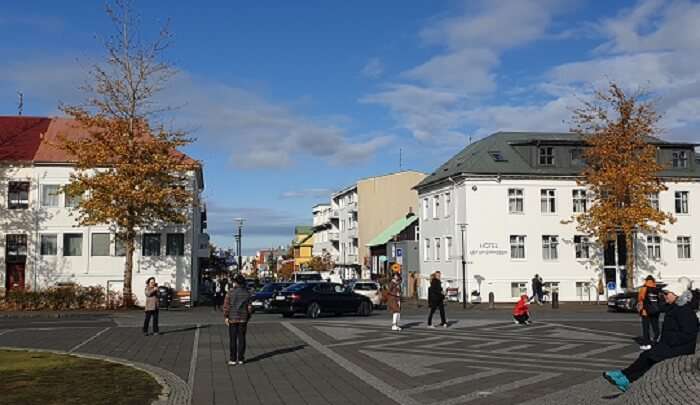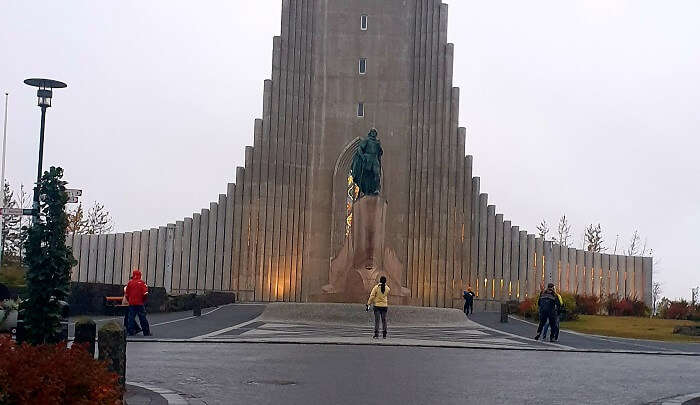 Highly recommend SAS flight with pre-booked meals. You really get pampered. Our hotel location was ideal, right opposite to the iconic Hallgrimskirkja Church. Dotted with bright colorful houses and streets the downtown is a delight, with cultural centers/landmarks, vistas, eateries and boutique shops. We visited the beautiful Hallgrimskirkja Church and walked for hours exploring the city. Our hunger pangs were satiated with the fresh and crispy fish and chips (with yummy cabbage soup as an accompaniment) at the famous Kaffivagninn by the harbour– it's an absolute must, soya hotdog with Appelsin (fizzy orange drink) and a wrap with the creamiest ice-creams at Valdis and Eldur Og Ìs.
4. Full-Day Tour Of The Famous Golden Circle, Lake-filled Kerid Volcanic Crater, And Blue Lagoon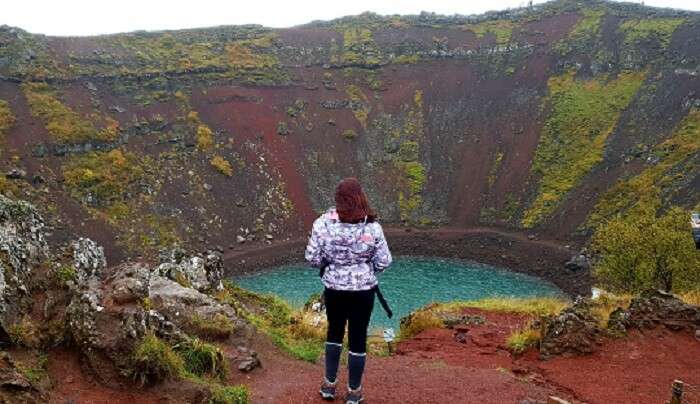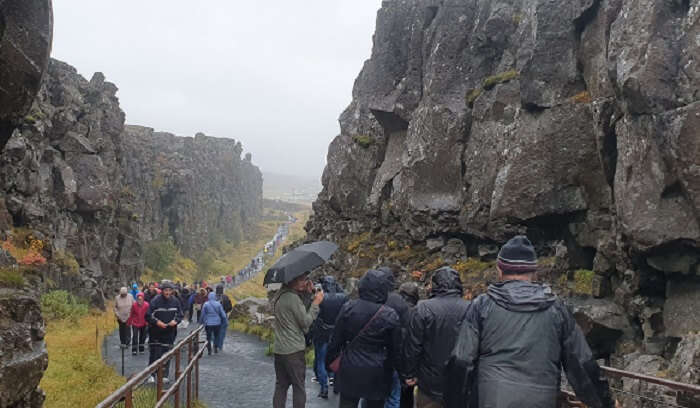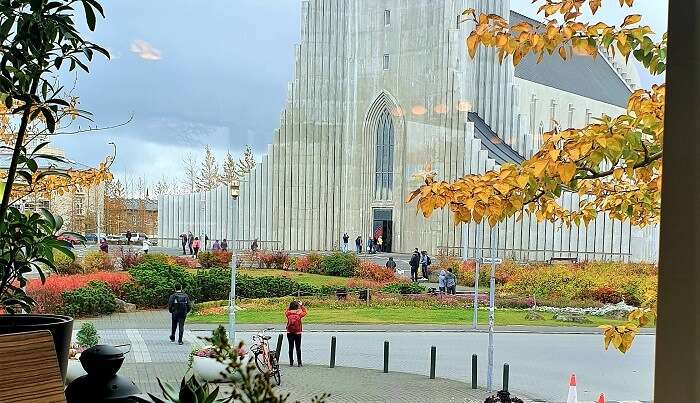 Considering we could not take a road trip by car (though that's the best way to explore Iceland) we opted for full-day tours to see as much of the country as we could. Our first-day full tour took us around Golden Circle and we began with visiting the spectacular Eurasian and North American tectonic plates at Thingvellir National Park (UNESCO world heritage site). Walking right between the two plates is as unique an experience as it gets and a perfect kodak moment. Gulfoss Waterfall is one of the most popular sites and the resounding force of nature in the gushing waters cascading down is a sight to behold. One can literally trek down to its mouth and what a surreal experience it was. At Strokkur Geyser site the entire area is filled with pockets of scalding water (up to 100 degree Celsius!) and a walkway leads to the famous Geyser that billows hot water every 10-15 mins. We managed to catch the action in a perfect shot! Kerid volcanic crater lake is mesmerizing with resplendent hues in red, turquoise blue and green showcasing nature's magnificence. Last on the itinerary was a dip in the magical and relaxing geothermal spa, the Blue Lagoon (definitely book in advance). The entry is expensive for sure but I would highly recommend including it. Although Iceland is speckled with hot springs, Blue Lagoon is an otherworldly experience and no wonder about the 25 wonders of the world. The water's milky blue hue with temperature averaging 37–39 °C was the perfect ending to a long day's trip. With a free on-time silica face mask and a drink (with entry ticket), soaking in the perfect warmth of the water with surrounding icy cold winds is an experience beyond one's imagination. This had to be the highlight of the day.
8 Indian Restaurants In Iceland: Savour The Flavorsome Indian Delicacies
5. Full-Day Tour Of Snaefellsnes Peninsula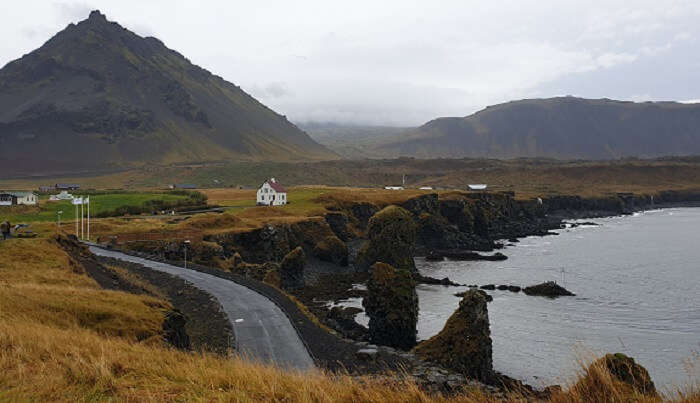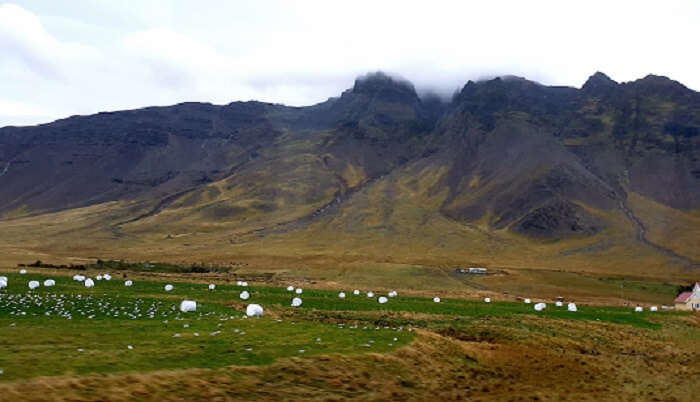 Western Iceland presents the most dramatic, scenic and breathtaking landscape imaginable, especially during this season (Autumn). In fact, it is called 'Iceland in Miniature', as it packs in volcanoes, hot springs, geysers, black sand beaches, caves, dramatic mountainscapes, rural landscape, all in one. As a Game of Thrones fan, it was surreal to drive past or take a pit stop at some of the iconic filming locations – the characteristic arrowhead Kirkjufell mountain, the site of the Great Wall, the black sand beach at Vik.
6. Full Day Tour Of Jökulsárlón Glacier Lagoon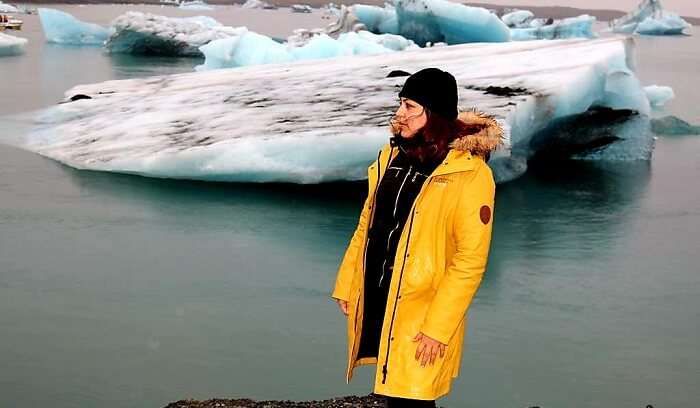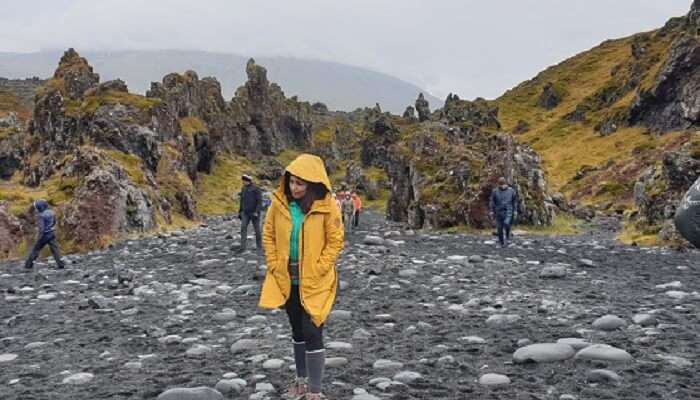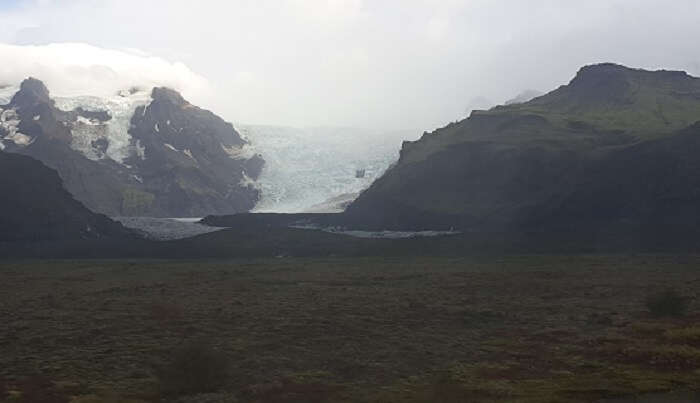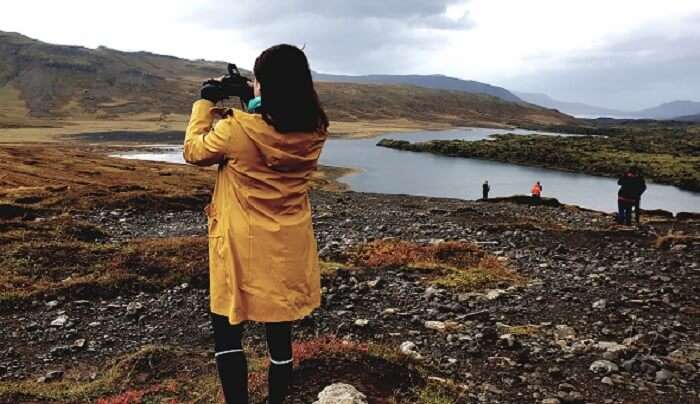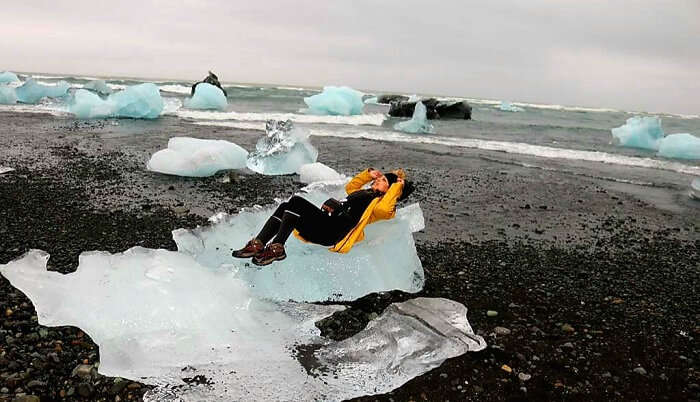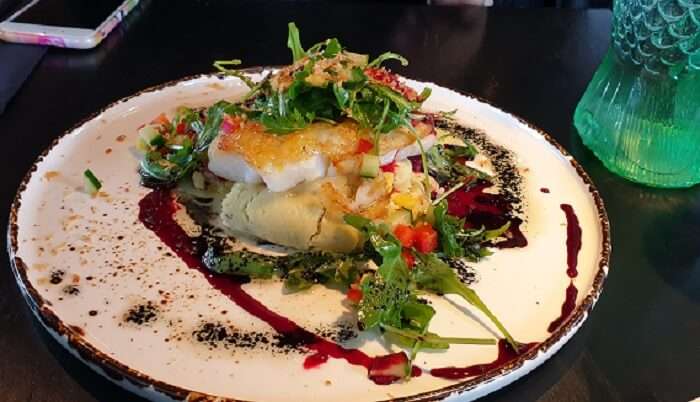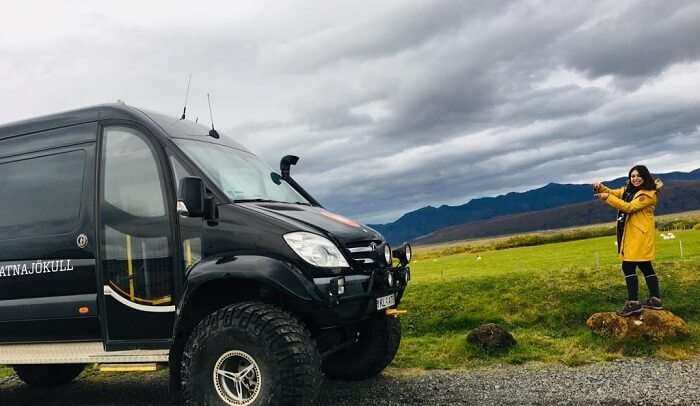 This is Europe's largest glacier and indeed nature's crown jewel. Driving to the glacier itself was a fabulous experience with dramatic views of giant glacier tongues in full display. Once we reached the glacier, we were greeted by views of massive icebergs floating in the Arctic Ocean and a boat trip into the chilling water circumventing the icebergs was once in a lifetime experience. At walking distance is the spectacular Diamond beach getting its name from ice blocks (that breaks and melts away from the glacier) accumulating around the black beach close by, glistening like diamonds in the sun. What an exceptional sight to behold!
Since we arrived in Iceland the weather was unrelenting, with frequent rains and dense clouds. Hence, attempts to book ourselves for the famed Northern Lights tour were only greeted with cancellations by all operators. Luckily, this day we got a small window of opportunity as some operators were willing to take a chance, so we immediately booked online while en route to Reykjavik. We were dropped off at 9:30 pm after a long and exhausting tour, with the next one (Northern Lights) commencing at 10 pm. Crossing fingers and toes we took our chance! We did manage to catch a glimpse of the famed Northern Lights, but it wasn't the spectacular show that one hears of, considering the cloud cover was playing hide and seek. I haven't ticked off Northern Lights off my bucket list (as I intend to see the spectacular show of dancing lights to truly call it mission accomplished), but the experience of driving through pitch dark routes chasing the lights, waiting with bated breath with delicious cuppa of hot chocolate accompanied by Icelandic chocolates (part of the package), I can never ever forget the feel of the biting cold and the quiet calm of the night. This is an experience that cannot be expressed enough in words. In fact, in Iceland if one does not manage to see the Northern Lights in full splendor, one can book the tour any number of times with the same agency (without any additional cost) for up to 3 years till the time one gets to see the full show of lights!! That generous, so I booked myself again the next day, with pretty much the same luck!
7. Whale Watching Tour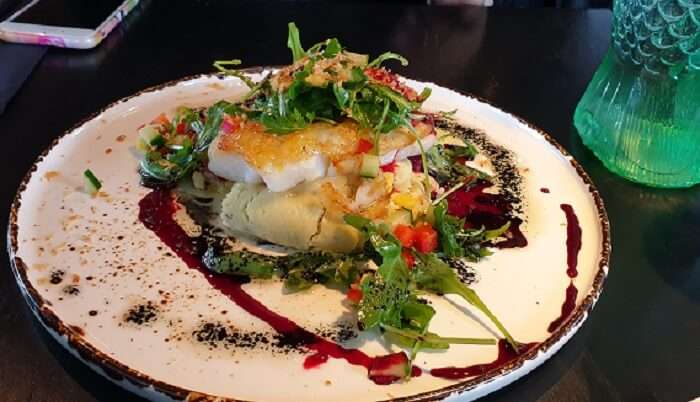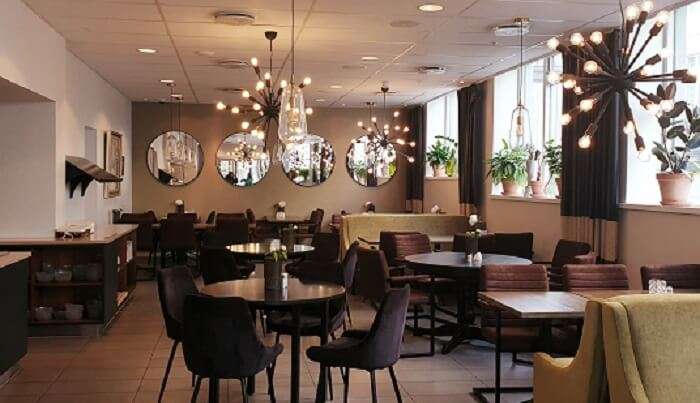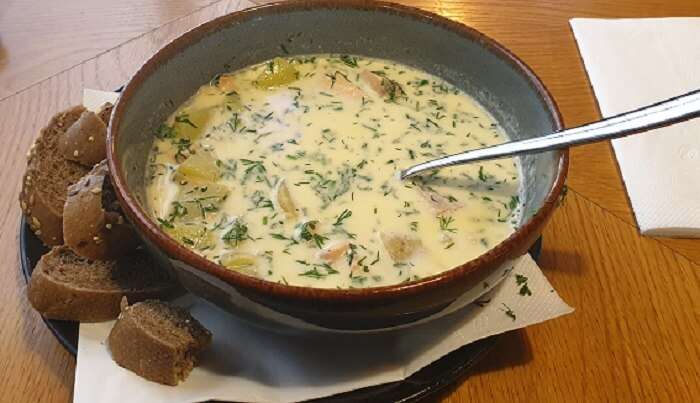 My friend had a flight back to London so I had 2 full days to see what else I could pack in. I chose to book myself for the whale watching tour. Again, it is an expensive tour package, so I would advice book only if you are interested. I managed to see pods of dancing dolphins and Mink whales (rather small in size) and not the Orcas or other giant whales I was expecting. I ended the day with a piping hot bowl of lobster soup at the popular Sea Baron by the harbor – totally recommended.
10 Incredible Things To Do In Norway In 2022 For A Memorable Vacay
Our Hotels
During our trip we stayed at these two hotels and here's how the experience was:
1. Best Western Plus Hotel Hordaheimen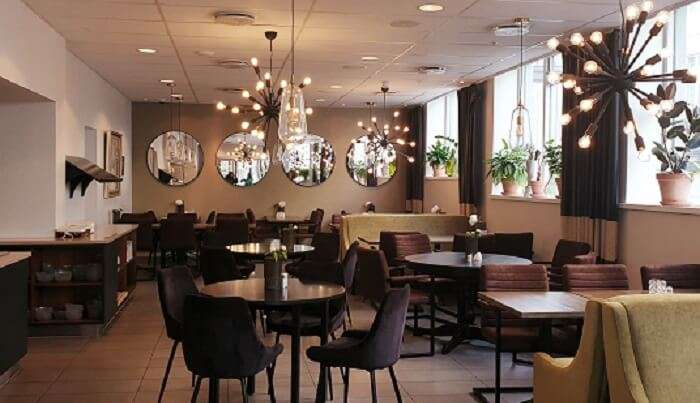 At Bergen we stayed at Best Western Plus hotel hordaheimen. It is ideally located, bang in the center of the town, friendly staff, very neat, good service and excellent breakfast spread. The room sizes are usually small in Bergen, but for the two of us, it worked well.
2. Hotel Leifur Eiriksson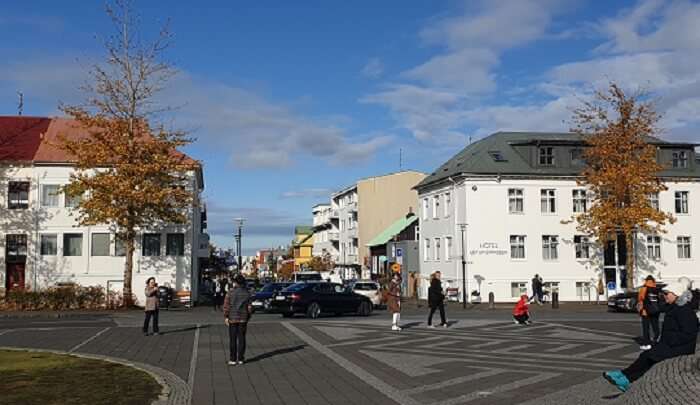 At Reykjavik we stayed at Hotel Leifur Eiriksson and what an excellent location, right opposite to the city landmark, the iconic Hallgrimskirkja Church and next door to a foodie's landmark – Café Loki. However, the hotel is basic and has pretty tiny rooms, not to mention the 'start before it ends washroom'! On the positive (apart from location), it's neat and cozy with simple homestyle breakfast servings.
Our Travel From Delhi To Norway And Iceland
For this Iceland trip from Delhi, I took Finnair and traveled to Bergen via, Helsinki. From Bergen we took a SAS carrier to reach Reykjavik. I highly recommend SAS for local travel – comfortable flight, adequate legroom, scrumptious food with unlimited helpings of wine and super friendly staff. On the other hand, I wasn't particularly a fan of Finnair– the flight was very uncomfortable, barely any legroom and food was below average! My recommendation is – only take the flight if you are looking for a cheaper option!
10 Best Norway Restaurants To Try All Delicacies On Your Next European Vacation!
Our Budget For The Trip
Considering I was being indulgent (both with shopping, food, and some additional tours) my personal expenses touched 'round the mark of Rs. 50,000/-
Shopping
There are several shopping places in Iceland as well as Norway that will cater to all your needs but things are expensive in this part of the world no denying that. I still had catered an extra few for some indulgences, especially if one has a fondness for shopping and a huge friend circle! My oh my it's tough resisting the fabulous range of souvenirs both Bergen and Reykjavik had to offer (and can I add here, Finland airport too). So here goes the list:
Woolen apparels especially with the local Norwegian and Icelandic motifs. If anyone you know is into knitting bring home some fabulous Icelandic wool. Which I did, and it turned out to be a great gift for my Mum.
Scandinavian rainproof coat though expensive is great quality and perfect for rainy days or trekking trips for the future
I got back a small bag full of fridge magnets, a token from all three countries– quite irresistible considering the cute range
Icelandic salts, my personal favorite being black lava salt – something to add in your things to buy in Iceland
Icelandic berry lip balms – beats Body Shop!
Blueberry tea from the duty-free at Helsinki airport. My morning starts with a cuppa since I returned and it makes for a great souvenir too
Karl frazer chocolates from Helsinki airport are a must, just so creamy and melt in the mouth. Also, treat yourself to local Norwegian and Icelandic chocolates.
Shot glasses, travel wall plates and figurines are collectibles I pick on all my travels. Don't forget the Viking and trolls theme souvenirs.
Iceland is a land full of lore and gripping stories that find expression in beautiful artisanal jewelry. My indulgent self picked a beautiful silver pendant bearing a local Icelandic symbol. It is a true keepsake.
Ah yes and finally the Alcohol. Icelandic vodka is a must-try as they use fresh glacier water from Iceland and filter it through lava. Reyka Vodka or Katla Vodka is the best which you can pick from duty-free. Brennivin is just too potent if you are into that then good luck. In fact, you find a great assortment of unusual flavors in liquor at the duty-free, so indulge. Do pick your share of alcohol from duty-free if you plan to drink in Iceland, as alcohol is only available at government liquor shops, heavily taxed and hence expensive.
 Norway In February 2022 Is All About Stargazing Northern Lights & Skiing On The Slopes
Food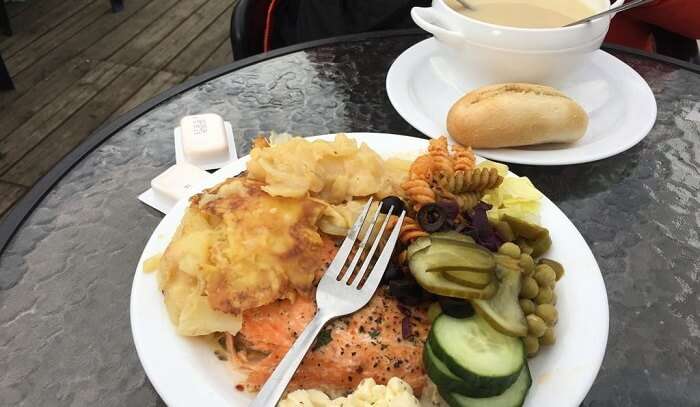 Food has to be one of the biggest highlights on the trip and if you dig seafood it is just the place! There are several top restaurants in Iceland where one can go and eat. Even the street food in Iceland is absolutely amazing and offers a lot of variety. One is surely to get tempted by all. Even Norway is extremely amazing when it comes to food. Norway's cuisine is absolutely interesting and something that should not be missed upon. Having net surfed my heart out on what to eat at Bergen and Reykjavik, I managed to tick off a sizeable lot during the trip.
Bergen:
Reindeer sausage: They say "When in Norway do as the Norwegians do, have a reindeer sausage", and I can't agree more. It's an absolute must. Visit 3-Kroneren (close to Mc Donald's) for the best of the best. There is a whole range of delectable sausage range but I went for the reindeer one (obviously) and topped it off with crispy fried onions and berry sauce and what an absolute mouthwatering delight. The portion size is huge, so even two can share.
Seafood/fish: head to the famous fish market by the old wharf and eat to your hearts delight – the freshest seafood straight from cold arctic waters. Don't miss the salmon!
Cured fish, reindeer/whale/moose sausage, fish paste available at various open-air stalls at the fish market makes for good takeaways
Local beers are a must-try
Iceland:
Reykjavik, in particular, is a foodie's paradise. A totally unexpected surprise to the palate when it comes to local delicacies, topped with a diverse range of cuisine from across the world – Vietnamese, Italian, Thai to name a few. Also, the portion size is huge so be mindful, one dish/serving can happily satisfy the grumbling tummies of two:
Soups: Iceland offers the best bowl of hot pipping soups ever – an absolute must on the list is the delish cabbage soup served at Kaffivagninn, lobster soup at Sea Baron and meat soup at Café Loki.
Fish and chips: the best, crispiest and freshest ever with massive portion size and yummy dips are at Kaffivagninn.
Plokkfiskur: mashed fish and potato on rye bread at Café Loki (the rye bread tastes almost like banana bread!)
Hotdogs: for a change try the soya ones with crispy onions
Ice cream: my favorites were salty dark chocolate and coconut (super creamy) at Valdis, pistachio (nutty and flavourful) at Eldur Og Ìs, Rye bread ice-cream at Café Loki (now one had to try it, 'coz who has had rye bread ice cream before!)
Appelsin: a super fizzy orange drink like Fanta but only better
Skyr: fresh sour milk cheese but is of the consistency of creamy yogurt. Loved the pear flavored one, do try. It is available at any supermart/local store.
Local beer
What To Pack
For mid-September woolen clothing is a must and lots of layering as the weather is unpredictable. The temperature hovers around 12 degrees Celsius but it's the icy winds that give the real chill and hence feels like 6-7 degrees. For clothing do carry inners, fleece jacket, sweater, warm outer jacket with hood, a raincoat/rainproof jacket, full sleeves tops/t-shirts, tights/jeans, mufflers, warm woolen caps, gloves (ideally a pair each of half-finger woolen gloves and waterproof winter gloves). Washing clothes and drying is unlikely, so carry clothing items accordingly. Carry an umbrella if you are comfortable but let me warn you the winds (especially in Iceland) can make it totally ineffective. I survived on the rainproof long jacket I bought from Norway.
Do carry a waterproof case for your phone and camera especially for the rainy days and particularly for Blue Lagoon (silica in the water will give millions of tiny scratches to your phone if not kept in the cover).
Trekking in Norway: 10 Best Spots For Trekking The Nordic Mountains
Tips For Traveling To Iceland And Norway
Budget yourselves! It is an expensive part of the world.
Do thorough research on the experience you are looking for and the places you want to visit. Iceland can be overwhelming as there is so much to explore. Straighten out your priorities. It makes the task of your travel agent easier in streamlining your needs and build a package. Travel vlogs/blogs on Iceland will come to your rescue and are fun to watch trust me!)
Make sure your international layover is over 1.5 hrs at least. I was to catch a connecting Finnair flight from Helsinki to Bergen and a flight delay of just 20 mins meant I missed my next flight!!
Tours like northern lights/whale watching should best be booked when you reach there, as it is totally dependent on the day's weather bearings. Local tour operators are in plenty and very helpful with inputs, so bookings can be done without any hassle. Small group tours are the best.
Carry the right clothes for the season you are planning. Study the weather and reviews well before you pack. Ideally carry all items from India, as buying winter clothing there is very expensive.
Carry packaged Indian food especially if you are a vegetarian or have a preference towards Indian palate
Order one portion/dish if there are two of you. In Iceland particularly, the portion sizes are huge and sufficient for two (even true for ice creams!).
If possible, keep one full day just for Blue Lagoon, it is totally worth it and book in advance
If Norway is on your list, do visit Bergen and book a cruise to the fjords – totally worth it
Local supermarkets in both Bergen and Iceland are comparatively reasonable and well-stocked. If you are on a budget that's your go-to.
Carry a flask and coffee/tea sachets to have access to a hot drink anytime (and saving up on that extra buck).
One of the most important travel tips to Norway or Iceland is – don't buy water from stores or shops or anywhere. Tap water is as good as it gets.
You must have a travel card, as cashless transaction support is exceptional in these countries. I was recommended NIYO by a friend and that came in very handy. Supported by an app that gives you detailed transaction details, currency exchange rates for the day and even has a provision for locking and unlocking the card, topped with a zero forex markup (i.e one does not pay any currency exchange premium and international transaction fees), I found the travel card a blessing. I did not have to use cash anywhere!
Remember to take tax return slips for souvenirs you purchase. You can get a refund quite easily at the airport.
Our Experience With TravelTriangle
Traveling to Iceland and Norway had been on my bucket list for years. On a friend's recommendation I connected with TravelTriangle to work out the details. From the moment I logged in to their website, experiencing their professionalism first hand, I knew they were just the right team to help me tick off my dream destination. Special thanks to Archita from Travel Triangle. Since I had already prepared a detailed list of places I wanted to visit and tours to be included, I was glad I connected with Infinity and Beyond. The trio of Devaansh, Sumedha and Anupresha ensured that my tour itinerary was sorted and planned within 2 days of my connecting with them, giving me all possible options/solutions to accommodate both my interests and budget. From excellent hotel locations bang in the city center to a selection of day tours from Bergen (cruise to Flam) and Reykjavik (Golden Circle, Snaefellsnes Peninsula, Blue lagoon, Jokulsarlon Glacier), hotel transfers and flight bookings, this by far has been the most seamless travel I have experienced. The smallest details and our comfort were looked into by their 24/7 WhatsApp helpline, where they were within seconds reach if required. This was a truly awaited trip made more special by this excellent team at Infinity and Beyond. KUDOS for a great job and you have a client for a lifetime.
Norway – The Land Of The Midnight Sun, Might Get Rid Of Time Zone & It Makes All Sense
What a memorable trip! These 10 days in Iceland and Norway have been mesmerizing. The beauty, the warmth of people, Icelandic stories/lore still reverberate in my brain space, while the taste of arctic freshness in cuisine unforgettable – and yes, I am determined to make a trip back soon. If you too have been dreaming about a similar experience in these two magnificent places then wait no more and book yourself a trip with TravelTriangle and experience only the best of the best.
Common Questions You May Want To Know
How many days are enough for Iceland?
Anywhere between 7 to 8 days are ideal for a holiday in Iceland.
Can one see Northern lights in Reykjavík?
It completely depends upon the clarity of the sky and the weather.
What is the best month to go to Iceland?
February, March, September, and October are the best months to visit Iceland.
How many days are ideal for Norway?
Anywhere between 8 to 9 days are ideal to explore the best of Norway.
What is Norway famous for?
Norway is famous for its undeniable beauty and landscape views.