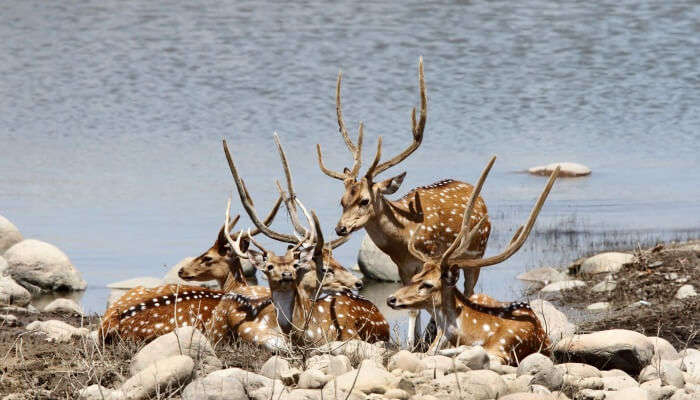 Known around the world for the rich flora and fauna it boasts of and for its marshy lands, this is a haven for you if you are a wildlife enthusiast. The added benefit is that it is in proximity to the stunning hill station, Nainital and we think you would have guessed it till now! Yes, it's the Jim Corbett National Park which happens to be one of the oldest national parks in India and allows the visitors to be close to nature and interact with the wildlife. And if you are wondering how much time shall be enough to explore the place in its entirety, then spending 3 days in Jim Corbett would be more than enough to get an insight into the place!
There are marshy lands, a great lake and the rugged hills too. There is a lot to explore and the hidden treasures of this place are fascinating. Housing 110 types of trees, more than 500 species of birds and reptiles and over 50 mammals' species, the national park is a treat for wildlife enthusiasts. Witness the vivid wildlife of Jim Corbett, and also explore the natural bounties of the hills. The national park allows you a sojourn amidst marshy lands, grasslands, a large lake, rugged hills, and riverine belts.
Best Time To Visit Jim Corbett
The weather over here is very pleasant and the park is open from the mid of November to the mid of June. You have great winters here and you there are a lot of birds that come out here at this time. The summers are really hot and the temperatures can go up to 40 degrees sometimes. The monsoon season is also extreme with Dhikala and Birjani zones of the park getting completely washed away. You can also visit the places that are near Jim Corbett and they are the things you cannot miss. Apart from that, you can experience things like Jeep Safari. You can go to many spiritual places like Garjiya Devi temple too.
Things To Do In Jim Corbett For 3 Days
Here are some of the best experiences to take when you're planning a 3 days trip to Jim Corbett and have a great time amidst the wildlife and nature.
1. Jungle Safari: Get A Glimpse Of Wildlife

When you come from your place or Delhi to Jim Corbett National Park and check-in your stay. If you want to explore the park, you have to take the jungle safari! Start the day with the Jeep safari or you can even have a Canter safari. Sometimes, people like to take the Elephant Safari in the Park. You can do the Jungle Safari in different zones. You have the Dhikala zone which is the central one of the park. This is the most visited zone of the park and it is where you can see the elephants, chitals, deer and also the Bengal Tiger. This is surrounded by the Patli Dun Valley. Next, you have the Bijrani Zone where you can see that the entryway is Amdanda.
This zone is only open at a specific time and that is from October- end of June. You can also go to the Jhirna Zone which is the most wonderful safari zone. It is the most noted open zone where there is bamboo vegetation. You can have some excellent bird watching experiences here in this zone. This is in the south of Jim Corbett National Park. Next, you have Durga Devi Zone which is known for the uneven geography and the woody vegetation. It is mostly open from Mid-November to Mid-June. Great for bird watching. There are specific timings for taking the jeep safari and you need to follow the timings.
Must Read: 13 Hotels Near Jim Corbett That Are Admired For Their Facilities
2. Garjiya Temple: Visit The Fair

When you go to visit the Jim Corbett temple, then you have to visit the Gariya Devi Temple. Goddess Garjiya is known to be the incarnation of the Supreme Goddess Shakti. There are a lot of folktales that are attached to the temple. Also, this is a famous worship temple in the town of Ramnagar. This place also has a fair conducted in November and it generally collides with the Karthik Poornima.
Location: National Highway 12, Ramnagar Range, Garjiya, Uttarakhand 244715
Suggested Read: 6 Quixotic Resorts Near Jim Corbett For The Most Memorable Stay In 2022
3. Kosi River: Go For White Water Rafting

The travelers who are in Jim Corbett know that they have to visit the Kosi river. This is because there is a river flowing in Corbett National Park. This is a very lively river and you can have beautiful views from here. The water is clean and fresh and goes when the water level is low so that you can enjoy it. One can also do river rafting in Kosi river and you can get to experience grade 2 and grade 3 currents here. One of the most popular activities done in the place.
Suggested Read: 14 Things To Do In Jim Corbett: An Opportunity To Feel Nature Up – Close In 2022
4. Naini Lake: Experience Boating

After you are done exploring the nearby places, you can visit Nainital. It is 2 hours away from Jim Corbett National Park. Roughly 75 km away, make sure to start early in the morning so that you have the whole day with you. Boating in Naini Lake is the most clichéd thing you are going to do here. Well, as much as clichéd it can be, you cannot miss this place.
Charges: The boating charges are INR 160 for a half-round for a rowboat, INR 210 for a full round for rowboat and INR 210 per hour for Paddle Boat
Time: The boating is open from 6 AM – 6 PM every day
Suggested Read: 5 Best Villas In Jim Corbett For The Most Heavenly Stay Ever
Places To Visit On A 3 Days Trip To Jim Corbett
There are a bunch so make sure that you start early in the morning. Here are the places you can go around and see in Corbett.
1. Corbett Museum

Corbett Museum needs to be booked ahead of time so that you can secure your spot. You can always cancel your tickets before 24 hours of the starting of your tour. It is a museum which was a former home to Jim Corbett, a conservationist on the tiger reserve.
Address: Chhoti Haldwani, Uttarakhand 263140
Time: 9 AM- 5 PM
Suggested Read: 11 Places To Visit Near Jim Corbett National Park For An Extended Vacation In 2022
2. Sita Bani

Sita Bani is one of the prominent zones which is full of tourists. Most of the people are entering the Sitabani Jeep Safari zone. They are avid bird watchers and they can make the best part. Also, they can take a glimpse of the vultures.
Suggested Read: Jim Corbett National Park: Walk Through The Wilderness
3. Corbett Fall

This is a waterfall you cannot miss but you need to be very good with the timing. In the months of October to February, it is 9 AM-3.30 PM and from March to September, it is from 9 AM- 4.30 PM. This is on the Nainital road and you can take some time to visit this place.
Suggested Read: 12 Wallet-Friendly Resorts And Hotels In Jim Corbett National Park In 2022!
4. Ramganga River

The Ramganga river is a small tributary of the mighty river Ganges. It flows through the Bareilly and Ramnagar cities. It is sourced from Namik Glacier and you can take a look at this river too.
5. Tibetan Market: Go For Shopping

This is also called Bhotia Market and it is the best place to shop for the famous things Nainital is known for. Have your lunch in the market in some local Indo-Chinese restaurant. After that, proceed to Naina Devi Temple.
Suggested Read: 6 Haunted Places In Uttarakhand That Will Give You A Chill Down Your Spine On Your 2022 Trip!
Places To Stay At Jim Corbett For 3 Days
Here are a few places that are comfortable enough and can fit rightly in your pocket to enjoy a relaxing stay in Jim Corbett.
1. Corbett Motel Resort

This is a great option for someone who wants to stay in amidst of mango trees. This resort has simple rooms, a restaurant and also offers jeep safaris which makes the entire 3 days trip to Jim Corbett a memorable one. Resting amidst the serene surroundings, this motel resort is a great option for stay in Jim Corbett.
Location: Telipura Road, Shankarpur, Corbett City,Ramnagar, Nainital, Uttarakhand 244715
Tariff: INR 3,370 per night
Suggested Read: 10 Cottages In Jim Corbett, The Comfort Of Which Will Help You Soothe Your Soul!
2. Dhikala Forest Rest House

It is believed that a trip to Jim Corbett is incomplete without visiting the Dhikala forest rest house. This is once in a lifetime experience and in order to stay here at night, you need to book accommodation 46 days in advance and if you are a foreign national, then it should be fine 90 days in advance. Staying at this resort amidst the dense forest is an experience which is truly magical.
Location: Ramnagar, Uttarakhand 244715
Tariff: INR 5,000 per night
Suggested Read: 5 Best Water Sports In Uttarakhand For A Perfect Adventurous Trip This Summer
3. River View Retreat

Located amidst the shady sylvan and lush-green jungles of the Jim Corbett National Park, this resort offers a one of a kind experience. With all the luxury and comfort, a stay at this resort is like a memory which will be cherished for a lifetime. If you want to stay in tranquil space, then you can choose this riverside hotel property. This offers luxury stay with 2 restaurants, a swimming pool, a spa and also jeep safari
Location: Zero Garjia, Dhikuli, Ramnagar, Uttarakhand 244715
Tariff: INR 7,200 per night
Suggested Read: 19 Amazing Places To Visit In Uttarakhand In Winter Of 2022
Tips For Planning A 3 Days Trip To Jim Corbett
Be well informed about the different activities you are going to do for the whole duration of the day.
You need to understand that this is a small vacation and you cannot expect all the things to be covered.
Be practical about your holiday trip and realistic. Hire a guide who can help you with the things you do and places you go. You can follow this itinerary.
Further Read: 17 Best Cottages In Uttarakhand Ideal For Your Next Vacay In Mountains In 2022!
From the vast range of wildlife to the luxurious stay options and many more things, a 3 days trip to Jim Corbett is worth all the hype. This national park has all the facilities to offer and make an amazing vacation for its visitors. So if you're planning a vacation in Jim Corbett , make sure to keep this handy guide to know what to do here and have an amazing time amidst nature's finest views.
Disclaimer: TravelTriangle claims no credit for images featured on our blog site unless otherwise noted. All visual content is copyrighted to its respectful owners. We try to link back to original sources whenever possible. If you own rights to any of the images, and do not wish them to appear on TravelTriangle, please contact us and they will be promptly removed. We believe in providing proper attribution to the original author, artist or photographer.
Frequently Asked Questions About Spending 3 Days In Jim Corbett
What are the things you can do in Jim Corbett National Park?
You can enjoy the wildlife safari, jeep safari and other beautiful places around. You can also go to the museum and the other places nearby. You can visit nearby places too.
Where can you stay while you are visiting Corbett?
You can stay in the Jim Corbett National Park itself otherwise, you even have Corbett Motel Resort.
What can you do in the evenings after Safari in the day?
You can have a bonfire to dance, scrumptious meal and go to Dhikuli in the evening to relax for a while. Make sure you are wearing comfortable clothes throughout the holiday. Always talk in low voices to not attract the attention of any animals.
What is the best time to visit Jim Corbett National Park?
Well, you can technically visit Jim Corbett National Park at any time of the year but the best time to visit is from November to February. This is the winter season over here and this is when all the ones are open and full. You can go in the summer though but if the thought of going on a jungle safari when hot excites you then, it is fine.
Why is Jim Corbett National Park famous?
Jim Corbett National Park is the oldest national park in our country, India and it is named after Jim Corbett, a conservationist, who played a significant role in the establishment. It was started to protect the Bengal tiger. It started in 1936.
How many days are enough for Jim Corbett?
You might need roughly about 2-4 days for Jim Corbett and it would be great to see the other places around too like Corbett fall, Garjiya temple, Sitabani etc. You can also go to visit the nearby hill stations like Nainital.
People Also Read: