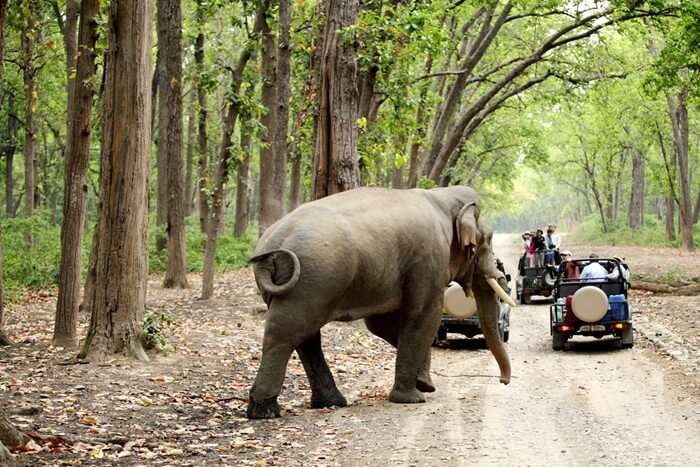 Best Time To Go

Nov to Feb
How To Reach

Ramnagar (RMR)
Currency

INR
Souvenirs

Hunter Jackets & Woooden Handicrafts
Tucked in the state of Uttarakhand is this natural haven, which was established in 1936, Jim Corbett National Park. It was then called the Hailey National Park and was established with the purpose of saving the endangered Bengal Tiger. Jim Corbett is a great weekend getaway from Delhi. It is an easy 6 hours ride from the city and into the woods. Jim Corbett is a beautiful vacation place with lush green environs and a peaceful setting away from the city affairs. Certain areas of the park are open to visitors, while others are protected and have zero public interference. If one likes to be amidst nature, then this is a great spot to head to on a long weekend. Read this Jim Corbett travel guide to know what this national park has in store for you.
Quick Links To Explore Jim Corbett Travel Guide
Best Time To Visit Jim Corbett National Park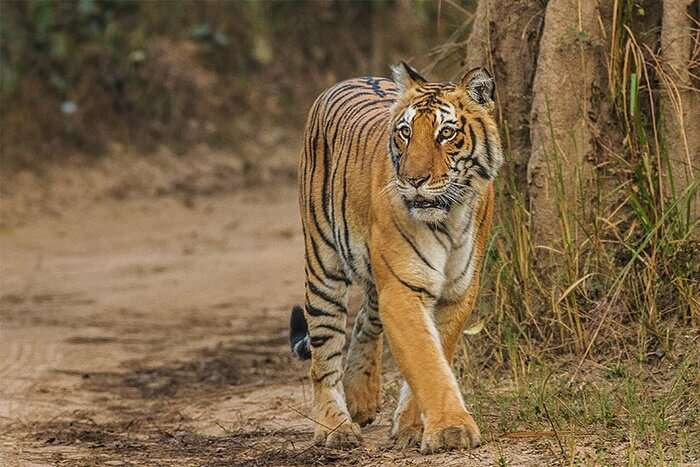 Image Source
Corbett has a temperate climate and one can plan a trip here any time during the months except monsoons, as some parts of the national park are then closed. Winters is the best time to visit the park as the weather is quite pleasant during the months of November till February. One can also easily spot animals in the jungle during this period. It is also the best time for bird watchers as one can spot quite a variety here during this period. The summers are bearable too, but one might not spot fauna that easy. The only sightings then are near the pond.
| | | |
| --- | --- | --- |
| MONTH | MIN TEMP. | MAX TEMP. |
| March | 11°C | 26°C |
| April | 20°C | 34°C |
| May | 23°C | 40°C |
| June | 24°C | 42°C |
| July | 24°C | 34°C |
| August | 25°C | 30°C |
| September | 22°C | 26°C |
| October | 16°C | 26°C |
| November | 10°C | 24°C |
| December | 0°C | 22°C |
Things To Do In Jim Corbett National Park
Jim Corbett is a great place to escape to away from the city rush. It makes for a beautiful weekend getaway from Delhi under 5k. Have a look here at the things to do in this national park.
1. Jungle Safari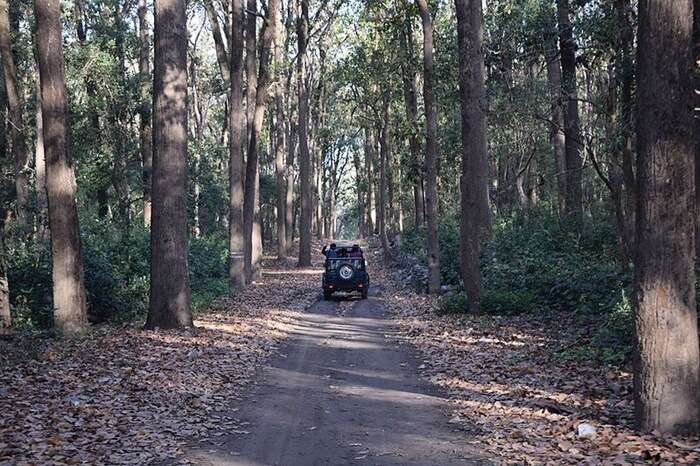 Image Source
The best way to explore any national park is through a safari. There are five zones that Jim Corbett is divided into for one to enjoy a safari. These are the Dhela zone, the Bijrani zone, the Jhirna zone, the Durgadevi zone, and the Dhikala zone in Jim Corbett National Park. One can opt for either the canter safari or the jeep safari to explore the jungle and spot a variety of flora and fauna in this national park. Earlier there was an option of an elephant safari too, but that has been banned now.
Best Time To Do: November – February (10:00 AM – 1:00 PM and 1:30 PM – 5:30 PM) 
Cost: INR 3600 (For Indians); INR 7000 (For Foreigners)
Must Read: A Family Weekend Trip To Jim Corbett To Cherish Our Bond Of Togetherness!
2. River Rafting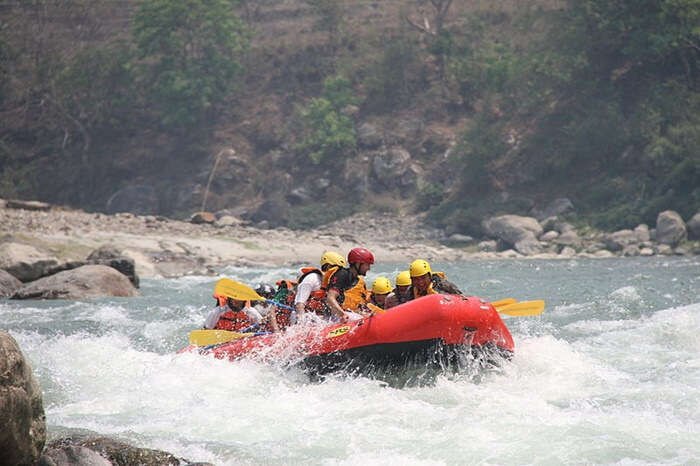 If you are an adventure lover, then Corbett has another exciting water activity. One can enjoy river rafting in the river Kosi. This is a seasonal sport to enjoy here and is often available during the rainy season from July till September. The activity depends on the rains and would be unavailable in case of heavy rainfall, as rafting gets risky under such weather conditions.
Best Time To Do: July – September
Cost: INR 850 per person
Suggested Read: 12 Wallet-Friendly Resorts And Hotels In Jim Corbett National Park
3. Camping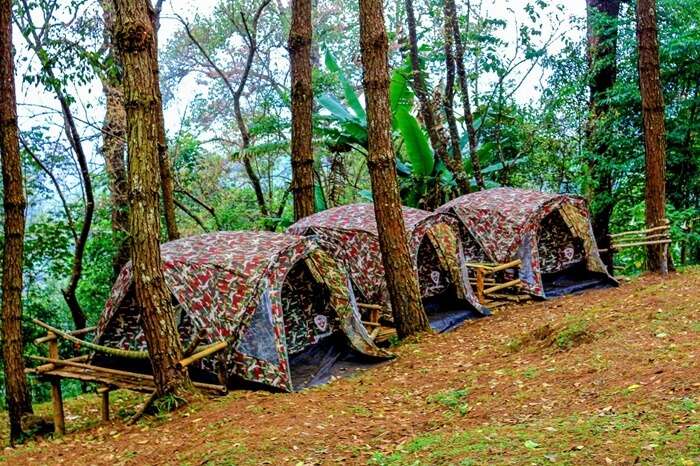 Another exciting activity to enjoy in Jim Corbett National Park is camping. One does not get to camp in nature, under the sky, in the woods often. So, this is a great opportunity to experience camping. Everyone should give it a try, as the experience is totally worth it. One feels closer to nature and it is utterly blissful. There are both permanent camps and temporary camps in Corbett. The permanent ones are in the form of cottages across the park's periphery. While the temporary ones are in Sitabani forest.
Best Time To Do: September – March
Cost: Variable
Suggested Read: 11 Places To Visit Near Jim Corbett National Park For An Extended Vacation
4. Bird Watching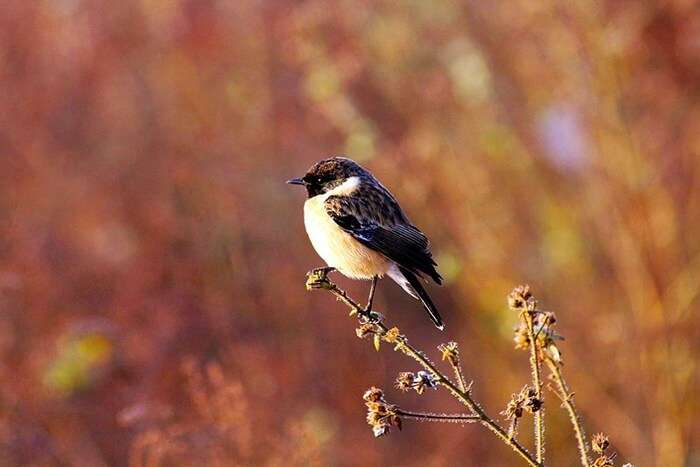 National parks are a haven for nature enthusiasts and bird watchers. Corbett has a variety of over 650 species of birds including the migratory birds that fly here from as far as Siberia. These birds can be seen here in the months of November and December, which is the ideal time to visit the national park. Some exotic or rare species that can be spotted here are cinnamon Bittern, black-headed night heron, white pelican, and more.
Best Time To Do: November – March
Cost: NA
Suggested Read: Fun, Entertainment, And Thrill: Our Adventure Trip to Uttarakhand Had It All!
5. Trekking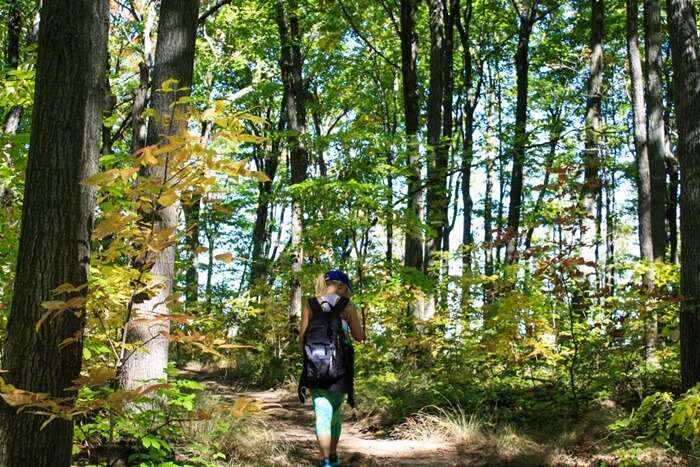 One of the most interesting things to do in Jim Corbett is exploring the place on foot and what better way than trekking! If outdoor activities are something you take interest in, then Jim Corbett would make for a great vacay spot. It offers a variety of activities for one to enjoy. Alongside trekking, one can enjoy activities like rappelling and river crossing here. There are trekking trails that one can explore here, mostly in the reserved areas of the park. The best part for trekking here is Sitabani reserve. Wear comfortable shoes, and carry drinking water for the trek.
Best Time To Do: Mid – November to Mid – March
Cost: NA
Suggested Read: A Short Trip Exploring Best Places In And Near Jim Corbett
Places To Stay In Jim Corbett National Park
Here are some of the best accommodation options for a Jim Corbett getaway. Have a look at these place to stay.
1. One Hotels Jim Corbett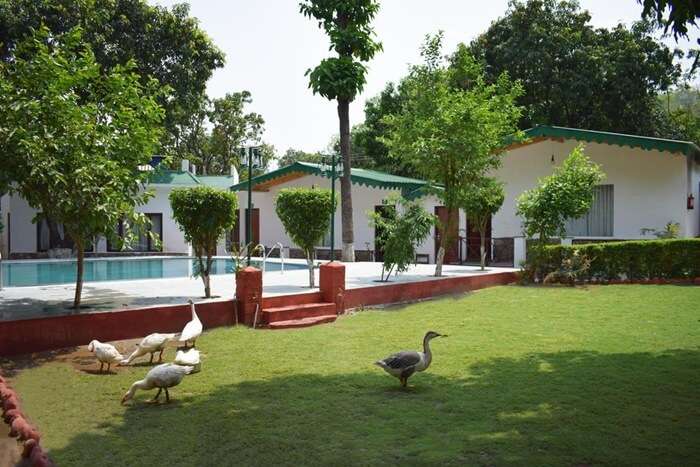 Set in lush green environs, this is one of the best properties in Garjia to stay if you are planning to visit Corbett with family. The property has neat and clean air-conditioned rooms which are quite spacious and come with private baths and basic amenities. There is an in-house restaurant too here. One can enjoy a buffet or American breakfast at One Hotels Jim Corbett. Other than this, there is a 24-hour help desk for any queries, wifi available, and outdoor pool for recreation and more.
Location: Ramnagar, Dhikuli, Uttarakhand 244715
Cost: INR 2600 onwards
Suggested Read: 30 Resorts In Jim Corbett For That Are Definitely A Class Apart
2. Safari Park Resort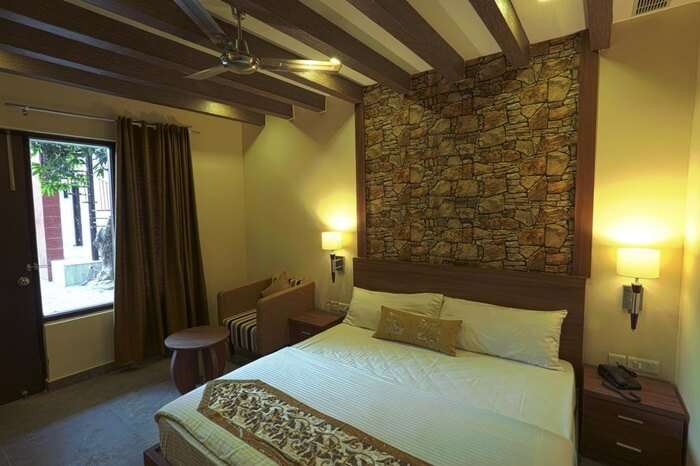 Image Source
This is an ideal resort in Ramnagar for families and couples. It is a great place to stay if you are visiting Corbett. The rooms are air-conditioned, spacious, and clean. There is a children's playground here, and if one is visiting with kids, then this is one resort that should be on your list. Car for hire is available at this property. Other than this, one can enjoy a continental breakfast here and for recreation, there are some games that one can play like darts, squash, and billiards.
Location: Rani Khet Road, Near United -21 Wildlife Resort, Ramnagar, Dhikuli, Uttarakhand 224715
Cost: INR 1300 onwards
Suggested Read: Uttarakhand In June: Your Personal Guide For A Blissful Vacay In Summer
3. The Den Corbett Resort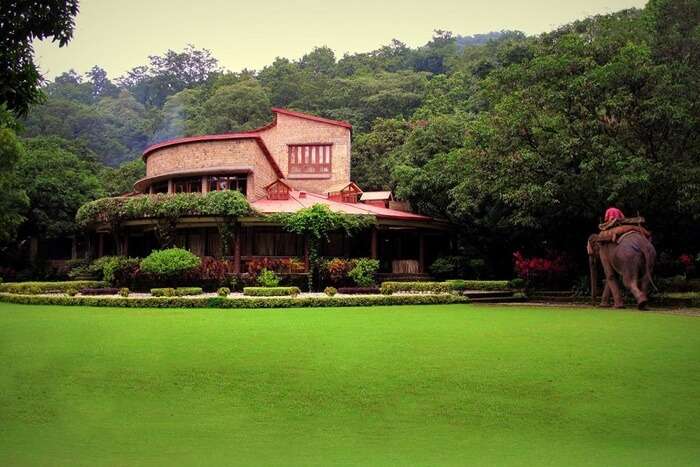 Image Source
Nestled in lush green environs, The Den Corbett Resort is in the Dhikala Zone in Uttarakhand. The resort has an in house restaurant and there is the availability of wifi on the property. The property is at a close distance to Nainital at about 30 km. The rooms are neat and tidy and the food at the restaurant is well prepared. The staff here is hospitable and eager to help in case of queries. The property itself is beautiful and one would quite enjoy a stay here.
Location: Kumeria Reserve Forest, Ranikhet Rd, Kumeriya, Chilkiya Range, Uttarakhand 244715
Cost: INR 2800 onwards
The Beautiful Home For The Wild In Jim Corbett

Jim Corbett national park is one of the oldest parks in India. It was established in 1936 as Hailey's National Park. The region is known for tigers and the park has maintained its legacy by retaining the richness of the park. Jim Corbett is one of the very few national parks that allow overnight stay in their premises, making this park very unique and special.
The landscape of the national park is diverse and it ranges from marshy land to lakes, from small hills to green grasslands. Jim Corbett national park also houses a large variety of flora and fauna apart from the main jewels of the park i.e. tigers. The tourists can rent a jeep to roam around the park and indulge in sightseeing.
Suggested Read: 5 Adventure Sports In Jim Corbett To Make Your Trip An Exciting Adventure
Jim Corbett National Park Zones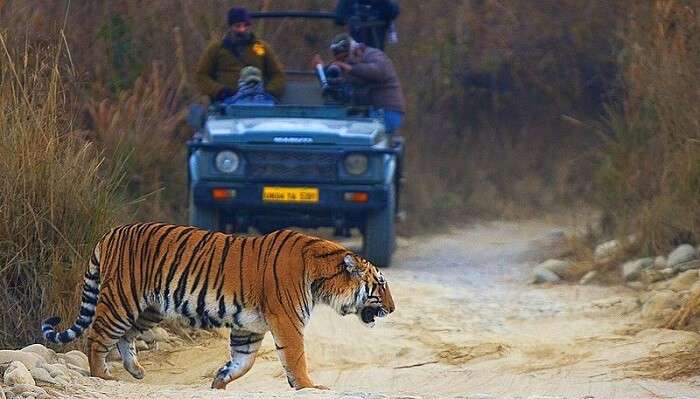 A Jim Corbett travel guide remains incomplete without the popular zones to explore here. So, here are five zones which are segregated according to th safaris.
Bijrani Zone: Bijrani zone is the closest to Ramnagar and is the most visited part of the National Park by day safari tourists. The landscape is a picturesque mix of dense forests, open grasslands, and river plains. Jeep safari is available in this zone and offers the chance of catching the royal Bengal tiger in its natural habitat. 
Dhikala Zone: Dhikala is the largest and arguably the most stunning part of the National Park and is situated on the side-lines of the Patil Dun valley. It offers several cozy forest lodges to travelers with panoramic views of the valley above the Kanda Ridge. Dhikala is considered to be the best zone for sighting tigers, which have been found chasing deer on the river banks. 
Durgadevi Zone: Durgadevi Zone is characterized by dense forests and varying altitudes, which are perfect for bird watchers. It is also populated by the endangered fish species, Mahsheer, that comes for breeding in the zone's river. Tourists can stay at the Lohachair Lodge and avail the jeep safari organized in this zone.
Jhirna Zone: It is one of the most-visited zones of the Forest Reserve as the zone is open all-year-round for tourists. It was included much later into the reserve, in 1994. The zone is frequented by wild bears, which are a major attraction, along with the Bengal tigers. 
Dhela Zone: Dhela zone is the latest addition to the National Park which was added in 2014. It is open throughout the year, with the availability of safari depending on the weather. It is a paradise for bird lovers which is why you will see several bird watchers as well as photographers exploring the place.
Suggested Read: 13 Hotels Near Jim Corbett That Are Admired For Their Facilities
History Of Corbett National Park

It was in 1907 that the British administration that came up with the idea of establishing a game reserve. With the help of a famous wildlife conservationist and author Jim Corbett, a wildlife reserve area was set up and was named Hailey National Park. In the year 1955-56 this reserve park was named Jim Corbett National Park as a tribute to Jim Corbett and his services. Jim Corbett national park, Uttrakhand is not only rich in biodiversity but also history.
Suggested Read: 5 Best Villas In Jim Corbett For The Most Heavenly Stay Ever
Flora And Fauna

As per the Botanical Survey of India, the national park consists of 600 species of trees that cover an area of 521 sq.kms. Some of the species of trees are bamboo, shrubs, ferns, grass, and climbers. The reserve is blessed with a large variety of flora and fauna which makes this an amazing place to visit. It is home to a number of endangered animals such as Asiatic elephant, Ghariyal and more. It also houses Asiatic Black Bear, Hog Deer, Walking Deer, sambhar, and Sloth.
Travel Tips For Jim Corbett National Park

Make sure you carry some woollens along especially if you are visiting the place with a baby.
Don't off-road. Stay on the well known paths and trails.
Maintain a safe distance from wild animals.
Don't litter. Leave the place in the same condition you found it in or cleaner, if possible.
Always keep your camera ready for you never know what you might spot.
How To Reach Jim Corbett National Park

Corbett National Park is situated near a city named Ramnagar which is easily accessible and very approachable through road and rail. All the major  Indian cities are well connected to Ramnagaar and the Jim Corbett National Park is hardly a half an hour drive from the place. It is just 15 kilometres away.
By Road: Ramnagar is well connected to all the major Indian cities by its amazing road network. You can simply take a bus from any leading city and reach Ramnagar and from there take a taxi to the Jim Corbett National Park.
By Train: If you prefer traveling by train then the Ramnagar Railway Station is where you should get down at and then take a cab or taxi to your destination. Corbett Link Express, Ranikhet Express and Kathgodam Express are some of the direct trains that run from Delhi to Ramnagar.
Further Read: 14 Best Waterfalls In Uttarakhand To Witness Nature's Spectacular Creations
Looking for an escape from the everyday monotonous schedule? What would be better than the natural abode in Uttarakhand, Jim Corbett National Park? Book a trip to Jim Corbett with TravelTriangle, a perfect weekend getaway with your partner or friends and have a great time in the woods. It would be a perfect short trip full of exciting activities like trekking, camping, sightseeing and more. Have a memorable vacay here in Corbett. Have more days to spare? Add Nainital too, to your trip!
Disclaimer: TravelTriangle claims no credit for images featured on our blog site unless otherwise noted. All visual content is copyrighted to its respectful owners. We try to link back to original sources whenever possible. If you own rights to any of the images and do not wish them to appear on TravelTriangle, please contact us and they will be promptly removed. We believe in providing proper attribution to the original author, artist or photographer.
Frequently Asked Questions About Jim Corbett National Park
Which river flows through Jim Corbett National Park?

Ramganga River flows through the Jim Corbett National Park and is a very important water resource for the areas around the national park.

Which is the best zone in Jim Corbett?

If you are asking about the best zones to spot tigers then Dhikala zone, Jhirna zone, and Bijarani zone are some of them. However, if you are asking about Safari zones then Dhela zone and Durga Devi zone are the best ones.

Why Jim Corbett National Park is famous?

Although there are many national parks in India, Jim Corbett National Park is famous for not one but many reasons but the primary reason is that the national park was established in 1936 and is the oldest national park in India. This national park was established to protect the endangered Bengal Tiger.

How many lions are there in Jim Corbett National Park?

Corbett is believed to be home to over 600 elephants and 164 tigers and houses 586 species of resident and migratory birds.

What is the best time to visit Jim Corbett national park?

Though you can visit Jim Corbett national park anytime of the year, the best time to visit the park is from November and February.

How many days are enough for Jim Corbett?

2 days are enough to visit Jim Corbett National Park.

When can I see tigers in Jim Corbett?

There are various zones in the park wherein you can spot the tigers. Usually, the tigers can be seen during the months of October to June.

How many tigers are there in Jim Corbett?

There are as many as 215 tigers in Jim Corbett National Park.

Which animals are found in Jim Corbett National Park?

Jim Corbett National park is home to Langurs, leopards, jungle cats, jackals, red fox, sloth and more.

Are private vehicles allowed in Jim Corbett national park?

No, private vehicles are not allowed in Jim Corbett National park.
---
People also read:
National Parks In Uttarakhand Nanda Devi National Park National Parks In India