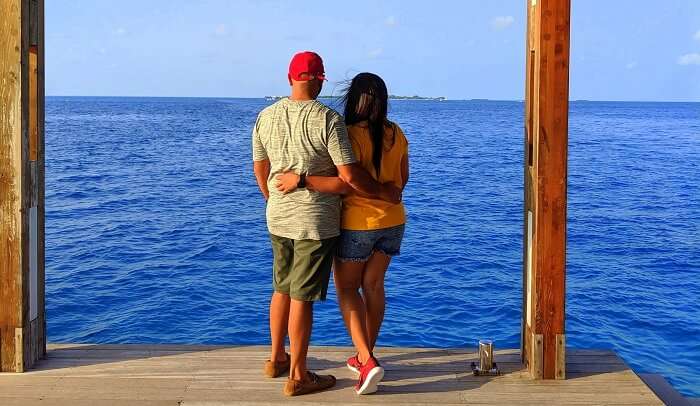 There is something magical about watching the sunset upon the crystal clear ocean as you and your special one walk along the beautiful golden beach. Sound utterly romantic, doesn't it? Well, the Maldives is all about celebrating love and reveling in the tropical beauty of its many islands. While we found that there's not much to explore, finding the perfect resort for your stay makes all the difference. It's all about the activities, accommodation and of course, the beach life! We spent some time going back and forth but finally decided to spend our honeymoon at Hurawalhi Maldives.
Set on the island of Lhaviyani Atoll, this resort was our humble abode for 4 days. We went for an all-inclusive honeymoon package and let me just say, it was nothing short of a dream.
Table Of Content
Details Of Our Stay In The Maldives
Trip Type: Honeymoon Trip
Cost: INR 261500
No. Of People: 2
Duration: 3 Nights 4 Days
Inclusions: Breakfast, Lunch, Dinner, Snacks, Drinks, Ocean Villa, Airport Transfer, All Taxes
Exclusions: Airfare, Travel Insurance
Island Hopping In Maldives: A Tryst With The Turquoise Waters In 2022
Why We Chose Hurawalhi Maldives For Our Honeymoon?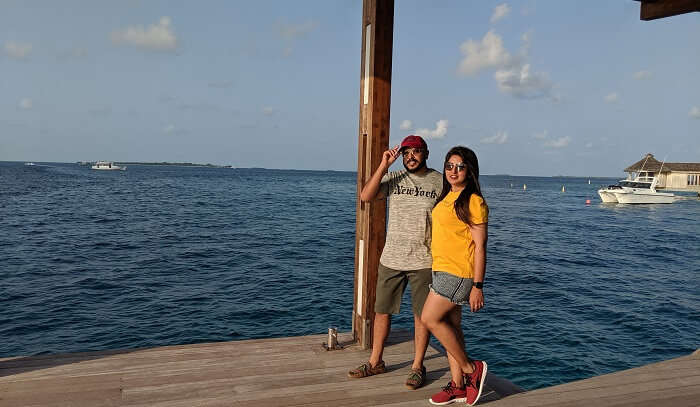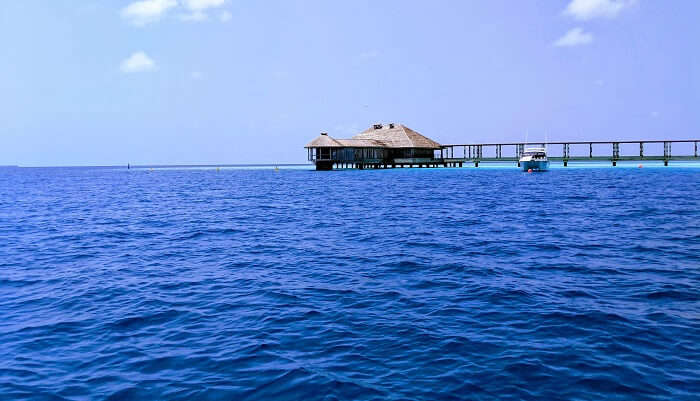 Of the many moments in life, your honeymoon is certainly one of the most special and memorable. We wanted ours to be an album of cherishable memories that we could revisit with a smile. And so we decided to treat ourselves and take a lavish vacation, and what better place than the Maldives?
So as we started browsing for properties, we came across Hurawalhi Island Resort. The place resembled paradise, with its breathtaking beaches, luxurious accommodations and picture-perfect setting. We also read up on some Hurawalhi Island Resort reviews, and all we heard were praises. And that's how we knew we were going to spend our honeymoon at this resort. If you are looking to make the most of your trip, you must definitely consider a stay at some of the Maldives island resorts.
What Makes Hurawalhi Maldives So Unique?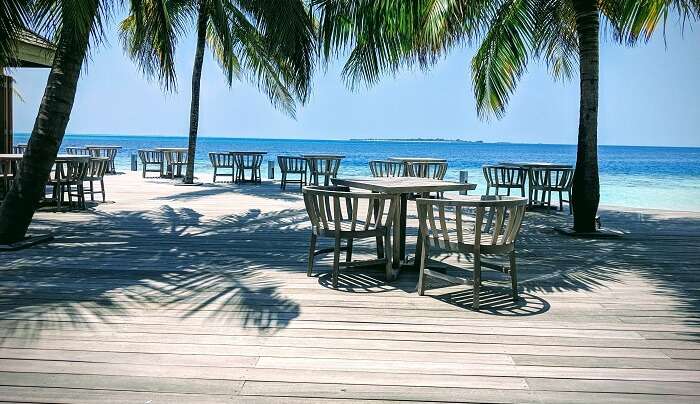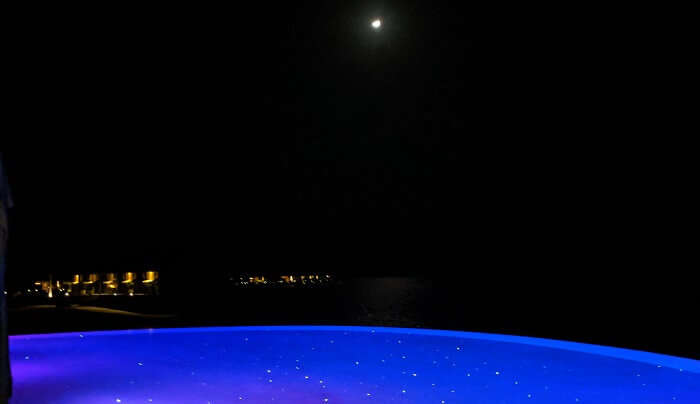 While there's a lot that stand out, the thing that caught our attention was that the resort has the largest undersea restaurant. Apart from this, the luxurious ocean villas, the adventures in the ocean including Scuba Diving, Snorkeling, Dolphin safari, Champagne Pavillion, Manta Surfing and turtle surfing, all seemed too appealing to miss.
Our honeymoon at Hurawalhi Maldives ended with a romantic sunset at the Champagne Pavilion, situated at the end of the property. The mesmerizing view of the sunset, which turned the blue ocean into crimson red was the kind you'll never forget.
6 Incredible Indian Restaurants In Maldives To Visit On Your Next Maldives Trip!
Getting To Hurawalhi Island Resort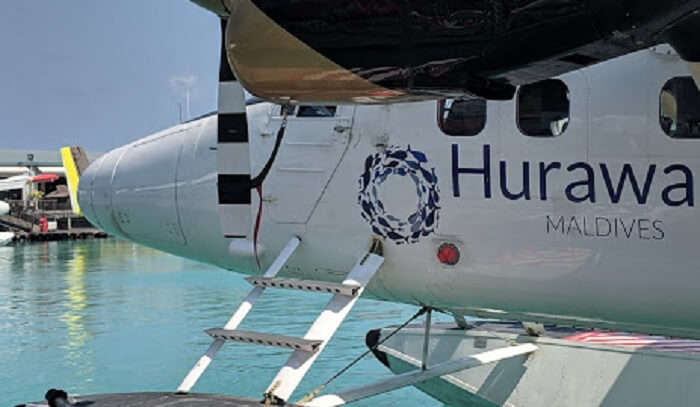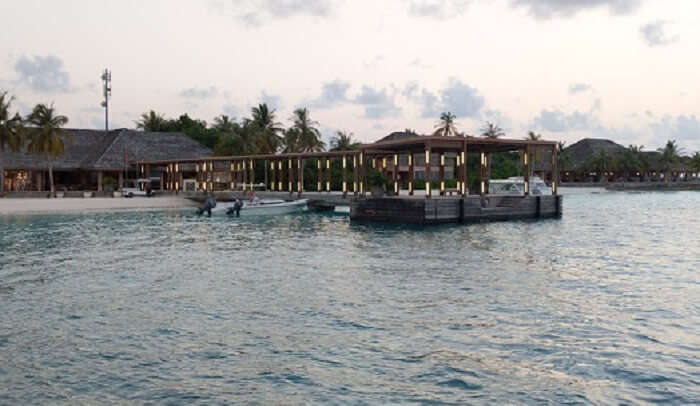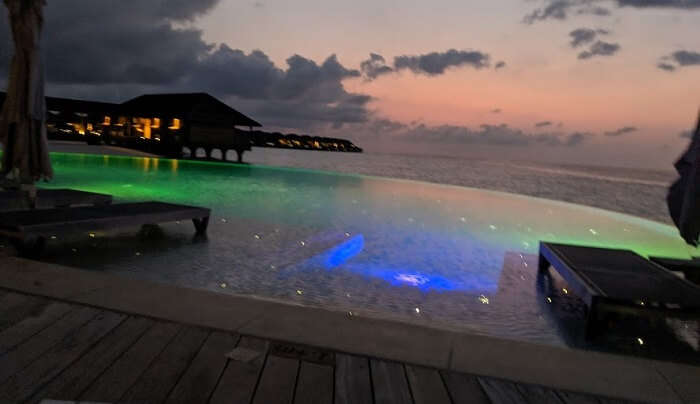 Hurawalhi Island Resort Maldives is a lavish Adults only Island resort in Lhaviyani Atoll, which is a 45 minutes minute seaplane ride from Velana International Airport (Male). Once we landed in Male we were greeted by our representative who then lead us to the seaplane. We didn't face any hassle at all getting to the resort and the island executive took care of everything right from the airport transfers to the departure from Maldives. Kudos to the team for offering us a hiccup-free experience!
Accommodation At The Resort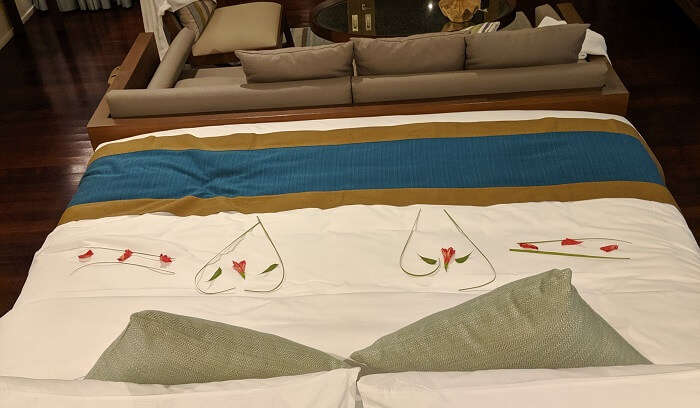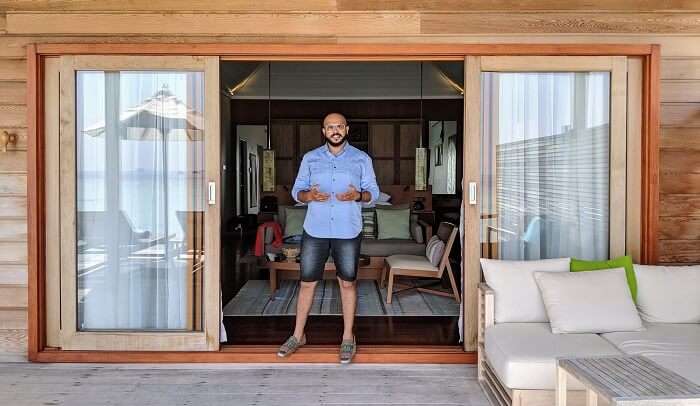 Soon after our arrival at Hurawalhi, our Island host Mr. Anif welcomed us and gave us an Island tour. He drove us to our Villa which overlooked the Indian Ocean, dreamy, isn't it? The room had a soft fluffy king size bed, a couch, a coffee table, fresh fruits and snacks on the counter, a minibar and a bottle of Champagne as a complimentary gift for honeymoon at Hurawalhi Maldives.
Our vision was captivated by the clear blue sky and deep blue ocean with our room being at the center of both. Overlooking a private white sand beach and our very own wooden shack, our villas was simply beautiful. When it comes to pricing, it is on the higher side, but every moment you spend at the resort is worth every penny.
Intern At This Maldives Resort And Get A Free Two Week Vacation On The Island
Activities And Experiences We Enjoyed The Most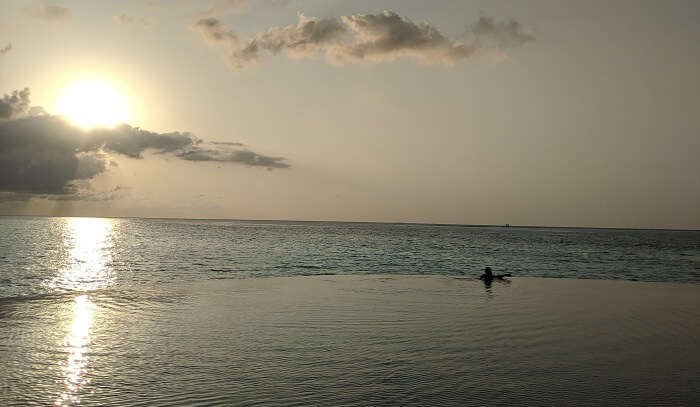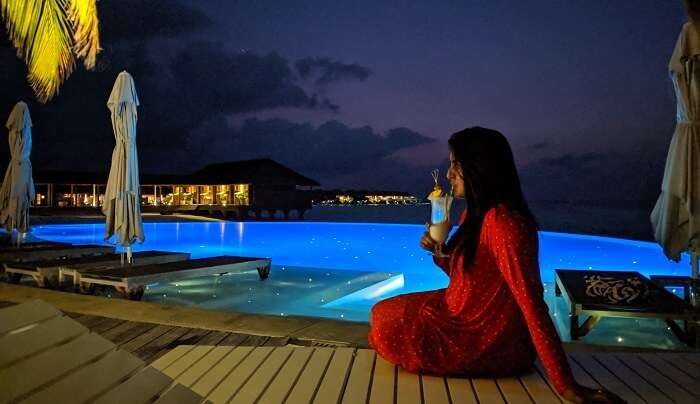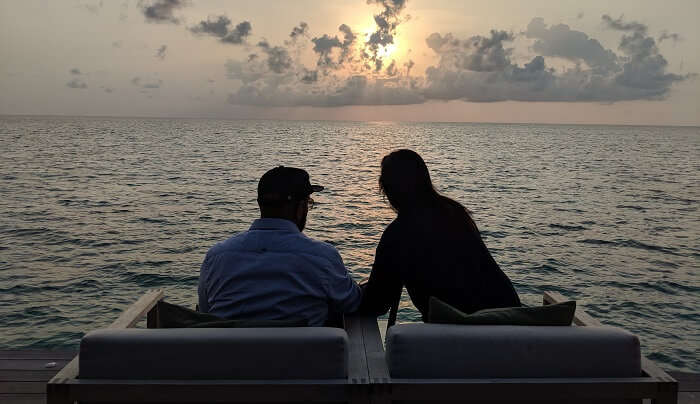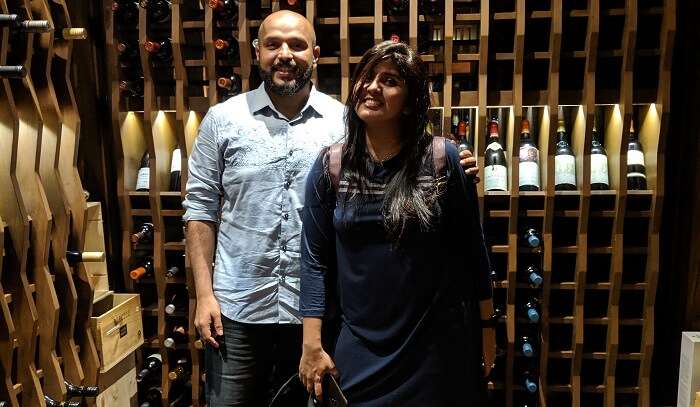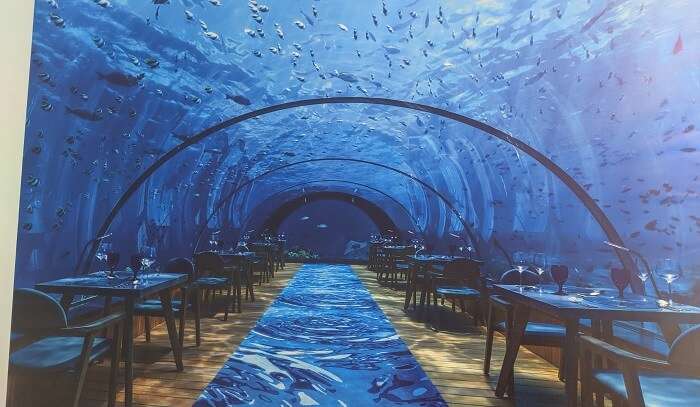 The day when we arrived at the resort, we went for Sunset Dolphin Safari, which was so exciting! They served mocktails on the speedboat and we saw the dolphins skip away into the sunset. We also took Scuba Diving classes and for a first time scuba diver, the site was truly mesmerizing and unforgettable. The trainers are very well experienced and made us feel safe. The resort has a medical center too, so you shouldn't worry. The resort provided us with a snorkeling kit, which we could use anytime as per our convenience. We went for the Turtle Tour and jumped into mid ocean with our snorkeling kit. I simply do not have words to describe just how much fun it was, you have to be there to know. Water sports in Maldives is something you just can't miss!
Dining At Hurawalhi Maldives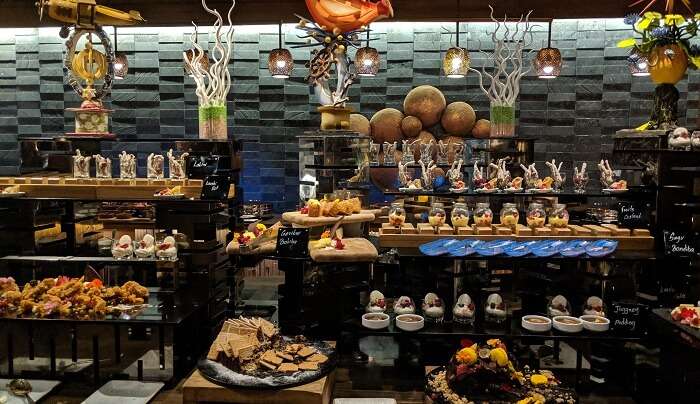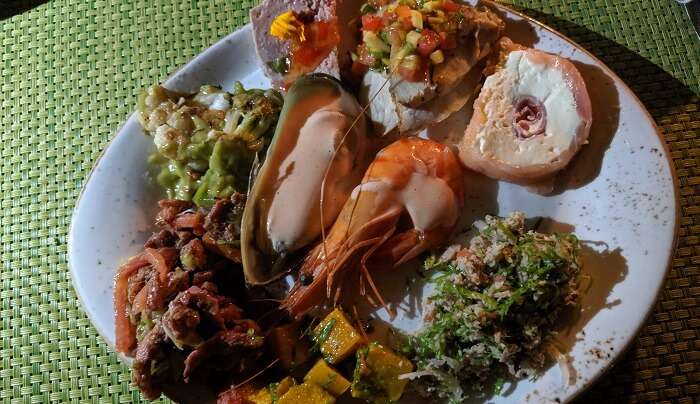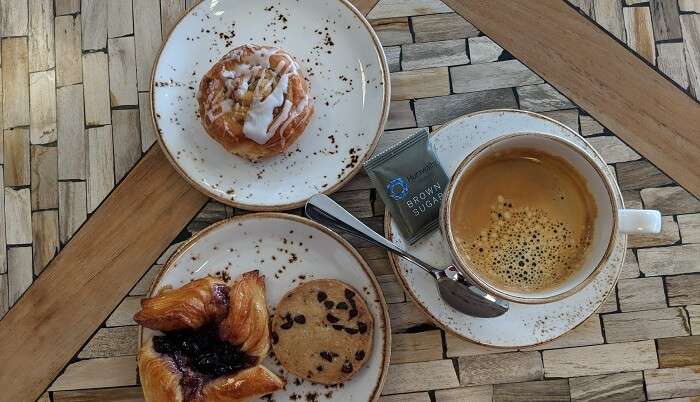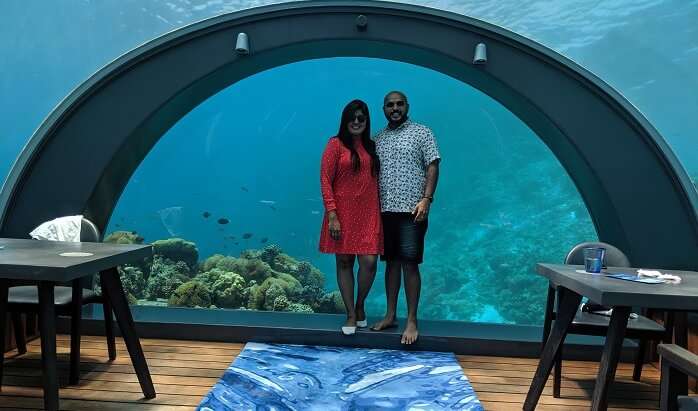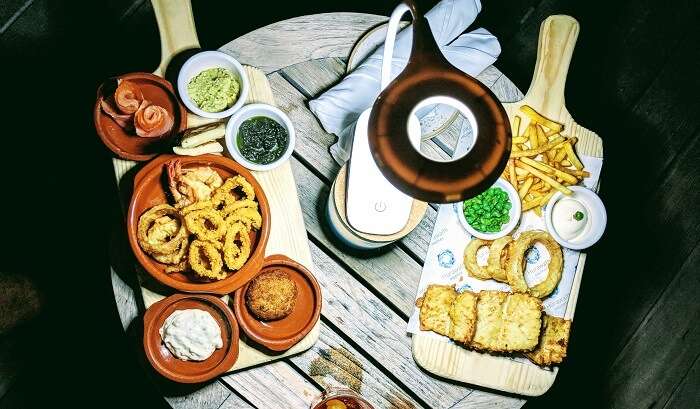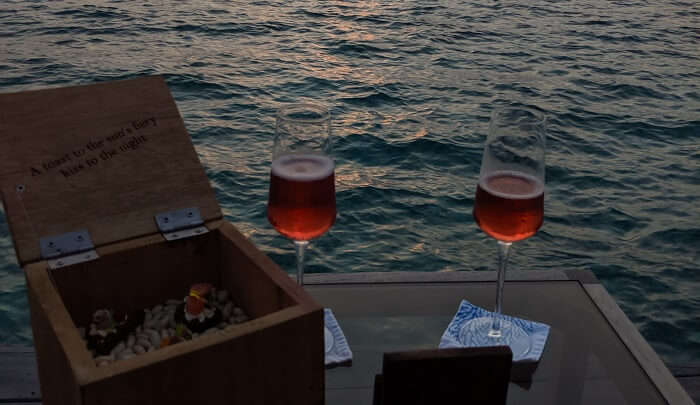 If you are at Hurawalhi do take advantage of the three amazing on-site restaurants, namely Canelli, Kashiboo and 5.8 Undersea Restaurant. We ate most of our breakfast at Canelli, Hurawalhi's main restaurant, which offers an impressive buffet set up for breakfast, lunch, and dinner. We also had access to the 24/7 open Coco Bar with a view of infinity pool as part of out all-inclusive Hurawalhi package.
At Canelli you can enjoy Maldivian, Continental and Mexiacan Buffet along with an array of desserts, which tasted divine. Kashibooo is an Asian themed restaurant, which offered food that tickled your taste buds with different spices and flavors. Dining at Hurawalhi Island Resort underwater restaurant, 5.8 was a unique experience and one that drew us to choose Hurawalhi. To have a delicious meal with fish swimming around you was simply awesome. Underwater restaurant in Hurawalhi Maldives price ranges from INR 16,185 – INR 71,932, but it is surely worth the cost.
We spent most of the time relaxing in the Coco-bar and savoring the wide range of cocktails from the menu. The 24/7 Bar is a boon when you know how to handle your drink. Every night at Coco-bar we had cultural programs by the local artists that kept us thoroughly entertained post our dinner. The chef's, bartenders and the service executives were very extremely hospitable making the experience all the more enjoyable.
Maldives For Couples Is The Ultimate Honeymoon Paradise And We Agree!
What To Pack For Maldives Trip
Keep the following points in mind while packing for your Hurawalhi Maldives holiday.
1. Since Maldive is a tropical destination, make sure to carry sunscreen, sun cap and sunglasses.
2. Don't forget to carry your underwater camera if you want thrilling moments to be captured while enjoying the water activities.
3. Carry multiple pairs of swimsuits and summer dresses.
4. Pack a casual pair of sandals, slippers as most of the time you will in the islands of Maldives.
Our Maldives Travel Experience Was An Unforgettable One!
Our Experience With TravelTriangle
It simply couldn't have been better! The moment we landed in Male, we were greeted by the island executive who made sure we didn't face any hassles. And once we reached the resort, we were all set for fun-time. From water sports to underwater dining, we had a blast! Kudos to the team for making our honeymoon so special.
A Guide To Majeedhee Magu, The Dazzling Street Market Of Maldives
Ah, the Maldives, a paradise among the glistening blue sea and the clear blue skies. Whether you're planning a family holiday or a much awaited honeymoon with your better half, there's no better place to be. If you too want to enjoy your honeymoon at Hurawalhi Maldives head over to TravelTriangle and customize your Maldives trip right away!
Frequently Asked Questions About Honeymoon At Hurawalhi Maldives
Which is the most beautiful island in the Maldives?
While some may say that Fihalhohi Island is the most beautiful island in the Maldives, if you are looking for some privacy and solace than I would definitely recommend Hurawalhi Island. After spending 4 days in Hurawalhi, I have to say, my wife and I didn't want to go back home.
How many days in Maldives are enough?
Keeping in mind budget and things to do, I would say a 5 day vacation is the perfect time. However, if you plan on island hopping then planning for a week would be better.
How expensive is Maldives?
If you plan on staying at a luxurious island resort then, yes. However, every moment you spend there will seem worth it. Perfect for a honeymoon or to celebrate a special occasion.
What are some popular foods in Maldives?
Seafood all the way! Fish, lobster, crab, there are plenty of options. However if you won't have trouble finding vegetarian food since most resorts offer vegan and special diet menus.
Which are the nearby hotels similar to Hurawalhi island resort?
Komandoo Island Resort, Kuredu Island Resort and Kanuhura Maldives are some of the famous nearby hotels to Hurawalhi island resort.
Which are the most romantic restaurants in the Maldives?
The most romantic restaurants in the Maldives are 5.8 Undersea Restaurant, Canneli Restaurant, and Champagne Pavilion. These restaurants are located near the popular resorts and you can visit it on your Honeymoon at Hurawalhi Maldives.
What can I shop for in the Maldives?
On your honeymoon in the Maldives you must indulge in shopping and here are some of the things that you can shop for!
1. Miniatures of Maldivian sailboat
2. Handmade t-shirts
3. Craft products
What can I do at night in the Maldives while I am on my honeymoon?
The Maldives has a plethora of options for couples who are passionate about parties. Here is the list of best nightclubs and bars in the Maldives!
1. Moodhu Bar and Restaurant
2. Subsix
3. Paradise Island Resort
4. Babuna Bar