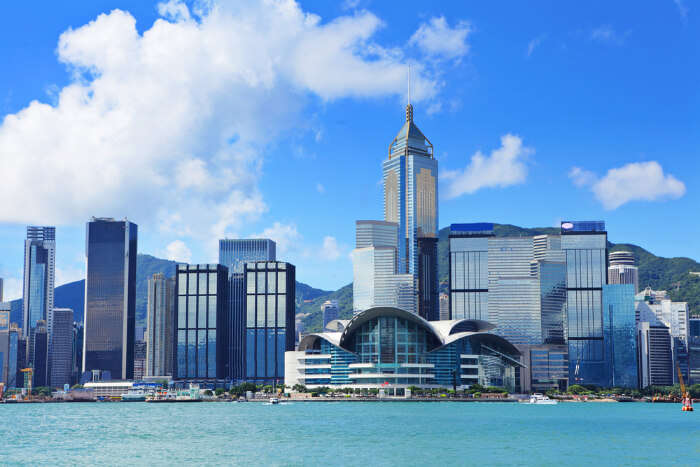 Ever since the trend of travel bucket list has been on the rise, travelers have become pretty habitual to checking things off the list. Having said that and following the same trend, this detailed guide contradicts the typical itinerary format that creates time constraints and enables you to spend the best 4 days in Hong Kong.
From the total budget to currency exchange and from famous places to visit to things to remember, this comprehensive guide will enable you to capture the essence of Hong Kong in an ideal duration of 4 days. So if you've been looking forward to a typical Hong Kong itinerary for 4 days, then you're about witness a different experience altogether with amazing Honk Kong tour packages.
Quick Links To Explore 4 Days In Hong Kong
Hong Kong Weather Conditions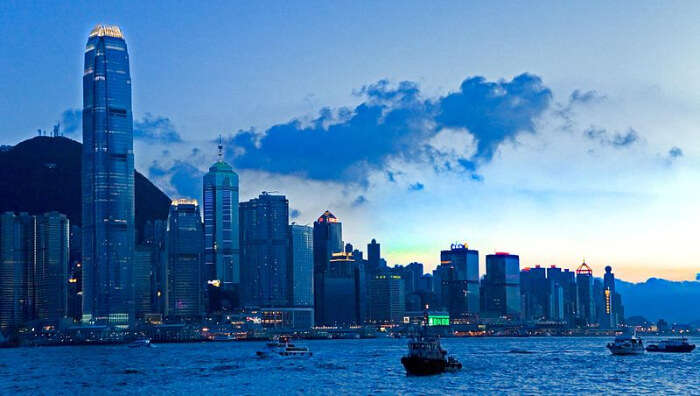 Being a sub-tropical region, Hong Kong enjoys four main seasons that make the destination suitable to visit all round the year.
Winters: December to February – The average temperature ranges between 12 degrees to 20 degrees.
Spring: March to May – The average temperature ranges from 17 degrees to 26 degrees.
Summers: June to August – The average temperature may rise from 26 degrees to 31 degrees.
Autumn: September to November – The average temperature fluctuates from 19 degrees to 28 degrees.
Must Read: New Year In Hong Kong: Tops Events & Venues
Best Time To Visit Hong Kong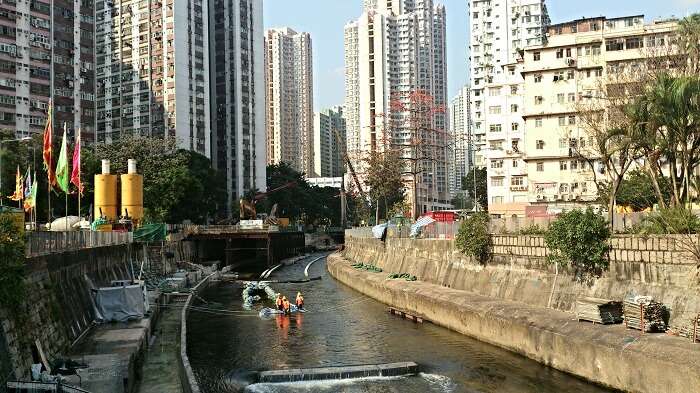 Weather conditions in Hong Kong remain bearable in all the seasons. Though travelers visit Hong Kong round the year, Hong Kong can be best explored in the months from September to November.
Suggested Read: 12 Things To Do In Kowloon That Will Show You A Side Of Hong Kong You've Never Seen Before!
Ideal Duration In Hong Kong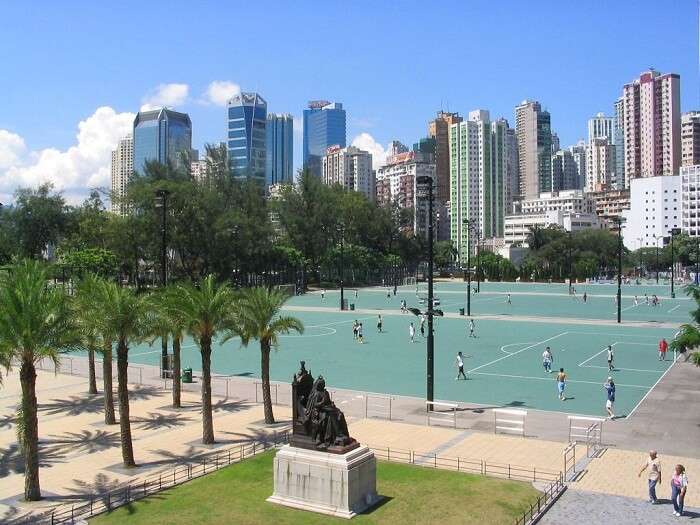 In order to capture the best experiences of Hong Kong, duration of 4 days and 3 nights would suffice. In case you want to extend your trip, an ideal stay could stretch up to 5 days and 4 nights.  That will give you ample time to cover major Hong Kong attractions.
Suggested Read: Shopping In Hong Kong: 5 Chic Hubs You Must Visit
Budget
How much should you spend during your vacation? Here is a detailed breakdown of all the expenses.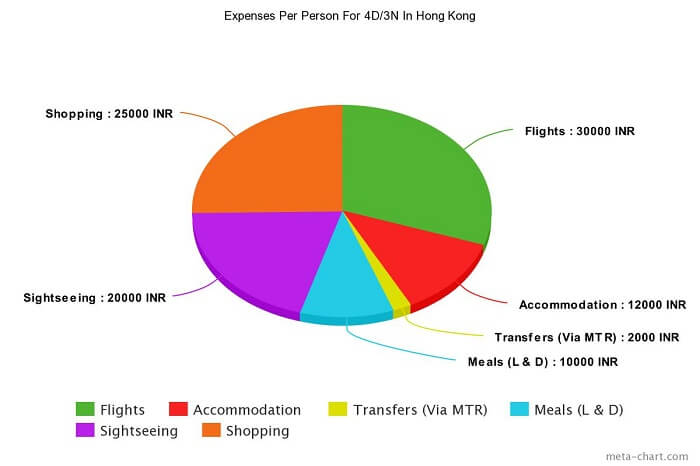 For a 4 days/3 nights stay at a comfortable 4 star property along with flights, meals, sightseeing and miscellaneous, the budget would be –
Flights (Economy): INR 30,000 for a round trip per person
Accommodation (4 Stars): INR 12,000 including taxes per person
Transfers (Through MTR): INR 2000 for all four days per person
Meals (Lunch and Dinner): INR 10,000 for the meals per person
Sightseeing: INR 20,000 per person
Misc Shopping: INR 25,000 per person
Suggested Read: 6 Super Gorgeous Cafes In Hong Kong For An Ultimate Coffee Experience!
Places To Visit In 4 Days In Hong Kong 
Wondering what all places to visit in Hong Kong? Well, here is a list of all the Hong Kong attractions you should not miss on your trip.
Disneyland
Ocean Park
Lantau Island
Tai Long Wan Beach
Wong Tai Sin Temple
1. Disneyland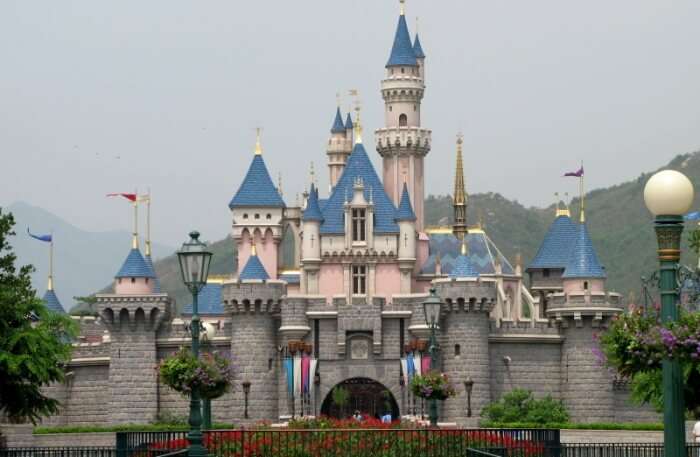 Irrespective of the age, the Disneyland in Hong Kong caters to the whims and fancies of kids and elders alike. It is one of the best places to see in Hong Kong. If you are visiting with your dear family, then spending a day on this wonderland is one of the must things to do in Hong Kong with kids.
Average Time Spent: 1 day tour to cover all the seven lands of Disneyland.
Tips:
Disneyland Spectacular Tour will give you access to all the rides and shows but entry to the park will be restricted.
Take a sunscreen, shades and bug spray would be advisable along with an umbrella. Selfie sticks and food are strictly not allowed.
Suggested Read: 36 Spellbinding Places To Visit In Macau For A Wow Holiday
2. Ocean Park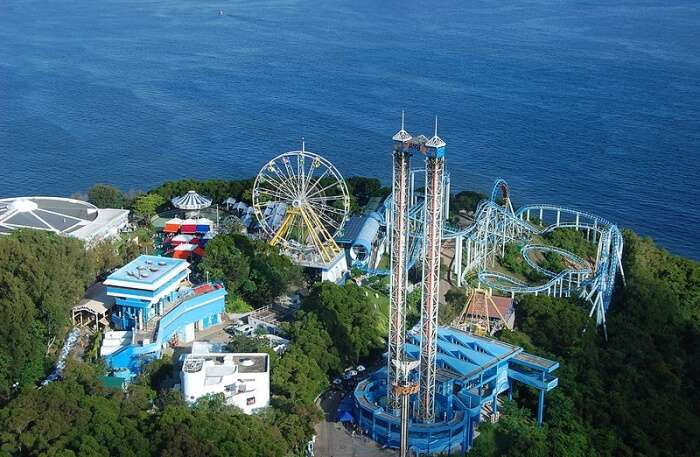 As the name denotes itself, Ocean Park covers all the thrills of marine life, joyful rides, many exhibitions and interesting shows for kids. Of all the Hong Kong tourist places, Ocean Park is the most vibrant and fun, especially for kids.
Average Time Spent: 1 full day tour
Tips:
Get off at Ocean Park Station for direct access to park entrance through MTR.
Carry a bag along as every plastic bag is charged for INR 5 and take an umbrella and sunscreen.
Download the Ocean Park app for your convenience and updated information.
3. Lantau Island – Po Lin Monastery – Ngong Ping 360 Cable Car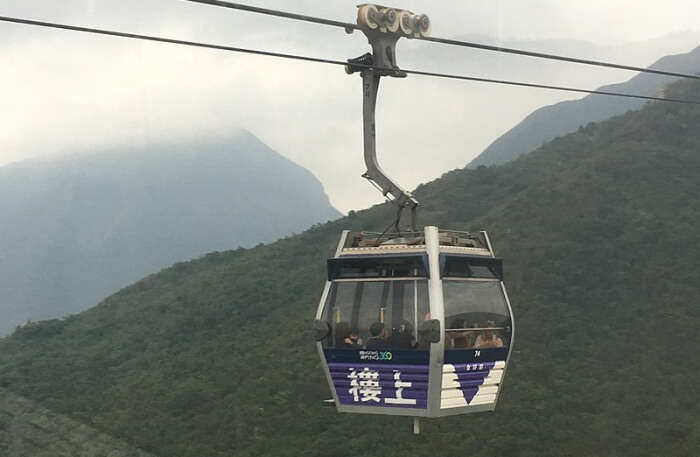 Lantau Island is one of the most famous Hong Kong tourist places visited by travelers. The best way to get to Lantau Island is through the Ngong Ping 360 Cable Car which is an adventure blended perfectly with nature. Club your visit to the Po Ling Monastery and the Big Buddha, worlds second largest bronze statue as both these places to visit are located in Lantau Island.
Average Time Spent: Half Day
Tips:
The Sunset Peak is a great spot for couples to witness a mesmerizing sunset.
The adventure junkies can also warm up to the Lantau trail that stretches up to 100 kilometers.
Suggested Read: Christmas In Hong Kong- A Detailed Guide For Your Christmas Trip To Hong Kong
4. Tai Long Wan Beach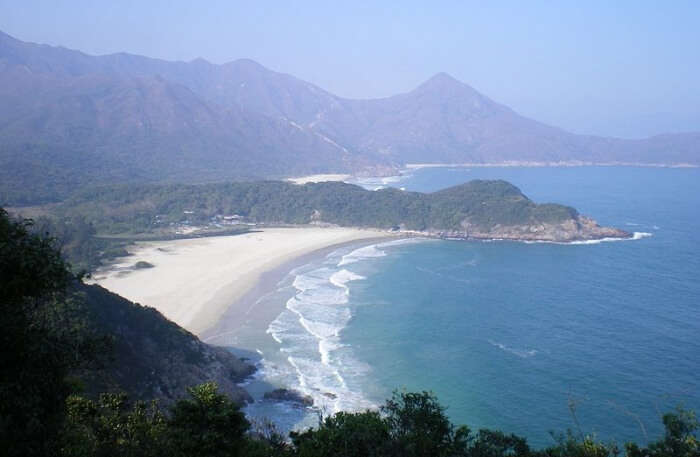 Located in the Sai Kung Peninsula, it is one of the most sought after beach and Hong Kong tourist attractions by the travelers.
Average Time Spent: Half day or a night if camping is on your list
Tips:
To add that romantic touch, you can also experience night camping on the beach for free.
Nature lovers also will be overwhelmed as more than 75 percent of Hong Kong is covered with undeveloped forest.
5. Wong Tai Sin Temple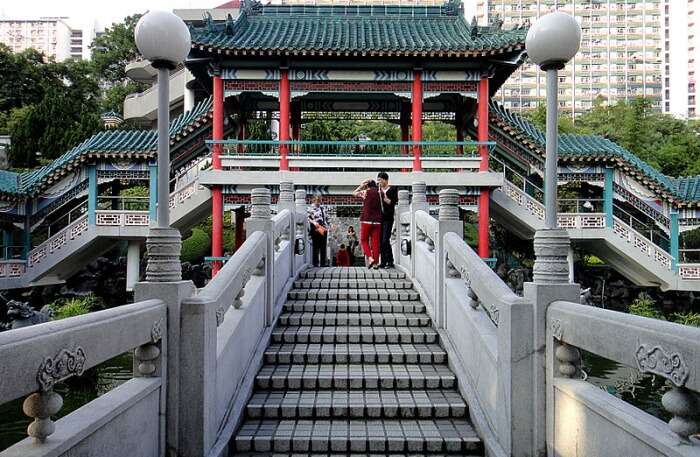 Make a wish and it will be granted. Dedicated to the great immortal wong, this is the essence of this temple that attracts millions of travelers from all over the world. Visiting this temple is one of the most spiritual things to do in hong kong.
Average Time Spent: Morning time is preferred the most and spending one or two hours would suffice.
Tip: Avoid visiting the temple during Chinese holidays as it will be over-crowded.
Suggested Read: 13 Festivals In Hong Kong That Best Showcase The City Culture
Hong Kong In 4 Days: Top Things To Do
Hong Kong has such an exciting range of activities to offer to tourists. Add these things to do on your list to have a perfect itinerary for your vacation in Hong Kong.
Shopping
Sightseeing on Peak Tram
Victoria Peak
Junk Boat Ride
Dragon's Back Trail
1. Shopping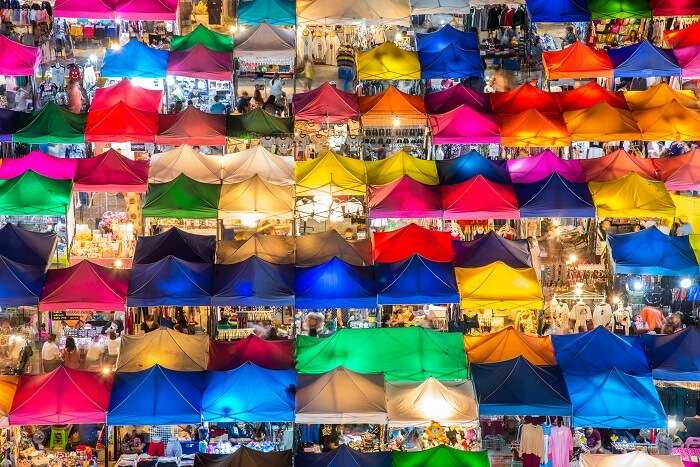 Looking for terrific places for shopping in Hong Kong? Shop till you drop at the famous Causeway Bay, visit the famous ladies market in Mongkok or pick up the famous jade stones in every colour, shape and size at the Yau Ma Tei Jade Market. Shopping is indeed one of the mandatory things to do in Hong Kong.
2. Sightseeing On The Peak Tram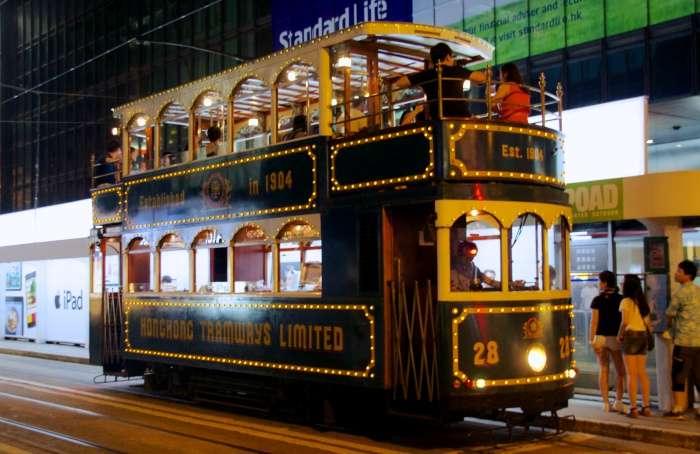 Explore the famous tourist attractions at its best and make the most of Hong Kong day trips via the delightful Peak Tram. In the modern day life and when everything is all developed, a ride in the Peak Tram will surely make your vacation extraspecial! Enjoy Hong Kong sightseeing in a unqiue way
Suggested Read: 8 Best Hong Kong Temples To Explore Your Spiritual Side
3. Victoria Peak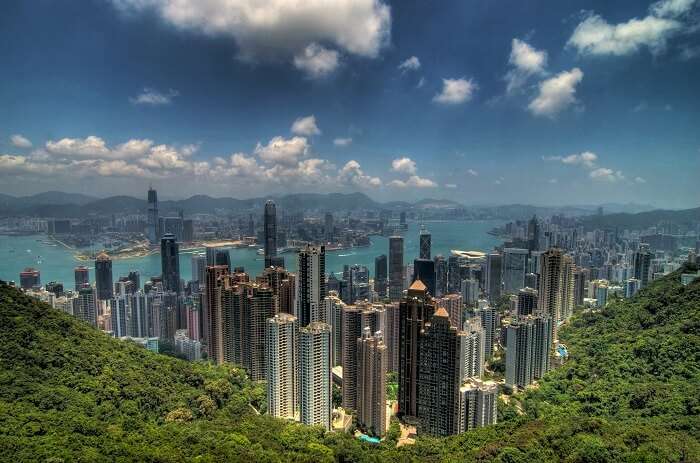 Located in the Western part of Hong Kong Island, Victoria Peak is one of the most famous places to see in Hong Kong. Being the highest point of the Hong Kong island, it is the best location to witness HongKongs skyline and click some amazing pictures with a stunning backdrop!
4. Junk Boat Ride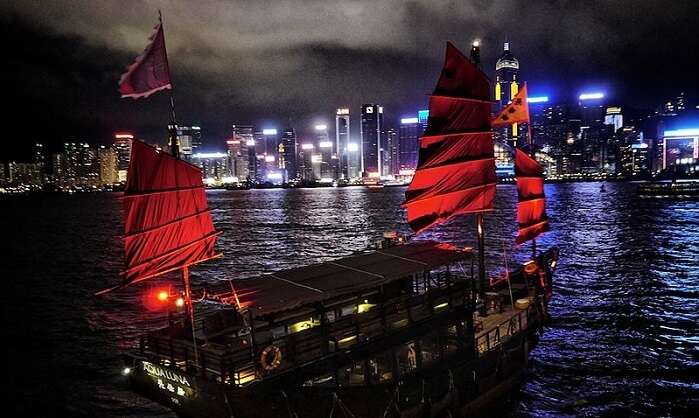 The best way to enjoy Hong Kong skyline is from a boat, and not just any bat, junk boat. These boats have been specially designed to provide a unique experience to the onboarders. It definitely is one of the fun things to do in Hong Kong. You will also get drinks and delicious food on the boat while you enjoy the ride on the water.
Suggested Read: 8 Spas In Hong Kong That Are All About Luxury And Soul Revival
5. Dragon's Back Trail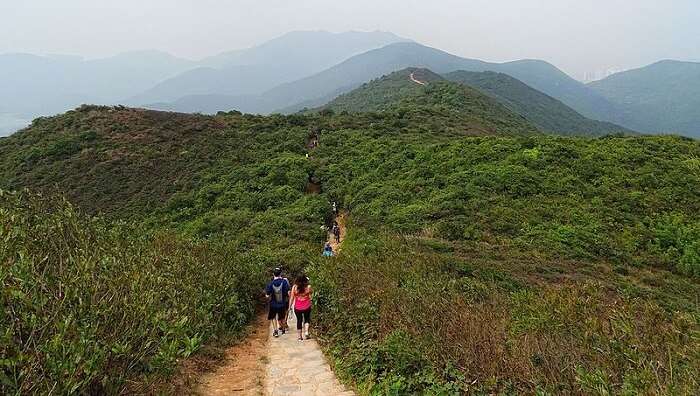 If you like walking, then one of the best things to do in Hong Kong is taking a walk on the Dragon's Back Trail. The walk is located in Shek-O-Country Park and ends at the ocean. It is a bit steep but all the effort is rewarded when you get to lay your eyes on the stunning vistas and panoramic views.
Suggested Read: World's Longest Sea Bridge Connecting Hong Kong & Macau With China Is Now Open
Must Have Experiences In Hong Kong In 4 Days
Here are few more experiences in the vibrant Hong Kong that you can have to make your evenings on the vacation grand and spectacular.
Famous Skyline
Symphony of Lights
Star Ferry Cruise
Dim Sum Delight
Hong Kong Music Festival
1. The Famous Skyline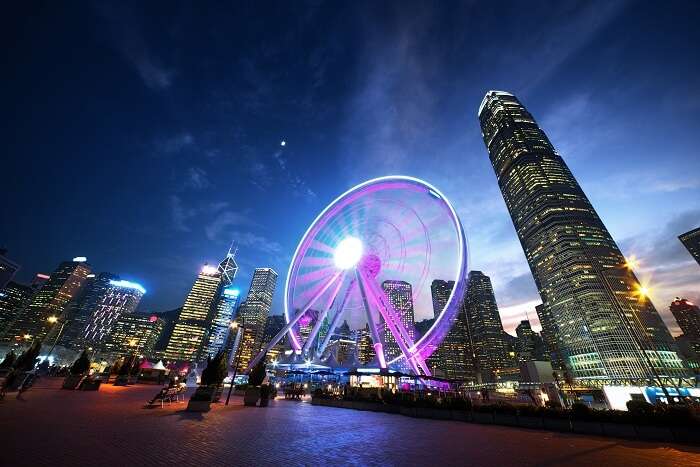 Located at the 100th floor of International Commerce Centre, in Hong Kong, Sky 100 Hong Kong Observation Deck should definitely be on your itinerary! Get to the Sky 100 Observation Deck and soak in the beauty of Hong Kongs skyline and don't forget to click some instaworthy shots here! Skyline os one of the most outstanding things to see in Hong Kong.
2. Symphony Of Lights


If light fills you with joy then you ought to attend the Symohony of lights show across Victoria Harbour in Hong Kong. Your Hong Kong trip is incomplete without witnessing the worlds largest and permanent light and sound show.
Suggested Read: Victoria Peak In Hong Kong: A Guide To The Epitome Of The Country's Beauty!
3. Star Ferry Cruise


Open from 11:45 am to 8 pm, the Star ferry ride is functional ever since 1888 and transports over 20 million travelers from Kowloon to Hong Kong Central every year. If you are wondering what all you should do on your 4 days in Hong Kong vacation, do take the Star Ferry Cruise as it is one of most exciting things you can do on your trip!
4. Dim Sum Delight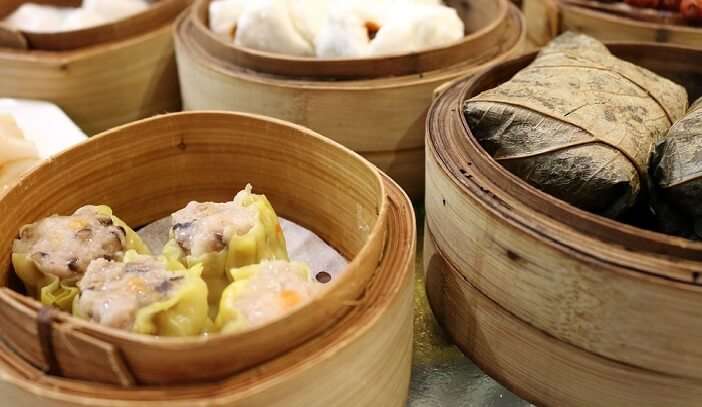 Image Credit: chaliceks for Pixabay
Hong Kong sightseeing is a great opportunity for you to head out on a food tour and try various different kinds of dim sums. One thing Hong Kong is famous for is Cantonese cuisine. Though there are a lot of new things to eat, dim sums are something you absolutely have to try if you are a picky eater. Sweet and sour pork, drunken prawn, and classic are some of the kinds you should be looking for in the streets.
Suggested Read: 5 Enchanting Monasteries In Hong Kong To Attain The Eternal State Of Nirvana!
5. Hong Kong Music Festivals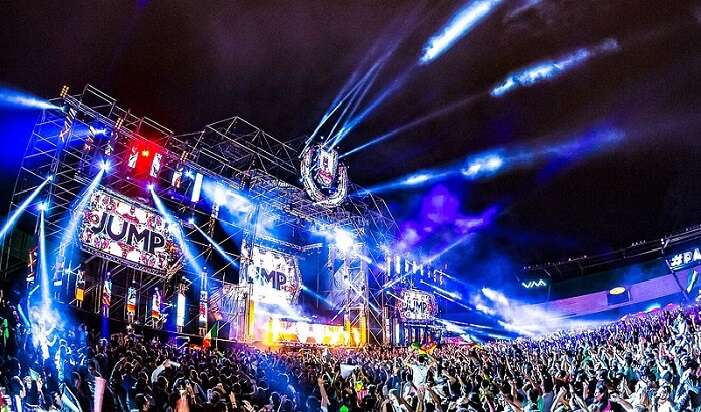 Image Credit: Ultrafan123 for wikipedia
In case you didn't know, Hong Kong has a huge fan base of music lovers. Most of the world-famous EDM concerts take place in Hong Kong every year like Road to Ultra, Altn8. The most famous and popular one is Ckcokenpile. It is not just a music festival but also a collaboration of art and creativity.
Extra Bites
If you have more time on your hand on your vacation in Hong Kong, then you may wish to kill your time exploring and doing the activities below:
1. Harbor City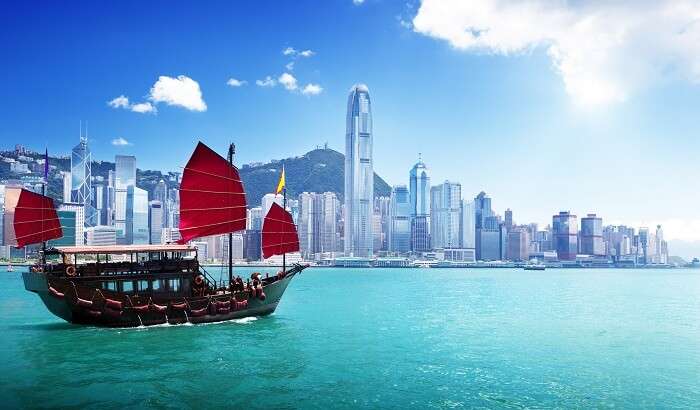 The first thing you'll notice about Harbor City is its size. Being one of the largest mega malls in Asia, Harbor City too is one of the must visit places in Hong Kong.
Suggested Read: Celebrating Our Son's First Birthday On Our Family Trip To Hong Kong
2. Hollywood Road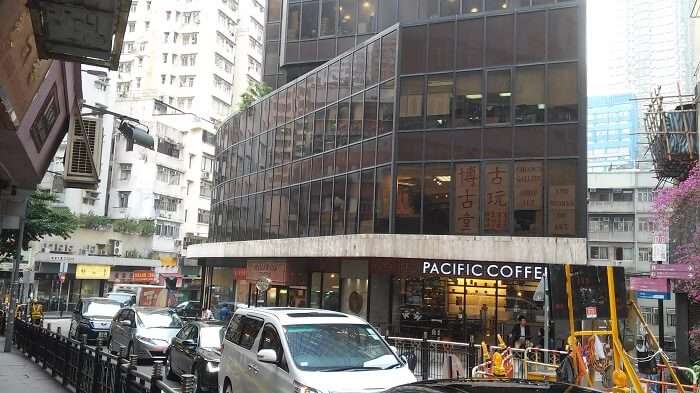 Image Source
All crazy about hollywood? Hollywood Road in Hong Kong is the perfect destination for you and you must visit it on your vacation. Filled with art galleries and designer shops, Hollywood Road is indeed a visual delight.
3. Hong Kong Park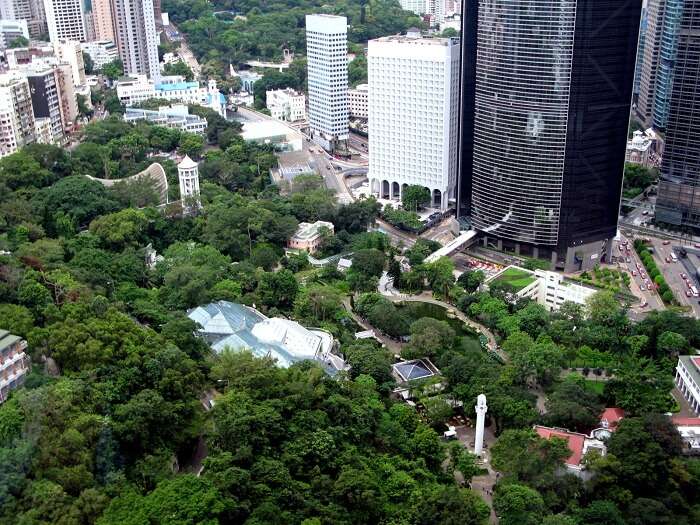 Home to numerous flower beds and interestingly carved statues and located right in the middle of the city, the Hong Kong Park never fails to impress the travelers. Go relax amidst nature while enjoying the view of the vibrant flowers on your 4 day Hong Kong vacation!
Suggested Read: Waterfalls In Hong Kong: These 5 Hidden Cascades Will Let You Relax And Rejuvenate In Wilderness
Where To Eat In Hong Kong
Foodies, watch out! Hong Kong has a lot in store for you. Do not miss eating at these places in Hong Kong if you are excited about trying Cantonese cuisine.
Tim Ho Wan
Lei Garden
Lung King Heen
Peking Garden Restaurant
Yardbird
1. Tim Ho Wan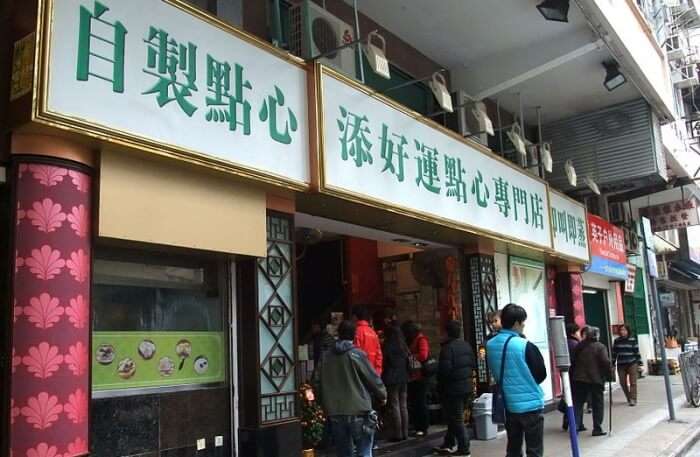 It is the world's cheapest Michelin starred restaurant that serves some of the best dim sums and has six branches in Hong Kong.
Address: Shop 12A, L1/F, Hong Kong MTR Station, Central, Hong Kong
Timings: 10 am to 9.30 pm (7 Days)
Ratings: 4/5 Stars
What To Eat: Traditional dim sums
Meal For Two: INR 500 to 1000
Average Time Spent: 25 minutes to 1.5 hours
Tip: Reservations are not accepted here and payments only by cash.
2. Lei Garden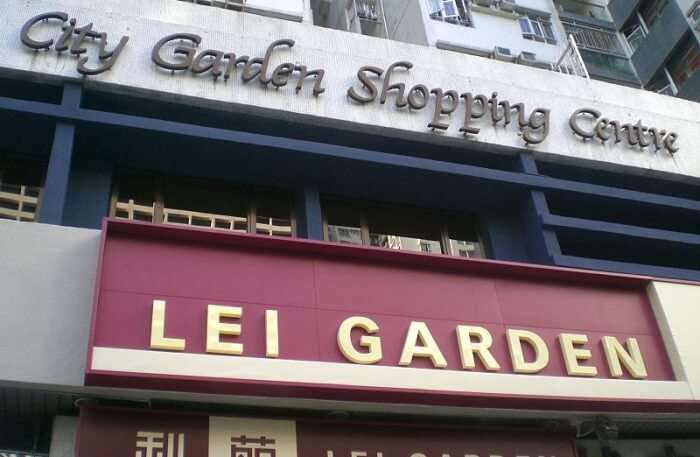 Serving fresh seafood, contemporary dishes and healthy soups, Lei Garden is the ultimate Michelin starred restaurant to relish sumptuous Cantonese cuisine. It has 4 branches across Hong Kong.
Address: Shop No. 3008-11, 3/F., International Finance Centre, Central, Hong Kong
Timings: 11:30 am to 3 pm and 6 pm to 11:30 pm (7 Days)
Ratings: 3.5/5 Stars
What To Eat: Australian Lobster and "Dou Men" King Prawn
Meal For Two: INR 1000 to 3000
Average Time Spent: 1.5 hours to 2 hours
Tips:
Depending on which season you're visiting, do try the chinese puddings, glutinous rice dumplings and moon cakes.
Visa, Mastercard, American Express, Cash and others are accepted for payments. Reservations can be made over phone.
Suggested Read: 13 Hong Kong Travel Tips That Will Come In Handy For First Time Travelers
3. Lung King Heen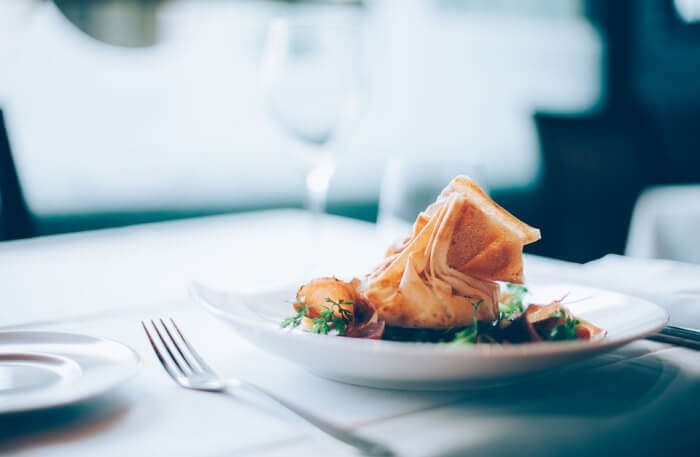 Being the world's first Chinese restaurant with three-star Michelin rating, Lung King Heen offers delectable and authentic Cantonese food.
Address: Four Seasons Hotel Hong Kong, 8 Finance St, Central, Hong Kong
Timings: Lunch – 12 noon to 2:30 pm (Weekdays), Lunch – 11:30 am to 3:00 pm (Weekends & Public Holidays) and Dinner – 6:00 pm to 10:30 pm (Everyday).
Ratings: 4.2/5 Stars
What To Eat: Though Lung King Heen specializes in seafood, prawns is a must try here.
Meal For Two: INR 1800 to 3600
Average Time Spent: 1.5 hours to 2.5 hours
Tips:
There is a dress code for men. Smart casuals including covered shoes, long pants and collared shirts are required for gentlemen.
Reservations are recommended.
4. Peking Garden Restaurant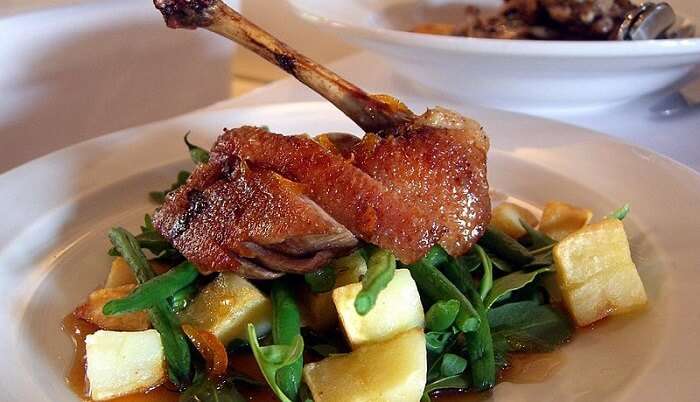 If you are a non-vegetarian, then you should go to Peking Garden for juicy duck and flavorful chicken. That's not the only thing you will get here. The stunning views of Victoria Harbour come for free. The prices are suitable for your pocket too.
Address: Hong Kong, Tsim Sha Tsui, HK
Timings: 11:30am–3pm, 5:30–11pm
Ratings: 4/5
What To Eat: Beggar's chicken, duck, noodles
Meal For Two: INR 2,000
Average Time Spent: 1-1.5 hour
Tip: Skip peak hours during lunch and dinner to avoid paying hefty bills.
5. Yardbird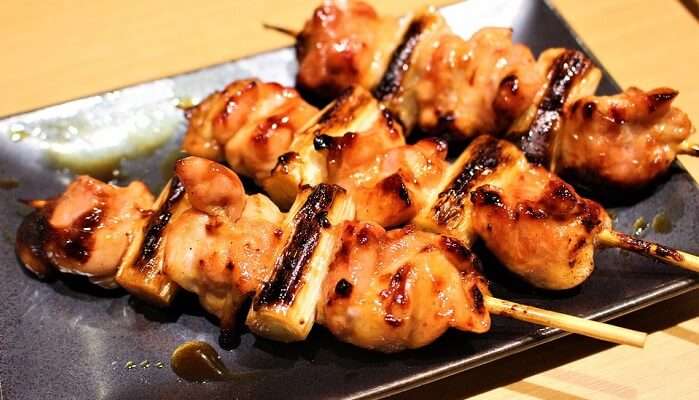 Image Credit: Chun-San for Pixabay
If you want to enjoy authentic Japanese cuisine and fine hospitality, then you should go to Yardbird. The super-hip and stylish restaurant prepares food with utmost love and care, and it shows.
Address: 154-158 Wing Lok St, Sheung Wan, Hong Kong
Timings: 6 PM – 12 AM
Ratings: 4/5
What To Eat: Chicken Skwerer, Toro, Korean fried cauliflower
Meal For Two: INR
Average Time Spent: 1.5-2 hours
Tip: Make dinner reservations because this place is always crowded.
Where To Stay: 4 Day In Hong Kong
If you are wondering about the best places to stay in Hong Kong, here are a few hotel options for you that promise a comfortable and luxurious stay.
Park Hotel Hong Kong
Pentahotel Hong Kong
The Kowloon Hotel Hong Kong
Cordis Hong Kong
Hilton Garden Inn Hong Kong
1. Park Hotel Hong Kong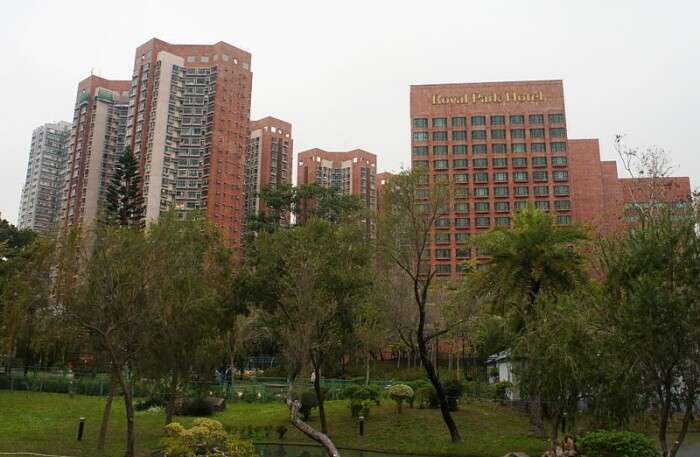 Address: 61-65 Chatham Rd S, Tsim Sha Tsui
Price/Night: INR 7000 onwards (double-sharing)
Ratings: 4/5 Stars
How To Reach: 75 minutes from Hong Kong International Airport via cab, 15 minutes walk from the Star Ferry Pier & Ocean Terminal and 5 minutes away from the nearest Tsim Sha Tsui MTR station.
Website | Reviews
Suggested Read: 10 Best Luxury Hotels In Hong Kong For An Exquisite Holiday
2. Pentahotel Hong Kong

Address: 19, Luk Hop St, Kowloon
Price/Night: INR 7000 onwards (double-sharing)
Ratings: 4/5 Stars
How To Reach: 40 minutes from the airport by taxi, 20 minutes from Mong Kok East Station, 37 minutes from Kowloon Station via the Airport Express.
Website | Reviews
3. The Kowloon Hotel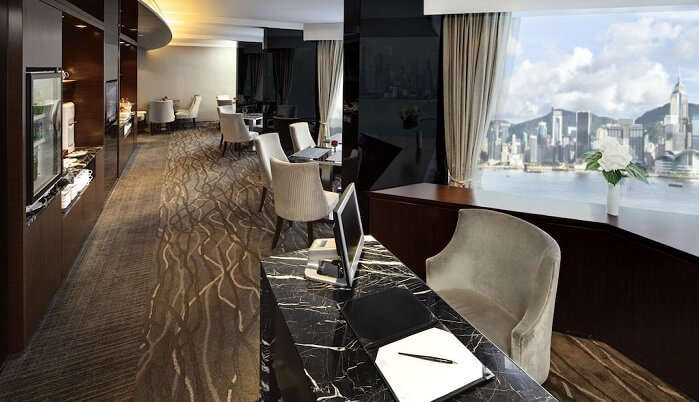 Image Courtesy: booking.com
What makes Kowloon Hotel the best place to stay in Hong Kong is that you get warm hospitality and lavishness at an affordable price. Stay in any of the polished rooms or suites and enjoy free breakfast. The high end hotel also offers an indoor pool for its guests.
Address: 19-21 Nathan Rd, Tsim Sha Tsui, Hong Kong
Price/Night: INR 4632 per night
Ratings: 3.5/5
How To Reach: The hotel is just 4-minute walk from the East Tsim Sha Tsui subway station.
Website | Review
4. Cordis Hong Kong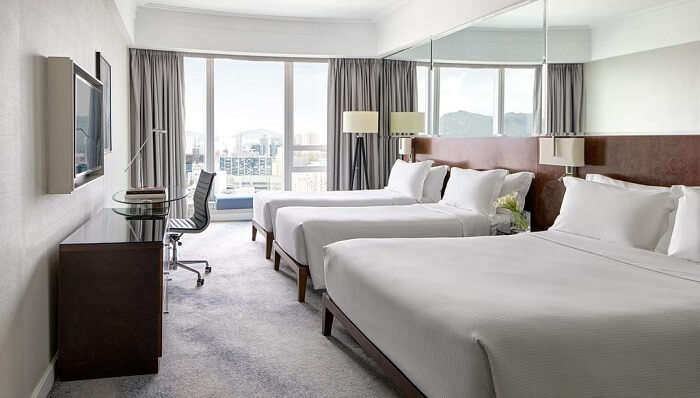 Image Courtesy: booking.com
If you want to stay in a 5-star hotel, then Cordis Hong Kong is the best place to stay in Hong Kong. Enjoy unparalleled hospitality and service. The hotel is located in Mong Kok district and is only 5 minutes away from the metro station. There are 3 high-end restaurants and a chic bar at your disposal.
Address: 555 Shanghai St, Mong Kok, Hong Kong
Price/Night: INR 9,357 onwards
Ratings: 5/5
How To Reach: The nearest metro station to the hotel is Mong Kok MTR.
Website | Review
5. Hilton Garden Inn Hong Kong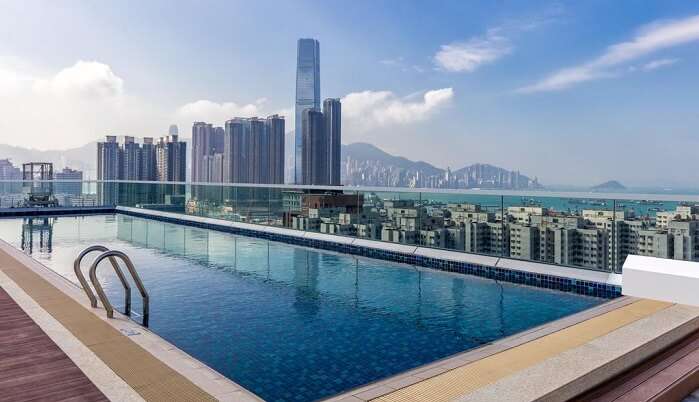 Image Courtesy: booking.com
Enjoy living in the minimalist rooms and suites but what will make you love this place is the rooftop pool with harbour views. On top of it, Hilton Garden Inn is located in a bustling areas and close to popular eateries and restaurants.
Address: 2 Soy St, Mong Kok, Hong Kong
Price/Night: INR 7,526 onwards
Ratings: 4/5
How To Reach: Mong Kuk Metro station is just 9 minutes away from the hotel.
Website | Review
Tips
Here are some important things to keep in mind while planning your trip and during your holiday in Hong Kong.
How To Spot A Good Exchanger? The exchange rates and conversion process will be good if the exchanger quotes both buy and sell prices.
Anyhow if you want to exchange money after going to Hong Kong, then go inside the Chungkung Mansions or World Wide House at the Central.
While using a foreign credit card, choose to get your bills in Hong Kong Dollars instead of USD. In this way, you will be charged at the bank exchange rate rather than the merchant rate.
Prefer MTR, the local metro over private mode of transportation to avoid burning a hole in your pocket. This will save you a hell lot of money.
Further Read: Honeymoon In Hong Kong: Here's How To Plan The Romantic Affair
Looking forward to explore 4 days in Hong Kong? Make your planning easy with this detailed guide of 4 days Hong Kong itinerary and plan your Hong Kong vacation with TravelTriangle right away!
Disclaimer: TravelTriangle claims no credit for images featured on our blog site unless otherwise noted. All visual content is copyrighted to its respectful owners. We try to link back to original sources whenever possible. If you own the rights to any of the images, and do not wish them to appear on TravelTriangle, please contact us and they will be promptly removed. We believe in providing proper attribution to the original author, artist or photographer.
Please Note: Any information published by TravelTriangle in any form of content is not intended to be a substitute for any kind of medical advice, and one must not take any action before consulting a professional medical expert of their own choice.
Frequently Asked Questions About Hong Kong
How many days can a tourist stay in Hong Kong?
A tourist can stay in Hong Kong for 180 days.
How many days do you need in Hong Kong?
You need at least 3-4 days to spend in Hong Kong if you want to enjoy the cultural and modern scenes of the city.
Is a week in Hong Kong too long?
No, in fact, a week-long vacation in Hong Kong is totally perfect for exploring the vibrant city.
How much money do I need per day in Hong Kong?
You would need at least INR 8000 every day to sustain which covers your meal and accommodation.
Is Hong Kong expensive?
Hong Kong is not as expensive as other cities in the world. If you can find cheap accommodation and have affordable meals, you can plan a budget trip.
What is Hong Kong known for?
It is a cosmopolitan city with a thriving economy. It is famous for shopping and sightseeing. The nightlife in Hong Kong is also amazing. Check out the rooftop bars in Hong Kong.
Do they speak English in Hong Kong?
People in Hong Kong speak English but they are not very fluent.
Is Hong Kong safe to visit?
Yes, it is safe to visit Hong Kong. It is a modern city with all the civic amenities for locals and travelers. So, you should not face a problem on your vacation.
---
Looking To Book An International Holiday?
People Also Read: