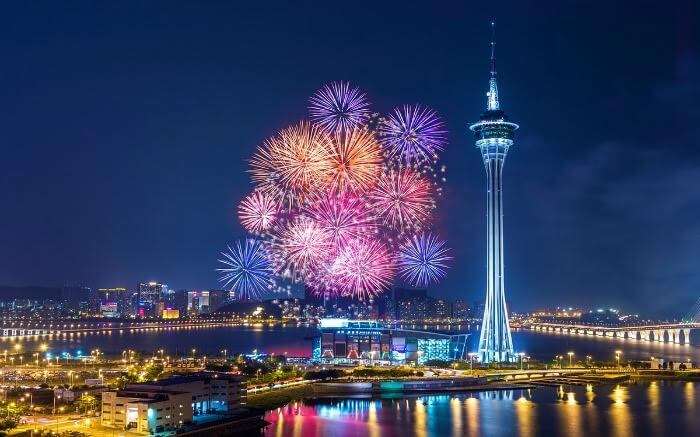 Macau, or as we all also know it as ' Vegas of China', is all about glamour, gamble, inspiring heritage, and a picture-perfect skyline. From casinos to Disneyland, there is a variety of nice places to visit in Macau. Certainly, this popular holiday destination knows the art of entertainment, regardless of the traveler's age and preferences.
30 Best Places To Visit In Macau, 2020
To ensure that your trip to Macau doesn't miss of any of the awesome places, here is a round-up of the best tourist Macau attractions that will urge you to fly to this exotic location ASAP.
1. Ruins of St. Paul's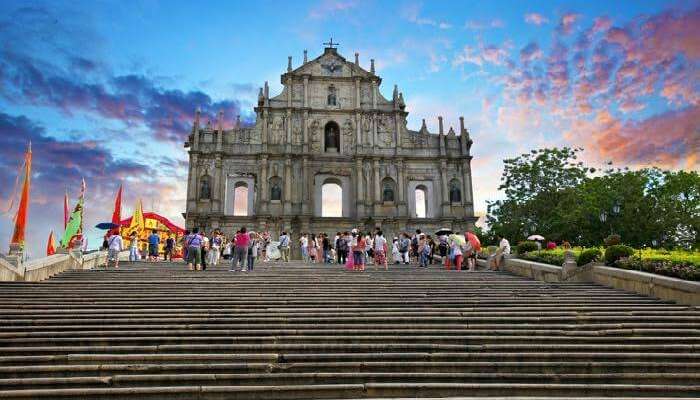 Popularly known as Sam Ba Sing Tzik, Ruins of St. Pauls is situated near Mount Fortress and Macau Museum and is one of the most popular places in Macau. It is one of the top Macau tourist spots. This is the most important and age-old structure of Macau with a gigantic relic and a stairway that reflect the remains of the century-old Jesuit Church. This structure of the biggest catholic church of East Asia has five tiers, built in granite.
Dont miss: Statute of Jesus and Madonna, walls covered with bas-reliefs in various patterns like devil, angels, signs of crucifixion and Portuguese sailing ship, and the beautifully landscaped garden in the front.
Opening hours: Monday Sunday: 9 am 6 pm, Tuesday: 9 am 2 pm
Must Read: 15 Plus One Delightful Tourist Places In Hong Kong
2. Senado Square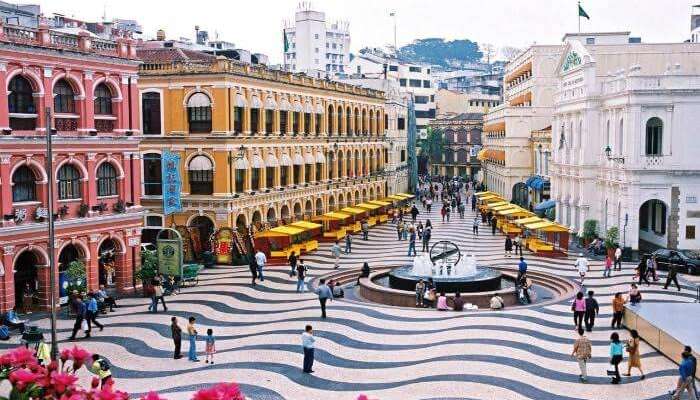 One of the most popular places to see in Macau, Senado Square is always bustling with tourists and locals making it one of the top Macau tourist places. The Square isnt just about shops, restaurants, and offices, this is an important World Heritage Site as announced by UNESCO since it well portrays the magical history of Macau.
Many European buildings, a park, and a fountain elevate the magnetism of the area. Though Senado is always flocked with tourists, with the arrival of festivals and events it puts on a more stunning attire. If you happen to be here on any special day like Chinese New Year – dont miss the glamorous firework, lion and dragon dance held there.
Dont miss: Authentic Chinese restaurants and apparel stores surrounding the square.
Opening hours: Open throughout the day
Entry fee: None
3. The Venetian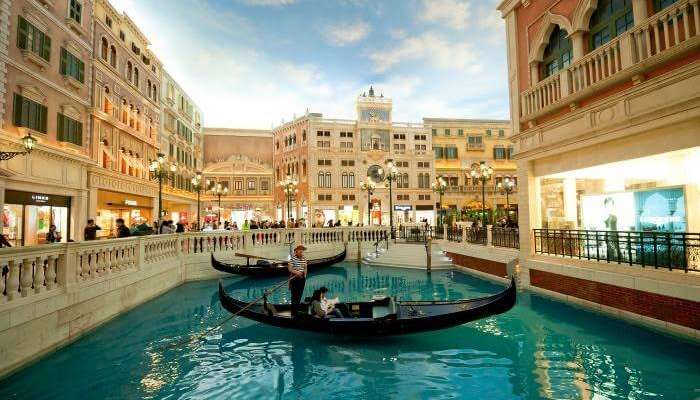 Venetian the Vegas style and Venice-themed hotel is one of the stylish and best places to visit at Macau. It is known for ultra-luxurious expanses, spectacular d-cor, lavish facilities and amazing activities.
Located on Cotai Strip, this luxurious extravaganza which is one of the top Macau tourist places, comprises vast lounge, royal rooms, Japanese, Indian and Italian fine dining restaurants, huge food court, glamourous live shows, sparkling shopping malls and games and entertainment zone.
Dont miss: Gondola Ride through resort canals under painted sky ceiling, premium cabanas for a lavish poolside experience and Manchester United Flagship store. Be ready to try your luck in worlds biggest casino.
Opening hours: Throughout the day
Entry fee: None
Suggested Read: 15 Exhilarating Experiences In Macau You Just Can't Miss
4. Macau Tower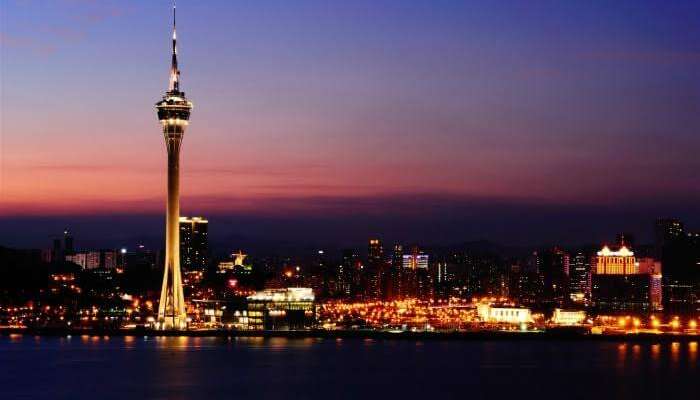 Macau Tower is a significant landmark of the city, known for a-lovely view from the-top, a magnificent structure, and an incredible construction. Constructed by Gordon Moller, this beautiful structure (338 m long) is one of the amazing places to visit in Macau.
It has observation decks and lounge, cinema, caf-, revolving deck and adventure zone. Also, the most enthralling and exciting activity related to Macau Tower is climbing atop of the worlds second highest bungee jumping base.
Dont miss: Enjoy the most awe-inspiring view of Macau Peninsula, Pearl River Delta, Coloane Islands and Taipa.
The best experiences here include bungee jumping, a stroll right around the edge of the observation deck, dining in the 360 Degree Cafe and shopping in the expansive stores.
Opening hours: Weekdays: 10 am 9 pm, Weekends: 9 am 9 pm
Entry fee: Infant: Free; Children (age 3-11) and Senior Citizens (Above 65): 70 MOP; and Adults: 130 MOP
Suggested Read: 10 Best Restaurants In Macau That Guarantee A Complete Gastronomic Tour Experience
5. A-Ma Temple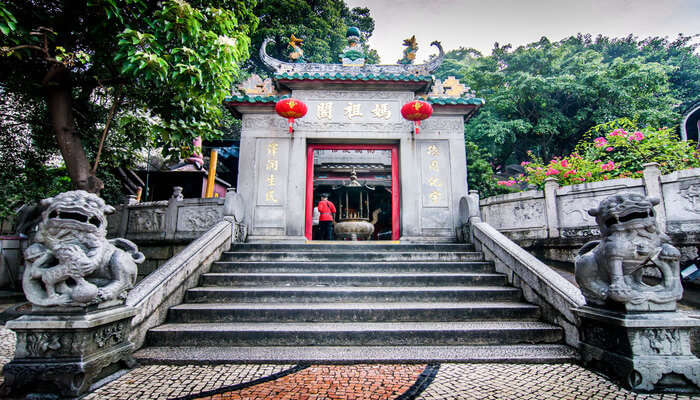 A-Ma Temple dates back to 1488 and is devoted to the Chinese Goddess Matsu worshiped-by seafarers and fishermen). The ancient temple is one of the top tourist attractions in Macau. It is believed that Macaus name itself was inspired by this temple. The temple boasts of its marvelous architecture, d-cor, style and overall design – all of which combine to make it among the most important places to see in Macau. There are six sections of the temple and each holds significant spiritual significance of its own.
Dont miss: Chinese architecture on the stone lions at the entry, Mazu statue, Hongren Hall, Hall of Avalokitesvara and Zhengjiao Chanlin.
Opening hours: 7 am 6 pm
Entry fee: None
Suggested Read: 8 Must Know Hong Kong Travel Tips For First Time Travellers
6. Fishermans Wharf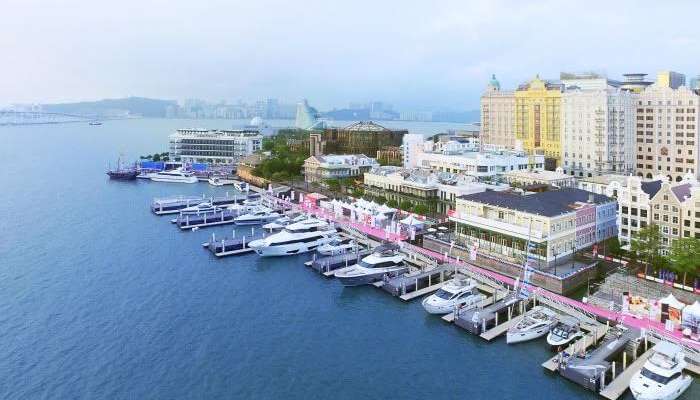 Located near Maritime Terminal, Fishermans Wharf is a themed shopping mall and park, designed following Euramerican fisherman's wharfs. Spread over sprawling 28 acres, the Fishermans Wharf has three sections; namely, Dynasty Wharf, East Meets West and Legend Wharf and is definitely one of the best places to visit in Macau.
Dont miss: Water Performance Arena and a Video Games Center, Ramphitheatereatre, man-made volcano and waterfalls, model battleship and Arabian themed kids play zone.
Opening hours: Opens throughout the day
Entry fee: None
Suggested Read: 7 Best Hong Kong Temples Every Traveler Should Visit To Explore Their Spiritual Side
7. Macau Museum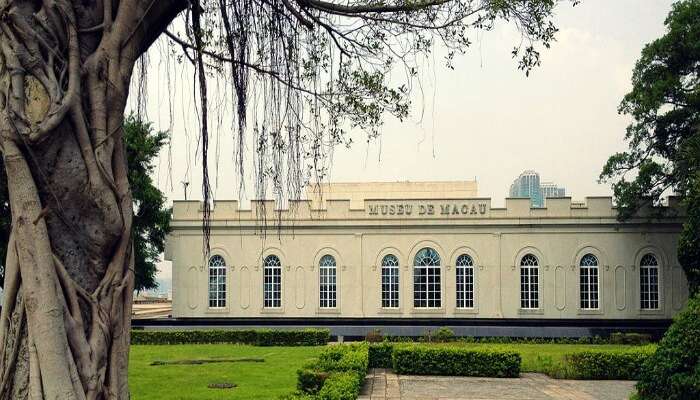 Located in Monte Fortress, Macau Museum is a huge display area, exhibiting items and souvenirs of different communities and nationalities. The museum also exhibits how different sects of people had lived here in harmony, preserving their own culture and ethos. Offering an insight into history and culture, it has become one of the best places to visit in Macau with family.
Dont miss: Exhibits of Neolithic Period and Contemporary Macau
Opening hours: 10 am 6 pm. Last entry at 5:30 pm. Closed on Monday.
Entry fee: 15 MOP for adults and 8 MOP for children (5-10) years and senior citizens. Entry is free for all on every 15th day of the month.
Suggested Read: See The Best Of Macau Nightlife At These Buzzing Clubs And Casinos
8. Wine and Grand Prix Museum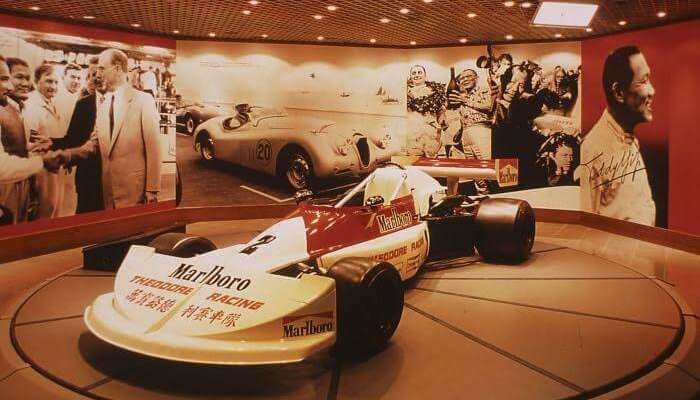 Grand Prix and Wine Museum are among the most spellbinding places to see in Macau. The Grand Prix Museum is known for displays that are connected to Grand Prix globally, such as images, video clips, demonstrated write ups, victory cups, chronicles of champions and many celebratory items. Macau Wine Museum is also one of the most popular and interesting places to visit in Macau. It displays different processes and stages of brewing to public. Sprawling over 1400 sq m area, this museum boasts of its collection of 1115 wine brands.
Dont miss: Formula 1 cars driven by Michael Schumacher, David Coulthard, &-Eduardo de Carvalho, and Ayrton Senna's Formula 3 red &-white racing car, helmet, and racing cloth
Brewing process and tasting the freshly brewed wine at the Wine Museum.
Opening hours: 10 am 8 pm. Closed on Tuesdays.
Entry fee: None
9. Fortaleza do Monte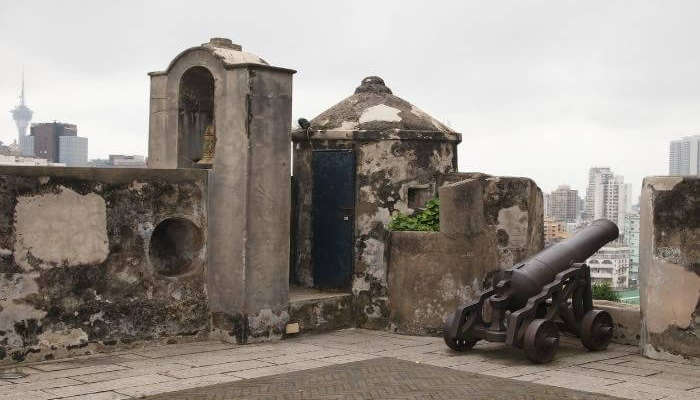 Located in close proximity to St Pauls Ruins, this Fortaleza do Monte has historical cannons, barracks, cisterns and storehouses, used in significant historical battles. Known as a military fort, this place attracts tourists, especially history buffs. Today, one side of this vintage fort is refurbished as the city office of Macau Meteorological Bureau.
Dont miss: Canons used Dutch invaded Macau in 1622
Opening hours: 7 am -7 pm. Closed on Monday.
Entry fee: MOP 15
Suggested Read: Here Is Why A Trip To Hong Kong and Macau Is Must In Your Travel Bucket List
10. Hac Sa Beach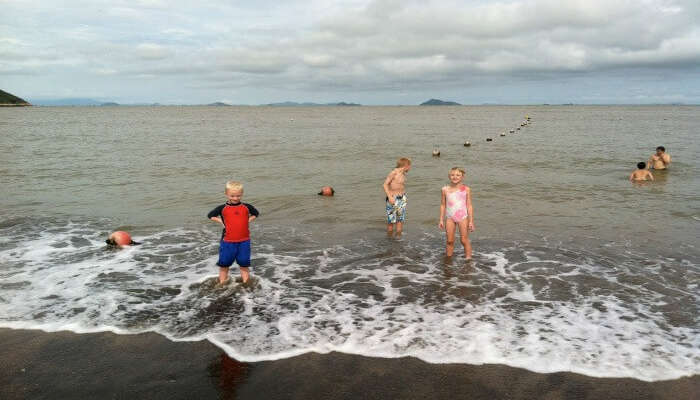 Hac Sa is the largest natural beach located on the south-western side of Coloane Island and one of the serene and splendid places to visit in Macau. This is a black sand beach and offers immense natural beauty. The serene shoreline and splendid beachfront attract nature lovers, honeymoon couples and travelers who prefer peaceful surrounding.
Dont miss: A relaxing stroll on the beach and most photogenic sunset.
Opening hours: 24 hours
strong>Entry fee: None
Suggested Read: Hong Kong To Macau Ferry Guide: Your Ticket To The Hub Of Glitz & Glamour!
11. Kun Iam Statue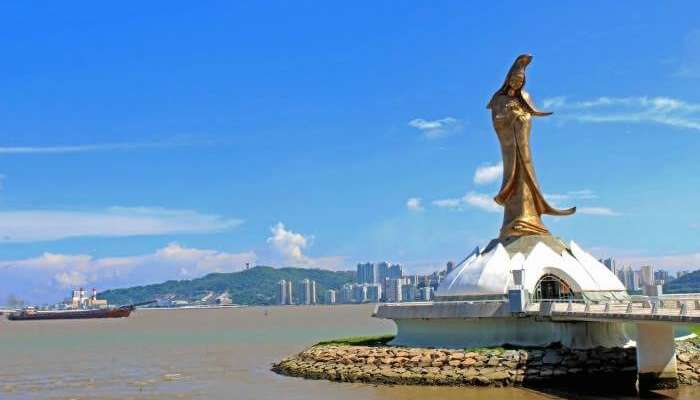 Kim Iam statue is a 20 m tall bronze statue of Goddess of Mercy emerging from a lotus. This work of art is located in outer harbor causeway and is one of the spectacular places to visit in Macau in one day. The lotus structure is an ecumenical center, which shares various pamphlets on Buddhism and preaches the religion too.
Dont miss: Various preaching and demonstrations of Buddhism, Taoism, and Confucianism in the ecumenical center
Opening hours: 24 hours. The Buddhist Centre is open all day from 10 am to 6 pm, except Friday.
Entry fee: None
Suggested Read: Top 10 Things To Do In Macau For A Glamorous Holiday
12. St Lawrence Church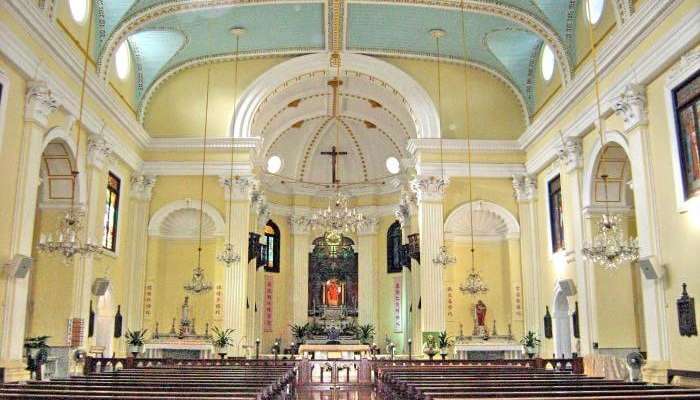 Located along Macau coastline, the St. Lawrence Church is known as a praying ground for families of Portuguese sailors for a-safe return. The neo-classical structure with subtle Baroque decorative inspirations fascinates visitors. Definitely one of the charming places to see in Macau!
Dont miss: The superb d-cor of Feng Shun Tang- Hall of the Soothing Winds
Opening hours: 10 am to 6 pm
Entry fee: None
13. The Macau Canidrome Club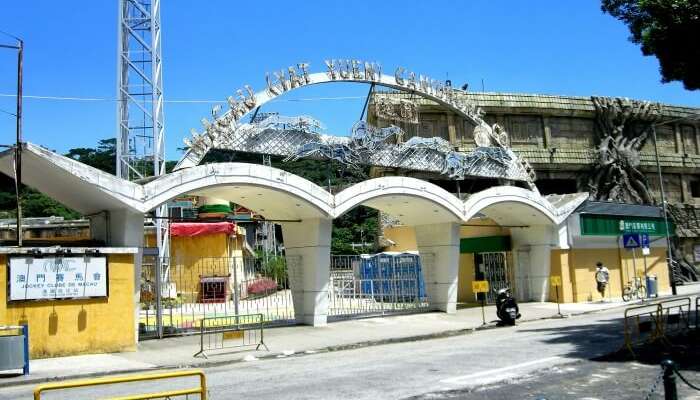 Canidrome Club is the only greyhound racing venue in Asia. The club is known for spectacular and thrilling dog races, 5 days every week. This premium club is one of the amazing places to visit in Macau for kids and has a-couple of grandstands, private boxes, and VIP lounges along with public stands for spectators and enthusiasts.
Dont miss: 18 fantastic greyhound races on every night.
Opening hours: 7:30 pm 9 pm. Closed on Wednesday and Friday.
Entry fee: MOP 10 for Public stand and MOP 80 for boxes. MOP 120 for the-weekends and public holidays.
Suggested Read: Macau vs Hong Kong For Honeymoon: What's Your Pick?
14. Guia Fortress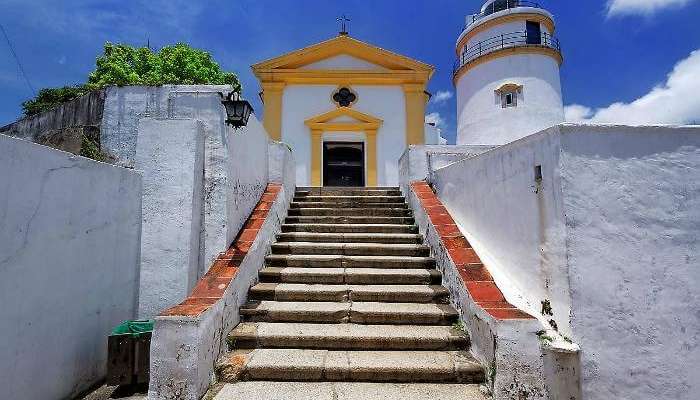 Guia Fortress is one of the oldest forts in Macau located in the highest point of the peninsula. The fort is an elegant white structure representing western and Chinese designs, showing off styles of spiritual and fabulous motivation.
Dont miss: The Chapel of Our Lady of Guia and Guia Lighthouse
Opening hours: 9 am 6 pm. The chapel is open from 10 am -6 pm. No admission after 5:30 pm.
Entry fee: Free
15. City of Dreams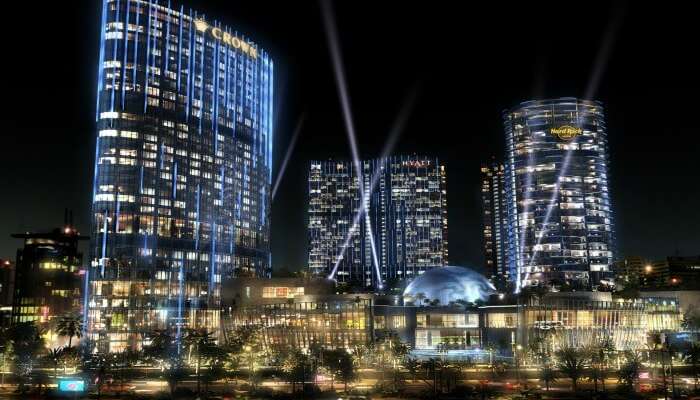 Located in Cotai, City of Dreams is a hi-tech and glittering entertainment zone and very popular among Macau tourist attractions. Nightlife in City of Dreams is just amazing with sparkling casinos, dazzling discotheques, posh pubs, exquisite clubs, amazing live performances, stylish accommodations, fine dining restaurants of global cuisine and designer brand shopping.
Dont miss: Kids City, Club Cubic, Vquarium, Crown Spa, Rock Spa, Isala Spa and Hard Rock Hotel Game Area.
Opening hours: 10 am -11 pm. On Friday and Saturday, it is open till midnight.
Entry fee: None
16. Mandarin's House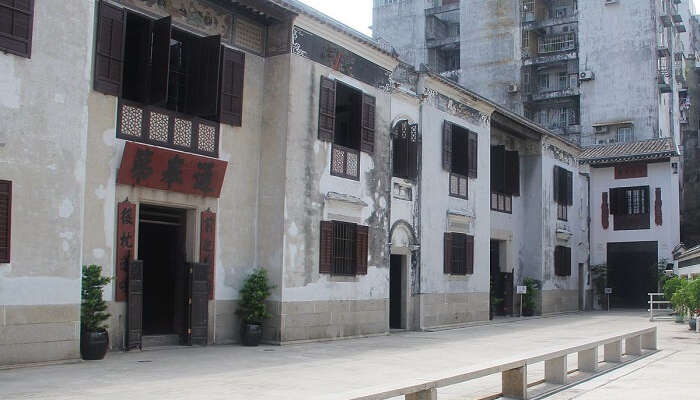 Located by the side of Lilau Square, Mandarins house was the residence of Zheng Guanying who was a patriotic merchant of modern China. A beautifully architectured courtyard style mansion, this attraction became a UNESCO world heritage site in 2005 and considered as the part of Historic Center of Macau. This ancient monument was built in 1894 and after an eight year renovation this monument was opened for public in 2010.
Location: MacauAntonio da SilvaMO 10 Travessa de
Timings: Mon-Sun (10AM-6PM), Wed (Closed)
17. Taipa Village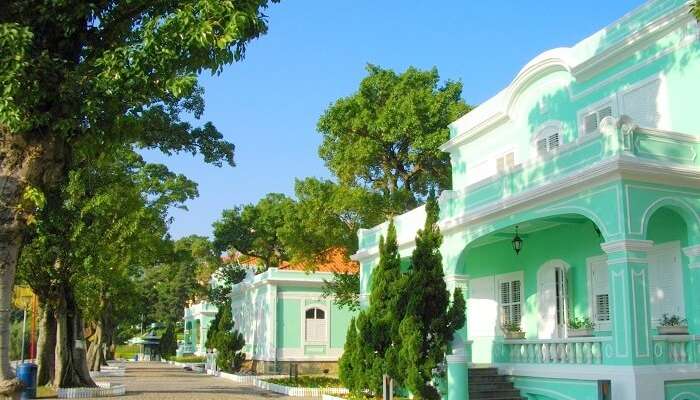 Just a few steps away from the Macaus famous Casino strip lies this traditional village which is one of the best areas of the city preserved. This village reflects the cultural side through its historic buildings, museums, galleries and shops which are standing there since old times. Adorned with pedestrian streets and beautiful alleys, it is one of the interesting places to visit in Macau.
18. The Venetian Macao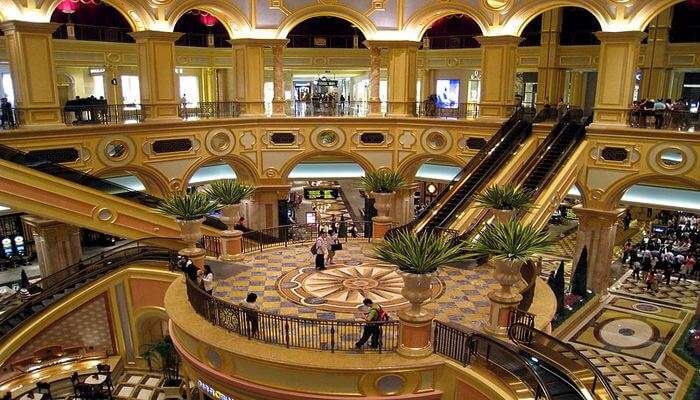 If you are tired of the museums and galleries in Macau, then the highlight of the city is still there to light up the nightlife. The Venetian Macao is the worlds biggest Casino resort standing at the famous casino strip. Replicating its sister property in Vegas, this resort is a perfect place to enjoy the after-hours like never before.
Location: s/n Estrada da Baia de Nossa Senhora da Esperanca, Macau
Ratings: 4.5/5
Tariff: Starting from INR 14,000
Website | Reviews
19. Studio City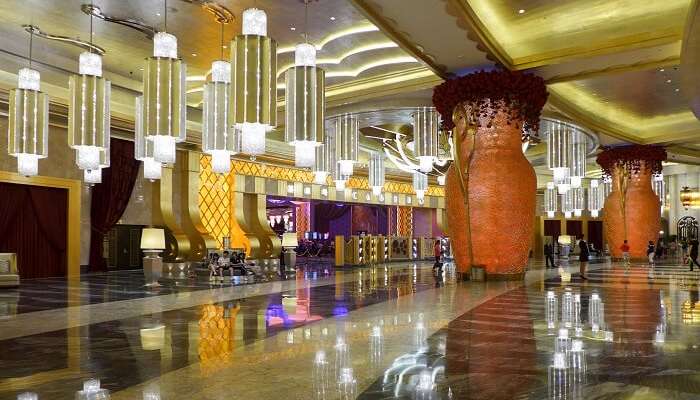 Located in the Cotai region of Macau, the Studio city is a hotel and casino resort which is Asias first. This luxurious studio resorts integrates television, film production facilities, gaming and retail. Featuring an Art Deco design, the Studio city has various attractions to enjoy while enjoying its lavish interiors. Some of them are the Batman Dark Flight, the Cosmos food station and many more.
Location: MacauEstr. do Istmo, Studio City
Rating: 4.4/5
Tariff: Starting from INR 12.000
Website | Reviews
20. Flora Garden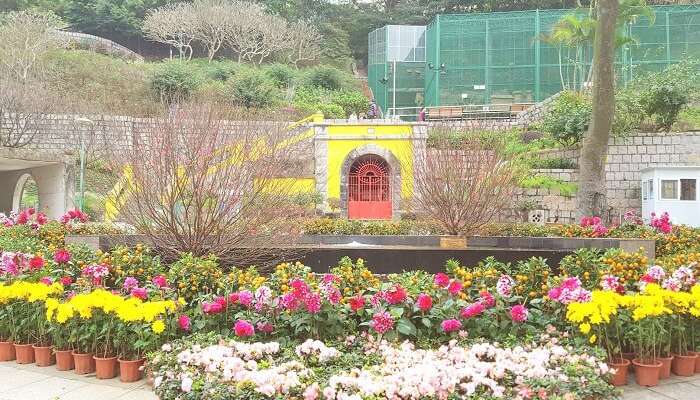 Situated at the foothills of the Guia hill, Flora Garden is an European style garden which is considered as Macaus largest public park. This garden was once used as a ground for Flora Palace which is a mansion built during the Portuguese Macau Era. Inside the garden there is an aviary, a small zoo and a patio. Along with this the garden is adorned with flowerbeds, small waterfalls and belvedere.
Location: Av. de Sid-nio Pais, Macau
Timings: 6AM-10:30PM (Open Daily)
21. Coloane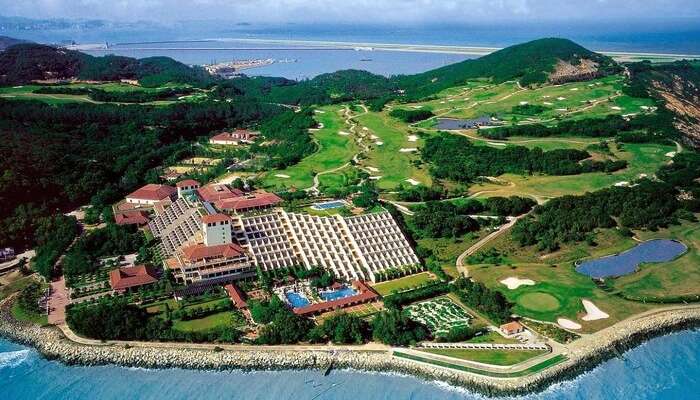 Coloane Island in Macau is a beautiful destination that is home to numerous historical attractions. An enormous fishing community resides here giving you a perfect chance to grab the scrumptious local eateries. There are numerous souvenir shops here from where you can buy a few affordable memories back home!
Dont miss: Chapel of Saint Francis Xavier
Opening hours: No timing
Entry fee: No entry fee
Suggested Read: Nightlife In Hong Kong: 10 Must Visit Places
22. Nam Van Lake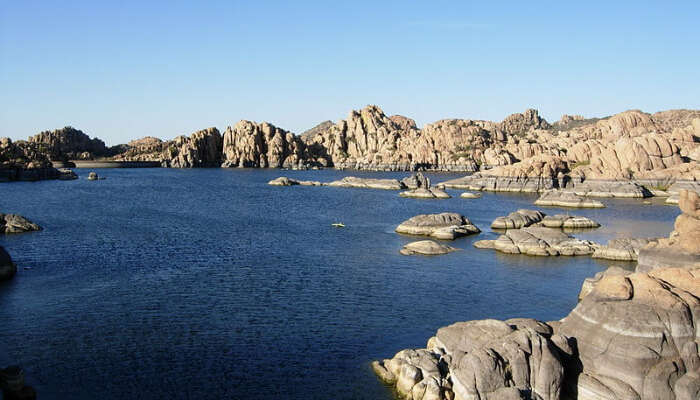 Nam Van Lake is the largest man-made fountain in Asia and is amongst the most stunning attractions of Macau. It has 86 spouts, shooting water from a height of 80 meters. Evenings are spellbinding here as the interesting laser show lures travelers from across the world to this destination.
Dont miss: Fishermans wharf, and Coloane
Opening hours: 8:00 AM to 7:00 PM
Entry fee: No fee
Suggested Read: Places to Visit On A 4 Day Family Trip To Hong Kong
23. Warner Brothers Fun Zone
Located in Cotai, Macau; Warner Brothers fun zone is the best place to visit in Macau with kids. The playground has statues of numerous popular characters of Warners Brothers, DC, and Hanna-Barbera. The ambiance of this fun zone excites kids as well as adults as you will surely relive your childhood days here.--
Dont miss: Ocean Park Kingdom Park
Opening hours: 10:00 AM – 8:30 PM
Entry fee: INR 1500
Suggested Read: 8 Best Places To Visit In Penang Island Malaysia For A Topnotch Vacay In 2019
24. Chimelong Ocean Kingdom Park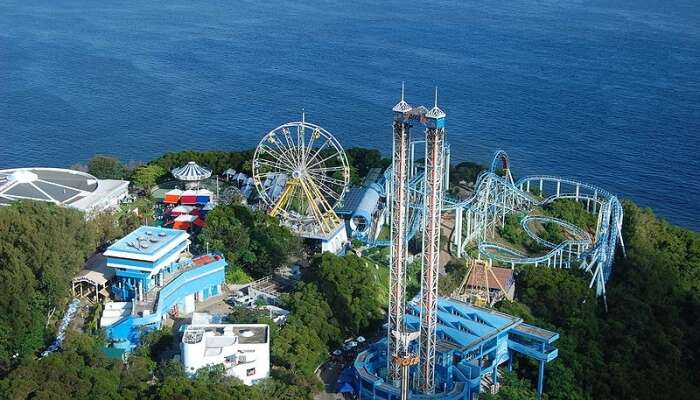 Chimelong Ocean Kingdom Park is a popular spot that is loved by kids and adults. The enormous aquarium at the resort showcases extinct species of sharks, beluga whales, and numerous other wild animals including polar bears. You can also go for electrifying rides and adventures here.
Dont miss: Warner Brothers Fun Zone
Opening hours: 10:00 AM-8:30 PM
Entry fee: INR 1500
25. Skycap Cable Car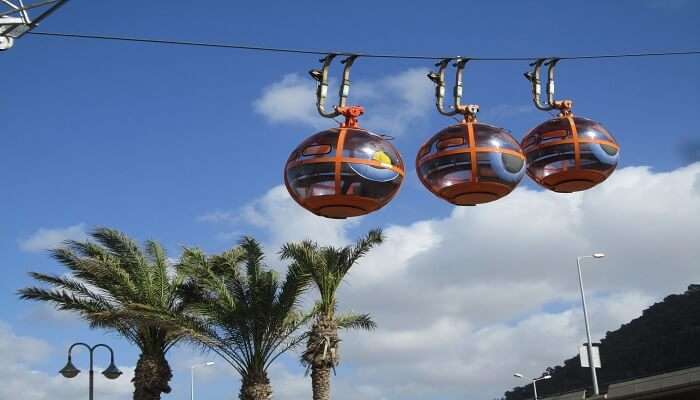 This adventurous cable car will make you fly over the deep forests and a rock which is millions of years old. The place must not be missed out by adrenaline junkies holdaying in Macau in 2019 as the amazing cable car is one of it kinds. The cable car ride commences at the foothills of Machicang Mountain and covers a journey of 1700 meters at an elevation of over 700 meters.--
Opening hours: 9:00 AM-6:00 PM
Entry fee: INR 1000
Suggested Read: These Top Places For Shopping In Tokyo Will Not Burn A Hole In Your Pocket!
26. Macao Giant Panda Pavilion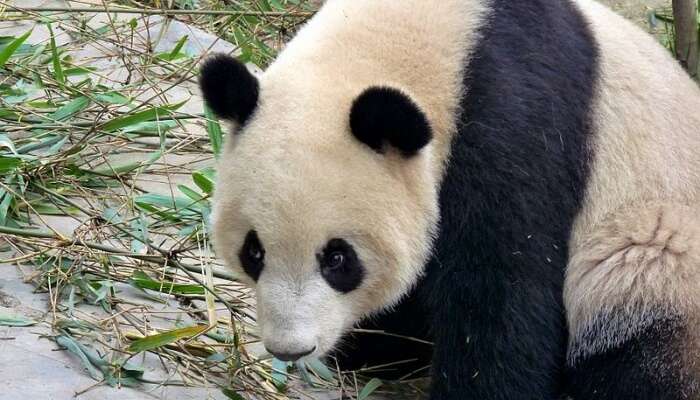 Located in Coloane, this unique place is a must-visit hotspot in Macau. This pavillion houses adorable giant pandas and enthralls the visitors with the exciting sights of this playful animal. The outdoor yard which is the playground for giant pandas is the chief attraction here.-
Dont miss: Seac Pai Van Park
Opening hours: 10:00 AM-1:00 PM & 2:00 PM-5:00 PM
Entry fee: INR 86
27. Macau Peninsula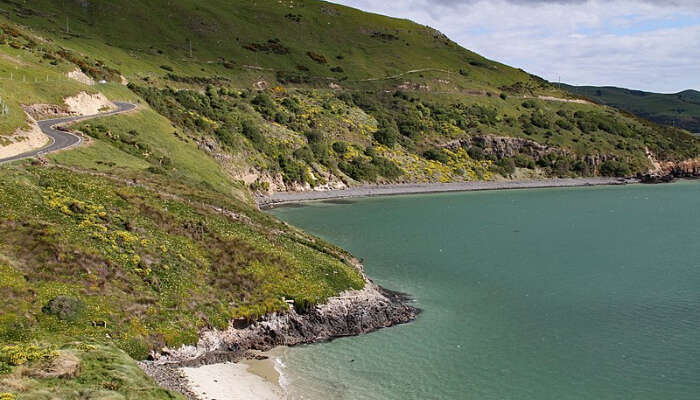 This bustling center of the city is known for its colonial-style buildings, vibrant casinos, and enthusiastic crowd. This is the most exciting spot in Macau where one can glance art sets, galleries, quaint, or check the local cuisine from beautiful cafes here.-
Opening hours: No time restrictions
Entry fee: Free entry
28. Macau Ferry Terminal & Heliport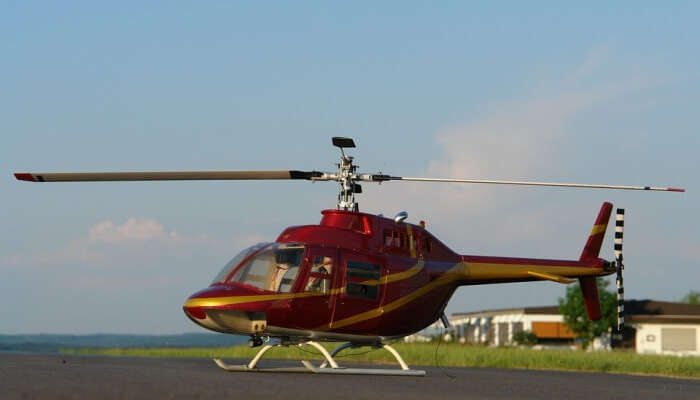 This unconventional yet interesting tourist attraction in Macau is popularly known as Shun Tak Macau terminal and welcomes flights between Macau and Hong Kong. The place is also a popular pad for helicopters and purveys the stunning sights of the helicopter taking off from helipad near the waters.--
Dont miss: Chimelong Ocean Kingdom Park
Opening hours: No time restrictions
Entry fee: No entry fee but rides are chargeable
29. Lou Lim Ioc Garden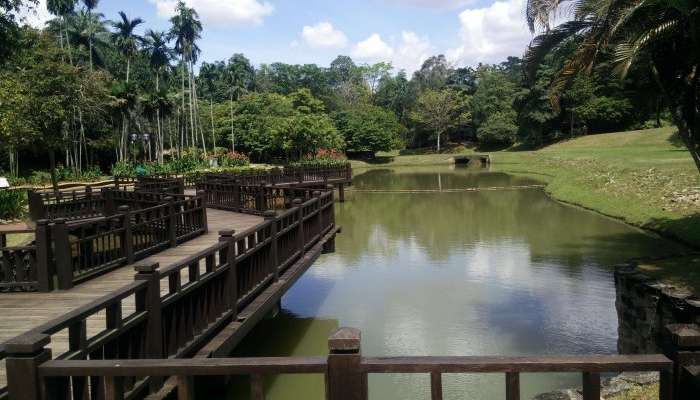 This stunning garden was built by a local resident of Macau in the year 1906. This is amongst the most popular places in Macau and has been designed after the famous garden of Suzhou. You can have leisurely hours here, where you can relax at your own pace.-
Dont miss: Macau Peninsula
Opening hours: 24 hours open
Entry fee: No entry fee
30. Holy House of Mercy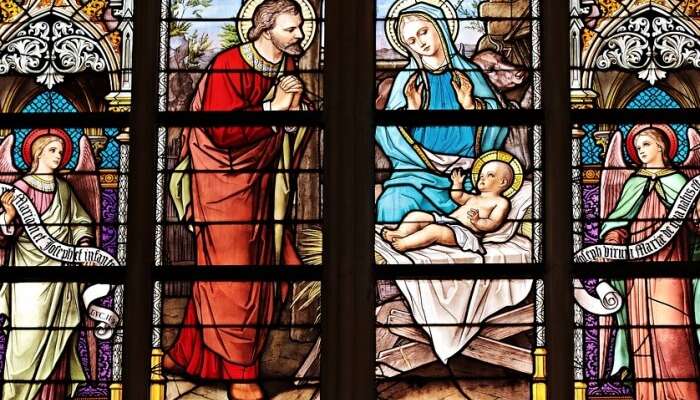 The Holy House of Mercy was established in 1569 with an aim to impart educational, medical and social assistance to the underprivileged locals. Currently, it has been transformed into a museum and features numerous sacrificial offerings and precious items like Jesus on the Cross.--
Dont miss: Macau Science Center
Opening hours: 10:00 AM-6:00 PM
Entry fee: INR 200
Further Read: 21 Of The Most Kickass Destinations Which Greet Indians With A Visa On Arrival
The list is ready and updated and now it's your turn to pick the best places to visit in Macau for the next holiday. Book your vacation in Macau with TravelTriangle now and get ready for the most enthralling vacation in 2019! You can also get your itinerary customized according to your preferences by logging in to TravelTriangle website. 
Places To Visit In Kowloon Places To Visit In Tsuen Wan Places To Visit In Georgetown
Frequently Asked Questions About Places To Visit In Macau
Q. What are places to visit in Macau at night?
A. The places to visit in Macau at night are the Cotai Strip and the Macau casinos.
Q. What are the places to visit in Macau in one day?
A. Places to visit in Macau in one day are the Leal Senado, St. Dominic's Church, and Lou Kau Mansion.
Hong Kong & Macau Holiday Packages On TravelTriangle
Visit Hong Kong and explore disney land, ocean park, wet land park, victoria's peak and Lantau Island. Further, explore Macau tower, the Venetian resort, Senedo square and more in Macau.
---
Looking To Book An International Holiday?
Book memorable holidays on TravelTriangle with 650+ verified travel agents for 65+ domestic and international destinations.
---
Comments
comments