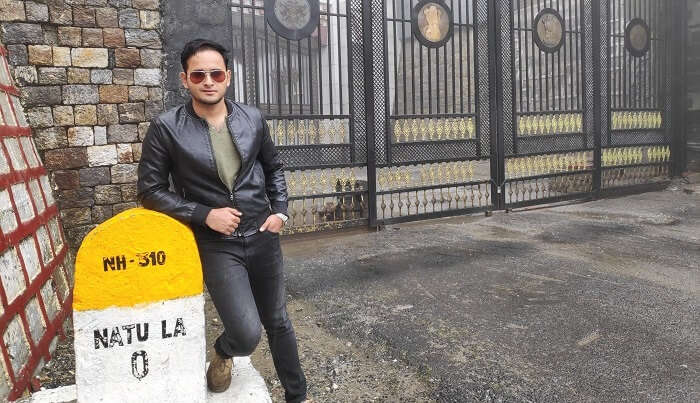 Since I work in the navy, we were to leave Kolkata very soon and shift to Jaipur. So I thought it would be a great idea to explore the Northeast with my family before we leave from the west since traveling together is the best way of spending quality time with your loved ones. Sikkim and Darjeeling seemed like the perfect options because of their scintillating beauty and everlasting charm.
Since the destination was already decided, I soon got in touch with TravelTriangle and chose amongst the best Sikkim packages as per our budget and interests. After that, our breathtaking and blissful journey had begun.
Details Of Our 5 Days Family Trip To Sikkim And Darjeeling
Trip Type: Family Trip
Cost: INR 17500 from Travelx365
Duration: 5 Days
No. Of People: 3 Adults
Inclusions: Private vehicle, Transfers, Taxes, Sightseeing
Exclusions: Meals, Personal Expenses, Entry Fees, Guide charges, and things not mentioned in the inclusions
Our Sikkim-Darjeeling Itinerary
Day 1: Arrival in Gangtok, hotel check in & visit to MG Road
Day 2: Visit to Tsomgo Lake and Nathula Pass
Day 3: Hotel check-out and en route Darjeeling
Day 4: Visit to monasteries and Peace Pagoda
Day 5: Cable car ride and departure to Kolkata
18 Best Places To Visit In Sikkim In December 2021: Find Exciting Experiences
Sikkim's Weather In July
During our trip, the weather was really cold in Sikkim. The temperature varied from 12 degrees Celsius to a minimum of 6 degrees Celsius with rainfall. Our woolens came in pretty handy while going to Nathula
Pass.
Most Cherishable Experiences We Had During Our 5 Days In Sikkim
While the number of days in our trip were less, the memories made every day were many. The most exceptional thing that we experienced were landslides on this trip but thanks to TravelTriangle's team who helped us in negotiating with the driver.
Besides this, here's what made our 5 days family trip to Sikkim so cherishable:
1. Nathula Pass And Tsomgo Lake In Gangtok
The first day of our trip was spent in arriving in Gangtok, transfers, checking into our accommodation, and then resting. However we did go for a little stroll towards MG Road. The main thing though was the second day of our trip when we visited Nathula Pass and Tsomgo Lake.
The lake is located on the way to the pass which is nothing less than a paradise one earth. Witnessing it together with my family was one of the coolest experiences that I had.
Shopping In Sikkim – Top 5 Places To Shop For Handicrafts & Souvenirs In Sikkim
2. Peace Pagoda And Cable Car Ride In Darjeeling
On day 3 of our 5 days family trip to Sikkim, we left for the heavenly Darjeeling. Our itinerary included a basic tour of the monasteries there and especially the Peace Pagoda, but the experience was nonetheless quite extraordinary.
On the last day of our trip before leaving for Kolkata, we all enjoyed a cable car ride which was simply an awesome experience. The ride starts from the Singamari base station and goes up to Tukvar. The views that we witnessed from up there were simply breathtaking.
Restaurants In Sikkim
We took a stroll along the MG road in Gangtok and one can find many good Indian as well as chinese restaurants there. We went to Parivar restaurant which is a really good place to eat in Gangtok if you want a typical indian thali and not just Sikkim food.
Shopping In Sikkim
There are a number of things to buy on MG road, which we bought too. However, Sikkim is really famous for prayer flags, wall hangings, tea, thangkas, and all. If you wish to shop, make sure to drop by and buy these things.
Our Accommodations In Sikkim-Darjeeling
Since I'm in Indian navy, we did not book our hotels from TravelTriangle. Throughout our trip we stayed in government accommodations only and they were really good.
How To Reach Sikkim From Kolkata
We took a train from the Sealdah Railway Station in Kolkata and after that TravelTriangle had catered and provided us with everything.
According To This Couple, This Is The Best Time To Visit Darjeeling And Sikkim
Our Personal Expenses In Sikkim-Darjeeling
I think it was around 7K since we had not included food from TravelTriangle in our Sikkim-Darjeeling package and I feel it was reasonable. This price included all the shopping we did and the other things which were again not included in the package.
What To Pack For Your Sikkim Trip
Woolens
Umbrella
Essential medicines
Sturdy footwear
A good quality camera
Sikkim-Darjeeling Travel Tips For Future Travelers
Have lots of fun and always keep a power bank in your bag.
Carry good amount of cash. It will come handy.
Both Sikkim and Darjeeling are extremely beautiful. Don't forget to carry a good quality camera.
It can be cold there, especially if you are visiting Nathula Pass. Do check the weather and pack accordingly.
15 Vibrant Sikkim Festivals To Enjoy On A Vacation In 2021-22
Our Overall Experience With TravelTriangle
I must admit, our agent was a true professional. Before we could end our previous ride, another driver for another destination was always ready, so we never had to wait for even a single minute. I really loved their punctuality and management. Besides this, everything else was well taken care of too.
Sikkim Travel Tips – Everything You Need To Know For An Amazing Sikkim Tour
My 5 days family trip to Sikkim was nothing less than a wish come true. Northeast is truly a gem of a place and this trip to Sikkim-Darjeeling with TravelTriangle helped us explore it perfectly. If not anywhere else, I think one must visit the Northeastern beauties at least once in their life.
Common Queries That You May Have About Sikkim-Darjeeling  
What is the ideal duration for a Sikkim-Darjeeling trip?
As per my experience, 5 to 6 days are enough to explore Sikkim and Darjeeling together. However, you can increase or decrease the number of days as per your interests and budget.
Which is the best month to visit Sikkim?
While you can visit Sikkim at any time of the year, the best time as suggested by Sikkim Tourism is between March to May or October to December. However, we visited Sikkim in July and it equally felt a great time to witness its beauty.
What is the famous food of Sikkim?
Thukpa, momos, and Phagshapa are some of the most famous Sikkim cuisines that you can try on your trip.
Is Darjeeling worth visiting?
As per our 2 days experience in Darjeeling, I feel it is absolutely worth visiting. The monasteries add a different kind of peace to the whole place and there's no reason as to why you should skip it from your itinerary.