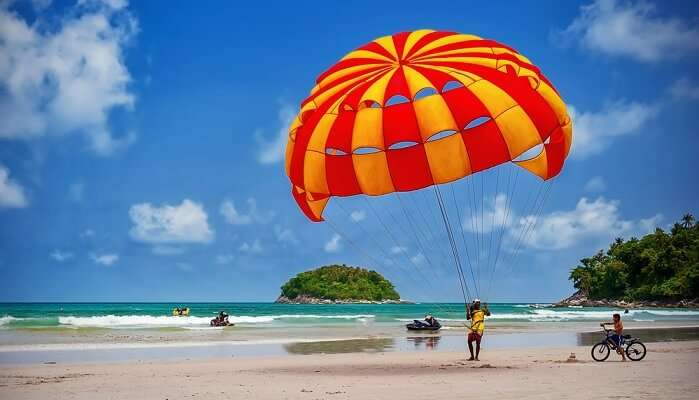 Lying on the southwestern coast of India, Goa is a paradisiacal land for vacationers who wish to bask in the glory of sun, sand, and beaches. Its striking coastline and turquoise blue skies offer a myriad of opportunities for adventure seekers. Home to approximately 50 beaches, this offshore island stands apart from other beach destinations in India. While most of the beaches including Dona Paula, Baga, Anjuna, Calangute, Candolim, Colva, Vagator Beach, etc. offer numerous such activities, the perfect weather and ambience complement the overall experience. From the most thrilling activities to some easy ones, you will get to try a hand on many adventure sports in Goa. Here we have enlisted some of the best ones that can give you the ultimate adrenaline rush.
8 Best Adventure Sports in Goa
If Goa is on your travel cards soon, make sure to indulge in some thrill to add an extra edge to your overall vacation. Chek to these must-try adventure sports in Goa.
1. White Water Rafting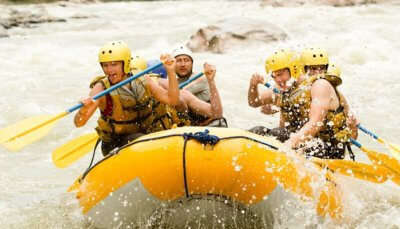 Taking rating a notch higher, white water rafting is meant for brave souls. Popularly offered at Mandovi or Mhadei river, this adventure sport would let you enjoy while rafting against the rolling waves. Post a brief training session, you can head on a 10-kilometre adventure trip with all safety equipment and life jackets. Some notable operators like Atlantis Water Sports, Goa Rafting, and Goa Tourism Development Corporation offer white water rafting at reasonable prices.
Where to try: Mandovi River, Tilari River
Approximate cost: ₹1,500
14 Best Picnic Spots In Goa For A Great Time In 2022
2. Scuba Diving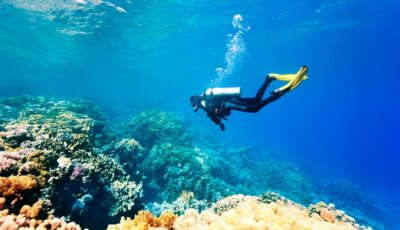 If you wish to have an extravagant experience of watching marine life, scuba diving is one of the best adventure sports in Goa for you. Apart from witnessing corals and underwater creatures, one is likely to get intrigued by exploring the wrecks of ships sunk in the past. Since most of the operators will let you have the 1-hour long training session where instructors teach basics of the activities so that you can be full-fledged ready for diving 12 metres down the sea to have a sublime experience. To make the best of it, plan a visit to Goa from October to May as seas are not rough during these months.
Where to try: Grande Island, Navy Island, Agatti Island, Bat Island, Pigeon Island
Approximate cost: ₹1,800
3. Kite Surfing

One of the most soul-chilling water activities to try in Goa, Kite surfing requires optimum control and an adequate amount of training. A perfect amalgamation of jet skiing, surfing, and wakeboarding, kite surfing is definitely not for faint-hearted individuals. You need to control the speeding kite while striking a perfect balance on the water. Notably, only adults are allowed to try this activity and an expert's supervision is necessary. Banana Surf School, Surf Wala- Day Surfing, and Waterwalk India are some certified operators offering you a perfect kite surfing experience.
Where to try: Arambol Beach, Mondego Bay Beach, Morjim Beach
Approximate cost: ₹2,500
New Year Parties In Goa 2022: 27 Popular Events And Venues
4. Snorkelling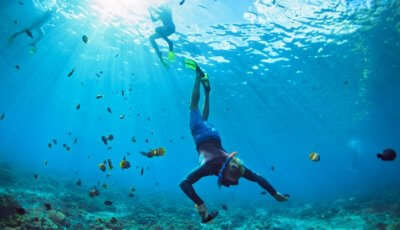 One of the best adventure sports in Goa, snorkelling is a perfect water activity for the ones who don't wish to descend deeper into the sea. There are numerous snorkelling schools that will let you partake in the thrill of snorkelling amid azure blue waters. If you are a non-swimmer, fret not as this activity doesn't require you to be pro with the seawater. Snorkelling in Goa is quite safe and a perfect activity to try for children above 10 and adults.
Where to try: Suzy's Wreck, Bat Island, Grande Island
Approximate cost: ₹1,500
5. Hot Air Ballooning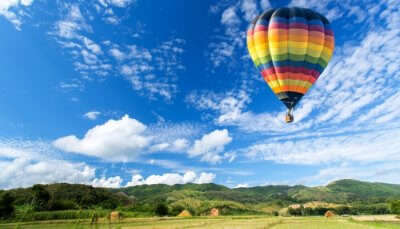 Levitating in the sky while being clad in the breezy winds, doesn't it seem like a dream-like experience? With hot air ballooning, you can feel exactly like this as you fly at a high altitude of around 2500 ft. Mostly offered in South Goa, this activity will allow you to enjoy the awe-inspiring landscapes of Goa with a bird's eye view. For a safe hot air balloon trip, ask your operator to send along a trained ground staff who will ensure a safe landing.
Where to try: Chandor, Assolda Ground
Approximate cost: ₹9,000
11 Hyped Places In Goa And Where To Go Instead In 2021
6. Windsurfing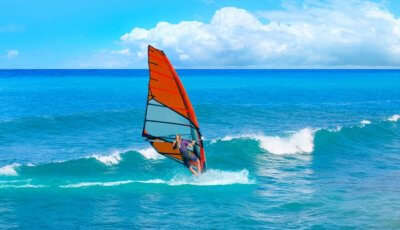 Giving you the feel of surfing, cruising, and sailing, windsurfing is one of the most popular adventure sports in Goa. The activity requires the rider/windsurfer to propel a board forward and skim over the water. With a focussed mind and perfect balancing, one can indeed ace this adventurous sport. If you are a beginner, indulge in the activity during mornings when the winds are mild that will help your surf with lesser effort.
Where to try: Dona Paula Beach, Baga Beach, Calangute Beach, Vagator Beach
Approximate cost: ₹1,500
7. Kayaking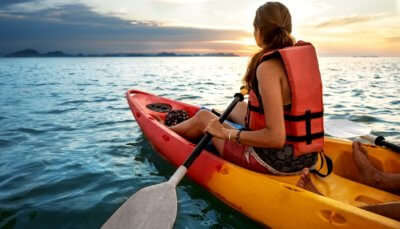 Do you wish to keep the adventure more on the calmer side? If yes, then you must partake in Kayaking which is not less than any other adventure sports in Goa. The activity would let you explore the lesser-explored parts of Goa. Soak up the spectacular views while paddling your way through the backwaters, and thickets in Goa. Interestingly, there are an array of clubs that would allow you to be a part of kayak festivals, kayak races, moonlight kayaking, and picnics as well.
Where to try: Dona Paula Beach, Hollant Beach, Mandovi, Backwaters of Zuari,
Approximate cost: ₹1,800
Ditch Those Pricey Taxis! The New Goa Airport Ferry Will Get You Around In Half The Time
8. ATV Biking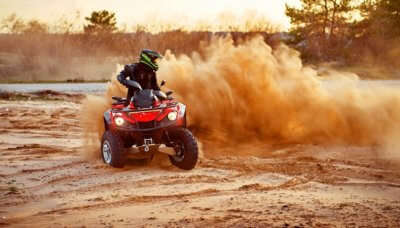 Are you a biking enthusiast? If yes, then ATV biking or quad biking is the best of all adventure sports in Goa that is meant for you. This activity allows bikers to ride on four-wheeled bikes on different kinds of terrains such as woods, rocks or muds. While you ride through the spice plantations or jungles, the natural elevation will extend to you a surreal experience altogether. Riders above the age of 14 with no serious medical conditions can easily partake in quad biking. Moreover, make sure to opt for this adventure sport in Goa via renowned operators like Adventures Goa and Rider's Club.
Where to try: Mandrem beach
Approximate cost: ₹500
We hope that the above comprehensive list has motivated you enough to indulge in adventure sports in Goa. So, what are you waiting for? Make a wishlist of the activities you want to try and plan a trip to Goa with TravelTriangle. With activities like snorkelling, scuba diving, paragliding, kayaking, skateboarding, and more, you can expect a wonderful Goa tour. A whole lot of adventures awaits you!
For our editorial codes of conduct and copyright disclaimer, please click here.
Frequently Asked Questions About Adventure Sports in Goa
Which are the best adventurous activities to try in Goa?
Here is a list of some thrilling activities vacationers can enjoy:
1. Snorkelling
2. White water rafting
3. Scuba diving
4. Quad biking
5. Kite surfing
6. Banana boat ride
7. Water skiing
Is it safe to visit Goa during Covid times?
Yes, Goa is one of the safest destinations to visit now. However, it is strongly recommended to get fully vaccinated before planning a trip. Don't forget to wear a mask when out, sanitize regularly, and always maintain social distancing.
What is the best time to visit goa for trying water adventures?
The months between October to May would let you enjoy the water adventures the most. During this time, the sea is placid and the weather is pleasant which will make your experience quite safe and memorable.
Which are the best experiences to try in Goa?
Apart from indulging in the water activities, here are some wonderful experiences worth trying:
1. Spend some cheerful moments on the cruise
2. Stroll around Old Goa
3. Go on a traditional culinary tour
4. Attend a festival or event
5. Enjoy the nightlife of Goa
6. Explore spice plantation
Which are the best beaches to enjoy water activities in Goa?
Some of the top beaches in Goa where you can partake in water adventures include Calangute Beach, Sinquerim Beach, Baga Beach, Anjuna Beach, Dona Paula, Majorda Beach, Colva Beach, and Mobor Beach.
People Also Read:
Adventure Sports in Pune Adventure Sports in Darjeeling Adventure Sports in Rishikesh