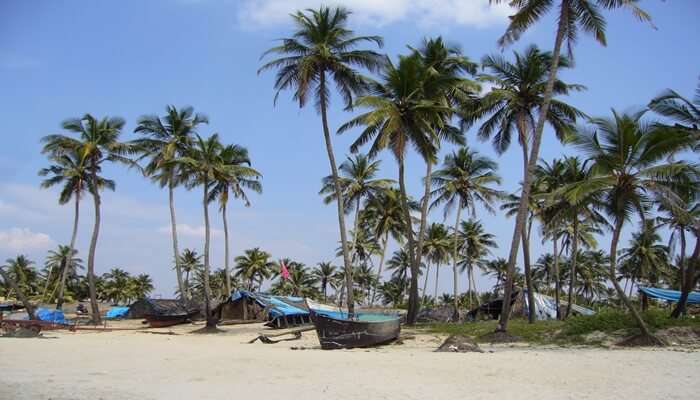 Let's visualize this – parties, beaches, night clubs, the Persian culture, churches, scooter rides, and countless unsuccessful college trips. What do we get?
Goa.
Goa is one of the most prepossessing destinations in India; one with a beautiful view and an epic vibe. It's known its party culture which attracts a lot of youngsters and families throughout the year, especially during the Christmas and New Year celebrations. Goa's atmosphere is always such that it assures everyone visiting, a gala time.
But Goa is much more than this. Apart from night clubs and pubs, the alluring destination also incorporates a rich history and culture breathing through decades. The British colonial history attached to the place is inexhaustible – it can be visibly traced through the architecture of the place. Goa has as many as forts, museums and historical monuments as there are beaches and clubs
Hence, Goa can also be enjoyed with family and relatives and childhood picnics can be relived in this destination.
9 Best Picnic Spots In Goa
In the article below, we have listed the 9 best picnic spots in Goa that can be visited, especially when you want are searching for a picnic spot in Goa for family.
1. Majorda Beach
2. Dudhsagar Waterfalls
3. Chapora Fort
4. Bom Jesus Church
5. Butterfly Beach
6. Bondla Wildlife Sanctuary
7. Arvalem Waterfalls
8. Dr. Salim Ali Bird Sanctuary
9. Shri Mangueshi temple
1. Majorda Beach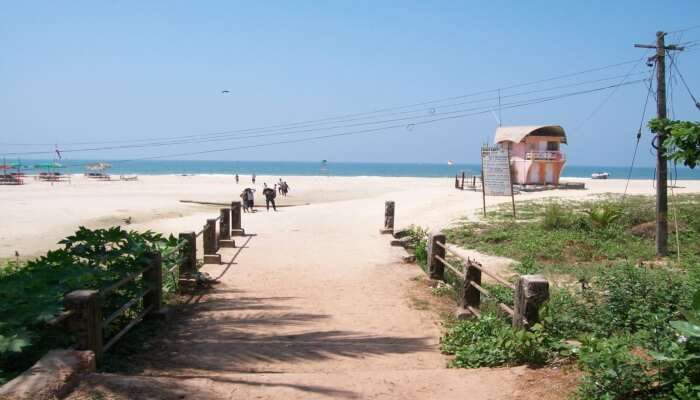 There is no shying away from the truth that if you want to experience the calmness and serenity around the sea by spending some time on the beaches, then Goa is the place to be. Each beach in Goa has its own story to tell and it's own unique liberation. One such beach is Majorda Beach.
One of the most beautiful beaches in Goa, Majorda beach stretches some 25 kilometers along the Arabian sea. Located in South Goa, the beach is well-connected to roadways. What makes it one of the best picnic spots in Goa, are the beach shacks and the availability of umbrellas and beach beds which you can rent for free. You can simply sit with your family on the beach and peacefully sunbath.
If your family is one which loves water sports then adding Majorda Beach to your itinerary is a must!
Play games, have fruits, go swimming, and make it a perfect picnic at Majorda Beach.
Best time to visit: Winter Season is the best time to visit this beach
Best months to visit: November to February
Entry fee for Majorda: NA
Places To Stay: Majorda Beach Holiday Apartment, Meadow View Resort, Saudades Homestays, The Diwa Club by Alila, Jes Guest House
Must Read: 7 Lakes In Goa That Are Ideal For An Off-Beat Vacation
2. Dudhsagar Waterfalls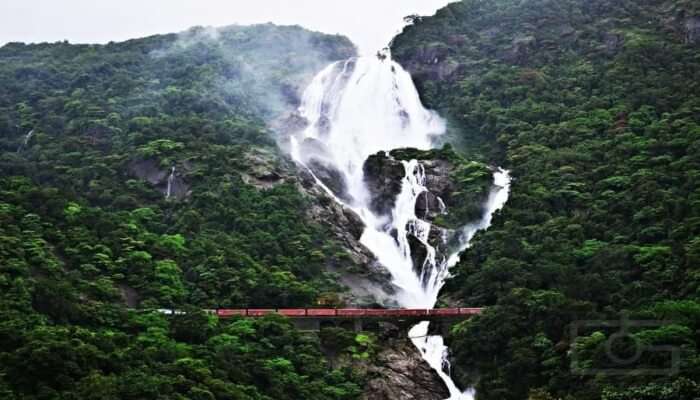 This is one of the dream waterfalls for many of the tourists and travelers in Goa. A lot of trekking enthusiasts are drawn by the charisma and the beauty of the Dudhsagar Waterfalls. The name Dudhsagar is Hindi for Sea of Milk and the waterfalls are named so as they literally look like a stream of milk pouring from the mountains.
Dudhsagar Waterfalls has made to our list of best picnic spots in Goa because of the wide range of activities that one can enjoy with family and friends such as Birding, trekking, taking a ride along the area in a jeep safari. When you are traveling with friends, this can be one of the best overnight picnic spots in Goa. Do not forget to spot the deep green pool that is formed before the water unites with the Arabian Sea when you are there.
Best time to visit: Post-monsoon and winters
Best months to visit: October to May
Entry fee: NA
Suggested Read: 7 Best Forts In Goa Every History-Lover Must Visit
3. Chapora Fort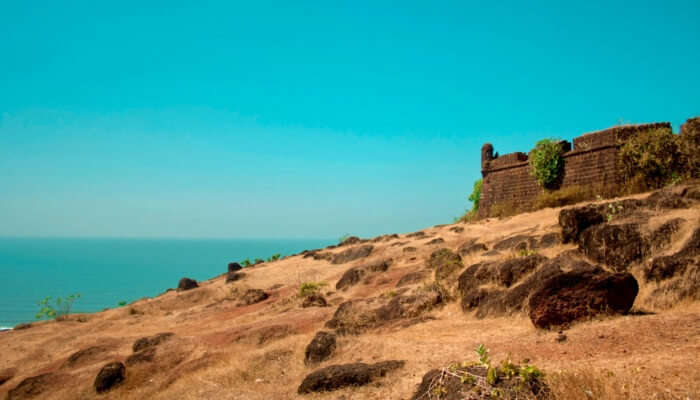 Spend an evening at Chapora Fort with your closed ones watching the sunset and reminiscing old memories as you will find no better place to do this in Goa than this historical fort!
Across India, Chapora Fort is also fondly known as the 'Dil Chahta Hain' fort. This is because the blockbuster movie called Dil Chahta Hai was shot in Goa and one of the most beautiful scenes of inner epiphany between the three main characters was shot on this very fort. Well, to experience what they must have experienced, one has to pay a visit to this captivating fort.
The fort is close to the Chapora River and has a fine history attached to it. The ruins are the live example of how the fort has stood the test of time. Climbing up the hillock, one can sight the confluence of the Chapora River with the Arabian Sea. Sine, Vagator beach is just a stone throw away; one can also try the water sports during their visit to Chapora fort.
Best seasons to visit : Winter season and Summer season
Best months to visit: October to May
Opening hours: 9:30 AM – 5:30 PM
Entry fee: NA
Places To Stay: Jungle, W Goa, Tapasya Yoga and Resort, Mulberry Suites, Riverside Villa at Siolim
Suggested Read: Goa In Winter: 7 Happening Events & Festivals To Keep Your Eye On
4. Bom Jesus Church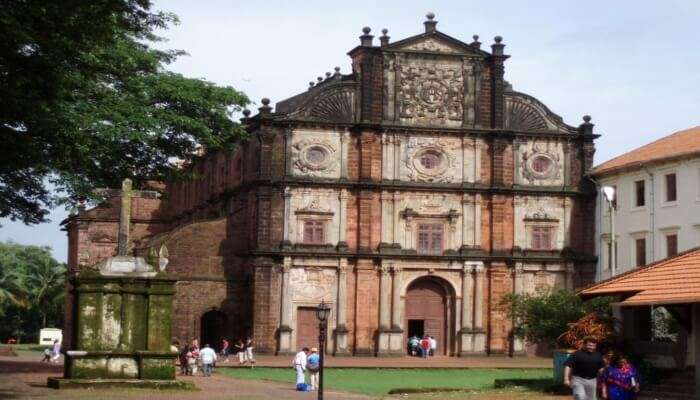 Going to Old Goa is incomplete if you do not take a tour of the Bom Jesus Church. Located in the massive Old Goa Church complex, this is one of the most prominent structures that cannot be missed.
The ceilings of the church are a brilliant piece of artwork, and people from all over the world come here to witness the mortal remains of St. Francis Xavier. When you are here, do not miss to pay a visit to the art gallery that is on the first floor of the church.
The church complex has several other old churches that are to be visited for their mesmerizing altars and architecture.
To take a tour of the entire church complex, one might easily need 3-4 hours, and if you are a sucker for exploring deep into history, then you might need more hours. Hence, this can be one of the best picnic spots in Ponda Goa.
Best season to visit: All seasons
Opening hours:: All days of the week except Sunday: 9:00 AM – 6:30 PM
Sunday: 10:30 AM – 6:30 PM
Entry fee – NA
Places To Stay: Home Sweet Home, ANHC Bougainvilla Hermitage, Goa Hideaway, Elegant 2BHK House, Onukonu Homestay
Suggested Read: 6 Best Spots For Snorkeling In Goa To Experience Its Thrill First-hand!
---
Planning your holiday in Goa but confused about what to do? These Goa travel stories help you find your best trip ever!
---
5. Butterfly Beach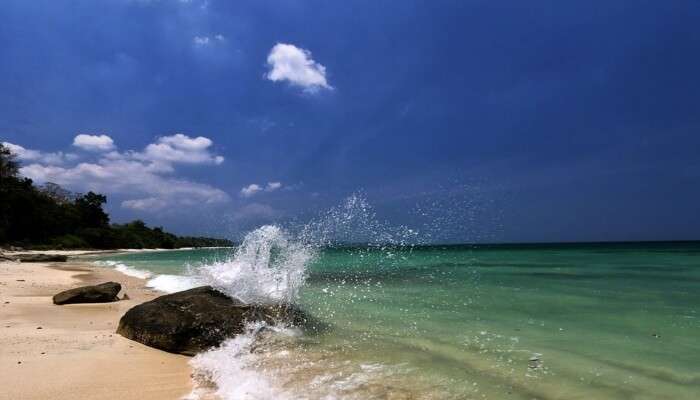 This beautiful beach gets its name with respect to the thousands of butterflies that surround the beach making one glance to a sky seem like a fairytale coming true.
Located North to the Palolem Beach, Butterfly beach invites you to walk on the golden sand barefoot enjoying the crystal clear turquoise blue water filled with different species of aquatic animals like the crabs, the seahorses, the crabs, and even dolphins.
Not only does this beach qualify itself as one of the best picnic spots in Goa, but it can also be one of the best overnight picnic spots in Goa.
Best season to visit: Post monsoon and winters
Best months to visit: October to March
Timings: 6 AM to 6 PM
Entry fee: NA
Places To Stay: Crystal Goa Emerald Edition, The Nest, Art Prive, Shiv Sai Huts, Patnem Garden Resort
Suggested Read: 7 Magnificent National Parks In Goa For An Adventurous Encounter With The Wild
6. Bondla Wildlife Sanctuary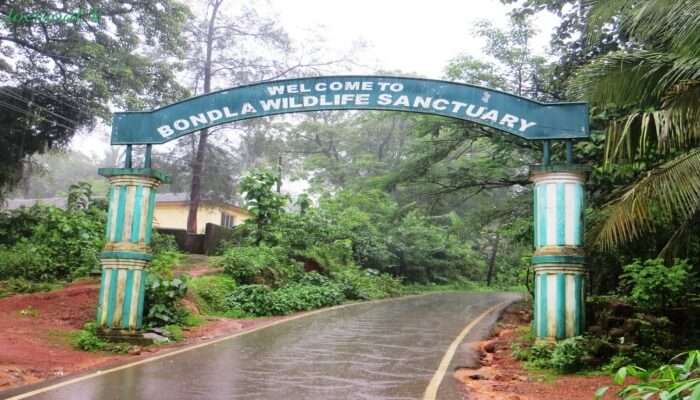 It would not be wrong to guess that Everyone's childhood memory of a picnic included spending a lazy afternoon barking in the sun with your family in a zoo. And well, what is the grownup version of a zoo?
A wildlife Sanctuary. Right?
Bondla Wildlife Sanctuary in Goa, considered to be one of the most popular sanctuaries, is a great spot for picnics as you can indulge in a variety of pursuits such as Tiger and Bison spotting, going on a safari tour, and god knows, this sanctuary is a heaven for all the wildlife photographers out there. During your visit there, do try the lip-smacking food at Den restaurant. Bondla Sanctuary can sure make to your list of a picnic spot in Ponda Goa as well.
Best season to visit: Post monsoon, winters, and summers
Best months to visit: October to May
Timings: 9 AM–5 PM
Entree and other fees :
5 INR/- per person for Adults
2 INR/- per person for Children
80 INR/- per person for Elephant Ride
25 INR/- per person for photography
100 INR/- per person for videography
Places To Stay: Avdhut Niwas Organic, Rock Valley Goa, The Island Sanctuary, Empire Guesthouse, Farmagudi Residency
7. Arvalem Waterfalls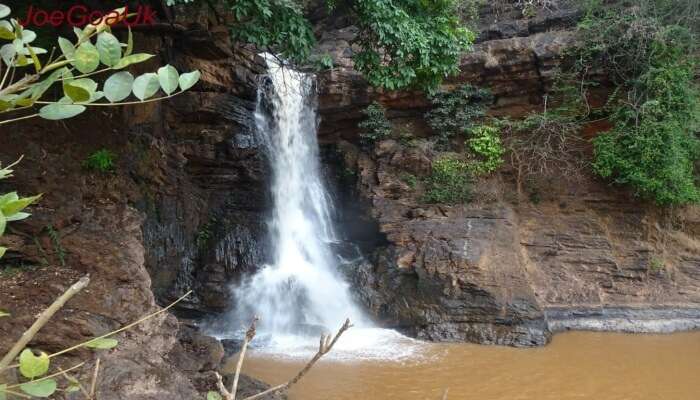 Watching the swelling waterfalls gushing from the top of a hill surrounded by a dense jungle is one of the most exhilarating sights for all those who love to travel and especially those who simply find happiness in experiencing the beauty of nature.
One such place which can stir all your senses at once is the Arvalem Waterfalls in Goa. The waterfall descends on the ground forming a shallow lake suitable for swimming. The flow of the water is immense during monsoons making the entire surrounding really ideal for a picnic. If you are visiting the waterfalls with your family and they happen to believe in Hinduism, then visiting the nearby Rudreshwar temple dedicated to Lord Shiva can be a good idea.
Best season to visit: Monsoon
Best months to visit: May to October
Entry fee: NA
Parking fee: NA
Places To Stay: The Island Sanctuary – A Village Secret, Hospitality Inn, Mayem Lakeview, Hotel Vaishali Residency, Hotel Swarnam
Suggested Read: Christmas Celebration In Goa Is The Perfect Way To Soak In The Festivities In 2020!
8. Dr. Salim Ali Bird Sanctuary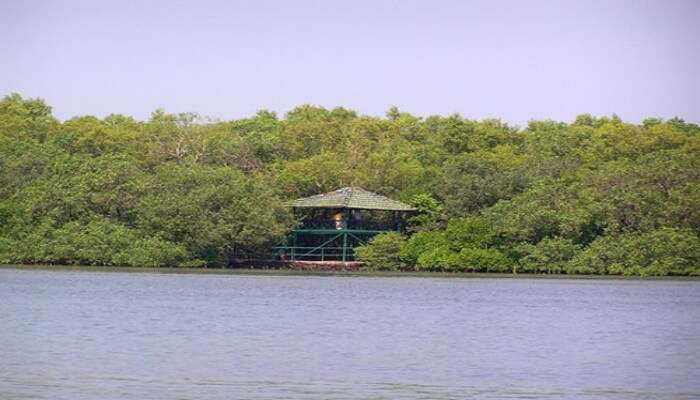 For all those birding enthusiasts, here is your ideal picnic spot in Goa. Dr. Salim Ali Bird Sanctuary is one of the places to go to when you are in Goa.
This place is dedicated to the famous ornithologist Dr. Salim Ali and going to this place would definitely increase your knowledge about the birds even more.
You would enjoy it as you get to know about the birds and the history of the place. Apart from spotting birds, one can also enjoy boating when you are here.
Timings: 6 AM–6 PM
Entry fee:
10 INR/- per person for Indians
100 INR/- per person for foreign tourists
25 INR/- per still camera
150 INR/- per camcorder
Places To Stay: Damodar Guest House, Villa Riveria, Hotel Shaurya, Serene Waters Goa, DoubleTree
Suggested Read: 25 Most Romantic Places In Goa For Couples To Have A Lovely Time In 2020
9. Shri Mangueshi temple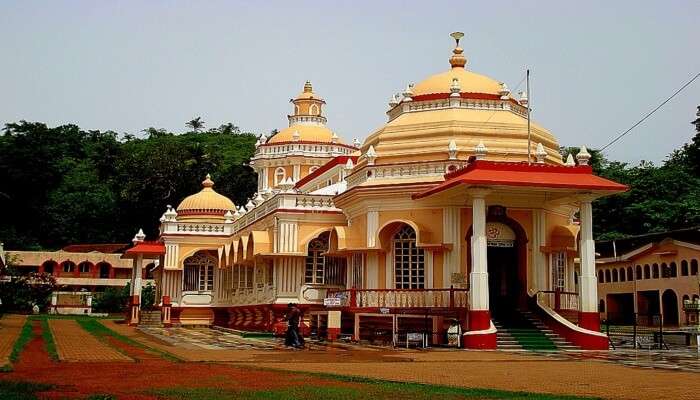 Known for the eye-catchy architecture and designs, temples in Goa are worth every minute of your time. One such temple is the Mangeshi temple. Known for its amazing blend of Hindu and modern-day art this temple holds a special place in the history of Goa and the invasion by the Portuguese.
You can spend some time inside the temple and later just have a picnic around the premises.
Apart from this temple, there are several other temples like the Shri Nagesh Temple, Brahma Temple, and Shri Kamakshi Temple, etc. that you could plan to visit when you are in Goa.
Timings: 6 AM to 10 PM
Duration of Visit: 2 hours
Entry fee: Free
Further Read: 34 Famous Beaches In Goa That Will Make Your 2020 Vacay A Happy Trip
Who thought a party hub like Goa could also be enjoyed through picnics and family outings?! But it is true that there are tons of places in Goa where you can just pack your backpack and head out for a picnic. Goa is definitely much more than what meets the eye. In this list of 9 best picnic spots in Goa, we brushed through forts, beaches, and temples.
Frequently Asked Questions About Best Picnic Spots In Goa
Q. Are the beaches in Goa open 24 hours for tourists?
A. No, the beaches in Goa are accessible only until late evenings.
Q. Is Goa a safe destination to go to with family?
A. Goa is a safe destination for travel and holiday. The roads are well-built and safe.
Q. Is Goa a kid-friendly destination?
A. Yes, Goa has a lot of other places apart from the party houses, clubs and pubs where children can enjoy themselves really well.
Q. Can we take elderly people to Goa?
A. Yes, Goa can be one of the perfect pilgrim destinations because there are a lot of temples that have a great history here.
Q. Do the clubs and pubs have a dress code?
A. Most of the clubs do not have a dress-code. However, it is always recommended to check well in advance. Many times, there are party themes as per various occasions like Halloween or Christmas.
Q. Are the accommodation facilities in Goa safe?
A. Yes, there are a lot of standard hotels, home-stays, and resorts; hence, accommodation would not be a problem in Goa.
Q. Are there good transportation facilities in Goa?
A. Bikes, cars, taxis, cabs, and auto-rickshaws are found throughout the streets of Goa. People prefer to roaming around in two-wheelers in Goa.
---
Looking To Book A Holiday Package?
---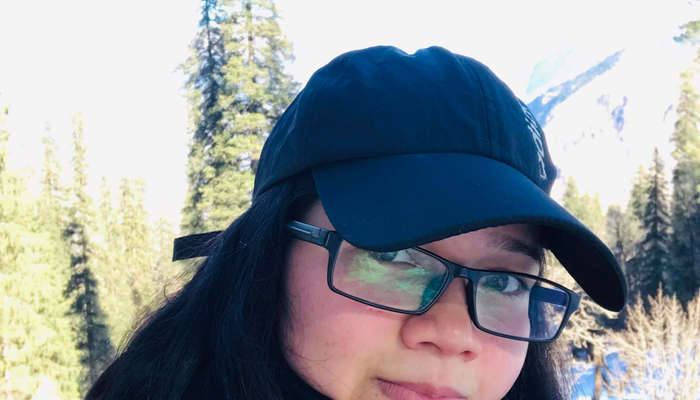 Comments
comments