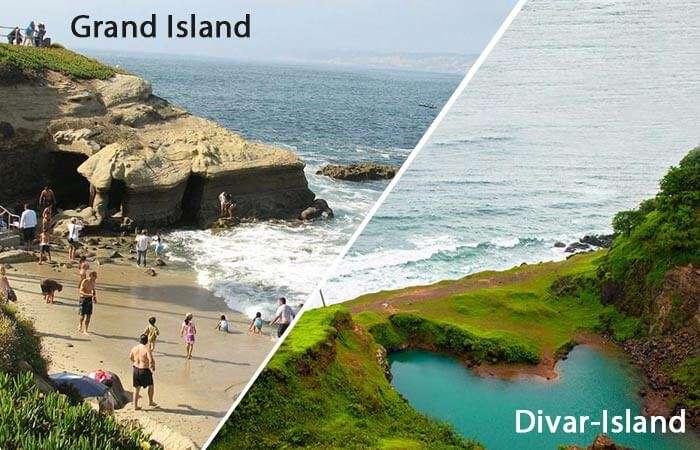 There is no secret that Goa is in the bucket list of every Bunty, Chintu and Monty. Places such as Vagator beach, Baga beach, Curlies, Tito's Club, Aguada Fort are synonymous to Goa. Beauty and nightlife of the 'party capital of India' is not restricted to just these places. If you really claim yourself to be a true vagabond then, try out these places instead to avoid the hurly-burly. Let's take a turn and see what are the hyped places to visit in Goa and where to go instead.
Top Hyped Places to Visit in Goa and Where to go Instead
Are you holidaying in Goa and seeking for the best experiences? From exotic escapades to serene surroundings, the following are the most hyped places to visit in Goa and where to go instead:
1. Baga Beach: Avoid the cacophony of the abundant beach bums

Image Source The entrance to the Baga Beach near the creek does get really busy, but walk a little further to Salty Sea Shack and it becomes relaxing.  You'll be charged excessively for water sports and you end up paying thinking it's once in a lifetime experience. The restaurants and the shacks near the beach are also  priced exorbitantly in the peak season. There are other beaches in Goa that offer similar water sports and are calm and quiet.
Instead: Serene and highly underrated Butterfly Beach instead

Image Source Best suited for those seeking for peace and isolation, it is one of the quietest and the unexplored beaches of Goa. The Butterfly beach is surrounded by lots of rocks which adds to its serene beauty. Paddle boating and dolphin sighting are some of the awesome activities that you can try here apart from the regular water sports of Goa.
14 Best Picnic Spots In Goa For A Great Time In 2022
2. Tito's Club: Shun the crowd of overvalued tavern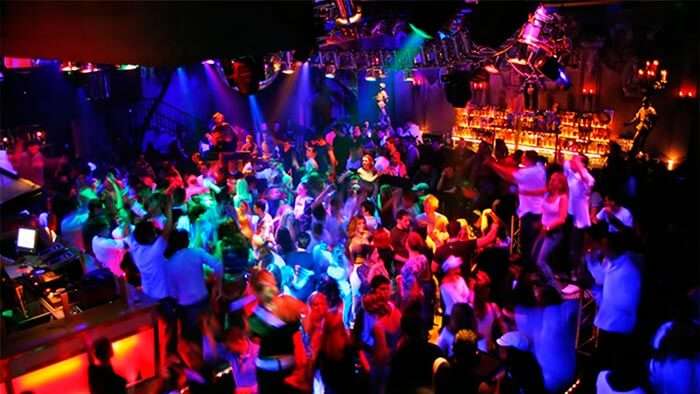 Image Source Tito's is a small club which is jam packed to its full capacity on most of the days. It's slowly turning to be a place crowded by more men than women . If you are going as a couple it is still affordable but stag entry is really expensive which goes to around INR 2500.  As the club is too hyped by the reviews of the people around the world, this is too rowdy a place.
Instead: Jazzy Gatsby Club for night owls

Image Source The famous club in South Goa is known for flickering neon lights rolling around. The brewers brew varied collection of mocktails and cocktails. The music will groove you and the best part is that it is not too crowded. The prices for entry are affordable and believe us, it will be a blasting experience for a wonderful night-out.
New Year Parties In Goa 2022: 27 Popular Events And Venues
3. Elude parasailing in hubbub beaches

Image Source Flying off into the horizon with the speed boat sounds interesting? People get crazy trying the same waters sport with same nerve. Well, it is a picture perfect experience to take home. But, why trying the same sport again and again? It happens in most of the overcrowded beaches like Calangute, Candolim, Anjuna and Colva. The cost is around INR 1200 per person which depends on the beach as well. Come on, it's no value for money dude!
Instead: Kayaking at the pristine beaches away from the tumult

Image Source Take your friends along for the fun affair in the amazing backwaters of Goa. It is an exploration around the calm and composed beaches of Goa which is a perfect water sport. They are priced reasonably  at around INR 500 depending on the beach. There is a good news attached to it, which is the experiential sport happens at the beaches which are less crowded like Palolem, Dona Paula and Hollant Beach.
28 Watersports In Goa That You Must Add to Your Bucket List For A Fun 2022 Vacay!
4. Dodge the thronged Anjuna Flea Market

Image Source The flea market is open only on Wednesdays and offer many things, from souvenirs to accessories and clothes. It has varied collections of electronics which makes it the best market for the hippies and backpackers. The high influx of tourists in this beach has resulted in excessive pricing. . They charge you more being the well-known beach of Goa.
Instead: Musty flea market in Dona Paula

Image Source It is just 26 kilometers from Anjuna Beach and has all the stuff that the famous flea markets of Goa  sells. The pristine beach is relaxing and you can enjoy for hours at Dona Paula. The market is not overpriced and the T-shirts that they sell are beautiful. There are a number of flea-markets that takes place on every other day with different themes, so you can visit them anytime  and any day..
Bachelor Party In Goa 2022: 11 Super Cool Ideas To Celebrate Your Singlehood
5. Snub the overcrowded Grand Island

Image Source Grand Island was offbeat once upon a time but now it is full of tourists. The island is also full of watersports where you can enjoy picnicking for the whole day. Well, during the peak season there is no space to even step in the shore premises.
Instead: Sedate and uncharted Divar Island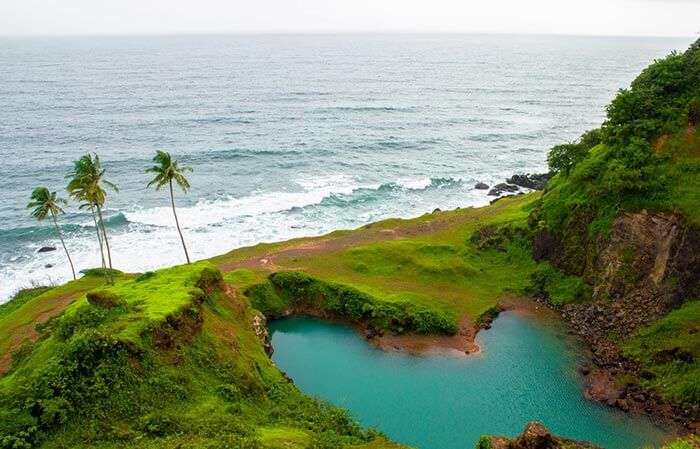 Image Source Divar Island is still unexplored and is perfect for those couples who are looking for a secluded hideaway. The small village near the island gives the feeling of a countryside which is refreshing. Take a ferry ride from Mandovi River and reach the serene beauty of the marvelous island.
50 Amazing Places To Visit In South Goa In 2022 For A Fun-Filled Beach Vacation
---
Planning your holiday in Goa but confused about what to do? These Goa travel stories help you find your best trip ever!
---
6. The Park Calangute: Conventional 5-star hotel

Image Source The famous 5-star hotel near the most famous beach of Goa is always a must visit. The mesmerizing interiors, the grandeur of the hotel is beyond words. The spa it offers is relaxing and the romantic cabanas next to the purple pool are worth spending time. However, it is quite expensive around INR 9,700 per night and it's not an experience that's exclusive to Goa.
Instead: Floating tents voyaging to milky way

Image Source The famous boat ride and restaurants on the floating tents are just bewildering. The quiet and calm night under the stars is worth an experience. You can sleep, eat and gaze at the tents to enjoy the other side of the hippest place in India. Camping on the shore near the lake is really common but this happens only in Goa.
50 Amazing Places To Visit In South Goa In 2022 For A Fun-Filled Beach Vacation
7. Skip the populous Aguada Fort

Image Source It is most frequented fort of all other architectures in Goa. Initially, it was the warehouse of the Portuguese, and then was transformed into a jail. People enjoy the view from the lighthouse when you are there at the fort. You can even enjoy the sound of the waves moving to and fro and sit back at the fort.
Instead: Chapora Fort for its quaint view

Image Source The fort known for its history and later known for the perfect click of three friends in 'Dil chahta hai'. It is set in the position from where you can view almost all the directions sitting on the side of the fort. Chapora fort is considered as the ruins of the Portuguese so has the view of the Indian history.
41 Best Places To Visit In North Goa In 2022 For A Kick-Ass Beach Holiday!
The popular places are tagged as a must visit, but tasting the other whereabouts are even consequential for a disparate experience. Don't forget to sneak peek at the mentioned places to visit in Goa and where to go instead on your next Goa trip. So, book your tickets and visit the 'instead places' to encounter an unprecedented episode! For our editorial codes of conduct and copyright disclaimer, please click here.
Frequently Asked Questions About Places To Visit In Goa And Where To Go Instead
What are the top attractions to visit in Goa?
Goa is famous for its beaches but there are many other attractions that you can visit such as the famous Dudhsagar Falls and Basilica of Bom Jesus. Since beaches are too mainstream these days, visiting these places will allow you to get a different perspective of Goa.
What are the most popular things to do in Goa with children?
A day out with children can be well spent in Goa by visiting Sahakari Spice Farm. It is a spice plantation that covers almost 130 acres and there are a number of restaurants nearby for fueling up.
Is it safe to visit Goa during Covid times?
You need to follow all the mandatory safety guidelines mentioned by the authorities to ensure a safe travel experience. Remain masked while stepping out of the hotel and maintain social distance. Avoid visiting crowded places and keep sanitizing your hands after touching surfaces.
Where can I go instead of Goa?
If one wants to skip the much-hyped city of Goa, but want to have a similar experience, then they can head to Gokarna in Karnataka or Varkala in Kerala. Both have a similar tourist vibe but are comparatively less crowded.
How do you get to Grand Island in Goa?
One needs to take the jetty to reach Grand Island in Goa. One can board the jetty at Hansa Beach or at Sinquerim in Candolim.
Which are the famous nightclubs in Goa?
Some famous places to enjoy the nightlife in Goa are Tito's Bar and Club, Club Cubana, and LPK (Love, Passion, Karma) Waterfront.
How do I get to Butterfly Beach in Goa?
Butterfly beach isn't connected via motorable roads, and one has to either hike to the beach, or one can take a boat at Palolem beach to reach Butterfly Beach.
Is it safe to go kayaking in Goa?
Yes, kayaking in Goa is totally safe. In fact it is one of the best nature excursions that one can enjoy in Goa.
What are Anjuna flea market timings?
Anjuna Flea Market is open every Wednesday from 9 in the morning till 6 in the evening.
Which is the fort in Dil Chahta Hai?
Dil Chahta Hai was shot at Chapora Fort which is one of the must-visit places in Goa.
What is there to do in Goa in January?
January is one of the best months to be in Goa as one can start the year by celebrating New Year here. Other than this, one can enjoy beach hopping, visit the forts, shop at the flea markets and indulge in watersports in Goa in January.
---
Looking To Book A Holiday Package?
---