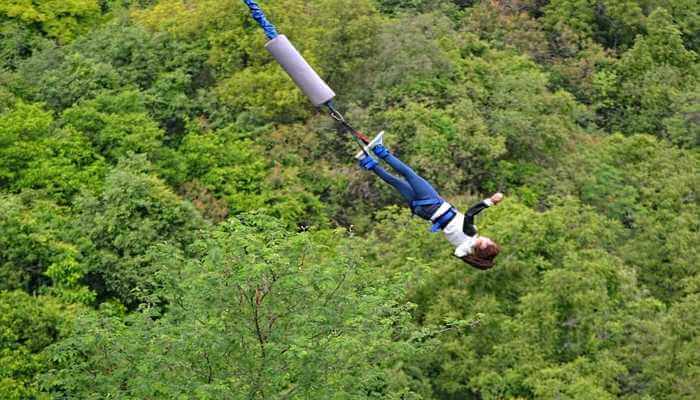 Pattaya is an amazing coastal city and one of the most popular tourist destinations in Thailand. Situated in the eastern coast, Pattaya offers splendid beaches, incredible hillside views, ancient Buddhist temples, host of water and other adventure sports. At dawn, the nightlife of Pattaya is amazingly electrifying. Pattaya has a great number of restaurants, exotic bars, and round the hour clubs. It's a city which is incredibly colourful, full of life and a heaven for adventure and party seekers. Pattaya tour can give you an extreme high – to add to this high – you should engage in bungee jumping in Pattaya to get an incredible view of the city.
Top Bungee Jumping Spot In Pattaya
If you wish to enjoy bungee Jumping in Thailand, there's no better place than Pattaya. So, tighten your seat belt, and get ready for an incredible jump.
Favourite Spot for Bungee Jumping in Pattaya:
Xbungy – Pattaya Bungy Jump
This is one of the most famous bungee jumping centers in the whole of Thailand. With a height of 60 m, the jump will be one of the most memorable for you. Instructors are knowledgeable, professional and friendly and will try to put you at ease. They will keep interacting and instructing you on the jump before you actually do it – which a high plus point here. The best part is that this is a safe zone for bungee jumping.
They will give you a certificate of courage. Also a free shirt when you jump from here – to make this a memory to cherish for a long time to come. You also receive an HD video recording of your jump from different angles.
30 Things To Do In Pattaya In 2023 For A Dream-Come-True Vacation
Process Of The Bungee Jump:
You are taken up in a protective case. The view that you will have from your cage as it goes up is just splendid. It will give you an amazing view of this splendid city and the majestic ocean. There are multiple jump masters who will explain to you all about the jump and precautions that you need to take. Once you reach the top they will open up the cage for you to get ready for your enthralling jump down. In case you have any difficulty during the jump, the staff will help you with a little nudge to get you rolling down.
Total Cost:
Total cost for the whole jump will be around 2,500 Thai Bahts. This includes your jump, to and fro travel from your hotel in Pattaya, a complimentary T-Shirt and high resolution HD photos and videos of your jump. You can pay the cost at the spot as well but don't forget to register in advance. Alternatively, you can do an online booking or book it through a reliable agent. You can cancel your bookings for free if you are cancelling it a week in advance. Remember 1 Thai Baht is equal to around 2.3 INR. You can pay via card or in cash in Thai Baht currency.
Address: 12 Thep Prasit Rd, Muang Pattaya, Bang Lamung District, Chon Buri 20150, Thailand
Timings : 10 AM – 7 PM
Contact : +66 38 301 209
Website : https://pattayabungy.com/
Reaching Pattaya Bungee Jumping Spot
Best part is the location of the site, which will only be a maximum of ten to fifteen minutes drive away from any hotel in Pattaya. You will get a mini van service from hotel which will pick up and drop at scheduled time. They have their shuttle service which usually takes three trips in the day. You will need to book it in advance for to and fro travel.
If you are coming from the airport or from Bangkok city then you can take a private taxi or ride in a bus to Pattaya. Pattaya is around 150 kilometers from Bangkok.
Best Weather To Be In Pattaya For Bungee Jumping
Preferred time to visit Pattaya and try bungee jumping is from November to March. Winters are not very chill but are pleasant and mildly cold. Avoid going for bungee in rainy season – that is from June to October. Rains can be strong and continuous here and might get a bit humid as well.
Other Similar Adventures
Here are some other thrilling activities you can enjoy in Pattaya:
1. Human Slingshot
This is an incredible and unique adventure – little similar to bungee jumping. In a human slingshot, you are tied to bungee cords which are specifically designed for this sport and and then you go up in a slanted ropeway, which gives you a feeling of flying in the air. This can get extremely quickly and can accelerate upto 150 kmph, which will give intense chill down your spine.
Additionally, you can opt for both the adventures – bungee jumping and human slingshot. You might also get discounts when you choose to do both.
Cost: 1400 Thai Baht
Address: 12 ThepPrasit Rd, Muang Pattaya, Bang Lamung District, Chon Buri 20150, Thailand
Timings : 10 AM – 7 PM
Contact : +66 38 301 209 | website : https://pattayabungy.com/
7 Day Trips From Pattaya For A Quick Rejuvenating Escape In 2023!

---
Thailand Holiday Packages On TravelTriangle
---
2. Pattaya Park Tower Jump
Pattaya Park Tower is a very famous tourist destination and provides a splendid view of this fantastic seaside city. The jump will be from a height of 170 meter – much higher than what other bungee jumps in the country can provide.
It's a huge tower with an observation deck at its top. This rope ride from such a height will be a breathtaking experience with astounding views from above. Unlike Bungee, this is a much slower jump and you come down through the guided rope slowly, so you have more time to enjoy the fabulous views of the city and Jometien beachside. You will have a good time to absorb the thrill intensely. It may cost around 200 Thai Baht. Along with the jump, you can also enjoy a sumptuous meal with your favourite drinks at the rotating restaurant at this tower.
Cost : 200 Thai Bahts
Address: Pattaya Park Tower, Jomtien Beach, Pattaya 20150, Thailand
Timings: 10 AM – 7 PM
Contact: https://www.pattayapark.com/
Tips:
In case you have a medical condition or any chronic disease – do check with your instructors at the bungee jumping spot to see if it is okay for you to jump.
Do not eat a heavy meal before you are going for your jump. Also, do not be intoxicated before your jump. You can grab your beers later right after your jump to cool yourself off.
Ensure that you are not carrying anything in your pocket or otherwise which can fall off during the jump.
Other Attractions In Pattaya
Once you're done enjoying bunjee jumping, you can explore numerous attractions in Pattaya. Some of the best ones are:
1. Sanctuary Of Truth
This is the most popular temple in Pattaya and a must visit destination if you are in this incredible city. A buddhist temple – mostly made up of wood with a very rich historic and cultural significance.
Location: Pattaya-Naklua, Bang Lamung District, Chon Buri
Timings: 8 AM – 6 PM
8 Reasons To Visit Pattaya For A Marvelous Vacay
---
Planning your holiday in Thailand but confused about what to do? These Thailand travel stories help you find your best trip ever!
---
2. Jomtien Beach
A phenomenal beautiful sandy beach, full of life and activities that you can participate in nearby areas. Surrounded by beautiful tall buildings and towers, this beach is well known for its water sports and adventures including scuba diving, snorkeling, jet skis and many other water sports. If you are looking for the best things to do in Pattaya with kids, Jomtien beach is your perfect haven.
Location: Jomtien town, Chonburi Province, Pattaya
3. Pattaya Floating Market
This is heaven and an astounding marketplace where you can float in boats while you shop and eat. This is a lively place meant to give you a unique experience.
Location: Sukhumvit Rd, Pattaya City, Bang Lamung District, Chon Buri 20150, Thailand
Timings: 9 AM to 8 PM
10 Shopping Malls In Pattaya That Will Surely Satisfy The Shopaholic In You!
4. Pattaya Walking Street
After your jumping adventures in the day, this is the place to hit at night. An extremely lively place, this street is full of discos, clubs and restaurants. Full of sound and lights, this place has a busy nightlife which you will enjoy during your time to Pattaya.
Location: Walking Street, Near Gulf of Siam, Pattaya
Apart from Bungee Jumping in Pattaya, you can also indulge in an active nightlife, other major adventures and a whole lot of things while on your trip. Being a tourist-friendly country, a vacation to Thailand is definitely going to amp up your experience and set new expectations for you for your next trip.
For our editorial codes of conduct and copyright disclaimer please click here.
Frequently Asked Questions
Is Uber available in Pattaya?
Uber taxi app isn't available in Pattaya now. But you can download another popular taxi aggregator app – Grab. GrabTaxi app can be downloaded on Android as well Apple phones.
Is Pattaya good to travel with families?
Yes. Pattaya is quite decent and safe to travel with families and children. Although known as a Sin city and for its increasing adult locations, these areas can be avoided if you are traveling with kids. There are plenty of beautiful attractions and places to enjoy at Pattaya with kids and family.
Is Pattaya safe enough?
Yes, Pattaya is quite safe for travellers. There aren't many incidents reported from the city involving tourists. There is a good presence of local police on roads in Pattaya.
Is there any weight restriction for bungee in Pattaya?
Yes. One must be less than 150 kilograms – that's the high side limit. Also, one must be a minimum of 35 kilograms to be able to participate in bungee here.
Can you use your personal GoPro camera for taking photos and videos?
You may have to take permission of the instructor at the spot and if they allow you to take your own camera.
Can you also have a couple tandem jump?
Yes. A couple can go for a tandem jump together – which is an exciting & and an extremely fun thing to participate in. Only limitation is that the total weight of both the jumpers shouldn't be higher than 150 kg.
Can we bring in family members in the van to give company?
Yes, you can. But this costs extra – almost hundred Bahts additional per person.
How many days are enough for Pattaya
A trip of 4-5 days would be ideal to witness the best of Pattaya
---
Looking To Book An International Holiday?
---
People Also Read:
Bungee Jumping In Dubai Bungee Jumping In Nepal Bungee Jumping In South Africa